Best Strawberry Poke Cake [VIDEO]
Strawberry Poke Cake is made with white cake, soaked with a mixture of white chocolate strawberry sauce, topped with strawberry pie filling and creamy whipped cream.
Poke Cakes are very popular on the blog because they are so easy to make, look stunning and taste delicious. Upon popular demand, we have added few other delicious poke cakes to the collection, like Pumpkin Poke Cake, German Chocolate Poke Cake, and Baileys Poke Dessert.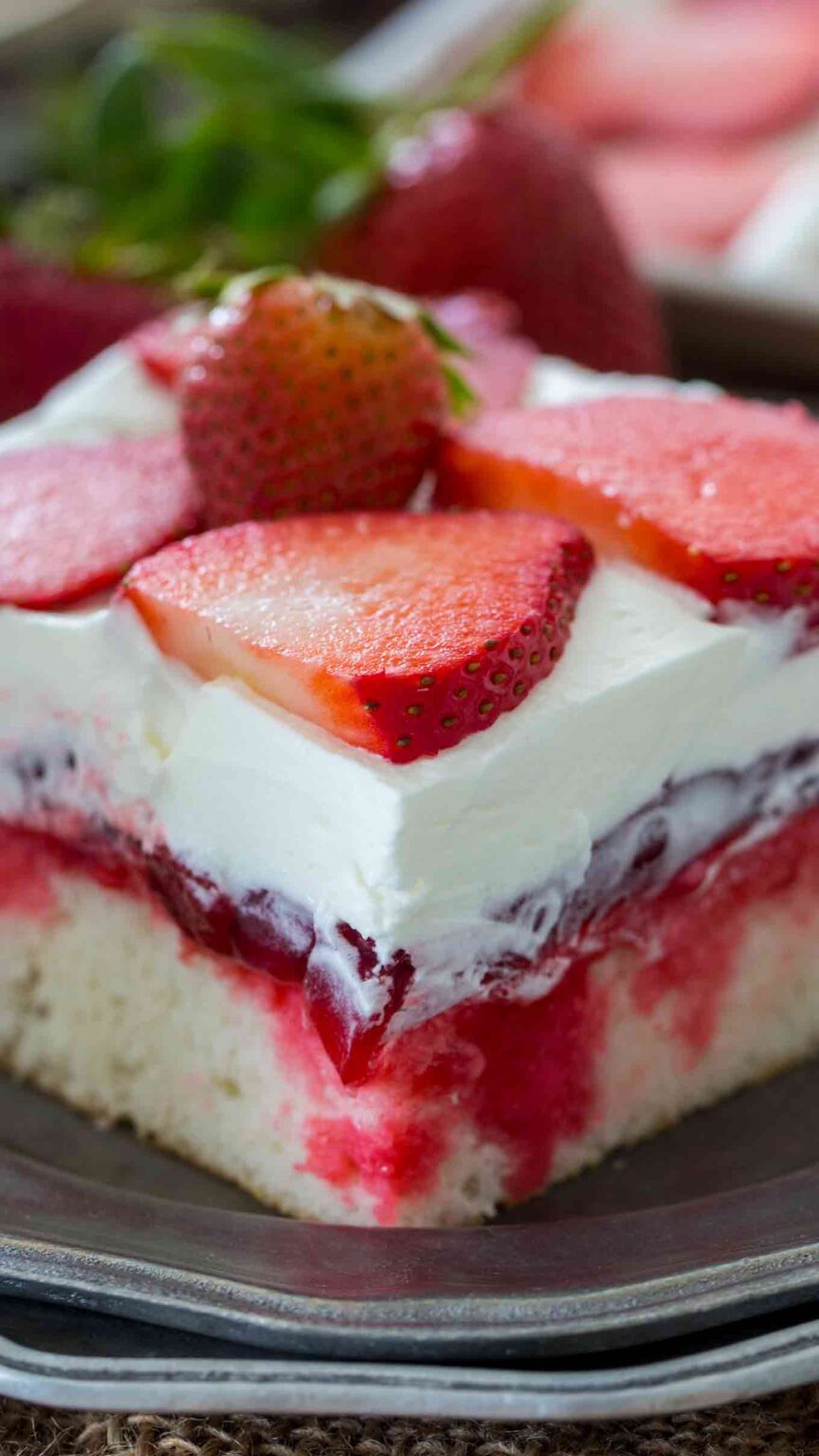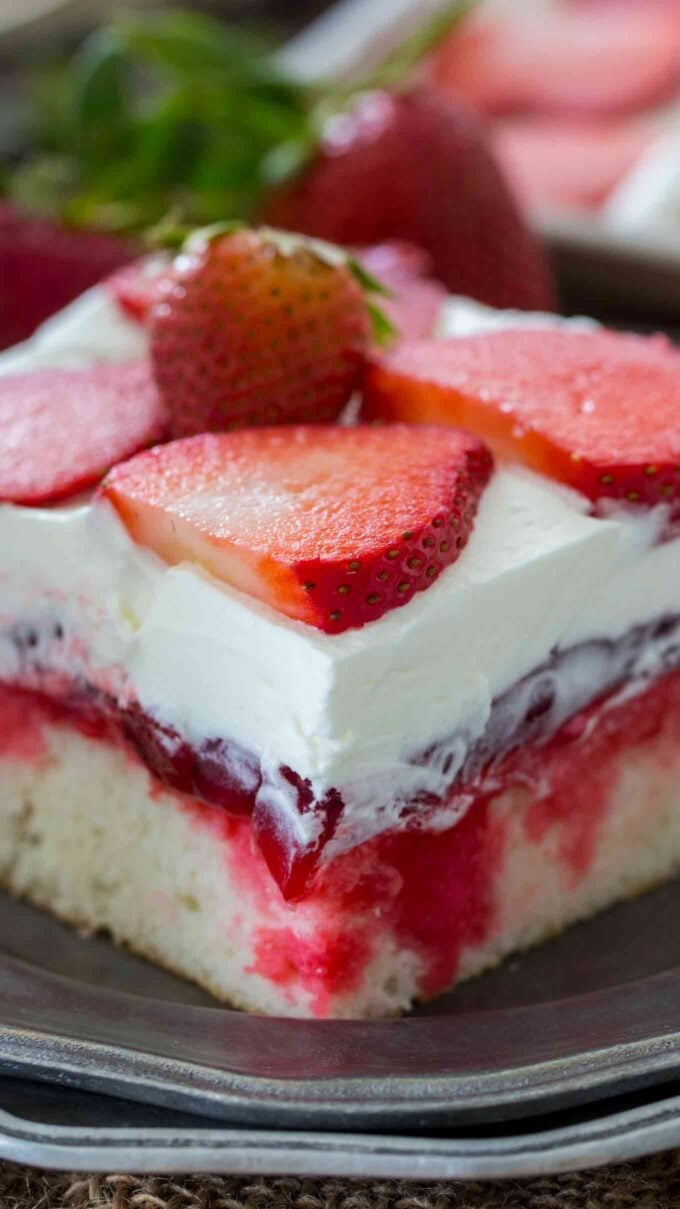 Best Strawberry Jello Poke Cake
Best Strawberry Poke Cake that I have ever had, hands-down! This homemade dessert is basically a dream come true, if you allow me to make a cheesy comparison, I would say that's what probably angels eat!
I mean, this Strawberry Poke Cake is so tender and so fluffy and it melts in your mouth. It's also moist, yes, I said it, it's moist! Because it has been filled with the most amazing white chocolate sauce. Topped with a layer of strawberry pie filling and a thick layer of homemade whipped cream, each bite tastes like spring!
Usually, a Jello Poke Cake is infused with a strawberry gelatin mixture, well, I took it to a whole new level and I made a white chocolate strawberry sauce, that has been poured all over the cake and got into all the holes. Full of flavor, airy, sweet and bursting with all the delicious and different strawberry textures, this dessert is fantastic and also very, very easy to make.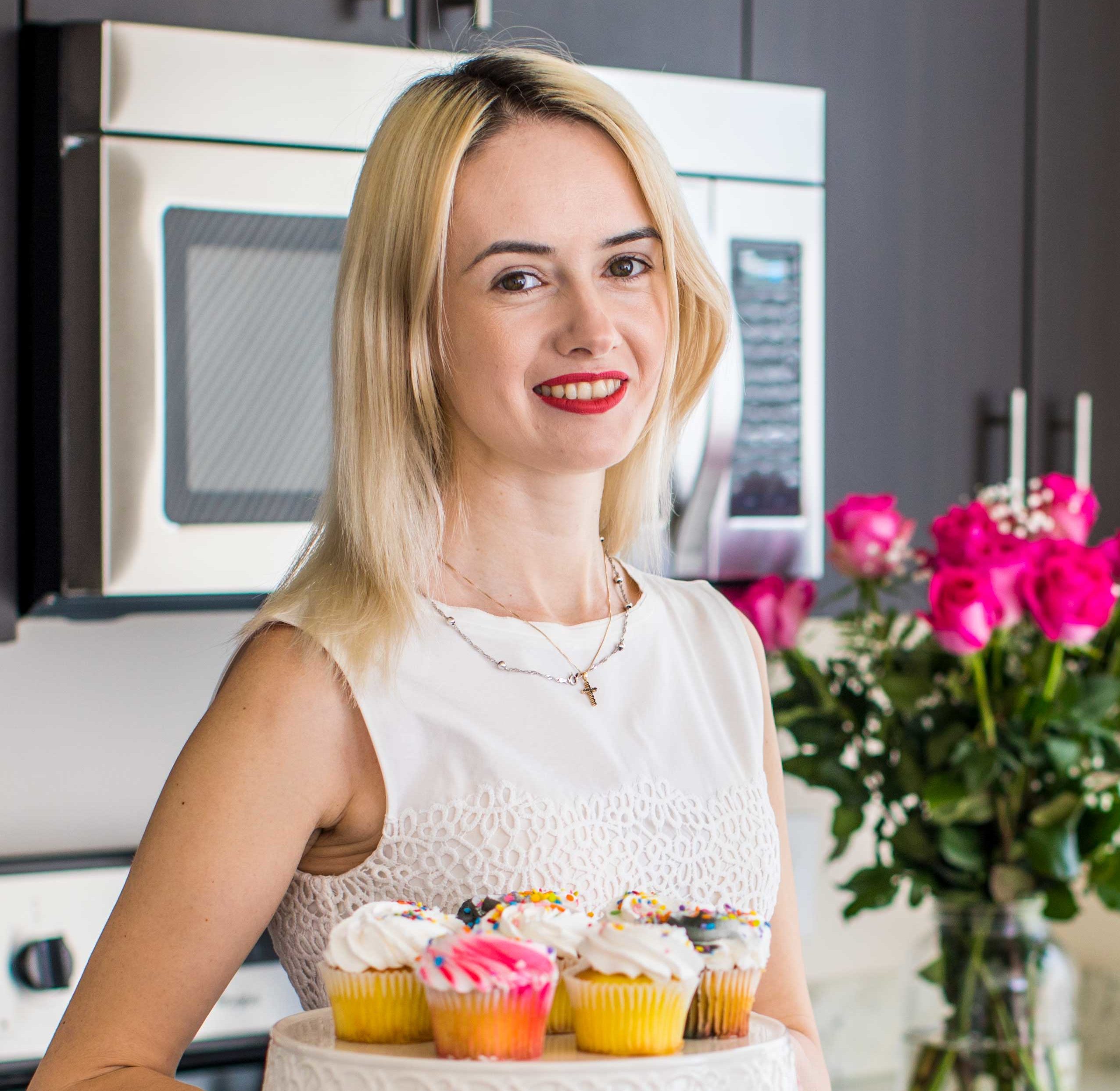 Follow us on Pinterest for more delicious recipes!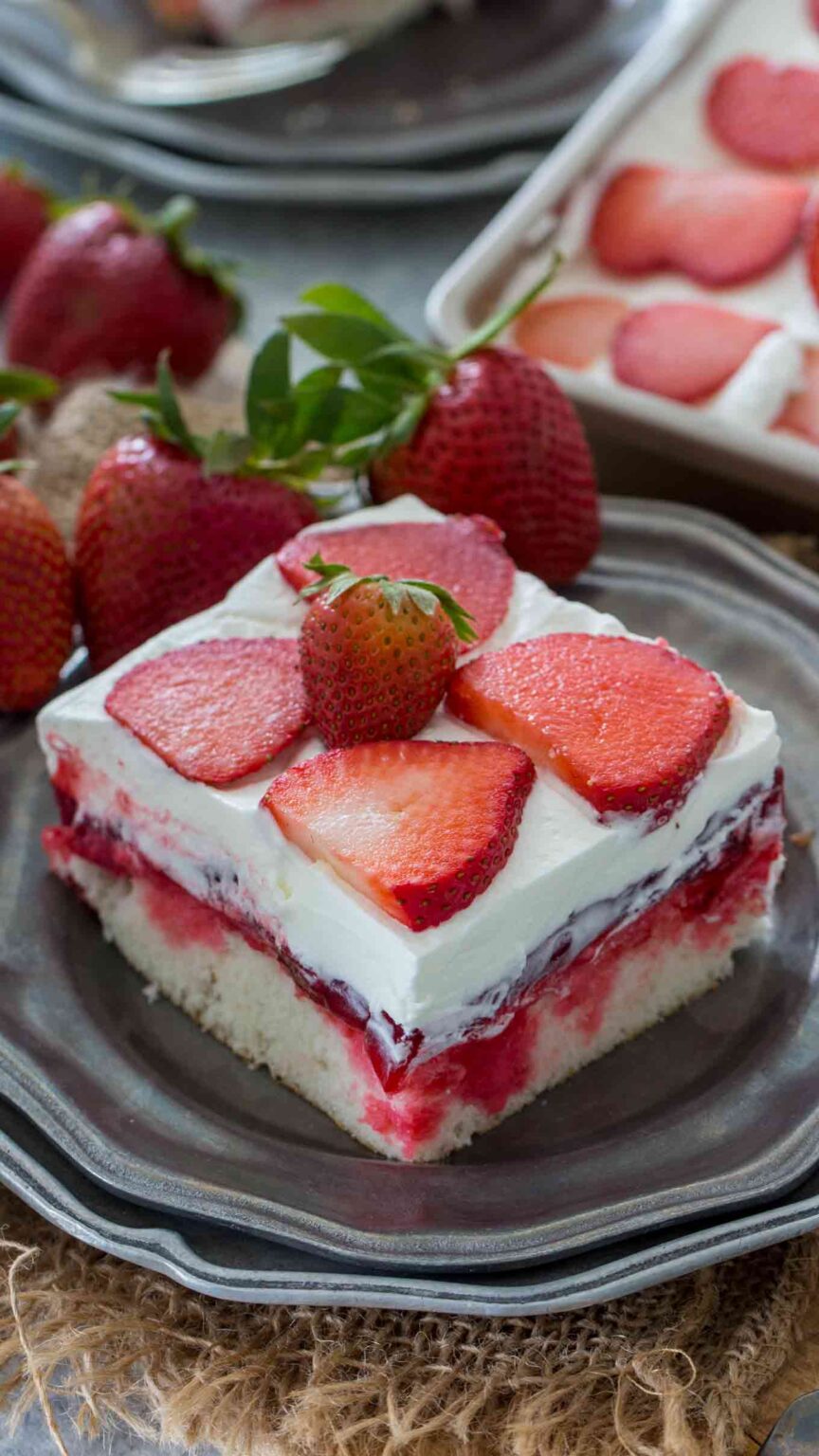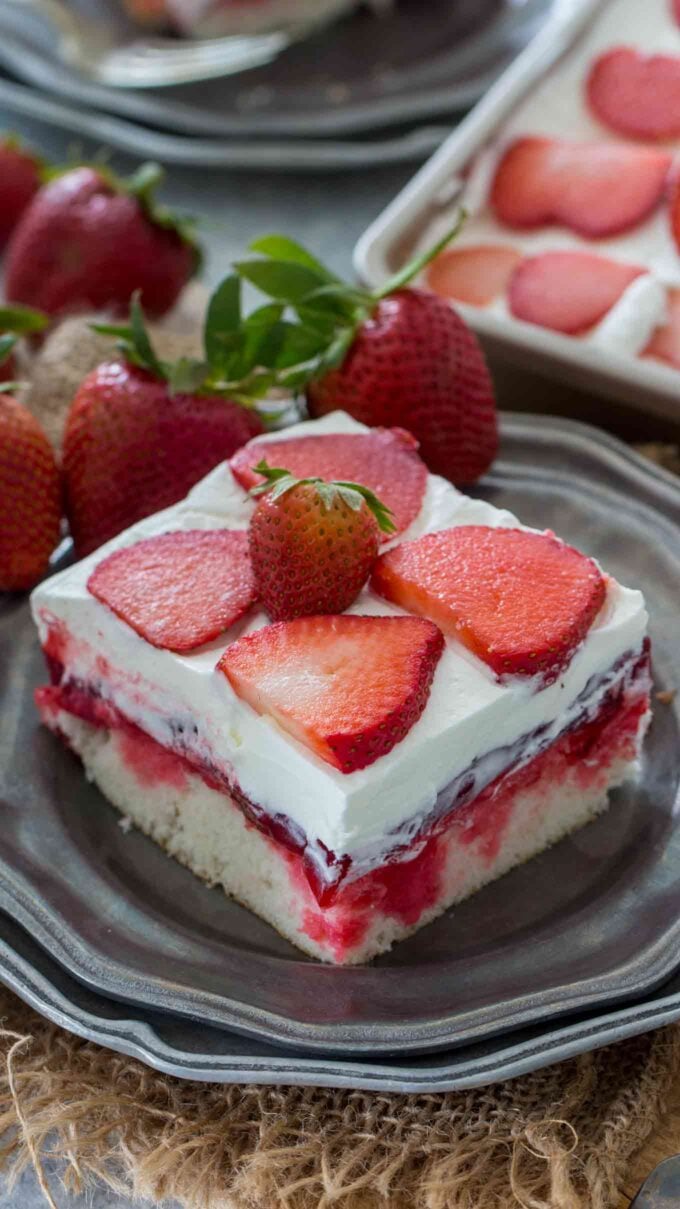 What is a Poke Cake?
A "poke or jello cake" it's a cake that you poke holes into after baking and then fill it with a liquid or filling to infuse extra flavor into every bite and make it very tender.
How to make strawberry poke cake?
Even though this dessert sounds fancy and complicated, it is quite simple and easy to make. Also, for a quick tutorial, please watch the short recipe video attached above.
Bake the cake mix: Begin by making your cake. Follow the white cake mixture box instruction and bake it accordingly.
Poke it: Once the cake is slightly cooled, poke holes with a fork at about 1/2 inch intervals.
Prepare the strawberry mixture: Combine white chocolate chips and sweetened condensed milk. Then, heat in the microwave for about 1 minute, and gently stir until smooth. Add in the gelatin mix into the warm water, and dissolve it. Next, add it to the condensed milk mixture until fully combined and smooth.
Pour the mixture: Evenly pour the mixture over the cake, so it fills the holes nicely.
Chill: Refrigerate it for about 1 hour, and top with whipped cream prior to serving.
Garnish and serve: Garnish with freshly sliced strawberries.
How do you make a jello poke cake?
Instead of using the condensed milk and white chocolate combo to make the liquid that gets infused into the cake you can make a jello mixture.
Mix 1 (3 oz.) JELL-O Strawberry Flavor Gelatin with 1 cup of boiling water until completely dissolved, stir in 1/2 cup of cold water. Pour the mixture over the poked cake and refrigerate immediately for at least 3 hours.
CAN I USE OTHER FLAVORS OF JELLO INSTEAD OF STRAWBERRY?
Absolutely! Feel free to swap the strawberry jello for any flavor you prefer. Some great options are lemon, mango, peach, raspberry, apricot, and cherry jello!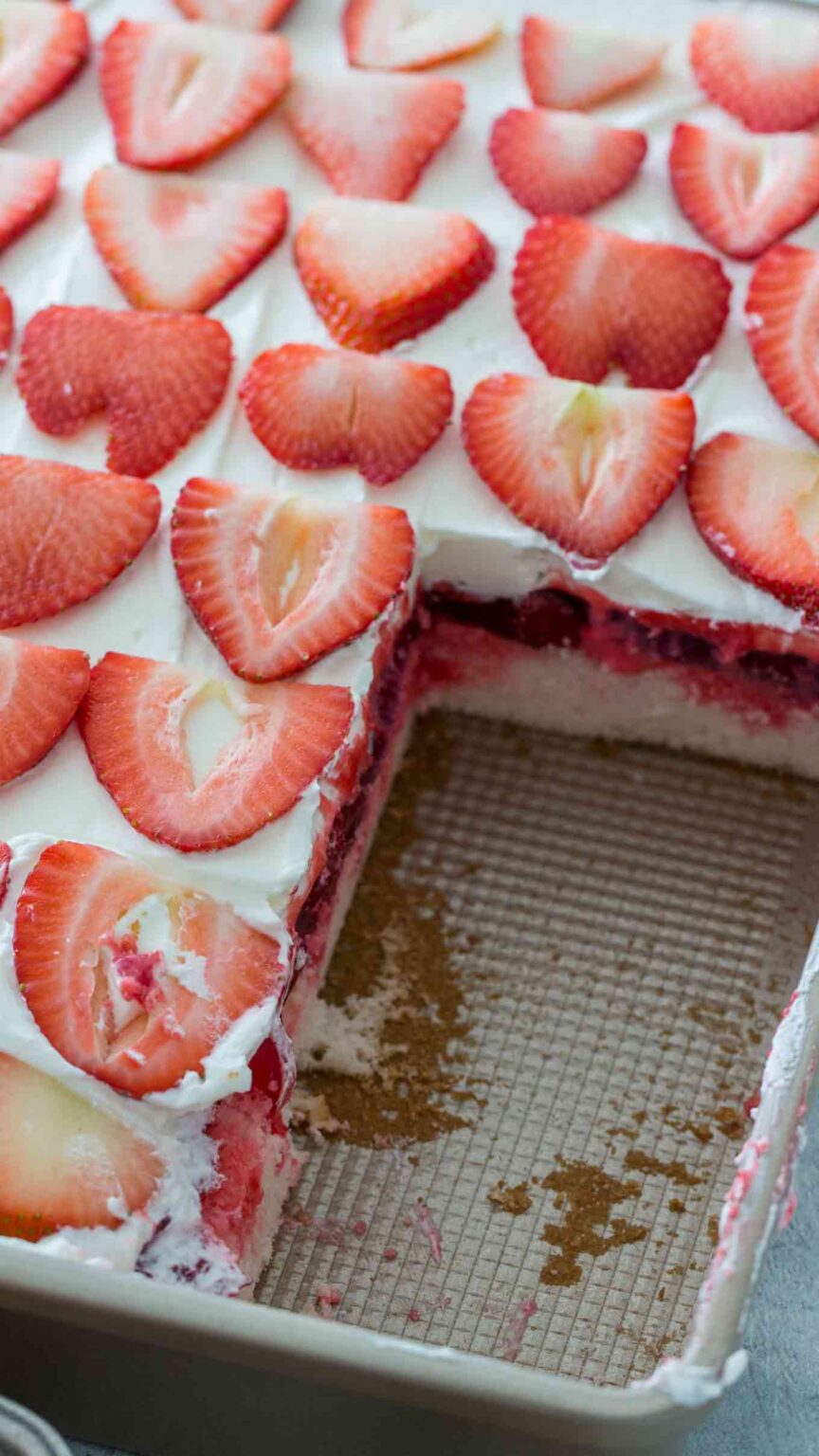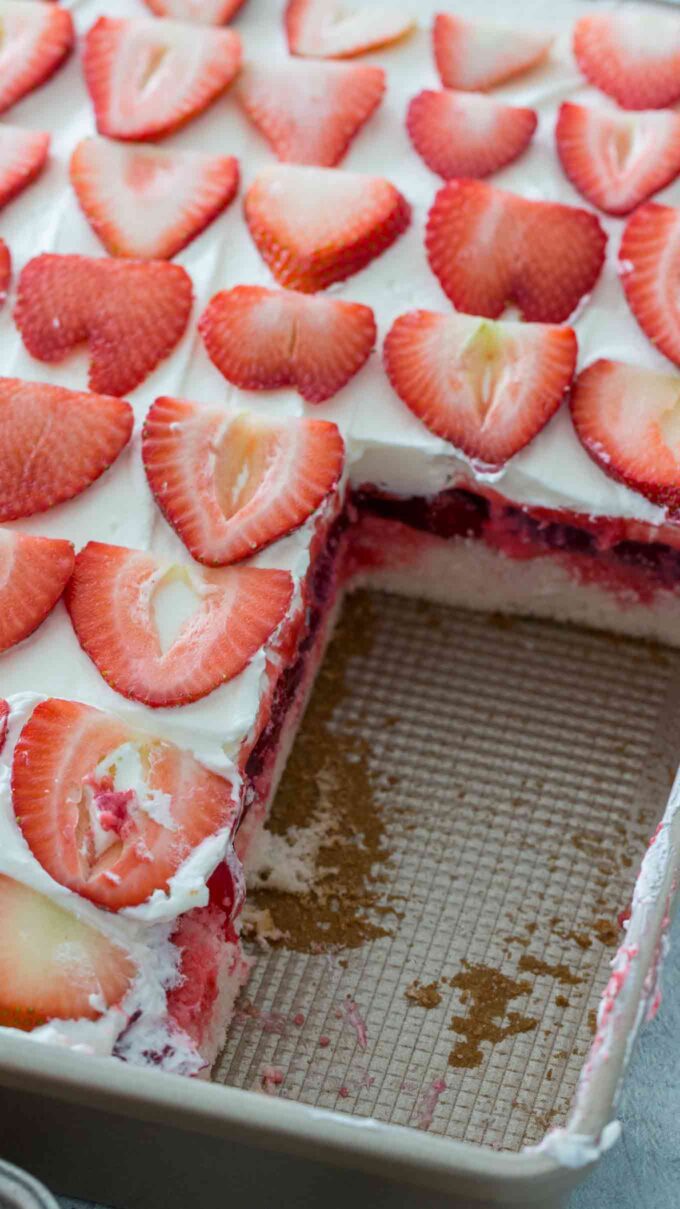 HOW TO FREEZE THE STRAWBERRY POKE CAKE?
More delicious Poke Cakes:
We have a nice collection of delicious poke cakes. Some of our most popular ones are:
Strawberry Cake Recipe Tips:
Tools/Ingredients I used to make this Recipe: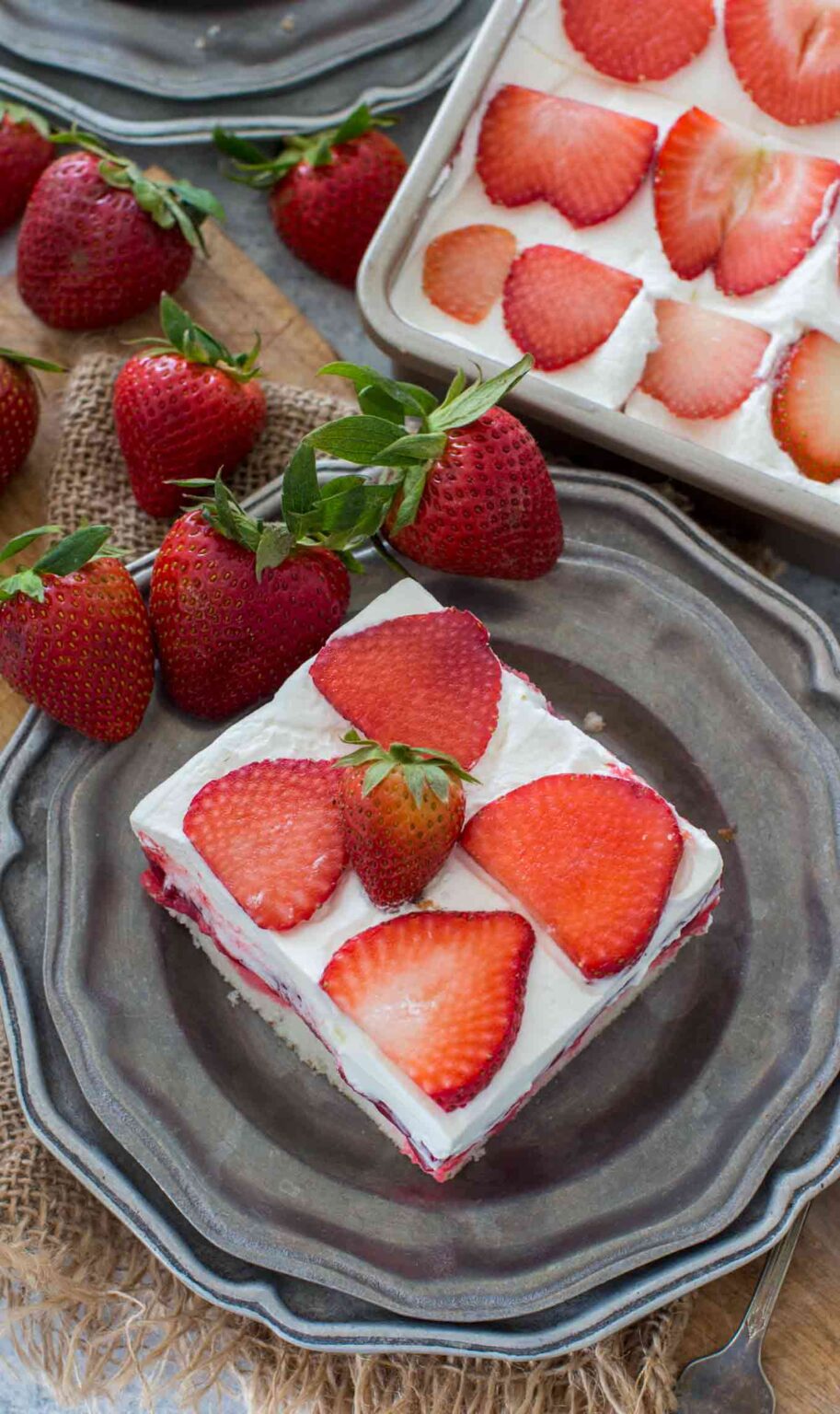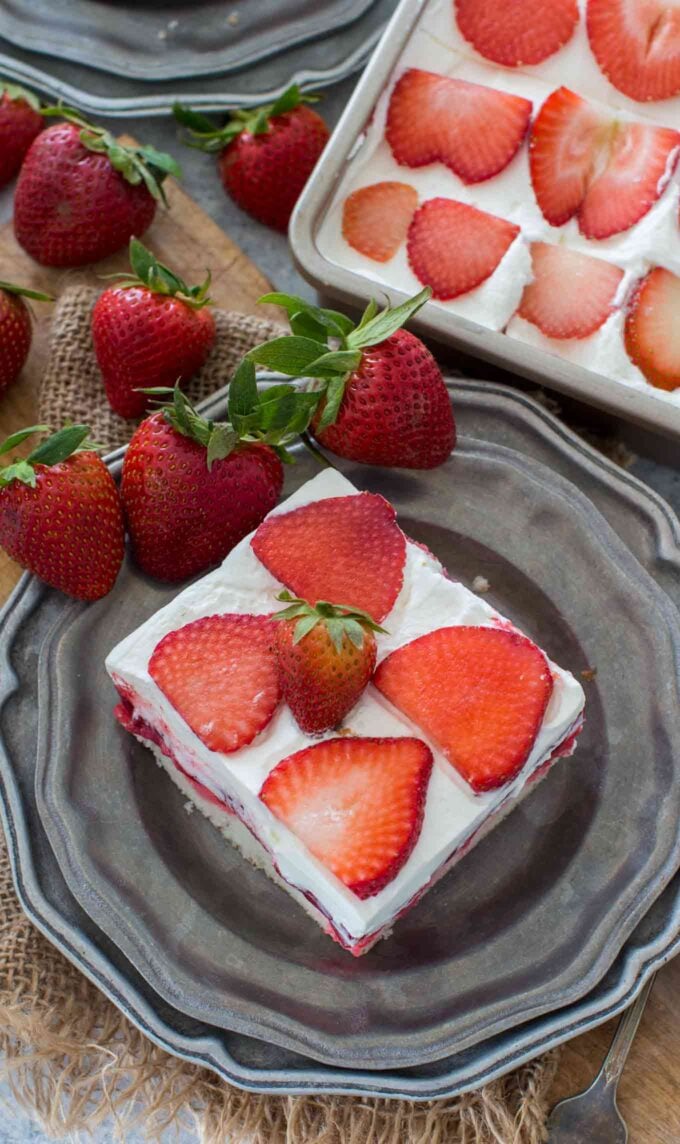 Save Recipe
Best Strawberry Poke Cake
Strawberry Poke Cake is made with white cake, soaked with a mixture of white chocolate strawberry sauce, topped with strawberry pie filling and creamy whipped cream.
Author: Catalina Castravet
Serves: 16 servings
Prep time:

30

minutes
Cook time:

30

minutes
Total time:

1

hr
Ingredients
Ingredients usually called for the cake mix:
Strawberry White Chocolate Mixture:
Other ingredients:
Instructions
Prepare White Cake:
Strawberry White Chocolate Mixture:
Other layers:
Whipped Cream:
Garnish:
Nutrition information
0 Calories: 415 Carbohydrates: 49 Protein: 5 Fat: 22 Saturated Fat: 14 Cholesterol: 81 Sodium: 287 Potassium: 185 Fiber: 0 Sugar: 34 Vitamin A: 550 Vitamin C: 5.2 Calcium: 183 Iron: 0.9
Save Recipe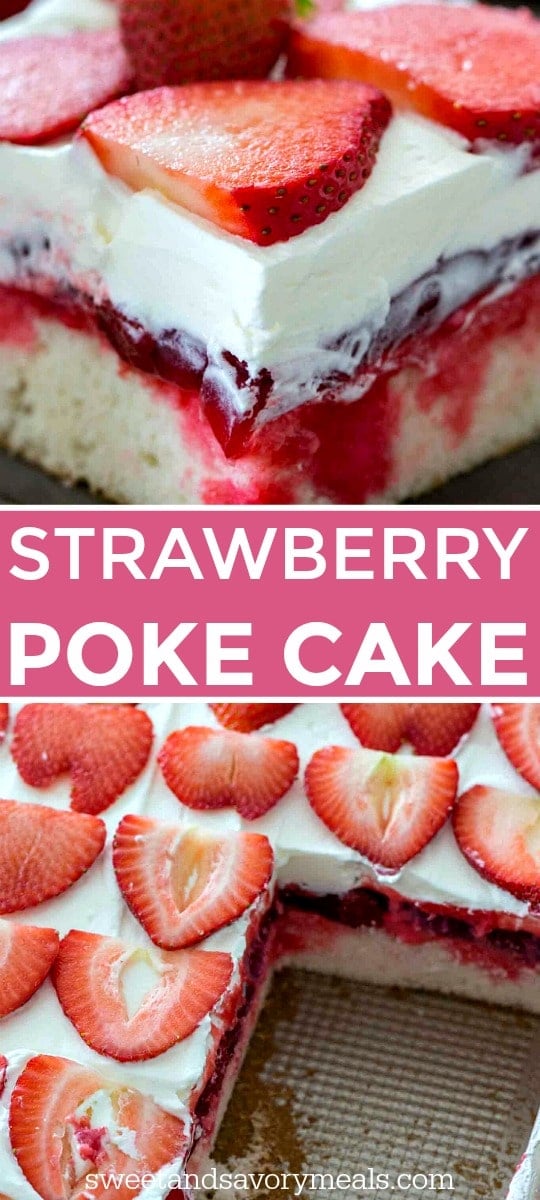 More recipes you might love
Categories: