Best Strawberry Poke Cake [VIDEO]
Strawberry Poke Cake is made with white cake mix, soaked with a mixture of white chocolate strawberry sauce, topped with strawberry pie filling, and fluffy whipped cream. This is the perfect dessert year-round, and especially during summertime at potlucks and picnics.
I am a huge fan of Poke Cake recipes, they are very popular on the blog because since they are so easy to make, and taste delicious. Featuring different layers and textures of sweet goodness, there is something to please everyone. Upon popular demand, we have added few others to our growing collection, like Banana Pudding Poke Cake, Key Lime, and Baileys. They are incredibly easy to make, mostly using a cake mix to save you time.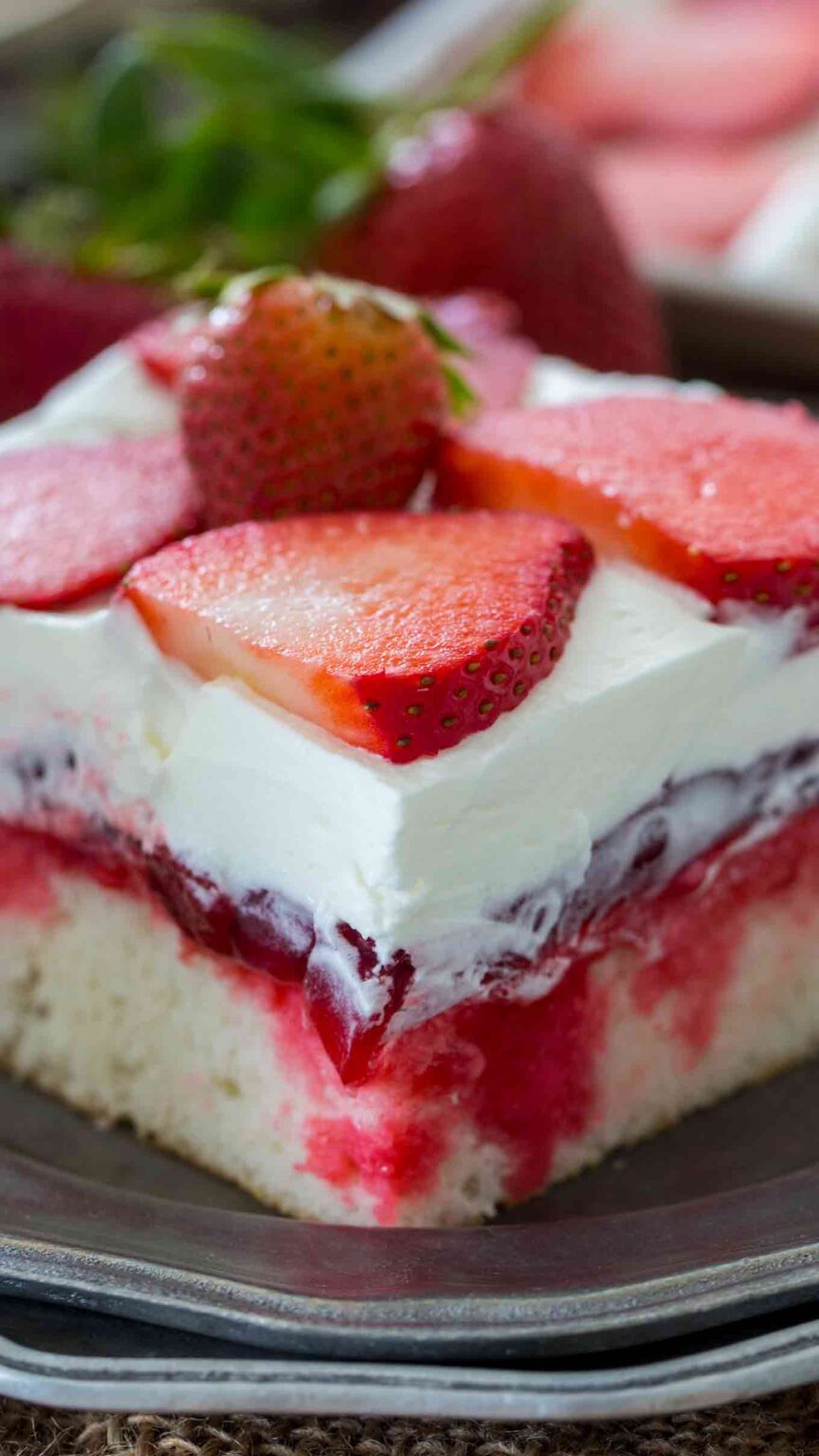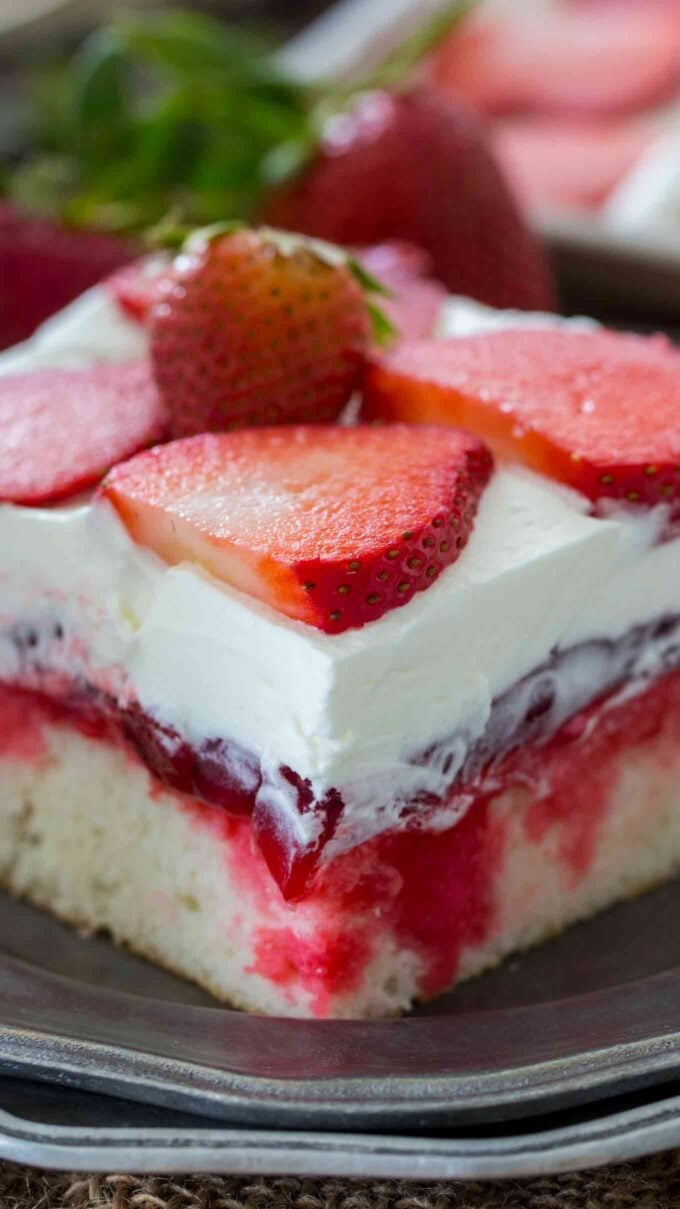 Best Strawberry Jello Poke Cake
Hands-down this is one of the most amazing desserts I have ever had! Basically, a dream come true, if you allow me to make a cheesy comparison, I would say that's what probably angels eat!
I mean, it is so tender and fluffy, and it melts in your mouth, this is the perfect summer dessert. It's also moist, yes, I said it, it's moist! Because it has been filled with the most amazing sauce made with white chocolate and jello mixture.
Followed by a layer of strawberry pie filling, a thick layer of homemade whipped cream, and freshly sliced strawberries. The fresh strawberries in each bite make it tastes like summer.
Usually, a Jello Poke Cake is infused with a simple strawberry gelatin mixture, well, I took it to a whole new level and I added white chocolate, that has been poured all over the cake and got into all the holes. Full of flavor, airy, sweet, and bursting with all the delicious and different strawberry textures, this dessert is fantastic and also very, very easy to make.
Readers Feedback:
This recipe has over 10 million views across Facebook and Pinterest! With so many readers raving about it, check for yourself what they have to say:
"This poke cake turned out magnificently. The taste and texture were wonderful and this is now my go-to cake when we have guests. My 90-year-old dad phones to find out if there is going spare. Thank you for posting this. Fab cake."
"Wow, this is super delicious and flavorful. Best strawberry desert it is also moist and very yummy! We ate it all at once!"
"Made it for a birthday and EVERYBODY loved it. Easy to put together but tasted and looked like a lot more effort was involved. Definitely will be making again and again!!"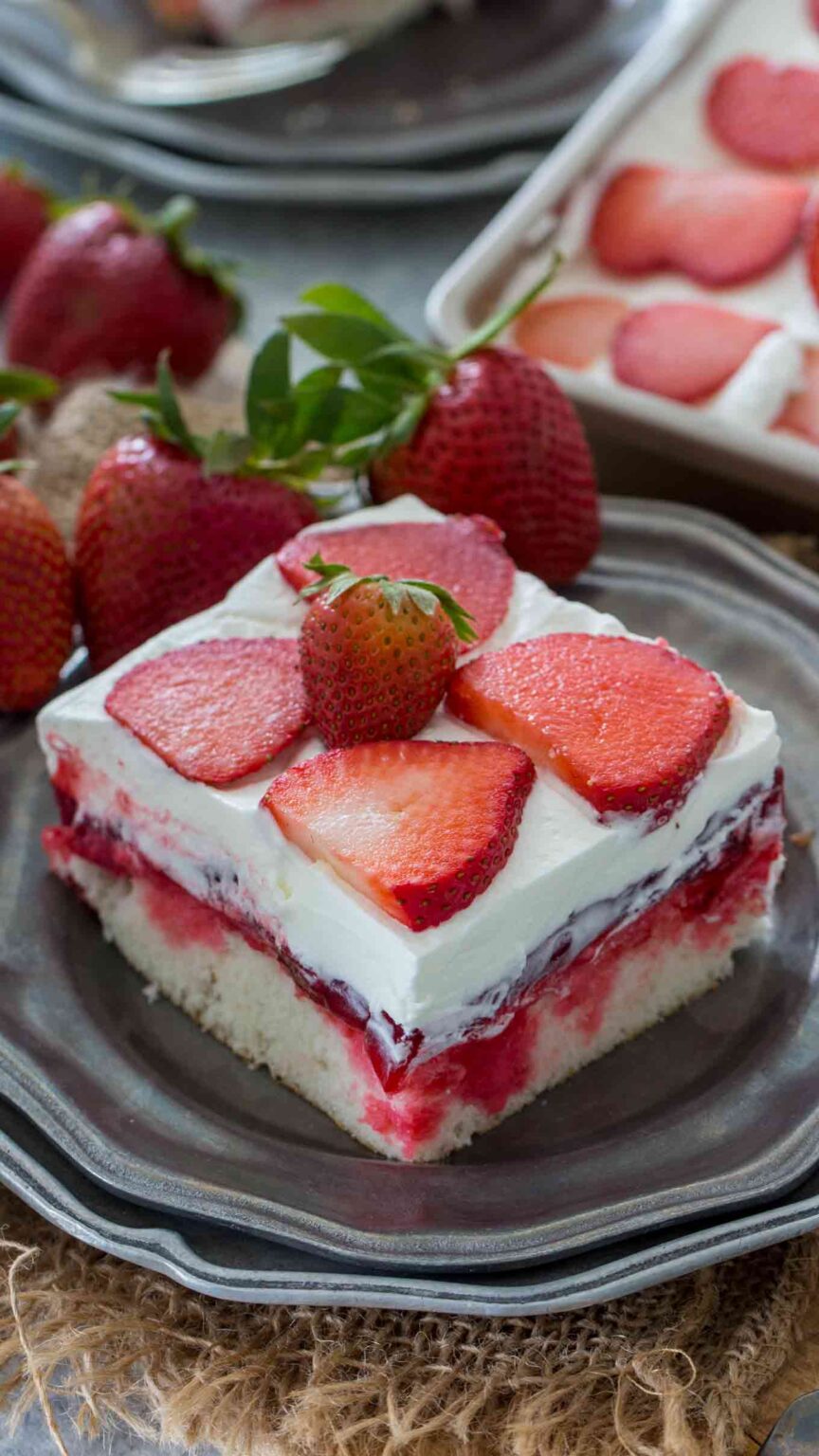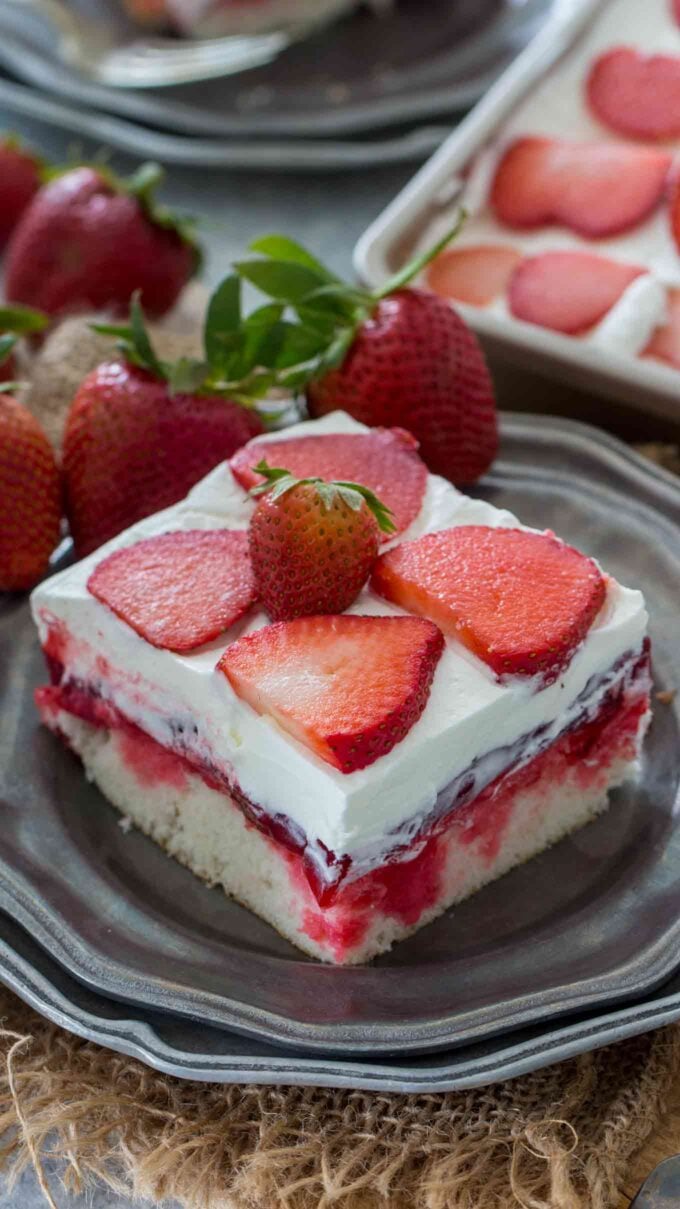 Ingredients Needed:
Boxed Cake mix – we use a white cake mix for the base, plus the ingredients needed for it, like egg whites, water, and oil.
Condensed milk
White chocolate chips – we use them to make the white chocolate strawberry sauce.
Warm water
Strawberry pie filling – use store-bought or make your own using this homemade strawberry pie filling recipe.
Heavy whipping cream – we make the fresh whipped cream using it, but you can also use store-bought whipped topping or cool whip.
Sugar
Vanilla extract
Fresh strawberries: Make sure you use sweet strawberries.
How to make strawberry poke cake recipe:
Even though this dessert sounds fancy and complicated, it is quite simple and easy to make. Also, for a quick tutorial, please watch the short recipe video attached to the recipe card. You will notice a small discrepancy, as I have changed the way I make the white chocolate sauce, so please follow the recipe for precise directions.
Bake the cake mix: Begin by making your cake. For that, follow the instructions on the box, pour batter into the prepared baking pan and bake it accordingly. After that, place it on a wire rack to cool.
Poke it: Once the cake is just slightly cooled, poke holes with the end of a wooden spoon at about 1-inch intervals.
Prepare the strawberry mixture: Combine white chocolate chips and sweetened condensed milk. Then, heat in the microwave for about 1 minute, and gently stir until smooth. Next, add the Jell-o into the warm water, and dissolve it. After that, add it to the condensed milk mixture and stir until fully combined and smooth.
Pour the mixture: Evenly pour the mixture over the cake, so it fills the holes nicely.
Make the whipped cream topping: In a large bowl beat the ingredients until stiff peaks form.
Chill: Refrigerate it for about 1 hour, and afterward add the whipped cream on top of the cake. Next, chill the cake for 6-8 hours or better overnight,
Garnish and serve: Garnish with freshly sliced strawberries and serve.
Store: Actually, this dessert will stay fresh in the fridge for up to 3 days. Either leave it in the baking dish and cover with plastic wrap or transfer it to an airtight container.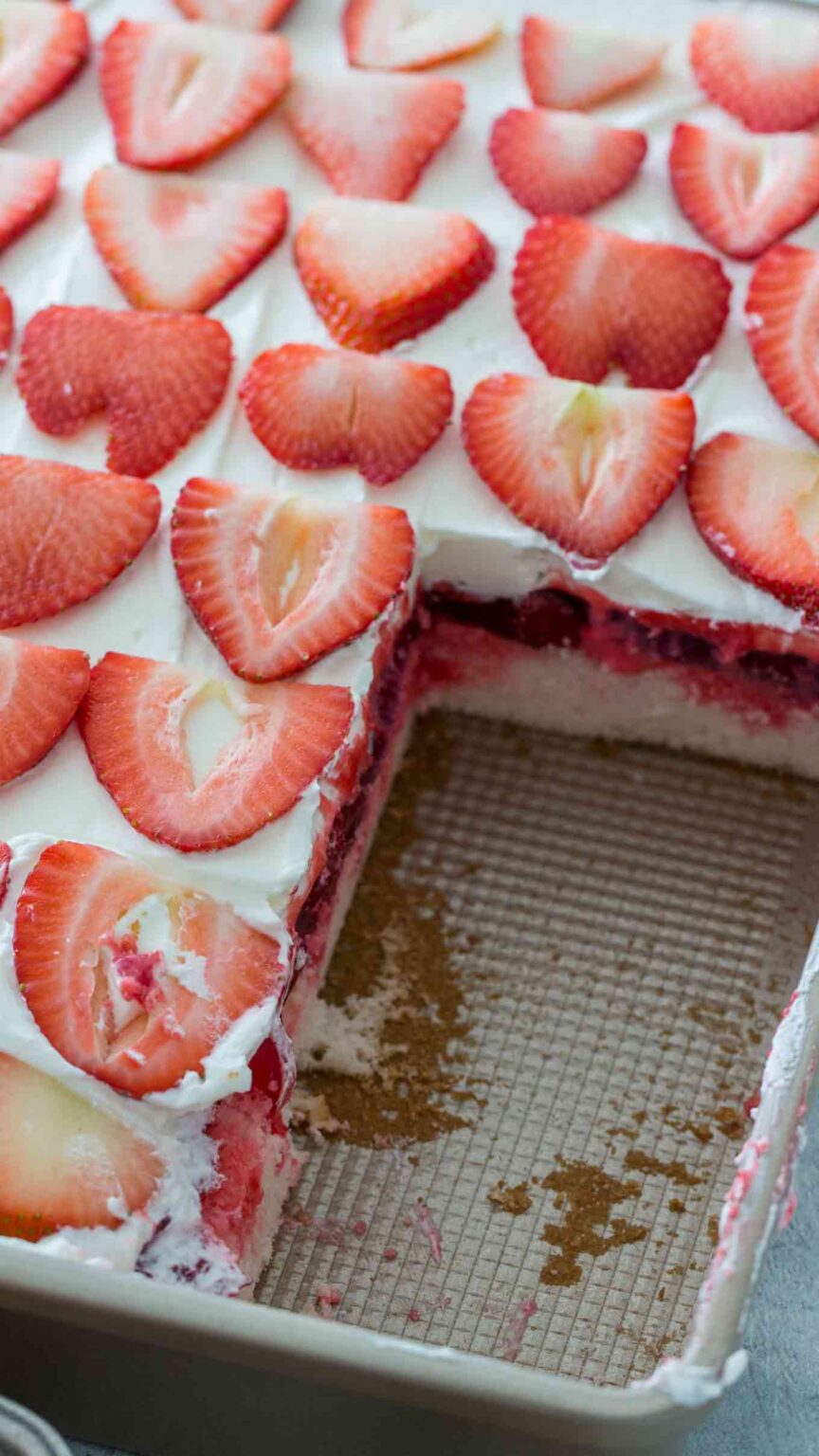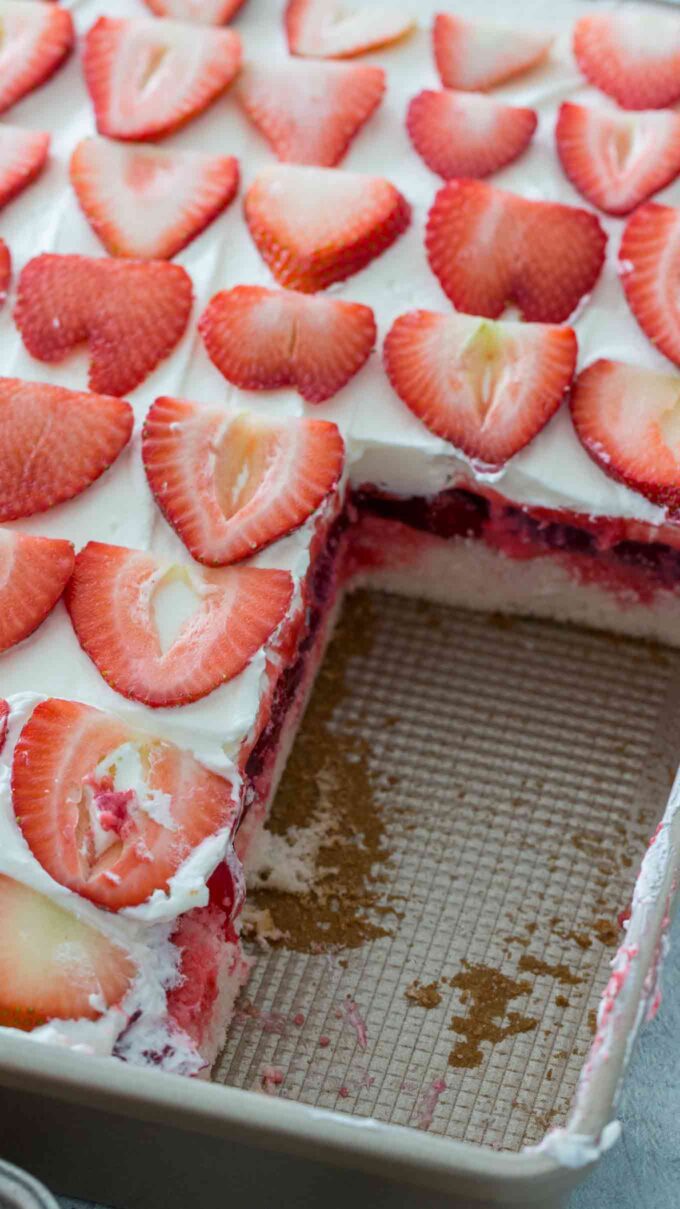 Recipe variations:
How do you make a jello poke cake: Instead of using the condensed milk and white chocolate combo to make the liquid that gets infused into the cake, you can make just a jello mixture. Mix 1 (3 oz.) JELL-O Strawberry Flavor Gelatin with 1 cup of boiling water until completely dissolved, stir in 1/2 cup of cold water. Pour the mixture over the poked cake and refrigerate immediately for at least 3 hours.
Instant Pudding: As an alternative, add a layer of instant pudding, we recommend vanilla pudding, lemon, or cheesecake.
Another flavor of jello: Feel free to use any jello flavor you prefer. Some great options are lemon, mango, peach, raspberry, apricot, lime, pumpkin, and cherry! Also, use cherry filling, lemon curd, lime curd, or apple pie filling.
Boxed mix: Alternatively use a different boxed mix, like lemon, angel food cake, yellow cake mix, funfetti, vanilla, or chocolate cake mix.
Gluten-Free: Similarly, replace the cake mix with a gluten-free one for a gluten-free version of this recipe.
Topping: Instead of using whipped cream, make this cream cheese frosting or serve with a drizzle of fresh strawberry sauce.
Citrus: For a refreshing taste, add some lemon juice and lemon zest.
Frequently Asked Questions:
What is a Poke Cake?
A "poke or jello cake" it's a cake that you poke holes into after baking and then fill it with a liquid or filling to infuse extra flavor into every bite and make it very tender. Usually, the liquid is made using flavored Jell-O. After that, a fruity filling is added on top and a final layer of whipped cream.
What do you use to poke a hole in a cake?
Usually, the handle of a wooden spoon is used. However, there is a simple rule to keep in mind, make sure to poke the holes 1 inch apart. Hence, if you poke them too close, the dessert will be too moist after pouring the jello. But if you take them too far from each other, the filling won't be proportionally absorbed.
How to Freeze a Poke Cake?
Without the frosting: If freezing the cake without adding the frosting, first wait for the cake layer to cool completely. Then, fully wrap in plastic wrap tightly. Next, wrap in aluminum foil or place it in freezer bags. After that, freeze for up to 3 months.
With the frosting: If freezing a frosted cake, first place it in the fridge, so the frosting isn't too soft. Next, fully wrap it in plastic wrap tightly. Then, wrap in aluminum foil or place it in freezer bags. Freeze for up to 3 months. Defrost before serving.
Defrost: When you intend to serve it, make sure to plan in advance and transfer the dessert from the freezer to the fridge to thaw overnight. After that, slice and serve.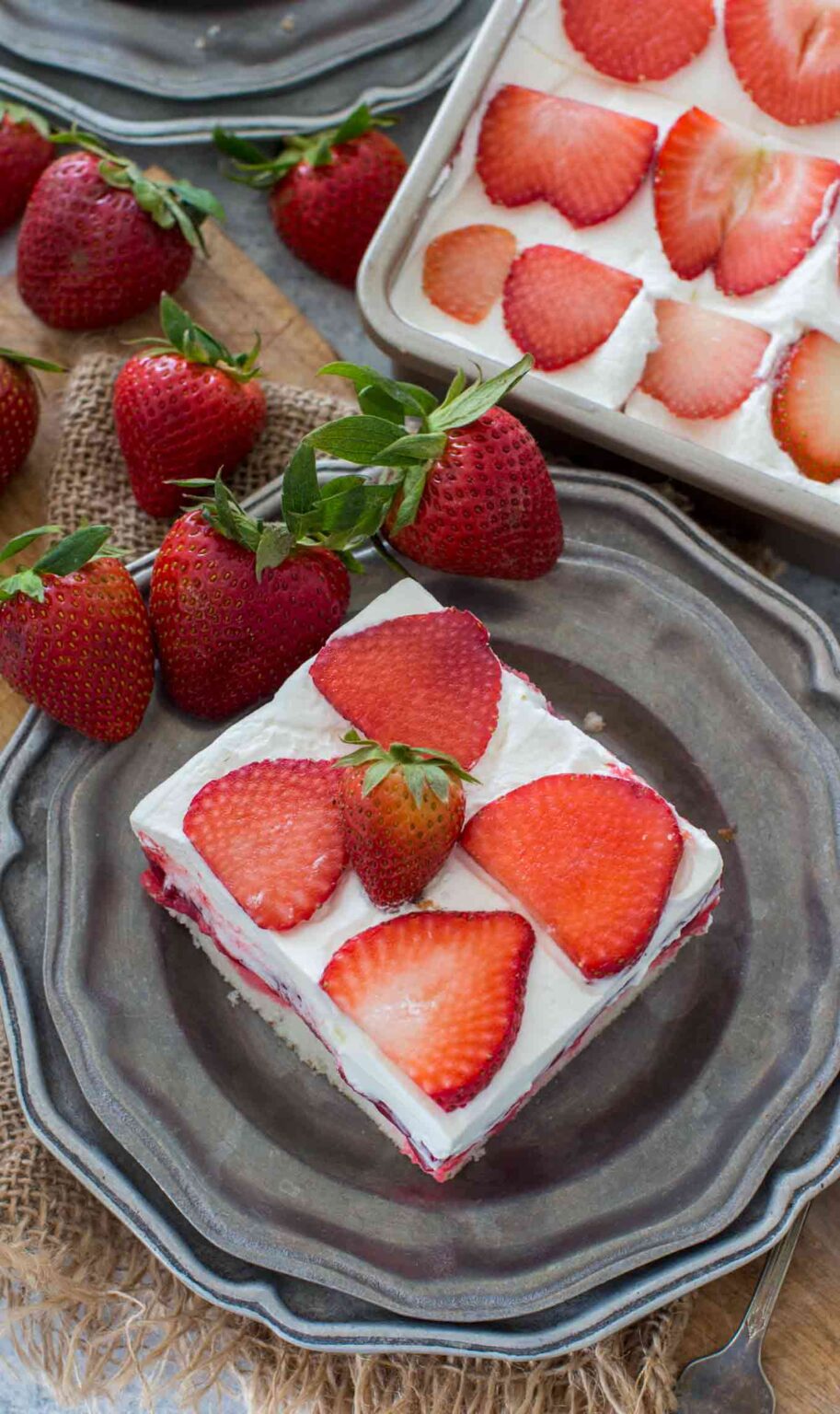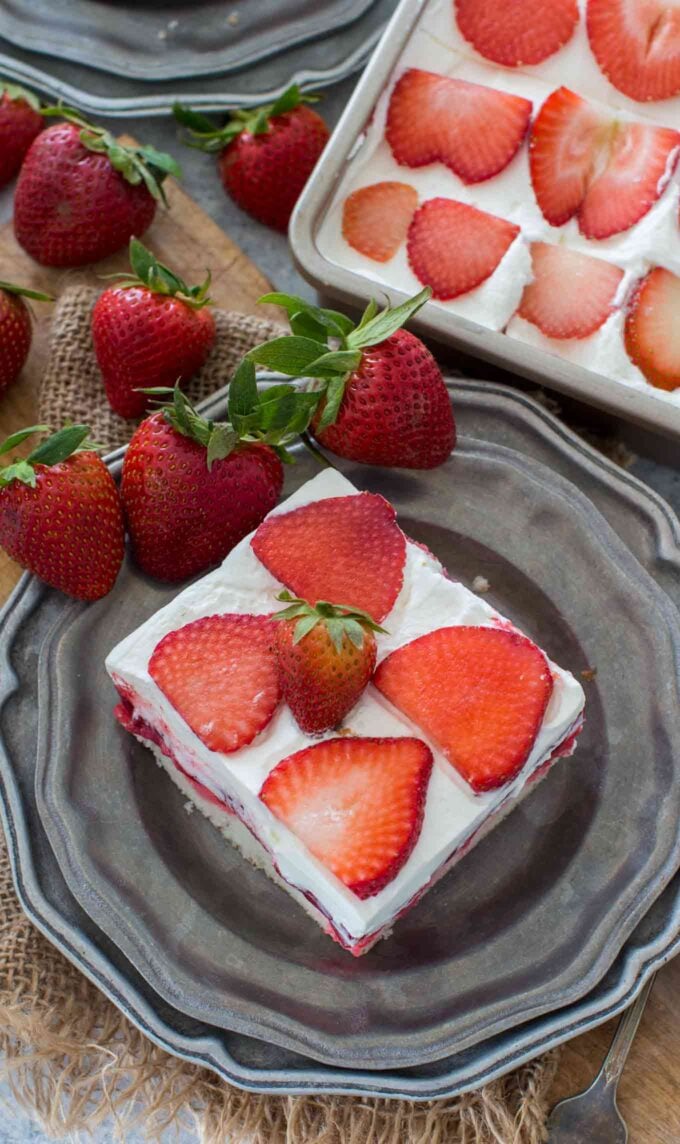 More delicious desserts:
Recipe Tips:
Using a cake mix will reduce the prep time. A White Cake mix is best for this recipe.
Also, the strawberry pie filling layer is optional, but it adds a nice flavor and texture to it.
To save time you can use store-bought whipped cream aka Cool-Whip instead of making your own.
Let the delicious cake chill for at least 8 hours in the fridge before serving, this will make the cake extra tender. However, if you are short on time, you could serve it after about 2-3 hours of chilling it. However, note that it may be saucier since the Jell-O mixture hasn't been fully absorbed.
Keep the dessert refrigerated as the frosting will soften if kept at room temperature for too long.
Clean the knife after each cut, otherwise, the slices will be messier, since the frosting may stick to the knife.
Fresh strawberries add a nice texture and flavor to the cake, so don't skip them.
For other colorful cakes, use a different jello mix.
Use a good quality 9×13 Cake Pan – I swear by this one!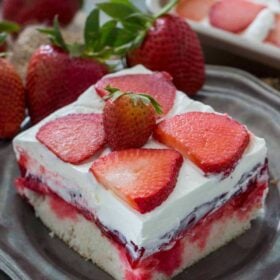 Best Strawberry Poke Cake
Strawberry Poke Cake is made with white cake mix, white chocolate strawberry sauce, strawberry pie filling, and fluffy whipped cream.
Save
Share
Print
Pin
Rate
Ingredients
1

box

(15.25oz) white cake mix

(plus ingredients to prepare the mix)
Ingredients usually called for the cake mix:
3

eggs whites

1

cup

water

1/3

cup

vegetable oil
Strawberry White Chocolate Mixture:
14

oz

sweetened condensed milk

3/4

cups

white chocolate chips

1

package

(3 oz) JELL-O strawberry flavor gelatin

1/4

cup

warm water
Other ingredients:
2

cans

(21 oz each) strawberry pie filling

2

cups

heavy whipping cream

(full fat and cold)

2

tablespoons

sugar

1

teaspoon

vanilla extract

10-15

fresh strawberries

(sliced)
Instructions
Prepare White Cake:
Grease and sprinkle with flour a 9-x-13 inch cake pan.

Prepare white cake mix according to box instructions. Pour batter into the prepared pan and bake for about 25-30 minutes, or until a toothpick inserted in the center comes out clean. Let cool for 10 minutes and using the bottom of a wooden spoon, poke holes all over the cake, 1 inch apart.
Strawberry White Chocolate Mixture:
In a medium, microwave-safe bowl, combine white chocolate chips and sweetened condensed milk. Heat in the microwave until hot for about 1 minute, stir and heat 30 seconds or more if needed. Stir until fully combined, smooth, and shiny.

Stir in the strawberry gelatin mix into the warm water. Make sure it dissolves, otherwise it will be gritty. Stir the strawberry mixture into the condensed milk mixture until fully combined and smooth.

Pour the strawberry chocolate mixture all over the cake and using a spatula spread it evenly into the holes.

Let the cake cool completely and refrigerate for about one hour.
Other layers:
Top the cake with the strawberry pie filling if using.
Whipped Cream:
In a large bowl, beat heavy cream, sugar, and vanilla extract until stiff peaks form.

Using a spoon, scoop the whipped cream all over the cake and spread it with a spatula.
Garnish:
Garnish the cake with sliced strawberries.

Refrigerate the cake for at least 8 hours or better overnight before serving.
Nutrition
Serving:
0
g
|
Calories:
415
kcal
|
Carbohydrates:
49
g
|
Protein:
5
g
|
Fat:
22
g
|
Saturated Fat:
14
g
|
Cholesterol:
81
mg
|
Sodium:
287
mg
|
Potassium:
185
mg
|
Fiber:
0
g
|
Sugar:
34
g
|
Vitamin A:
550
IU
|
Vitamin C:
5.2
mg
|
Calcium:
183
mg
|
Iron:
0.9
mg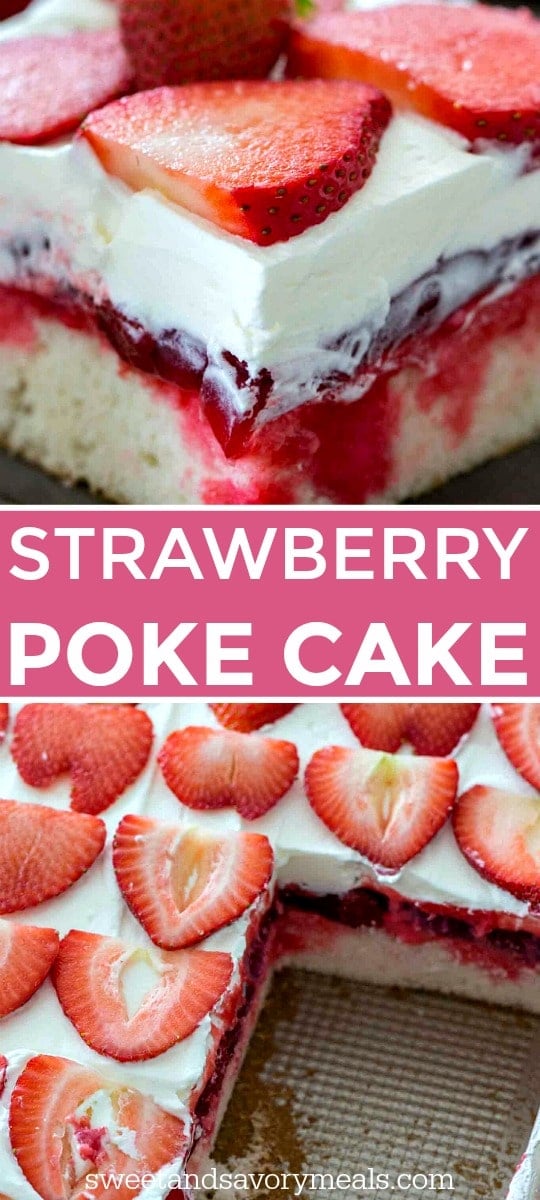 More recipes you might love