Sparkling Strawberry Lemonade [Video]
Sparkling Strawberry Lemonade elevates your favorite summer drink a notch higher! Festive-looking and fun just like summer, it is citrusy, cool, and bubbly!
If you love citrus-based recipes, then you will enjoy this one. I love my citrus-based recipes and I am sharing these with you! Check out my recipes for Lemon Pepper Shrimp, Cranberry Orange Bread, and Detox Water.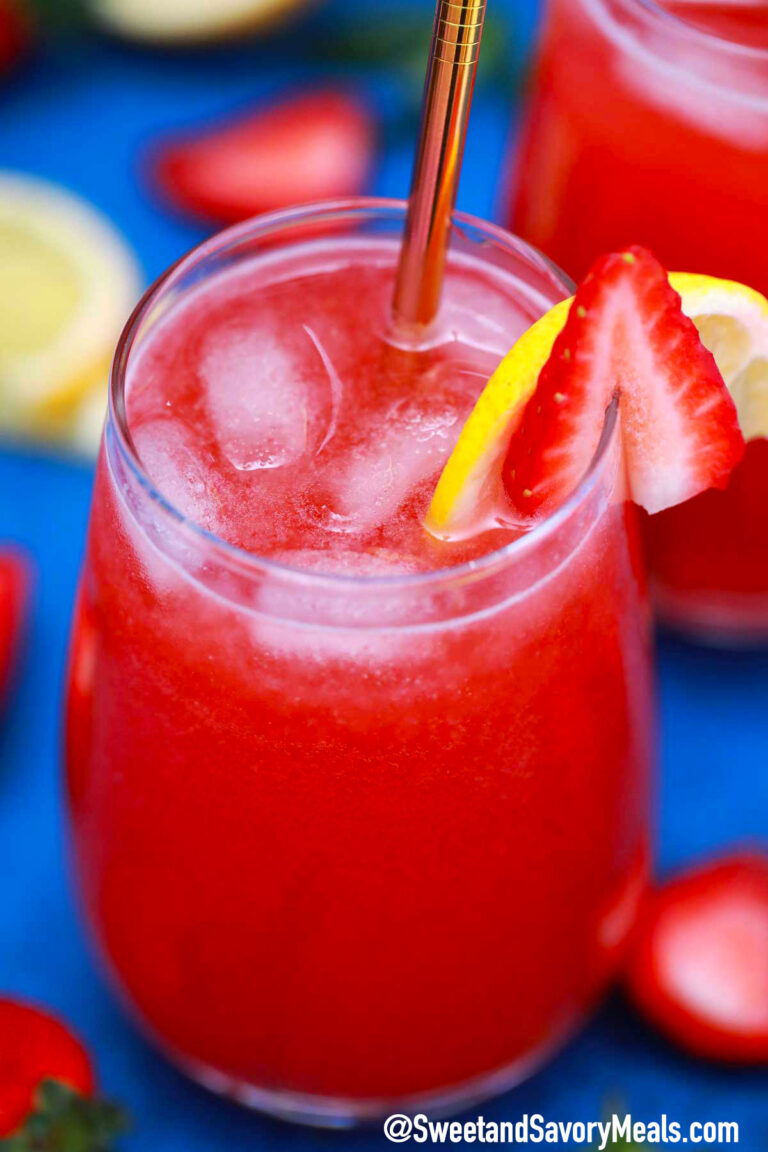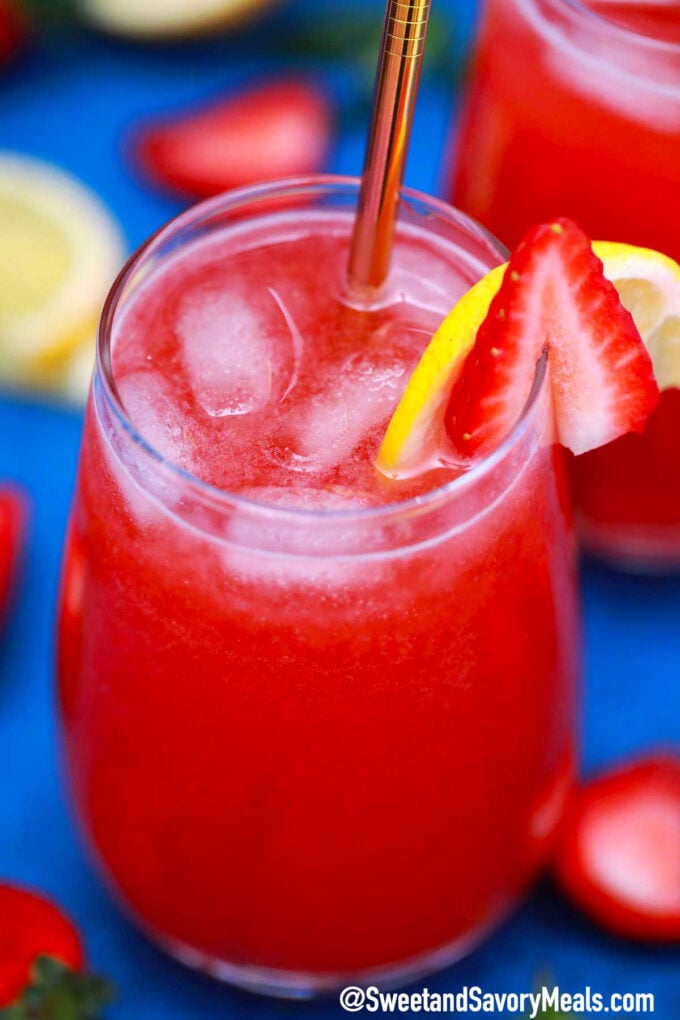 Strawberry Lemonade Recipe
Sparkling Strawberry Lemonade is not your ordinary summer drink. It is bright and vibrant. Just by looking at it, you would know it will spell relief against the summer heat.
It is a popular drink in my family every summer. We used to have this growing up every summer whenever we have a picnic or when simply when we want a break from drinking plain water. Or, when my mom was coaxing us to drink more!
You know how kids can get so busy and just completely forget to hydrate. So, serving fun drinks like this is one way to increase their fluid intake.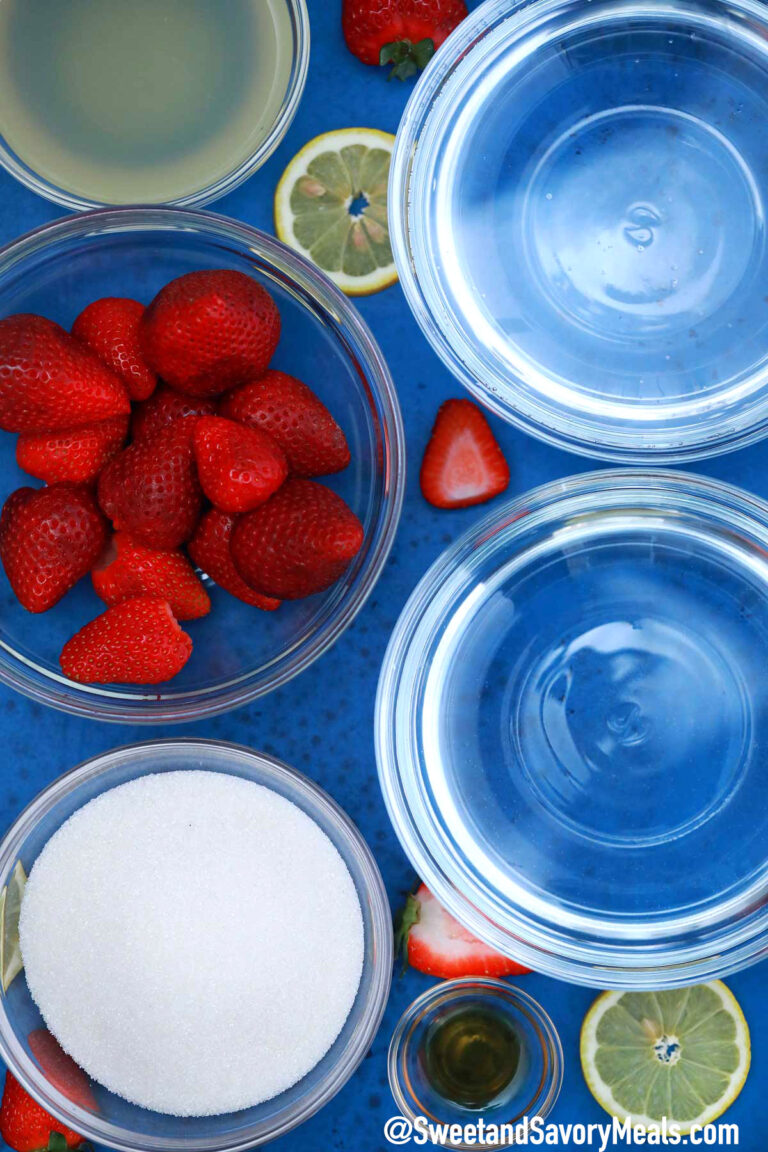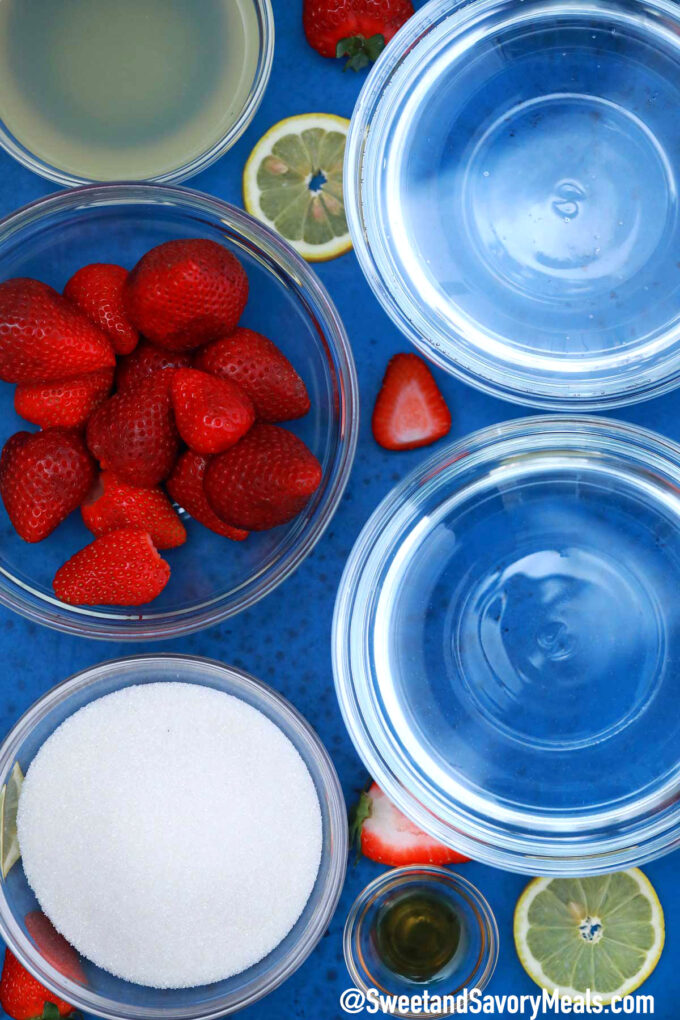 I applaud my mom who used to make this from scratch. It is very easy to be tempted and just rely on processed drinks available commercially. But those are full of sugar and ingredients that we do not even know how to pronounce right if you know what I mean.
After all, this recipe is so easy to make that you can easily prepare it with fresh fruits. It is a lot healthier and easily customizable, too!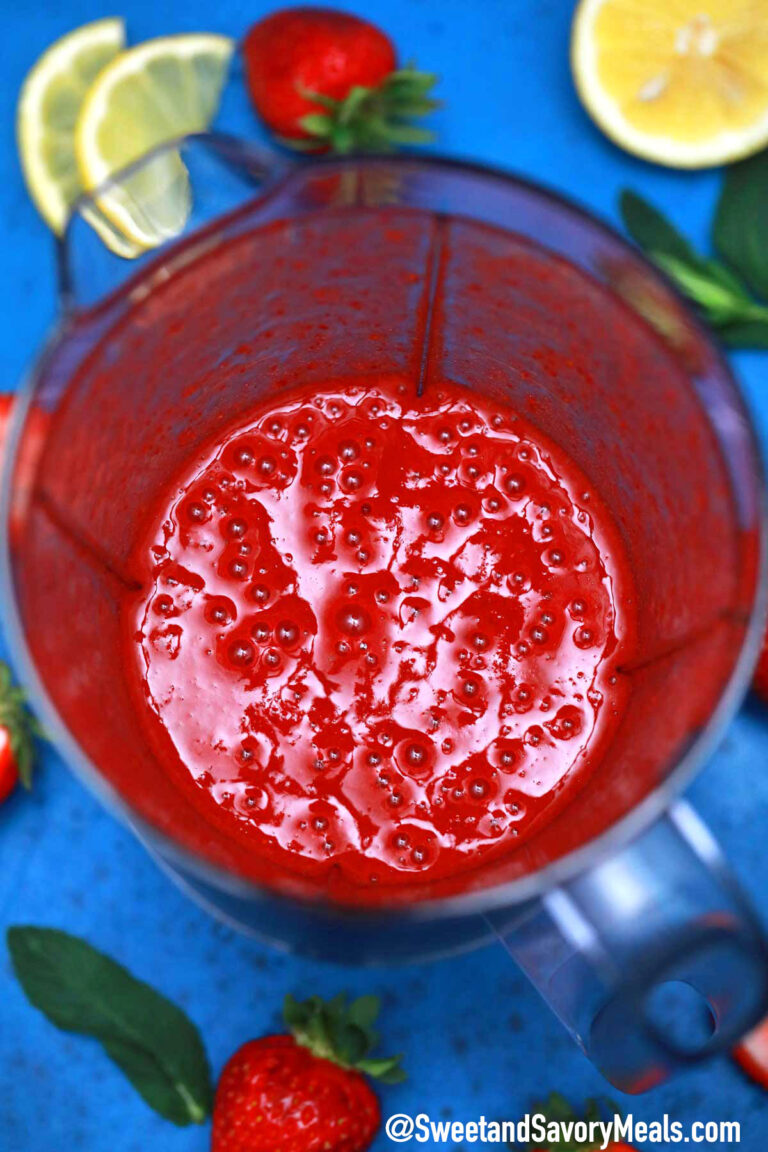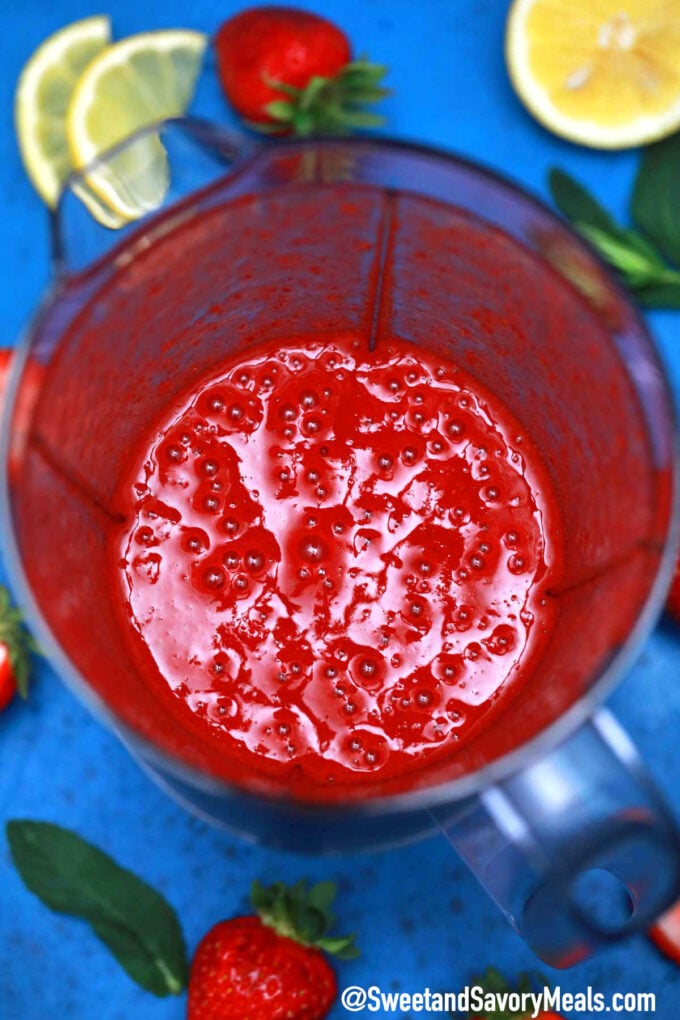 Can you use frozen strawberries for this lemonade?
Yes! The good thing about using frozen strawberries is that the mixture will be a little cold already. You can drink it right away without having to chill it for hours.
You can lessen the ice that you will add which means less dilution and more flavor!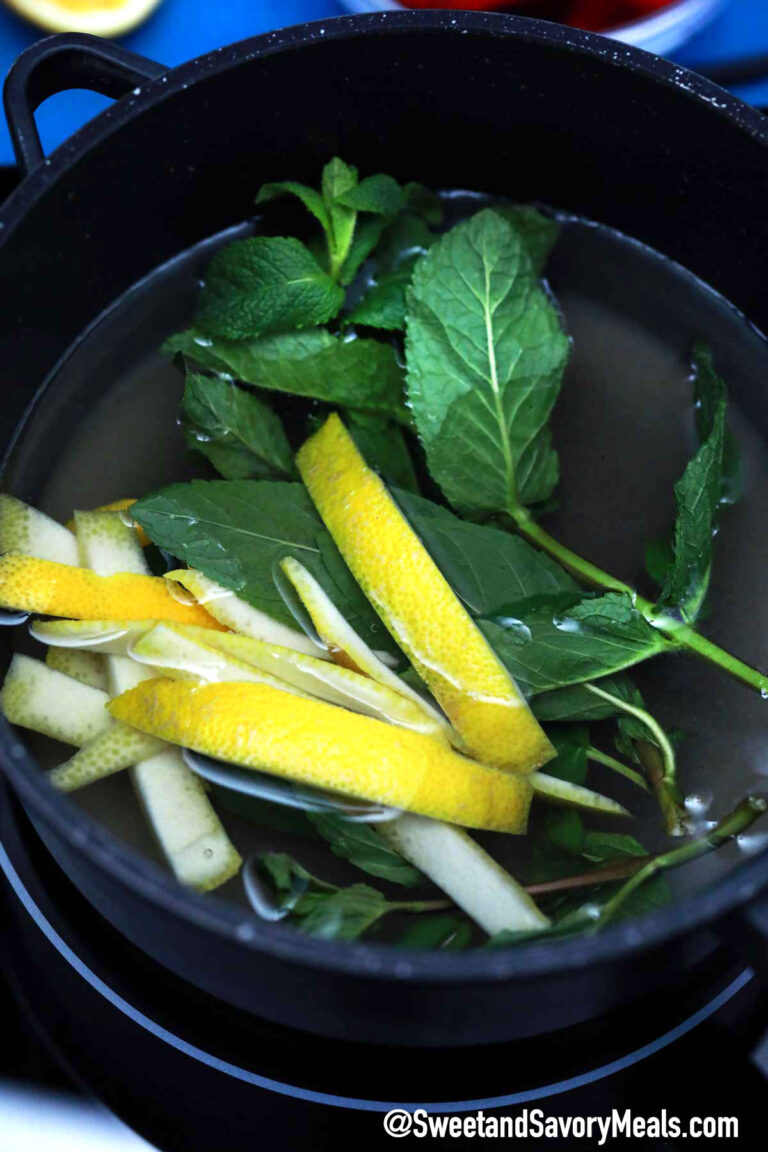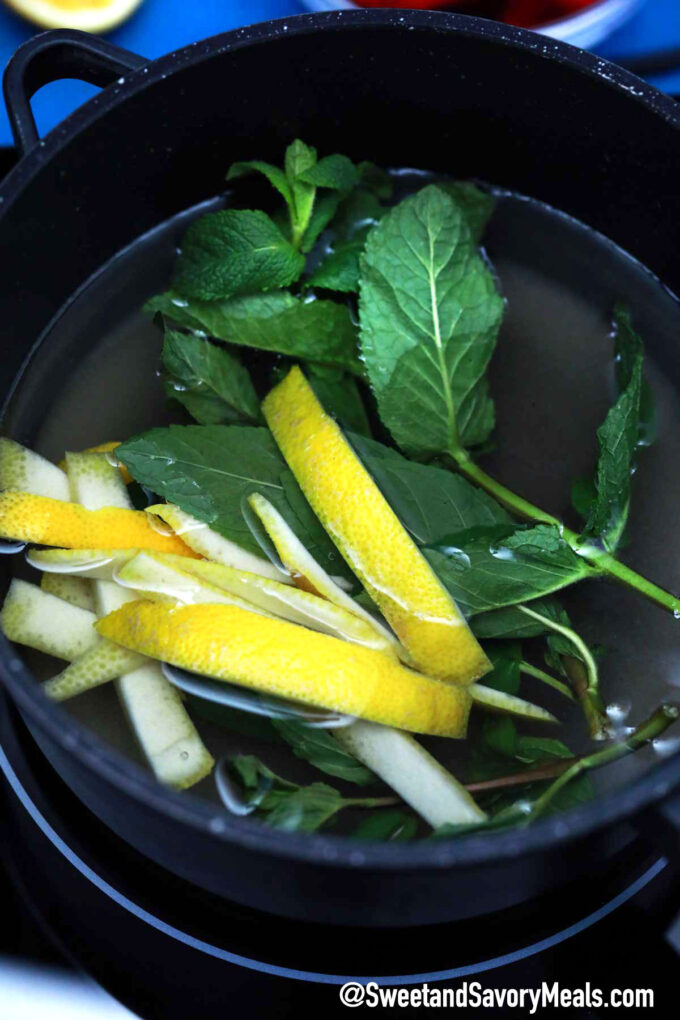 How to make Sparkling Strawberry Lemonade
Make the syrup: Dissolve the sugar in water in a saucepan on the stovetop. Also, add in the peel and mint for more flavor. Boil everything until the sugar is dissolved completely.
Cool completely: Remove the mixture from the heat, then add in the citrus juice and vanilla. Then, remove the mint and peel. Cooling the mixture will take around 20 minutes.
Puree: Using a food processor, puree the strawberries until smooth.
Combine: Get your pitcher, then pour everything and stir.
Chill: Put the pitcher in the fridge for up to an hour.
Serve: In a glass, put some ice, fill with the mixture about a third or halfway through, then, finish off with the club soda. Stir and garnish with more fruits.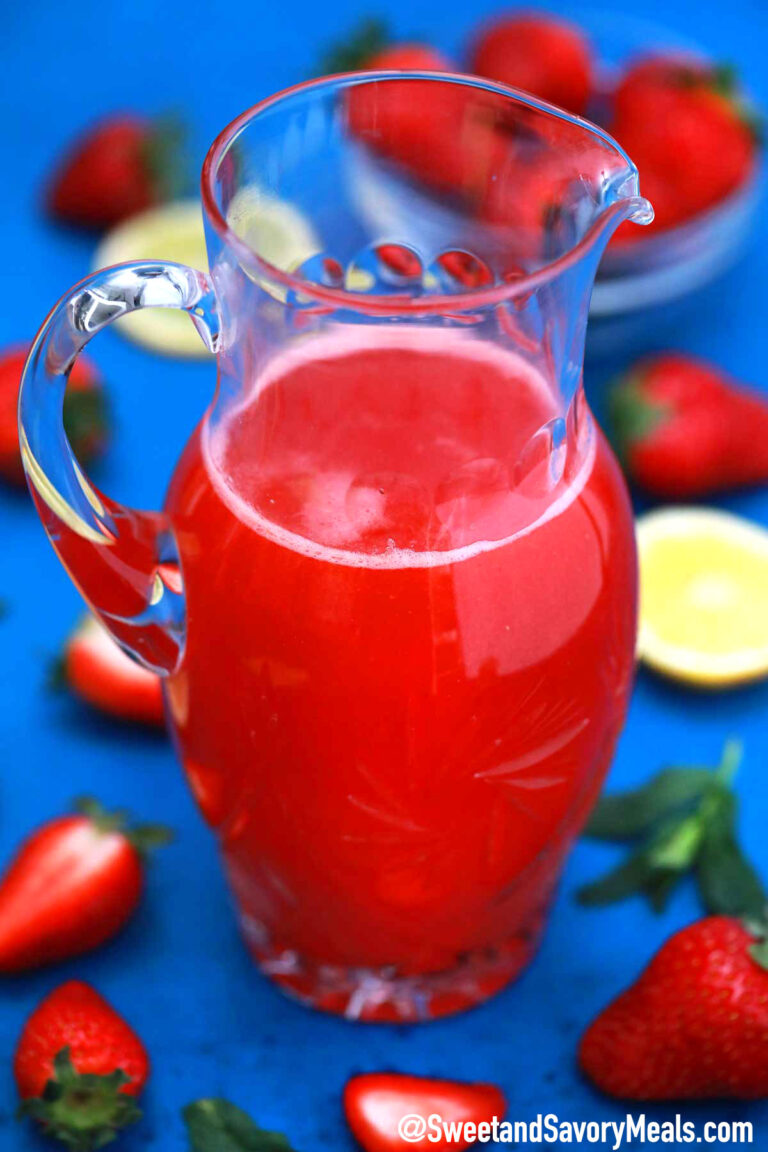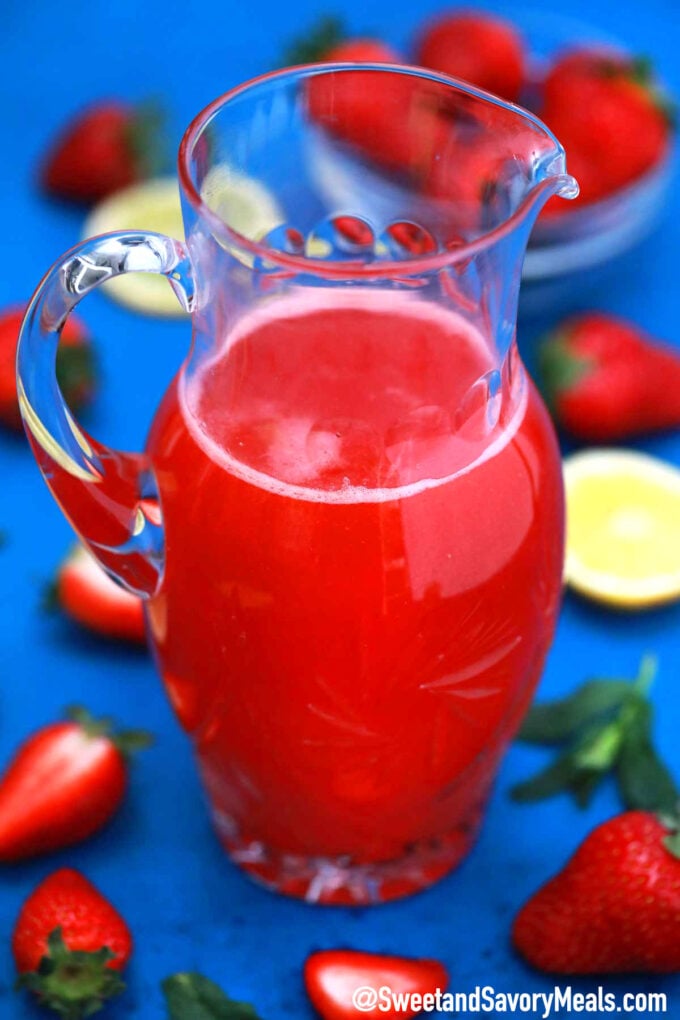 Is Pink Lemonade the same as Strawberry Lemonade?
The pink one is typically just the plain kind tinted with a red dye color. Some use cranberry or raspberry juice to produce the pink hue, but the flavors are nowhere near that of the strawberry lemonade.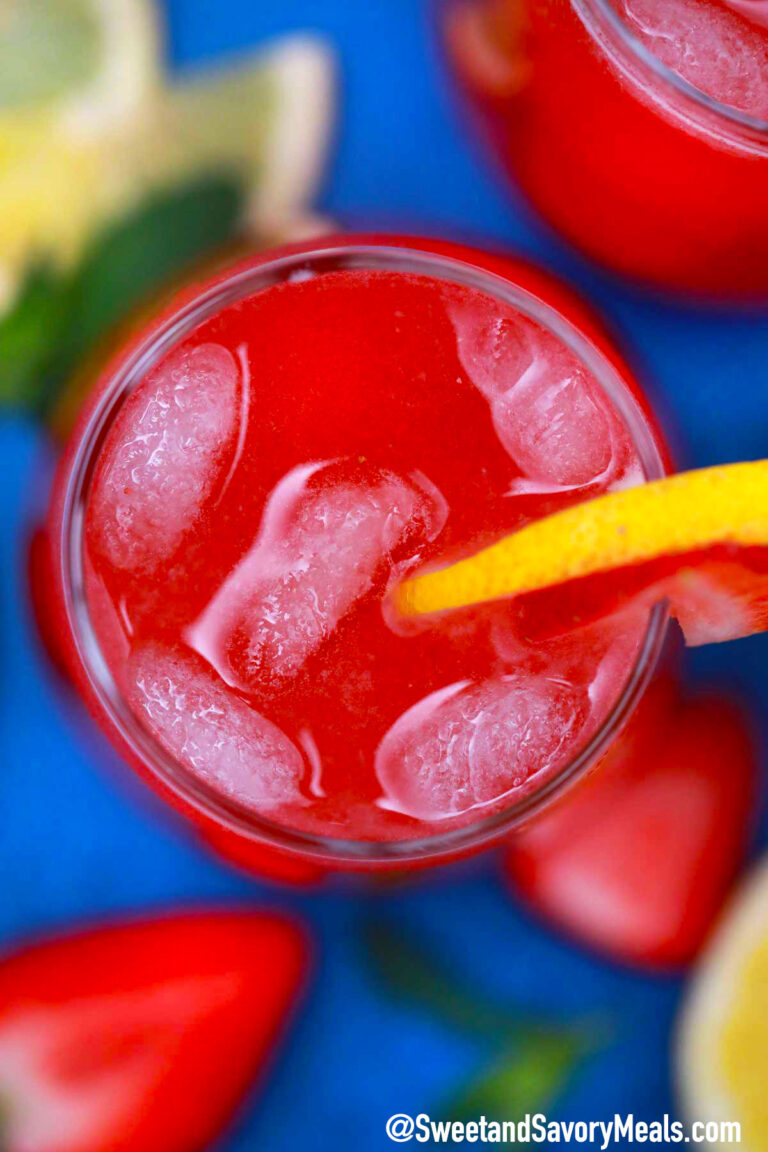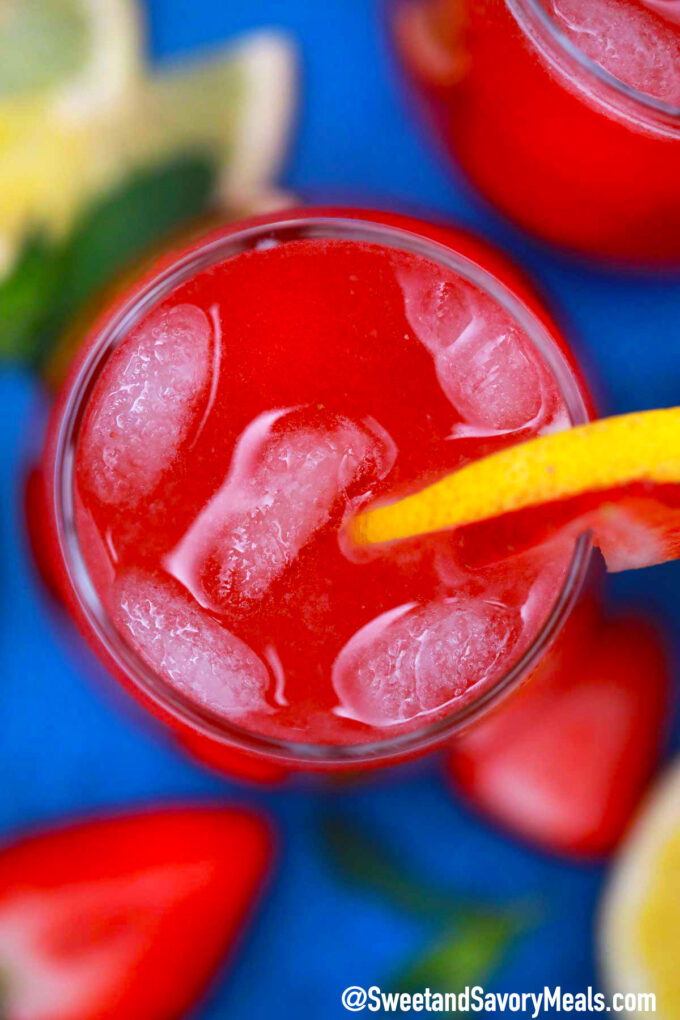 Can you make Sparkling Strawberry Lemonade in advance?
What you can do is prepare the ingredients in advance then simply add in the club soda right before serving. This is to ensure that you have the fizz that you are looking for.
The mixture without the club soda can be made in advance and can stay in the fridge for up to 2 days.
More fabulous drink recipes: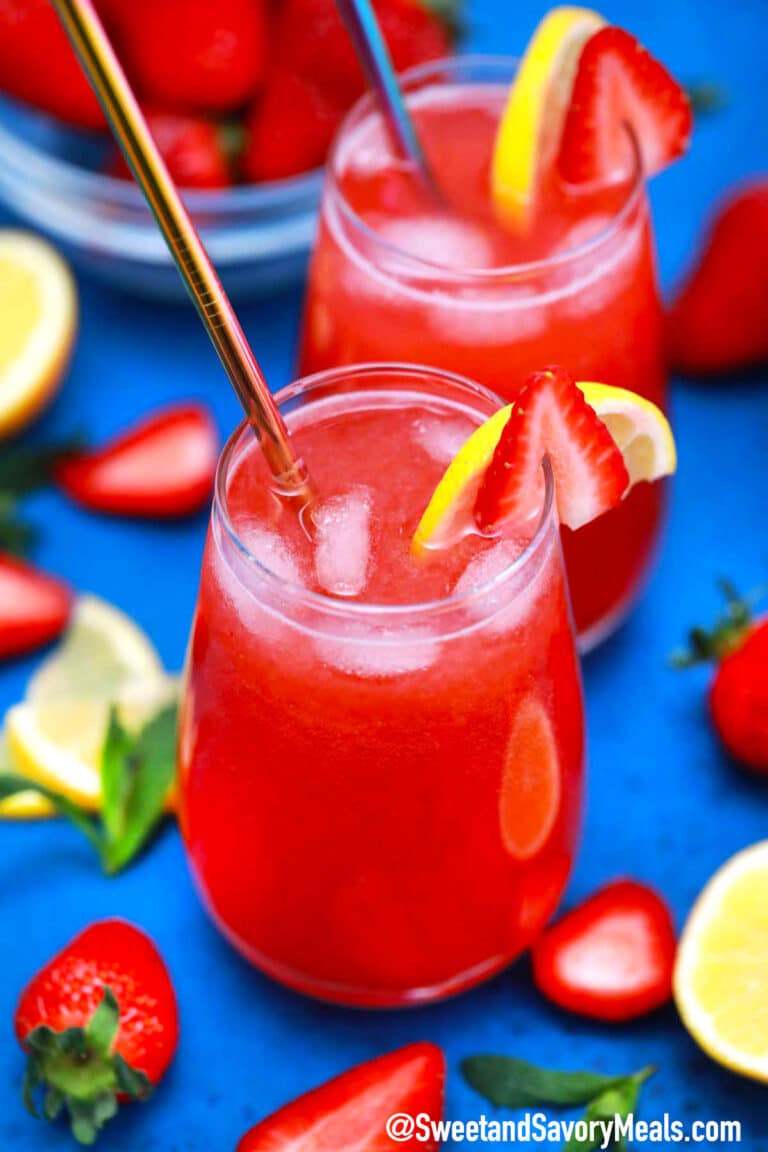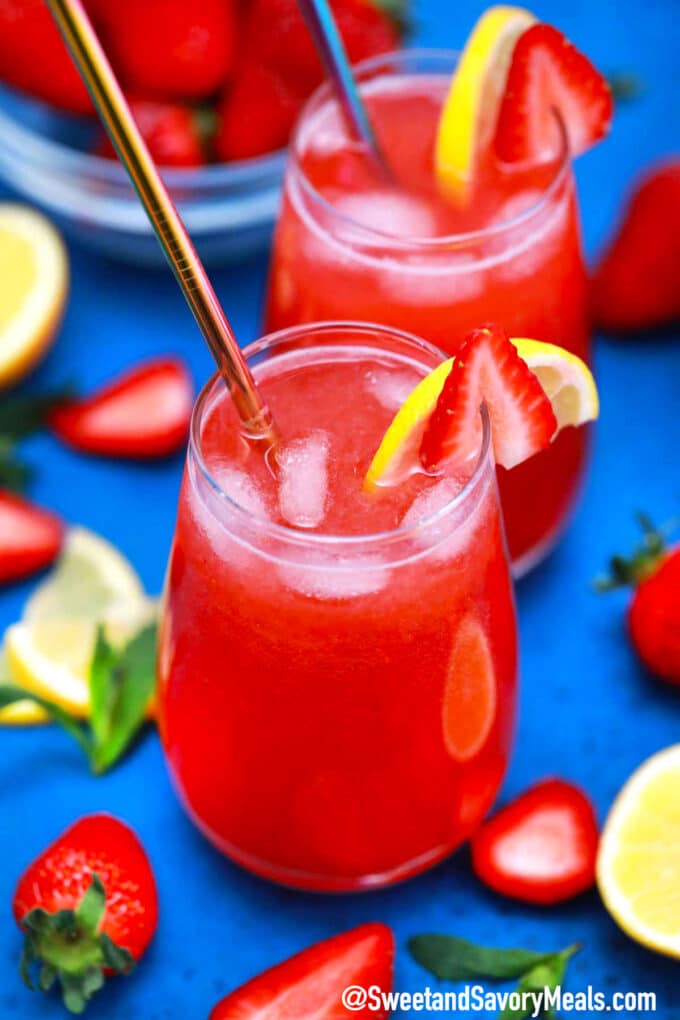 Recipe Tips:
When juicing for a cup of juice, you will need about 6 to 8 lemons.
Do not simply discard the peel. Get the zest and freeze for later use.
Get a strainer and pour the puree in it to remove any big bits and pieces of the strawberry to ensure a smooth mixture.
Follow this recipe except for the part that you are to add the club soda and fresh fruit slices. Instead, pour it in freezer bags or an ice tray. When ready to serve, just dissolve them in water.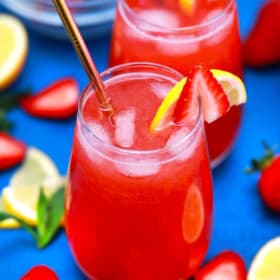 Sparkling Strawberry Lemonade
Sparkling Strawberry Lemonade elevates your favorite summer drink a notch higher! Festive-looking and fun just like summer, it is citrusy, cool, and bubbly!
Save
Share
Print
Pin
Rate
Ingredients
3

cups

cold water

1 1/4

cup

granulated sugar

1

lemon

(peeled)

1

cup

fresh lemon juice

1

teaspoon

vanilla extract

5

fresh mint sprigs

2

cups

strawberries

(hulled)

750

ml

club soda
Instructions
Make Syrup:
Place a medium saucepan over medium heat, add water, sugar, lemon peel, and mint, bring to a steady boil.

Stir constantly until sugar is completely dissolved.

Remove from heat and stir in lemon juice and vanilla.

Let mixture cool completely, for about 20-30 minutes.

Once cooled, discard the mint and the lemon peel.
Make Strawberry Mixture:
Add hulled strawberries to a food processor and puree until smooth.

Add pureed strawberries to a pitcher and add the syrup mixture, stir to combine.

Refrigerate for at least 2 hours before serving.
To serve:
Add ice to tall glasses, fill 1/3 of the way with chilled strawberry lemonade, then add club soda, stir to combine.

Garnish glasses with more strawberries and lemon slices and serve.
Nutrition
Calories:
193
kcal
|
Carbohydrates:
50
g
|
Protein:
1
g
|
Fat:
1
g
|
Saturated Fat:
1
g
|
Sodium:
34
mg
|
Potassium:
140
mg
|
Fiber:
2
g
|
Sugar:
45
g
|
Vitamin C:
54
mg
|
Calcium:
25
mg
|
Iron:
1
mg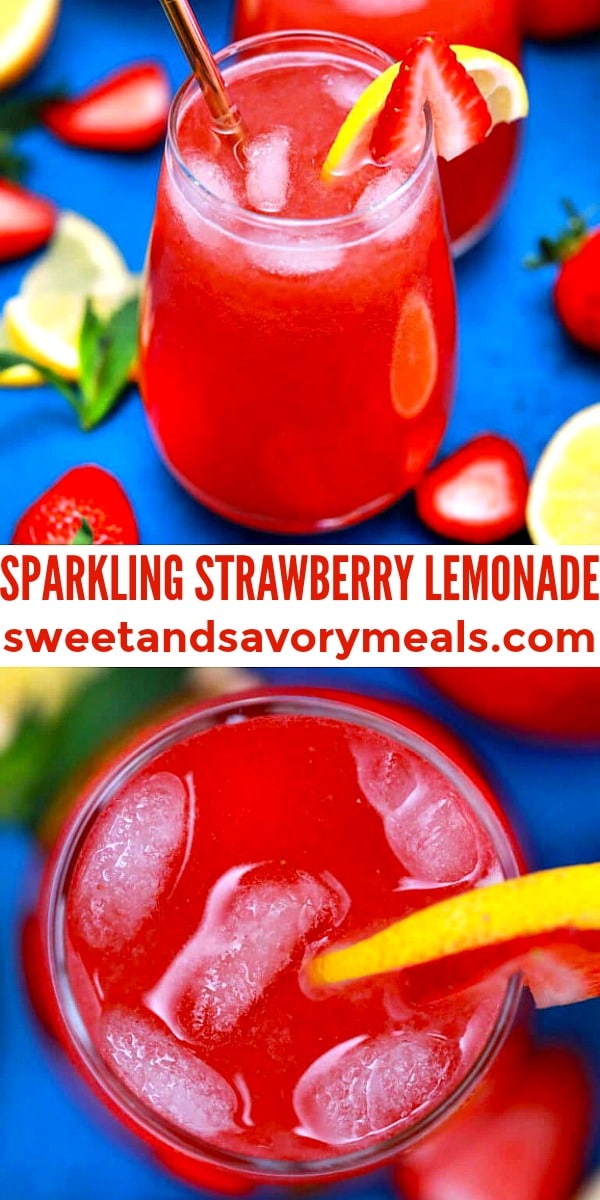 More recipes you might love