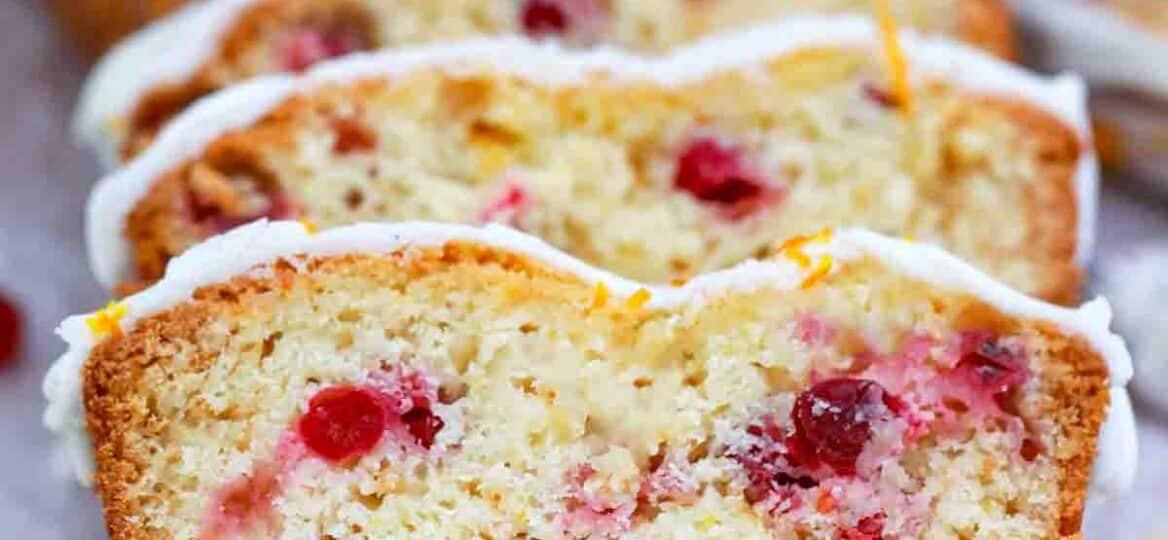 Cranberry Orange Bread Recipe
Cranberry Orange Bread is a tangy and sweet bread recipe seasoned with fresh cranberries and an orange glaze made with orange juice, and fresh orange zest for the perfect fall dessert. This orange-glazed cranberry bread is perfectly seasoned, so it is not too sweet or too tangy and made with fresh orange juice for the best orange flavor.
If you love cranberry recipes, you need to try some of our favorites. This Cranberry Orange Pork Tenderloin makes the perfect entree to serve with this bread. Our Cranberry Orange Chicken made with chicken thighs, orange zest, and tart cranberries will also make a delicious dinner.
Quick breads have been around since the 1700s when Native Americans were using pearl ash instead of baking powder to leaven the bread. The first quick bread recipe was published in the American Cookery book by Amelia Simons in 1796. Home bakers were thrilled to be able to make bread without using yeast, so this type of cooking method was (and still is) very popular.
Cranberry orange bread is the best thing that has ever happened to bread. If you love cranberry bread, you will really love this bread recipe. The yummy glaze makes it tastes delicious with orange flavor and it is such a great recipe for quick bread you can make in less than an hour.
This is definitely the perfect dessert to add to a brunch spread on Thanksgiving or even Christmas morning. The bread is moist, and tender, with lots of juicy and tart cranberries, that pair so well with the fresh orange zest.
This dessert screams holiday time for me, when you bake it, your kitchen will smell amazing from the fresh citrus. Also, the glaze is optional, but it adds such a nice finish, and it pairs so well with the tartness of the cranberries.
For more quick bread recipes, try our pineapple bread made from crushed pineapple and brown sugar, or this sweet strawberry bread with fresh strawberries and milk.
Follow us on Pinterest for more delicious recipes!
Ingredients needed:
Gather these ingredients for this cranberry orange bread recipe. Then, when you are ready, scroll down to our recipe card for complete instructions and exact measurements.
For the bread:
Fresh or frozen cranberries
Large egg: At room temperature.
Granulated sugar
Sour cream: At room temperature.
Buttermilk: At room temperature.
All-purpose flour
Zest of 1 orange
Olive oil
Vanilla extract: 100% pure vanilla extract is best.
Baking powder: Not baking soda.
Salt
Cornstarch
For the glaze:
Powdered sugar: Or confectioners' sugar.
Orange juice: Fresh squeezed orange juice at room temperature.
Zest of 1 orange
Vanilla extract
How to make cranberry orange bread from scratch?
Preheat: Preheat the oven to 350 degrees F and oil a loaf pan before adding parchment paper. Leave a bit of paper over the sides to help with lifting it from the pan.
Mix the wet ingredients: Meanwhile, in a medium bowl, whisk together vanilla, sugar, buttermilk, sour cream, orange zest, oil, and egg.
Sift the dry ingredients: Then, sift the salt, baking powder, and flour in a separate bowl, and stir together.
Combine flour mixture: Add the dry ingredients to the wet ingredients and whisk until it is just combined. Do not overmix.
Toss the cranberries: Now, in a small bowl, toss the cranberries in cornstarch to coat them before adding them to the batter.
Bake cranberry orange bread: Then, pour batter into the prepared pan and bake for 50 to 55 minutes. To check, a toothpick inserted into the center of the bread should come out clean.
Let it cool: After, let the bread cool in the pan for 10 minutes before lifting it out and putting it on a wire rack to cool completely.
Make the glaze: Mix the vanilla, zest, orange juice, and powdered sugar in a small bowl until it is smooth.
Glaze and serve: Finally, after the bread is cooled, pour the glaze evenly on top before you slice and serve.
How to make air fryer cranberry orange bread from scratch?
Combine wet ingredients: In a large bowl, cream butter, sour cream, oil, vanilla, buttermilk, and granulated sugar with an electric mixer or the bowl of your stand mixer.
Add in the dry ingredients: Then, combine flour baking powder, and salt with the wet ingredients.
Fold in the cranberries: Next, gently fold in the cranberries and pour the batter into a prepared loaf pan.
Cook for 20 minutes: Now, air fry for 20 minutes at 320 degrees F.
Mix the orange glaze: After, let the bread cool completely while you mix the glaze recipe ingredients together in a small bowl.
Ready to eat: Finally pour the glaze onto your cooled bread and serve slices of cranberry orange bread with your favorite drink.
Recipe variations:
Dried cranberries: You can substitute dried cranberries for fresh or frozen cranberries.
Add more fruit: For sweeter bread, add mandarin oranges to the batter.
Other berries: Similarly, other frozen berries make a good addition such as blackberries or blueberries.
Mini loaves: Use mini loaf pans to make mini loaves. The cooking time will need to be changed to 35 to 40 minutes.
Chopped nuts: You could also add chopped pecans to your bread for a crunchy texture and richer flavor.
Gluten-free: Instead of regular flour, you can use gluten-free flour like almond or coconut flour.
Lactose-free: Similarly, use lactose-free milk like almond milk if you are lactose intolerant.
Different extract: For a unique flavor, use almond extract instead of or in addition to vanilla extract.
Melted butter: Instead of oil, you can use melted unsalted butter.
No cranberries: If you are serving someone who is not a fan of cranberries, just omit the cranberries to make orange bread.
How to serve:
This easy quick bread recipe makes the best cranberry bread you have ever had, hands down! Try one of our fun serving ideas or share some of your own ideas below in the comments section.
Spread slices of cranberry orange bread with cranberry sauce for even more cranberry flavor. Try our easy recipe for homemade cranberry sauce.
Add chocolate chips to the top of your bread before the glaze cools for chocolate lovers.
This bread is absolutely delicious with a scoop of ice cream.
Decorate the top of your bread with tart cranberries and orange slices before serving.
Serve this bread with a cranberry mocktail for the kids. You can add a splash of vodka to it for the adults.
For a more festive look, add a handful of rainbow sprinkles on top.
Use leftovers to add to one of your favorite fall casseroles.
Frequently asked questions
Why is my cranberry orange bread dry?
The most common reason for dry bread is too much flour. This usually comes from scooping the flour up in a measuring cup. Instead, spoon the flour into the measuring cup lightly. Then, use the back of a knife to level the top. Scooping flour will almost always give you too much flour.
How can I make buttermilk?
If you do not have any buttermilk at home, just make your own with this easy recipe. Add two teaspoons of lemon juice or white vinegar to a measuring cup. Then, fill it the rest of the way to make one cup. This will work just as well and is faster and easier than going to the store.
How do I make orange zest?
To begin, rinse the orange well. Then, use a Microplane or a grater on a cutting board to grate the skin of your orange well. Try not to get any of the white pith underneath the skin because it is bitter. If you accidentally get some pith in your zest, just toss it out.
What are the nutrition facts in this recipe?
Each serving of your cranberry orange bread has 425 calories, 75 grams of carbohydrates, and 14 grams of fat with 2 grams of saturated fat. It also contains 20 milligrams of cholesterol, 85 milligrams of sodium, and 53 grams of sugar. On the good side, your bread also has 134 units of vitamin A, 95 milligrams of calcium, and 23 milligrams of vitamin C.
How to store leftovers:
Store: You can store your leftover orange cranberry bread wrapped in plastic wrap in an airtight container. Refrigerate for up to three days.
Freeze: You could also freeze cranberry orange bread for up to three months in a freezer-safe airtight container.

Thaw: Just don't forget to put your frozen leftovers in the fridge to thaw overnight before serving. This will give you the best bread texture and flavor.
More recipes with cranberries:
Baking tips:
If your glaze is too thick, add more orange juice until it is the consistency that you like.
Do not skip the orange zest. It is one of the key ingredients that give this orange cranberry bread its tangy and tart flavor.
Similarly, fresh squeezed orange juice gives this bread the best orange flavor.

If you are making mini loaves, be sure to lower the cooking time to 35 to 40 minutes but start checking them at 30 minutes.
It can be difficult to find fresh cranberries at your store when it is not cranberry season. But you can always find frozen cranberries in the freezer section and dried cranberries in the dried fruit section.
You can use Greek yogurt instead of sour cream for less fat and fewer calories.
If you use fresh cranberries, make sure they are pitted before you use them. Dried cranberries and frozen cranberries are already pitted.
My family gave me a five-star recipe rating for this absolutely delicious bread recipe so go ahead and try it.
Cranberry Orange Bread
Ingredients
1

cup

granulated sugar

1/2

cup

buttermilk

1/4

cup

sour cream

Zest of 1 orange

1/2

cup

oil

1

large egg

1

teaspoon

vanilla extract

2

cups

all-purpose flour

2

teaspoons

baking powder

1/4

teaspoon

salt

2

cups

frozen cranberries

or fresh

1

tablespoon

cornstarch
For the Glaze:
1

cup

powdered sugar

2

tablespoons

orange juice

Zest of 1 orange

1

teaspoon

vanilla extract
Instructions
Preheat oven to 350 degrees F.

Lightly grease with baking spray a 9"x5" bread pan. Add parchment paper, leaving a bit more on the sides to use as handles to lift the bread from the pan.

In a medium bowl, whisk together sugar, buttermilk, sour cream, orange zest, oil, egg, and vanilla extract.

In a separate bowl, stir together flour, baking powder, and salt.

Add the dry ingredients to the wet ingredients and whisk just until combined.

In a small bowl, toss the frozen cranberries with a tablespoon of cornstarch to coat. Fold into the batter.

Pour the bread batter into the prepared bread pan. Bake in the preheated oven for 50-55 minutes. A toothpick inserted into the center of the bread should come out clean.

Allow the bread to cool for 10 minutes, then lift the bread up and place it onto a wire rack to cool completely.

To make the glaze, combine the powdered sugar, orange juice, zest, and vanilla extract in a small bowl. Mix until it is smooth with no lumps.

Once the bread is cool, spread the glaze on top of the bread. Slice and serve.