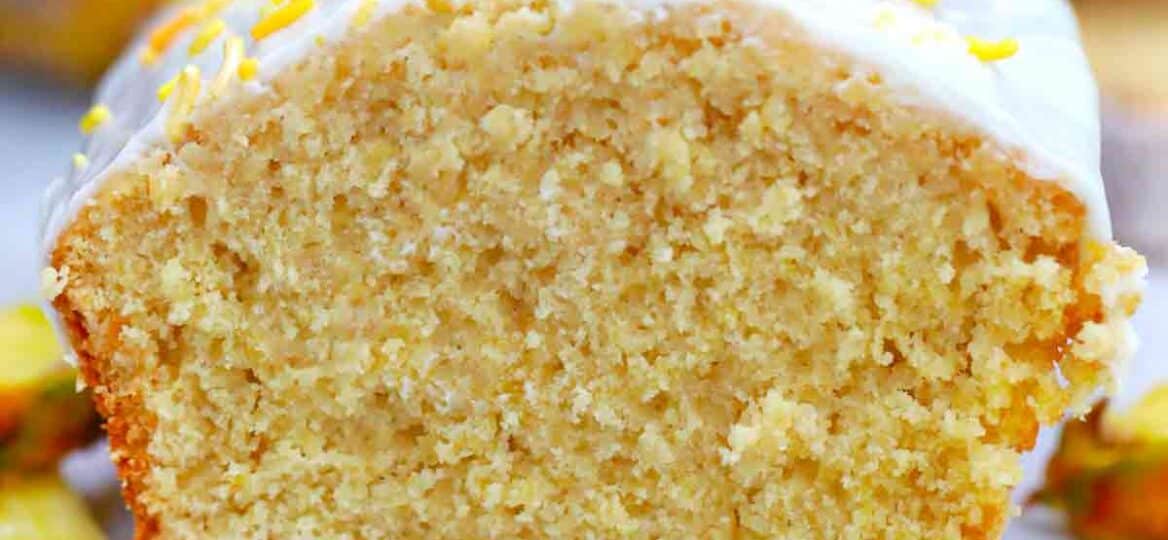 Pineapple Bread is a delicious snack or dessert made with tangy crushed pineapples, lime zest, and juice, covered with a sticky sweet pineapple glaze. Our pineapple bread recipe is an absolutely delicious homemade bread that you will be proud to serve your family or friends.
Looking for more delicious recipes? If you love pineapple, try our Pineapple Casserole recipe made with Ritz crackers, brown sugar, and freshly crushed pineapple chunks, or this sweet and savory Slow Cooker Pineapple Pork Loin recipe with soy sauce, garlic, and fresh pineapple.
Pineapple quick bread is so easy and delicious, that your family will want you to make it all the time. Since it is a quick bread, you will have no trouble making some ahead of time and freezing it.
This delicious pineapple bread can make a plain dinner pop with pineapple flavor. Try using it for french toast, as a sweet toast snack, or you can just eat it plain. Either way, it is a fantastic and easy quick bread recipe so you can have tasty slices of bread with pineapple tidbits.
Looking for another quick bread recipe? Our instant pot banana bread is perfect and fast, filled with sweet banana flavor. Or you may like this lemon poppy seed quick bread recipe with lemon glaze. Peanut butter bread is another scrumptious and easy quick bread recipe to try.
If you are craving more sweet bread made with berries, try this recipe for Strawberry Bread made with fresh strawberries.
Ingredients needed:
These are the simple ingredients for this pineapple bread recipe. For exact measurements and instructions, scroll down to our handy recipe card.
Sugar: White granulated sugar.
Brown sugar: Light or dark brown sugar will both work here.
Unsalted butter: Softened to room temperature.
Eggs: Large eggs at room temperature.
All-purpose flour: Sifted.
Baking powder: Not baking soda.
Crushed pineapple: Drained but save the syrup.
Pineapple syrup: From the canned pineapple.
Heavy cream: Also known as heavy whipping cream.
Vanilla: 100% pure vanilla extract is best.
Lime zest: Easy to make yourself with the instructions below.
Lime juice: Fresh is best.
Salt: We used Kosher salt.
Glaze:
Powdered sugar: Confectioners' sugar.
Lime juice: Fresh or bottled.
Pineapple syrup: As needed.
How to make Pineapple Bread recipe?
Preheat: First, preheat oven to 350 degrees F and prepare an 8-inch loaf pan by coating it with non-stick cooking spray or line it with parchment paper and set it aside.
Cream: Meanwhile, cream butter and sugar in a large bowl until it is fluffy. Add eggs one at a time.
Mix: Combine flour, baking powder, and salt in a separate bowl before adding half of the dry ingredients and pineapple syrup to the egg mixture.

Add milk: Then, gently add milk and remaining flour and stir again before folding in the crushed pineapple, vanilla, lime juice, and zest. Do not overmix the batter.

Bake: Immediately, pour the batter into your prepared loaf pan and bake it on the middle rack for 45 to 55 minutes. The bread is done when it passes the toothpick test.

Cool: After removing, let it sit in the pan for 10 minutes before placing it on a wire rack to cool.

Make the glaze: While you wait, whisk the pineapple syrup, lime juice, and powdered sugar in a large bowl before spreading it on top of your pineapple bread.
Serve: Finally, serve this easy pineapple bread with fresh crushed pineapple, butter, or whatever toppings you like.
Make Air fryer pineapple bread:
Preheat: First, preheat the air fryer to 350 degrees F and prepare an 8-inch loaf pan by coating it with non-stick cooking spray. Or you could line it with parchment paper.
Cream: Then, mix sugar and butter with an electric mixer until it is light and fluffy. Next, add your eggs one at a time, mixing after each one.

Mix with wet ingredients: Mix your flour, baking soda, and salt in a large mixing bowl and add it to your egg mixture with the pineapple syrup.

Combine: Next, add the rest of the flour mixture to the pineapple mixture before adding the milk and flour. Then fold in the lime zest and juice, vanilla, and crushed pineapple. Remember not to overmix.
Fry: Immediately, pour the pineapple bread batter into the prepared loaf pan and air fry it at 350 degrees F for 35 to 40 minutes.
Cool: After, let it cool for 10 minutes in the pan before removing it and placing it on a wire rack until it is completely cooled.
Make the glaze: While waiting, make the pineapple glaze by mixing ingredients in a small bowl. Spread on top of the bread after it has cooled.

Serve: Lastly, serve your pineapple quick bread with butter, pineapples, or other fresh fruit toppings.
How to make Instant Pot pineapple bread:
Grease: Spray a 7×3-inch springform pan with baking spray and set it aside. You will need 2 pans.
Make the batter: Follow the recipe card below to prepare the bread batter. After that, divide it between pans, and level the top. Cover completely with foil.
Pressure cook: Add 1 ½ cups of water to the bottom of the Instant Pot. Next, place the pan on a trivet with handles and lower it into the inner pot. Lock the lid and make sure the valve is set to SEALING. Select HIGH-PRESSURE and set the timer for 55 minutes.
Natural pressure release: After cook time ends, allow to naturally release pressure for 15 minutes. After that release, the remaining pressure and carefully open the pot.
Serve: Remove the cake and let it cool on a trivet. Slice and serve and pressure cook the other pan.
Recipe variations:
Fresh: Of course, everything is better when it is fresh so you can use fresh pineapple. But it is easier to use canned because you need the syrup from the can.
No heavy cream: You could use sour cream or plain Greek yogurt instead of heavy cream.
Pineapple coconut bread: Add shredded coconut for pineapple-coconut bread.
Baking soda: If you do not have baking powder, you can use baking soda but only use 1/3 of what the recipe calls for.
Pineapple juice: For a lighter pineapple bread recipe, use pineapple juice instead of syrup.

Crushed pineapple: Add crushed pineapple to the glaze or just put some sliced pineapples on top after frosting it.

Add berries: For a fruitier pineapple bread recipe, add 1/2 cup of blueberries, raspberries, or strawberries.

Cobbler: Make a crumb topping for a pineapple bread cobbler. Mix 1 cup flour, 1/3 cup brown sugar, 1/3 cup granulated sugar, 6 tablespoons melted butter, 1 teaspoon cinnamon, and 1/4 teaspoon nutmeg. Add to the top before baking.
How to serve:
This easy pineapple quick bread recipe with crushed pineapple is absolutely delicious for breakfast cuisine, dessert, or just a snack for those who love pineapple. With so much pineapple flavor baked in and added in the pineapple glaze, this pineapple bread is great for any time. You could also try one of these ideas:
Add chocolate chips to the top for chocolate lovers.
The crushed pineapple adds a perfect balance of sweet and tangy. But you can add more flavor with pureed pineapples on top.

Top with fresh homemade strawberry sauce instead of pineapple glaze for a sweeter pineapple quick bread.

Make this into muffins for easier serving. Bake at 350 degrees F for 30 to 35 minutes.
Another great topping for this quick bread is our creamy caramel sauce.
Frequently asked questions
How many calories are in each slice of pineapple bread?
Cut into 10 slices, calories per slice is 225 if made as directed. If you add anything to it, the calories may be increased but you can also lower the calories and fat by using Greek yogurt or sour cream instead of heavy cream.
How long does fresh pineapple last?
A whole trimmed and cut pineapple should last approximately five to seven days in an airtight container in the fridge. Before eating, let it come to room temperature for the best flavor and texture. You can also freeze it for up to three months.
What can I do with overripe pineapple?
First of all, you should make sure it is just overripe and not spoiled. If it is just overripe, you can use it in all sorts of recipes for quick bread just like this one. You could also mix it into salsa or barbecue sauce, use it to tenderize your meat, or stir it into a drink.
How do you know when pineapple is bad?
An overripe pineapple is fine as long as it is not starting to rot. If it smells like alcohol or chemicals, throw it away. Look for mold or mushiness. Also, if it tastes funny in any way, it is best to toss it just to be safe.
How to store leftovers:
Store: Pineapple bread leftovers can be kept in the fridge for up to a week in an airtight container. Let it cool completely and place parchment paper between each slice.
Freeze: Freeze pineapple bread wrapped in plastic wrap in a freezer bag for up to three months.
Thaw: Thaw overnight in the refrigerator before serving. Make sure it is completely thawed before serving.
Reheat: If you want warm pineapple bread, put it in the microwave for 30 seconds. For a toastier piece of bread, put it in your air fryer for about one minute.
More quick bread recipes:
Homemade pineapple bread cooking tips:
Place parchment paper between slices before storing for best results.
If you substitute the baking powder for baking soda, use 3/4 teaspoon. Baking soda is almost three times as strong as baking powder so you will only need 1/3 of the amount the recipe calls for.
If the top of your pineapple quick bread starts getting too brown, cover it with an aluminum foil tent.
You could also use a 9-inch loaf pan for this pineapple bread recipe, but the cooking time will need to be adjusted to 35 – 40 minutes.
Bake your pineapple bread until a toothpick inserted in the center comes out clean or with a few crumbs.
For less fat, use sour cream instead of heavy cream. Sour cream only has 10% butterfat while heavy cream has 30%. However, remember that sour cream is not as rich and sweet as heavy cream.
Pineapple Bread
Ingredients
1/2

cup

white granulated sugar

1/4

cup

light brown sugar

1/2

cup

unsalted butter

softened

2

eggs

1 1/2

cups

all-purpose flour

2

teaspoons

baking powder

1/4

cup

pineapple syrup

from the canned pineapple

2

tablespoons

heavy cream

1

cup

crushed pineapple

drained - do not discard the syrup

1

teaspoon

vanilla

1

teaspoon

lime zest

1

teaspoon

lime juice

1/4

teaspoon

salt
Glaze:
1

cup

powdered sugar

1

teaspoon

lime juice

2

tablespoons

pineapple syrup

or as needed
Instructions
Preheat the oven to 350 degrees F.

Grease an 8-inch x 4-inch loaf pan, also, line it with parchment paper so it hangs on the sides, for easy bread removal.

In a large bowl, whisk together both sugars and butter until light and fluffy.

Next, add the egg one at a time.

In another bowl, mix flour, baking powder, and salt together.

Then add half of the flour mixture along with the pineapple syrup to the egg mixture. Gently stir to combine, then add the remaining flour along with the heavy cream and stir until combined.

Fold in the crushed pineapple, vanilla, lime zest, and juice. DO NOT over mix the batter!

Pour the batter into the prepared pan and bake on the middle rack for 45-55 minutes or until when a toothpick inserted into the center comes out clean. If the top begins to brown too quickly, tent with aluminum foil.

Once baked, place the pan onto a wire rack and let the bread rest in the pan for 10 minutes, then remove the loaf and place it onto a wire rack to cool.
Glaze:
Whisk together the glaze ingredients until smooth. Spread it evenly over the cooled bread. Garnish with sprinkles if desired.
Deliciousness to your inbox
Enjoy weekly hand picked recipes and recommendations