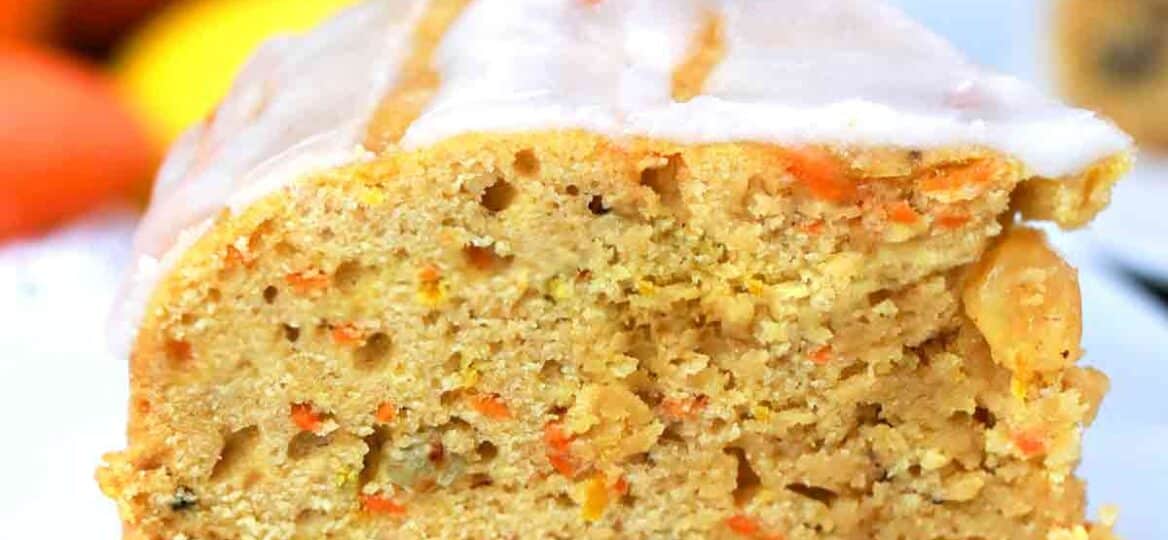 Instant Pot Carrot Bread [Video]
Instant Pot Carrot Bread is tender and buttery with subtle notes of vanilla and lemon. Packed with sweet carrots, raisins, and crunchy walnuts, you're sure to love this classic dessert!
We love sneaking carrots into treats! Even picky eaters won't mind eating their veggies when it comes in the form of this Berry Carrot Cake, Carrot Cake Cheesecake, and this easy Carrot Cake Poke Cake filled with mascarpone cream cheese frosting!
The Best Carrot Bread Recipe
Instant Pot Carrot Bread "bakes" the dessert inside the IP's steamy pot. Because of this, the bread turns out impossibly moist and tender. As a bonus, there's no need to fire up the oven for this one! As long as you follow the exact times in the recipe card, this recipe is always a success.
Also, as for the taste, this IP carrot bread has it all! The loaf itself is infused with vanilla and a fresh lemon taste, and it's not overwhelmingly sweet. Adding a wonderful texture are juicy raisins and crunchy chopped walnuts. We recommend toasting them first to intensify that nutty flavor.
Finally, a whole cup of carrots goes into this treat, so it feels healthier than the usual dessert! If you have a sweet tooth, top it with cream cheese frosting for a creamy finish. Enjoy!
Ingredients to make homemade IP Carrot Bread:
Carrots: Shred until you get a full cup.
Mix-ins: We're using the classic combo of raisins and walnuts, but later on, we're sharing other tasty options!
Flavorings: Vanilla and lemon zest and juice give awesome flavor to this dessert.
Dry: Mix regular flour with baking powder, a little salt, and for more lift, baking soda.
Wet: To finish the batter, add fresh eggs, some sour cream, light and brown sugars, plus butter.
How to make homemade Instant Pot Carrot Bread?
Mix. Begin by mixing the sugars with the batter, followed by the fresh eggs, flavorings, and sour cream. Mix the dry in, and finally, fold in the shredded veggies and mix-ins. Pour into your greased push pan, then cover with foil.
Cook. First, pour water into your IP. Then, place your pan on a trivet and lower in the pot. Cook on HIGH for 55 mins., then leave for 15 mins afterward to relieve steam. After that, finish the release by unsealing the vent. Cool for 10 mins.
Release. Place the pan on top of the jar/cup (make sure it's sturdy!), and push down until it's out of the pan.
Serve. Slice and enjoy!
Recipe Variations and substitutions:
Zucchini Carrot Bread: For a healthier treat, add shredded zucchini to the batter. Check out this recipe for more tips!
Apple Carrot Bread: Add shredded apples for a sweet and fruity note.
Other mix-ins: Add drained pineapple chunks, strawberries, dried cherries, berries, and other fruits.
Spice: A little cinnamon and nutmeg really elevate the flavor with warm, spice notes!
Add chocolate: Chocolate makes everything better! Add chips, chunks, or other chocolate flavors like dark, white, or milk chocolate.
Other nuts: Use any nut you want! Peanuts, pecans, almonds, pistachios, you name it.
Bars: Pour into a 9×13 pan, then oven-bake at 350F for about 40-45 mins.
Muffins: Pour into muffin pans, and bake at 350F for 20 to 30 mins.
How to serve homemade carrot bread?
This is one of our favorite breakfasts! Serve it with coffee, tea, or cold milk for the kiddos. It's also a fantastic snack any time of the day. Try these delicious ideas:
Toast it and spread with butter
Smother with cream cheese frosting
Sprinkle with cinnamon sugar (best if you do it while hot so the cinnamon sugar melts into the slice!)
Top with a scoop of ice cream
Top with whip cream and candied pecans
Drizzle with thick dulce de leche or homemade caramel sauce
More breakfast recipes to try:
How to store and freeze it?
Cool it down first, so it doesn't get soggy in storage. Also, we don't recommend leaving it on the counter because it has fresh vegetables. You can either keep it in the refrigerator or freeze it. Follow these steps:
Fridge: After cooling it down, store in an air-tight container. Chill in the fridge for up to four days.
Freezer: You can freeze the entire thing, or slice it first (we like doing this so everyone can grab a piece instead of having to thaw out everything). Wrap in cling, foil, and store frozen for up to 3 months. When you're ready to enjoy it, defrost overnight.
This dessert tastes great cold, but we suggest microwaving it for a few seconds so it's hot and tastes fresh-baked!
Recipe tips:
Shred the carrots yourself instead of using the pre-shredded ones, which usually have starch to keep them from sticking. Fresh gives us the best texture.
Also, it is important NOT TO overmix the ingredients. This is very important! If you mix it too much, it can activate the gluten, which will leave you with a tough crumb.
Leave a bit of space on top after you cover with foil, as the batter will expand as it cooks.
Deliciousness to your inbox
Enjoy weekly hand picked recipes and recommendations