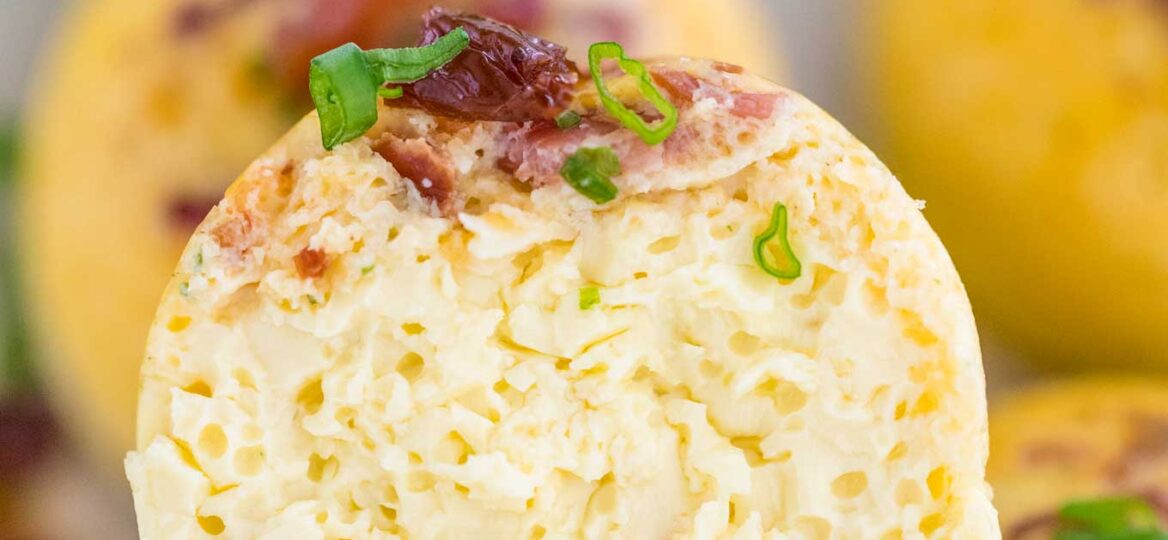 Best Instant Pot Egg Bites [Video]
Instant Pot Egg Bites are tender, fluffy, and super easy to make in the pressure cooker. They are a delicious make-ahead breakfast, and much better than the Starbucks egg bites. Also, check out the short video tutorial attached below!
Instant pot recipes are usually time-saving, and this recipe is no exception to that rule. Now you can make your favorite egg bites in the pressure cooker. For more delicious pressure cooker recipes, check our these Brownie Bites and Chocolate Muffins.
The Best Instant Pot Egg Bites
We have discovered the famous Starbucks Egg Bites last year when we've stopped at our local Starbucks and ordered some Sous Vide Egg Bites. They were so charming, delicious and adorable, that we just fell in love with them. Not only they are cute and easy to make, but they are the perfect family breakfast.
Also, what is great about them is that kids adore them as much as adults. Every time we make them, our son just can't get enough. We decided to take it a step further and perfect the Starbucks version of this dish. Even though their version tastes good, we felt that it has too much cheese in it, and the flavors could be improved.
That's why we decided to give this recipe a try and make it at home using the pressure cooker. Since I am not a fan of cottage cheese, we skipped that one and made our recipe with milk instead. This is a great healthy breakfast on the go or something that you can make ahead of time and reheat in the morning.
They are delicious, puffy, and very versatile. In addition, they are way healthier than the Starbucks version, and you can use your favorite filling to prepare them!
Ingredients Needed:
Bacon slices: We like to cook the crispy and chop them into small pieces, or to save time, use bacon bits.
Eggs: We use 6 whole eggs to make pressure cooker egg bites. However, you can skip some of the yolks and use more egg whites.
Milk
Kosher salt and ground black pepper
Fresh parsley: Use herbs to add extra flavor.
Fresh garlic: Minced garlic makes these more savory
Cheddar cheese
How to Make Instant Pot Egg Bites recipe from scratch?
If you love a great and fun breakfast, you surely will love making this easy recipe. You will need:
Instant Pot – we love this one as it has many functions and it's quite handy.
Silicone egg molds – this one is perfect for the bites, resulting in a fluffy texture.
Trivet – to place the mold on top of it.
If you haven't used the pressure cooker before, this is the perfect recipe to start utilizing it! It is one of the simplest dishes you can make and a good way to practice your IP skills.
Mix: Once you have the ingredient and the tools ready, start by mixing the ingredients together, to give them a fluffy texture.
Add to mold: Add to Then, pour the egg mixture into a greased silicone egg bites mold. Place the plastic lid on top of the mold.
Pressure Cook: Then, pour a cup of water into the pressure cooker, and place the silicone mold with the mixture on top of the trivet. All that is left is to close the lid, make sure the pressure valve is pointed to sealing. And cook on high for 8 minutes, followed by 5 minutes natural pressure release. After that, release manually the remaining pressure.
Remove from the IP: Once the batch of egg bites is read, carefully open the lid, and remove the silicone mold from the IP and place it on the counter. There may be steam accumulated in it, so carefully open the plastic lid and set it aside.
Serve: Let them cool in the mold for 5 minutes, after they serve.
Recipe Variations:
You can also enjoy this dish with various other ingredients.
Different veggies: Cherry tomatoes, corn, mushrooms, bell peppers, onion, olives.
Beans: Add a mix of black beans or pinto beans for extra protein.
Meat: As an option, add cooked breakfast sausage, or any chopped deli meat. Rotisserie chicken or leftover grilled chicken is just as delicious.
Different type of cheeses: As an alternative, use feta cheese, gruyere cheese, parmesan cheese, fontina cheese, or cotija cheese.
Mexican twist: Add some salsa, black beans, and taco seasoning for a Mexican twist on these.
Whites: Make white bites by using just egg whites in this recipe.
Sour cream: Add 3 tablespoons of sour cream for a creamier texture.
Frequently Asked Questions
Can you stack silicone egg molds in the instant pot?
Yes, you can stack the silicone molds in the instant pot. First, make sure you place the first one onto a trivet. Also, make sure they are both covered, whether with the lid or with foil.
After that, stack them and cook the recipe using the cooking time mentioned in the recipe card. Stacking the molds does not change the cooking time, more often it will contribute to the instant pot coming to pressure a bit longer.
Can instant pot egg bite lid go in the instant pot?
The silicone mold lids can safely be used in the pressure cooker, also they can be used in the fridge and in the freezer. However, do not use them in the oven, unless otherwise indicated by the manufacturer.
How to store:
Storing them is a perfect alternative to enjoy them the next day. Also, if you like to meal plan and have things ready in advance, make a double batch and freeze some for later.
Cool: First, prior to placing them in the fridge, make sure they are completely cooled.
Refreigerate: Then, transfer them to an airtight container and store them in the fridge. They can be stored for up to 3 days.
Freeze: After these have been cold, freeze them for later. Now, to the freezer, either leave them in the silicone mold with the lid on. Another option is to transfer them to an airtight freezer-safe container or place them in freezer bags. After that, freeze them for up to three months.
Reheat: To reheat them, transfer the eggs to a microwave-safe plate, and microwave for about 30 seconds, or until completely warm. Another option is to use a toaster oven to reheat them.
More easy Pressure Cooker recipes:
Cooking Tips:
Use room temperature ingredients, especially the eggs should be at room temperature.
Do NOT over-mix the egg mixture, as the bites will turn out too airy.
Do NOT stuff them with fillings, use just a bit, as they are quite small.
Also, do NOT overfill the molds, as they tend to rise a bit when cooking.
Deliciousness to your inbox
Enjoy weekly hand picked recipes and recommendations