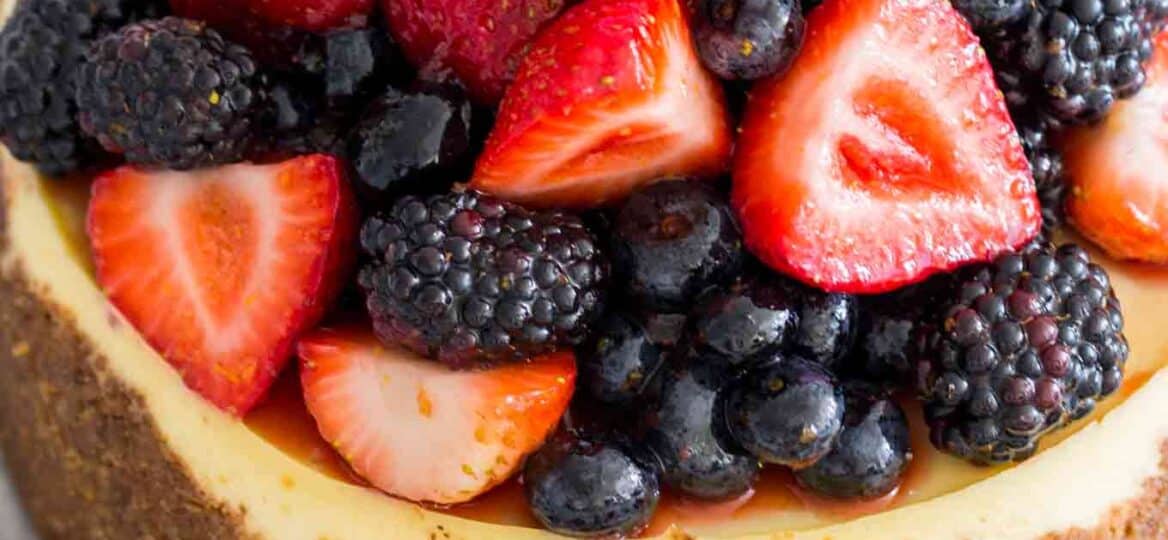 Best Instant Pot Cheesecake [VIDEO]
Best Instant Pot Cheesecake is unbelievably creamy, rich, easy to make, and topped with a sweet berry topping! You don't have to worry about cracked tops or water baths! This perfect cheesecake will quickly become one of your favorite desserts to make in the instant pot.
Instant Pot recipes are not limited only to dinners, you can also make amazing desserts! Among our favorites are this Pumpkin Cheesecake, Instant Pot Oreo Cheesecake, and Key Lime Cheesecake. Make sure to check our collection of pressure cooker recipes, there is definitely something for everyone, from quick and easy dinners, to delicious breakfast recipes and mouthwatering desserts.
I am a cheesecake person at heart, if you put one in front of me, I will reach for it, no doubts here. This Pressure Cooker Cheesecake has completely changed my perception of how this dessert can be made.
Hear me out, I will never discriminate a cracked one! However, if you are looking to easily make a perfect one with no cracks, no time-consuming water baths, and picking through the oven door, this easy recipe is right for you. I have never imagined that making a homemade cheesecake can be so easy!
This method of cooking is by far the easiest and the end result is a rich, creamy cheesecake, that has no cracks at all. The pressure cooker will cook it uniformly, as it has the right amount of moisture, creating the effect of a water bath.
You don't have to pick through the oven window anymore, you set up the timer, and once it's done all you have to do is chill it. You can make the best cheesecake even from the first time you try this recipe.
Add the sweet and refreshing berry topping on top of the cheesecake and serve this delicious dessert for special occasions! It is so good, everyone will ask you for the recipe.
Ingredients needed:
For exact measures, please see the recipe card below. Also, I have attached a step-by-step recipe video to better guide you through the cooking process. With that said, you will need the following:
For the crust mixture:
Graham cracker crumbs: Or you can use digestive biscuits and process them into fine crumbs.
Walnuts: We like to add extra flavor by using ground walnuts into the crust. However, any nuts would work. In case you are allergic, just substitute with more cracker crumbs.
Sugar: A bit of brown sugar will add a nice caramel flavor.
Spices: We like to add some cinnamon and nutmeg.
Unsalted melted butter
Cheesecake batter:
Cream cheese: For this easy recipe we recommend full-fat cream cheese at room temperature.
Heavy cream: Also, you can use sour cream instead.
Sugar: For the filling, we use white sugar.
Cornstarch: If you do not have any on hand, use flour instead.
Eggs: Just like the cream cheese, make sure the eggs are at room temperature.
Vanilla extract
Almond extract
Berry Topping:
Jam: Here you can use your favorite jam, raspberry jam or strawberry jam are great choices.
Water: Lemon juice will work as well if you want to balance the sweetness from the jam and fruits.
Berries: We use a combo of fresh strawberries blueberries, and blackberries.
Lemon zest
How do you make Instant Pot Cheesecake?
Prep: First, make sure you gather the ingredients and any tools you will need to make the cheesecake. You will also need a stand mixer or a hand mixer, a cheesecake pan, a trivet, and foil.
Crust: Start by mixing all the crust ingredients in a medium bowl. Once combined, press them into the bottom of the pan, and also up the sides of the pan. After that, freeze for 20 minutes.
Cream cheese: Next, add cream cheese to a large bowl (or bowl of a stand mixer), and using an electric mixer beat it until creamy. Don't forget to scrape the sides of the bowl.
Cheesecake filling: After that, add the sugar and cornstarch, followed by the eggs one at a time. Beat in the heavy whipping cream and extracts into the cream cheese mixture. Afterward, pour batter on top of the crust. In addition, cover the pan with foil.
Foil sling: In case the trivet you are using doesn't have handles, using a long piece of foil, make an aluminum foil sling. After that, place the springform pan onto the sling and lower it onto the trivet.
Pressure cook: Add the water to the inner pot, the trivet, and the cheesecake. Next, lock the lid and point the valve to seal. Pressure cook the dessert for 30 minutes on high pressure.
Natural pressure release: Once the pressure cooking time has been completed, allow a 30 minutes natural release.
Quick pressure release: Open the valve to quick release any remaining pressure. Open the Instant Pot, remove the cake and place it on a wire rack.
How do you make cheesecake berry topping?
Microwave: First, in a small bowl combine the jam with water and microwave.
Combine: Next, add the berries and lemon zest to a large bowl and pour the jam mixture on top. Stir everything until evenly coated.
Top: After that, add the berry mixture on top of the cake. Refrigerate or serve.
Recipe Variations:
Gluten-free: Use gluten-free graham crackers, the rest of the ingredients are naturally gluten-free.
Fresh fruit: As an alternative, change the topping ingredients. Use kiwi, raspberries, or other fruits.
Topping: Another option is to top the instant pot new york cheesecake with cherry pie filling, strawberry pie filling, or caramel sauce.
Citrus: Alternatively, add some lemon zest or lemon juice into the batter as well.
Low-carb: In addition, if you prefer a low-carb version, try our Instant Pot Keto Cheesecake.
Oven version: The inspiration behind this great recipe is our all-time favorite Classic New York Cheesecake with detailed instructions on how to bake it in the oven.
Mix-ins: Another way of making this recipe, is by mixing into the filling a cup of berries. Or make a swirl of peanut butter or your favorite pie filling.
Why should you add cornstarch to a cheesecake?
Usually, the cornstarch is added to the batter to avoid cracks. About 1 tablespoon to 1/4 cup of cornstarch (depends on how much batter you have) is added to the batter with the sugar.
How to remove a cheesecake from the springform pan?
First, make sure the cake has been refrigerated for at least 8 hours.
After that, carefully run a small knife around the side of the pan. Start all the way up and gently push the knife down the edge of the cheesecake to loosen and bits that are stuck to the pan.
Next, unbuckle the springform pan and remove the circular band, or if you are using a push-pan, carefully push the bottom with the cake up.
To transfer the cake to a serving dish, place a thin spatula between the crust and the pan bottom and gently slide the cake onto the serving dish.
How to slice a cheesecake?
First, make sure the cake has been chilled for at least 8 hours.
After that, run a long, sharp knife under hot tap water and slice the cake. Then, wipe the knife clean and run it under hot water again before making another cut.
Another, mess-free and precise way of cutting even slices is to use cheese wire or unflavored dental floss. Also, make sure to clean the bits that stuck to the wire/floss before every cut.
How to store leftovers:
Refrigerate: First, let it cool on a cooling rack. After that, add it to an airtight container or wrap it loosely in aluminum foil or plastic wrap and refrigerate for up to one week.
Freeze: First, wrap it tightly with aluminum foil or plastic freezer wrap, and after that place it in a heavy-duty freezer bag. Properly stored, it will maintain the best quality for about 2 to 3 months.
Thaw: Transfer the dessert from the freezer to the fridge to thaw overnight. Serve and enjoy!
More Instant Pot Desserts:
Cooking tips:
Also, shake the pan a bit to remove air bubbles.
In addition, using room temperature ingredients is very important.
Also, avoiding over-mixing is equally important.
Do NOT be tempted to do a Quick Release for this instant pot cheesecake recipe, it will ruin the dessert's texture.
You will need a 7-inch pan that can fit in your Instant Pot, this is the one I used, and it's a perfect size.
Trivet for the electric pressure cooker.
Deliciousness to your inbox
Enjoy weekly hand picked recipes and recommendations