Best Instant Pot Cheesecake [VIDEO]
Best Instant Pot Cheesecake that is unbelievably creamy and topped with mixed berries! So easy to make, that you don't need to worry about cracked tops or water baths!
I can't stop making Instant Pot Cheesecake, like the amazing Instant Pot Pumpkin Cheesecake, followed by the delicious Instant Pot Oreo Cheesecake, and now I made this superb homemade Original Cheesecake in the pressure cooker topped with a mountain of berries.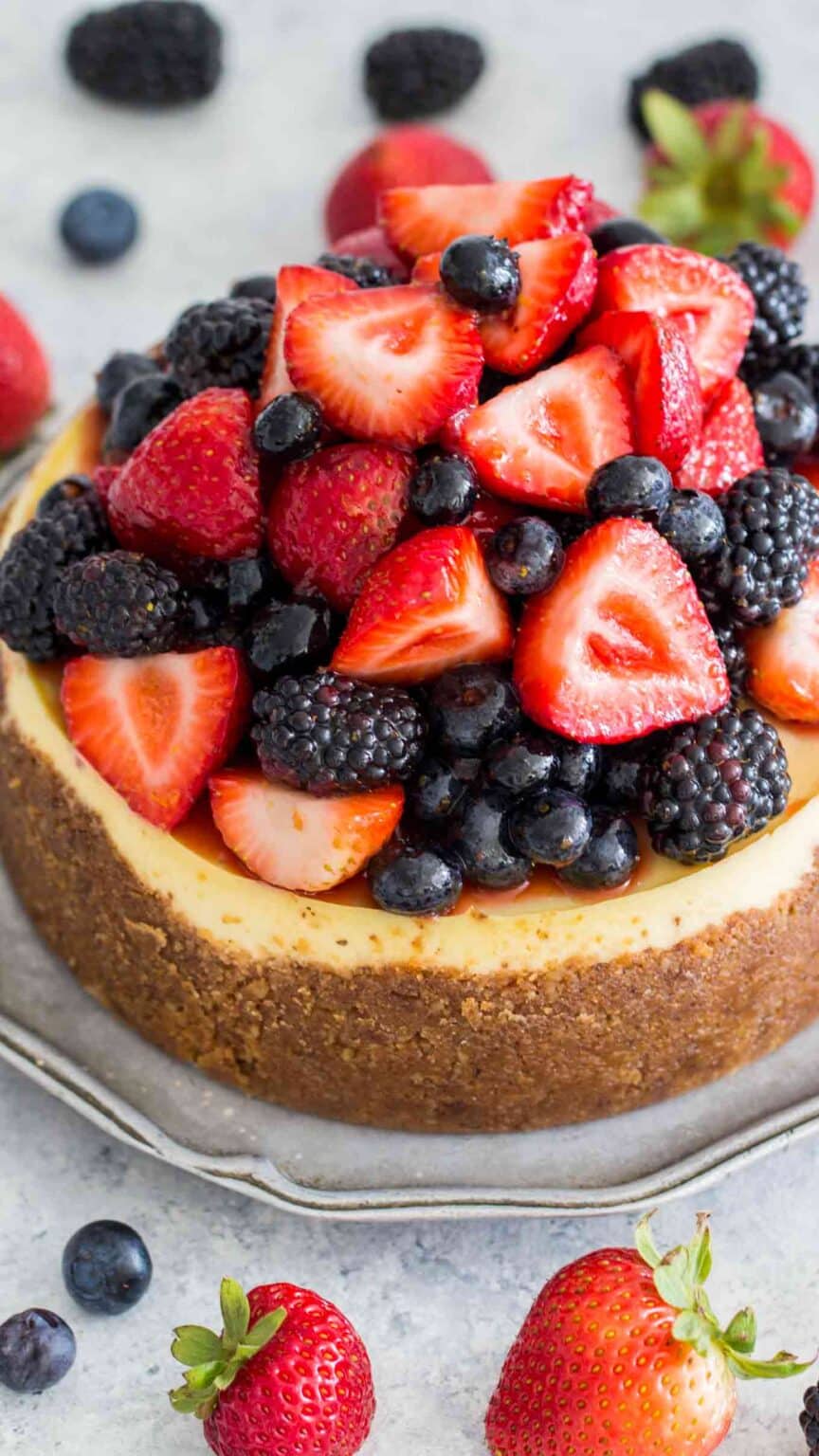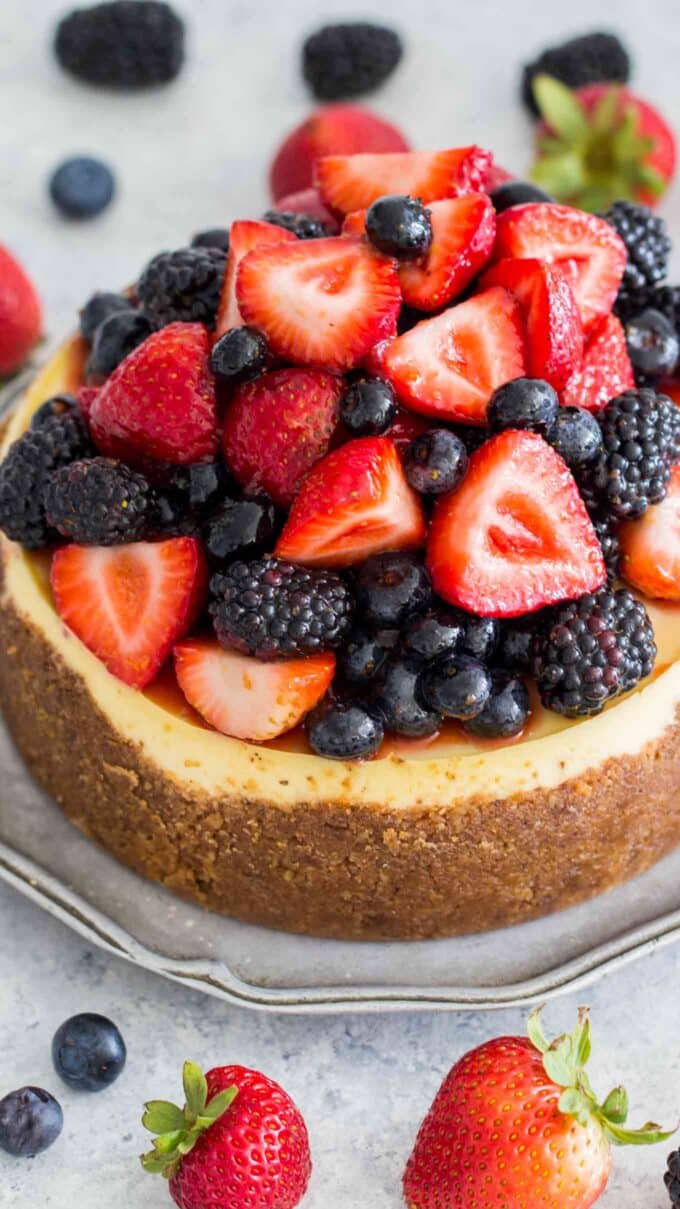 Easy Instant Pot Cheesecake
I am a cheesecake person at heart, if you put in front of me 10 desserts and there is cheesecake, I will reach for it, no doubts here. This Pressure Cooker Cheesecake has completely changed my perception of how this cake can be made.
Hear me out, I will never discriminate a cracked cheesecake, but if you are looking to easily make a perfect one with no cracks, no time-consuming water baths and picking through the oven door, this recipe is right for you. I have never imagined that making a homemade cheesecake can be so easy!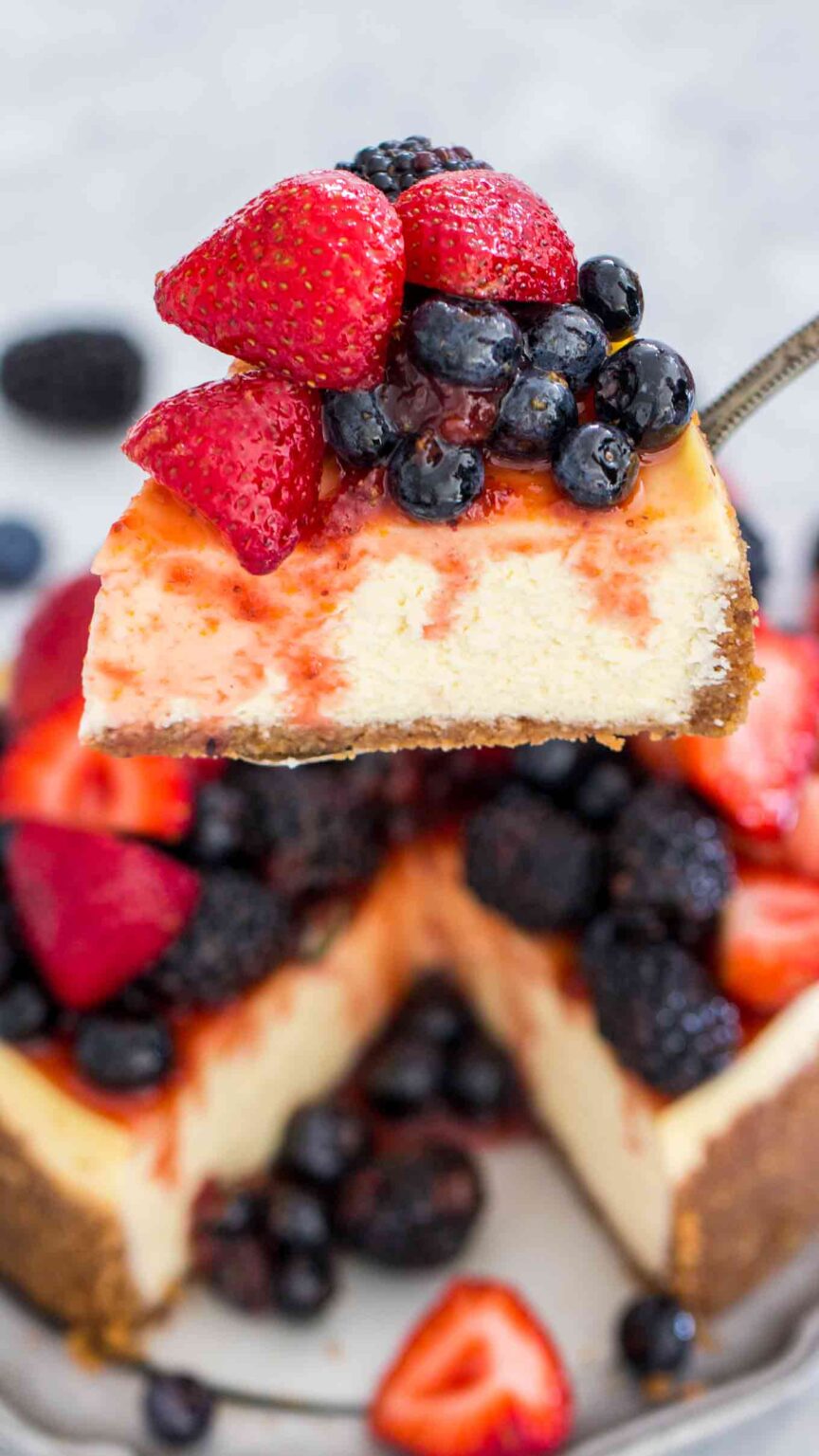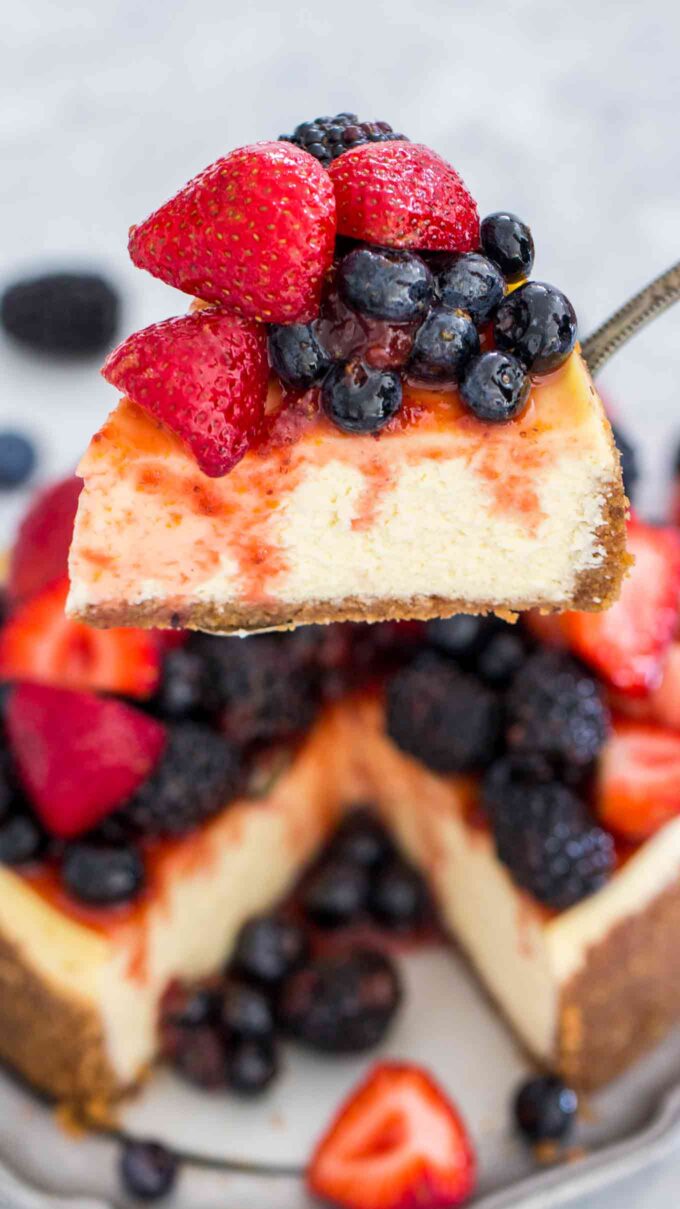 Why make the Instant Pot Cheesecake Recipe?
This method of cooking a cheesecake is by far the easiest one and the end result is a rich, creamy, perfect dessert that has no cracks at all. The pressure cooker will cook the cake uniformly and it also is the perfect environment to avoid cracks, as it has the right amount of moisture, creating the effect of a water bath.
You don't have to pick through the oven window anymore, you set up the timer and once it's done all you have to do is chill it.
What do you need to make this Instant Pot Cheesecake recipe:
For exact measures, please see the recipe card below. Also, I have attached a step-by-step recipe video to better guide you through the cooking process. With that said, you will need the following:
You will need a springform pan that can fit in your Instant Pot, this is the one I used.
Trivet for the pressure cooker, to place the springform on.
Hand mixer or stand mixer.
Graham crackers or graham cracker crumbs.
Cream cheese.
White granulated sugar.
Unsalted butter for the crust.
Eggs should also be at room temperature, just like the rest of the ingredients.
Heavy cream and cornstarch.
Why should you add cornstarch to a cheesecake?
Usually, the cornstarch is added to the cake batter to avoid cracks. About 1 tablespoon to 1/4 cup of cornstarch (depends on how much batter you have) is added to the batter with the sugar.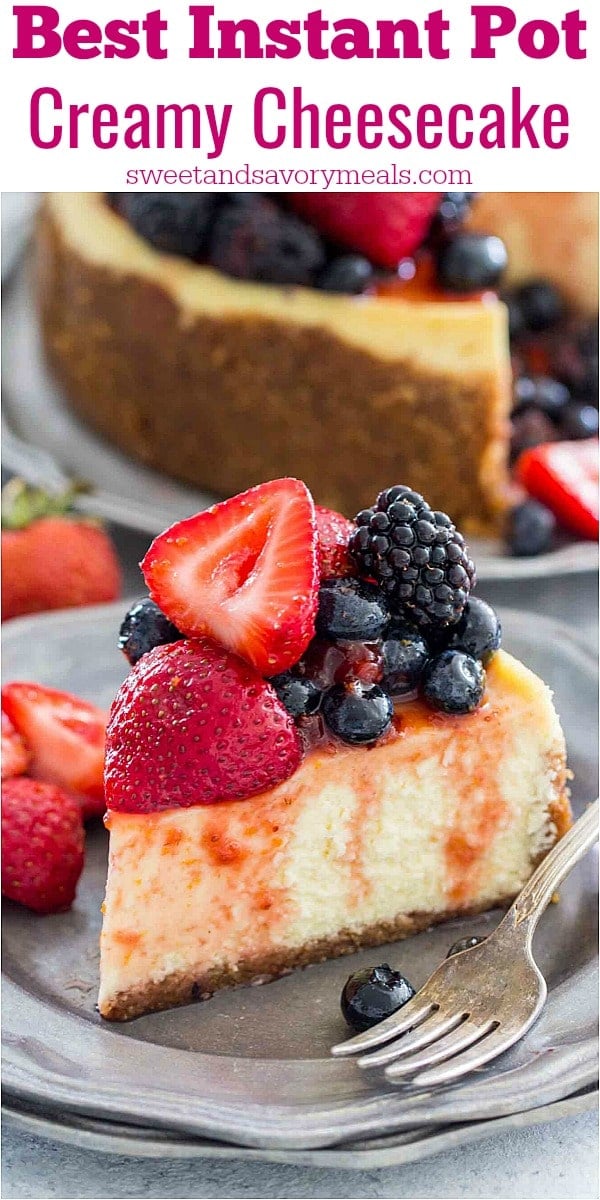 How to remove a cheesecake from the springform pan?
Carefully run a small knife around the edge of the pan, starting all the way up and working your way down. This way you will loosen and bits that stuck to the pan.
Unbuckle the springform pan and remove the circular band only after the cheesecake has been properly chilled and is still cold.
To transfer the cake to a serving dish, run a long, thin spatula between the crust and the pan bottom. Then, gently slide it onto the serving dish.
How to slice a cheesecake?
Run a long, sharp thin-bladed slicing knife under hot tap water or dip it into a glass of hot water prior to slicing it. Then, wipe the knife clean and run it under hot water before making another cut.
An easy, mess-free way to cut even slices is to use cheese wire or unflavored dental floss. Clean the bits that stuck to the wire/floss before every cut.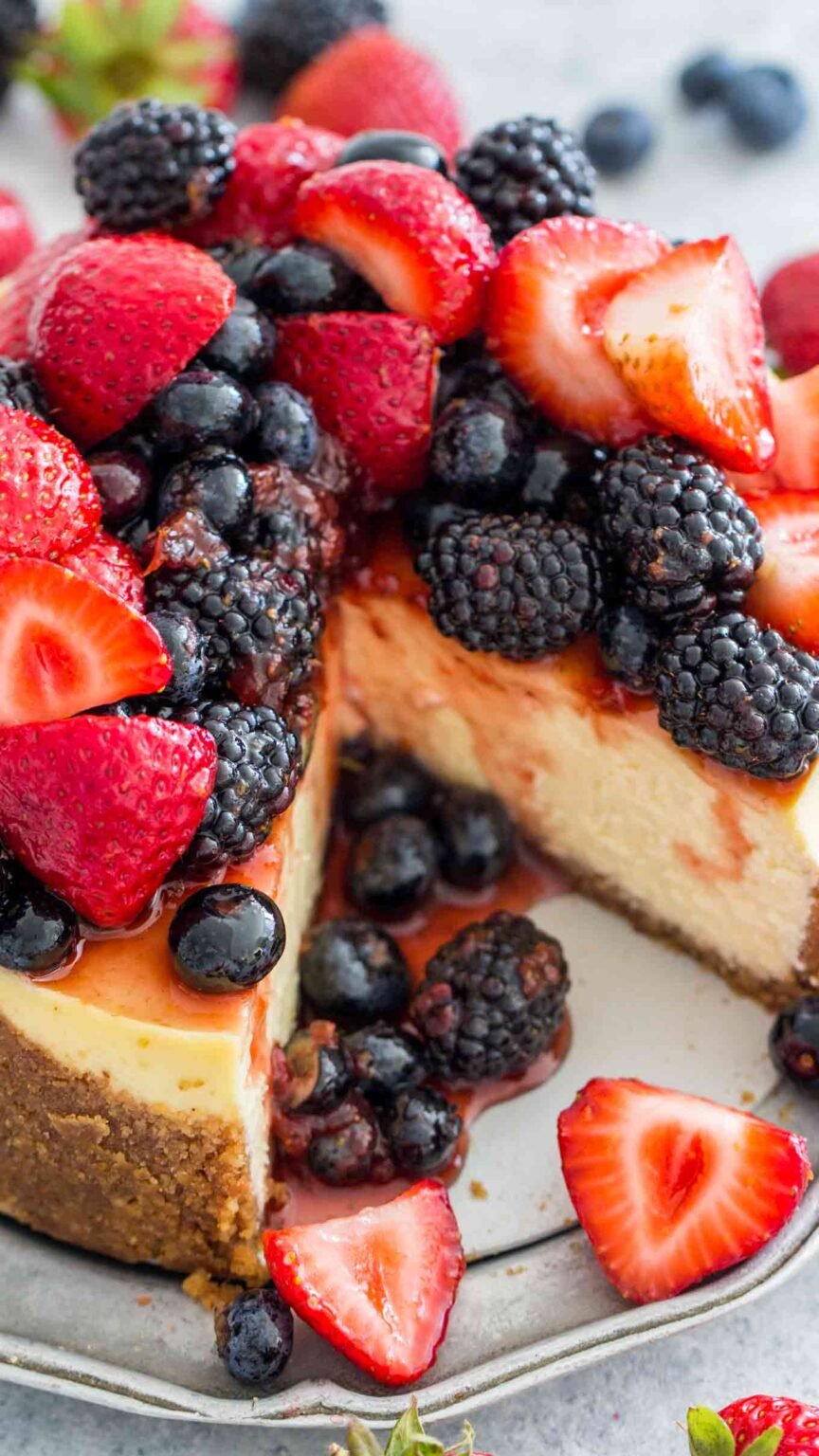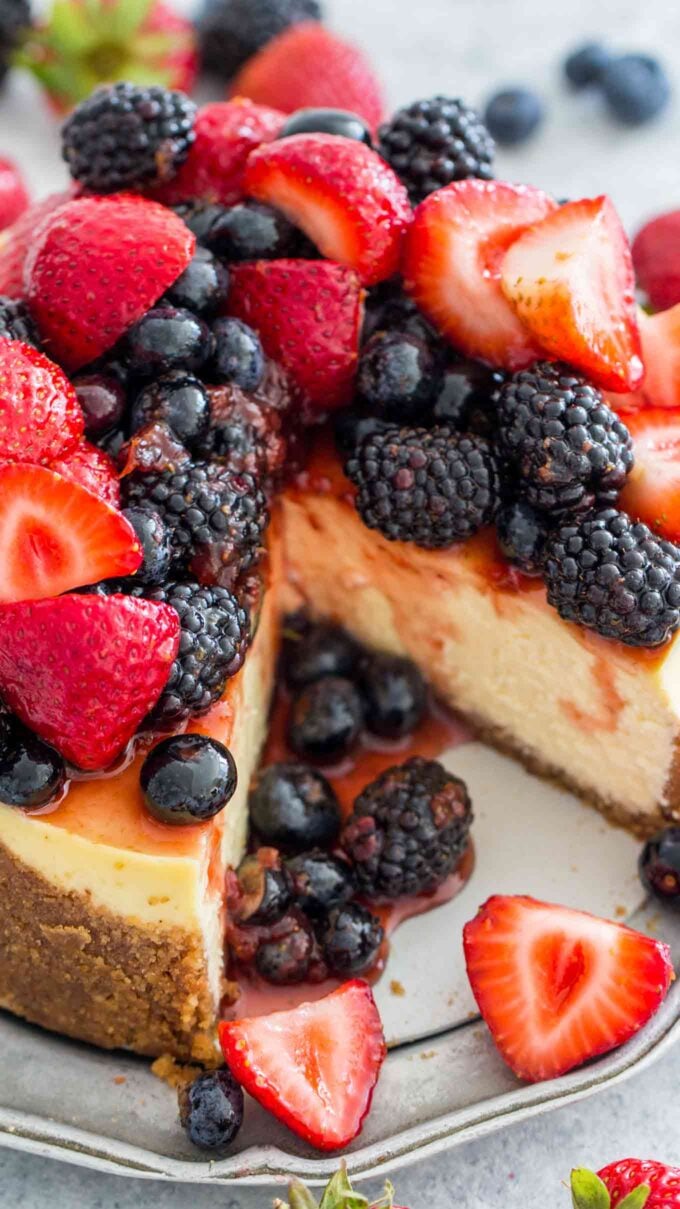 How do you store Pressure Cooker cheesecake in the fridge:
Freshly baked cheesecake will keep for about 1 week in the fridge. Refrigerate it covered loosely with aluminum foil or plastic wrap.
How do you freeze it?
Yes, you can freeze the cake BEFORE you top it with the berries. First, wrap it tightly with aluminum foil or plastic freezer wrap, or place in a heavy-duty freezer bag. Properly stored, it will maintain the best quality for about 2 to 3 months.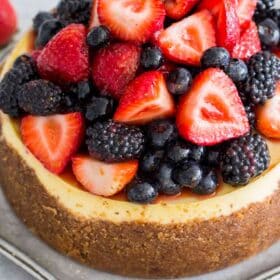 Best Instant Pot Cheesecake
Best Instant Pot Cheesecake that is unbelievably creamy and topped with mixed berries! So easy to make! No need to worry about cracked tops or water baths!
Save
Share
Print
Pin
Rate
Ingredients
Crust:
1 1/4

cups

graham crackers crumbs

1/2

cup

walnuts

1

tablespoon

brown sugar

1

teaspoon

ground cinnamon

1

teaspoon

ground nutmeg

5

tablespoons

unsalted butter

(melted)
Batter:
2

8-ounce packages cream cheese, at room temperature

1/2

cup

white granulated sugar

1

tablespoon

cornstarch

3

large eggs

(at room temperature)

1/2

cup

heavy cream

(at room temperature)

1

teaspoon

vanilla extract

1/2

teaspoon

almond extract
Mixed Berry Topping:
5

tablespoons

raspberry or strawberry jam

2

tablespoons

water

1 1/2

cups

strawberries

(halved)

3/4

cup

blackberries

3/4

cup

blueberries

1

tablespoon

lemon zest
Instructions
Cheesecake Crust:
Lightly coat a 7x3-inch springform pan with nonstick spray and set aside.

Finely chop the walnuts or add them to a food processor.

Add all the graham crackers crumbs, ground walnuts, cinnamon, nutmeg, brown sugar and melted butter to a large bowl and stir until well combined.

Press the mixture into the prepared springform pan. Using a measuring cup, press the crust and try to line the sides about to the middle of the pan edges.

Freeze for at least 20 minutes.
Cheesecake Batter:
Make sure all the ingredients are at room temperature before you begin.

In the bowl of a stand mixer or in a large bowl using a hand mixer, beat the cream cheese until light and fluffy on medium-low speed.

Add the sugar and cornstarch and continue beating until well combined and creamy. Scrape the sides and bottom of the bowl.

Add the eggs one at a time and beat after each addition until well combined.

Add heavy cream, vanilla extract and almond extract. Beat well, stopping to scrape the sides and bottom of the bowl.

Remove crust from freezer and pour cheesecake batter mixture into the prepared pan. Cover the top with foil.
Cook:
Place metal trivet into a 6-qt Instant Pot and add 1 1/2 cups water.

Gently transfer the cheesecake pan on top of the trivet.

Select manual setting and adjust pressure to high. Set time to 30 minutes. You can do 35 minutes for a denser cheesecake.

When finished cooking and the Instant Pot beeps, release pressure naturally for about 20-30 minutes.

Carefully open the pot and transfer cheesecake to a cooling rack. Let it cool for 1 hour, after which run a paring knife around the edges.

Transfer cheesecake to the refrigerator for at least 6 hours or overnight.
Berry Topping:
In a large bowl, combine strawberry jam and 2 tablespoons of water. Microwave for 30 seconds. Stir to combine.

Stir in strawberries, blackberries, blueberries and lemon zest until the berries are evenly coated in the jam mixture.

Remove cheesecake from pan before serving and top with the berry mixture.

Serve immediately.
Nutrition
Serving:
0
g
|
Calories:
282
kcal
|
Carbohydrates:
42
g
|
Protein:
5
g
|
Fat:
10
g
|
Saturated Fat:
5
g
|
Cholesterol:
81
mg
|
Sodium:
223
mg
|
Potassium:
159
mg
|
Fiber:
2
g
|
Sugar:
25
g
|
Vitamin A:
370
IU
|
Vitamin C:
22.1
mg
|
Calcium:
73
mg
|
Iron:
1.4
mg
More recipes you might love