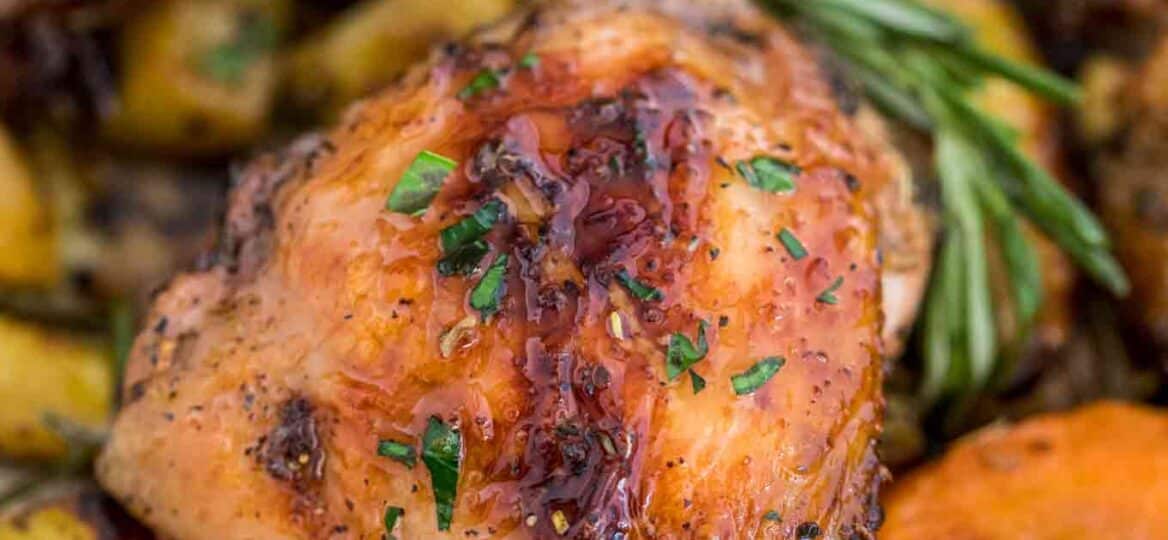 Italian Chicken and Potatoes [Video]
Italian Chicken and Potatoes combines two classic dinner pieces together to make the perfect homemade family meal. Spice things up a little bit by using this easy and equitable dish. Watch the video tutorial below and you'll see how easy this is.
Chicken is always a stable dish in any household. That's why I love making so many different variations of chicken like Crockpot Chicken and Rice, Oven Baked Chicken Breasts, and Lemon Garlic Roast Chicken.
Easy Italian Chicken and Potatoes
Italian Chicken and Potatoes is easy and delicious comfort food to make. It is no secret that most families prefer to make chicken for dinner especially because it's something so common to have in the freezer or the refrigerator. Not to mention that it takes less than an hour to have the perfect delicious and easy meal for dinner.
When I think of this dish I think of a mini dinner family gathering. It is the perfect dish to enjoy with your loved one on a relaxing dinner night. Potatoes are cooked in so many different ways, but in this meal, they are baked. This extravagant meal will make it look like you took way more time on dinner than you actually did.
Use this meal for a potluck or to bring to a party. The amount of butter that the recipe calls for is just so that both the chicken and the potatoes can have a little bit of extra flavor and have a nice golden hue to them. There is typically some residue at the bottom of the tray so just drain it out instead of leaving it in. This will help the dish not taste or feel as greasy. But otherwise, it is the perfect thing to make for your family.
How to make Italian chicken and potatoes?
Marinate the chicken for extra flavor.
Preheat the oven to 375 degrees.
Prepare the veggies, season them with dried herbs, lemon zest, and rosemary, and bake.
Next, after some time add the thighs and continue baking until crispy.
If needed, cover them with aluminum foil and place them into the oven for sixty minutes.
How long to cook chicken and potatoes?
I found that it usually takes about 55-60 minutes total to cook both of them. It is important to constantly check the potatoes because the insides could be wrong.
It's a good idea to do the same thing with the poultry because you don't want the inside to be pink or undercooked. The best way to check doneness is by using a kitchen thermometer. The chicken's internal temperature needs to be 165 degrees F when cooked.
What is the best meat cut to use?
We like to use thighs for this recipe as they get crispy and juicy. You can also use chicken breast because this part of the poultry is bigger and is more versatile than other parts. It also helps because it is easy to fit this in a pan with other things such as potatoes. Drumsticks are equally delicious and go great with the rest of the ingredients.
You can even make this recipe with pork chops. Just make sure you brown them of both sides before adding to the pan.
How to store leftovers?
This is a great dish to store if you have leftovers. Simply, transfer the leftovers to an airtight container and store it in the fridge for up to 3 days. It's also great to bring to work or to school for lunch because it's so easy to reheat as well.
Only a few minutes in the microwave and you will be able to enjoy this meal multiple times.
Can you freeze Italian Chicken and Potatoes?
This is perfectly storable in the freezer make sure to put it into a freezer-safe container or a Ziplock bag and you will be able to take it out at any time. This is great to freeze if you want to have it for a potluck or some kind of party. Be wary of leftovers in the freezer as well because it will last anywhere from three to six months in the freezer.
More chicken recipes to try:
Instant Pot Honey Lemon Chicken
Expert Tips and NOTES:
Always make sure that your meat is fully cooked. Sometimes, depending on the thickness of the poultry breast, the cooking time might take a bit longer. If upon checking the internal temperature it's not done, place it back in the oven and cook for an additional 5-10 minutes.
You can use any potatoes that you like, just remember not to use too small-sized once. As you want to have a uniform and evenly cooked meat and potatoes. Using too small potatoes might cause them to be over-cooked, while the meat not being done yet. Russet potatoes are a good choice here. Just cut them into larger size pieces.