Crockpot Chicken and Rice [VIDEO]
Crockpot Chicken and Rice is easy to make, healthy, creamy, and a family favorite during busy weeknights. Made with real ingredients like brown rice, chicken breast, and lemon, this home-cooked meal is delicious, gluten-free, and kid-friendly.
With this easy recipe, you let the slow cooker do all the work for you and the end result is a perfectly satisfying meal.
Easy Crockpot recipes are a family favorite around here, they are such a time saver during busy weeknights. We highly recommend you try some of our most popular ones: the soul-warming Slow Cooker Baked Potato Soup that is perfect for cold weather. This Slow Cooker Chicken Tortilla Soup is packed with heat and full of protein, while these Crock Pot French Dip Sandwiches are always a crowd-pleaser.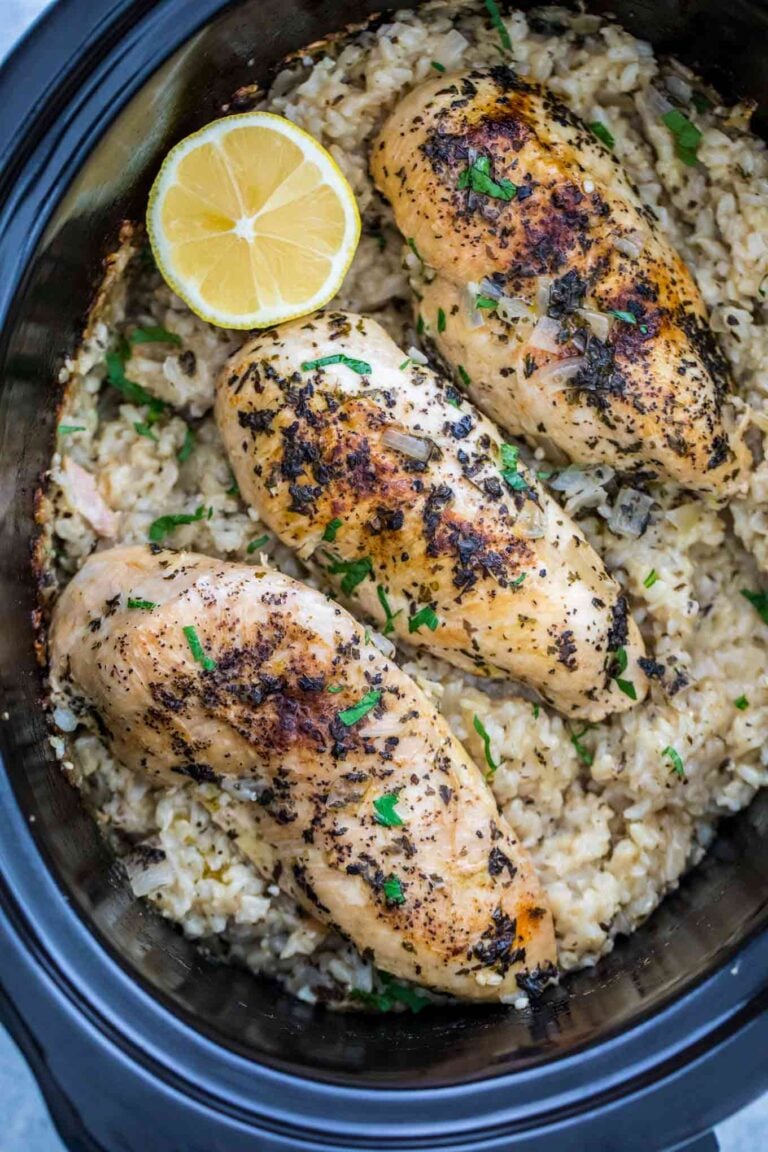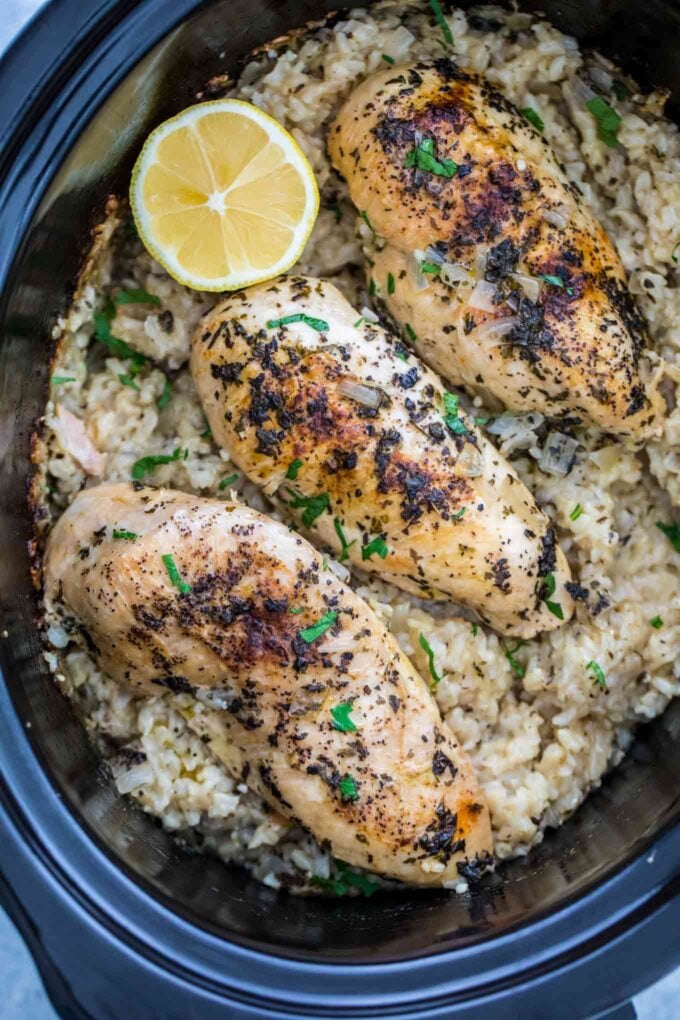 This Crockpot Chicken and Rice recipe is made with simple and easy-to-find ingredients. We love this meal because it's made with healthy brown rice, which is very filling and creamy from being slowly cooked.
Also, the rice has the most refreshing flavor from the lemon juice and lemon zest, which will remind you of a healthy Mediterranean-inspired meal. The meat is extra tender, juicy, and nicely browned to lock in all the flavors. We have kept the seasoning simple with just basil, oregano, and some parsley. The flavors are not overpowering and pair so well with the refreshing citrus aromas.
Do not expect the rice to be fluffy, in this dish, it is creamy and filled with all the moisture from the broth and the seasoning that was added. This is a healthy dinner and comfort food for the entire family to enjoy during busy days. It is still chewy and resembles in texture a perfectly cooked casserole. We recommend you try this recipe with brown rice, it truly is delicious!
Recipe Ingredients:
This dish requires only a few simple ingredients. You will need:
Chicken: I use boneless and skinless chicken breasts here. However, you can use also use drumsticks, or even turkey breasts.
Olive oil
Brown rice: I love using the long-grain version here.
Onion and garlic
Seasoning: dried basil, oregano, parsley, salt, and black pepper.
Chicken broth: If you are using the store-bought version, then go with the low-sodium type. This way you control the saltiness. However, I love using my homemade chicken stock here. It adds plenty of flavors and is just delicious.
Butter
Lemon juice and zest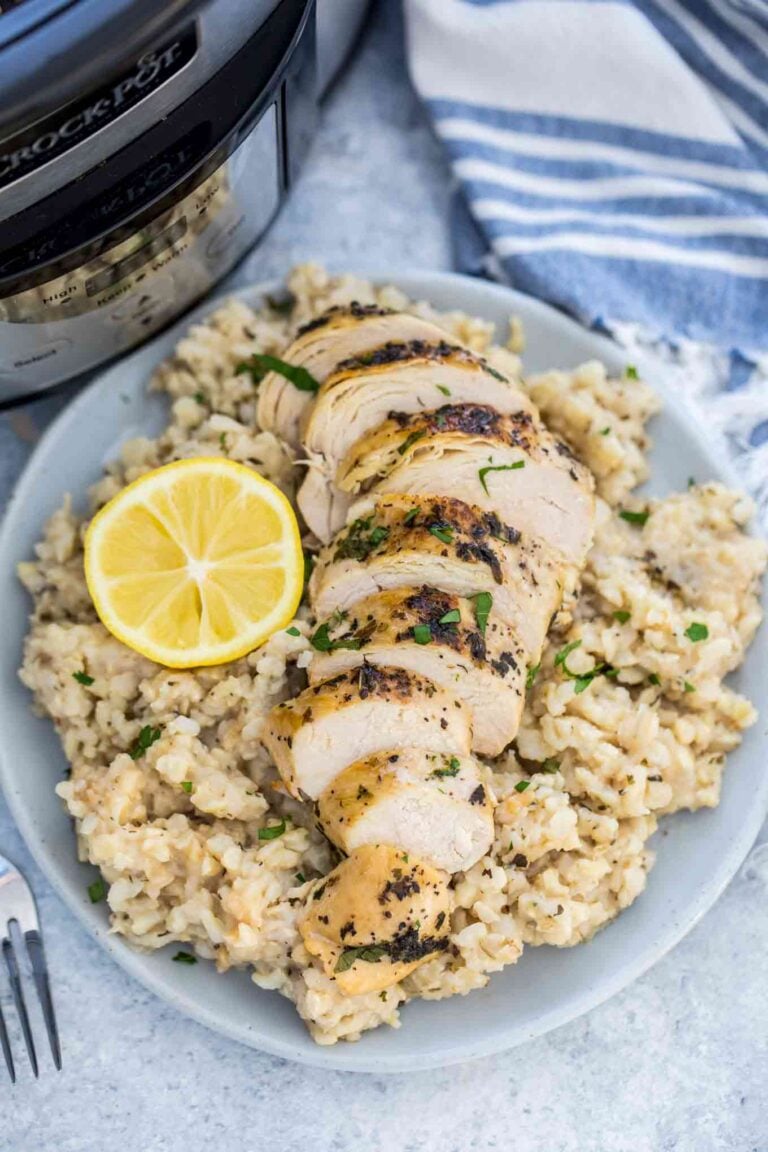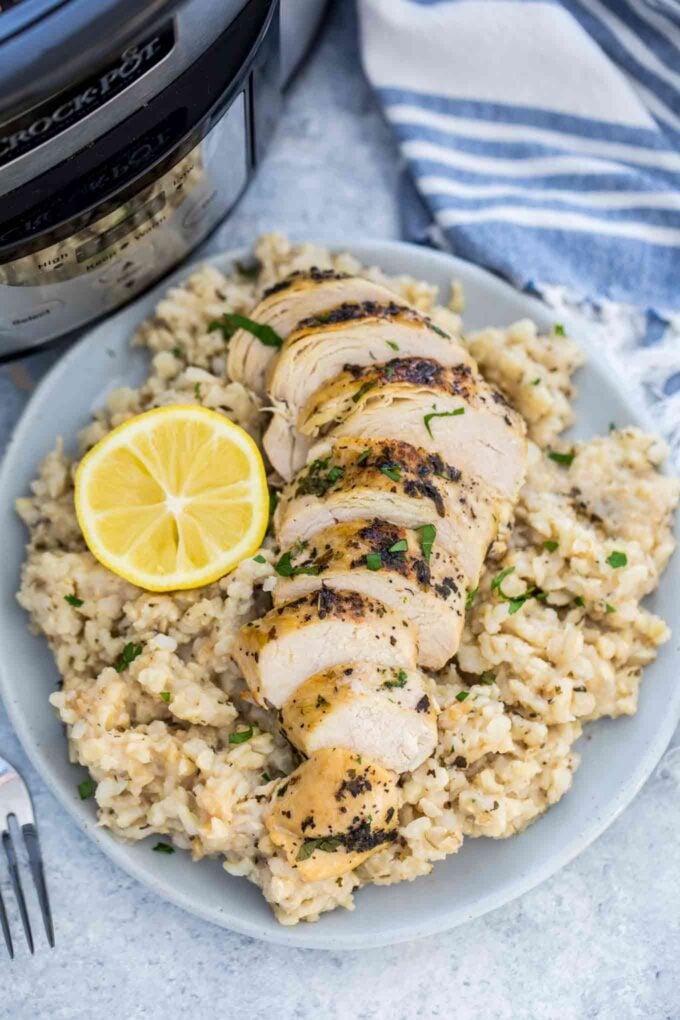 How to make Crock Pot Chicken and Rice?
For exact steps see the recipe card below. Also, watch the short video tutorial attached for quick step-by-step guidelines. But the general steps are as follows:
Brown the Chicken:
To lock in all the flavors, it is best to brown the chicken before adding it to the slow cooker.
Similarly, feel free to use breasts or thighs for this recipe. Just go with what you like the most.
Cooking the Slow Cooker Chicken and Rice:
Preferably do not rinse the rice for this recipe in order to better control the liquid to rice ratio.
Next, add it along with the rest of the ingredients to the pot and top with the meat.
Cover and cook. Remember, to always cook on high especially when cooking rice in the slow cooker. If you choose the low setting, it will end being extra mushy.
Check on the Chicken:
The meat may end up being ready before the rice is, check after about 3 hours and if its internal temperature reached 160 – 165 degrees. Also, you can remove it to a plate and cover it with foil. Taste the rice, and if it's still too chewy, stir and continue to cook a bit longer.
How long to cook Chicken Breast in the Slow Cooker?
Cook the breast on high for 2.5-3 hours or low for 4-6 hours. The cook time might differ depending on your crockpot brand and type.
For the best flavors, we recommend that you brown the meat before slow cooking it.
Recipe Variations and adjustments:
Feel free to adjust it based on your preference. Here are some great variations:
Meat: Use other meats if desired. Turkey breast, pork chops, or drumsticks can be used as an alternative.
Seasoning: Mix in some garlic powder, onion powder, chili powder, ranch seasoning, bay leaves, etc.
Rice: Swap the brown rice with white, or wild rice. Also, you can use basmati rice as well.
Add veggies: You can easily add some fresh veggies during the last hour of cooking. Such as green beans, celery, broccoli, carrots, etc.
Cream of mushroom soup: For an extra creamy texture, add 1 cup of cream of chicken soup or mushroom soup. At the same time, reduce the stock by 1 cup.
Instant Pot: Making it in the Instant Pot is equally easy but at a fraction of time. Try my Instant Pot Chicken and Rice recipe, and see it for yourself.
Cheesy Chicken: If you like it cheesy, then add 1/2 cup of shredded cheddar or parmesan cheese during the last 15 minutes of cooking. The cheese will melt over the meat, resulting in extra cheesy and tender chicken.
Can you put rice in a slow cooker?
You can cook rice in the slow cooker, but it will not have the fluffy, crumbly texture as when cooked in a pressure cooker or on the stove. While it will be extra delicious, it will have a creamier texture, like in a casserole.
Also, for the best results, I recommend using a 2 to 1 ratio, about 2 cups water to 1 cup rice. If you already have liquid in the slow cooker, take it into consideration when adding in the rice.
Can you put raw chicken in a slow cooker?
Yes, you can, but we recommend you brown it first. After that, cook it per recipe direction. Always check if the recipe asks for cooked or raw poultry.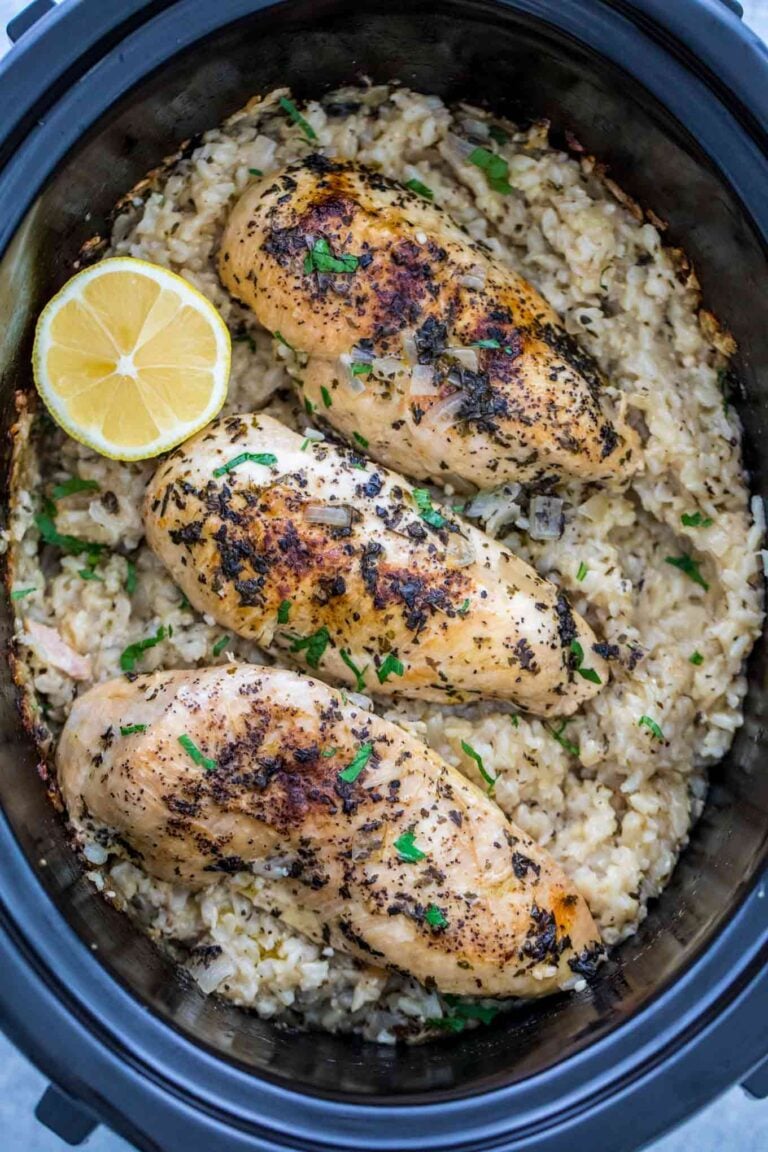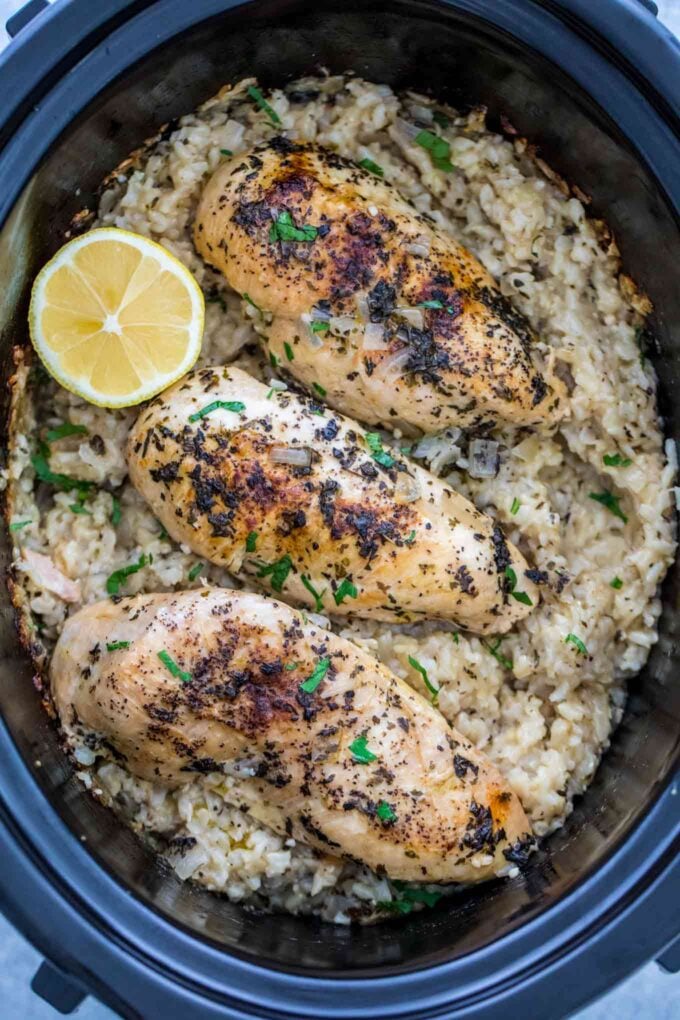 Can you put frozen chicken in the crockpot?
Cooking frozen poultry in a Crock-Pot is considered to be unsafe. Food Safety guidelines state that you should always thaw meat or poultry before putting it into a slow cooker. However, if you have a pressure cooker, you can easily cook frozen poultry or meat in it.
Is chicken stock the same as chicken broth?
Stock – it tends to be made more from the bony parts of the bird, because of that it has a richer, fuller flavor.
Broth – is made more out of the meat parts.
How to store this dish?
If you have leftovers, you can easily refrigerate them for days to come. Simply transfer to an airtight container and refrigerate for up to 3 days.
To freeze, use a freezer-safe container, and then freeze the meal for up to 3 months.
To reheat, pop the dish into a preheated oven at 350 degrees F, and heat it for about 10 minutes until warm.
More Crockpot chicken recipes to try:
Recipe Tips:
As stated above, feel free to use any poultry cuts. Use breasts, thighs, or even drumsticks. The cooking time will be the same.
I recommend using long-grain brown rice. Because I wanted this to be a healthy chicken and rice crockpot recipe, I go with brown rice over white rice, as it is higher in fiber and protein.
However, if you prefer, then swap the brown rice with white rice.
Browning the meat is optional but highly recommended. It will lock in the flavor, and also give the meat a nice color. But, if you are short on time, simply skip this part.
When cooking grains in the crockpot, you want to ALWAYS cook it on the HIGH settings. Otherwise, you will end up watery and mushy rice.
Garnish with a dollop of sour cream, fresh parsley, or green onion.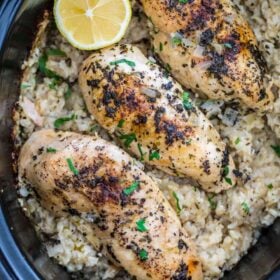 Crockpot Chicken and Rice
Crockpot Chicken and Rice is easy to make, healthy, creamy and a family favorite during busy weeknights.
Save
Share
Print
Pin
Rate
Ingredients
2

tablespoons

olive oil

3-4

medium chicken breasts

(skinless and boneless or bone-in chicken thighs)

1 1/2

cup

long grain brown rice

1

small onion

(diced)

3

cloves

garlic

(minced)

1

teaspoon

dried oregano

1

teaspoon

dried parsley flakes

1/4

teaspoon

salt and black pepper

1

teaspoon

dried basil

1/2

teaspoon

lemon zest

1

tablespoon

lemon juice

3

cups

chicken broth

(low sodium)

6

cloves

garlic

(whole and browned)

2

tablespoon

butter

(unsalted)
Instructions
Sear Chicken:
Season chicken liberally with salt and pepper on both sides.

Place a large skillet over high heat, add oil and once it's hot add the chicken and brown it on both sides for about 5 minutes.
Slow Cook:
Add the rest of the ingredients to the crockpot, stir to combine, and place the chicken on top.

Cook on HIGH for 2.5 to 3 hours. Check on the rice after 2.5 hours, and if it needs more time, stir and continue to cook.
Nutrition
Calories:
508
kcal
|
Carbohydrates:
59
g
|
Protein:
42
g
|
Fat:
18
g
|
Saturated Fat:
3
g
|
Cholesterol:
98
mg
|
Sodium:
859
mg
|
Potassium:
881
mg
|
Fiber:
3
g
|
Sugar:
2
g
|
Vitamin A:
300
IU
|
Vitamin C:
25.3
mg
|
Calcium:
58
mg
|
Iron:
2.5
mg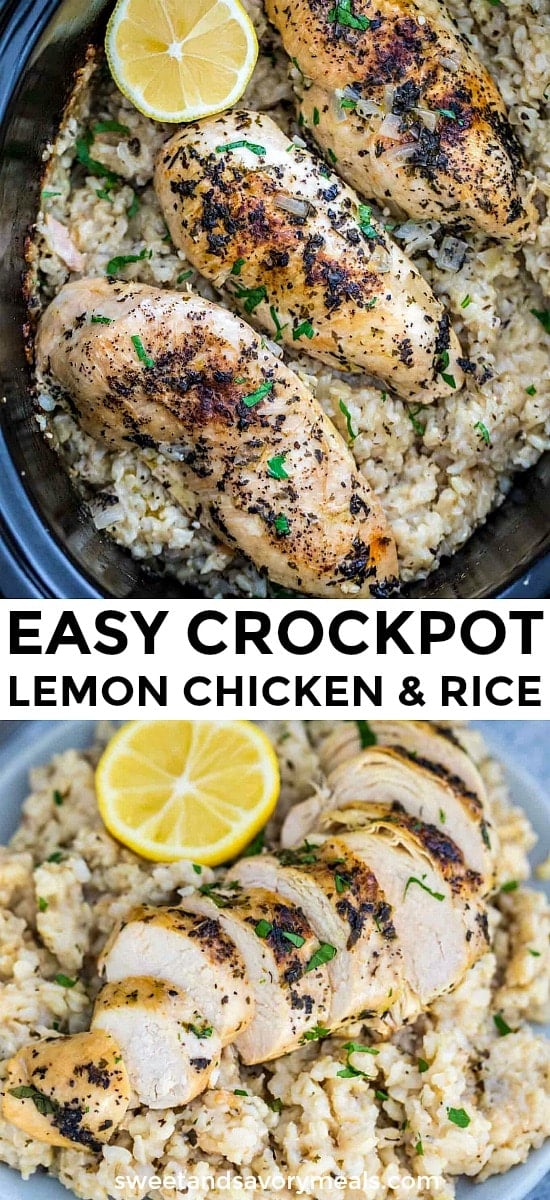 More recipes you might love