Homemade Breadsticks Recipe
Last updated on November 21st, 2021 at 05:07 pm
Homemade Breadsticks are fluffy, buttery, soft, and super easy to make with only a few pantry ingredients. Learn how to make this recipe quickly from scratch, and forget about ever buying them from the store.
One of my favorite appetizers is Fried Cheese Sticks. They are soft and cheesy and loved by kids and adults alike. I wanted to make these fluffy butter breadsticks to be used not only as appetizers, but as a dip with recipes like Million Dollar Dip, Hummus, or Smoked Salmon Dip.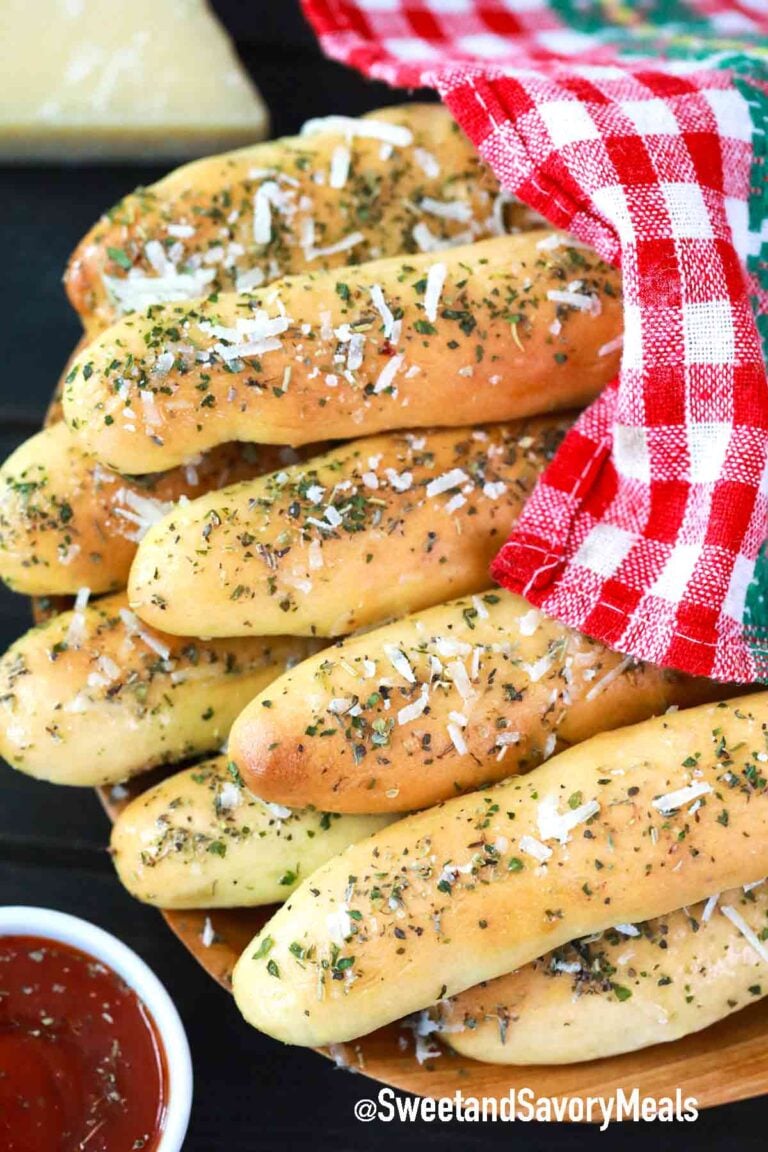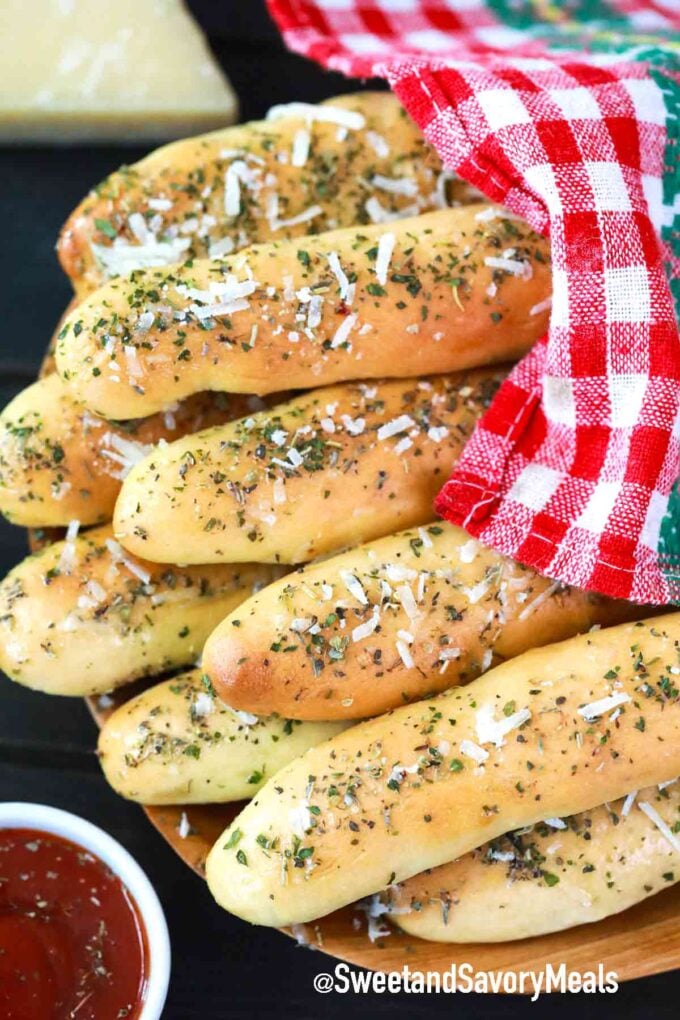 Buttery Breadsticks Recipe
These Homemade Buttery Breadsticks are amazingly delicious and can be paired with soups, salads, or pretty much with any main dishes. I am a huge fan of them and until recently, I used to enjoy them at the local Italian restaurant along with a bowl of pasta.
However, being a professional chef, and a food blogger, I just had to make them on my own. I decided to keep the recipe fairly simple and stick to the traditional and classic versions of them. Basically, I only used a handful of pantry ingredients such as yeast, salt, sugar, and all-purpose flour to make them.
As for the toppings, there are limitless possibilities. You can go with shredded parmesan cheese, Italian seasoning, ranch seasoning, sea salt, etc. They are utterly addictive and irresistible, especially right out of the oven! The smell and aromas alone are worth the experience!
Also, you can easily double or triple the recipe if you are hosting a large gathering, or want to store them for later. It is a great and handy recipe to learn because it is easy to follow, cheap, and goes with any dish!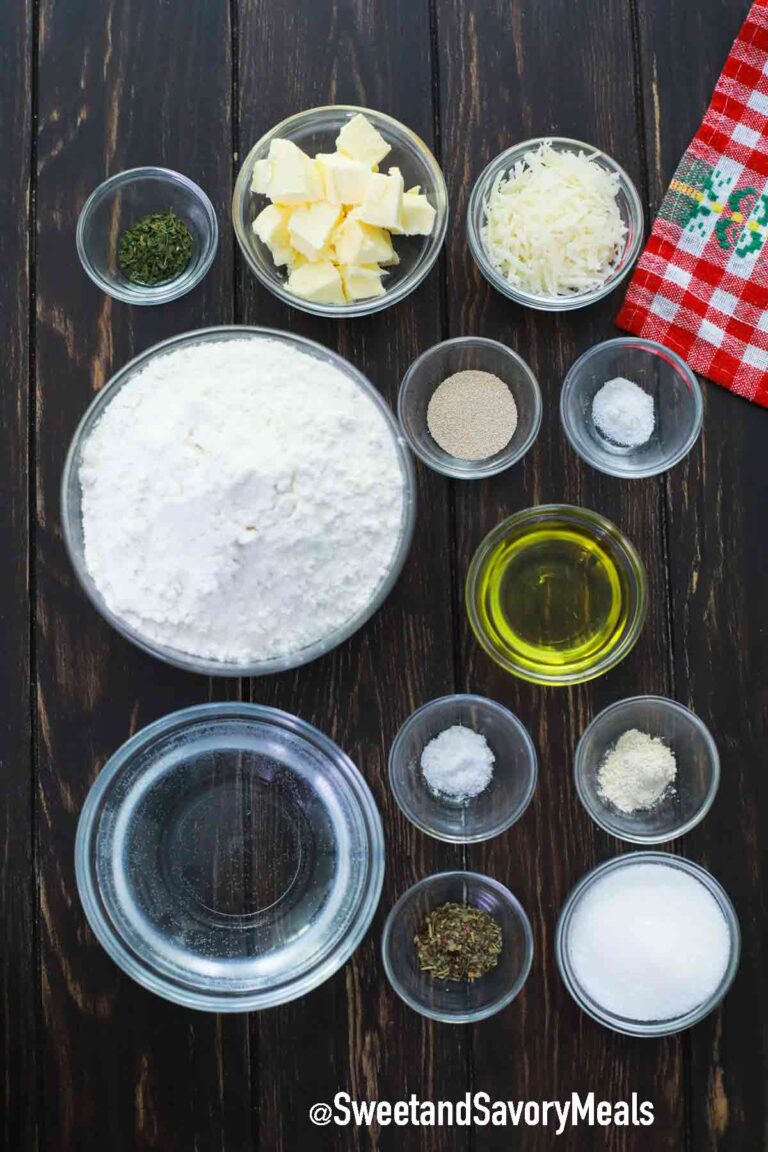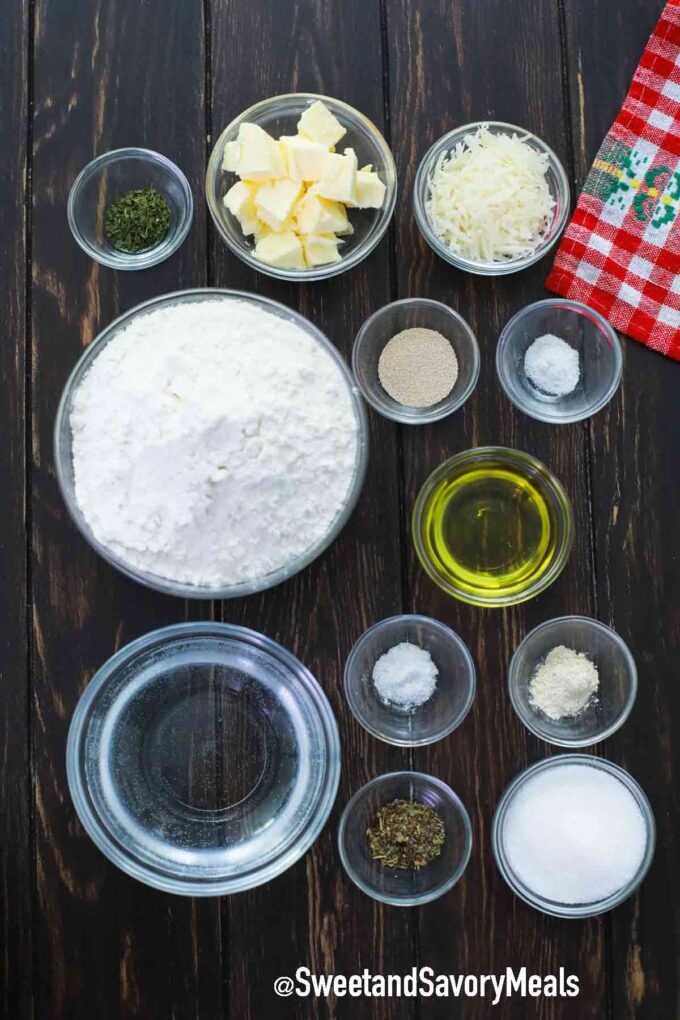 Ingredients needed:
For the exact ingredients measures, please refer to the recipe card below. You will need the following:
Yeast: You can use either instant or dry yeast depending on your preference.
Sugar: Granulated sugar works the best when mixing with the rest of the ingredients.
Salt: I like using kosher salt.
Butter: Since salt is added, go with unsalted butter to control the salt level.
All-purpose flour: Feel free to use your favorite brand and type.
Warm water: To dissolve the yeast.
Olive oil
Grated parmesan cheese, garlic powder, and Italian seasoning: For the topping.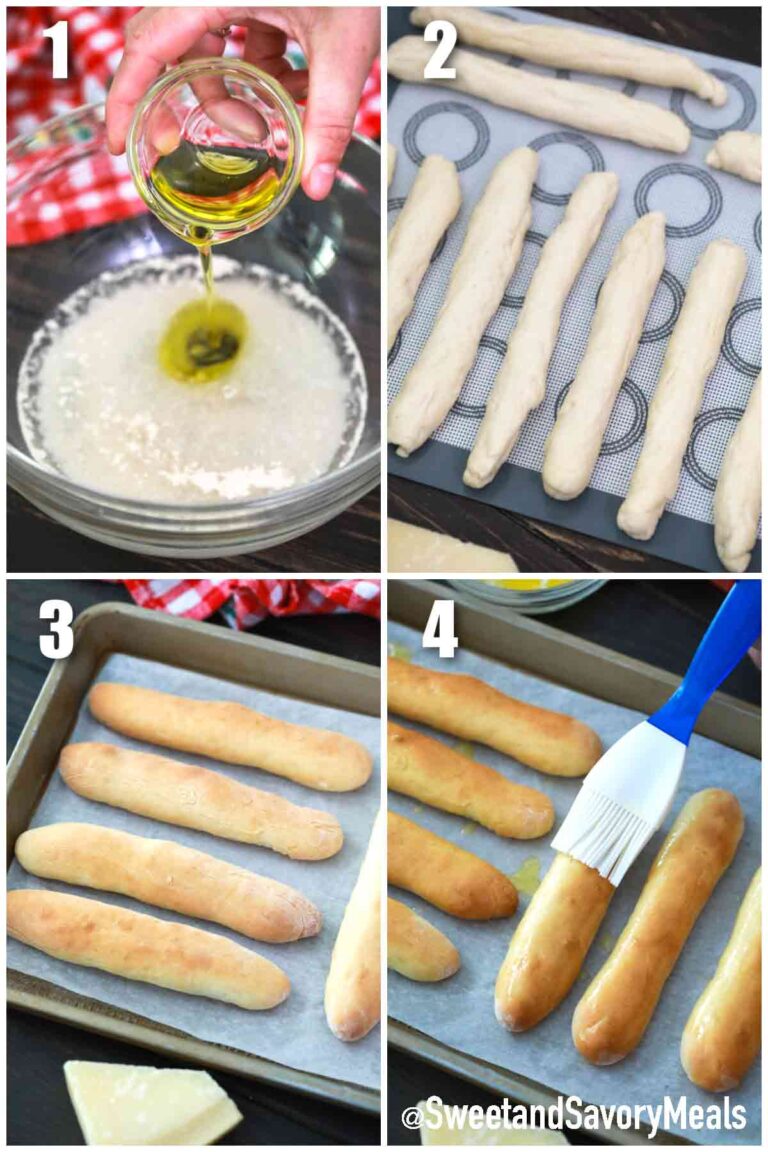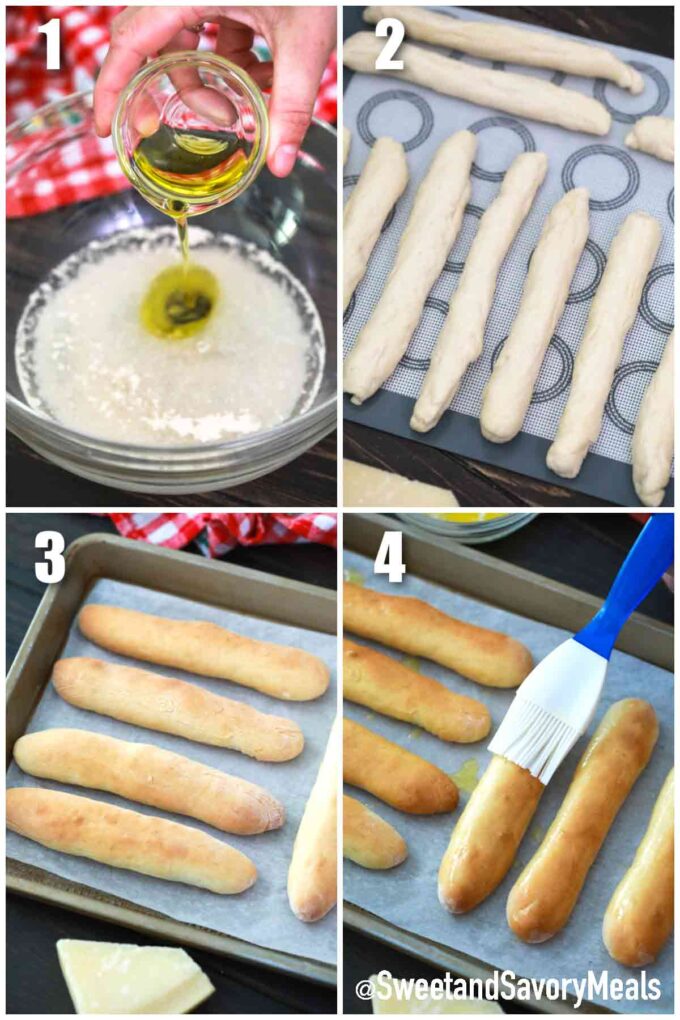 How to make the best homemade breadsticks from scratch?
Make the dough: First, add warm water, sugar, salt, flour, olive oil, and yeast into the bowl of a stand mixer. Mix on low speed until the mixture turns into a dough. The mixture should be sticking a bit to your hands, if it sticking too much add a little bit more flour. If it does not stick, then add a bit more warm water.
Let it rest: Next, transfer the dough into a greased tray, and cover with a towel. Then, let it rest for about 20-30 minutes.
Cook: Once rested, it is time to cook. Slice the dough into desired pieces (about 10-12 pieces), and roll each piece to form a stick-like shape. Repeat with the remaining pieces, and once done, arrange the sticks on a greased baking sheet. Pop them in the preheated 400 degrees F oven, and bake for about 15-18 minutes, until golden brown.
Serve: Top them with some melted butter and sprinkle with shredded parmesan cheese and serve warm.
Recipe Variations:
Bread flour: You can substitute the all-purpose flour with bread flour, or use both together.
Shape into rolls: Try switching it a bit, and turn this recipe into soft and fluffy dinner rolls.
Toppings: Feel free to use other toppings as well. Sesame seeds, freshly chopped parsley, chopped bacon are a great addition as well.
Cheesy: To make it extra cheesy, top them with extra shredded Parmesan cheese or mozzarella cheese on top. Also, you can use Asiago or Romano cheese as well.
Gluten-free breadsticks: Swap the all-purpose flour with a gluten-free version. This will cause the texture to be slightly different.
Other spices and seasonings: Feel free to add other spices or seasoning as well. Dried basil, oregano, cinnamon, or nutmeg, etc.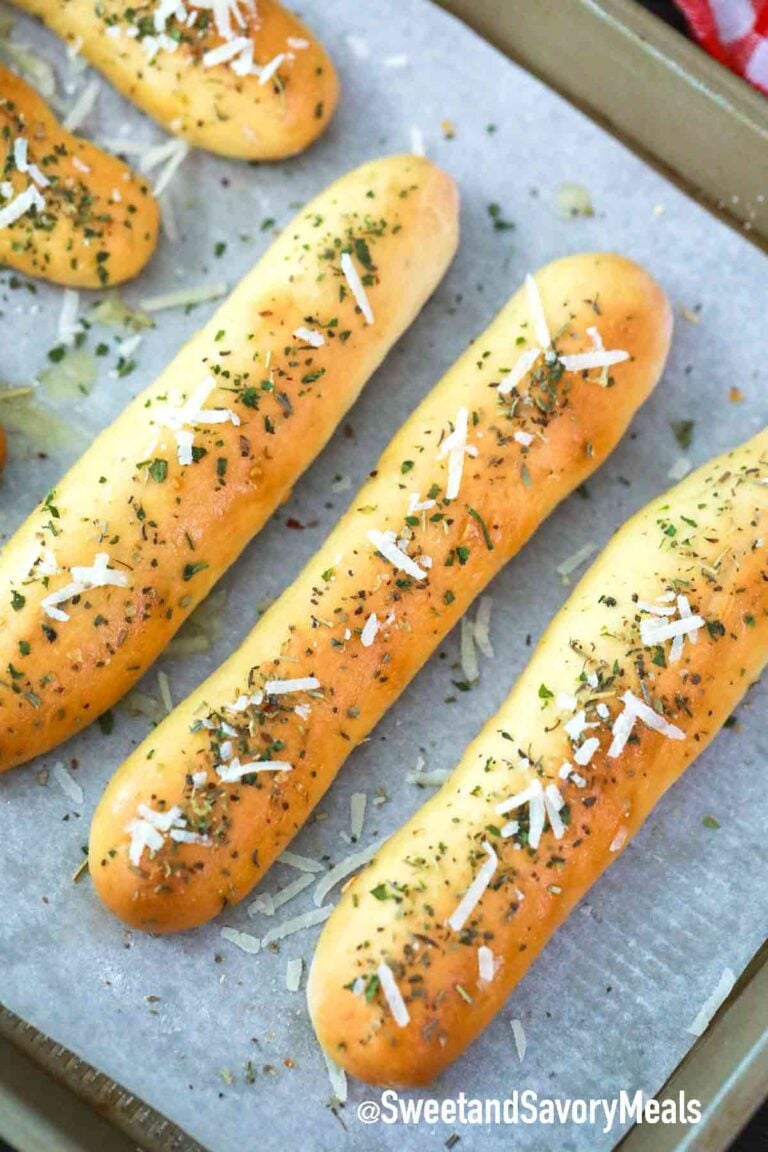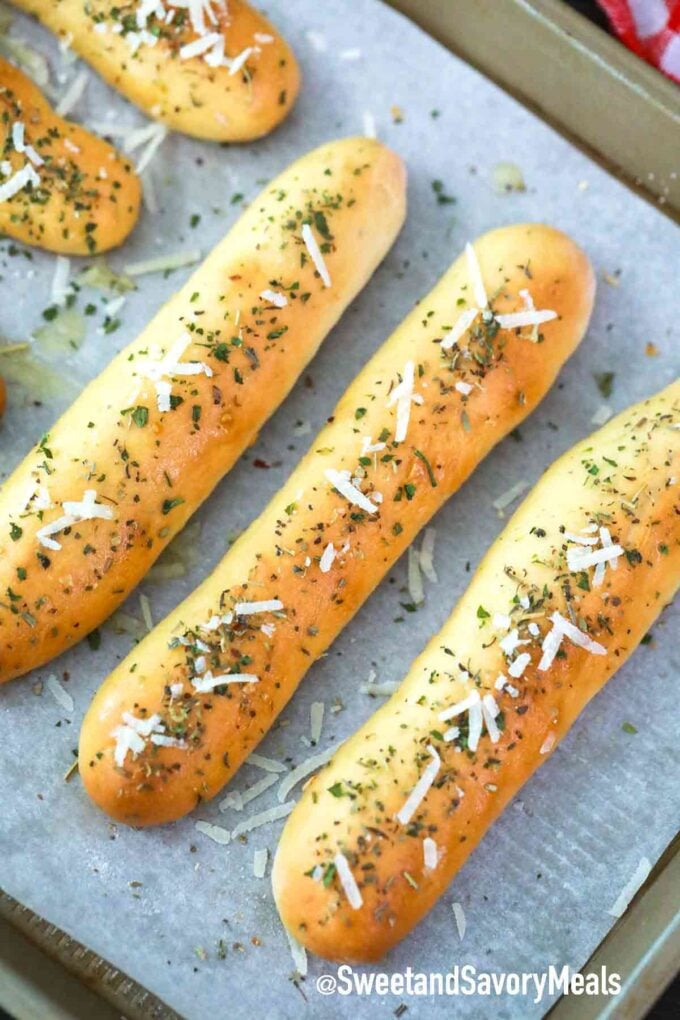 What to serve with cheesy homemade breadsticks?
Use them as a dip on Deviled Egg Dip, Hot Cheesy Crab Dip, or Buffalo Chicken Dip.
Alternatively, feel free to pair them with soups or salads.
Can I make the dough by hand?
If you do not have a stand mixer, then you can definitely stir the ingredients by hand until the dough has the desired consistency. Just ensure to add the ingredients slowly to the bowl and mix by hand.
Storing Instructions:
Room temperature: At room temperature, they can be consumed within 3 days after baking.
Refrigerate: To refrigerate, it is best to wrap them in plastic wrap and refrigerate them for up to 7 days.
To freeze: Use a freezer-safe zip bag, and freeze them for up to 3 months.
To reheat: When ready to serve, simply pop them quickly in a preheated oven at 400 degrees F for about 5-7 minutes, or until warm.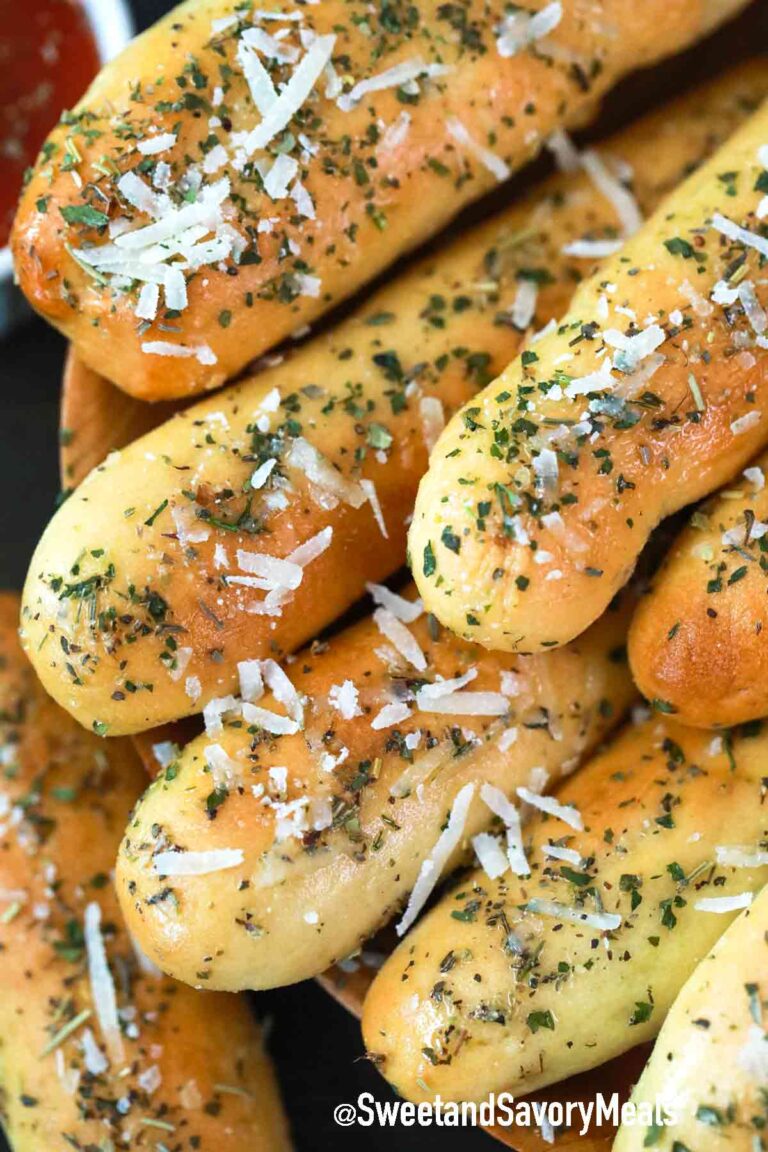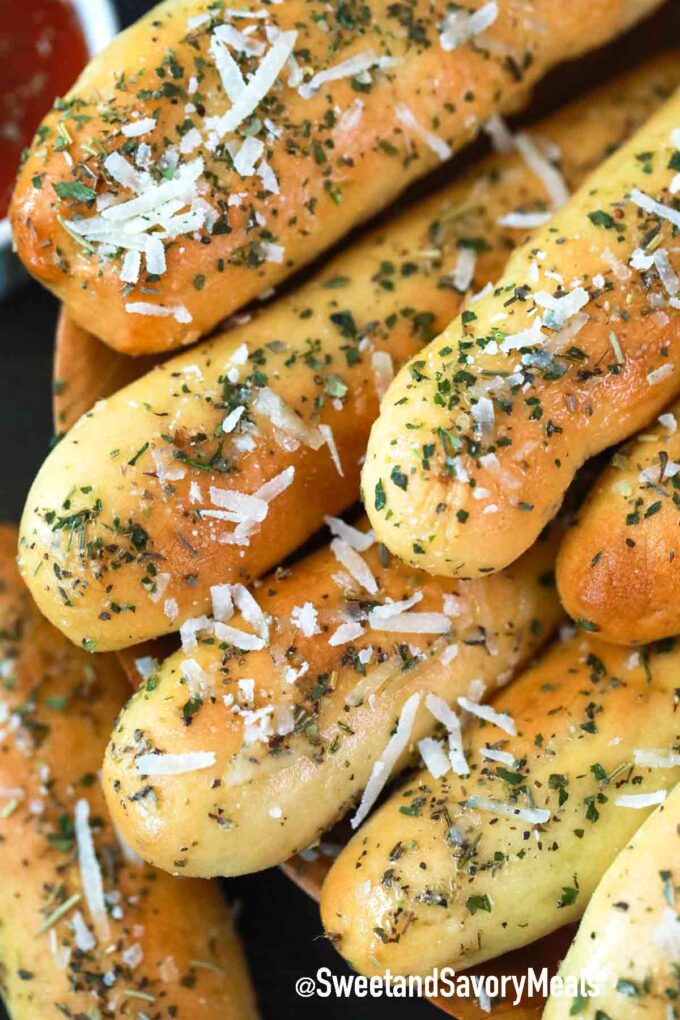 More similar recipe to try:
Recipe Tips:
To seep up the cooking process, you bake them to higher F degrees. Just keep an open eye not to overturn them.
Also, it is important to allow the drought to properly rest and rise. This will make them fluffy and airy.
You can also use white whole wheat flour, bread flour, or even unbleached all-purpose flour, or a combination of them.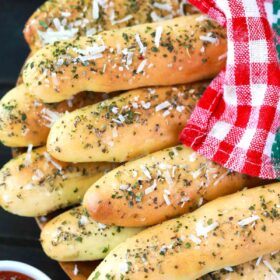 Homemade Breadsticks
Homemade Breadsticks are fluffy, buttery, soft, and super easy to make with only a few pantry ingredients.
Save
Share
Print
Pin
Rate
Ingredients
Breadstick Dough:
1

cup

warm water

(about 110 degrees Fahrenheit)

1 1/4

tablespoon

instant dry yeast

3

tablespoons

granulated sugar

1

teaspoon

table salt

4

tablespoons

olive oil

2 1/2

cups

all-purpose flour
Topping:
4

tablespoons

melted butter

1/4

teaspoon

table salt

1

teaspoon

garlic powder

1

teaspoon

Italian seasoning

1

teaspoon

dried parsley

2

tablespoons

grated parmesan cheese
Instructions
In the bowl of a stand mixer fitted with the dough hook, combine warm water, yeast, sugar, salt, and olive oil.

Add 2 cups of flour and mix at low speed.

Increase the speed to a medium and slowly add the remaining 1/2 cup of flour. Mix until the dough pulls away from the sides of the bowl. The dough should be slightly sticky and soft, but shouldn't stick to your hands.

Pay attention and either add more or less flour until the dough reaches the right consistency.

Transfer the dough to a lightly greased mixing bowl and cover it with a kitchen towel and let rise for 30 minutes in a warm place.

Line a baking sheet with parchment paper.

Punch the dough down and divide it into 12 equal pieces. Roll each piece into a 9 to 10-inch long rope and arrange it on the baking sheet, a few inches apart.

Preheat oven to 400 degrees F.

Bake the breadsticks for 16 to 18 minutes, until golden brown on top.
Topping:
In a medium bowl, whisk together the butter, salt, and garlic powder. Brush the mixture on top of the breadsticks immediately after baking.

Sprinkle with parmesan cheese and dried herbs as desired. Serve.
Nutrition
Calories:
178
kcal
|
Carbohydrates:
21
g
|
Protein:
3
g
|
Fat:
10
g
|
Saturated Fat:
3
g
|
Polyunsaturated Fat:
1
g
|
Monounsaturated Fat:
5
g
|
Trans Fat:
1
g
|
Cholesterol:
11
mg
|
Sodium:
291
mg
|
Potassium:
70
mg
|
Fiber:
2
g
|
Sugar:
3
g
|
Vitamin A:
178
IU
|
Vitamin C:
1
mg
|
Calcium:
46
mg
|
Iron:
2
mg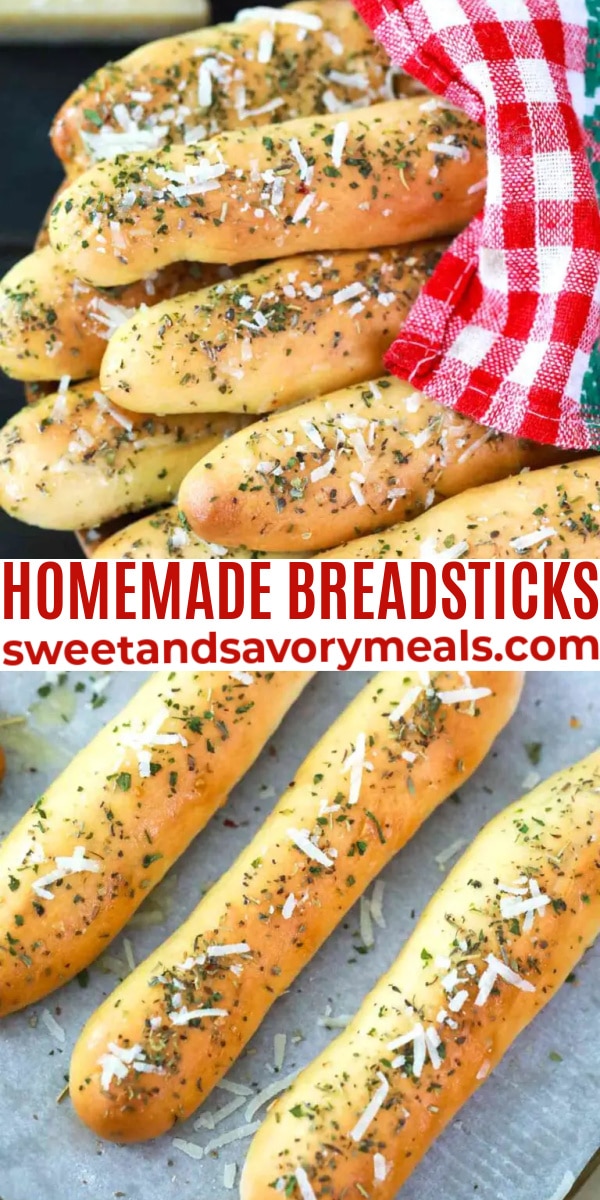 More recipes you might love