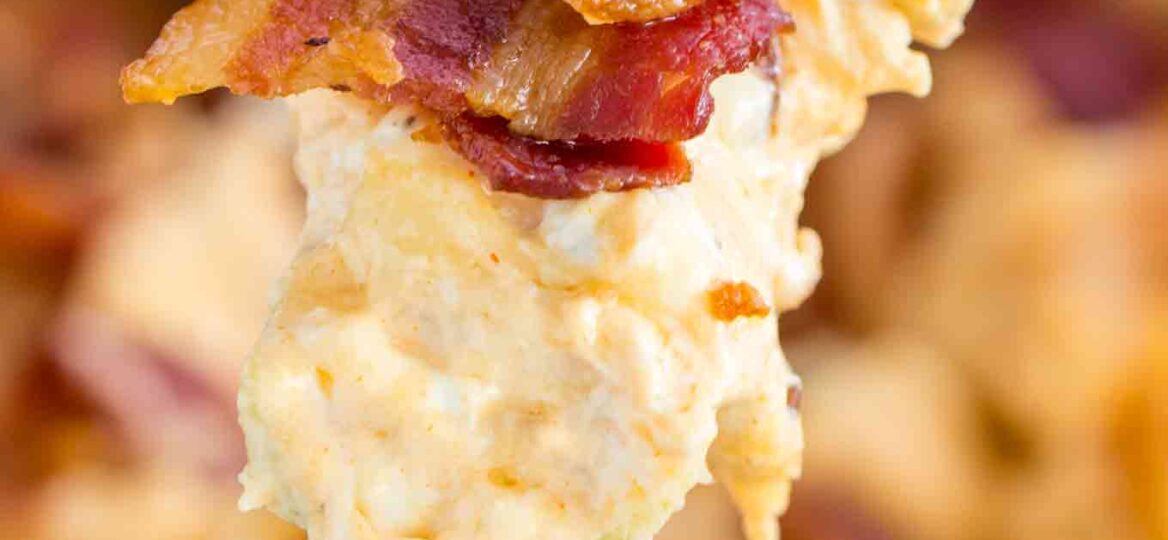 Buffalo Crack Chicken Dip [Video]
Buffalo Crack Chicken Dip made with rotisserie chicken is super cheesy, creamy and perfect for a game day, or to host a party. Serve it with a piece of toasted bread, tortilla chips, or veggies for the perfect finish.
Making a delicious dip or appetizer to host a party or large gathering is always fun and this dip is the right candidate for that. It is super creamy, gooey, and delicious, and it comes together in less than 30 minutes. Other popular dips to try are Spinach Artichoke Dip, Deviled Eggs Dip, and Creamy Chicken Caesar Dip.
Best Buffalo Crack Chicken Dip
Buffalo Crack Chicken Dip is everything you could ever want in a party or game day dip. The dip is easy to make and can be made ahead of time. When the party starts, just heat it up and enjoy the moment!
We used shredded rotisserie chicken, but the chicken breast will work just as fine. Then, mix it up with buffalo sauce, cream cheese, ranch, mozzarella, and pepper jack cheese, and throw it in the oven. Cook it for 30 minutes, or until the cheese is melted and the dip is bubbly. It's that simple.
To save on calories, you can use low-fat cheeses, low-fat mayo, and cream cheese. Serve with chips, crackers or crunchy veggies, this Dip will be gone before you know it.
What is Crack Chicken Dip?
Crack Chicken Dip takes its name from combining chicken, cream cheese, cheeses, ranch and bacon, and bake, creating this creamy and indulgent dip. The combination of all these ingredients when cooked is addictive, irresistible and super delicious. Hence it's named.
What do you need to make this recipe?
This dip is super easy to whip up, using the below ingredients:
3 cups shredded rotisserie chicken or about 1lb chicken breasts cooked
1 8oz package cream cheese
2 cups mozzarella cheese
Ranch seasoning mix
1 cup cheddar cheese
1 cup mayo and sour cream
1/2 cup chopped green onions
1/2 cup buffalo sauce
1 teaspoon garlic, minced
1/2 lb bacon cooked and chopped
How to make Buffalo Crack Chicken Dip?
Lightly spray with cooking spray a 2qt baking dish, set aside.
Preheat oven to 350 degrees F.
Combine all the ingredients starting with the cooked chicken up to the minced garlic. Stir well to combine. Transfer to the prepared baking dish.
Top with the cooked chopped bacon.
Bake in the preheated oven for 25-30 minutes, until hot and bubbly.
Serve immediately.
Can I make Buffalo Crack Chicken Dip in advance?
Yes, it is very easy to prepare ahead, and then bake before your guests arrive. The dip takes about 15 minutes to assemble together, so it is very convenient. For best results, we recommend preparing the dip one day in advance and store in the refrigerator before baking. When ready to serve, put the prepared dip in the oven at 350 degrees F and cook for about 25-30 minutes.
Can I make Buffalo Crack Chicken Dip in the Slow Cooker?
Stir together all ingredients until well-combined in the Crockpot.
Cook on low for 2-3 hours or until cheese is melted and dip starts to bubble on edges.
Stir occasionally to ensure even cooking.
After, add in crumbled bacon and stir to incorporate.
Serve warm, with your favorite chips, crackers, and veggies.
How to make Buffalo Sauce?
1/2 cup melted butter
1/2 cup hot sauce
2 tablespoons distilled white vinegar
2 teaspoons Worcestershire sauce
pinch granulated garlic (optional)
In a bowl, combine all the ingredients together, and whisk until well combined. Store in an airtight container in the refrigerator for up to one month. Shake well before using.
How to store Buffalo Crack Chicken Dip?
To refrigerate the dip, first transfer it to an airtight container. Then, store in the fridge for up to 3-4 days. When ready to serve, heat the dip in the oven or microwave until warm.
CAN YOU FREEZE BUFFALO CRACK CHICKEN DIP?
Freezing the Buffalo Crack Chicken Dip is not recommended. Since the dip contains mayonnaise and cream cheese, it will separate when frozen. Also, once frozen, the texture of the dip will not look as good as expected. Therefore, it is best not to freeze the dip.
Buffalo Crack Chicken Dip Recipe Tips
To save some calories, you could swap the cream cheese for lower fat Neufchatel cheese.
Similarly, you could use half the mayo, or light mayo, which worked out great as well.
If you don't want the dip to be spicy, just reduce or omit the Buffalo sauce.
It is great served with chips, crunchy veggies, or a warm baguette.
Watch Buffalo Crack Chicken Dip Recipe Video: