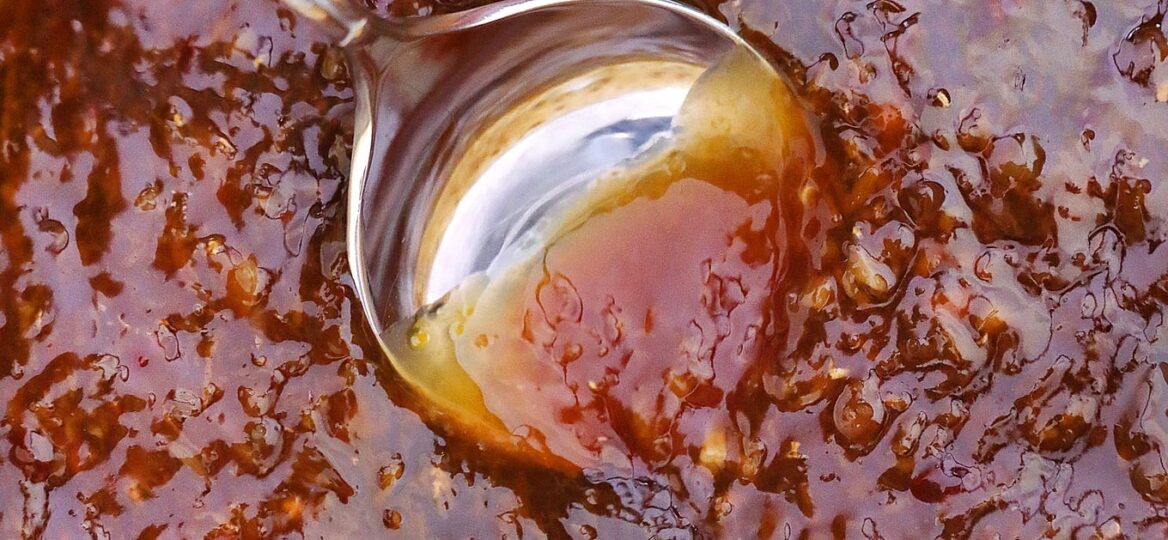 How to Make Orange Sauce [video]
Orange Sauce lends that sweet, tangy, and citrusy flavor to your Chinese stir-fry takeout. It has an appealing color and is easy to prepare at home! Also, check out the quick video tutorial attached below for quick recipe guidelines.
If you have been wanting to make your own Chinese takeout dishes, then, you can check out my other recipes like the Szechuan Sauce, Hunan Chicken, Moo Goo Gai Pan, and Chicken and Broccoli Stir Fry.
Homemade Chinese Orange Sauce
Orange Sauce adds that sweet-and-sour flavor that is famous in Chinese takeout dishes. It is like sweet and sour sauce, but instead of using pineapple juice, this sauce only has orange juice.
It is versatile and it can be added to chicken, beef, and vegetables like cauliflower. Not only is this versatile, but it is also easy to make! You can prepare this in advance, keep it in a jar, and then, use whenever you like for your homemade fusion dishes.
Its main ingredient, orange juice, can also contribute to your health by providing a healthy dose of vitamin C and other antioxidants. It can lower cholesterol, decrease inflammation, and prevent kidney stones.
Moreover, the fact that you will be making this at home adds more benefits. You can control the sugar that goes into it. You can save money, too!
What is Chinese Orange Sauce?
It is a combination of sweet and sour flavors mainly from citrus and sugar. The rice vinegar adds a nice zest that effectively helps to balance out all the sweetness.
It pairs well with anything battered may it be chicken, pork, or even shrimp.
Use it in stir-fry dishes or as a dip. Drizzle it on roasted veggies to make them even more refreshing to eat!
This version aims to copy the usual Chinese takeout sauce. However, the authentic Chinese recipe makes use of dried tangerine peel, not orange.
What is Orange Sauce made of?
It has minimal ingredients and all are easy to find – some are even in your pantry. Here is the list:
orange juice
orange zest
rice vinegar
sugar
brown sugar
soy sauce
fresh ginger
garlic cloves
red chili flakes
cornstarch
How do you make Orange Sauce?
This easy Asian inspired recipe requires just a few simple steps. Also, feel free to watch the video tutorial attached.
Heat: Over medium heat, heat up all the ingredients excluding the cornstarch and zest.
Thicken: Stir in a mixture of cornstarch and water and cook for about 5 minutes.
Cool: Remove from heat and add the zest then, it is done. Cooldown a little and transfer to a clean container or jar.
How do you thicken Orange Sauce?
The cornstarch in the ingredients list is the key. Add a small amount of water to it and it will turn into a paste. Add this paste to the sauce and it will become thick.
What does Orange Sauce taste like?
It is not only sweet and sour, but it also has umami in it. When paired with vegetables or meat, they also add depth and richness.
How to store it :
Refrigerator: Once cooled down completely, you can store this in the fridge and use it within the next two to three weeks.
Freezer: Kept frozen in a freezer bag, you can store this for up to 3 months.
More delicious sauces:
Recipe Tips:
Instead of red chili flakes, you may substitute with sriracha for a nice spicy kick.
Substitute honey for at most half the sugars in this recipe. Completely removing the sugar and using honey will change the flavor.
If you have extra juice and zest, make something that can be used for desserts. Simply let the juice boil with sugar, the zest, and some cornstarch. Once thick, remove from heat and whisk in some butter. Use it to drizzle over ice cream, pancake, or waffles!
Deliciousness to your inbox
Enjoy weekly hand picked recipes and recommendations