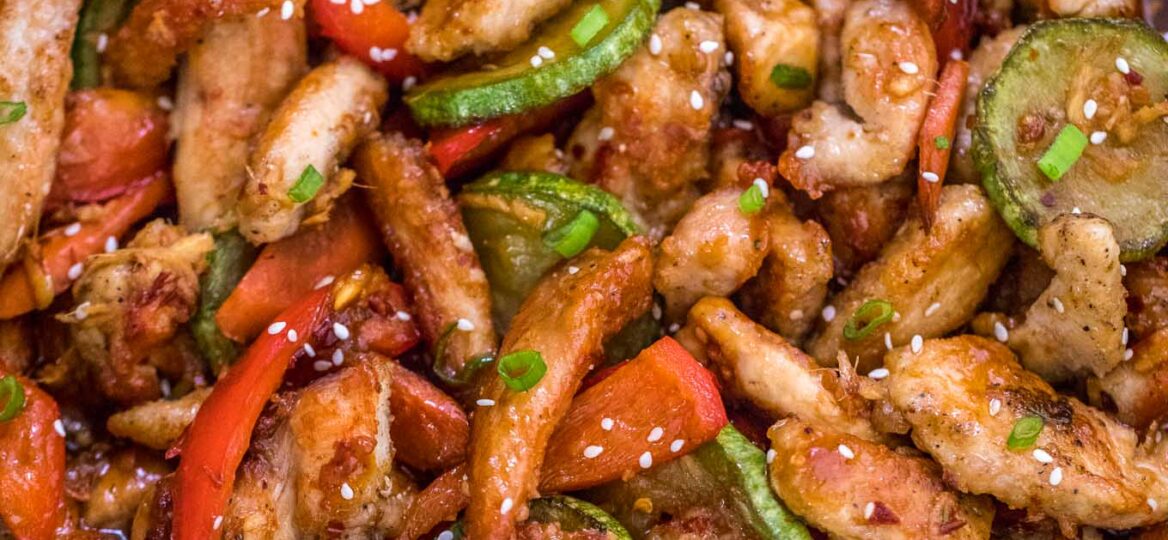 Hunan Chicken Recipe
Hunan Chicken is a tasty stir-fry of chicken and vegetables in an authentic spicy Chinese Hunan Sauce made with Sambal Oelek chili paste. The recipe is easy to make and ready in about 30 minutes. It is filled with vegetables that make this savory dish nutritious, flavorful, and very colorful!
This classic Chinese food is served with steamed rice, noodles, or some egg rolls, for an Asian feast. Made with lean protein and lots of fresh vegetables, the dish is coated in the most amazing sweet and spicy sauce. Actually, this recipe is perfect for meal planning, as it freezes well. Check out our favorite Asian dishes, including this Szechuan Chicken and General Tso's Chicken. Go ahead and choose something, because we have plenty to please everyone!
This is a classic Chinese stir-fry that will please everyone. We love making it with chicken breast, as the meat comes out juicy and tender. The meat is cooked together with vegetables in a deliciously spicy and savory sauce. If you love spicy flavored food, this is a recipe you have to try.
Once you make it at home, you will see that it tastes better than the version you can get at a Chinese restaurant. Another great thing about this main dish is that you don't have to marinate the chicken. For the stir-fried vegetables, we like to use juicy red bell peppers, carrots, and zucchini. Also, garlic and ginger add a flavor boost to the entire meal.
This is a quick, easy, and spicy stir-fry dish that is also quite healthy since it uses white meat. We love making it at home quite often because it is the perfect and quick weekday dinner. It is easy to make with a few budget-friendly ingredients and ready in less than 30 minutes.
Also, because we use a tried and true method called velveting to cook the meat, it helps it stay tender and juicy on the inside and very crispy on the outside. We have kept the recipe on the healthier side and haven't battered and deep-fried the meat.
What is Hunan chicken?
It is stir-fried chicken breast with lots of vegetables that originated from the Chinese province of Hunan. This dish incorporates the Hunan sauce which makes it, well, distinctively Asian. It is made with chili and lots of veggies and has a distinctive sweet and spicy taste.
It is one of those Hunan cuisine chicken stir fry dishes that quickly became popular in American-Chinese restaurants, and is now enjoyed pretty much everywhere in the States. However, unlike the original Chinese version, this recipe was modified a bit to be of a sweeter and savory taste, and less spicy, but equally delicious.
Aside from the battered chicken seasoned with salt and pepper, it has a spicy and flavorful sauce. Actually, it is this sauce that ties together the whole dish. There is a number of variations of it but one thing that makes it Hunan is the use of chili, specifically the Sambal Oelek chili paste.
Chinese Hunan Chicken Ingredients:
For the stir-fry you need:
Chicken breast: Feel free to use any parts of the bird, thigh meat is actually much more tender, so feel free to substitute.
Vegetables: A mix of bell peppers, carrots, and zucchini. Also, add broccoli and sugar snap peas if you like.
Cornstarch: For velveting the meat.
Salt and Pepper: To season the poultry.
Oil: For cooking the veggies and the meat. Always choose vegetable oil or canola oil, which will not overpower the dish. Another option is peanut oil.
For the Hunan Sauce ingredients:
White sugar
Rice cooking wine or rice vinegar
Cornstarch – used to thicken the sauce.
Garlic
Ginger
Sambal Oelek red chili paste
Soy sauce – go with a low sodium version. This way, you can control the salt level.
Chicken broth – use veggie broth if you are making a vegetarian version of this recipe.
Red pepper flakes
How to make Hunan Chicken from Scratch?
Velveting: First, start by adding the chicken pieces to a large bowl and toss with the cornstarch, salt, and pepper.
Cook the chicken: After that, place a large skillet or wok over medium-high heat and add some oil. Next, add the chicken without overcrowding the pan and cook until nicely browned. Afterward, remove the chicken from the pan and set it aside.
Cook the veggies: Next, add a bit more oil to the pan and cook the veggies until tender but still crisp.
Make the sauce: Subsequently, to make the sauce, combine minced garlic, ginger, soy sauce, oyster sauce, sugar, salt, cornstarch, and chili paste. Then, add in some rice wine and broth. Finally, stir the mixture until the cornstarch is dissolved.
Combine: Next, add the meat back to the pan and also add the sauce and stir for 1-2 minutes until the mixture thickens and the meat is heated through.
Serve: Finally, serve with rice and garnish with chopped green onions and toasted sesame seeds.
Store: If you have leftovers, add them to a sealed container and store them in the fridge for 3-4 days.
Freeze: This recipe actually freezes very well. First, let the dish fully cool, and after that add it to a freezer-safe container or freezer-safe Ziploc bags. After that, freeze for up to 3 months.
Defrost: When ready to serve, plan ahead, and let the frozen meal thaw in the fridge overnight or defrost in the microwave. After that, add it to a skillet over medium-high heat and stir-fry for a few minutes. Make sure to taste and adjust for seasonings.
Recipe Variations:
Veggies: In this stir fry you can use any veggies that you have on your hands. We recommend carrots, baby corn, red peppers, zucchini, bell peppers, mushrooms, yellow squash, broccoli, cauliflower, green beans, snap peas, Chinese corn.
Spiciness: Want to have an even more spicy flavor? Then, add Sichuan peppercorn, more or less chili paste.
Sweetness: Increase the sweetness to go hand in hand with the spiciness by adding more sugar. Also, keep in mind that you can either use white sugar, brown sugar, honey, maple syrup, or agave.
Low-Carb: For a low-carb version use a sugar substitute and choose veggies that are lower in carbohydrates. Also, serve the dish with Low-Carb Mashed Cauliflower.
Gluten-Free: Keep in mind that soy sauce contains gluten, so make sure to use amino acids instead.
Protein: Replace the poultry with either pork, beef, or shrimp.
Vegetarian: Make this meal vegetarian by using firm tofu instead of meat.
Sesame Oil: Add a tablespoon of sesame oil into the sauce for extra flavor.
Spicy: For a different take, try it with this spicy Szechuan sauce.
How to serve it?
Frequently Asked Questions
What is the difference between Hunan and Szechuan Chicken?
While both dishes have the same origin and have chicken as their main ingredient, there are some minor differences between the two.
Hunan version is generally healthier Chinese chicken stir-fry and its origin comes from Hunan province of Chicken. Here, the meat is coated just in the cornstarch. Also, it is supposed to be spicier.
While the Szechuan Chicken is generally battered prior to being added to the pan and is sweeter and less spicy. Try our Szechuan Chicken recipe and see for yourself.
What veggies should I use?
The vegetables that are most commonly used in this recipe are garlic, ginger, green onions, and chili peppers. These four vegetables add spice and zest and enhance the flavor of the chili bean paste.
However, you can easily modify it with your favorite veggies. Some nice addition would be carrots, broccoli, zucchini, bamboo shoots, mushrooms, and corn. These vegetables are rich in vitamins, high in fiber, and low in calories. Also, they add a nice color and texture to this dish.
What does Hunan sauce taste like?
This dish has a sophisticated taste and texture because of the variety of ingredients used. The chicken itself is battered in cornstarch and fried, making it crispy on the outside but tender on the inside. It has a rich Asian flavor because of the sauce. The chili paste adds that Chinese flair to this recipe alongside the oyster sauce.
It is on a spicier side, but you can tone it down by limiting the amount of chili paste that goes into it. In addition, the sugar, fermented rice wine, and soy sauce balance nicely out all the spiciness. It has the right amount of sweetness to it, with some hint of sourness all rolled into one savory hot meal.
What does velveting do to meat?
First, velveting is a technique in Chinese cuisine that preserves the moisture and tenderness of the meat while cooking, therefore resulting in "velvety" meat. The technique is applied to raw meat, by creating a protective coat before browning it.
To be more specific, the meat is coated in a mixture of oil, egg white, cornstarch, and sometimes rice wine, and then blanching and drying follow. This way, the moisture is retained and the protective coat adds crispiness and texture.
Sometimes, the velveting is kept simpler, by tossing the raw meat in some cornstarch before browning it.
More Asian recipes to try:
Recipe Tips and Notes
You can make the sauce in one batch and freeze it in small containers. When the time comes, simply defrost it and cook it with chicken.
Though chicken breast would be the most ideal part as it is healthful, you can also use other parts.
Also, other types of meat can be used such as pork, beef, and fish! That proves how versatile this recipe is.
If making this recipe with beef, cut it against the grain. If you find it difficult to cut, a simple trick is to freeze the meat first and then cut it.
You can use any type of vegetable that you desire in this recipe. Simply use and add whatever veggies you want.
I love serving it over white rice or brown rice.