General Tso Chicken [video]
General Tso Chicken is your ultimate Chinese takeout! It is so easy to make; you will not have to order anymore once you learn this recipe!
We have a number of Asian-inspired dishes that you can try like this one! Check out our recipes for Soba Noodles, Hunan Beef, and Korean Ground Beef.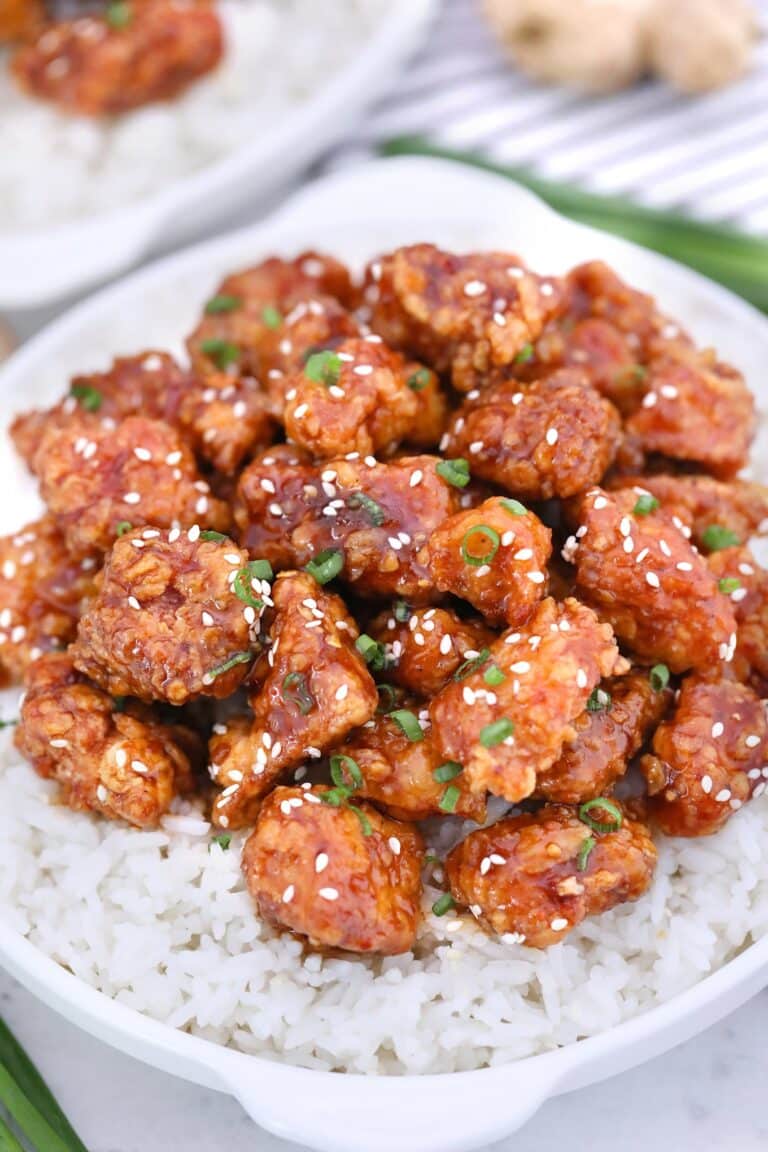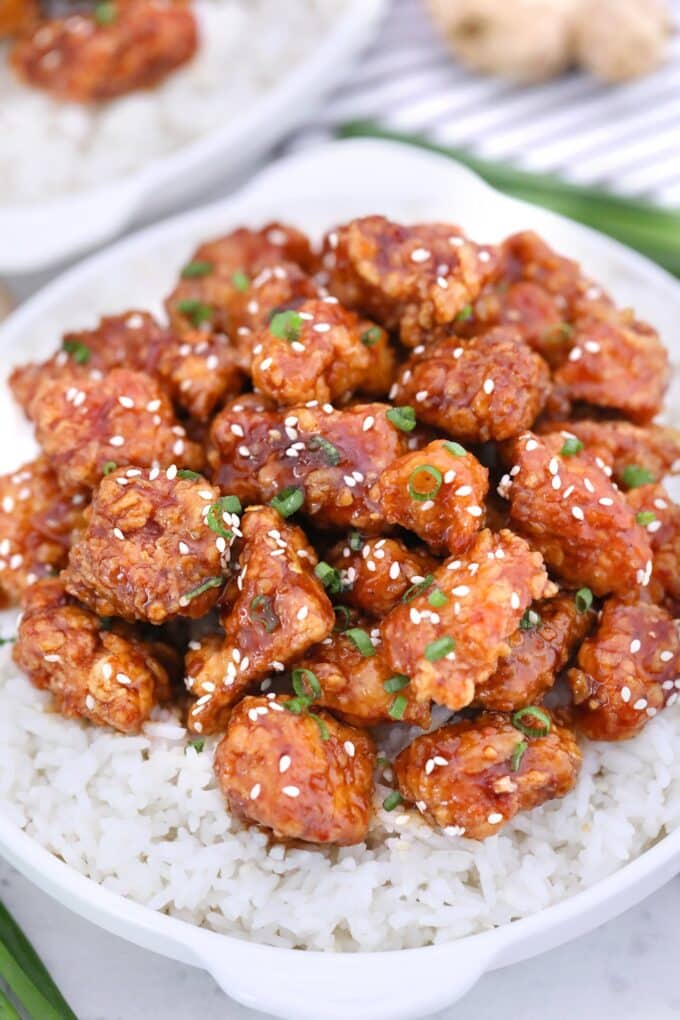 General Tso Chicken Recipe
General Tso Chicken could easily be the most popular Chinese takeout here in the US. This dish was invented in the 1950s with the influence of Hunan cuisine.
Hunan cuisine is characterized by its intense use of peppers, ginger, garlic, and anything spicy. So, can you just imagine how spicy this recipe is? Don't worry though, because this recipe is already a sweeter and less spicy version of the original one.
It is still as flavorful and exciting as the original! Not only is it sweet because of the sugar, but it is also spicy with the addition of red pepper flakes in its sauce.
What is Chinese General Tso Chicken?
It is a dish of crispy breaded boneless chicken meat glazed with a thick sweet-but-spicy sauce. It has a rich flavor and an equally rich history.
Hunan was home to the inventor of this dish named Chef Peng. But would you believe that in Hunan, or even in the whole of mainland China, this dish is unknown?
Chef Peng fled the country in the 1950s and built his own restaurant in Taiwan where he served the dish. It inspired the recipes that are now popular in the US.
However, what worked in Taiwan did not entirely work in America. The recipe needed to be sweet and fried – everything that the originally spicy Hunanese-inspired dish was not.
Nevertheless, this recipe still paved the way for other Chinese-inspired dishes that are now popular not only among the Chinese settlers in the early 1970s but also to the rest of the Americans who came to love Chinese takeout!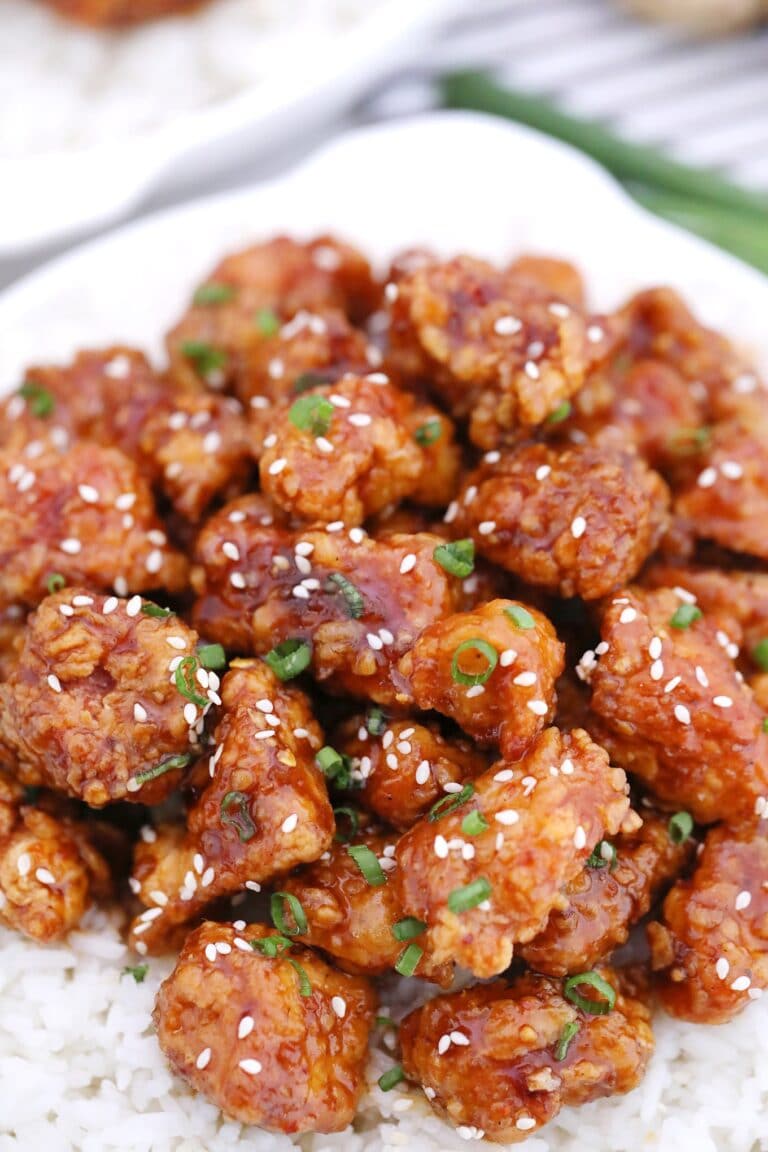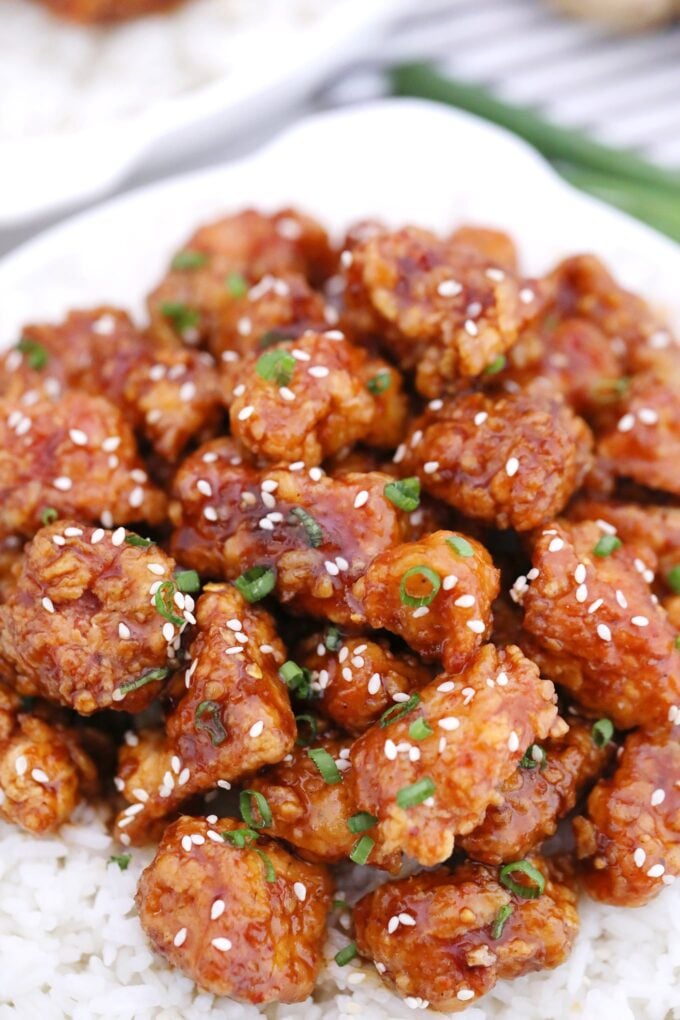 What is General Tso Chicken made of?
It is made of fried white meat, breaded and boneless, in a flavorful sauce. Here are the ingredients that you will need:
chicken breasts
cornstarch
flour
salt
ground black pepper
eggs
canola oil
For the sauce, the following are the ingredients:
rice vinegar
soy sauce
hoisin sauce
chicken broth
white sugar
brown sugar
minced ginger
garlic powder
red pepper flakes
cornstarch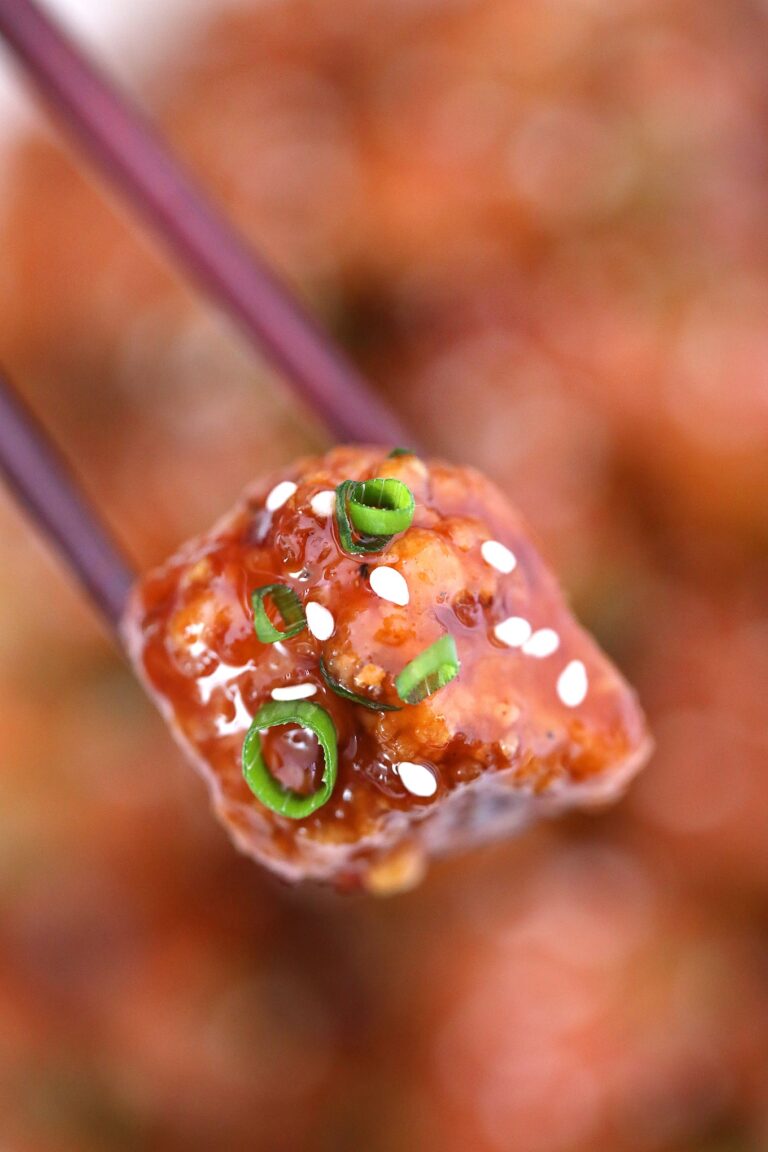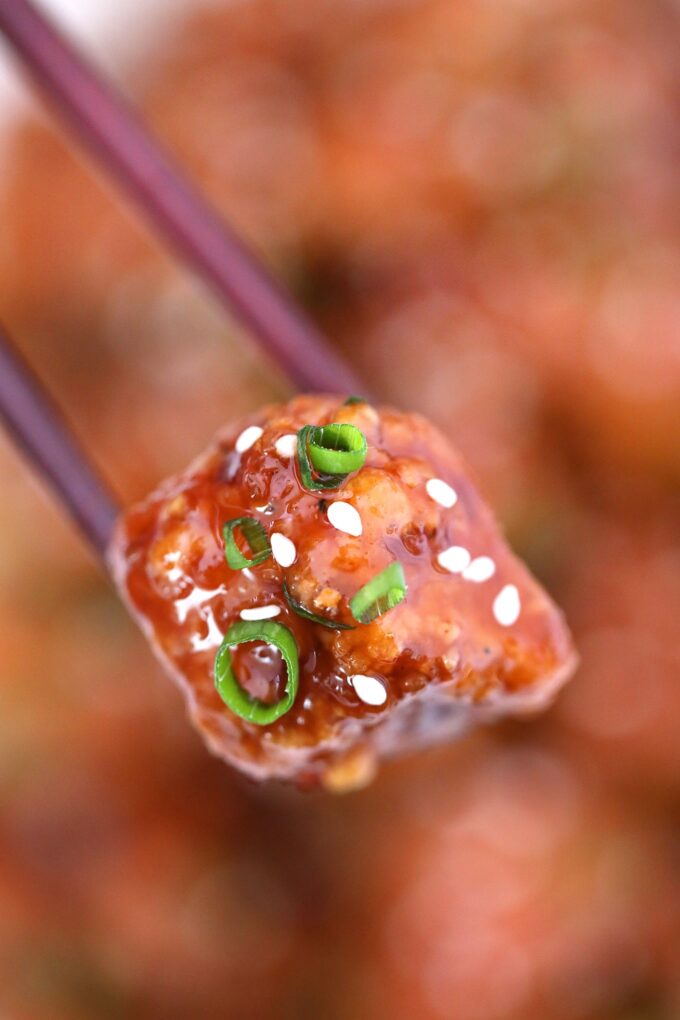 How do you make General Tso Chicken:
Prepare the breading: In a bowl, combine the cornstarch, flour, salt, and ground black pepper. In another bowl, beat the eggs.
Fry the meat: Heat up the canola oil over medium flame and prepare for frying. Dunk each white meat chunk in the eggs, press into the cornstarch mixture, and coat thoroughly, then, fry. Work fast and in batches. Remove the meat from heat when they turn golden brown.
Coat with sauce: Toss the fried meat in the General Tso sauce.
Serve: Serve with rice and garnish with sesame seeds and green onions (optional).
How do you make the baked version?
To make this a lot healthier, you can bake the meat instead of deep-frying. As a guide, refer to my previous recipe for oven-baked tenders!
Bake them in the oven preheated at 400 degrees Fahrenheit. Once golden brown, you can take them out of the oven. Toss with the sauce, and you're done!
Is it healthy?
It is rich in vitamins A and K as well as in niacin. It could be a good source of protein, too.
I recommend eating it in moderation because it has high levels of carbohydrates, sodium, fat, and calories.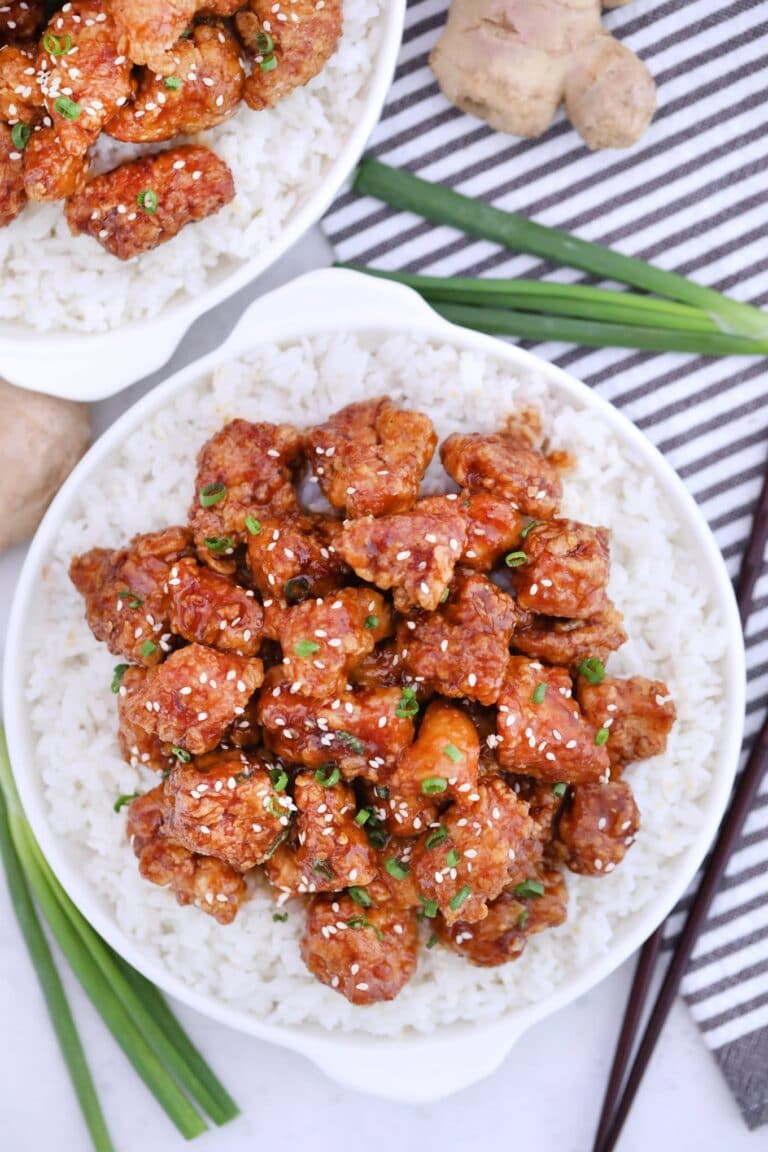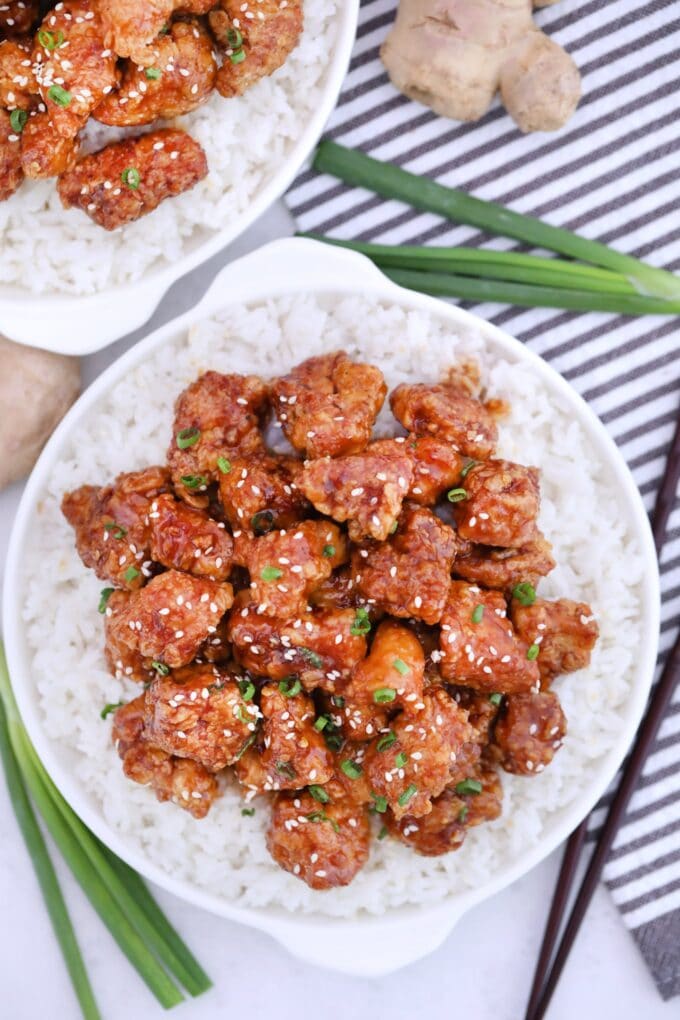 How to store:
Refrigerator: You can keep leftovers in the refrigerator for 3 to 4 days.
Freezer: In the freezer, this dish can keep for up to 4 months.
More easy Asian recipes:
Recipe Tips:
Serve it with broccoli or other vegetables for more fiber.
You can swap the breasts with thigh fillets.
Toss the cooked meat in the sauce at the last minute to keep it crispy.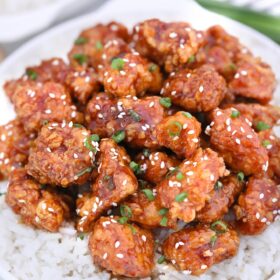 General Tso Chicken
General Tso Chicken is your ultimate Chinese takeout! It is so easy to make; you will not have to order anymore once you learn this recipe!
Save
Share
Print
Pin
Rate
Ingredients
Chicken:
2 1/2

pounds

chicken breasts

(cut into 1-inch chunks)

1

cup

cornstarch

1/4

cup

flour

1/2

teaspoon

salt

1/4

teaspoon

ground black pepper

2

eggs

(beaten)

Canola oil for frying
General Tso Sauce:
3

tablespoons

rice vinegar

1/3

cup

soy sauce

2

tablespoons

hoisin sauce

1/2

cup

chicken broth

(low sodium)

3

tablespoons

white sugar

3

tablespoons

brown sugar

1

teaspoon

fresh ginger

(minced)

1/2

teaspoon

garlic powder

1/4

teaspoon

red pepper flakes

1

tablespoon

cornstarch
Garnish:
Green onions

(chopped)

Sesame seeds
Instructions
Chicken:

In a large, shallow bowl, whisk cornstarch flour, salt, and black pepper.

Add beaten eggs to another bowl.

Pour about 2 inches of canola oil into a deep frying pan and heat it over medium-high heat.

Dip the chicken pieces into the beaten eggs.

Add the chicken chunks to the cornstarch mixture and toss until well coated. Work in batches.

Cook it in batches in the hot oil until golden and crispy.

Remove to a plate and set aside.

Add all the Sauce ingredients to the same skillet and whisk to combine. Cook it over medium heat for 3-5 minutes until it starts to simmer.

Continue to cook for 5 minutes, until the mixture begins to thicken. Once the sauce is thickened, add the chicken and stir to coat.

Remove from heat. Serve garnished with green onions and sesame seeds.
Nutrition
Calories:
616
kcal
|
Carbohydrates:
60
g
|
Protein:
66
g
|
Fat:
9
g
|
Saturated Fat:
2
g
|
Cholesterol:
263
mg
|
Sodium:
1975
mg
|
Potassium:
1165
mg
|
Fiber:
0
g
|
Sugar:
20
g
|
Vitamin A:
240
IU
|
Vitamin C:
5.4
mg
|
Calcium:
40
mg
|
Iron:
2.6
mg
More recipes you might love