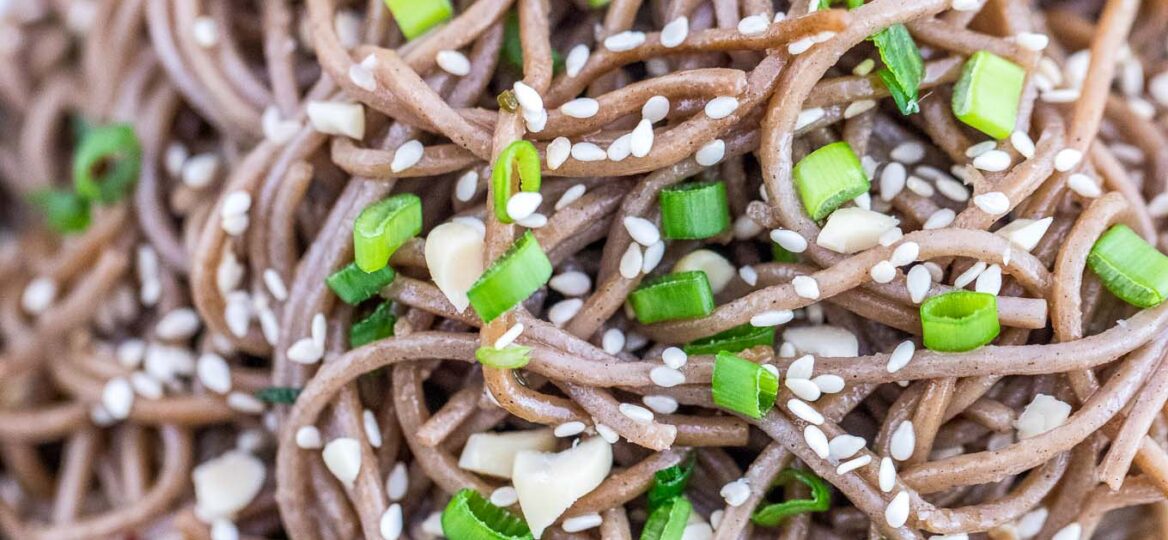 Soba Noodles Recipe [video]
Soba Noodles is the easiest recipe to do if you're craving something Japanese. With just a few ingredients, you'll have a dish with a delicious Asian twist!
You can easily pair this easy recipe with Chicken Katsu with Tonkatsu Sauce and Instant Pot Hot and Sour Soup to complete your Asian meal.
Easy Soba Noodles Recipe
Soba Noodles are the best dish to do if you want a quick and easy noodle dish. With just a few ingredients you are all set to savor this healthy and flavorful meal. Cook the noodles first according to the package instructions. Drain and drizzle with sesame or peanut oil.
Next, combine the ingredients of the sauce and simmer for a few minutes. Mix in the cooked soba noodles and garnish with green onions, sesame seeds, and nuts, and voila, a dish with a Japanese flair!
We love preparing this basic recipe with a combination of some of our favorite vegetables like carrots and French beans. We also add shrimp or beef strips to this dish to make it into a complete meal with a protein boost!
WHAT ARE SOBA NOODLES?
Soba is buckwheat in Japanese. Despite its name, buckwheat is not made with wheat but with seeds. The noodles are thinner compared to udon which is thick. Since buckwheat is a grain-like seed, soba has a grainy, rough texture.
The noodles are fairly healthy, but very fragile if made with 100% buckwheat. To make it easier to work with, the manufacturers add 20% wheat flour.
ARE SOBA NOODLES HEALTHY?
Yes, absolutely! They are healthy if made with 100% buckwheat. But if the package lists wheat flour as its first ingredient, then it is less healthy. But adding wheat flour to the noodles makes them less expensive. Many manufacturers add wheat flour to the buckwheat to cut costs.
ARE SOBA NOODLES GLUTEN-FREE?
Yes, they are! They are gluten-free if made with 100% buckwheat. As mentioned above, buckwheat is a seed and not from wheat. Make sure you read the label carefully, in case wheat flour has been added.
WHAT ARE YAKISOBA NOODLES?
Yakisoba noodles are made with wheat flour instead of buckwheat. Originally yakisoba is referred to as fried a noodle dish made with any kind of thin noodles. It is popularly sold on street food stands in Japan.
It can be as simple as adding cabbage to the fried noodles or adding other vegetables, seafood, and meats. The sauce that goes with it has a similar taste to Worcestershire sauce.
HOW TO COOK SOBA NOODLES?
This dish is so simple to prepare. First, just cook the soba noodles according to package instructions.
Next, simmer the sauce ingredients together until you can smell their fragrant flavor. Last, combine the noodles and the sauce and garnish with chopped green onions, sesame seeds, and chopped peanuts.
DO YOU SERVE SOBA NOODLES HOT OR COLD?
You can certainly serve this meal hot or cold. Both can be yummy!
If you serve this dish cold, then you can combine the noodles with a dipping sauce that does not require to be heated up.
If you are serving it hot, you need to simmer the sauce before adding it to the noodles.
WHERE TO BUY SOBA NOODLES?
These are available in any big-name grocery stores these days. And of course, you can spot them in any Japanese and Asian stores scattered in your area. You can also buy them online!
HOW DO YOU STORE COOKED SOBA NOODLES?
You can easily store this dish in an airtight container after it has been fully cooled to room temperature. Store it in the refrigerator for 2 – 3 days and in the freezer for a couple of months.
HOW DO YOU REHEAT SOBA NOODLES?
You can simply reheat this dish on a stove with a little bit of sesame or peanut oil. Heat up a couple of tablespoons of oil and add in your leftovers, cooking on low heat.
WHAT DO YOU SERVE SOBA NOODLES WITH?
As suggested above, this dish can be served with chicken katsu. But if you are looking to serve this dish as a full meal, just add your favorite vegetables, seafood, and meats to make it heartier!
RECIPE TIPS
Make sure that you cook your noodles according to the package instructions to avoid overcooking them.
Equally important is to completely cool down the leftovers before putting them in airtight containers.
If adding vegetables ensure that you add the hard vegetable first before adding the softer one to achieve even cooking.
When reheating, just add to the pan for a few seconds to heat through, to avoid sogginess.
Add fresh seafood and meats to ensure the quality of the dish.