Best Chicken Spinach Lasagna
This post may contain affiliate links. Please read my disclosure policy.
Chicken Spinach Lasagna is easy to make, loaded with lean chicken and spinach for a nutritional boost. Delicious, and leftovers taste amazing!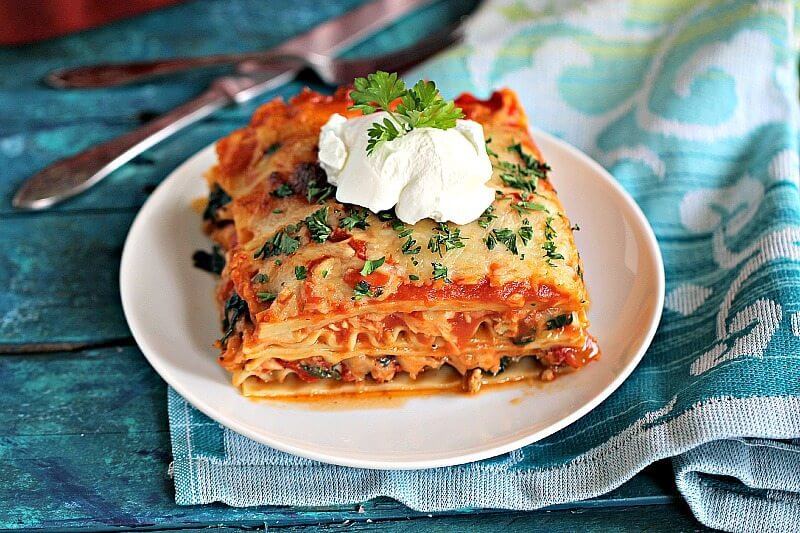 Chicken Spinach Lasagna has lots of delicious marinara sauce, a lot of cheese, lean ground chicken and loads of spinach. This is not a heavy lasagna, you know, the type that gives you a stomach ache. If you make it with whole wheat lasagna sheets and less cheese, you end up with a healthier and hearty dinner. I have been making this lasagna for years, it is one of my signature dishes! I have fond memories of being a teenager and making the best Chicken Spinach Lasagna for family get togethers and holidays. It always got rave reviews, it makes delicious leftovers and its actually pretty easy to put together. When I got married, I started making my signature lasagna for my husband, and I can tell you one thing, 10 years later, my husband still asks for it!
I like to prepare everything ahead of time, I assemble the lasagna the night before, pop it in the fridge and when we come back from work the next day all I have to do is put it in the oven for 30 minutes. Since all the ingredients are already cooked, the lasagna doesn't have to bake forever, so dinner is ready in 30 minutes. My toddler loves this Chicken Spinach Lasagna (obviously, its pasta!) and we are all happy to have a delicious, homemade meal on the table.
Looking for more easy dinners? Check these out:
Tips and Tricks to make the Best Chicken Spinach Lasagna Recipe:
You can use lean ground chicken or you can substitute it with ground turkey or beef.
I used a whole garlic head in this recipe aka about 8-10 garlic cloves. We love garlic, its actually not overpowering in this recipe when combined with the marinara sauce and cheese.
I like to use full fat mozzarella cheese, and make sure you use "real" cheese. A lot of the cheap, pre-shredded cheese you see at the grocery store is not "real" cheese, hence it doesn't melt well or taste good. Using high quality cheese and marinara sauce is key.
You can use homemade marinara sauce, I am all about saving some time, and since I didn't have any homemade sauce on hand, I used store bought.
Use high quality marinara sauce, best to spend a few dollars more and get an authentic marinara sauce, that will not taste just like tomato sauce.
You can also use marinara sauce in your favorite flavor, garlic or basil, spicy or mild etc.
Add some red pepper flakes to the chicken mixture if a spicy kick!
The lasagna freezes well, you can follow all the instructions, assemble it, but do NOT bake it. Layer the lasagna into an aluminum foil pan, after that wrap it tightly with plastic wrap, now, wrap it in aluminum foil and freeze for up to 1 month. Defrost before baking.
You can also use frozen spinach. I would use 3-4 cups. First, run it under warm water to thaw it, press well to remove any excess water before adding it to the pan.
I recently got this Lasagna / Casserole Pan and I absolutely love it, highly recommend it!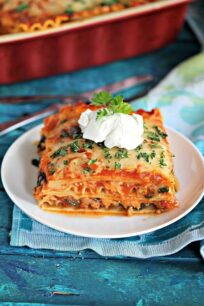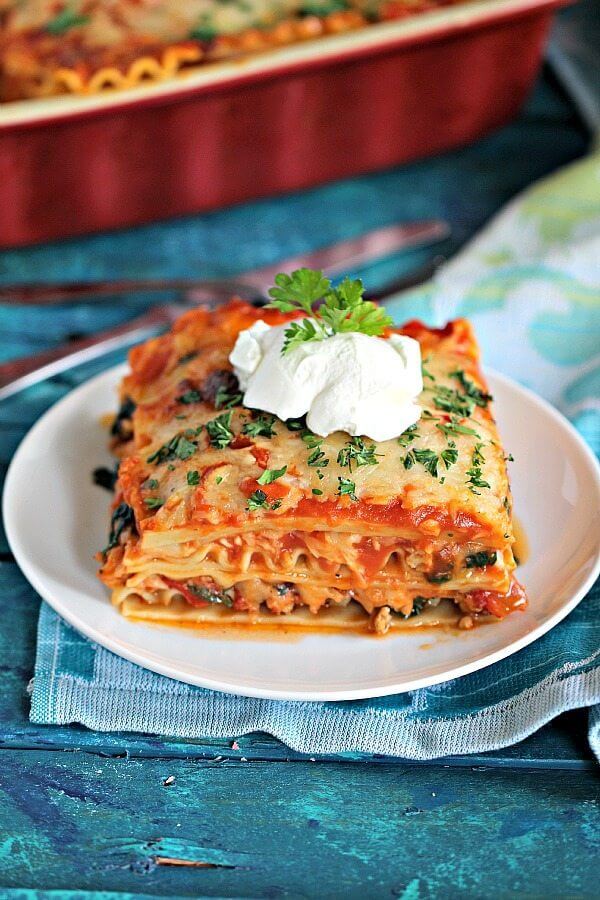 Chicken Spinach Lasagna
Best Chicken Spinach Lasagna is easy to make, loaded with lean chicken and spinach for a nutritional boost. Delicious, and leftovers taste amazing!
Ingredients
5

tablespoons

olive oil

1

onion

chopped

1

garlic head

9-10 cloves, minced

1

bell pepper

chopped

2

cups

baby bella mushrooms

sliced

1

lb.

ground chicken

1

tablespoon

tomato paste

5

cups

raw fresh spinach

16

oz

(4 cups) mozzarella cheese

grated

15

oz

marinara sauce

16

lasagna sheets

salt and pepper
Instructions
In a large saucepan over high-medium heat, bring 2 gallons of water to a boil.

In the meantime, add 2 tablespoons of olive oil to large pan over medium heat.

Add the chopped onion, cook for 2-3 minutes until tender, stirring occasionally and add the minced garlic, cook for another 2 minutes.

Add the chopped bell pepper and mushrooms stir and cook for another 4-5 minutes. Add the tomato paste and ground chicken. Season with salt and pepper. Mix well to combine, and cook for about 5 minutes.

Once the chicken is almost cooked add the spinach and cook until the spinach has shrink in size and is tender, about 5 minutes. Turn off the heat.

In the meantime, the water must be boiling, add some salt and 2 tablespoons of oil and add the lasagna sheets. Cook based on box instructions, but usually it takes 7-9 minutes for the sheets to cook. Transfer lasagna sheets to a colander, give them a bath in cold water and drain.

Start assembling the lasagna. I had to trim the length of the lasagna sheets to fit my 9inch pan. I used 5 sheets for the bottom layer, 5 for the middle layer and 6 for the upper layer.

Preheat oven to 400F.

Start by greasing the lasagna pan with the remaining 1 tablespoon of oil.

Lay 5 lasagna sheets on the bottom of the pan, top it with half of the chicken mixture, followed by 5 ounces of marinara sauce, and followed by 1½ cups of grated mozzarella cheese. Repeat this for the second layer of lasagna sheets -> chicken mixture -> marinara sauce -> cheese. Top with the final layer of 6 lasagna sheets (I also added on top the pieces from the trimmed sheets), cover with the remaining 5 ounces of marinara sauce and top with the remaining 1 cup of cheese.

You can place lasagna in the fridge for 24 hours, or you can bake it immediately for 30 - 40 minutes.

Let lasagna cool down 15-20 minutes before serving, as this will facilitate cutting it.

You can turn on the broil for the last 3-4 minutes of baking for a golden brown top, but watch it closely not to burn it.

Garnish with fresh herbs and serve. Enjoy!
Made this Recipe?
Show me what you made on Instagram and tag me at @sweetnsavorymeals or hashtag it #sweetandsavorymeals.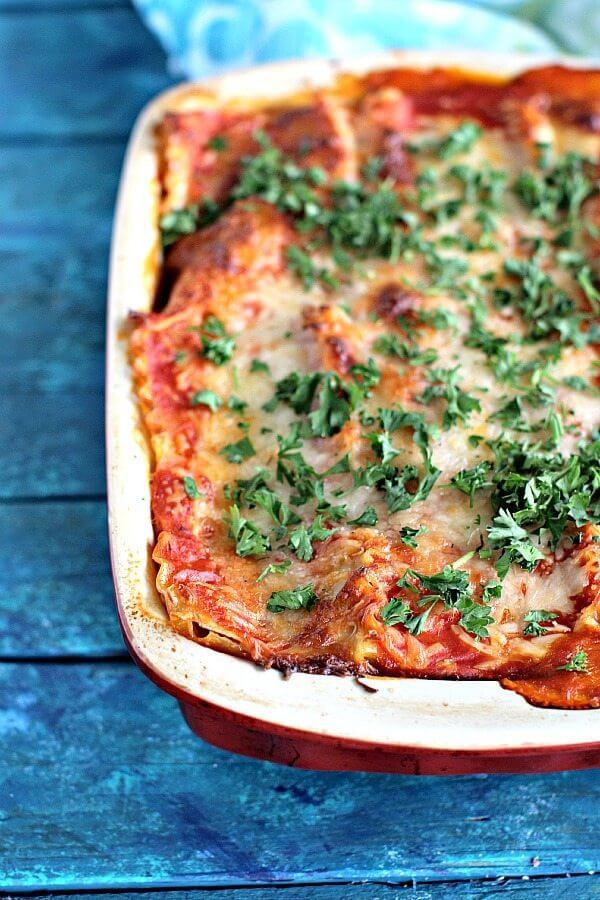 Peas and Peonies, LLC. owns the copyright on all images and text and does not allow for its original recipes and pictures to be reproduced anywhere other than at this site unless authorization is given. If you enjoyed the recipe and would like to publish it on your own site, please re-write it in your own words, and link back to my site and recipe page. Copying and/or pasting full recipes to social media or personal blogs is strictly prohibited. Sharing this recipe is very much appreciated and encouraged. Read my disclosure and privacy policy. This post may contain affiliate links.