Best Chicken Spinach Lasagna
My best chicken spinach lasagna is easy to make, loaded with lean chicken and spinach for a nutritional boost. Delicious, and stores well.
You see, I have a boatload of dessert recipes on the blog, but not that many savory ones. Thats not because we eat only sugar – WE DON'T! Its just that I have so much fun creating new desserts for you guys that the savory stuff kind of falls to the side. I made it my goal to change this, so I am declaring Wednesdays a savory recipe day on P&P and today I am bringing to you the best chicken spinach lasagna that my husband always asks for.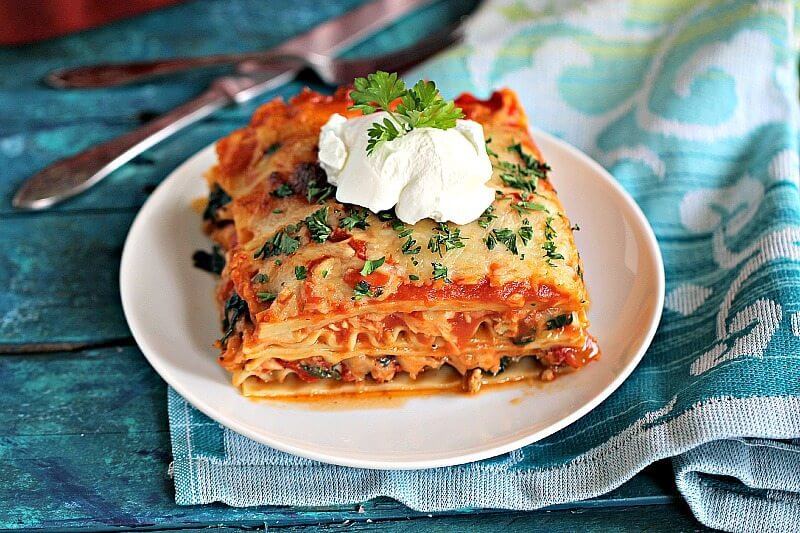 We love some pasta in this house, our favorite cuisine is Italian and my husband goes crazy for anything involving marinara sauce. My best chicken spinach lasagna has all of those, lots of delicious tart sauce, a lot of cheese, lean ground chicken and loads of spinach. This is not a heavy lasagna, you know, the type that gives you a stomach ache, if you actually make this with whole wheat lasagna sheets this would make for one very healthy and hearty dinner.
Also, my best chicken spinach lasagna is very easy to make, what I usually do, I prepare everything ahead of time, I layer my ingredients the night before, pop it in the fridge and when we come back from work the next day all I have to do is put it in the oven for 30 minutes. Since all the ingredients are already cooked, the lasagna doesn't have to bake forever, so dinner is ready in 30 minutes. My toddler loves this dish (obviously, its pasta!) and we are all happy to have a delicious, homemade meal on the table.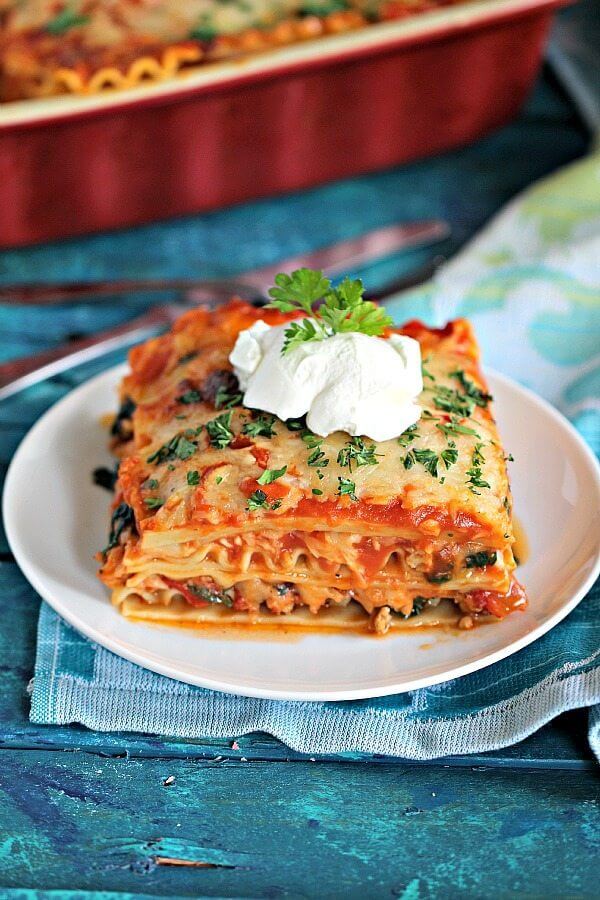 My best chicken spinach lasagna is actually famous, my mom asks me to make it for her everytime I go home. I have so many friends that praise it! I like it a lot too because while its hearty and will keep you fluffier hours, it's actually packed with spinach, bell pepper and lean chicken meat. My best chicken spinach lasagna the type of meal that becomes a classic and you keep going back to the recipe many times, since its that good.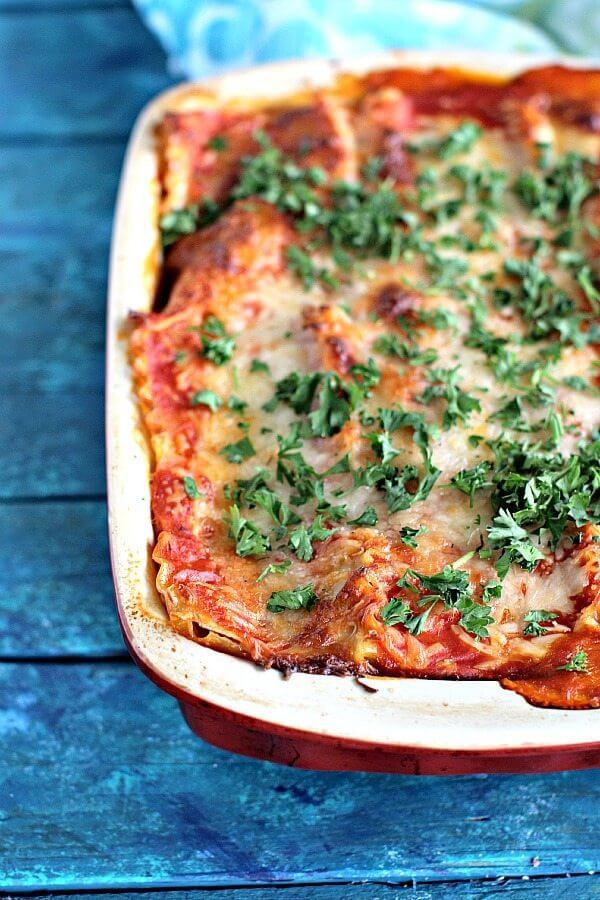 If you are looking for a fool proof lasagna recipe my best chicken spinach lasagna is your go to. Its perfect to actually make in advance as it freezes perfect if you are looking for some freezer meals. Make my best chicken spinach lasagna for your family, or take it to someone who just had a baby, this is a portable meal, that will store well and the leftovers are even better.
Best Chicken Spinach Lasagna
My best chicken spinach lasagna is easy to make, loaded with lean chicken and spinach for a nutritional boost. Delicious, and stores well.
Author:
Katalina Kastravet
Ingredients
1 onion, chopped
1 lb. ground chicken
1 garlic head (9-10 cloves), minced
1 bell pepper, chopped
1 tablespoon tomato paste
5 cups raw fresh spinach
¼ cup oil + 3 tablespoons
16 oz / 4 cups mozzarella cheese, grated
15 oz marinara sauce
16 lasagna sheets
salt and pepper
Instructions
In a large saucepan over high-medium heat, bring 2 gallons of water to a boil.
In the meantime, in a medium saucepan over medium heat, add ¼ cup of oil once the saucepan is hot. Add the chopped onion and minced garlic, cook until onion is tender, stirring occasionally, around 5 minutes. Add the chopped bell pepper, stir and cook for another 5 minutes. Add the tomato paste and ground chicken. Mix well so the ingredients get combined, and cook for about 5 minutes. Once the chicken is almost cooked add the spinach and cook until the spinach has shrink in size and is tender, around 5-6 minutes. Add salt and pepper to taste. Turn off the heat.
In the meantime, the water must be boiling, add some salt and 2 tablespoons of oil and add the lasagna sheets. Cook based on box instructions, but usually it takes 7-9 minutes for the sheets to cook. Transfer lasagna sheets to a colander, give them a bath in cold water and drain.
Start assembling the lasagna. I had to trim the length of the lasagna sheets to fit my 9inch pan. I used 5 sheets for the bottom layer, 5 for the middle layer and 6 for the upper layer.
Preheat oven to 400F.
Start by greasing the lasagna pan with the remaining 1 tablespoon of oil.
Lay 5 lasagna sheets on the bottom of the pan, top it with half of the chicken mixture, followed by 5 ounces of marinara sauce, and followed by 1½ cups of grated mozzarella cheese. Repeat this for the second layer of lasagna sheets -> chicken mixture -> marinara sauce -> cheese. Top with the final layer of 6 lasagna sheets (I also added on top the pieces from the trimmed sheets), cover with the remaining 5 ounces of marinara sauce and top with the remaining 1 cup of cheese.
You can place lasagna in the fridge for 24 hours, or you can bake it immediately for 30 - 40 minutes.
Let lasagna cool down 15-20 minutes before serving, as this will facilitate cutting it.
Garnish with fresh herbs and serve.