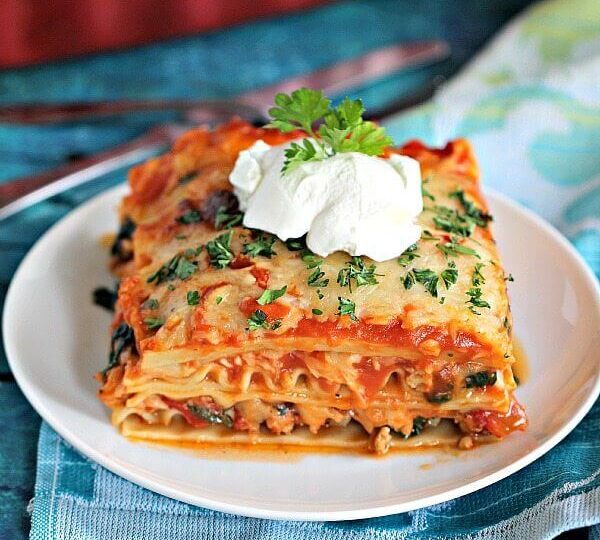 Best Chicken Spinach Lasagna
Chicken Spinach Lasagna is easy to make, loaded with lean chicken and spinach for a nutritional boost. It is delicious and conveniently made at home, and leftovers taste amazing!
This is one of my all-time favorite dishes. It is flavorful, yet a bit lighter than the traditional version. You can also try my other favorite comfort foods are Instant Pot Meatloaf and Mashed Potatoes, Fried Chicken, and Mac and Cheese.
Best Chicken Spinach Lasagna
Chicken Spinach Lasagna has lots of delicious marinara sauce, cheese, lean ground chicken and loads of spinach. If you make it with whole wheat lasagna sheets and less cheese, you end up with a healthier and hearty dinner. I have been making this lasagna for years, it is one of my signature dishes!
I have fond memories of being a teenager and making the BEST Chicken Spinach Lasagna for family get together and holidays. It always got rave reviews, it makes delicious leftovers and its actually pretty easy to put together.
I like to prepare everything ahead of time. I assemble the lasagna the night before, pop it in the fridge and when we come back from work the next day, all I have to do is put it in the oven for 30 minutes. Since all the ingredients are already cooked, the lasagna doesn't have to take forever, so dinner is ready in 30 minutes. My toddler loves this Chicken Spinach Lasagna and we are all happy to have a delicious, homemade meal on the table.
Tips to Make the Best Chicken Spinach Lasagna Recipe:
You can use lean ground chicken or you can substitute it with ground turkey or beef.
Also, I used a whole garlic head in this recipe, about 8-10 garlic cloves. We love garlic, it's actually not overpowering in this recipe when combined with the marinara sauce and cheese.
In addition, I like to use full-fat mozzarella cheese and make sure you use "real" cheese. A lot of the cheap, pre-shredded cheese you see at the grocery store is not "real" cheese, hence it doesn't melt well or taste good. Using high-quality cheese and marinara sauce is key.
You can use homemade marinara sauce. I am all about saving some time, and since I didn't have any homemade sauce on hand, I used store-bought.
Similarly, use high-quality marinara sauce. Best to spend a few dollars more and get an authentic marinara sauce, that will not taste just like tomato sauce.
You can also use the marinara sauce in your favorite flavor, garlic or basil, spicy or mild, etc.
Add some red pepper flakes to the chicken mixture if a spicy kick!
I recently got this Lasagna / Casserole Pan and I absolutely love it, I highly recommend it!
What pasta is used in Lasagna?
There is really only one type of broad, flat pasta used for baking in the oven and that is lasagna. These sheets are great to maintain the sauce between them when cooked in the oven.
Do you have to cook Lasagna sheets first?
In general yes! Soak the lasagna sheets in a single layer in boiling water for about 5 mins. Drain well before using in lasagna.
How many layers of noodles do you put in Lasagna?
In general, you will need four layers of noodles in total. It is best to start and finish with wider layers to have a perfectly looking lasagna.
Can you freeze Chicken Spinach Lasagna?
Yes, the lasagna freezes well. Layer the lasagna into an aluminum foil pan, after that wrap it tightly with plastic wrap, and then wrap it in aluminum foil and freeze for up to 1 month. To reheat add additional cheese on top and place in the oven at 350F for about 30-40min.
Looking for more easy dinners? Check these out:
Deliciousness to your inbox
Enjoy weekly hand picked recipes and recommendations