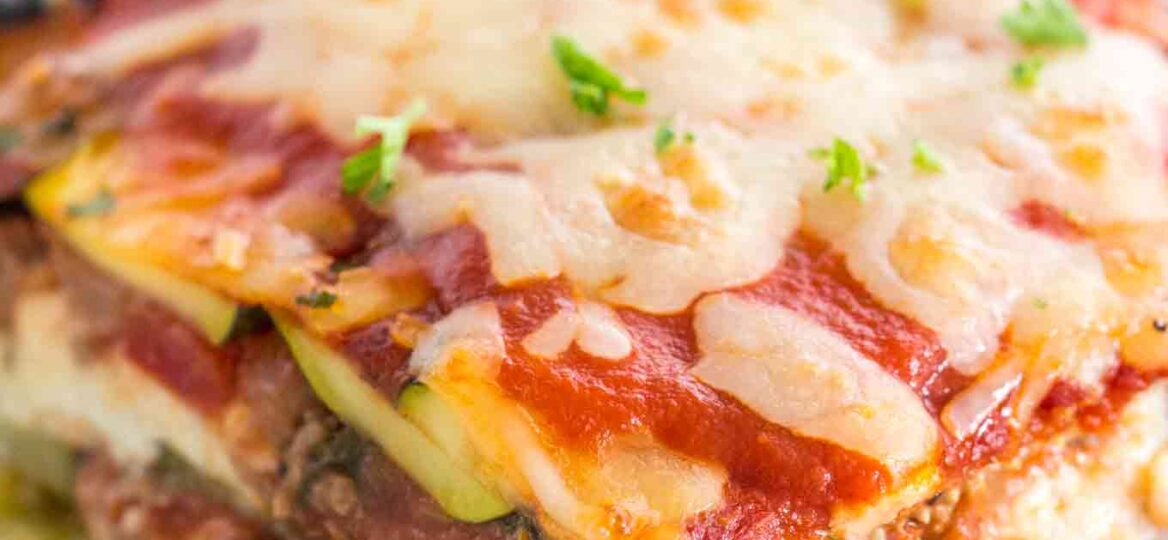 Best Zucchini Lasagna [Video]
Zucchini Lasagna is a delicious recipe that is also low carb, keto, gluten-free, and not watery! It is a healthier take on the classic comfort dish loaded with vegetables, cottage cheese, grated parmesan cheese, and mozzarella cheese. An easy dish for the whole family to enjoy in less than one hour!
Homemade Casseroles are perfect to feed large families during busy weekdays. You can even modify the recipe by serving Meatball Zucchini Boats, or make these Zucchini Roll-Ups. We also like using zucchini in desserts, such as this Blueberry Zucchini Poke Cake,
This Zucchini Lasagna is a great way to incorporate the veggies into your daily menu. The flavors are similar to the classic lasagna but much healthier. It's loaded with layers of thinly sliced zucchini with lots of cheese and baked to golden brown perfection!
Also, it is rich, creamy, and very flavorful. You don't need to be a professional chef in order to let your friends and family enjoy some fancy dinner. The great thing about this recipe is that you can make a vegetarian version. Simply, swap the cheese with vegan cheese, and skip the meat.
With this recipe, children won't even know that they are eating vegetables! A tip that you should remember is that the zucchini contains a lot of water. Therefore, it is important to either pat dry them with paper towels, or if time allows, grill or roast them prior to baking.
With this healthy and keto lasagna, you will not be missing the traditional pasta. Also, you have the best of both worlds, as the dish tastes great and is very healthy.
Ingredients needed:
For exact measures, please check out the recipe card below. Basically, you will need the following ingredients:
Fresh zucchini: To make the zucchini strips, simply use a sharp knife and cut it into thick slices about 1/8 -inch thick.
Ricotta mixture: Basically a mixture of parmesan cheese, mozzarella cheese, ricotta cheese with dried basil, Italian seasoning, salt, and black pepper. I also like adding some red pepper flakes.
Beef mixture: The meat sauce is made with ground beef, onion, garlic, tomato paste, crushed tomatoes, and fresh spinach.
Marinara sauce: I use 1 cup of marinara sauce. I highly recommend, making your own sauce. My homemade marina sauce is just amazing here, and the flavors are outstanding!
How to make zucchini lasagna?
Please watch the video below and learn the step-by-step process. The process is pretty straightforward. Here are the steps:
Slice the zucchini: Place them on a cutting board, and slice them lengthwise. Use paper towels to remove any excess moisture.
Make the cheese mixture: In a large bowl, mix the cheese mixture together, and set aside.
Make the bolognese sauce: In a large skillet, add minced garlic, onion, and brown the beef over medium-high heat. Then, add the tomato sauce, seasoning, and fresh spinach.
Assemble the casserole: Grease the casserole dish or a baking sheet with some olive oil. Then, spread out the cheese mixture at the bottom of the dish, and top it with the zucchini layer. Next, add more of the ricotta layer, along with the beef mixture, and cover with another single layer of veggies. Repeat these layers one more time! Then, pour the marinara sauce on top, and sprinkle with grated mozzarella cheese.
Bake: Put the casserole in the preheated oven and bake it at 375 degrees F for about 30 minutes covered in aluminum foil. Then, uncover, and cook for an additional 30 minutes, until golden brown.
Serve: Sprinkle some freshly chopped parsley, and enjoy warm!
Variations and substitutions:
The beauty of this delicious lasagna is that you can modify it any way you like. Here are some great things to add to it:
Vegetables: Feel free to swap the lasagna with thinly sliced eggplants or summer squash.
Add-ins: Alternatively, mix in other vegetables such as mushrooms, sweet potatoes, artichoke hearts, etc.
Meat: Substitute ground beef with ground turkey, Italian sausage, grilled chicken, or rotisserie chicken.
Cheese: In addition, feel free to use your favorite type. Anything from cottage cheese to gruyere cheese can be used.
Sauce: Swap the hearty meat sauce with homemade alfredo sauce.
Zucchini noodles: You can also make slice them into a noodle, and bake them that way.
How long do you bake it?
The general rule is that you should bake this lasagna casserole for about one hour. However, if you are making a larger batch for a huge family, you need to make sure that you are baking it for a longer time.
You will know that the lasagna is cooked when the sauce on top is getting darker. However, be careful about cooking it for too long as it might burn at the bottom of the pan.
What is the main secret to the best Zucchini Lasagna?
What is making this lasagna different, healthier and tastier? The zucchini of course. You are replacing the pasta with zucchini. You are just cutting it into long slices that are thick enough. Using fresh vegetables will give the lasagna a much better taste.
The other secret to our recipe is using fresh produce and a combination of cheeses.
The third secret is that you should let the meal rest for 10-15 minutes before serving it. It tastes even better the next day.
How to cut and prepare the zucchini for lasagna?
You should slice the zucchini in 1/8-inch slices. You have a few options here. First, you either use a mandoline cutter or vegetable sheet cutter, or vegetable peeler. Or, simply use a sharp knife and carefully cut it lengthwise on a cutting board.
Also, remember that these veggies are quite watery. Therefore, it is best to grill or roast them first prior to assembly. Using a grill pan is a great option. Grilling it on both ends will ensure that most moisture will get removed.
After grilling, you should put the zucchini slices on a paper towel to remove as much moisture as possible before you start using it to build your lasagna. If you skip this step, your lasagna will be a bit watery, but it will still taste good.
How to make it less watery?
Because zucchini is about 95% water, it is natural that when cooking it, it will become watery. However, you can prevent it by following these steps:
Try slicing your zucchini into thinner slices.
Also, use some sea salt to salt it and let it sit for 15 minutes. The salt absorbs the water, making it less watery.
Use a dry paper towel: After salting it, use a dry paper towel to wipe off the excess salt and water on top.
Grill it to reduce the moisture: Lastly, I recommend grilling the veggies for 1-2 minutes on each side.
How do you roast zucchini for lasagna?
First, slice the zucchini into about 1/8-inch slices, then splash with some olive oil, salt, and pepper.
Then, arrange them uniformly in a large baking pan, and put them in the oven at 425 degrees F.
Roast for about 12-14 minutes, or until tender.
Can you make it healthier?
Yes, it is possible to make even healthier zucchini lasagna.
First, use leaner ground beef, or substitute the beef with chicken or other leaner meats.
Also, for the vegetarian version, I recommend using tofu, beans, or some extra veggies. I usually go for a mix of bell peppers, mushrooms, and spinach.
In addition, use low-fat cheese, or vegan cheese.
How to store leftovers?
First, let leftovers completely cool at room temperature. Then, transfer them into an airtight container or a large storage container. Refrigerate leftovers for up to 4 days.
To reheat, simply microwave them for a few minutes until warm. Alternatively, reheat leftovers in the oven at 350 degrees F for about 5-7 minutes, or until warm.
Can you freeze it?
Yes, this casserole freezes really well. You can prepare the lasagna in advance and freeze it. Then, you should just put it back into the oven to defrost and to make it warm again.
The secret here is that you should prepare the meal, and make sure that you are freezing it in a container that will be oven safe. Otherwise, you might have a problem with defrosting and heating it up again. Best to freeze it for up to three months.
More low carb recipes:
Recipe Tips and notes:
For more flavor, feel free to top the casserole with some grated parmesan cheese or cheddar cheese. Also, some fresh basil leaves will add a nice color and flavor to it.
You can add other veggies to it. Anything from mushrooms, spinach, onions, bell pepper, or eggplant will work.
As stated above, these veggies are very watery veggie. Therefore, I highly recommend cutting the slices thinner and salting each slice. Then, leave it for about 15 minutes for the salt to absorb the water. Then, using a paper towel soak up the excess water.
Use a mandoline to slice them into even noodle-like strips.
Feel free to make the lasagna ahead of time and refrigerate. When ready to serve, simply pop it in the oven and serve warm.
Ground beef can be replaced with ground turkey, chicken, or even sausage.