Best Zucchini Lasagna [Video]
Zucchini Lasagna is a delicious recipe that is also low carb, keto, and gluten-free. Made with zucchini instead of pasta, and loaded with vegetables, which is also healthier than traditional lasagna. This is an easy recipe to make and it can be assembled in less than 30 minutes. Great for friends and family, and even kids will enjoy this version.
You can even modify the recipe by serving Meatball Zucchini Boats. We also like using zucchini in desserts, and we have the perfect Blueberry Zucchini Poke Cake for dessert lovers and this Chocolate Zucchini Bread.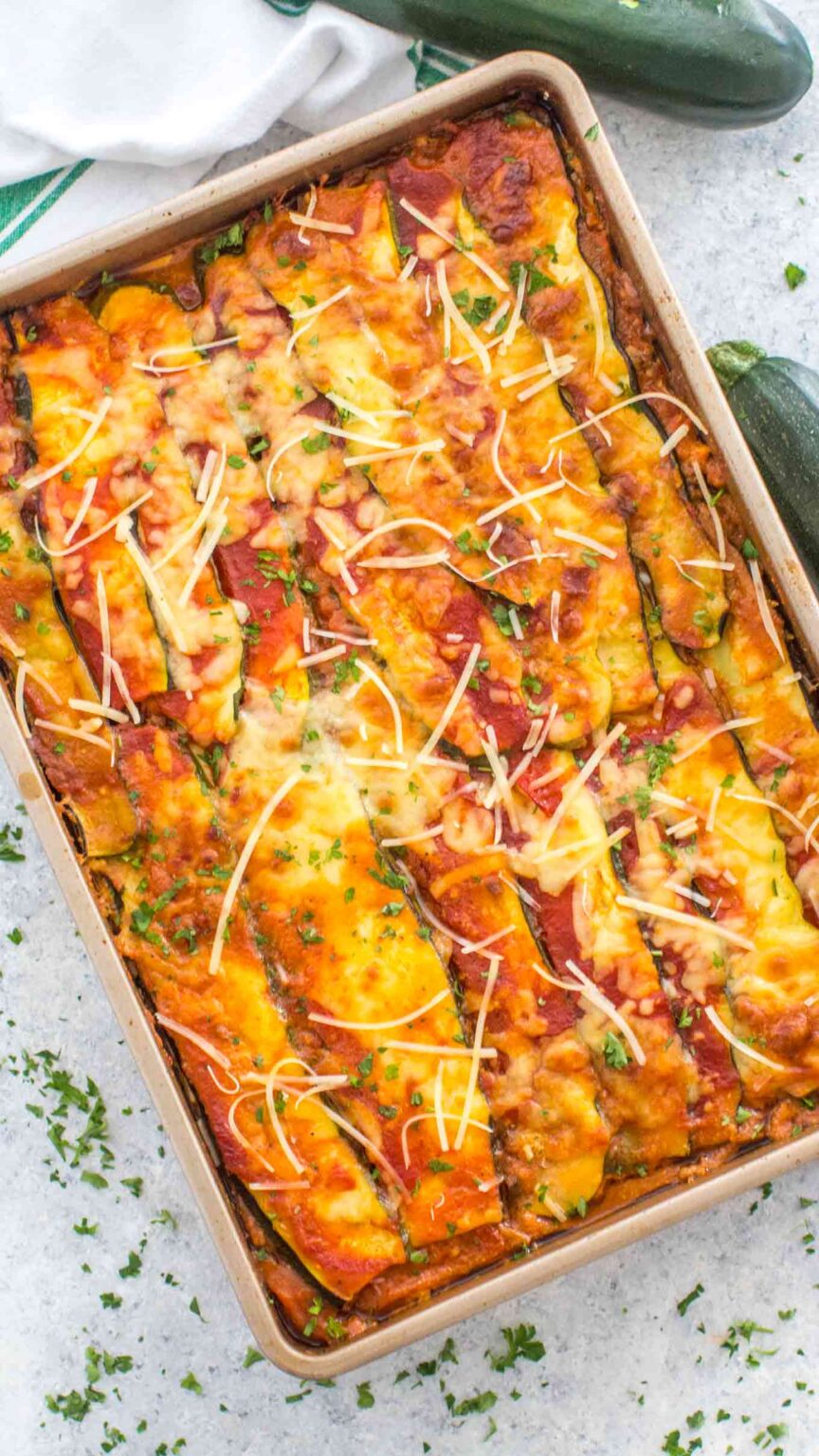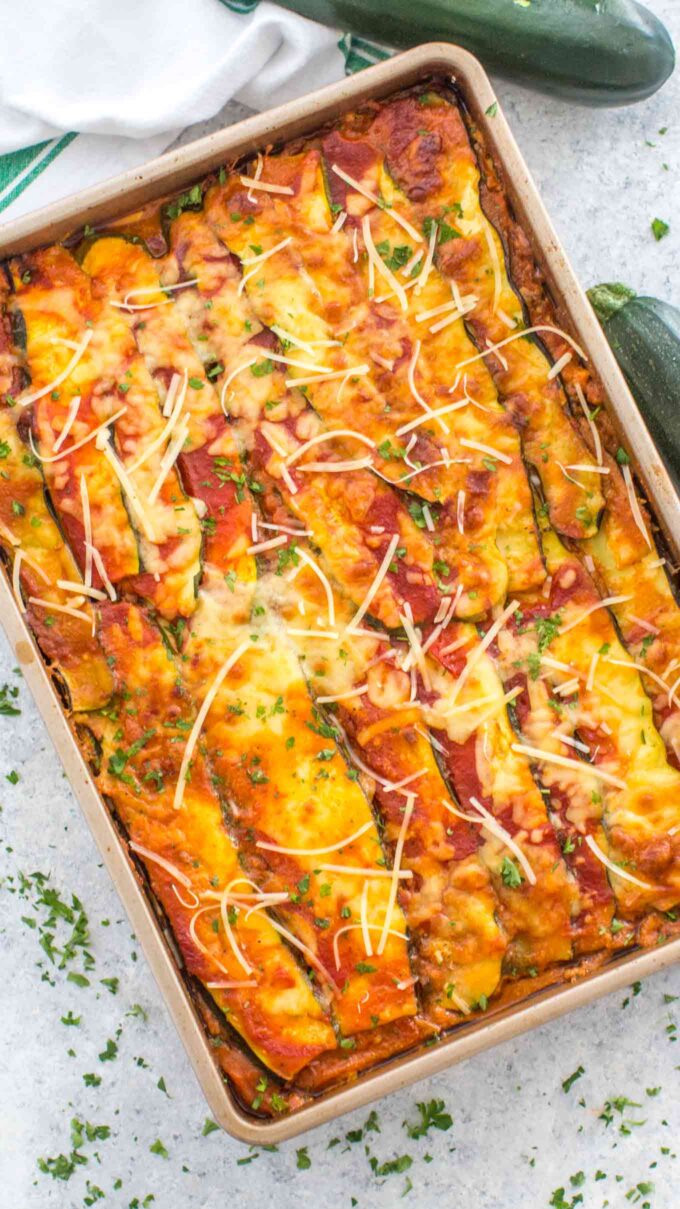 Homemade Zucchini Lasagna Casserole
Zucchini Lasagna is a really fun and easy dish to make. It is basically a take on a classic comfort lasagna that everyone loves, but much healthier. It's loaded with veggies, but still has the rich flavors and scrumptious texture of a traditional version.
You don't need to be a professional chef in order to let your friends and family enjoy some fancy dinner. The great thing about this recipe is that you can make a vegetarian version with ease if needed. For the vegetarian version, simply skip the meat in this casserole. With this recipe, children won't even know that they are eating vegetables!
A tip that you should remember is that the zucchini is watery. This is why for best results if you have time, grilling, or roasting the zucchini first before you start making the lasagna would make a big difference.
You can use a regular grill pan or simple roast in the oven. This will also give a much better taste to the casserole. With this healthier lasagna, you will not be missing the traditional pasta. Also, you have the best of both worlds, as the dish tastes great and is very healthy.
What is the main secret to the best Zucchini Lasagna?
What is making this lasagna different, healthier and tastier? The zucchini of course. You are replacing the pasta with zucchini. You are just cutting it into long slices that are thick enough. Using fresh vegetables will give the lasagna a much better taste.
The other secret to our recipe is using fresh produce and a combination of cheeses.
The third secret is that you should let the meal rest for 10-15 minutes before serving it. It tastes even better the next day.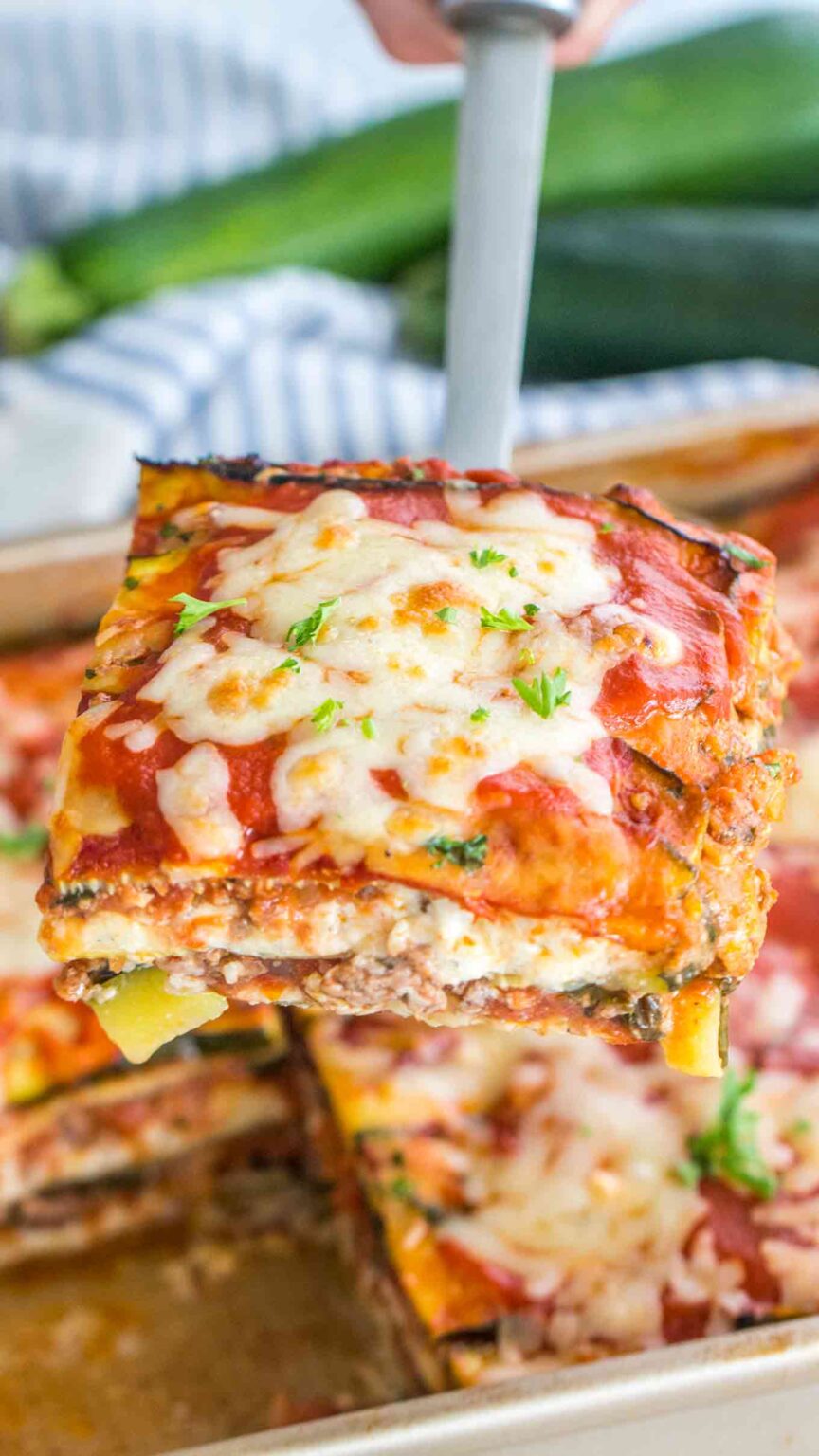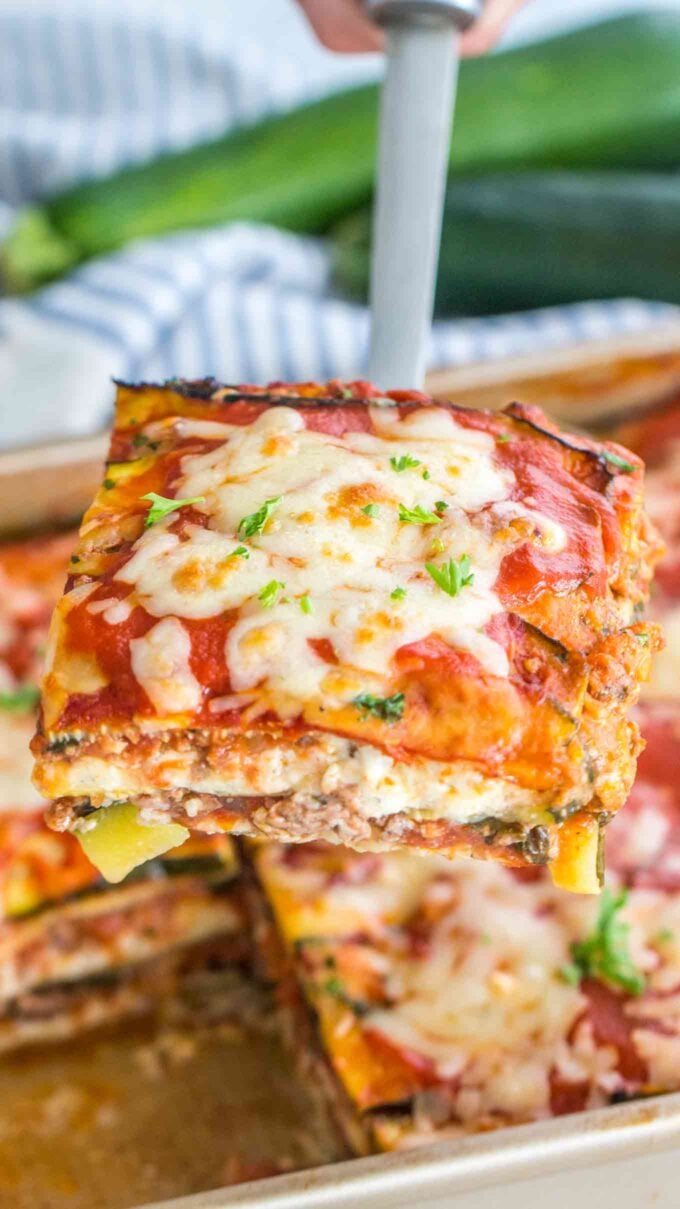 How long do you bake Zucchini Lasagna?
The general rule is that you should bake this lasagna casserole for about one hour. However, if you are making a larger batch for a huge family, you need to make sure that you are baking it for a longer time.
You will know that the lasagna is cooked when the sauce on top is getting darker. However, be careful about cooking it for too long as it might burn at the bottom of the pan.
How to prepare the zucchini before using it in the lasagna?
You should slice the zucchini in 1/8-inch slices. But, because they are watery, it is best to grill or roast them first. Using your grilling pan is a great option. Grilling it on both ends will ensure that most moisture will get removed.
After grilling, you should put the zucchini slices on a paper towel to remove as much moisture as possible before you start using it to build your lasagna. If you skip this step, your lasagna will be a bit watery, but it will still taste good.
How to make zucchini lasagna less watery?
Because zucchini is about 95% water, it is natural that when cooking it, it will become watery. However, you can prevent it by following these steps:
Try slicing your zucchini into thinner slices.
Also, use some sea salt to salt it and let it sit for 15 minutes. The salt absorbs the water of it, making it less watery.
Use a dry paper towel: After salting it, use a dry paper towel to wipe off the excess salt and water on top.
Grill it to reduce the moisture: Lastly, I recommend grilling the veggies for 1-2 minutes on each side.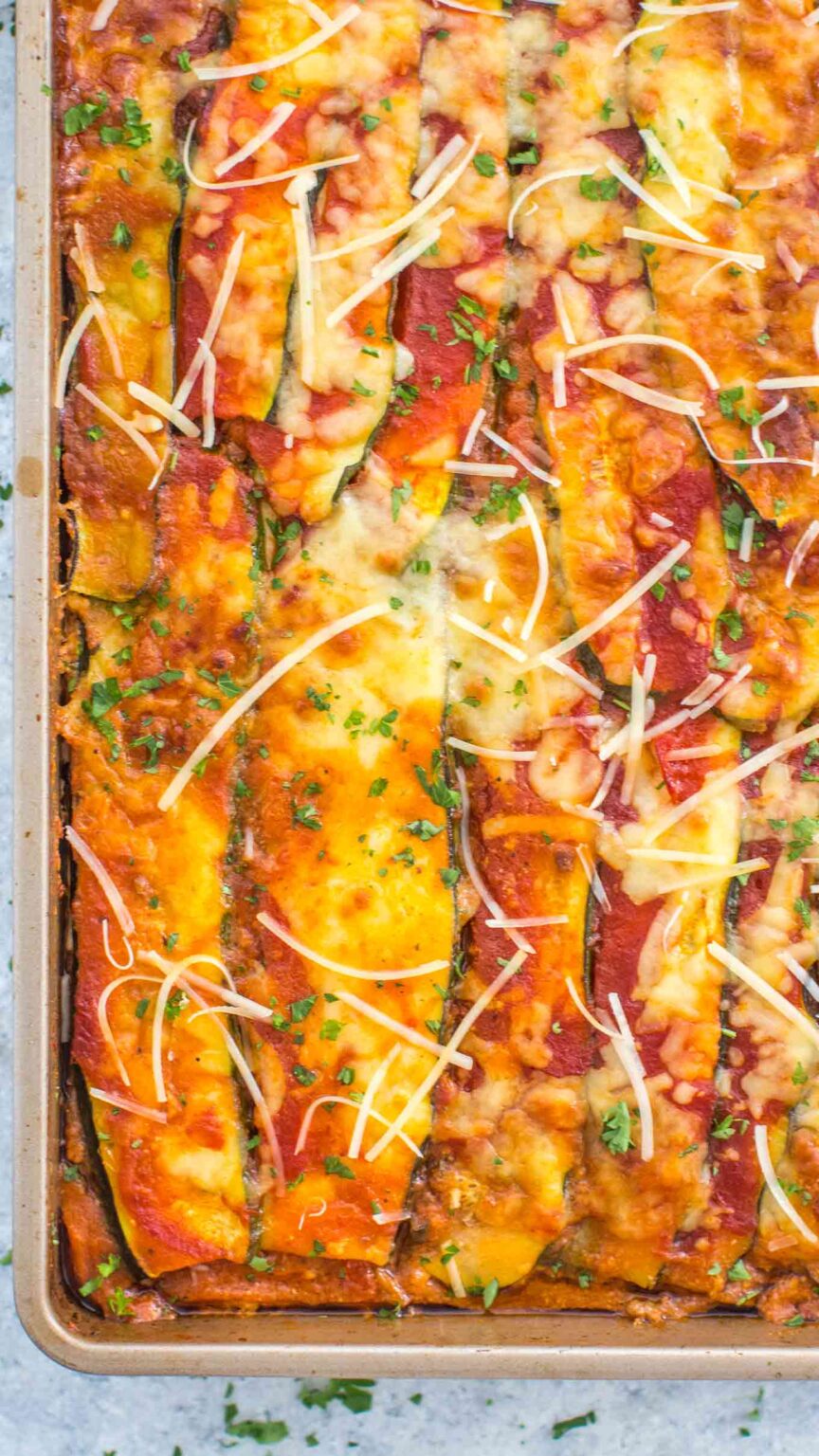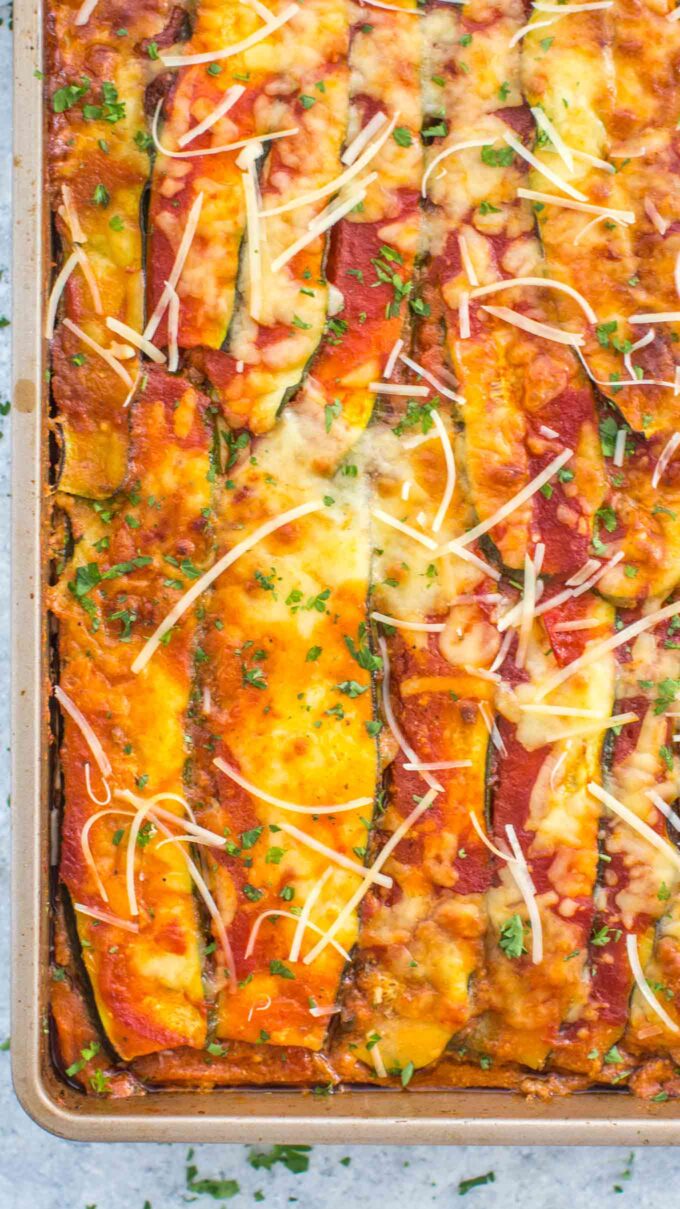 How do you roast zucchini for lasagna?
First, slice the zucchini into about 1/8-inch slices, then splash with some olive oil, salt, and pepper.
Then, arrange them uniformly in a large baking pan, and put in the oven at 425 degrees F.
Roast for about 12-14 minutes, or until tender.
Can you make a healthier zucchini lasagna as well?
Yes, it is possible to make healthier zucchini lasagna. You should use leaner ground beef, or substitute the beef with chicken or other leaner meats.
Also, for the vegetarian version, I recommend using tofu, beans, or some extra veggies. I usually go for a mix of bell peppers, mushroom, and spinach.
Does zucchini lasagna freeze well?
Yes, the zucchini lasagna freezes really well. You can prepare the lasagna in advance and freeze it. Then, you should just put it back into the oven to defrost and to make it warm again.
The secret here is that you should prepare the meal, and make sure that you are freezing it in a container that will be oven safe. Otherwise, you might have a problem with defrosting and heating it up again. Best to freeze it up to three months.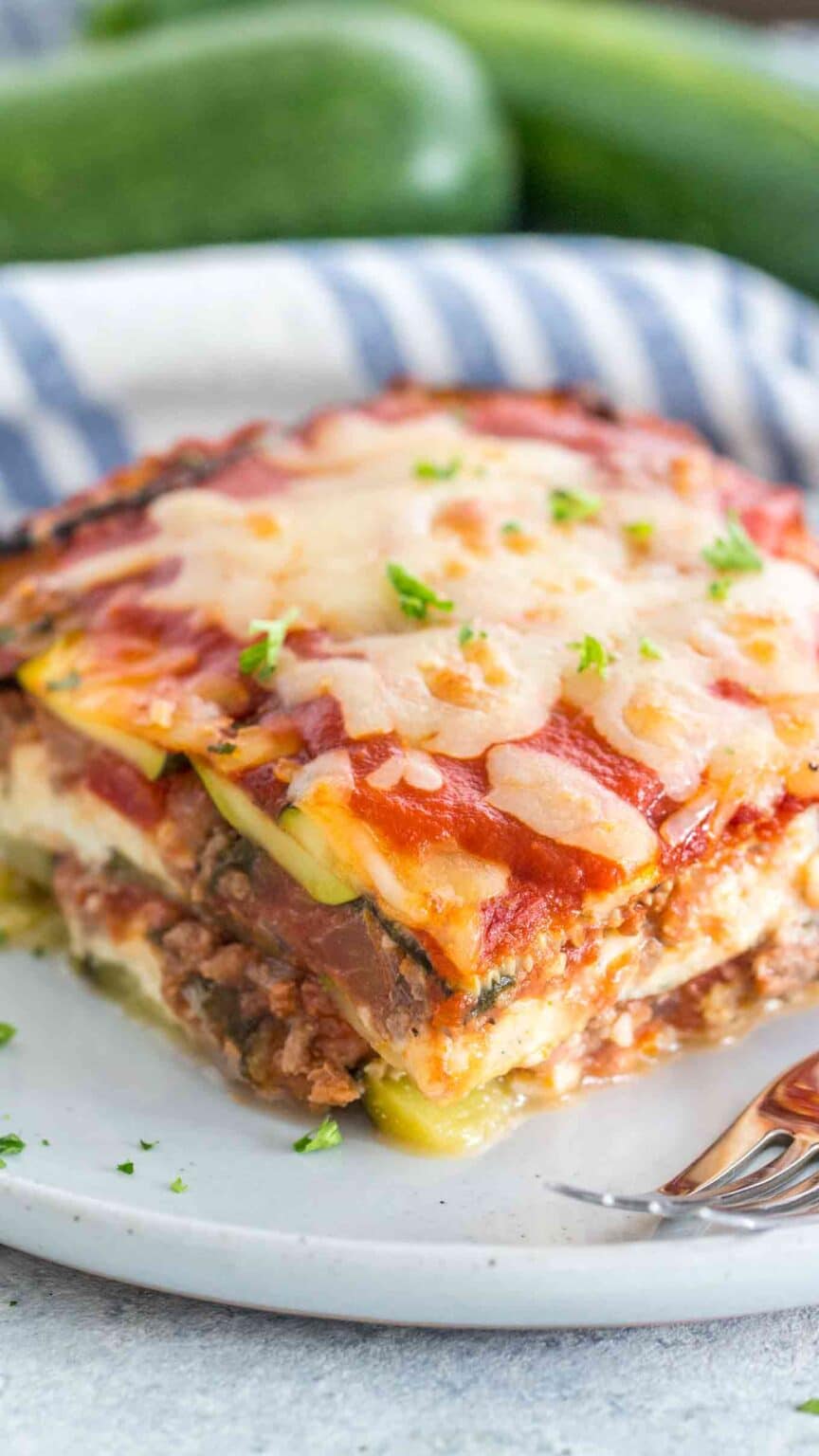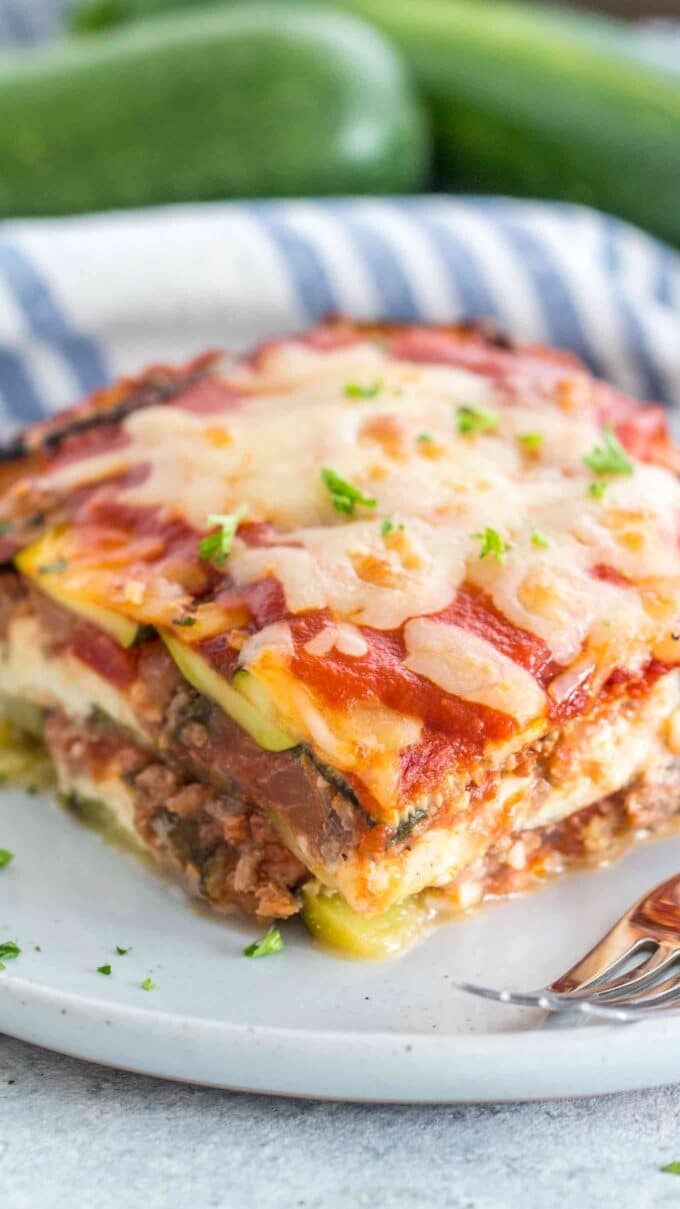 More low carb recipes:
Recipe Tips and notes:
For more flavor, feel free to top the casserole with some grated parmesan cheese or cheddar cheese. Also, some fresh basil leaves will add a nice color and flavor to it.
You can add other veggies to it. Anything from mushrooms, spinach, onions, bell pepper, or eggplant will work.
As stated above, zucchini is a very watery veggie. Therefore, I highly recommend cutting the slices thinner and salting each slice. Then, leave it for about 15 minutes for the salt to absorb the water. Then, using a paper towel soak up the excess water.
Use a mandoline to slice zucchini into even noodle-like strips.
Feel free to make the lasagna ahead of time and refrigerate. When ready to serve, simply pop it in the oven and serve warm.
Ground beef can be replaced with ground turkey, chicken, or even sausage.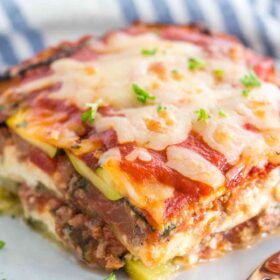 Zucchini Lasagna
Zucchini Lasagna is a great low-carb, Keto recipe that is also gluten-free. It is made with zucchini, and is a healthier option to the traditional lasagna.
Save
Share
Print
Pin
Rate
Ingredients
5-6

medium zucchini

(sliced into 1/8 inch thick long slices)
Beef Mixture:
1

lb

ground beef

2

tablespoons

olive oil

1

medium onion

(diced)

4

cloves

garlic

(minced)

2

tablespoons

tomato paste

1

28oz can

crushed tomatoes

2

cups

spinach

(fresh)
Cheese Mixture:
1

tablespoon

dried basil

1

teaspoon

Italian seasoning

1/2

teaspoon

salt

(or to taste)

1/4

teaspoon

black pepper

(or to taste)

1/4

teaspoon

red pepper flakes

1

large egg

15

oz

ricotta

1/2

cup

Parmesan

(grated)

8

oz

mozzarella cheese

((about 2 cups) shredded )

8

oz

Pepper Jack cheese

((about 2 cups) shredded )
Topping:
1

cup

Mozzarella cheese

(shredded)

1

cup

marinara sauce
Instructions
Cooking the Zucchini:
If you have time, to remove the moisture from the zucchini it is best to pre-cook them, before using in the lasagna.

Brush the zucchini slices with olive oil and either grill them (grilling pan works too), or arrange them on a lightly greased baking sheet and bake in the oven at 425F for 12-14 minutes.

Once cooked, place on paper towels to remove any remaining moisture.
Cooking the Beef Mixture:
Place a large skilled over medium-high heat and add oil. Once the oil is hot, add the onion and garlic, using a wooden spoon, stir and cook for one minute. Push the onion to one side of the pan and add the beef.

Let the beef brown a bit and start breaking it with the wooded spoon. Combine with the onion and garlic and cook until no longer pink. Drain any accumulated grease.

Add tomato paste, crushed tomatoes, salt and pepper to taste. Let simmer on low for about 30 minutes.

Add the spinach, stir and cook until the spinach is wilted. Remove from heat and set aside.
Prepare Cheese Mixture:
In a large bowl combine: ricotta cheese, parmesan cheese, mozzarella cheese, Pepper Jack cheese, egg, dried basil, Italian seasoning, red pepper flakes, salt and pepper to taste. Stir until fully combined. The mixture will the thick, that is ok, as the zucchini has enough moisture, and we don't want to make it more watery.
Assemble Lasagna:
Lightly grease a 9×13 casserole dish with olive oil.

Spread about 1/2 cup of the cheese mixture on the bottom and add one layer zucchini to cover the bottom of the pan.

Spread 1/2 of the remaining cheese mixture, then top with 1/2 of the meat mixture.

Add another layer of zucchini, top with the all remaining cheese mixture, followed by the beef mixture. Add the final layer of zucchini, top with 1 cup of marinara sauce and 1 cup of shredded mozzarella cheese.
Bake:
Preheat oven to 375 degrees F.

Cover with foil, so it doesn't touch the cheese and bake for 30 minutes.

Uncover, and bake for another 20 to 30 minutes. If needed, broil at the end to make the cheese golden-brown.
Serve:
Remove from oven and let the lasagna rest for 10-15 minutes before slicing.

Garnish with parsley and serve.
Nutrition
Calories:
340
kcal
|
Carbohydrates:
7
g
|
Protein:
27
g
|
Fat:
22
g
|
Saturated Fat:
10
g
|
Cholesterol:
83
mg
|
Sodium:
675
mg
|
Potassium:
551
mg
|
Fiber:
2
g
|
Sugar:
4
g
|
Vitamin A:
1265
IU
|
Vitamin C:
18.7
mg
|
Calcium:
579
mg
|
Iron:
2.3
mg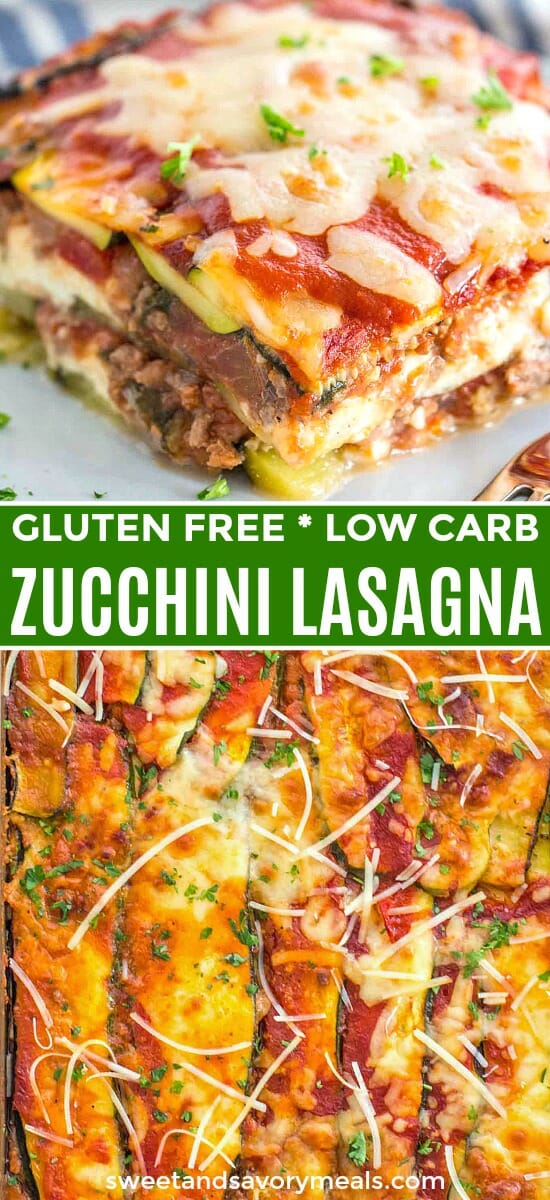 More recipes you might love