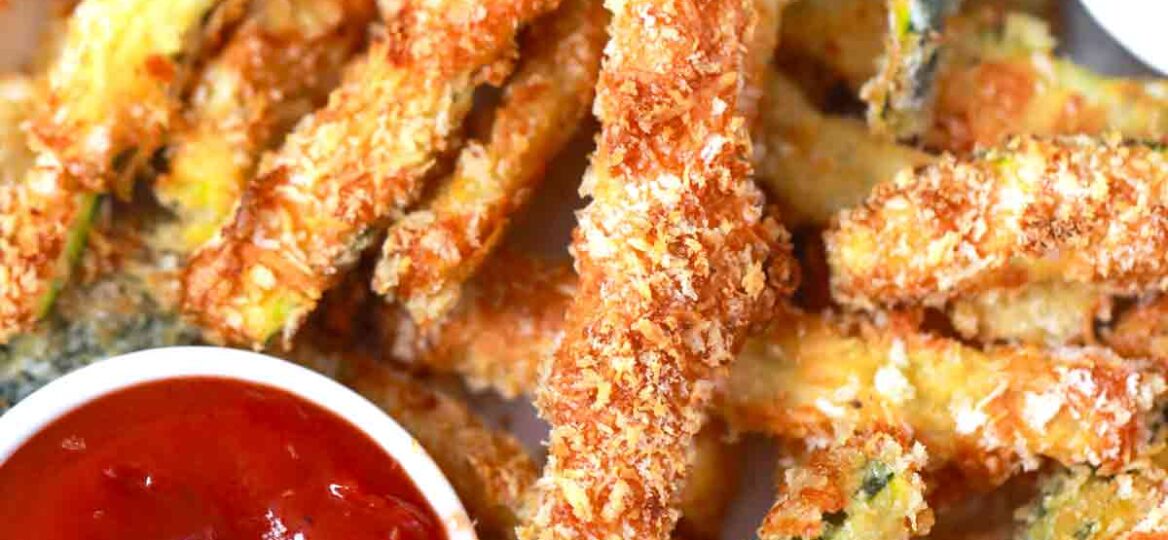 Crispy Air Fryer Zucchini Fries
Air Fryer Zucchini Fries have a crunchy, golden crust flavored with parmesan and spices. Delicious with dips or as a side to burgers, sandwiches, and BBQs!
Zucchinis are the chameleons of the vegetable world— you can use them in many sweet and savory recipes! For instance, turn them into a cheesy casserole, add them to these decadent chocolate muffins, make them into meatball boats.
Air Fryer Garlic and Parm Zucchini Fries
These Zucchini Fries made in the Air Fryer are super crispy, healthy, and loaded with flavor! On top of that, they're easy and ready in 15 minutes. They're as addictive as regular potato fries, but with very little carbs and fat (a light spray of oil is all you need).
You can also get creative with this recipe. Use different seasonings, make it keto or gluten-free, or bake it instead of air frying. These are healthy and great as appetizers, or as a side dish to any meal.
Are zucchini fries healthy?
Yes, and much healthier than deep-fried French fries! This vegetable is packed with many important antioxidants, minerals, and vitamins. It also has a ton of fiber without a lot of carbs and calories.
As a result, these zucchini fries are a very healthy snack or side dish. In fact, this dish is keto-friendly, vegetarian, and can be made gluten-free! Finally, there's very little grease here, so it's lighter than most fry types as well.
Ingredients for air fryer zucchini fries
Zucchini: Cleaned and sliced into slim, fry shapes.
Breading: Prepare a couple of eggs, some flour, bread crumbs, and panko. This is what makes them super crispy!
Seasonings: For flavor, we're mixing up garlic powder with smoked paprika, onion powder, dried basil, and a little lemon zest to brighten it all up. Measure out some parmesan cheese as well.
Olive oil: This will help everything stick to our vegetables.
How to make homemade zucchini fries in the Air Fryer
Prepare the breading. First, get a bowl and whisk the eggs in it. In another bowl, mix your flour with the seasonings and bread crumbs. Finally, combine the parmesan and panko in a third bowl.
Season: Dip a vegetable stick into the flour, followed by a dip in the egg, and lastly, cover in the parmesan-panko crumbs.
Cook: Spray with oil before air-frying for 15 mins. at 375, flipping once at 10 mins.
Serve: Enjoy hot as an appetizer or with your favorite meal!
Recipe variations and substitutions:
Instant Pot: If you have an IP Duo Crisp Air Fryer, you can use it for this recipe, too!
Gluten-free: Sub the regular with gluten-free flour and bread crumbs.
Keto: Use almond flour and low-carb panko.
Baked: If you want to try these in the oven, use this recipe.
Spicy: For a touch of heat, mix in some cayenne or dried chili flakes into the seasonings.
Southern: A dash of Cajun spice gives this recipe a Southern flavor!
Tex-Mex: Into the seasonings, mix in some Taco seasoning, a little cumin, and chili powder.
Ranch: A dash of milky, tangy Ranch seasoning levels up the flavor!
Frequently Asked Questions
How to make fries out of zucchinis?
First, rinse it very well.
Then, slice both ends of the veggie before chopping it in half lengthwise.
After that, cut those halves into another half.
Next, carefully slice into fry strips about an inch thick and an inch long.
Lastly, make sure the sizes are as similar as possible, so they cook evenly.
Dipping sauce ideas for homemade zucchini fries:
Our kids love dipping it in ketchup, and it's delicious that way! But there are many other dips we equally love:
Try any of them, or make a "dip buffet" so you can try a bit of each!
What goes well with homemade zucchini fries?
Aside from dips, we also love serving these in place of regular fries.
They're fantastic with burgers, BBQ ribs, sandwiches, tacos, and even steak. We've also tried them with hummus in place of chips— it's a surprisingly tasty combo!
How to store and reheat leftovers?
After they have cooled down, arrange them in a shallow, well-sealed container. Make sure it's air-tight because moisture will turn that breading soggy.
Also, you can keep this in the refrigerator for up to 3 days, but we highly suggest finishing it ASAP for the best texture.
To reheat, air-fry at 400F for a few minutes, or bake in the oven at 400F until hot.
More air fryer recipes to try:
Deliciousness to your inbox
Enjoy weekly hand picked recipes and recommendations