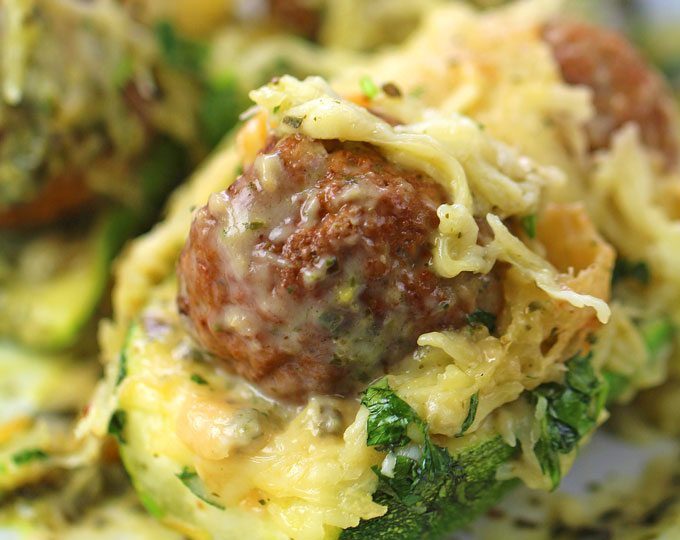 Meatball Zucchini Boats are stuffed with pesto, juicy meatballs and topped with Alfredo sauce and lots of cheese, for a quick and delicious dinner.
We love a good meatball meal, and have quite a few to share with you like Instant Pot Meatball Soup, Maggiano's Meatball and Garlic Bison Meatballs.
Meatball Zucchini Boats
Easy Meatball Zucchini Boats are made with just a few ingredients and ready in about 30 minutes. They are great to serve as an appetizer or a dinner, as they are hearty and filling. The Meatball Zucchini Boats are a delicious combination of fresh zucchini stuffed with fragrant basil pesto, juicy meatballs smothered in a creamy Alfredo sauce and lots of cheese.
Why You'll Love These Meatball Zucchini Boats:
Firstly, they are incredibly easy to make in about 30 minutes.
Furthermore, I made the dish with just a few easy-to-find ingredients. Hence, budget friendly.
Can be enjoyed as an appetizer or dinner.
In addition, can be made using your favorite cheese or sauce.
Looking for more Zucchini Recipes? Check these out:
Pin This Meatball Zucchini Boats Recipe to your Favorite Board
Best Meatball Zucchini Boats Recipe Tips
I used store bough pesto sauce to cut time on this recipe and make it really easy. Equally, you can use homemade sauce.
Same for the Alfredo sauce, I used store-bought. However, you can use homemade or any sauce that you like. In addition, marinara or vodka sauce work really well in this recipe.
The fresh zucchini that I used are not wilted so they can hold their shape well.
Similarly, I used a cookie scoop to scoop out the flesh of the zucchini. It makes it easier, but you can use any spoon, just be careful not to break the zucchini.
Other delicious fillings or toppings are fresh basil, marinara sauce, more cheese, and chopped jalapenos.
Can you freeze the Meatball Zucchini Boats
Yes, the Meatballs freeze well. Layer them into an aluminum foil pan. Then, wrap it tightly with plastic wrap, and then wrap it in aluminum foil and freeze for up to 3 month. To reheat add additional sauce on top and place in the oven at 350F for about 20-30 minutes or until hot.