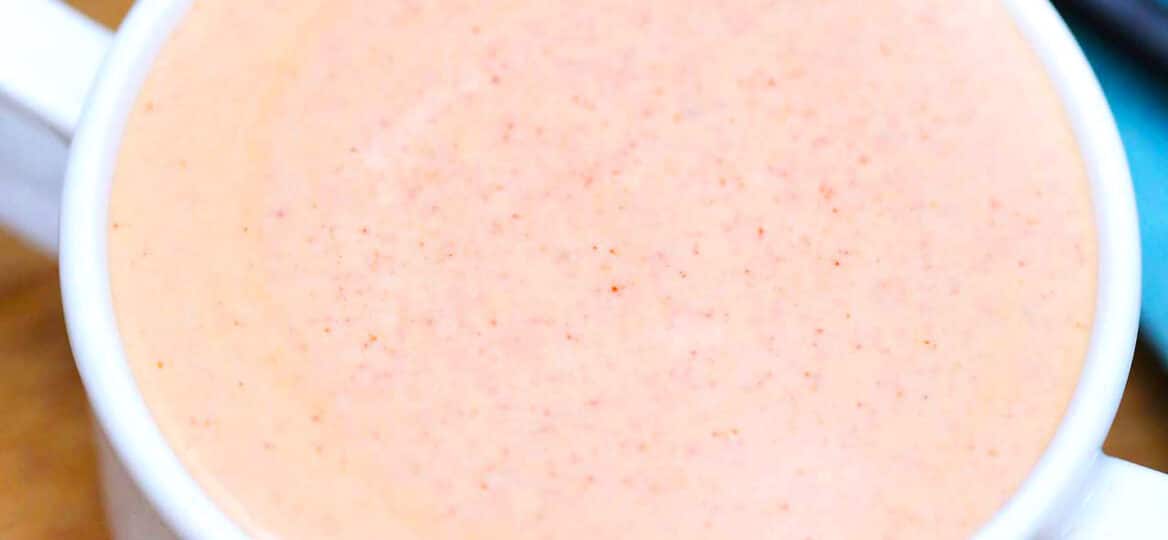 Homemade Yum Yum Sauce [Video]
Yum Yum Sauce is one of my favorite dips, it is equally great served with veggies or meat! Experience Japanese dining at home with this recipe using minimal ingredients with maximum flavors!
I miss going to Japanese restaurants and one of the reasons is this dip. I learned how easy it is to make at home. And so, there are no more trips to Japanese restaurants when cravings kick! If you like Japanese food, too, check out my recipes for Chicken Katsu, Teriyaki Sauce, and Soba Noodles!
Homemade Yum Yum Sauce Recipe
Yum Yum Sauce is named so aptly for such a yummy dip! It is oozing with flavors even when the ingredients are simple. It is served in hibachi restaurants and pairs well with almost anything.
The combination of Japanese mayonnaise and ketchup is reminiscent of the thousand island dressing. But instead of pickle relish that is usually present in the thousand island dressing, this one has mirin and rice vinegar.
Another unique ingredient is the presence of butter. Of course, anything with butter tastes heavenly! I like that it is creamy and savory and that it has a balanced sweetness and sourness.
I am sharing this recipe with everyone who thinks that this condiment is delicious! No need to rely on the store-bought ones.
You can now make a personalized version with basic ingredients. Make it sourer, sweeter, or even spicier if you want!
What is yum yum sauce?
It is sometimes called sakura sauce or white sauce. It is pinkish because of the combination of ketchup, mayonnaise, and other spices.
Did you know that this is not a traditional recipe? It became popular because teppanyaki restaurants in the US and Canada offer this as a condiment.
How to make yum yum sauce
Get a bowl and whisk.
Pour in the ingredients, whisk together until uniformly combined.
Then refrigerate for 24 hours. It is that simple!
Ways to use yum yum sauce:
You can use it as a dressing for salads like coleslaw. Hibachi-style fried rice also goes well with it. You can even use it as a spread in wraps or sliders.
It is sometimes called shrimp sauce because it goes well with it. I like it best with shrimp, too, but this is so versatile!
Aside from serving it with shrimp, salads, and fried rice, you can enjoy it with these:
Can I make it ahead?
Yes, it is even recommended! Since this is best served cold, make this a day ahead and refrigerate it for a whole day. Be sure to refrigerate it within 2 hours after making it.
It even tastes better after refrigerating it for that long. The flavors become more distributed as the dip rests in the fridge.
How to store it:
Use it within 10 days as long as you refrigerate it in an airtight container. Mine is stored in a mason jar.
This is so easy to make that a new batch can be made every time you crave some. But if you do have to store it for longer, then, refrigerate it and do not freeze it.
Anything mayonnaise is not advisable to freeze because the mayo separates as it thaws.
More sauce recipes:
Recipe Tips:
Add water slowly as the last ingredient so that you can control the consistency. If you want it thicker, just use less water.
If you do not have mirin, substitute it with a tablespoon of white wine and a teaspoon of sugar.
Substitute tomato paste instead of ketchup and coconut oil instead of butter.