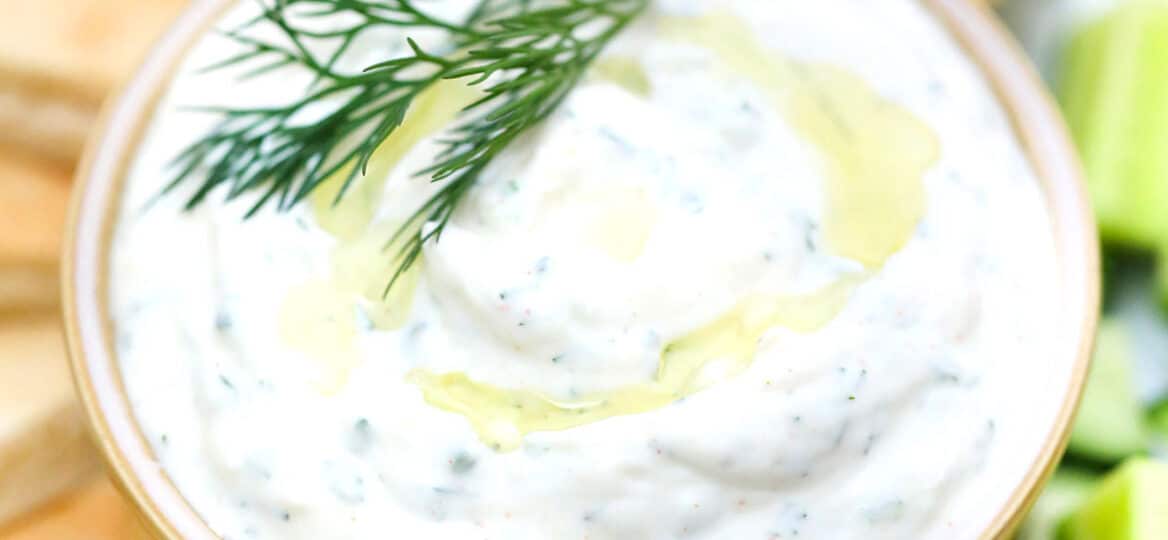 Tzatziki Sauce Recipe [Video]
Tzatziki Sauce is creamy, tangy, and refreshingly good! This recipe is so easy to make with only a few ingredients needed, and quite healthy, too! Watch the short video tutorial below and see how easy and delicious this recipe is!
I used to frequent a Mediterranean restaurant just for this stuff! It tastes so good with Instant Pot Hummus, Grilled Steak, and Instant Pot Baked Potatoes!
Homemade Tzatziki Sauce Recipe
Tzatziki Sauce, I learned, is so easy to make, and so, my restaurant visits dwindled. I made more of this in the comfort of my home.
That makes learning this recipe worthwhile and you should make it at home, too! Here are some reasons why.
First, it does not even need a lot of ingredients. Everything is already at my pantry. What I do try to remember always is to stock up on my cucumber stash so that I never run out.
Secondly, it will only require under 30 minutes of preparation. The rest of the time, it sits in the fridge before serving alongside salads, meat dishes, and sandwiches.
Lastly, I like how this sauce can be used in many ways. When partnered with a spicy and savory dish, this sauce tames it like magic. It is refreshing that way!
What is Tzatziki Sauce?
It is a combination of seasoned yogurt with cucumber, dill, and garlic. It is usually associated with Greek cuisine. But, other places like Turkey and the Middle East also have a version of this dip.
The creation of this dip stemmed from the Persians loving the yogurt-based Indian raita sauce. And this recipe has already evolved from the original Indian recipe that inspired it.
Is Tzatziki Sauce good for you?
Yes! It is one of the healthiest foods from Greek cuisine. You get the creaminess that you want in your dip, but it does not pack in the calories.
It has a rich texture without being rich in fat. Instead, it is high in protein which is essential for boosting metabolism.
What do you need to make Tzatziki Sauce?
One of the main ingredients is cucumber. To keep the dip creamy and not watery, you must drain the cucumber well.
It is quite a challenge since they are about 95% water. But it is doable with proper techniques of draining the water once they are grated.
Another main ingredient is Greek yogurt which is a lot thicker and healthier than the regular ones. Other ingredients that add flavor are the following:
Garlic
Extra virgin olive oil
White vinegar
Lemon juice
Cayenne pepper
Salt
Fresh dill
How to Make Tzatziki Sauce?
Prepare the ingredients: Put grated cucumber in a mesh sieve and then, allow it to drain overnight in the fridge.
Combine: In another bowl, combine the rest of the ingredients except for the fresh dill. Cover the bowl and allow the mixture to sit in the fridge overnight.
Assemble: Right before serving, combine all the ingredients. Then, serve chilled.
Can I make it ahead?
Yes! Since you will need to allow certain ingredients to chill overnight, you must prepare beforehand if you want to serve this.
And you can refrigerate it for up to 3 or 4 days.
Can you freeze it?
Yes, for up to three months, but know that the texture will change.
Cucumbers tend to become mushy as in any veggie or fruit that gets frozen then thawed.
Recipe Tips
To ensure that the cucumber is properly drained, you can squeeze it against the sieve.
Another way to remove as much water from the cucumber as you can is to salt it.
Serve it with raw vegetable sticks, pita bread, and any meaty dish. You can also use it as a spread on sandwiches or put in salads like the chickpea salad or tabbouleh.