Easy Lebanese Tabbouleh Recipe [video]
Tabbouleh is prepared mainly with parsley, mint, and bulgur in a light dressing! Easy and light, this recipe makes for a healthful and delicious side dish!
If you want to serve healthful, colorful, and enticing salads, then, these recipes are perfect for you: Strawberry Spinach Salad, Chickpea Salad, and Mexican Salad!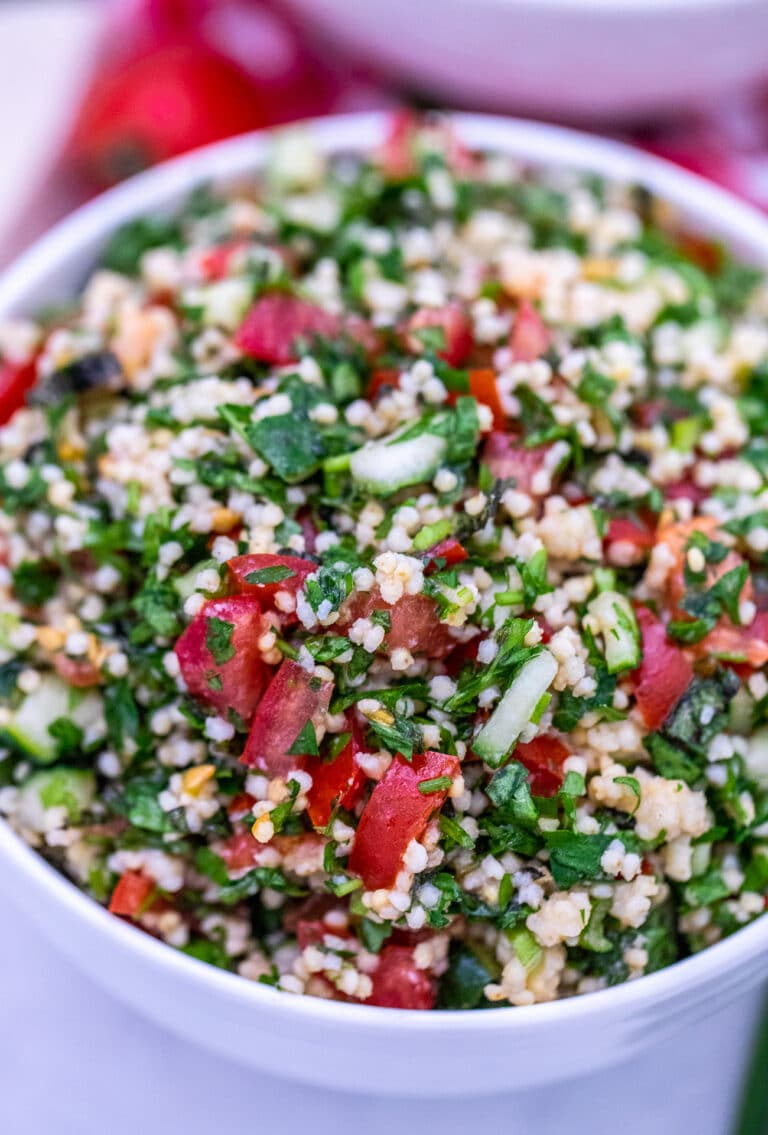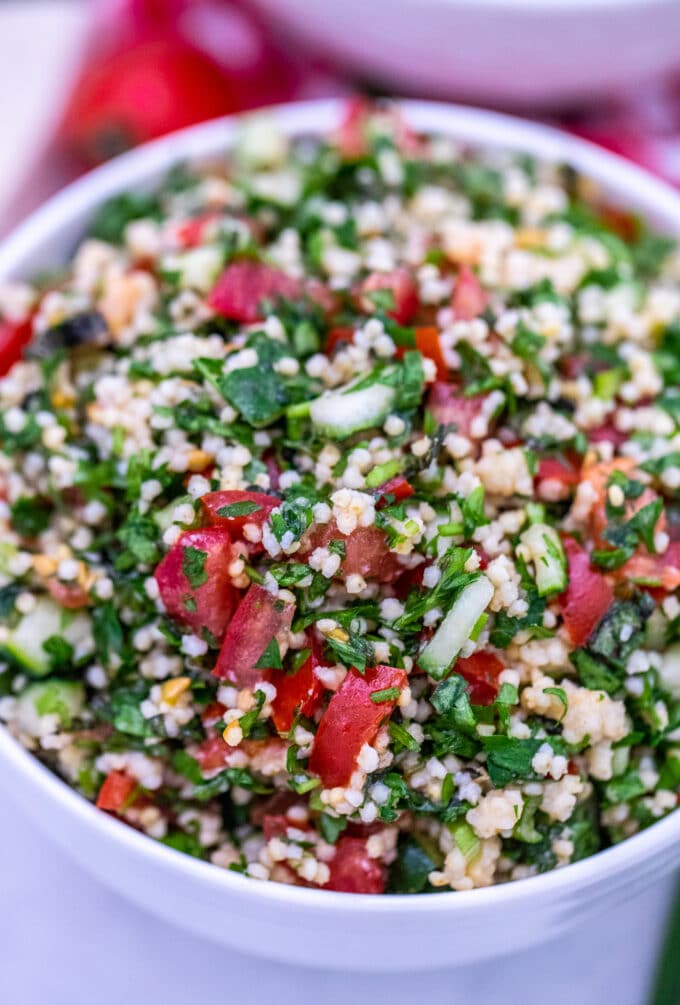 Homemade Tabbouleh Recipe
Tabbouleh is something that I kept ordering from a restaurant serving Middle Eastern dishes. But since I learned it how to make it at home, I never had to buy it again! And now, I am sharing this easy recipe with you.
I like that this salad is simple and straight-forward but packs in a lot of flavors. I especially like that the dressing is light and healthy. Not to mention, it binds all the flavors together in one delightful dish.
But the main star of the salad is the parsley. Combined with some mint leaves, parsley adds a refreshing vibe to the dish. It makes this salad a whole lot healthier, too – it is full of vitamin A, vitamin K, and antioxidants!
This salad can be made in just under 30 minutes! There is no cooking required, all you have to do is to toss all the ingredients together! Let me show you how to prepare this, read on!
What is Tabbouleh?
It is an Eastern Mediterranean salad that has grown popular in the West and in the rest of the world. Primarily made with parsley, mint, and bulgur wheat in a lemon and olive oil dressing, this dish is quite healthful and easy to make!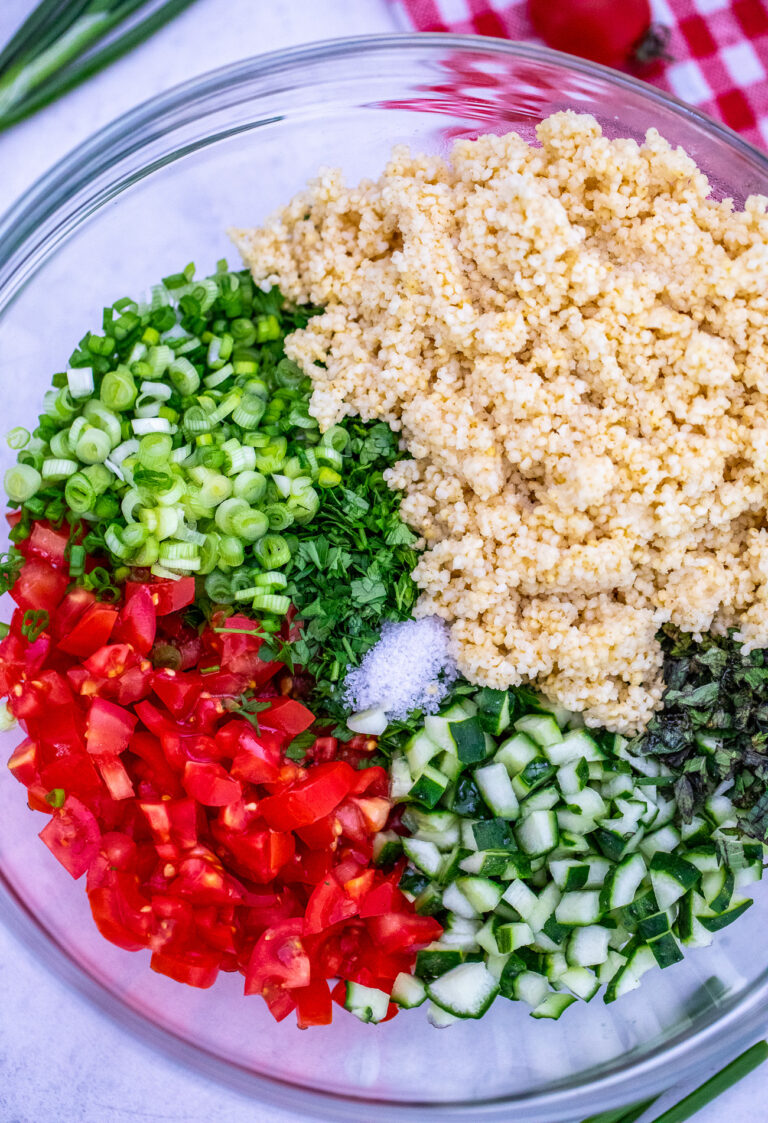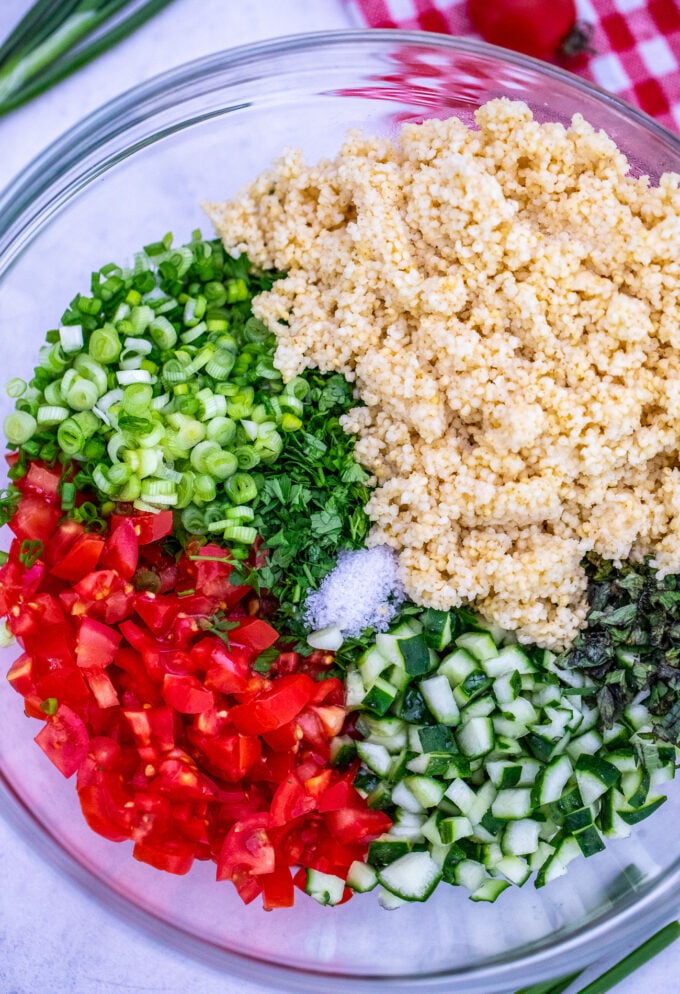 What is bulgur?
It is a whole grain cereal that is made with cracked wheat (most commonly, durum). What you can buy in grocery stores are already partially cooked, and so, in this recipe, there is no need to cook it further. You will only need to soak it!
It packs in a lot of fiber with minimal calories. Hence, this dish is perfect for those trying to trim their waistline as it will keep you feeling full for a long time.
This ingredient is popular in Mediterranean cuisine and is greatly associated with couscous, a similar wheat product. But the difference lies in the preparation – couscous is not whole-grain and is more like pasta, unlike bulgur. It makes for a great substitute for bulgur though.
Read about bulgur health benefits here.
Is Tabbouleh healthy?
Yes! This dish requires no cooking thereby making all the ingredients fresh. Without cooking, we can avoid breaking down the nutrients as what cooking sometimes does in food.
You get fiber, antioxidants, and carbs from wheat. Individually, the ingredients are healthful and so, this dish is a healthy choice overall!
Even diabetics can consume this despite the use of bulgur. The carbs are within the recommended limit for their diet, and the other vitamins and nutrients are added benefits. Simply watch the salt, or leave it out completely.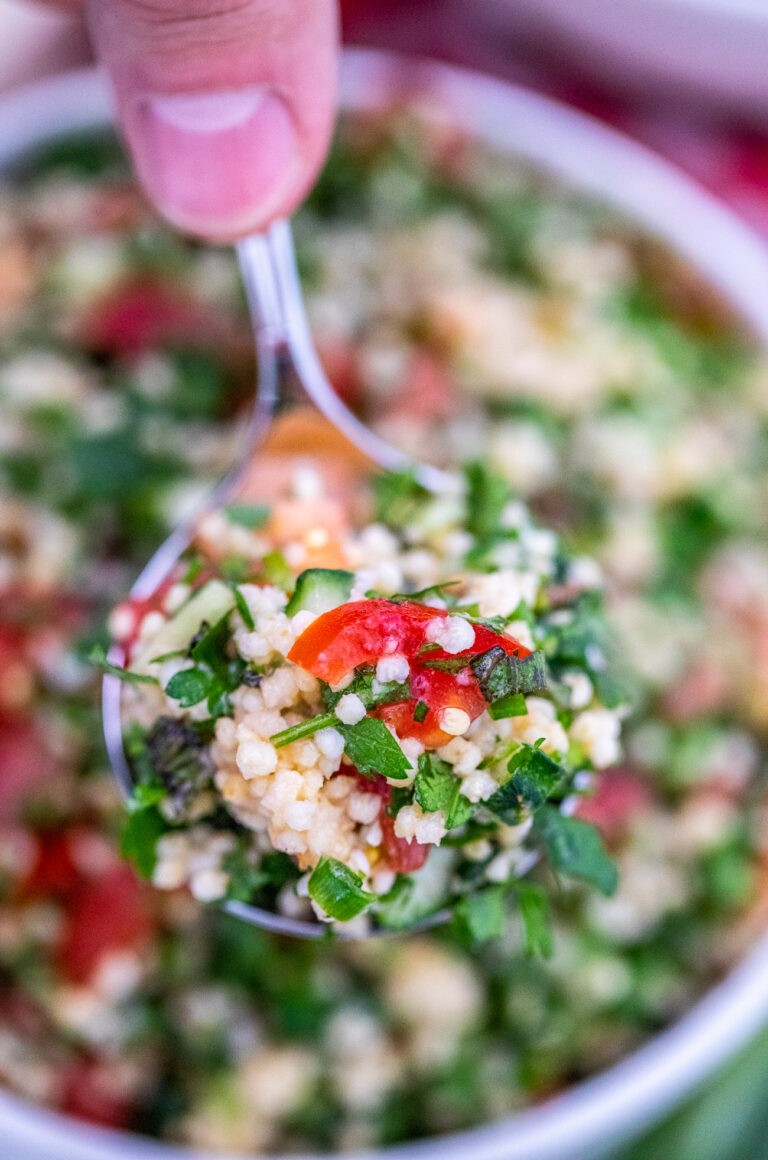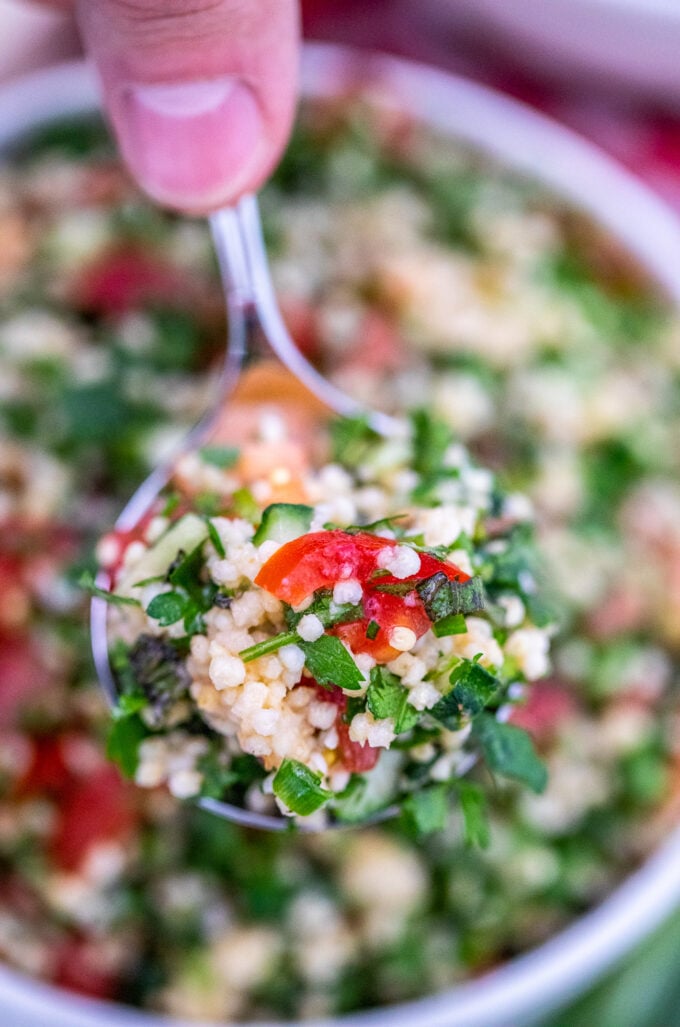 How do you cook bulgur?
For the kind that is used in this recipe, the extra fine kind, just soak the grains in hot water. The grains are so small that this method does the trick.
But, if you are to prepare the coarse kinds with bigger grains, you need to cook the bulgur in water drizzled with oil and added with some salt. Allow the mixture to simmer for about 12 minutes. Then, remove it from heat and let it rest, covered, for another 10 minutes. Then, fluff with a fork and it is done!
How do you make Tabbouleh?
Prep the bulgur: In a bowl, add the bulgur and stir in some oil. Add in the boiling water and cover for 15 minutes. Let it stand for 15 minutes, then, drain. You can use a sieve for this.
Chop the other ingredients: Finely chop the tomatoes (draining any excess juice), parsley, mint leaves, onions, and English cucumber without the seeds.
Toss: Combine everything in a bowl, and season with some salt. Add in the lemon juice and olive oil and mix some more.
Chill then, serve: Cover the salad and refrigerate for about 30 minutes before serving. This is best served with some pita and in romaine lettuce boats.
How to store it?
This dish will keep in the fridge for about a day or two, kept covered. You can make this in advance though it is best to add in the tomatoes at the last minute before serving. Refrigerating the tomatoes somewhat changes the texture.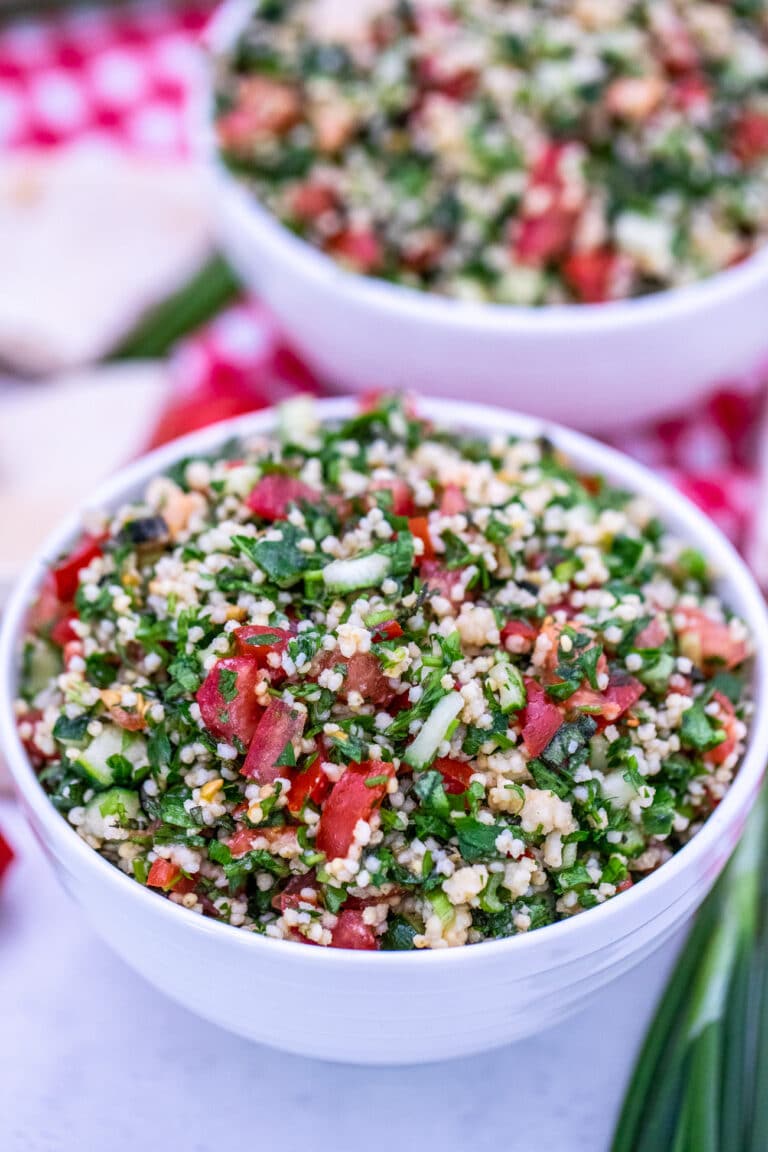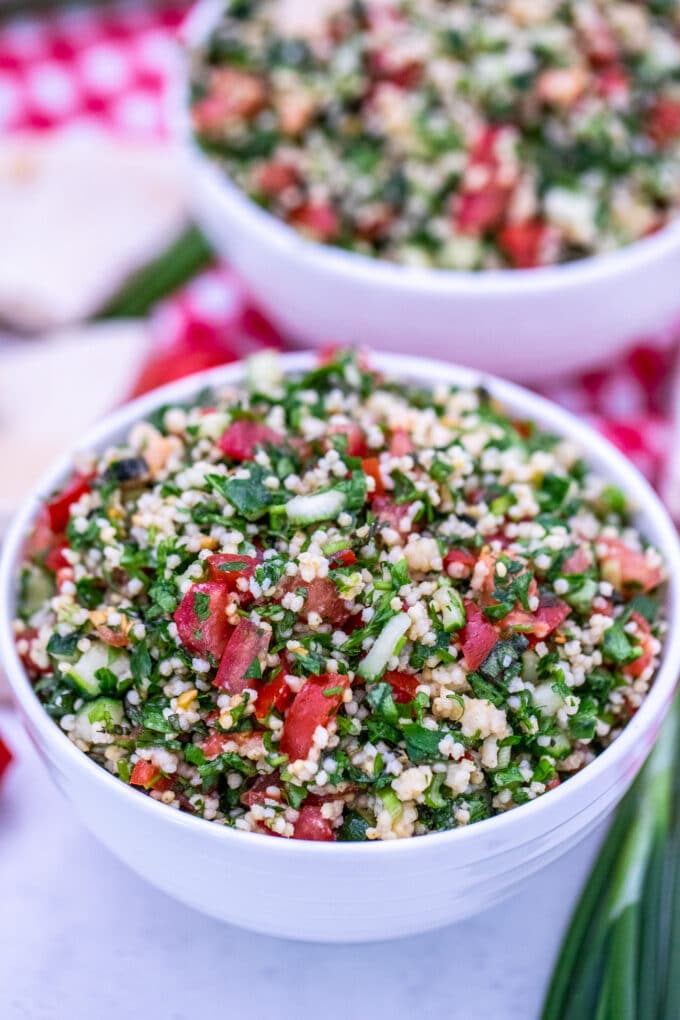 More healthy side dishes:
Recipe Tips:
When using fresh herbs, make sure to clean them thoroughly removing any dirt or large stems.
Substitute the bulgur with quinoa to make it gluten-free.
Spread the bulgur on a baking sheet to speed up the cooling process.
You can add garlic for a richer flavor.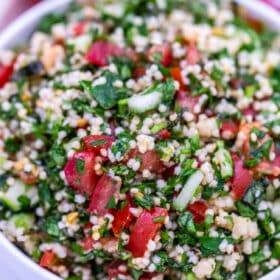 Lebanese Tabbouleh Recipe
Tabbouleh is prepared mainly with parsley, mint, and bulgur in a light dressing! Easy and light, this recipe makes for a healthful and delicious side dish!
Save
Share
Print
Pin
Rate
Ingredients
1

cup

extra fine bulgur wheat

2

cups

boiling water

(very hot)

2

tablespoons

olive oil

6

Roma tomatoes

(very finely chopped)

1

English cucumber

(seedless and very finely chopped)

2

bunches parsley

1/4

cup

fresh mint leaves

1/4

cup

green onions

(finely chopped)

4

tablespoons

lemon juice

4

extra virgin olive oil

Salt to taste
Instructions
Wash parsley and mint leaves, drain well, remove stems and very finely chop.

Stir together bulgur and 1 tablespoon oil in a heatproof bowl. Pour boiling water over, and cover tightly with plastic wrap, let stand 15-20 minutes. Drain using a sieve, pressing onto the bulgur to remove any excess liquid.

Add the bulgur to a large bowl, add the chopped parsley, mint, tomatoes, cucumbers, onions, lemon juice, and olive oil. Mix to combine.

For best results, cover and refrigerate for 30 minutes. Serve with pita bread on the side.
Nutrition
Calories:
150
kcal
|
Carbohydrates:
23
g
|
Protein:
3
g
|
Fat:
5
g
|
Saturated Fat:
0
g
|
Cholesterol:
0
mg
|
Sodium:
13
mg
|
Potassium:
348
mg
|
Fiber:
5
g
|
Sugar:
2
g
|
Vitamin A:
720
IU
|
Vitamin C:
15.6
mg
|
Calcium:
32
mg
|
Iron:
1
mg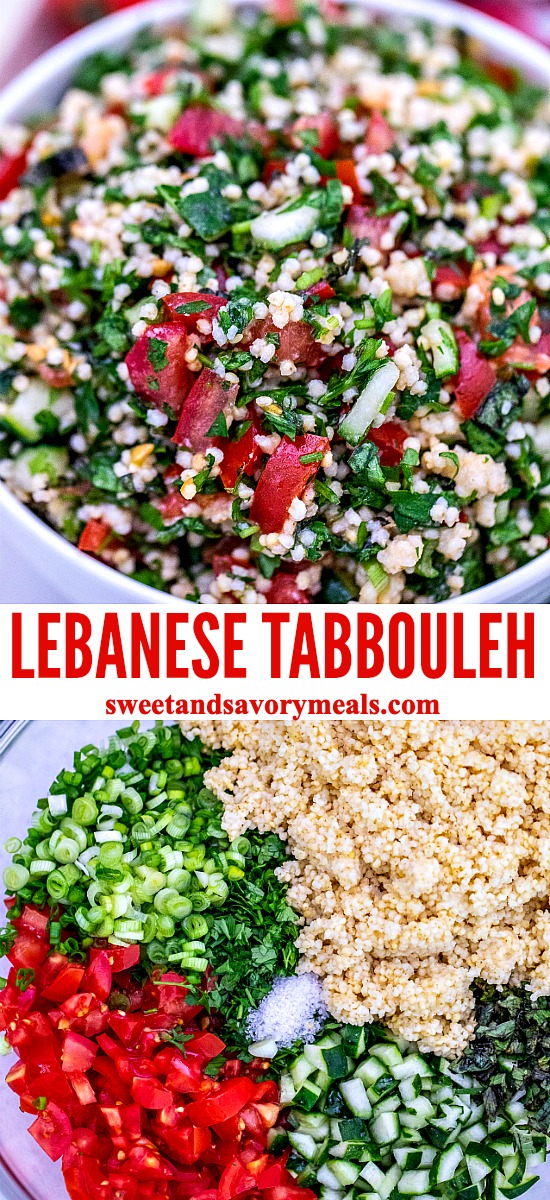 More recipes you might love