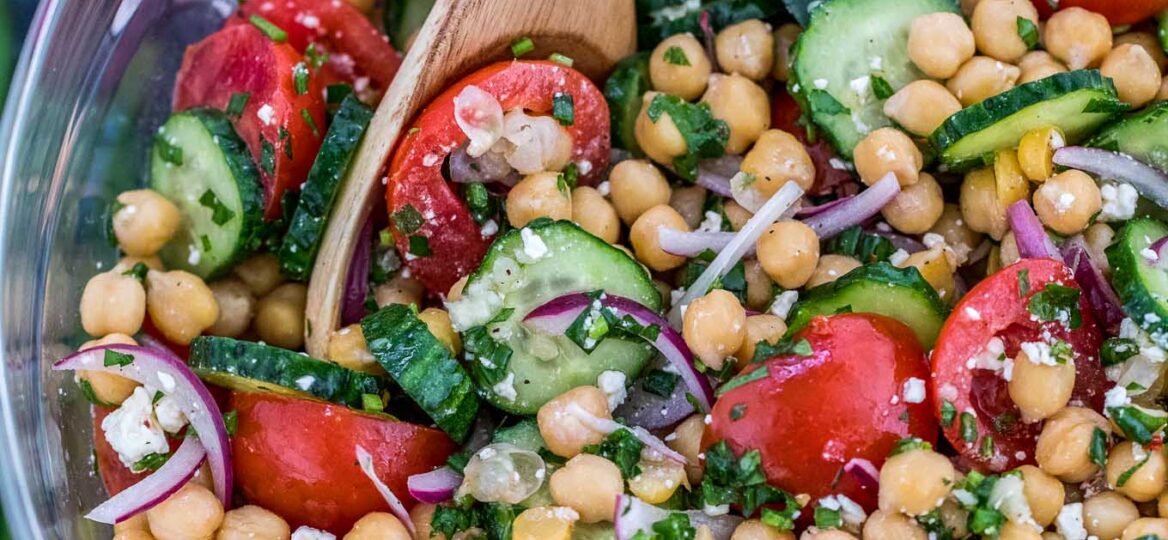 Chickpea Salad Recipe [video]
Chickpea Salad is a great and healthy recipe loaded with chickpeas, creamy avocado, feta cheese, green onion, tomatoes, and cucumbers. It is our favorite summer salad!
Summer is the ultimate grilling and salads season. We urge you to also try our Creamy Cucumber Salad, Black Bean Salad, and Corn Salad.
This is a quick and easy Mediterranean flavored salad made with fresh veggies and fresh herbs. It is also be called garbanzo bean salad. Actually, chickpea and garbanzo beans are basically the same things. It is a great salad foundation that is also nutritious and rich in protein. When you combine it with avocado, tomato, and crisp cucumbers, you get one healthy lunch or a great side dish.
It is a satisfying meal in itself, that will keep you full for many hours. However, you can pair it with any dish to make a balanced meal like wine-roasted beef tenderloin or grilled chicken. The beauty of this salad is that you can mix pretty much any veggies you desire, such as bell peppers, kale, or even corn.
To make it a Mediterranean Chickpea Salad, simply throw in some chopped kalamata olives and some crumbled feta, and you are ready to go! Not only is this dish healthy and colorful, but it is also very easy to make and ready in just a few minutes. Just perfect to enjoy during a busy summer day and as a meal prep!
Recipe ingredients:
Chickpeas or garbanzo beans – You can find them in pretty much any grocery store.
Veggies – For the best results and flavors, I always use fresh veggies. You will need cherry tomatoes, English cucumber or Persian cucumbers, red onion, avocados, green onions, garlic.
Feta cheese – This will not be a true Mediterranean dish without it!
Cilantro
Homemade Dressing Ingredients:
Virgin olive oil
Red wine vinegar
Fresh lemon juice
Salt and black pepper
Red pepper flakes
How do you make chickpea salad?
Make the dressing: Prepare the dressing by whisking these ingredients in a bowl: extra virgin olive oil, red wine vinegar, lemon juice, sea salt, black pepper, and red pepper flakes. Set this aside.
Mix the rest of the ingredients: In another large bowl, combine the garbanzo beans, sliced avocados, halved cherry tomatoes, sliced cucumber, sliced red onion, minced garlic, crumbled feta cheese, and cilantro.
Add the dressing: Pour in the dressing, and top with more feta cheese, and some green onions. Season with salt and pepper.
Refrigerate: Lastly, chill for about an hour, then, serve and enjoy!
Recipe Variations:
Other Veggies: Feel free to use other veggies as well. Great additions would be red bell pepper, crunchy celery, Kalamata olives, black beans, green bell peppers, green beans.
Proteins: Turn it into a main dish by adding extra proteins. Mix in some canned tuna and turn this into a homemade chickpea tuna salad.
Cheese: Swap the feta cheese with your favorite type. Mozarella or parmesan cheese are great substitutes.
Add some crunch: To make it crunchier, toss in some tortilla chips, Dorito chips, or panko breadcrumbs.
Dressing: Rotate the lemon juice dressing with vegan mayo, or dijon mustard.
Couscous: One of my other favorite salads is this Couscous Salad. To make it, simply, swap the chickpeas with couscous.
Are chickpeas healthy?
Yes, it is healthy to eat chickpeas. This protein and fiber source is plant-based which makes it healthier than meat. Hence, if you are trying to lose weight or control your blood sugar, this recipe is perfect as it contains healthy ingredients.
Also, this legume has a number of nutrients including vitamin K, manganese, phosphorus, iron, and zinc that are good for the bones and joints. It regulates sugar as well as blood pressure. It has selenium that can be rarely found in plant-based sources, but chickpea has it.
Are chickpeas good for weight loss?
The fiber in it not only helps fight high cholesterol in the blood and aids in digestion, but it also makes you feel saturated. In turn, you avoid overeating. Hence, this dish can be your go-to recipe when trying to lose weight.
When working out to lose weight, you need energy and chickpeas can help you with that. It contains 269 kcal of energy per cup. Remember to watch your portions though. I know it will be hard to resist because it is so delicious but anything in excess will make you gain weight.
What is a good cilantro substitute?
If you cannot find fresh cilantro at your local grocery store, you could substitute it with other fresh herbs such as parsley, chives, or fresh dill.
Can you eat chickpeas from the can?
You certainly can! Canned peas are already cooked so you can eat them without further cooking. However, do not eat them straight out of the can. First, drain them and rinse them in cold water. This washes off the high sodium content found in the liquid that the peas are canned in.
How long do garbanzo beans last after the can is opened?
Once opened, drain and transfer the contents of the can in an airtight container. Then, refrigerate for three to four days.
You can freeze them, too, and they will stay in optimum quality for one to two months. Beyond that, they are still good for consumption. Just look for signs of molds, or off smell, and do not attempt to taste.
How do you prepare dried garbanzo beans?
We used the canned version for this great recipe, but you can certainly use the dried ones. However, it is not so easy to prepare. Here is the tedious procedure on how to prepare garbanzo beans:
Soak them in water for at least 4 hours, better if extended until 8 hours. For every cup, add in three cups of water.
After soaking, remove from water and simmer in a large pot of fresh water with the lid open.
Let the garbanzo beans cook until soft for about 3 hours before using them in your recipes.
How many calories are in this recipe?
One serving of this dish will give you 167 calories. Also, for full nutritional information, check out the recipe card below.
How do you store chickpea salad?
Simply put it in the refrigerator in an airtight container and this will last for about 3 to 5 days. The lemon juice prevents it from browning, so you can enjoy it for days to come.
You can also put it in the freezer in single-portion freezer bags and thaw as needed. Once thawed, eat the salad at once. You can separately store the dressing, too.
More healthy salad recipes:
Recipe Tips
Always try using fresh vegetables when making this recipe.
Also, when choosing avocados, look for non-wilted ones and not too soft. To prepare, simply cut in the middle and twist the halves to expose its seed. Remove the seed and slice through the flesh while the skin is still intact. Then, use a spoon to scoop out the slices.
Once you have sliced the avocados, drizzle lemon juice on them to avoid unwanted oxidation.
You can replace the cilantro with fresh parsley, or dill if you want.
Easy Chickpea Salad
Ingredients
3

cans 15.5 oz each

chickpeas or garbanzo beans

drained and rinsed

2

cups

cherry tomatoes

halved

1

English cucumber

halved and sliced

1

red onion

thinly sliced

2

cloves

garlic

minced

2

avocados

sliced

1/2

cup

crumbled feta cheese

1/4

cup

cilantro

chopped

1/2

cup

green onions
Dressing:
1/4

cup

extra virgin olive oil

1

tablespoon

red wine vinegar

Juice of 1 lemon

1/2

tsp

sea salt or to taste

1/8

tsp

black pepper

1/4

teaspoon

red pepper flakes

optional
Instructions
Add the dressing ingredients to a small bowl and stir to combine.

Combine all the other ingredients in a large bowl. Then, pour the dressing and top.

Garnish with green onions, sprinkle more feta cheese top and serve or refrigerate.
Deliciousness to your inbox
Enjoy weekly hand picked recipes and recommendations