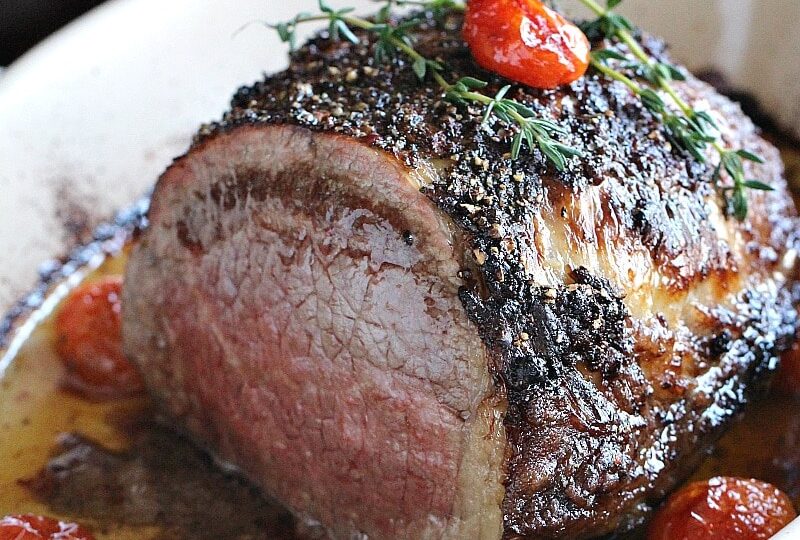 Wine Roasted Beef Tenderloin
Wine Roasted Beef Tenderloin with a peppery crust, is roasted to perfection with grape tomatoes and fresh thyme. It is an easy dish to make for a weekend meal, and fancy enough for a holiday dinner party!
This is a perfect family dinner recipe. Also, if you are looking for a delicious Christmas or Easter meal, this is one of the best main dishes you can go with. For a complete meal, pair it with Scalloped Potatoes, Arugula Salad, or Sauteed Mushrooms.
Wine Roasted Beef Tenderloin
Wine Roasted Beef Tenderloin with a pepper crust, roasted mini tomatoes, and thyme that has been marinated in red wine, beef stock and lots of garlic. I kept the beef in the marinade for 24 hours, for the flavors to sink in.
I browned the beef for a few minutes, covered it in freshly ground pepper and some sea salt, topped it with thyme and baked it until pink and juicy. To make it even more exciting, I added a few mini grape tomatoes to the baking dish, they got perfectly roasted and are such a nice compliment to the beef.
Why You'll Love This Wine Roasted Beef Tenderloin:
Very easy to make with minimal prep work.
A hearty and delicious meal, that looks good to be served for a special occasion dinner.
This meal is perfect for busy weeknight meals, and also for a fancy get together.
The meal is packed with protein, so a light side dish like roasted veggies or salad is perfect and also easy to prepare.
The beef can be marinated in advance and cooked before dinner.
This dish is very flavorful and you will have delicious leftovers.
Pin This Wine Roasted Beef Tenderloin Recipe to your Favorite Board
Tips and tricks to make the perfect Wine Roasted Beef Tenderloin:
Use grass-fed, organic stew meat if possible – grass-fed meat tends to be extra tender, which is perfect in this recipe.
Brown the beef – this has double purpose, first it locks the meat from the outside together.
The wine can be replaced with beef broth if you want to skip it.
Plan in advance so you have time to marinate the beef long enough, this way you will have a flavorful and tender roasted beef tenderloin.
What to serve with this Wine Roasted Beef Tenderloin?
Can I substitute pork for beef?
Yes, pork or ham is a great alternative for beef in many recipes including this one. If you are going to use pork or ham instead of beef, I would recommend using pork tenderloin. The cooking time will also vary best on the cut that you choose.
More of a chicken person? Try my other favorite chicken dishes like Cranberry Orange Chicken, Honey Garlic Chicken and Slow Cooker Garlic Sesame Chicken.
What is the difference between the beef loin and beef tenderloin?
The main difference is that these are not cut from the same part of the animal, they also look very different. The loin yields the most tender and expensive cuts of beef, however not the most flavorful. The choicest portion is the tenderloin, which is exquisitely tender and lean.
Tools/Ingredients that I used to make the Wine Roasted Beef Tenderloin: