Wine Roasted Beef Tenderloin
This post may contain affiliate links. Please read my disclosure policy.
Garlic and Wine Roasted Beef Tenderloin with a peppery crust, is roasted to perfection with grape tomatoes and fresh thyme.
Thank you Eat Smart for sponsoring this post. I was selected for this opportunity as a member of Clever Girls , the content and opinions expressed here are all my own. This post contains affiliate links at NO extra cost to you, I just like sharing the things I love and work for me.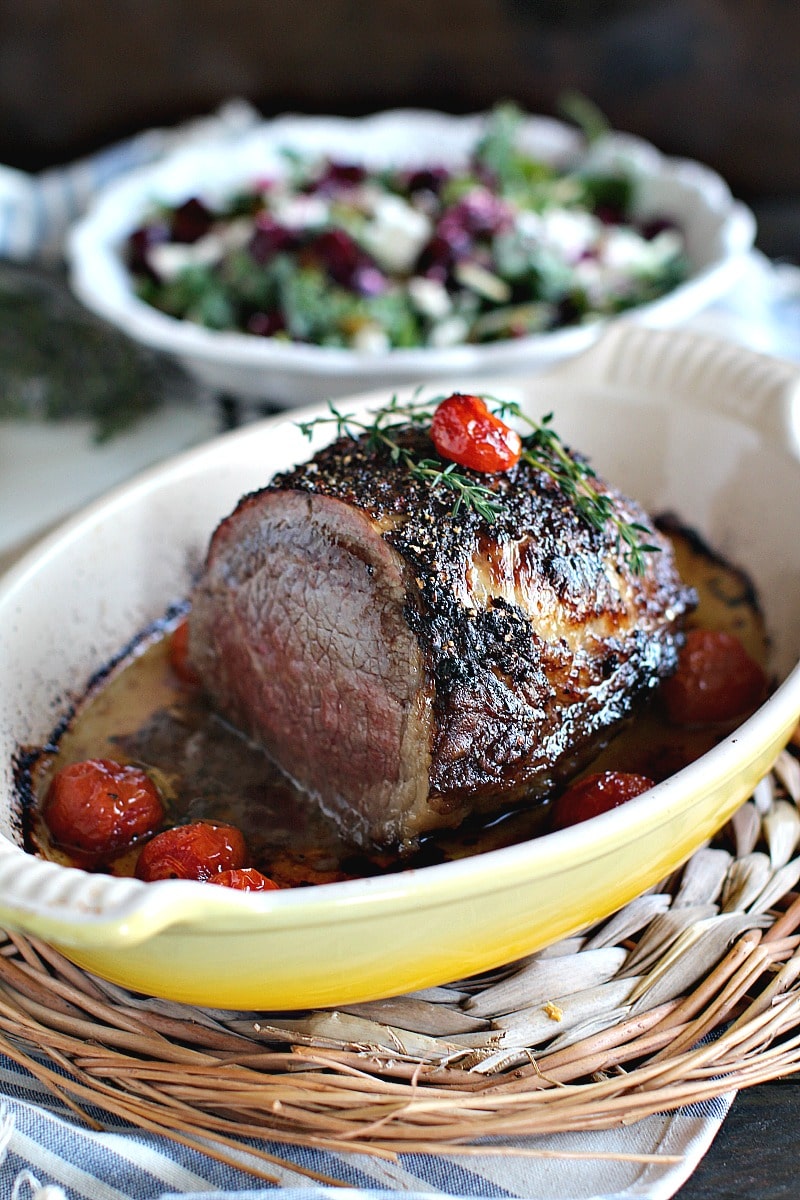 Wine Roasted Beef Tenderloin with a pepper crust, roasted mini tomatoes and thyme that has been marinated in red wine, beef stock and lots of garlic. I kept the beef in the marinade for 24 hours, for the flavors to sink in. I browned the beef for a few minutes, covered it in freshly ground pepper and some sea salt, topped it with thyme and baked it until pink and juicy. To make it even more exciting, I added a few mini grape tomatoes to the baking dish, they got perfectly roasted and are such a nice compliment to the beef.
Tips and tricks to make the perfect Wine Roasted Beef Tenderloin:
Use grass-fed, organic stew meat if possible, grass-fed meet tends to be extra tender, which is perfect in this recipe
Brown the beef – this has double purpose, first it locks the meat from the outside together
The wine can be replaced with beef broth if you want to skip it
Plan in advance so you have time to marinate the beef long enough, this way you will have a flavorful and tender roasted beef tenderloin
To make sure that I enjoy a nutritional meal every day, I tend to come up with easy, homemade dinners that can compliment a delicious salad. I love the Eat Smart Gourmet Vegetable Salad Kits, because I can easily just toss one into my bag, put it in the fridge at work and enjoy it later for lunch. Or, I make an easy dinner and serve the salad on the side, I like this option a lot for entertaining. These chef-inspired salad kits offer sophisticated blends of five or more superfoods and include everything needed for a delicious salad. Perfect for those looking for innovative, convenient and healthy eating options that are easy to integrate into busy lives.
Why You'll Love This Wine Roasted Beef Tenderloin:
Very easy to make with minimal prep work
A hearty and delicious meal, that looks good to be served for a special occasion dinner
This meal is perfect for busy weeknight meals, and also for a fancy get together
The meal is packed with protein, so a light side dish like roasted veggies or salad is perfect and also easy to prepare
The beef can be marinated in advance and cooked before dinner
This dish is very flavorful and you will have delicious leftovers
Tools/Ingredients that I used to make the Wine Roasted Beef Tenderloin:
Wine Roasted Beef Tenderloin
Garlic and Wine Roasted Beef Tenderloin with a peppery crust, is roasted to perfection with grape tomatoes and fresh thyme.
Author:
Katalina Kastravet
Ingredients
½ Beef Tenderloin (2.5lbs)
Marinade:
½ cup red wine
1 cup beef stock
1 tablespoon Worcestershire sauce
1 garlic head/ 7-8 cloves, minced
1 teaspoon sea salt
1 teaspoon ground black pepper
Cooking the Beef:
½ cup mixed whole pepper, freshly ground
1 teaspoon onion powder
1 teaspoon garlic powder
1 teaspoon dried thyme
½ teaspoon Kosher salt
⅓ cup oil
4 tablespoons butter, salted or unsalted
1 cup mini grape tomatoes
4 fresh thyme sprigs
Instructions
One night before cooking prepare the marinade.
In a large bowl mix red wine, Worcestershire sauce, minced garlic, sea salt and ground black pepper.
Rinse meat well and trim away some of the fat, but not all. Using a fork, poke the meat, this will ensure the marinade gets deep into the meat.
Place meat into a large ziplock bag and pour the marinade over it. Place in the fridge for 24 hours, after 12 hours have passed. Turn ziplock bag on the other side, to ensure uniform distribution of the marinade.
Preheat oven to 475F.
Remove meat from oven, discard the marinade.
Add 4-5 tablespoons of oil to a small baking pan and set aside.
Place a medium skillet over medium heat and when the skillet is hot add the remaining oil.
When the oil is to the smoking point, place the tenderloin in the very hot pan to sear it. Be careful, as oil may pop from the skillet. Add 4 tablespoons of butter into the skillet and cover with a lid. Two, three minutes later, when one side is starting to turn nice and brown, flip meat to the other side and cook for another 2-3 minutes until golden brown.
In a small bowl mix together ½ cup of freshly ground pepper, garlic powder, onion powder, salt and dried thyme.
Place the tenderloin in the pan and cover with the pepper mixture. Press the pepper mixture onto the surface of the meat. Put 4 tablespoons of butter over the meat and top with 3 fresh thyme sprigs. Add tomatoes to the baking pan.
Stick the long needle of the thermometer lengthwise into the meat and bake it until the temperature reaches just under 140 degrees, about fifteen to twenty minutes for a pink middle and about 30 minutes for meat on the medium - well done side.
Remove meat from oven, cover with aluminum foil and let it stand ten minutes before slicing. Garnish with fresh thyme and serve.
Notes
Preparation time does not reflect 24 hours of marination.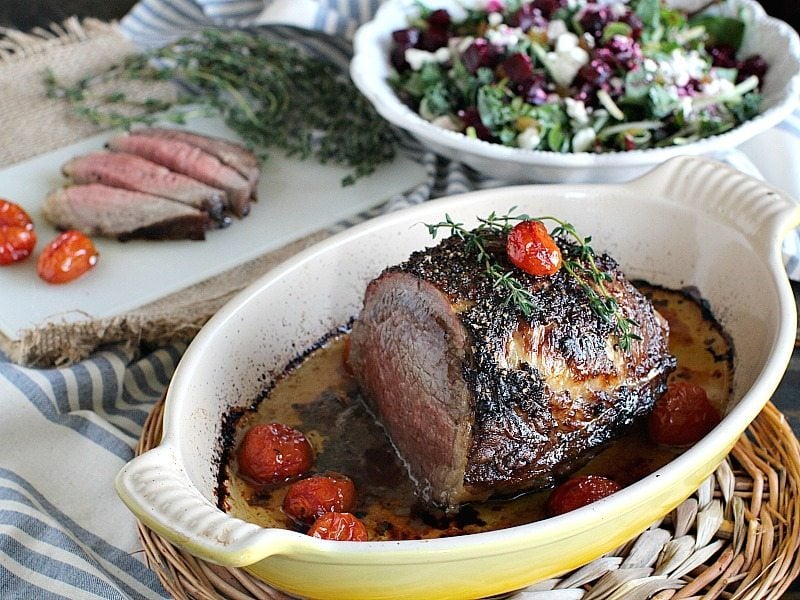 Tender, juicy and so flavorful!

Peas and Peonies, LLC. owns the copyright on all images and text and does not allow for its original recipes and pictures to be reproduced anywhere other than at this site unless authorization is given. If you enjoyed the recipe and would like to publish it on your own site, please re-write it in your own words, and link back to my site and recipe page. Copying and/or pasting full recipes to social media or personal blogs is strictly prohibited. Sharing this recipe is very much appreciated and encouraged. Read my disclosure and privacy policy. This post may contain affiliate links.