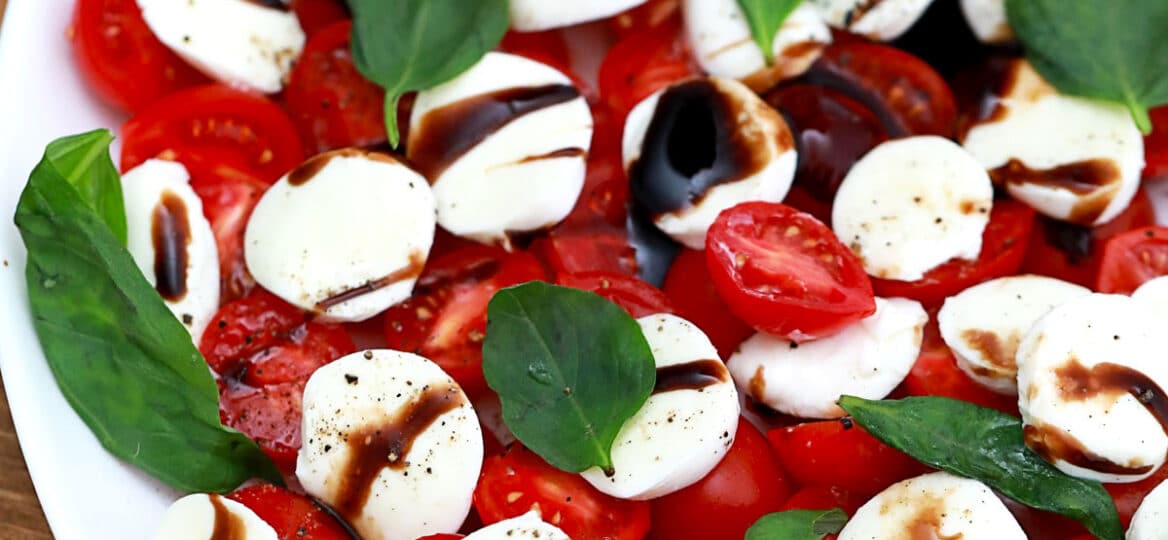 Best Caprese Salad Recipe [Video]
Caprese Salad is a classic Italian favorite. Refreshing and full of flavor, this easy meal is healthy and fancy looking which makes it great for any event.
Looking for other simple recipes to cook during events? Check out these refreshing recipes for Mexican Salad, Shrimp Ceviche, and Southwest Salad!
Best Caprese Salad Recipe
Caprese Salad is, among others, one of my go-to dishes when it comes to attending summer events. The chilled tomatoes are a favorite as it helps refresh kids and adults from the heat.
Even in backyard BBQ parties, this recipe seems to sell out first, as it also serves as a perfect side dish for grilled food. With only three basic ingredients that consist of mozzarella, tomatoes, and basil, Caprese Salad makes for a perfect appetizer as well.
This recipe comes in very handy when you are also busy. You can make this dish in minutes so when hunger strikes, you can eat the healthy Caprese Salad on the go.
What is Caprese Salad?
This classic meal originates from Italy and is named after one of its islands in Naples called Capri. The dish even symbolizes the Italian flag with its red, green, and white color elements.
What makes it also great is its plating. The red tomatoes and white mozzarella are usually placed alternatively in a spiral way making it look extremely fancy and just like Italy's flag.
What do you need to Make a Caprese Salad?
If you are searching for a dish with simple ingredients, then this recipe is what you are looking for. I can easily whip out the ingredients in mere minutes which is what makes it so great.
Perfecting this simple meal is quite easy when you have these basic ingredients:
Base. Chilled tomatoes and fresh mozzarella cheese.
Seasoning. Salt, pepper, olive oil, and balsamic vinegar.

Toppings. Basil leaves.
How to make Caprese Salad
Prep the tomatoes. Wash and slice the tomatoes preferably with a size of half a centimeter.
Prep the cheese. If you bought a mozzarella bar or the buffalo type, slice it with the same size as the tomatoes.
Arrange the ingredients. Place the first two ingredient slices alternatively. I usually make it into a spiral design, but arranging it in a linear way will also look great.

Place the toppings. Season the dish with a fine amount of salt and pepper. Drizzling it with olive oil and balsamic vinegar makes for a more refined taste.

Serve. For the final touch, sprinkle fresh basil leaves and then serve.
What to serve Caprese Salad with?
The recipe easily complements a lot of dishes, especially grilled and baked ones. I usually pair it as a side dish with these recipes:
It is also great as a main course and I find them perfect to pair with these refreshing drinks:
How to store:
Just like any salad, you can store this dish by putting it in a bowl and wrapping the top in a tight seal plastic wrap. I also usually make it in advance by storing the tomatoes and mozzarella together in the fridge and add the dressing later.
Recipe tips:
Getting fresh and heavy tomatoes is crucial in perfecting the dish. The heaviest one tends to be the juiciest making it more refreshing.
Cherry tomatoes are also great when making a small serving of this dish. Along with other types of salad, this is a great choice for meal prepping or for a quick breakfast meal.
To make the recipe faster, try to purchase mozzarella pearls so that you would not need to slice them.
Plating is essential to make the dish fancier. However, if you are only prepping for yourself, you can just slice the tomatoes and drizzle the cheese instead of slicing it as well to make it simpler.
While any type of basil will suffice, the Genovese variety is recommended for this recipe.