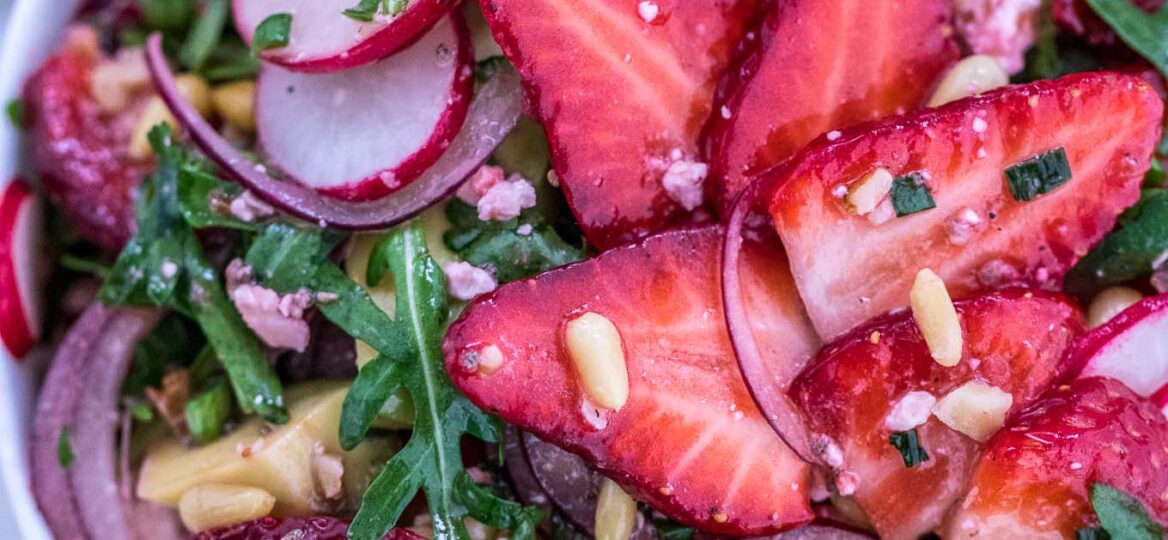 Arugula Strawberry Salad Recipe [video]
Arugula Strawberry Salad is a healthy and colorful side salad fully loaded with arugula, fresh strawberries, radishes, red onion, feta cheese, and walnuts, all toasted in a homemade balsamic dressing. An easy and delicious meal to enjoy during summer.
There is nothing better than fresh homemade salads during the BBQ season. They are the perfect side dish that goes with pretty much anything. Feel free to pair it with roasted pork loin, bbq pork chops, or garlic butter swai fish.
This Homemade Arugula Strawberry Salad is a simple salad but has an enhanced taste due to the balsamic vinaigrette. The dressing is a complement to the strawberry and the nuts give a nice crunch to the whole thing.
Also, the other fruits and vegetables included in this easy recipe add plenty of flavor and color. Strawberries are perfectly eaten as is, but when made into a salad, they are even more delightful!
With summer in full swing, this is the perfect dish to enjoy. It can be served for breakfast, lunch, or dinner. No matter how you like your strawberries, this dish is the perfect alternative to utilize them. All in all, this dish is super healthy and a great recipe for summer picnics or potlucks.
Recipe Ingredients:
For best results, I highly recommend using high-quality and fresh ingredients. You will need the following:
Fresh arugula – Make sure to rinse and dry it well.
Sweet strawberries – Also, ensure to rinse them well and then pat dry them. Use a sharp knife to thinly slice them.
Avocado – It adds plenty of creaminess and flavor to it.
Red onion – thinly sliced. If you cannot find red onion, feel free to use white onion or yellow onion.
Goat cheese or feta cheese
Pine nuts and walnuts – They are plenty of texture and a nice crunch to the whole dish. You can buy already roasted walnuts at any grocery store. Alternatively, feel free to use raw ones and quickly toast walnuts on a skillet over medium-low heat for about 7-10 minutes.
Radish
Green onions
Ingredients for the homemade balsamic dressing:
Extra-virgin olive oil
Balsamic vinegar or aged balsamic vinegar
Freshly lemon juice
Maple syrup or honey
Garlic
Poppy seeds
Salt and black pepper
How do you make a strawberry arugula salad?
Rinse the greens: First, rinse the greens under cold water. Then, pat dry them with a paper towel to remove any excess water.
Combine: In a large salad bowl, combine arugula with sliced strawberries, chopped red onion, goat or feta cheese, avocados, pine nuts, walnuts, radish, and green onions.
Make the dressing: In a separate small bowl, whisk the olive oil and balsamic vinaigrette together. Then, add the rest of the dressing ingredients to it.
Toss and combine: Lastly, combine the rest of the fresh ingredients in a large serving bowl. Then, pour it with the dressing mixture in a large bowl and gently toss them together.
Refrigerate: That's it! Chill it in the refrigerator then, enjoy it fresh.
Recipe variations and substitutions:
Use other veggies: Although I like using peppery arugula leaves here, feel free to swap them with other greens. Great alternatives would be adding some baby spinach, and turning this into Spinach Salad. Fresh basil or baby kale can be used as well.
Dressing: Add these Homemade Italian Dressing and Greek Salad Dressing to your rotational menu.
Cheese: Swap the Feta cheese with blue cheese, creamy goat cheese, mozzarella cheese, parmesan cheese, or gorgonzola cheese.
Fruits: Add your favorite fresh fruits to it. Use grapes, blueberries, peaches, etc.
Add grains: Such as quinoa.
Proteins: To make it a full meal, simply toss in some chickpeas, rotisserie chicken, or grilled shrimp.
Are strawberries healthy?
Yes! You can munch on these sweet treats without feeling guilty as they only contain about 33 calories of a 100-gram serving.
Also, strawberries have high levels of vitamin C, dietary fiber, and antioxidants that help fight free radicals. This berry has been linked to managing blood pressure, cholesterol, and sugar levels.
Check out the full nutrition facts in the recipe card below.
How to choose ripe strawberries?
Choose the ones that are shiny, dry, firm, and plump. They do not ripen after harvesting, so choose the ones that do not have white spots anymore.
How many calories are in this salad?
The calories may range from 140 to 200 calories per serving, depending on what you add to the mix.
What do you serve a strawberry green salad with?
Serve this dish a side dish to grilled meat. This makes it a perfect companion for a summer barbecue party!
What is the best dressing for the strawberry salad?
The arugula tastes well with a light dressing like the vinaigrette. Also, the strawberries go well with balsamic vinegar which we used in this recipe.
Poppyseed dressing is also a common alternative to the balsamic vinaigrette. It provides that tangy and sweet flavor that ties the whole salad together. You can always make your own rather than buying it from the grocery store as a healthier option.
How do you make poppy seed salad dressing?
In this recipe, we have added poppy seeds in the balsamic vinaigrette. But in case you are wondering, here is a guide on how to make poppy seed salad dressing.
You will need vegetable oil, white wine vinegar, white sugar, salt, mustard, and onion. Combine them all together with the oil coming in last. The oil must be slowly added to the mixture. Lastly, add in the poppy seeds. Keep this dressing in your refrigerator in an airtight container for about 7 days.
How do you store it?
This is one of those easy recipes that I always enjoy serving fresh because it takes a few minutes to assemble. However, if you want to store leftovers for later, you could.
Simply refrigerate leftovers in an airtight container for up to 3 days.
Also, if you will be enjoying this for later, then, you can keep the nuts, the dressing, and the rest of the salad in separate containers in the refrigerator.
How long can it sit out?
As a rule of thumb, perishable food like the strawberry salad must be allowed to sit out for as long as 2 hours only.
More healthy recipes to try:
Recipe Tips
You can turn this salad into a full meal by adding in a protein source like grilled chicken or shrimp.
I mostly use extra virgin oil here. However, feel free to use canola oil or sesame oil.
Keep in mind to season and adjust the salt and pepper because feta is already quite salty. Or use a less salty feta version.
In addition, when you buy fresh strawberries, wash them just before using them. To extend their freshness, put them in a moisture-proof container lined with a paper towel. They will remain fresh for up to 3 days.
Also, you can make this exact recipe using other fruits in season like raspberries, apples, and pears.
When using raw red onions, it is best to soak them first in cold water. This will remove the onion aftertaste.