The Best Roasted Pork Loin Recipe [VIDEO]
This Pork Loin recipe is very easy to prepare and results in a tender, juicy, and very flavorful meal. The meat is cooked to perfection and seasoned with garlic and some brown sugar. Once cooked, it has an impressive appeal and is great to serve during the holidays or for a dinner party.
With only a few ingredients, you can have a delicious and elegant dinner. This homemade, great recipe is ideal to serve with some roasted asparagus, crispy roasted rosemary potatoes, or roasted brussels sprouts.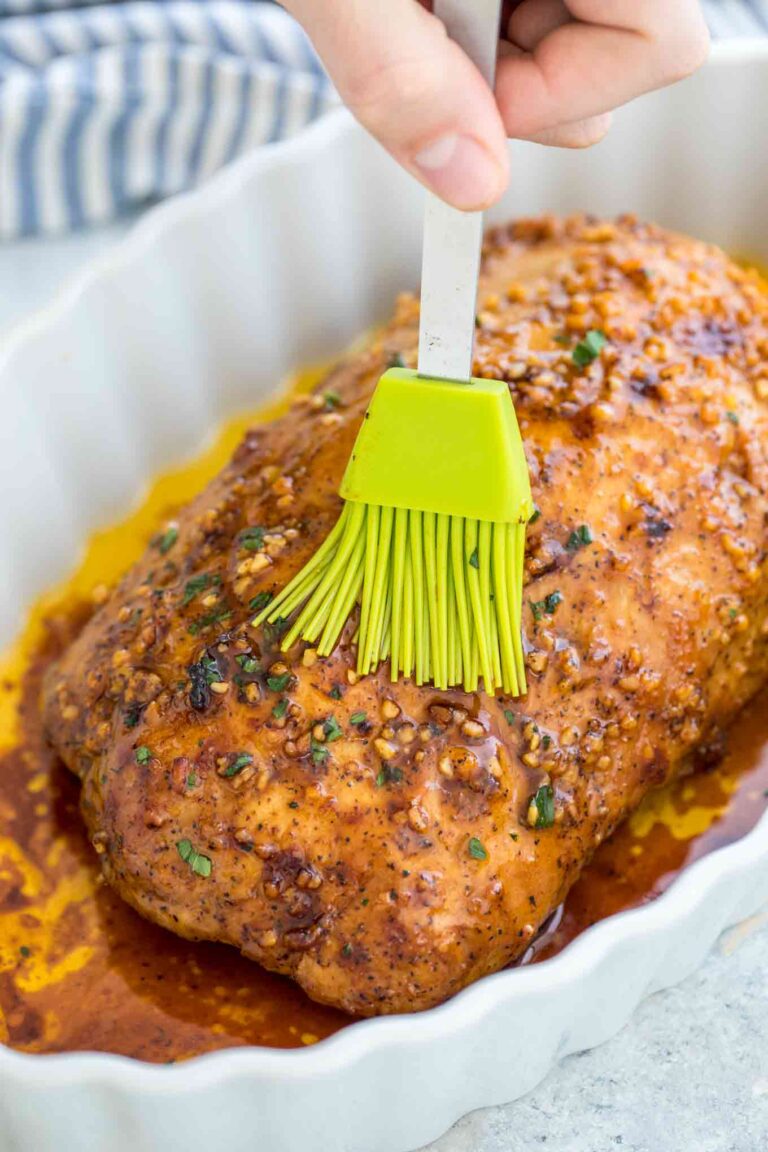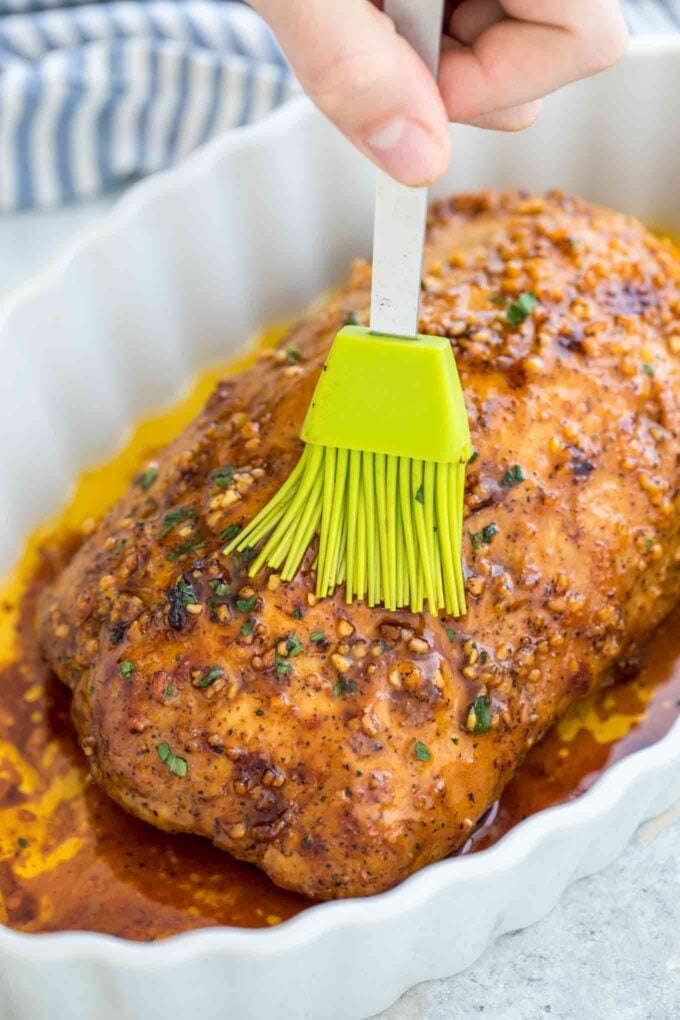 This Pork Loin Roast is a simple dish to prepare that requires only a few ingredients for an incredibly tender and delicious meal. Boneless pork loin (different than a pork tenderloin), is a budget-friendly and lean cut of meat that produces the most succulent and flavorful pork roast. It is a great cut of meat that comes with a thin layer of fat on top.
Once roasted, it has a crispy top and a juicy interior that is simply irresistible. We've been making this recipe for many years and is always a huge hit with family and guests.
Also, this is our favorite pork cut because it is very easy to work with. It can be flavored with your favorite seasonings or even just a simple sprinkle of salt and pepper. No matter how you end up cooking it, it is guaranteed to be a delicious and great meal.
Ingredients needed:
Boneless pork loin
Olive oil
Freshly minced garlic – It adds a lot of flavor to it.
Seasoning – Such as smoked paprika, garlic powder, onion powder, brown sugar, salt, and black pepper.
How to make perfectly moist pork loin?
Preheat the oven. First, preheat the oven to 375 degrees F. Then, lightly grease a roasting pan with some olive oil, and set it aside.
Prepare the meat: Using paper towels, pat dry the meat. Also, if the loin has any silver skin, gently remove it using a sharp knife. Then, using a knife, make some holes inside, and fill them with garlic cloves.
Make the dry rub: In a small bowl, combine and mix all the seasonings together to make the dry rub. Then, rub the meat evenly on both sides.
Roast: Next, add the seasoned loin to the roasting pan, fat side up. Bake it for about 20 minutes.
Serve: Let it rest for a few minutes. Then, sprinkle with freshly chopped parsley, and serve it with your favorite side dish.
Recipe Variations:
Meat– You can make it with different cuts of pork. Pork chops and pork tenderloin are great alternatives.
Seasoning– Feel free to mix in other seasonings for the rub. Use chili powder, cayenne pepper, ranch seasoning, or cajun seasoning, etc.
Sauce– I keet it classic and use garlic and olive oil for the sauce. Alternatively, you can add some lemon juice, orange juice, soy sauce, balsamic vinegar, or some white wine to it.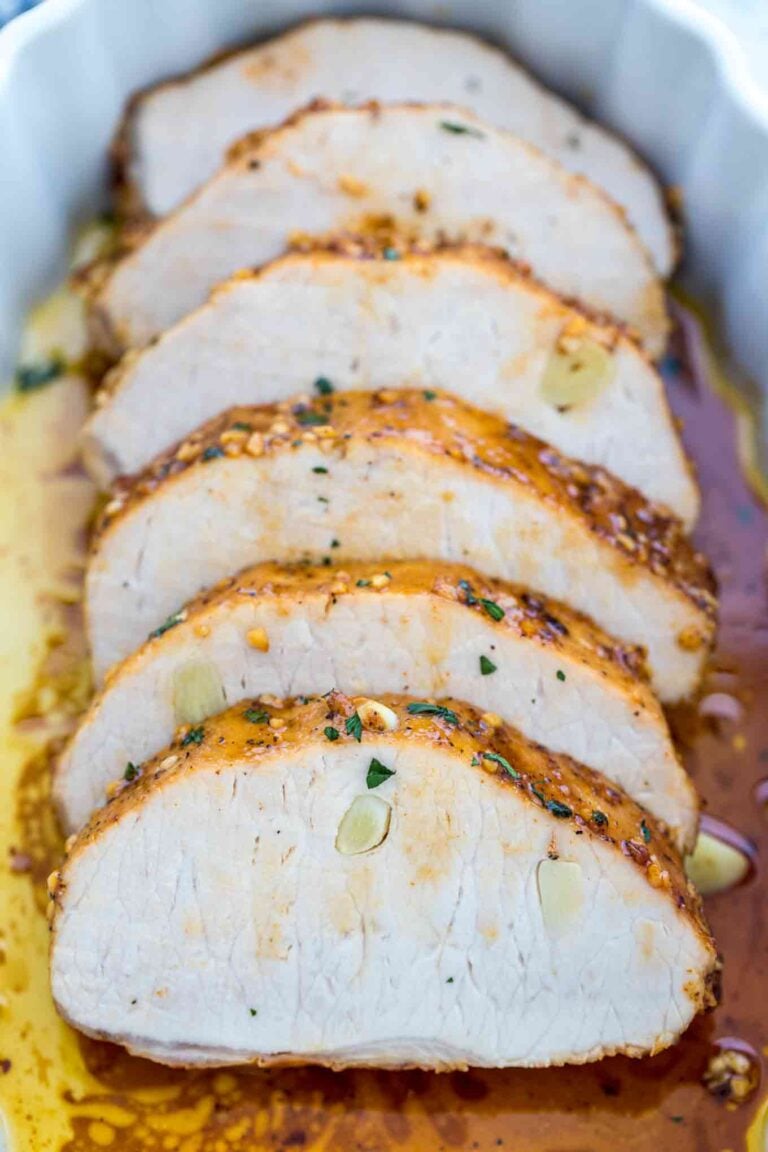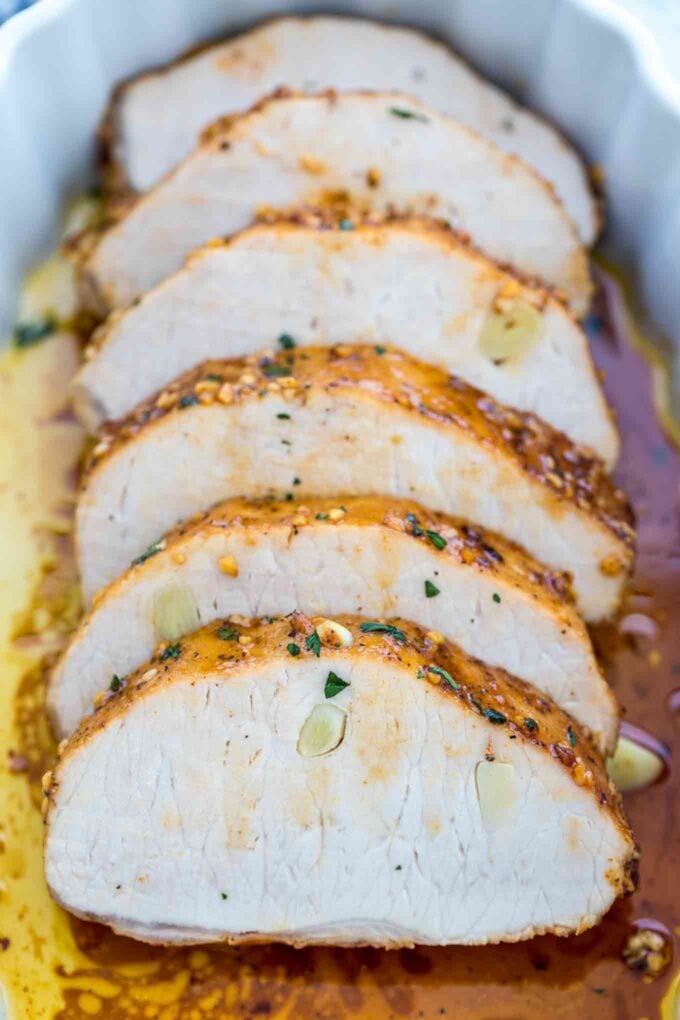 Pork Loin VS Tenderloin
Even though they might sound similar, the two cuts are very different cuts, and should not be used interchangeably. They are both lean cuts but are totally different in appearance, cost, and size.
Pork Loin is from the animal's back. In addition, it is larger in size, and also wider. A typical loin will be anywhere from two to five pounds. It also has a thin cap of fat on the top, which benefits it better during cooking as it keeps the meat moist, juicy, and flavorful.
Pork tenderloin runs alongside the backbone and is a muscle. Each tenderloin averages about one pound and is boneless. It is best to roast it at higher heat.
Can you make this recipe in the slow cooker?
Absolutely! Making it in the crock pot is equally juicy and delicious. Follow these steps:
Simply rub the meat with seasoning.
Then, sear it and add it to the slow cooker.
Pour the liquid on top, and cook it on LOW for 4-6 hours.
Use an instant read thermometer to check for doneness. It should read 145 degrees F when done. If not ready, add it back and cook it longer.
Try my viral Slow Cooker Pineapple Pork Loin recipe. You will love every bite of it!
What is the secret to juicy roasted pork loin?
To get juicy, melt in your mouth results, simply do not overcook the pork loin roast. It is that simple, yet important. Since this is delicate meat cut on the leaner side, cooking time plays an important role here.
Therefore, we recommend always use a meat thermometer. Per USDA guidelines, it is safe to consume pork roast at the internal temperature of 145 degrees F.
Can pork loin be served a little pink?
As stated above, when roasting it, it's best to have an internal meat temperature of 145° F. At this temperature, the meat is cooked to medium, which means it will be just slightly pink in the middle.
Important to remember, that resting it for about 5 minutes is essential for succulent meat. It is best to cover it with foil and let it rest for a few minutes. As it rests, the internal temperature will naturally increase a bit, so keep this in mind.
Refer to the below internal temperature guidelines for the desired doneness.
Medium-Rare – 145 to 150 degrees F.
Medium – 150 to 155 degrees F.
Medium-Well – 155 to 160 degrees F.
Well-Done – 160-165 degrees F.
How long do I cook a pork loin?
Since this is a larger meat cut, it is really important to cook it properly. For best results, you want to cook it for roughly 25 minutes per pound.
So if you are cooking a 3-pound loin, the average cooking time should be about 65 minutes. But again, always check the final internal temperature with a thermometer, as it might vary based on the oven.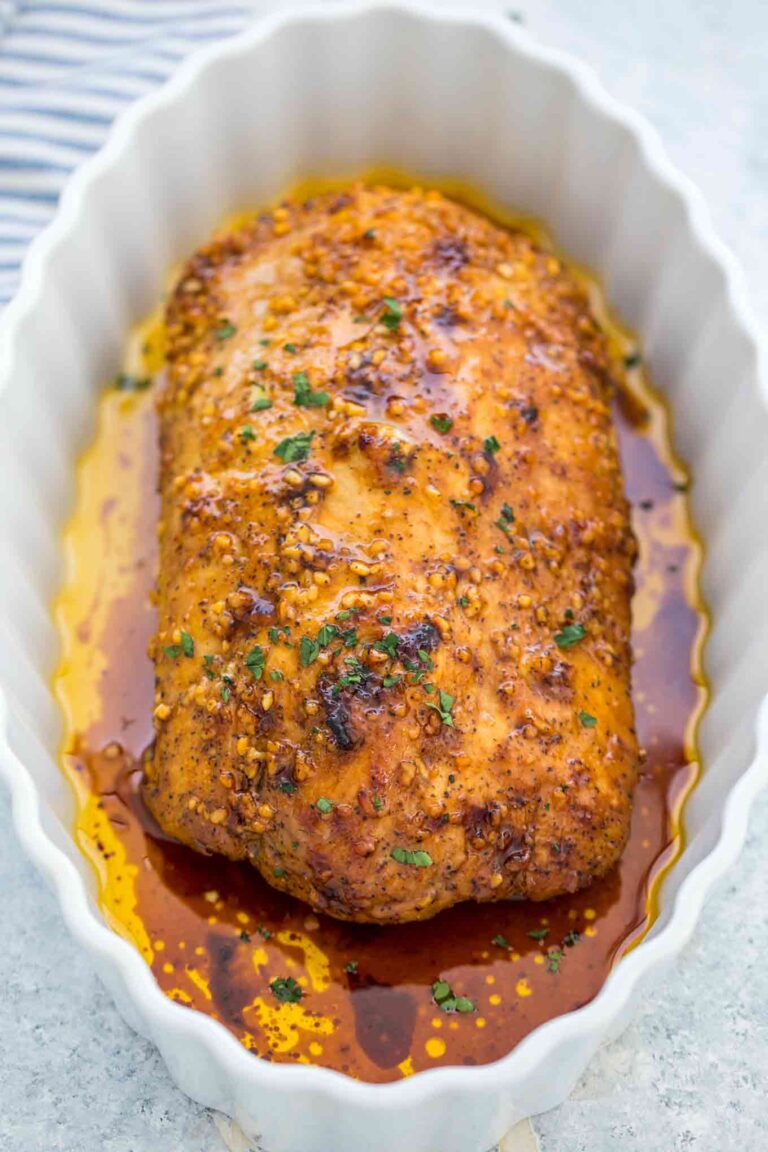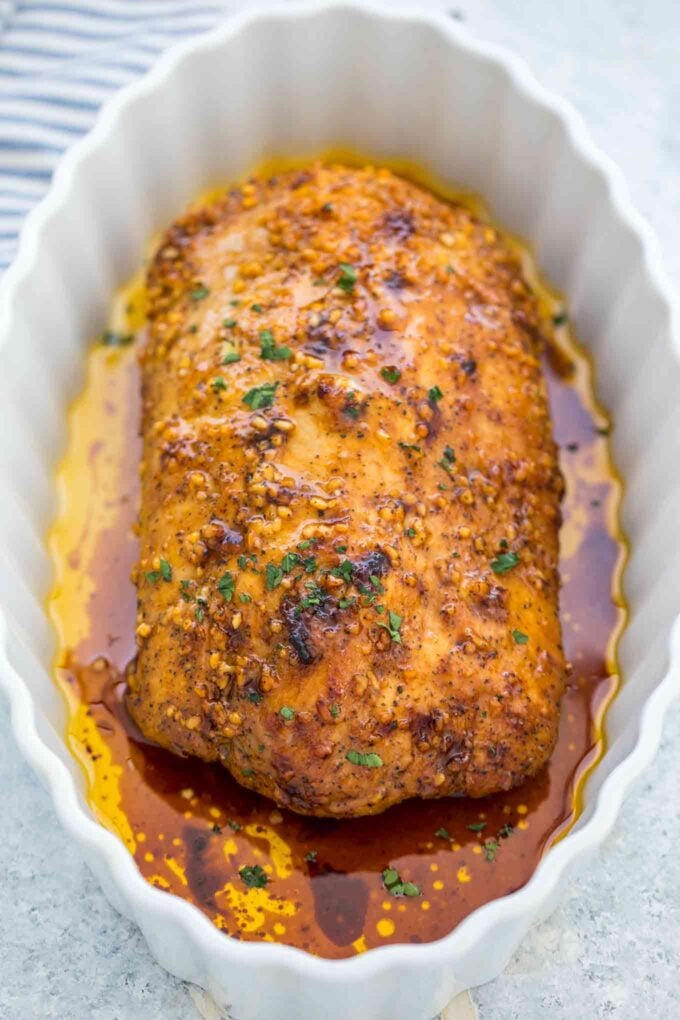 Can you cook pork in the Instant Pot?
Yes! Instant Pot is another great and quick alternative. Check out my Instant Pot Balsamic Pork Loin, it's a huge hit with rave reviews!
How to Serve it?
Once cooked, and it reaches 145°F on an instant-read thermometer, remove the pork loin roast from the oven. Cover the dish with aluminum foil, and let it rest for about 5-10 minutes. This way the meat will reabsorb all its juices and aromas.
Once rested, we like cutting it thick, about 3/4- to 1-inch slices. But you can cut it thinner if preferred. Serve it with some mashed potatoes, by laying a few slices of pork over it.
What to serve with it?
This dish goes well with the following side dishes:
How to store leftovers?
To refrigerate: If you have leftovers, you can simply store the loin in an airtight container and refrigerate for up to 4 days.
To freeze: Use a freezer-safe container. Then, freeze it for up to 3 months.
Reheat: Simply pop it in a preheated oven at 350 degrees F for about 10 minutes.
More delicious pork recipes:
Recipe Tips:
When cooking, make sure the white fat cap side is up.
If you love garlic, feel free to use more of it. Adjust it per your taste.
Also, for the best results, I recommend browning the pork roast to lock in the flavors. Use a heavy cast iron skillet with some olive oil to have a nice golden-brown crust.
In addition, the best way to get a nice crust and that nice golden color on the outside are to cook it at a high temperature.
Cook at a high temperature so the outside will have a nice color.
Also, use a meat thermometer to achieve the desired temperature.
Similarly, do not overcook it, as it will result in dry meat.
Resting the roast on a cutting board is essential for juicy and tender pork.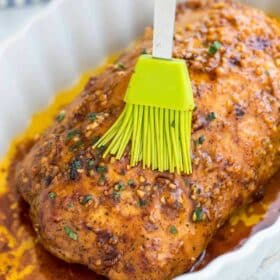 Roasted Pork Loin Recipe
This Pork Loin recipe is very easy to prepare and results in a tender, juicy, and very flavorful meal. The meat is cooked to perfection and seasoned with garlic and some brown sugar.
Save
Share
Print
Pin
Rate
Ingredients
2.5-3

pound

pork loin

(not tenderloin)

2

tablespoons

olive oil

(plus more for the pan)

9

cloves

garlic

(whole)

5

cloves

garlic

(minced)

1/2

teaspoon

Kosher salt

1/2

teaspoon

ground black pepper

1

teaspoon

smoked paprika

2

tablespoons

brown sugar

1/2

teaspoon

garlic powder
Instructions
Preheat oven to 375 degrees F.

Next, lightly grease a baking dish with some olive oil.

Add the pork loin to a large bowl, pierce with a small knife 9 holes on top. Fill those holes with 9 whole garlic cloves.

Then, add the rest of the ingredients to the pork and rub well on all the sides.

Add the pork loin to the prepared baking pan, fat side up.

Cook for 50-55 minutes for medium to medium-well doneness (150-155 degrees F for internal temperature). Cook for 60-70 minutes for a well to be well-done, or until it has reached a temperature of 160-165 degrees F.

Remove from the oven and let it rest for 5-10 minutes before slicing and serving.
Nutrition
Calories:
377
kcal
|
Carbohydrates:
4
g
|
Protein:
50
g
|
Fat:
16
g
|
Saturated Fat:
3
g
|
Cholesterol:
142
mg
|
Sodium:
306
mg
|
Potassium:
855
mg
|
Fiber:
0
g
|
Sugar:
3
g
|
Vitamin A:
165
IU
|
Calcium:
15
mg
|
Iron:
1.3
mg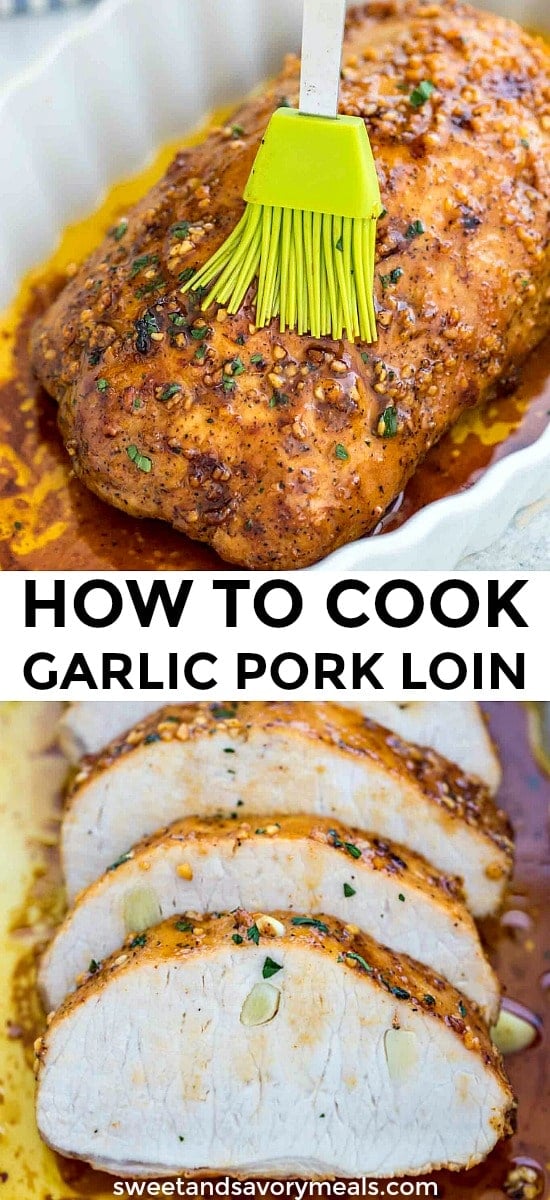 More recipes you might love