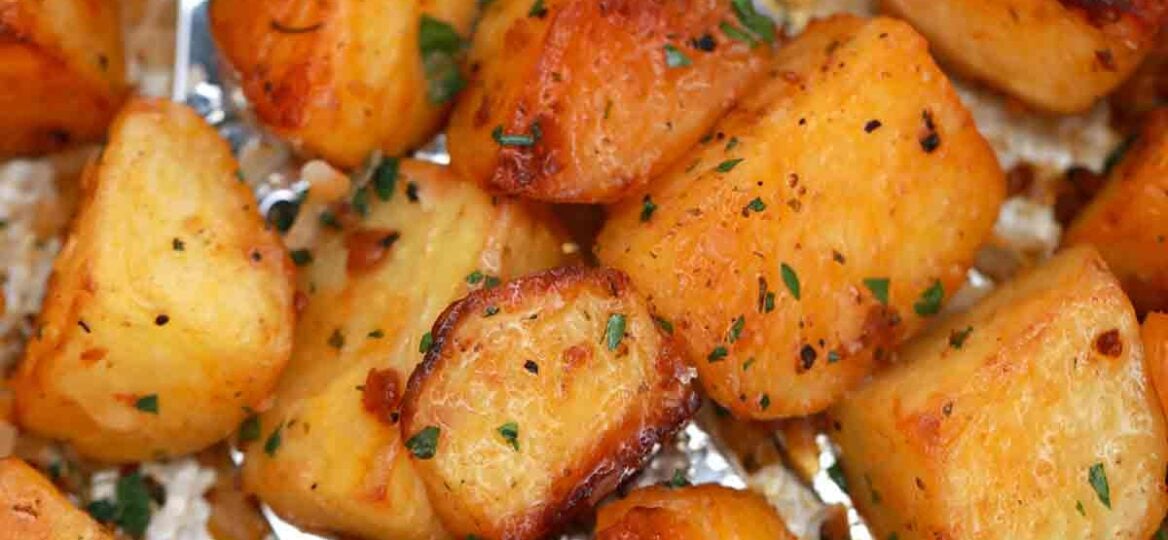 Garlic Roasted Potatoes Recipe [Video]
Garlic Roasted Potatoes are a super easy and delicious side dish or appetizer for any meal. They are buttery and tender on the inside, with garlicky, and crispy texture on the outside.
I love making quick and simple side dishes, especially during busy weekdays. For more great sides, try my Corn Salad, Cheesy Broccoli Casserole, and Fried Cheese Sticks.
This delicious side dish is very similar to my Grilled Potatoes version but conveniently baked in the oven. While grilling is an excellent choice during the summer times, roasting them is easy year-round.
To be honest, Garlic Roasted Potatoes are among the popular starters that even the likes of Ina Garten love to make it. Also, they are bite-sized, buttery, tender, and fluffy inside, and crips outside. Just impossible to resist, and truly a family favorite dish!
In addition, this is a super easy one-pan dish that even a beginner cook will find easy to follow. What makes it so tasty is the pleasant mix of garlic topped off with fresh herbs that makes anyone want for more! You can even toss in some Parmesan cheese for a tangy bite.
It is a good starter for any meal whether you need it for lunch or dinner. I even bring it on picnics so that everybody can have something buttery garlicky to munch on while enjoying the day.
I truly swear that this recipe is something that you will enjoy eating as you did making it. These golden delights are really worth learning so you can have something savory, hearty, and filling.
Ingredients Needed:
Spuds: feel free to use your favorite type. However, I mostly use Russet, baby potatoes, or Yukon gold potatoes. When in season, I go with new potatoes – very yummy 🙂
Olive oil
Seasoning: smoked paprika, dried parsley, sea salt, and black pepper.
Fresh garlic: I tend to use quite a lot of garlic here. However, you can adjust per your own taste.
Cheese: Parmesan cheese
Follow us on Pinterest for more delicious recipes!
How to make Crispy Garlic Roasted Potatoes?
Preheat the oven: First, turn on the oven to 400 degrees F and spray a baking sheet pan with some olive oil.
Soak the spuds in water: Before starting, make sure to keep your spuds in cold water in a large bowl for at least half an hour. This will help eliminate the starch. Then, pat them with paper towels to dry them before slicing them into quarters or halves depending on the size.
Prepare the potatoes: Next, drizzle a fine amount of oil before seasoning with coarse salt, pepper, garlic, and dried parsley to taste. Also, toss in a dash of paprika, or even more, for a kick of spice. Make sure to season evenly. Arrange in a baking sheet in a single layer, with no overlapping pieces.
Roast in the oven: Bake them in the oven for at least 45 minutes. Make sure to flip in between so that both sides are evenly baked until golden brown on the outside.
Serve. When browned and crisp, remove from the oven. Then, toss a little amount of salt, pepper, and parsley along with shredded parmesan for an even scrumptious finish. Afterward, serve warm with your favorite meal.
Easy Substitutions:
There are several ways to enjoy these Oven Baked Garlic Potatoes:
Cheese: For a deeper flavor, add some extra shredded parmesan cheese on top after the baking is done. Also, you could use other cheese such as asiago, pecorino, cheddar, or romano.
Swap the Potatoes: As stated above you can use pretty much any spuds. You can even use sweet potatoes.
Use other herbs: If you are not a parsley fan, substitute it with rosemary, fresh thyme, or even basil. Homemade dried herbs will work also well. Try adding cajun seasoning, Italian seasoning, garlic powder, or ranch mix.
Air Fryer Potatoes: If you want to deviate from the traditional oven version, try this Air Fryer Potatoes Recipe.
Garnish: Add some sour cream, bacon crumbs, or melted butter over them.
What kind of potatoes are best for roasting?
Feel free to use ANY kind you have available. However, most of the time, I go with those thin-skinned spuds such as the Russet, White, yellow potatoes, red potatoes, and Yukon Gold variants.
Also, I prefer those that are small and with the size like that of tomatoes so that I can cut them in quarters.
How long to roast potatoes for?
To get them crispy on the outside, I love baking them at a higher temperature. But you can adjust the cooking time based on the below temperature example:
350°F (175°C): 65-75 minutes.
375°F (190°C): 55-65 minutes.
400°F (200°C): 45-55 minutes.
450°F (230°C): 35-45 minutes.
What to serve with this dish?
Without a doubt, an appetizer like this goes so well with your favorite meat dishes. If you don't have any options yet, try out some of my favorite entrées:
Can you cook carrots and potatoes together?
Yes! You can cook them combined.
First, cut the fresh carrots into uniform sizes so they cook evenly.
Then, season with herbs and some olive oil.
Mix together with the spuds, and add the mixture to a large baking sheet.
Pop into a hot oven, and bake together.
Storing instructions:
Make sure to let the spuds cool down completely before transferring them to an airtight container or in a resealable plastic bag.
Leftovers and those made in advance can be enjoyed for up to three days by simply reheating and adding seasoning as preferred.
More delicious potato recipes:
With how versatile potatoes are, they are easily one of the best ingredients ever. Everyone has them handy because you can enjoy them as a meal or a snack. Check out these other variations that I enjoy making with them:
Recipe Tips:
You can add the parmesan in the last 10 minutes of roasting so that it will melt over the dish.
Also, feel free to substitute parsley with rosemary or basil.
Adjust the garlic (less or more) based on your taste. I use about 8 garlic cloves here.
For a spicier kick, add some cayenne pepper or red pepper flakes.
In addition, I recommend not peeling the potatoes. The skin makes them ultra-crispy.
Do not forget to add the potatoes to cold water. This also makes them crispier on the outside.
For a crispy texture, arrange them in a single layer and DO NOT overlap them.
Crispy Garlic Roasted Potatoes
Ingredients
2 1/2

pounds

russet potatoes

cut into 1-inch cubes

2 1/2

tablespoons

olive oil or canola oil

1

teaspoon

sea salt

1

teaspoon

smoked paprika

1/4

teaspoon

dried parsley

1/2

teaspoon

freshly ground black pepper

8

cloves

garlic

minced

2

tablespoons

fresh chopped parsley

2

tablespoons

grated parmesan cheese

optional
Instructions
First, preheat the oven to 400°F. Lightly spray a baking sheet with cooking oil spray and set it aside.

Peel and cut the potatoes. Place them in a bowl with cold water for an hour. After one hour discard the water and replace it with fresh cold water. Keep the potatoes in water for another hour.

Discard the liquid, arrange the potatoes on a kitchen towel, top them with another kitchen towel, and dry them really well.

Add potatoes to a large bowl, drizzle with the oil, and season with salt, pepper, smoked paprika, dried parsley, and garlic. Toss to combine and arrange them on the prepared baking tray in one layer only and with enough space between the pieces.

Roast in the oven for 45-60 minutes, flipping occasionally, until crispy and golden.

Remove the potatoes from the oven and season with a little extra salt and pepper to taste. Sprinkle over with parsley, some parmesan cheese, and serve immediately!