Garlic Roasted Potatoes Recipe [Video]
Garlic Roasted Potatoes are a super easy and delicious side dish or appetizer for any meal. This scrumptious side dish is buttery, garlicky, and crispy on the outside and tender center.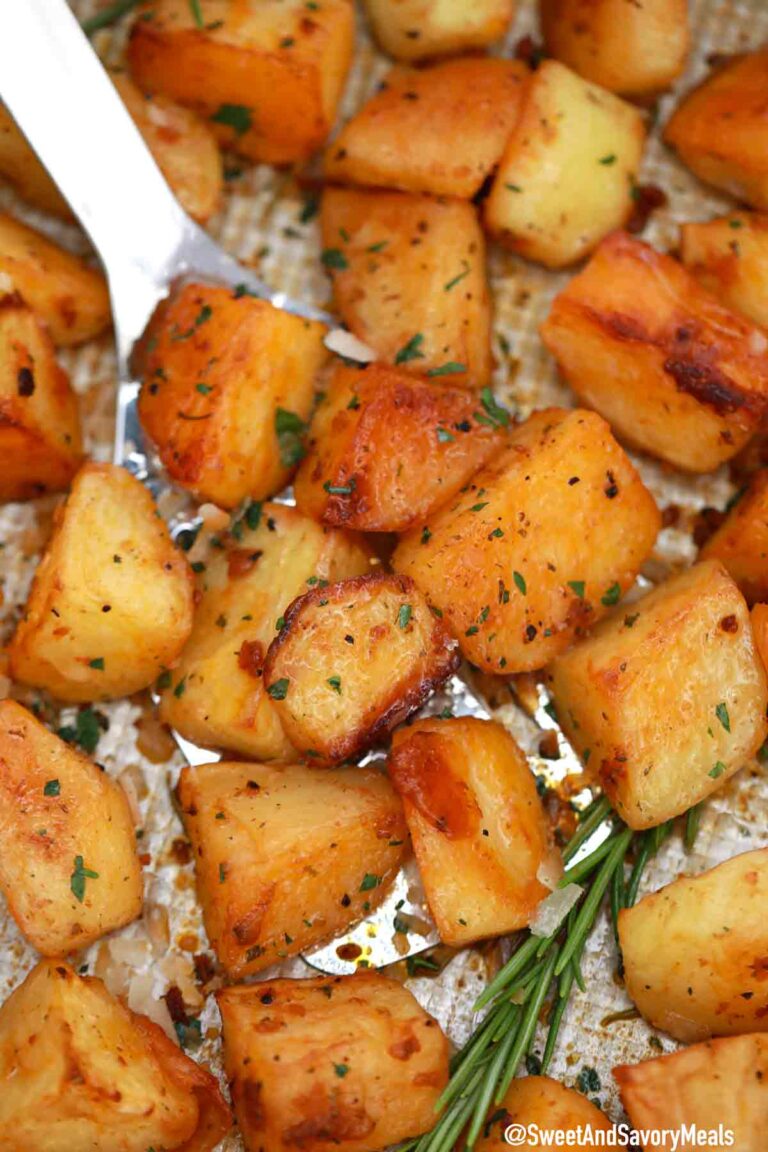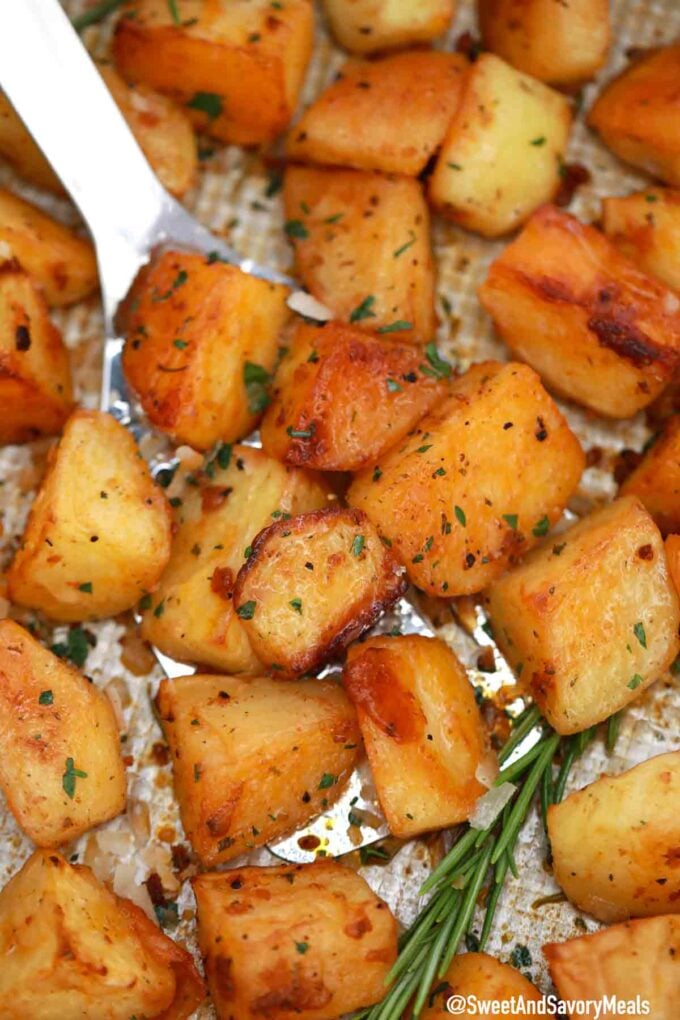 Crispy garlic roasted potatoes
Garlic Roasted Potatoes are among the popular starters that even the likes of Ina Garten love to make it. They are bite-sized, buttery, and tender which easily makes it a family favorite. Also, this is a super easy one-pan dish that even a beginner cook will find easy to follow.
What makes it so tasty is the pleasant mix of garlic topped off with fresh herbs that makes anyone want for more! You can even toss in some Parmesan cheese for a tangy bite.
This dish is such a good starter for any meal whether for lunch or dinner. I even bring it on picnics so that everybody can have something garlicky to munch on while enjoying the day.
I truly swear that this recipe is something that you will enjoy eating as you did making it. These golden delights are really worth learning so you can have something savory, hearty, and filling.
What kind of potatoes are best for roasting?
You really would want those thin-skinned spuds such as the Russet, White, and Yukon Gold variants. Also, I prefer those that are small and with the size like that of tomatoes so that I can cut them in quarters.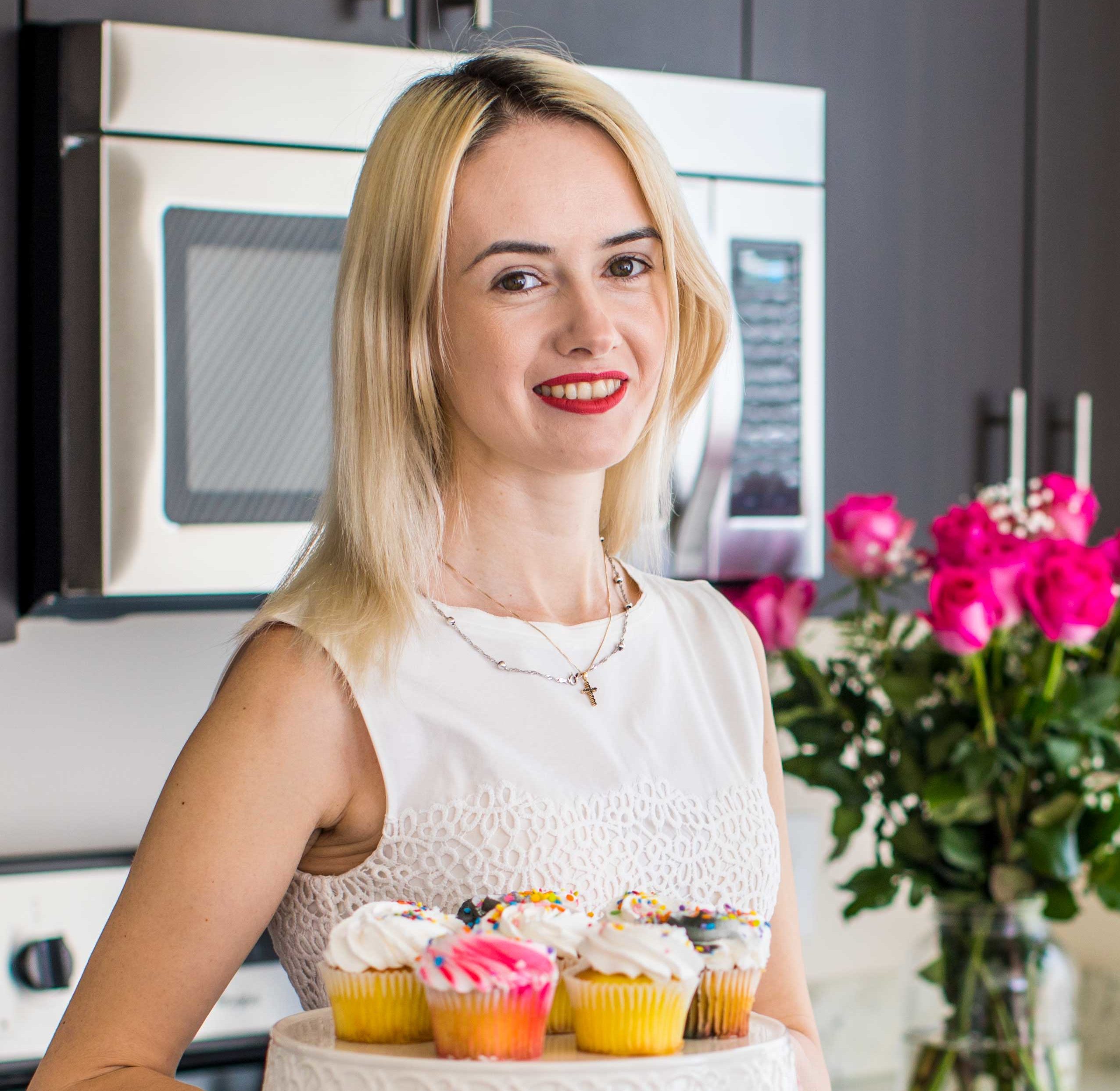 Follow us on Pinterest for more delicious recipes!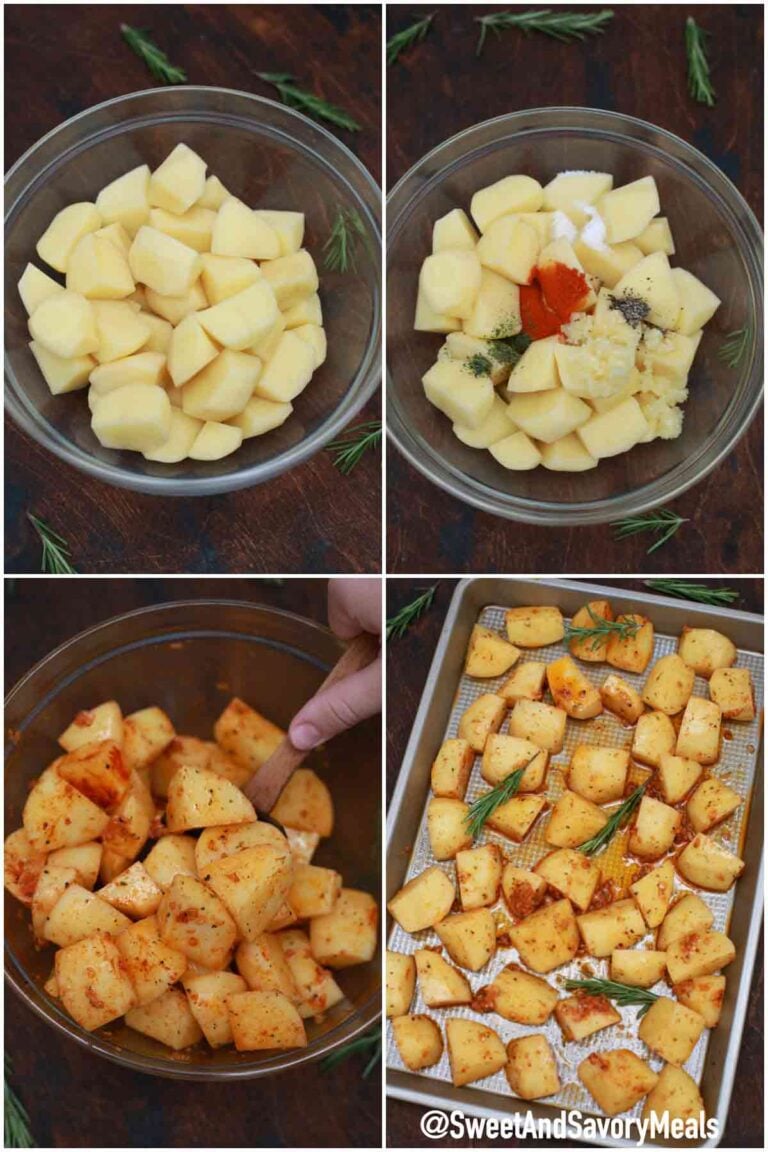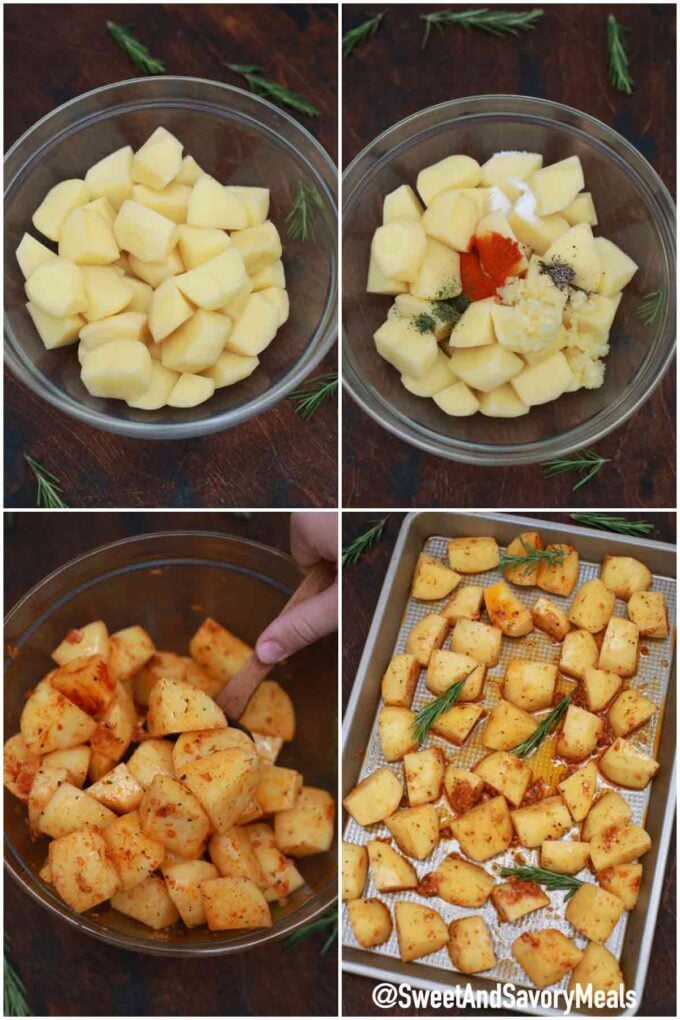 How to make Crispy Garlic Roasted Potatoes?
Clean the potatoes: Before starting, make sure to keep your spuds in cold water for at least half an hour. Then, pat them with paper towels to dry them before slicing into quarters or halves depending on the size.
Preheat the oven: Turn on your oven to 400F and spray a baking sheet with oil.
Prepare the spuds: Drizzle a fine amount of oil before seasoning with coarse salt, pepper, garlic, and dried parsley to taste. Also toss in a dash of paprika, or even more, for a kick of spice. Make sure to season evenly. Arrange in a baking sheet with no overlapping pieces.
Bake: Leave them in the oven for at least 45 minutes. Make sure to flip in between so that both sides are evenly baked until golden.
Serve. Lastly, toss a little amount of salt, pepper, and parsley. Then, add some parmesan for an even scrumptious finish. Afterward, serve warm with your favorite meal.
Easy Substitutions:
There are several ways to enjoy these Oven Baked Garlic Potatoes:
Add Some Cheese: For a deeper flavor, add some shredded parmesan cheese on top after the baking is done. Also, you could use other cheese such as asiago, pecorino, cheddar, or romano.
Swap the Potatoes: As stated above you can use pretty much any spuds. You can even use sweet potatoes.
Use other herbs: If you are not a parsley fan, substitute it with rosemary, thyme, or even basil. Homemade dried herbs will work also well. Try adding cajun seasoning, Italian seasoning, or ranch mix.
Air Fryer Potatoes: If you want to deviate from the traditional oven version, try this Air Fryer Potatoes Recipe.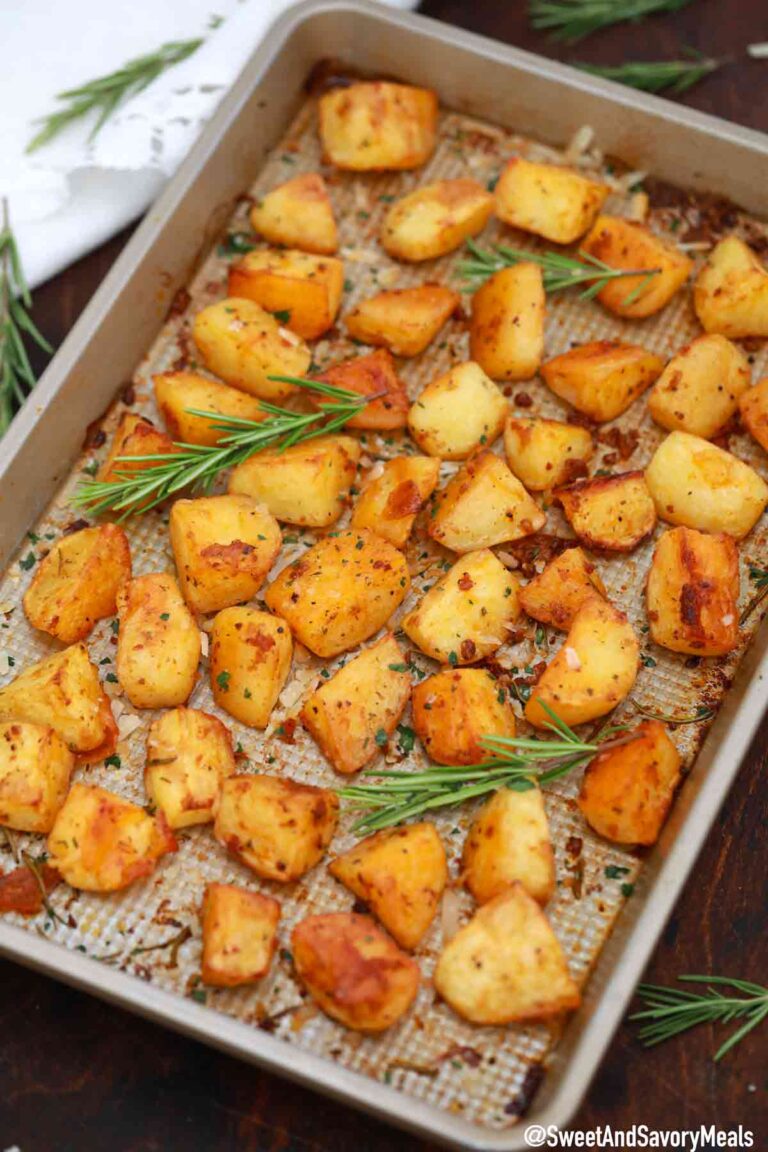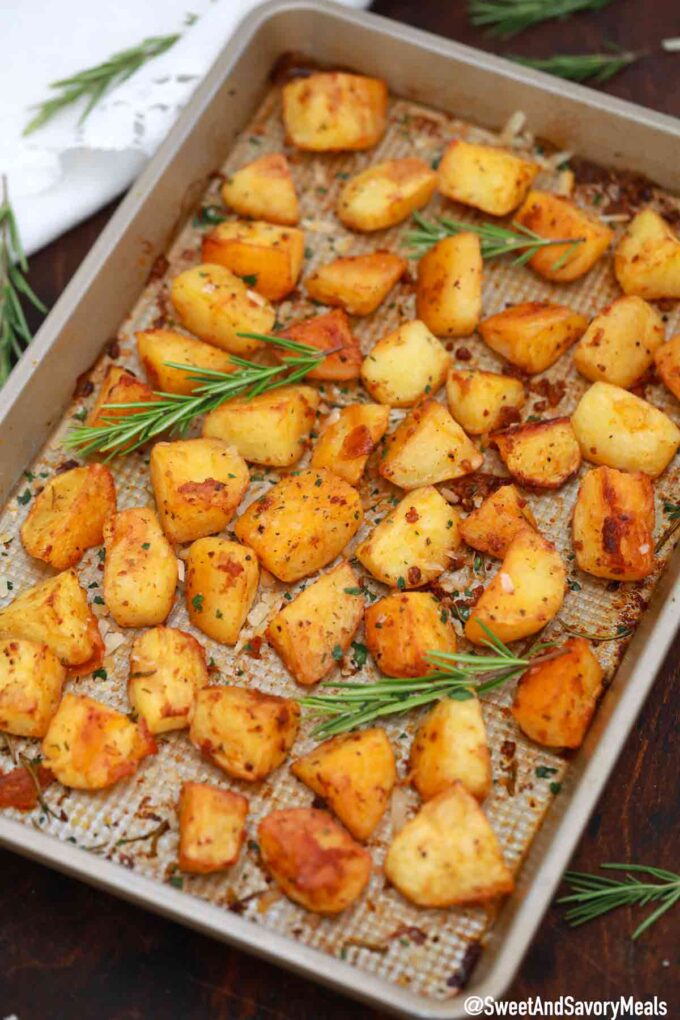 How long to roast potatoes?
To get them crispy on the outside, I love baking them at higher temperatures. But you can adjust the timing based on below temperature example:
350°F (175°C): 65-75 minutes.
375°F (190°C): 55-65 minutes.
400°F (200°C): 45-55 minutes.
450°F (230°C): 35-45 minutes.
What to serve with Garlic Roasted Potatoes?
Without a doubt, an appetizer like this goes so well with your favorite meat dishes. If you don't have any options yet, try out some of my favorite entrées: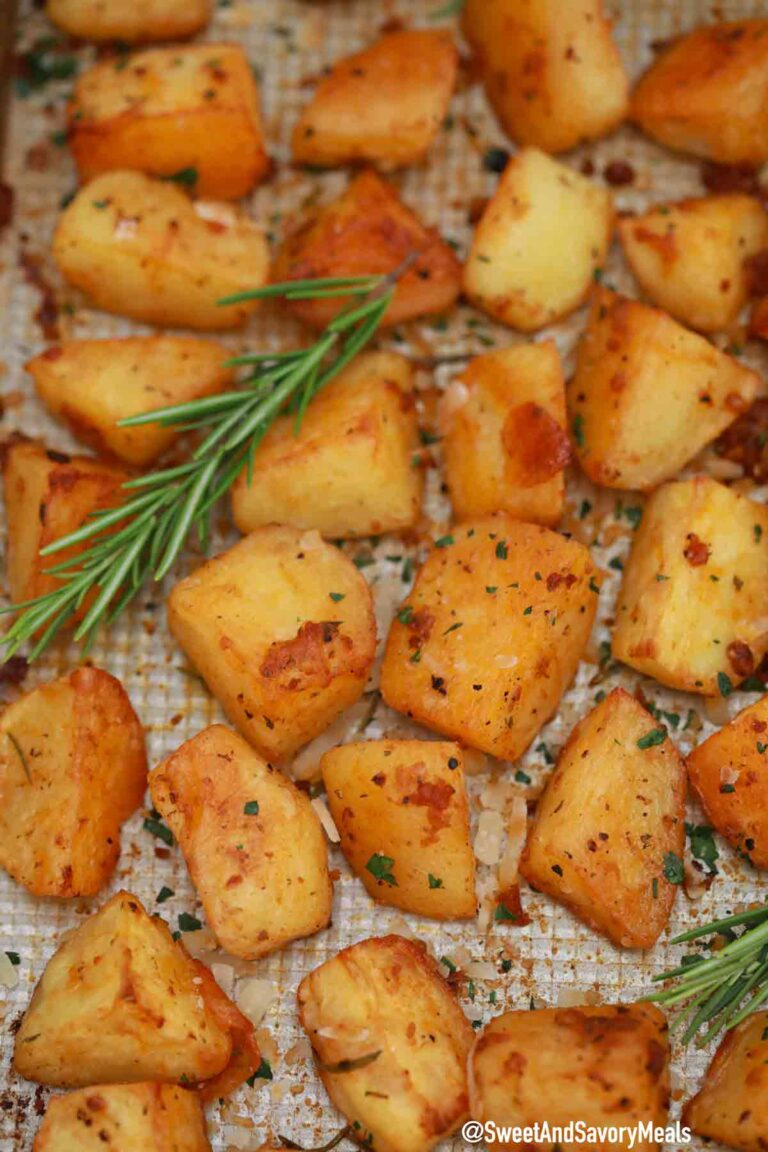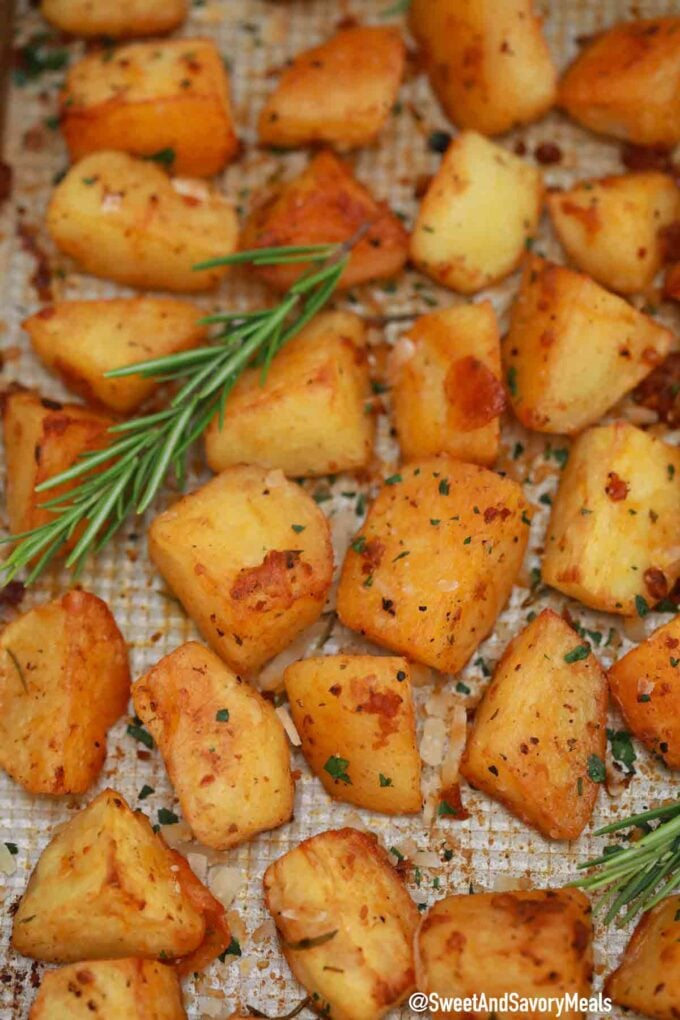 Storing instructions:
Make sure to let the spuds cool down completely before transferring them to an airtight container or in a resealable plastic bag.
Leftovers and those made in advance can be enjoyed for up to three days by simply reheating and adding seasoning as preferred.
More delicious potato dishes:
With how versatile potatoes are, they are easily one of the best ingredients ever. Everyone has them handy because you can enjoy them as a meal or a snack. Check out these other variations that I enjoy making with them: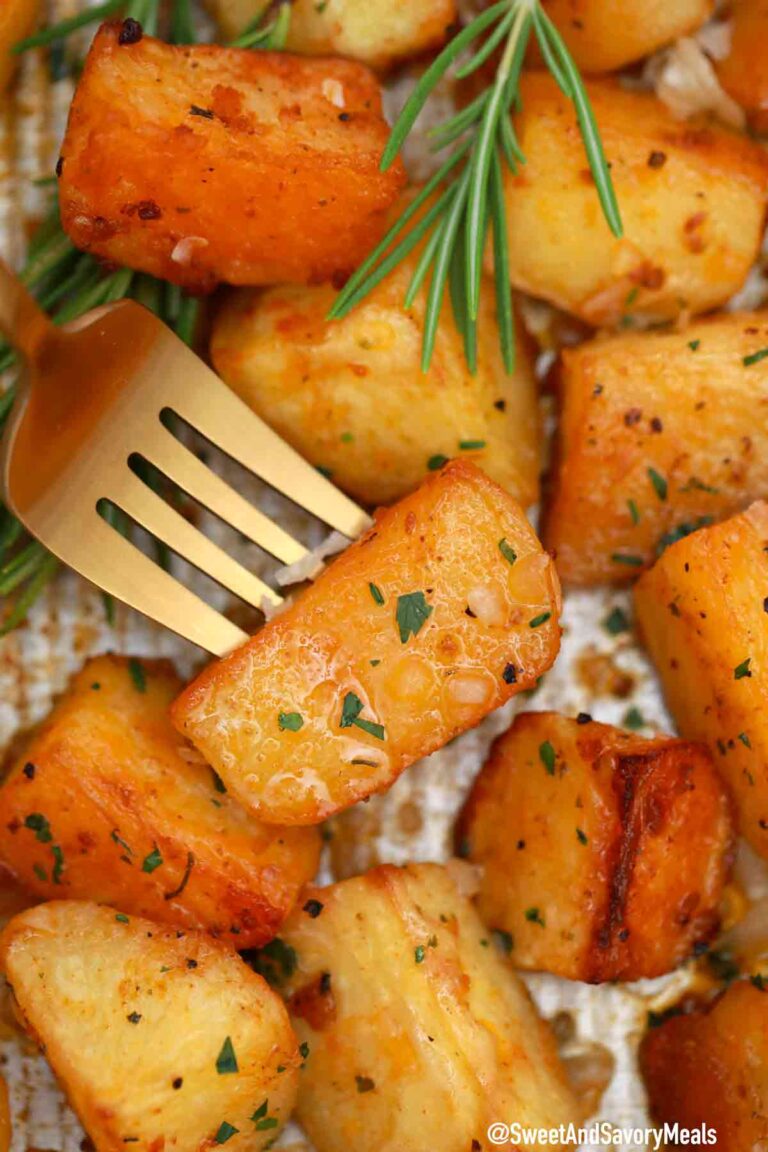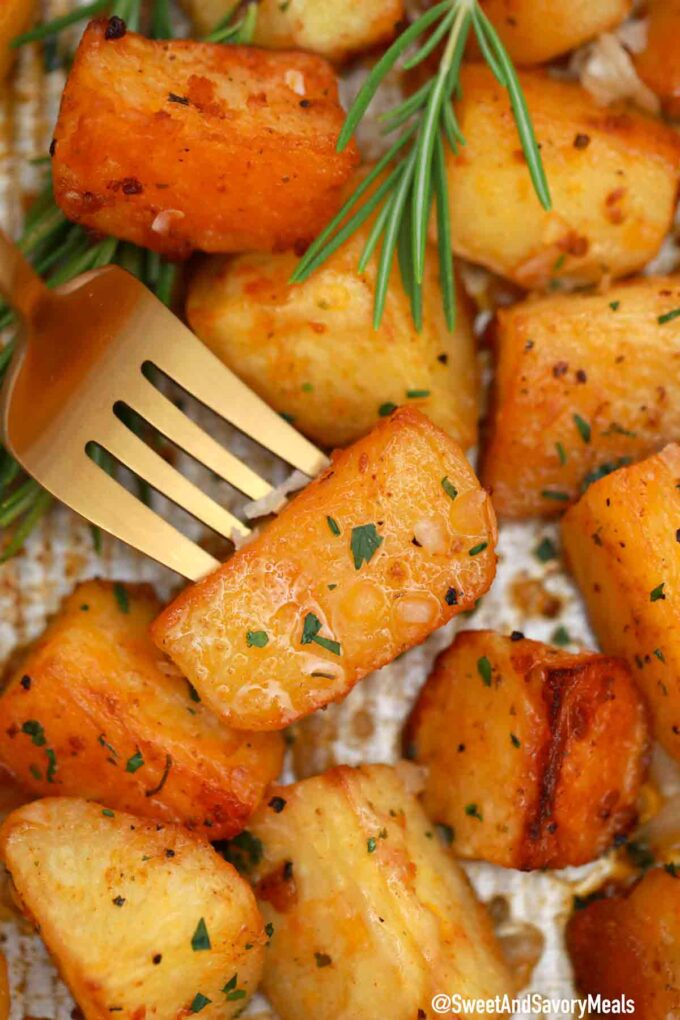 Recipe Tips:
You can add the parmesan in the last 10 minutes of roasting so that it will melt over the dish.
Also, feel free to substitute parsley with rosemary or basil.
Adjust the garlic (less or more) based on your taste.
For a spicier kick, add some cayenne pepper or red pepper flakes.
In addition, I recommend not peeling the potatoes. The skin makes them ultra-crispy.
Do not forget to add the potatoes to cold water. This also makes them crispier on the outside.
Save Recipe
Crispy Garlic Roasted Potatoes
Garlic Roasted Potatoes are super easy and delicious side dish or appetizer for any meal. This scrumptious side dish is buttery, garlicky, and crispy on the outside and tender center.
Author: Catalina Castravet
Serves: 6 servings
Prep time:

2

hours

15

minutes
Cook time:

1

hour
Total time:

3

hrs

15

mins
Nutrition information
Calories: 222 Carbohydrates: 35 Protein: 5 Fat: 8 Saturated Fat: 1 Cholesterol: 1 Sodium: 424 Potassium: 803 Fiber: 3 Sugar: 1 Vitamin A: 291 Vitamin C: 13 Calcium: 45 Iron: 2
Save Recipe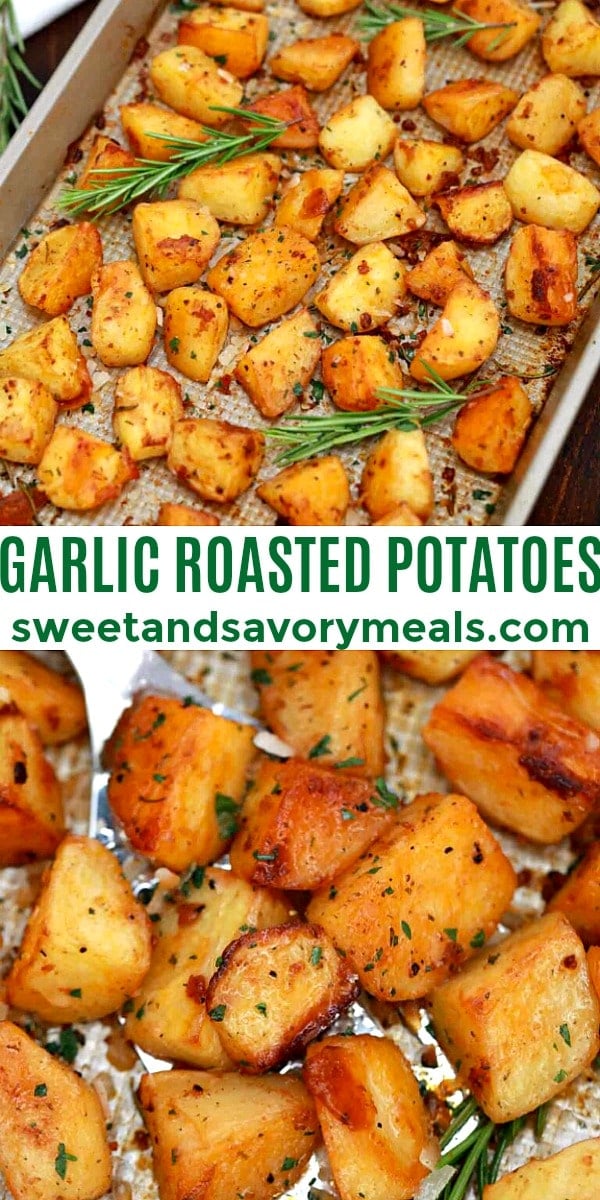 More recipes you might love
Categories: