Creamy Scalloped Potatoes
This post may contain affiliate links. Please read my disclosure policy.
Creamy Scalloped Potatoes are the creamiest, cheesiest, and tender potatoes you will ever have. They are baked to golden perfection, and are ready in about one hour.
With holiday season around the corner, this is a must have side dish on the table. It is the classic side dish that will make everyone happy. This is always one of our favorites to have when it comes to Thanksgiving or Christmas season. Our other favorites are Corn Casserole, Mac and Cheese Casserole and Green Bean Casserole.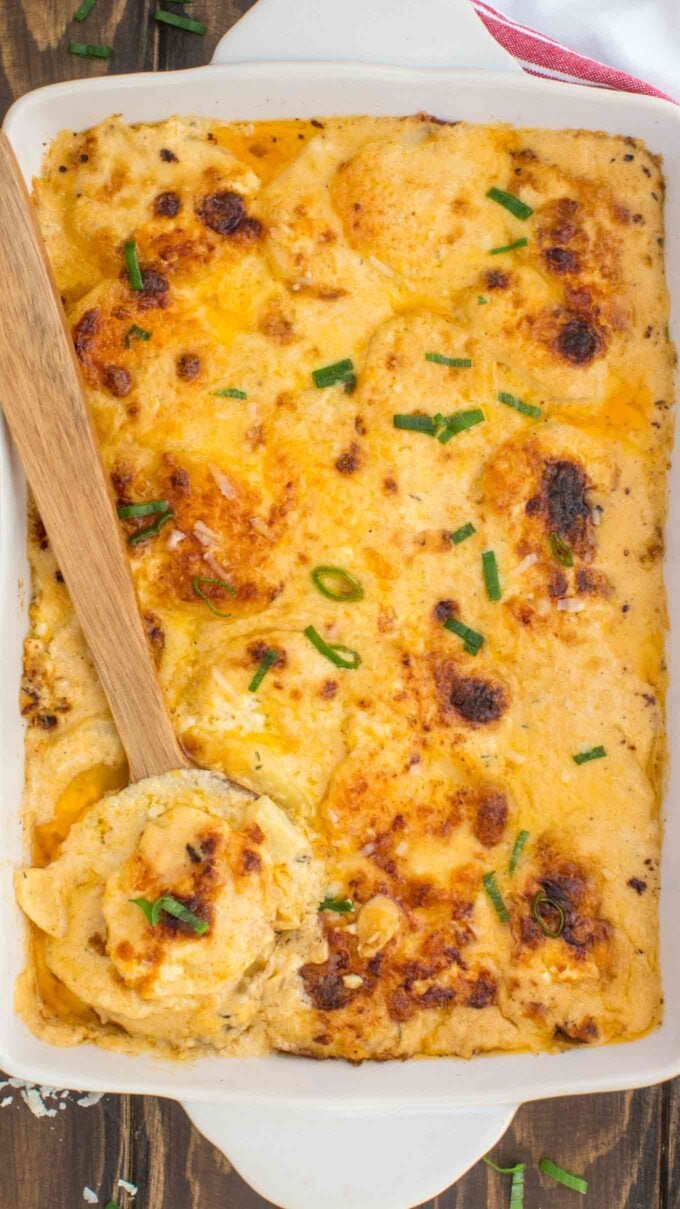 Creamy Scalloped Potatoes
Creamy Scalloped Potatoes are all you need for a comforting and tasty side dish. The dish is buttery and smooth, with rich cheesy flavor that will melt in your mouth. For this casserole recipe, we thinly slice the potatoes and then layer and top them with creamy sauce and cheeses.
We use mozzarella cheese, cheddar cheese and Parmesan cheese. This cheese combination mix is well balanced, and what gives this Scalloped Potatoes the cheesy and creamy flavor. Adding the cheese is optional, and you can totally substitute with other cheeses, or use just one or two kinds. Another great benefit of this recipe is that you can prepare it a day ahead, and refrigerate it. Next day, simply put in the oven for about 50 minutes and happily enjoy it!
What kind of potatoes are best to use for this dish?
It's best to use starchy potatoes to make this Scalloped Potatoes dish. It's the starch that makes the cream to thicken up when cooking. So it is best to use Yukon Gold and Russets potatoes, as they have the most starch in them.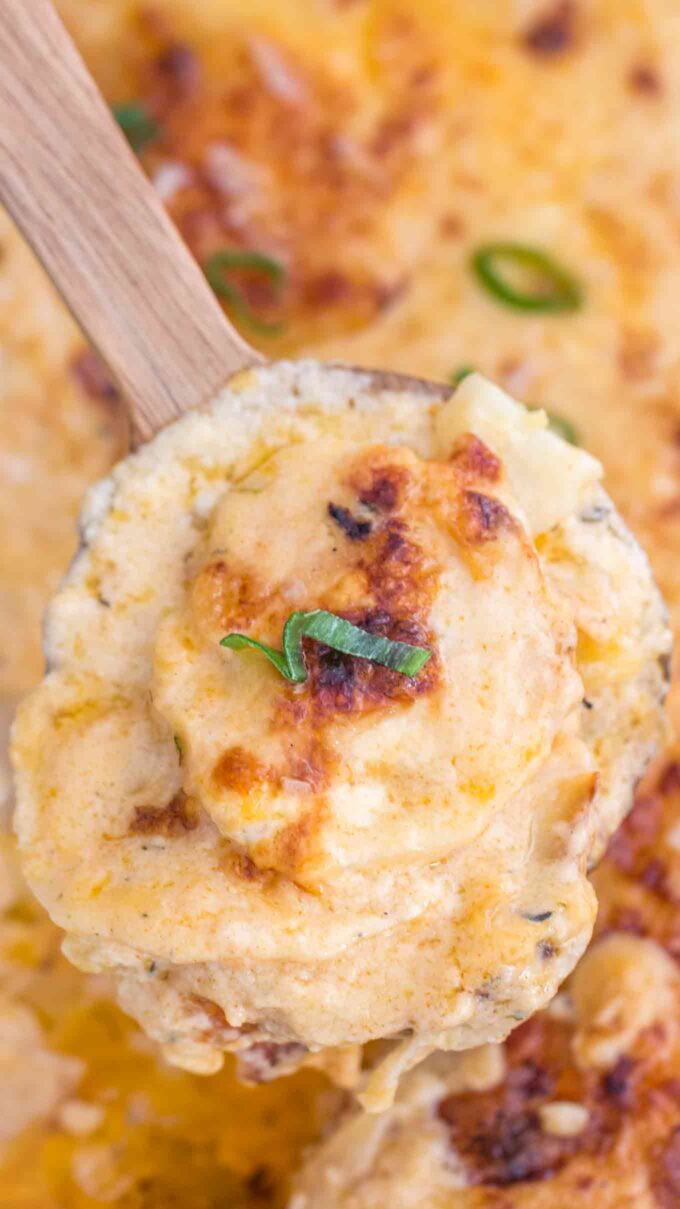 What is the difference between Scalloped Potatoes and Au Gratins?
Both dishes are quite similar. However, scalloped potatoes are usually cut thicker than the potatoes used in au gratin. Also, au gratin recipe calls for added cheese in them. For our recipe, we have added some cheese between the layers and on top of the potatoes to make the dish creamier and more flavorful. But this step is optional, and cheese can be omitted. The sauce itself does not contain any cheese.
How thin should I slice the potatoes?
Potatoes are usually sliced thinly about 1/8 to 1/4 inch thick, this ensures they are cooked evenly and uniformly. If you want to save time and effort, a good trick would be to use a mandolin slicer and set it to 1/8 inch thick.
Can you add other seasonings to Creamy Scalloped Potatoes?
The dish is very versatile, so can be adjusted based on personal preferences. We have used garlic, thyme and smoked paprika here, but feel free to add  your favorite seasoning mixes into the sauce. Also, you can top the potatoes with bacon, green onions or other herbs.
Follow Sweet and Savory Meals on Pinterest for more great recipes!
Pin This Creamy Scalloped Potatoes Recipe to your Favorite Board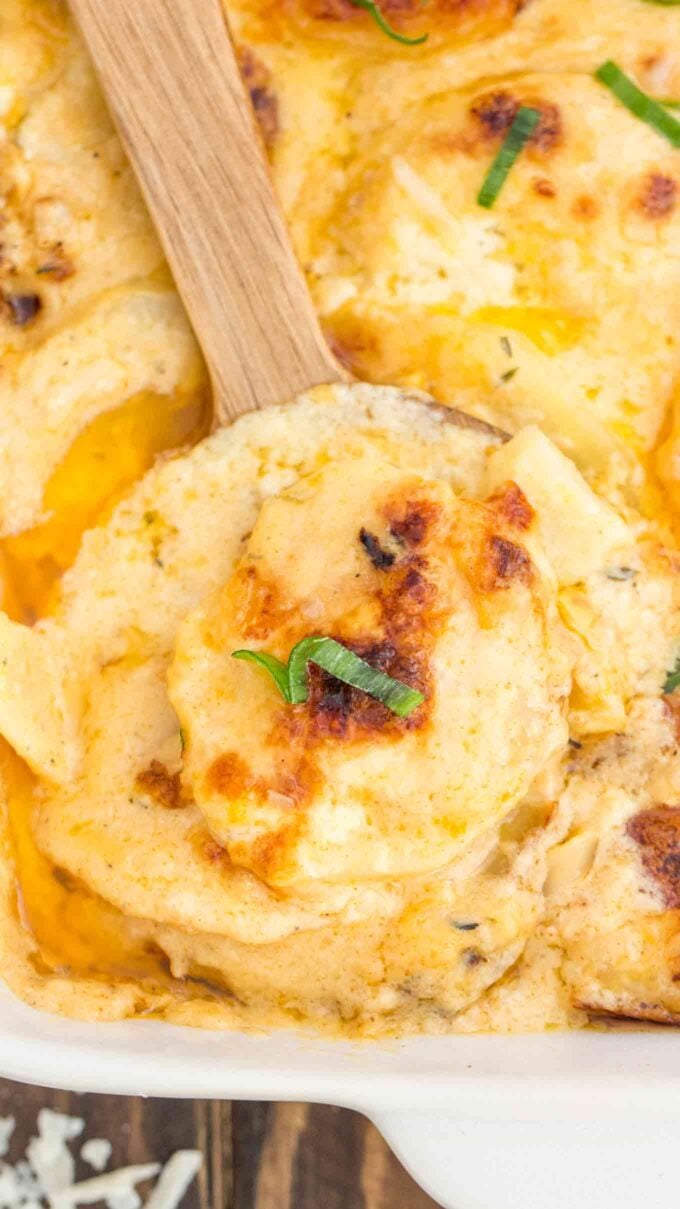 Can I make this recipe gluten-free?
For gluten-free option, instead of regular flour you can use gluten-free all-purpose flour.
HOW TO FREEZE CREAMY SCALLOPED POTATOES?
First, let potatoes casserole come to room temperature after cooking.
Then, cover with aluminum foil and plastic wrap or freeze in airtight containers or heavy-duty freezer bags.
Freeze for up to 3 months.
CAN YOU REHEAT CREAMY SCALLOPED POTATOES?
Although is best to eat it fresh and warm right out of the oven, you can definitely reheat leftovers in the microwave (2-3 minutes), or oven (350F for about 10 minutes or until warm).
Creamy Scalloped Potatoes Recipe Tips:
To reduce some calories, use low fat cheese and reduced fat milk.
Similarly, use half and half instead of heavy cream.
You can replace chicken broth with vegetable broth for a vegetarian option.
TOOLS USED TO MAKE THIS Creamy Scalloped Potatoes: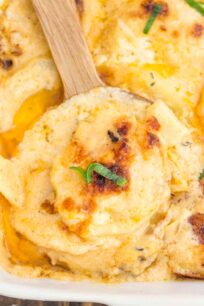 Creamy Scalloped Potatoes
Creamy Scalloped Potatoes are the creamiest, cheesiest, and crispiest potatoes you will ever have. They are baked to golden perfection, and are ready in about one hour.
Ingredients
4

tablespoons

butter

4

cloves

garlic

1/4

cup

all-purpose flour

2

cups

milk

2

cups

cream

1

cup

chicken broth

or veggie broth for vegetarian

1/2

teaspoon

thyme

1/2

teaspoon

smoked or regular ground paprika

1/4

teaspoon

ground black pepper

1/2

teaspoon

salt

or to taste

3-4

pounds

Yukon Gold potatoes

or Russets peeled and sliced into 1/8-inch - 1/4-inch rounds

1

cup

mozzarella cheese

shredded

1

cup

cheddar cheese

shredded

1

cup

Parmesan cheese

freshly grated
Instructions
Preheat oven to 400 degrees F.

Lightly grease a 9 x 13-inch baking dish with cooking oil spray or butter and set aside.

Place a medium cast iron skillet or sauce pan over medium-high heat. Once the skillet is hot, add the butter and melt it.

Add onion and garlic and sauté until just the garlic is fragrant, and onion is soft.

Whisk in flour and cook for 2 minutes, stirring continuously.

Reduce heat to low, slowly and gradually whisk in 1 cup of chicken broth until fully combined.

Again, gradually, without rushing, stir in milk and cream, until fully combined. Stir in dried thyme, paprika, salt and pepper.

With the heat on low, let the sauce gently simmer (NOT boil) for 2-3 minutes, stirring occasionally until it starts to thicken. Remove from heat and set aside.

Layer half of the sliced potatoes onto the bottom of the dish. Pour half of the cream sauce over the potatoes, and top with 1 cup of mozzarella cheese, distribute evenly.

Arrange the remaining potatoes and pour the remaining cream sauce on top. Sprinkle the remaining cheddar cheese and Parmesan cheese on top if desired.

Cover baking dish with aluminum foil and bake in the preheated oven for 40 minutes. Until the potatoes are just tender and the sauce is bubbly.

Remove foil and continue to cook for another 20-30 minutes, or until the potatoes are fully done and the top of a nice golden-brown color.

Before removing from the oven, broil for a few minutes to crispy the cheese on top. Watch closely to not burn it.

Garnish with chopped parsley or chopped green onions. Serve warm.
Calories: 336, Fat: 23g, Saturated Fat: 12g, Cholesterol: 67mg, Sodium: 517mg, Potassium: 597mg, Carbohydrates: 19g, Fiber: 3g, Sugar: 2g, Protein: 13g, Vitamin A: 19.8%, Vitamin C: 17.8%, Calcium: 34%, Iron: 22.5%
Made this Recipe?
Show me what you made on Instagram and tag me at @sweetnsavorymeals or hashtag it #sweetandsavorymeals.
Peas and Peonies, LLC. owns the copyright on all images and text and does not allow for its original recipes and pictures to be reproduced anywhere other than at this site unless authorization is given. If you enjoyed the recipe and would like to publish it on your own site, please re-write it in your own words, and link back to my site and recipe page. Copying and/or pasting full recipes to social media or personal blogs is strictly prohibited. Sharing this recipe is very much appreciated and encouraged. Read my disclosure and privacy policy. This post may contain affiliate links.