Creamy Scalloped Potatoes [video]
Creamy Scalloped Potatoes are the creamiest, cheesiest, and tender potatoes you will ever have. They are baked to golden perfection and are ready in about one hour.
With the holiday season around the corner, this is a must-have side dish on the table. It is the classic side dish that will make everyone happy. This is always one of our favorites to have when it comes to Thanksgiving or Christmas season. Our other favorites are Corn Casserole, Mac and Cheese Casserole, and Green Bean Casserole.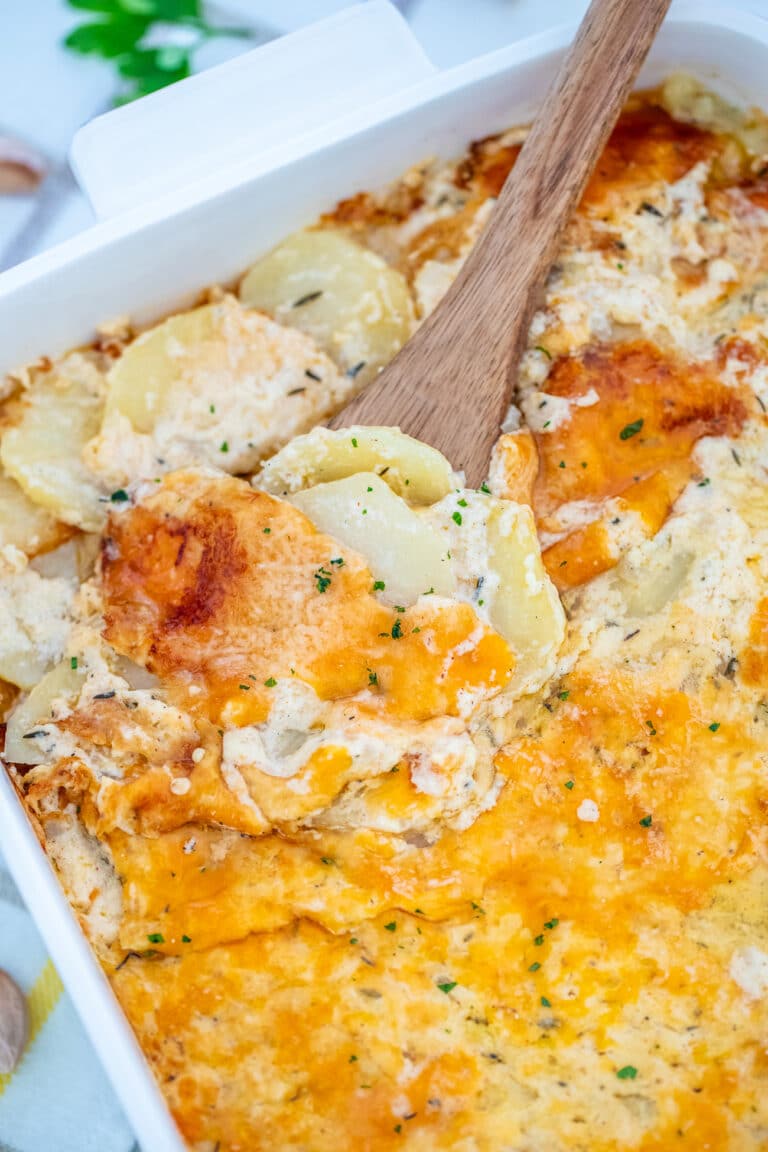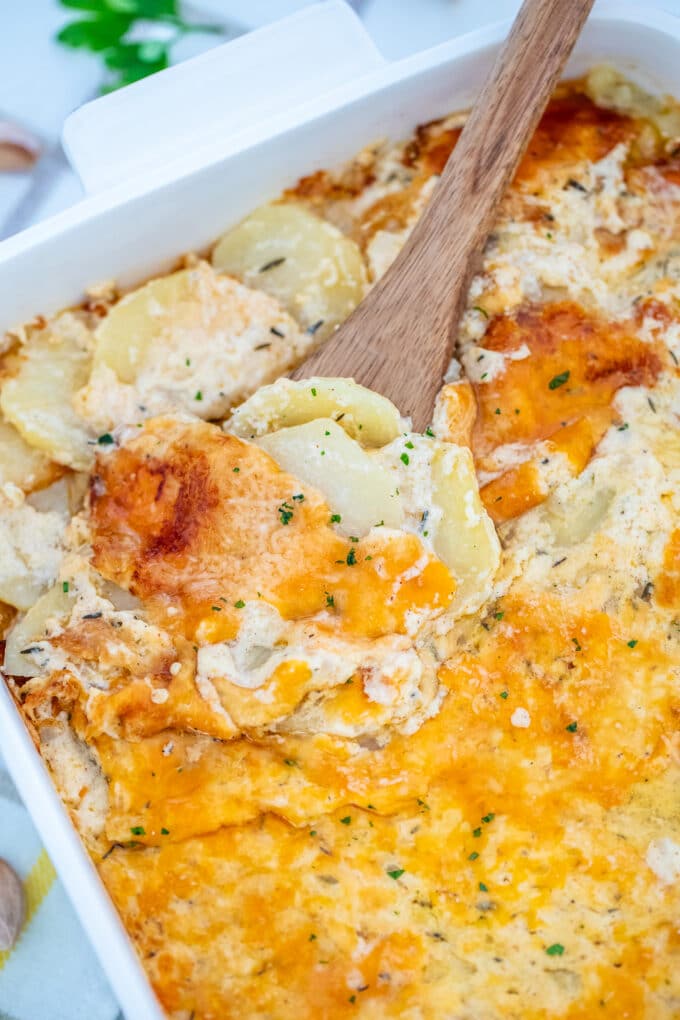 Creamy Scalloped Potatoes
Scalloped Potatoes with Cream are all you need for a comforting and tasty side dish. The dish is buttery and smooth, with rich cheesy flavor that will melt in your mouth. For this casserole recipe, we thinly slice the potatoes and then layer and top them with creamy sauce and cheeses.
We use mozzarella cheese, cheddar cheese, and Parmesan cheese. This cheese combination mix is well balanced, and what gives this Scalloped Potatoes the cheesy and creamy flavor.
Adding the cheese is optional, and you can totally substitute with other cheeses, or use just one or two kinds. Another great benefit of this recipe is that you can prepare it a day ahead, and refrigerate it. The next day, simply put in the oven for about 50 minutes and happily enjoy it!
What are Scalloped Potatoes?
A delicious side dish that consists of thinly sliced potatoes layered in a casserole dish. A sauce made with heavy cream or milk and sometimes cheese is added, after which the dish is baked to golden-brown perfection.
What is the difference between Scalloped Potatoes and Au Gratins?
Both dishes are quite similar. However, scalloped potatoes are usually cut thicker than the potatoes used in au gratin. Also, the au gratin recipe calls for added cheese in them.
For our recipe, we have added some cheese between the layers and on top of the potatoes to make the dish creamier and more flavorful. But this step is optional, and cheese can be omitted. The sauce itself does not contain any cheese.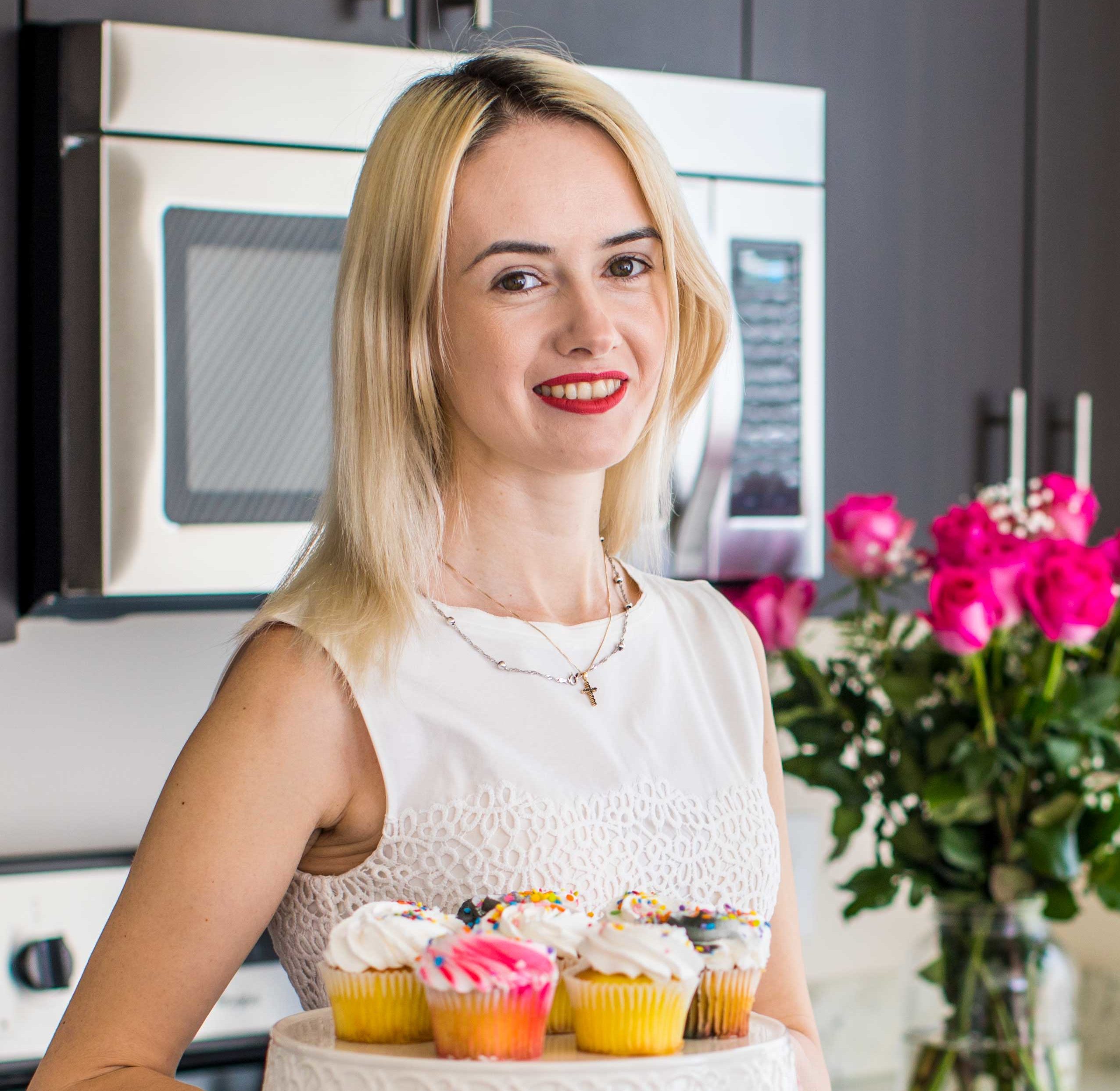 Follow us on Pinterest for more delicious recipes!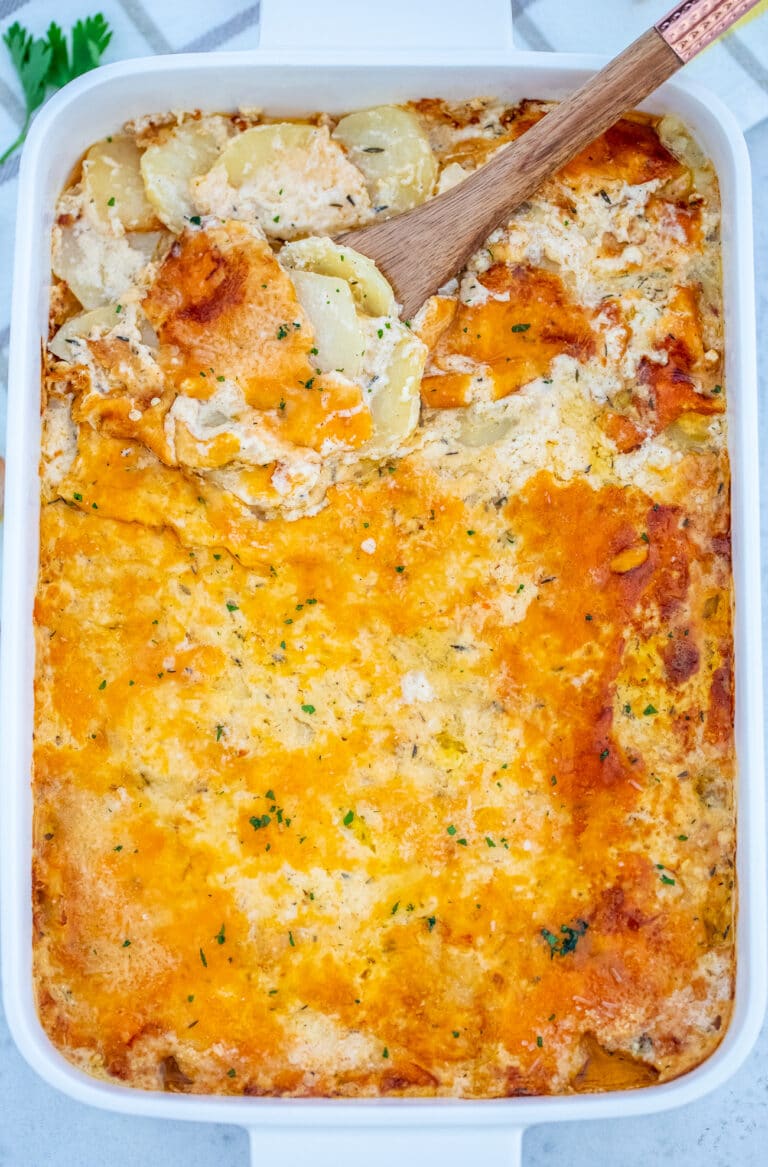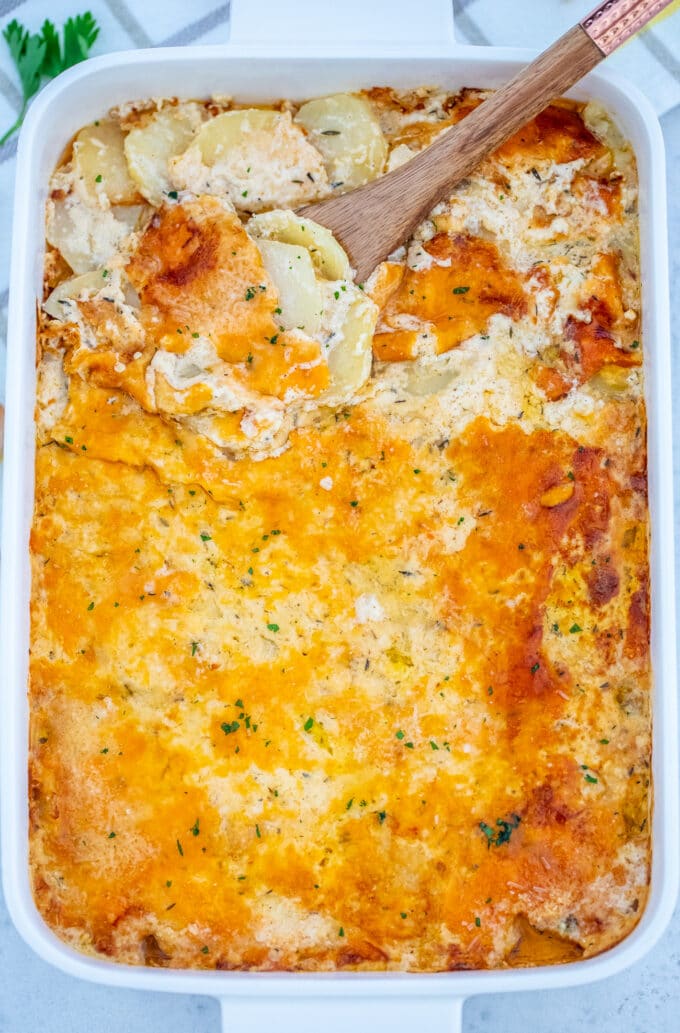 How do you make Scalloped Potatoes:
Slice: First, start by slicing the potatoes as thinly as about 1/8 to 1/4 inch thick, this ensures they are cooked evenly and uniformly. If you want to save time and effort, a good trick would be to use a mandolin slicer and set it to 1/8 inch thick.
Make the Sauce: Next, to make the sauce, you will start with a roux made of butter and flour. Then, seasoning is added for extra flavor. Also, broth, milk, and cream are added for extra creaminess. Finally, three types of cheese: mozzarella, parmesan, and cheddar cheese are mixed in to make the sauce savory and incredibly delicious.
The dish is very versatile, so can be adjusted based on personal preferences. We have used garlic, thyme, and smoked paprika here, but feel free to add your favorite seasoning mixes into the sauce. Also, you can top the potatoes with bacon, green onions or other herbs.
Combine and Bake: First, arrange half of the sliced potatoes in a 9×13 baking dish, add half of the sauce, the rest of the potatoes and the remaining sauce. Sprinkle with cheese, cover with foil, and bake. Uncover a few minutes before removing from the oven to brown the top.
Let rest for 10-15 minutes before serving.
A gluten-Free version of Scalloped Potatoes:
For a gluten-free option, instead of regular flour, you can use gluten-free all-purpose flour.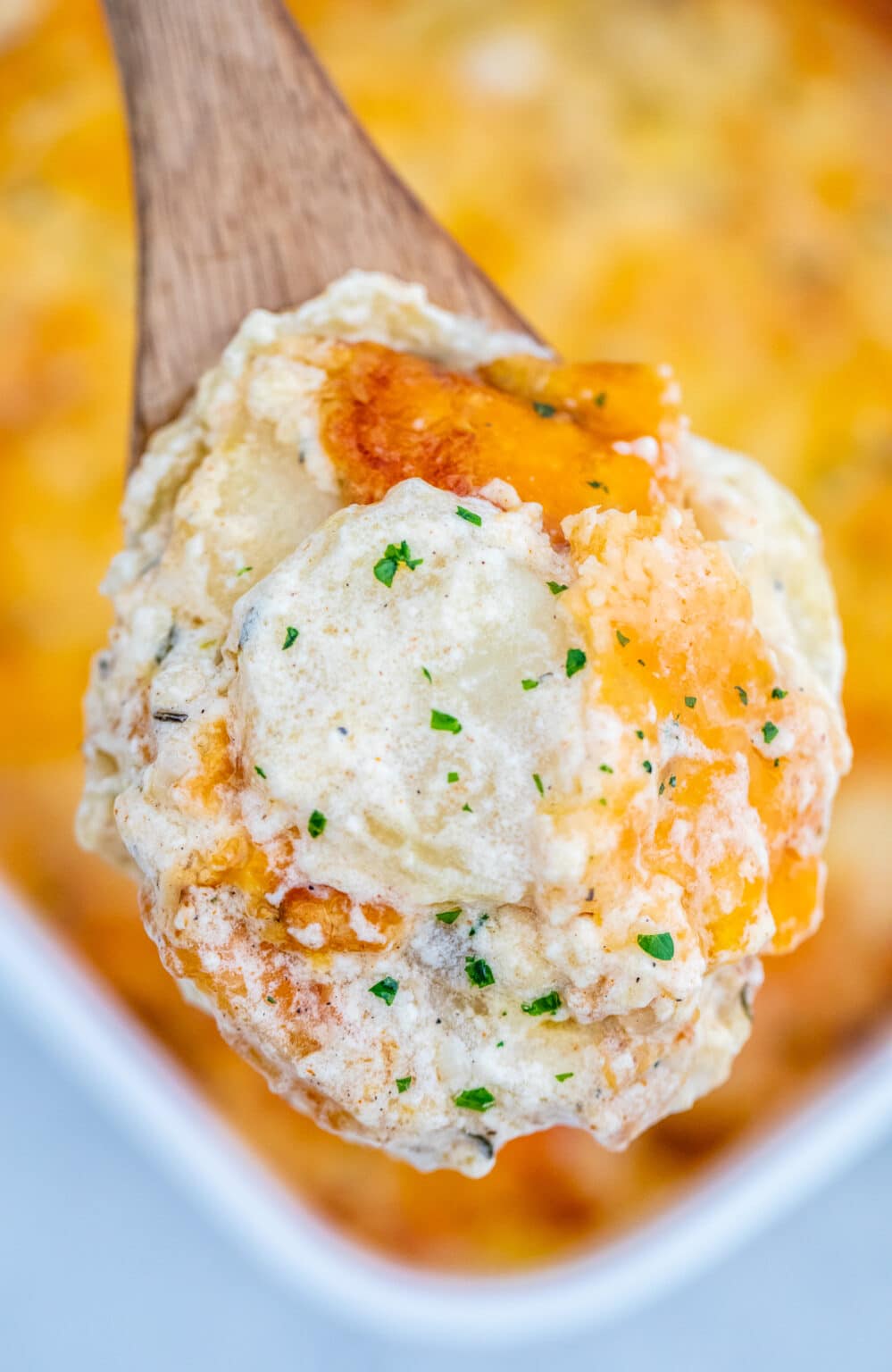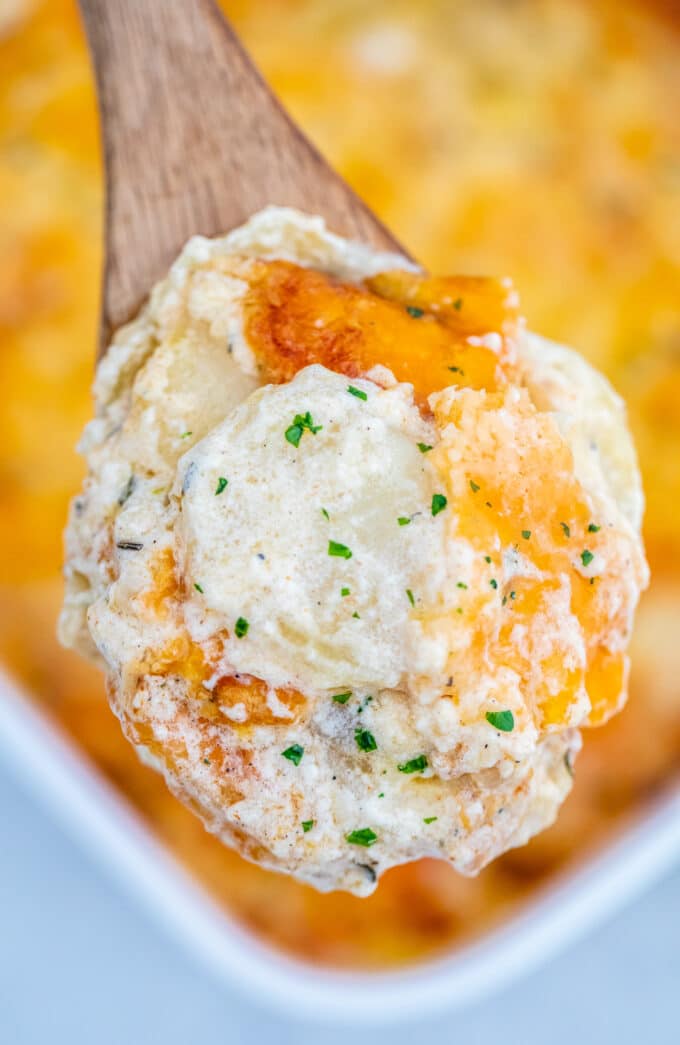 What kind of potatoes are best to use for Scalloped Potatoes?
It's best to use starchy potatoes it's the starch that makes the cream to thicken up when cooking. So it is best to use Yukon Gold and Russets potatoes, as they have the most starch in them.
What to serve with scalloped potatoes?
This is the perfect side dish to serve with:
How to store creamy scalloped potatoes?
To Refrigerate: Cover leftover with plastic wrap or add them to an airtight container and refrigerate for up to 3 days.
To Freeze:
First, let potatoes casserole come to room temperature after cooking.
Then, cover with aluminum foil and plastic wrap or freeze in airtight containers or heavy-duty freezer bags.
Next, you can freeze it for up to 3 months.
To Reheat: Although it is best to eat it fresh and warm right out of the oven, you can definitely reheat leftovers in the microwave (2-3 minutes), or oven (350F for about 10 minutes or until warm).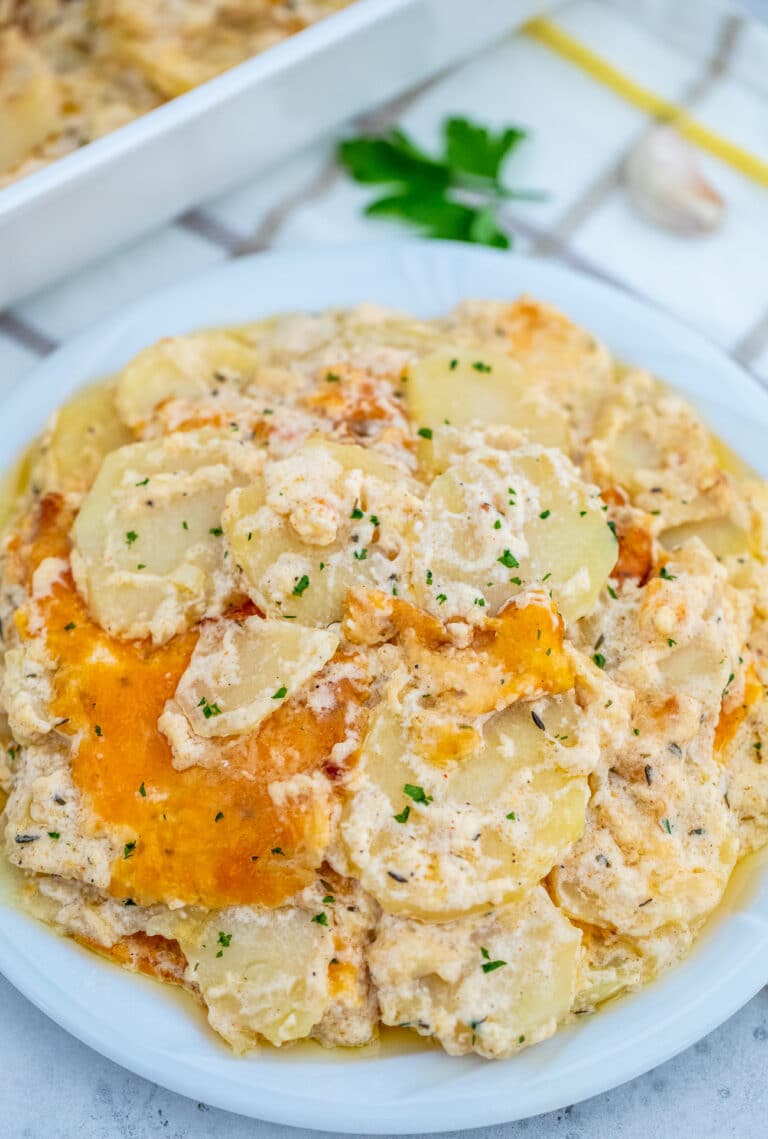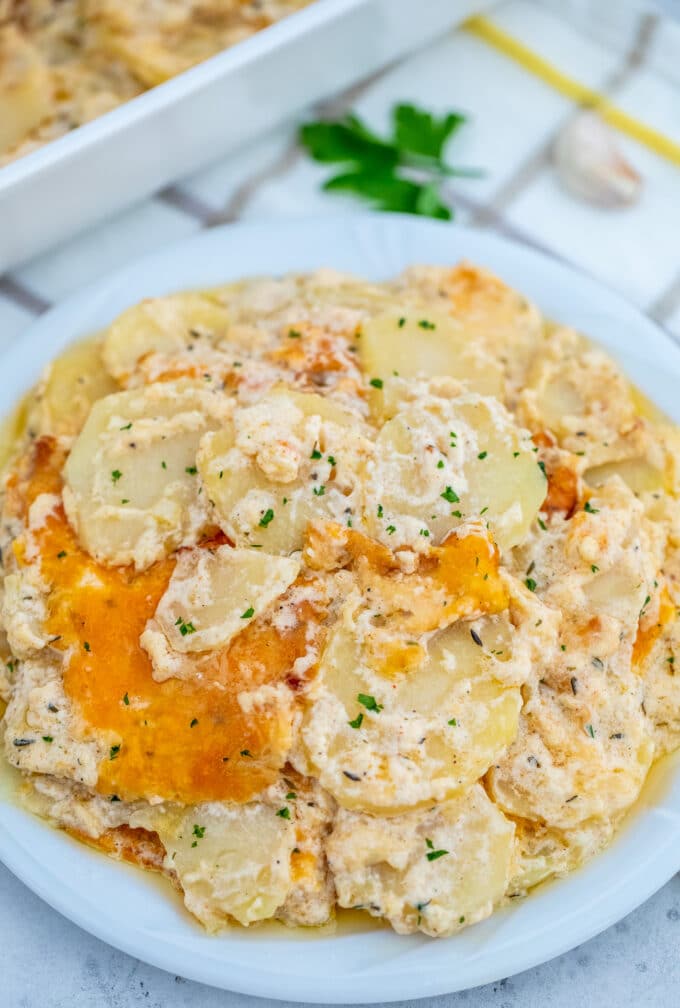 Scalloped Potatoes with Cream Recipe Tips:
If you are thinking to reduce some calories, use low-fat cheese and reduced-fat milk.
Similarly, use half and half instead of heavy cream.
Also, you can replace the chicken broth with vegetable broth for a vegetarian option.
USEFUL TOOLS USED TO MAKE THIS RECIPE:
Save Recipe
Creamy Scalloped Potatoes
Creamy Scalloped Potatoes are the creamiest, cheesiest, and crispiest potatoes you will ever have. They are baked to golden perfection, and are ready in about one hour.
Author: Catalina Castravet
Serves: 12 servings as a side dish
Prep time:

15

minutes
Cook time:

55

minutes
Total time:

1

hr

10

mins
Nutrition information
Calories: 336 Carbohydrates: 19 Protein: 13 Fat: 23 Saturated Fat: 12 Cholesterol: 67 Sodium: 517 Potassium: 597 Fiber: 3 Sugar: 2 Vitamin A: 990 Vitamin C: 14.7 Calcium: 340 Iron: 4.1
Save Recipe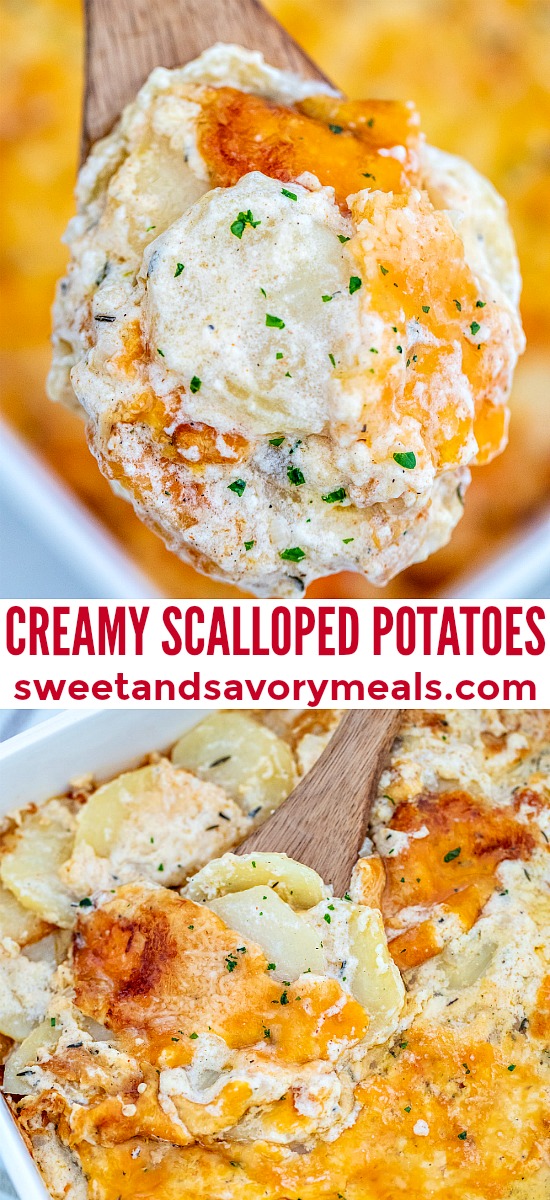 More recipes you might love