Honey Glazed Ham is tender and delicious, covered in a sweet buttery glaze with brown sugar, honey, butter, and spices. With a prep time of just five minutes. A holiday meal is easy to make and will be ready in about 60 minutes! This hassle-free dinner will have you relieved when it is time to entertain.
I have made similar dishes to this one, check the Slow Cooker Pineapple Ham, and Slow Cooker Brown Sugar Ham. Try them out and tell me which one is your favorite!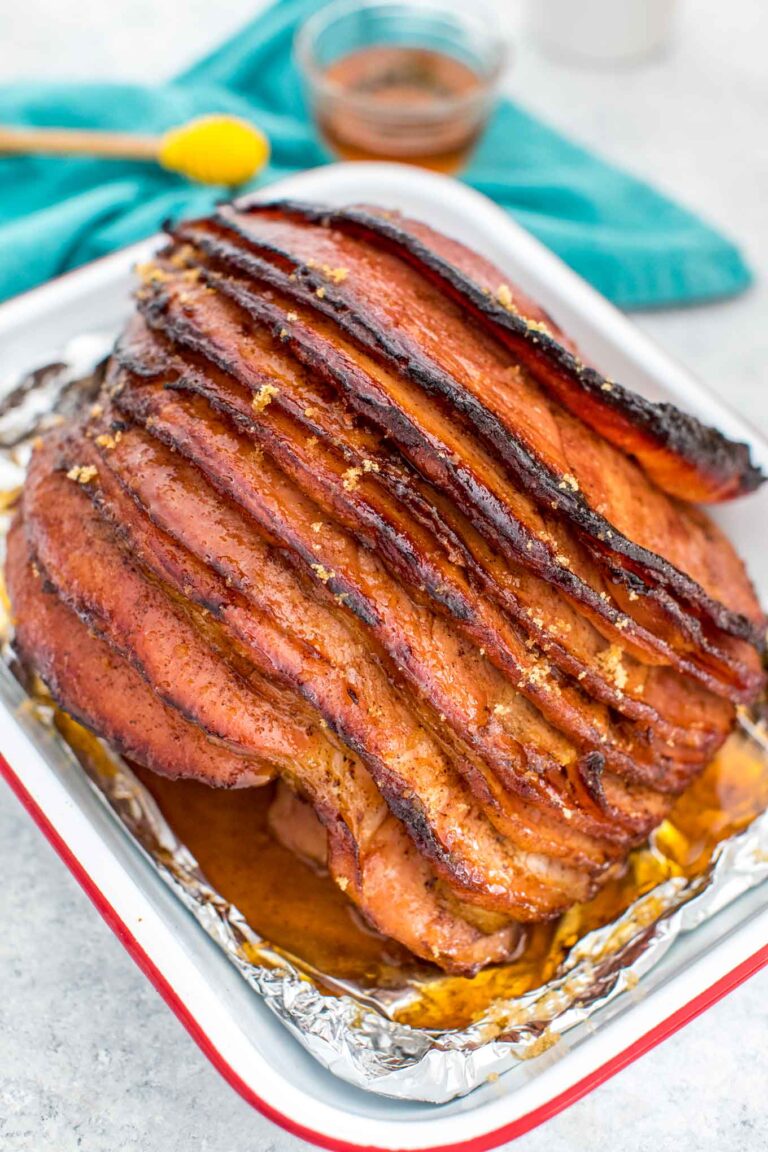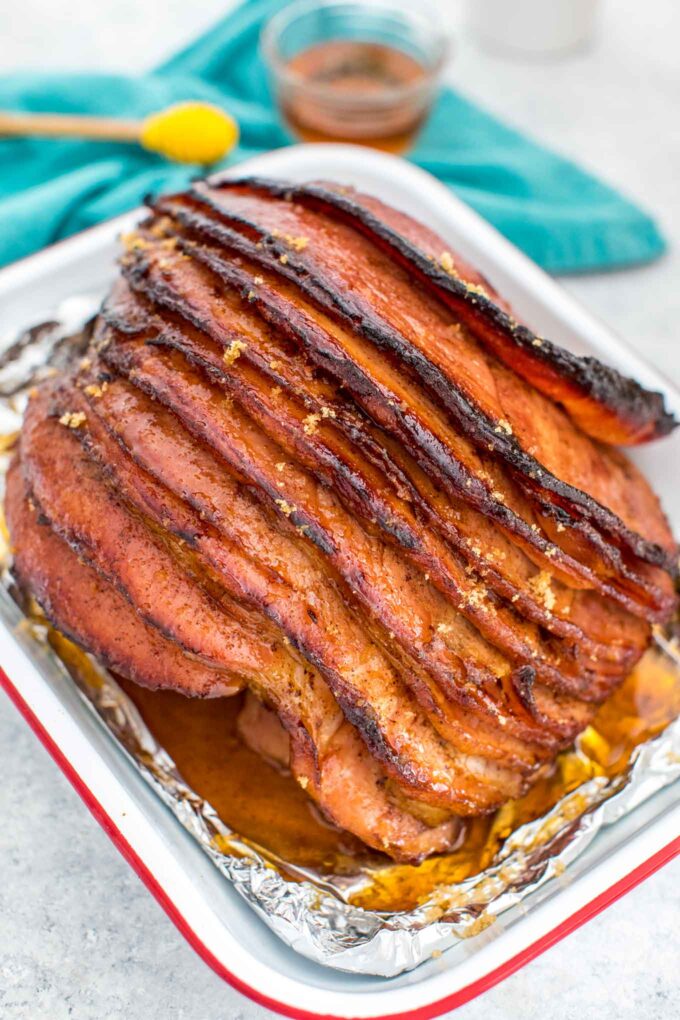 Baked Honey-Butter Glazed Ham
Baked Honey Glazed Ham is so easy to make because there is no need to scramble when you come home from work, just get a ham from your local supermarket and start preparing. This meal is perfect for dinner because of the low cost and minimum preparation!
This recipe is great for dinner parties and also great for if you want to have a little bit of a fancier dinner. With this holiday classic, you can still enjoy it at any time of the year. Pair it with Oven Baked Potatoes, Corn Casserole, or Cheesy Crack Chicken Casserole and you will have a meal that will be talked about for the rest of the week.
I also really enjoy eating this with Instant Pot Corn on the Cob. I find by combining all of these dishes it really makes me feel accomplished and makes my belly happy.
What type of ham is best to use?
I find that the best ham to use is the one labeled "fully cooked bone-in spiral ham" at the local supermarket. This is the best to use because it does not take a ridiculous amount of time to bake and the prep time takes less as well. If you buy the pre-sliced kind, make sure to add the glaze between the slices as well.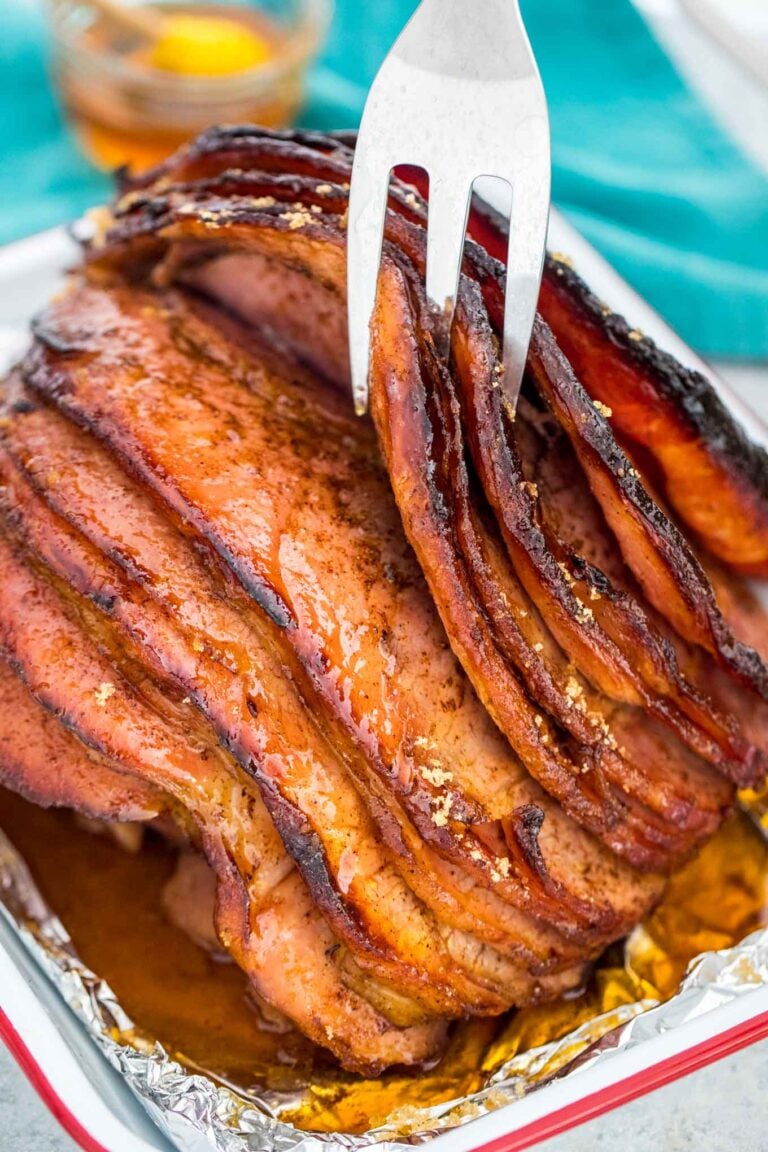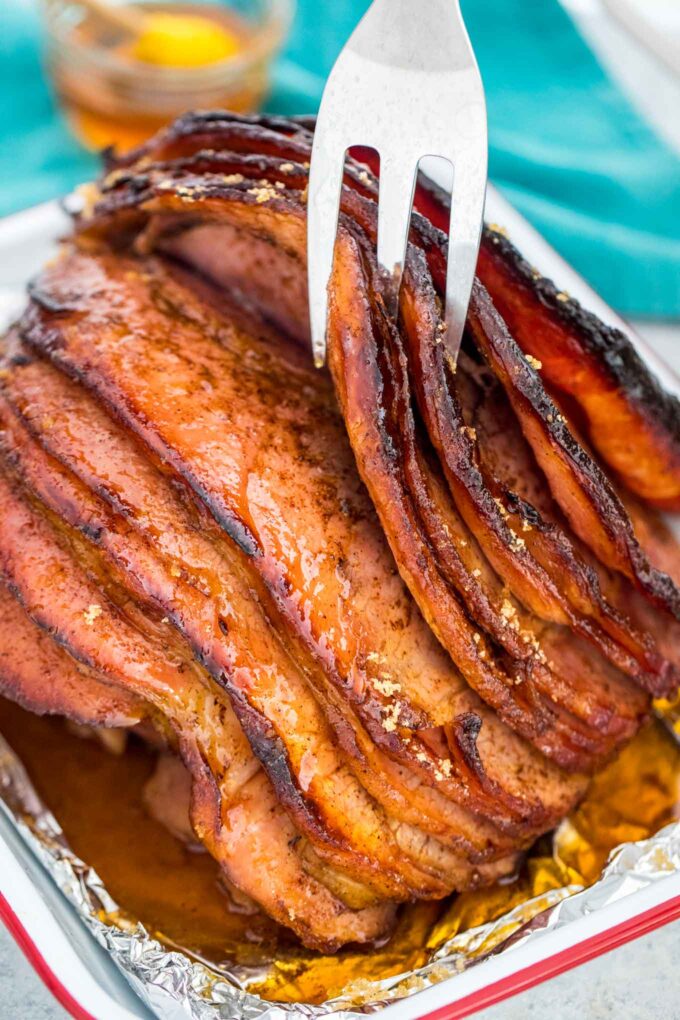 Do you have to cook the ham?
I have found that by cooking the ham I can roast it to whatever I like. I can also choose whatever flavors I like. In this case, I love adding this honey glaze to make it sweet and tender. The glaze is absolutely delicious made with butter, honey, brown sugar and spices that add great flavor.
How to cook honey butter ham in the oven?
Preheat the oven to 325 degrees F. Prepare the glaze in a bowl.
Put the ham inside a large pan that leaves room on both sides.
Glaze the entire ham with the glaze mixture. Roast it uncovered for approximately 20 minutes, baste and roast for another 20 minutes.
Then, baste again, cover with foil, and roast for 60 more minutes, uncovering for the last 20.
Uncover, baste, and if desired, broil for 3-5 minutes.
How to remove ham rind?
Take a sharp knife and cut through the skin, at the knuckle end of the leg.
Remove the skin by sliding the knife between the skin and fat. By doing this to the ham it helps the glaze stick to the fat and gives it a nice finish.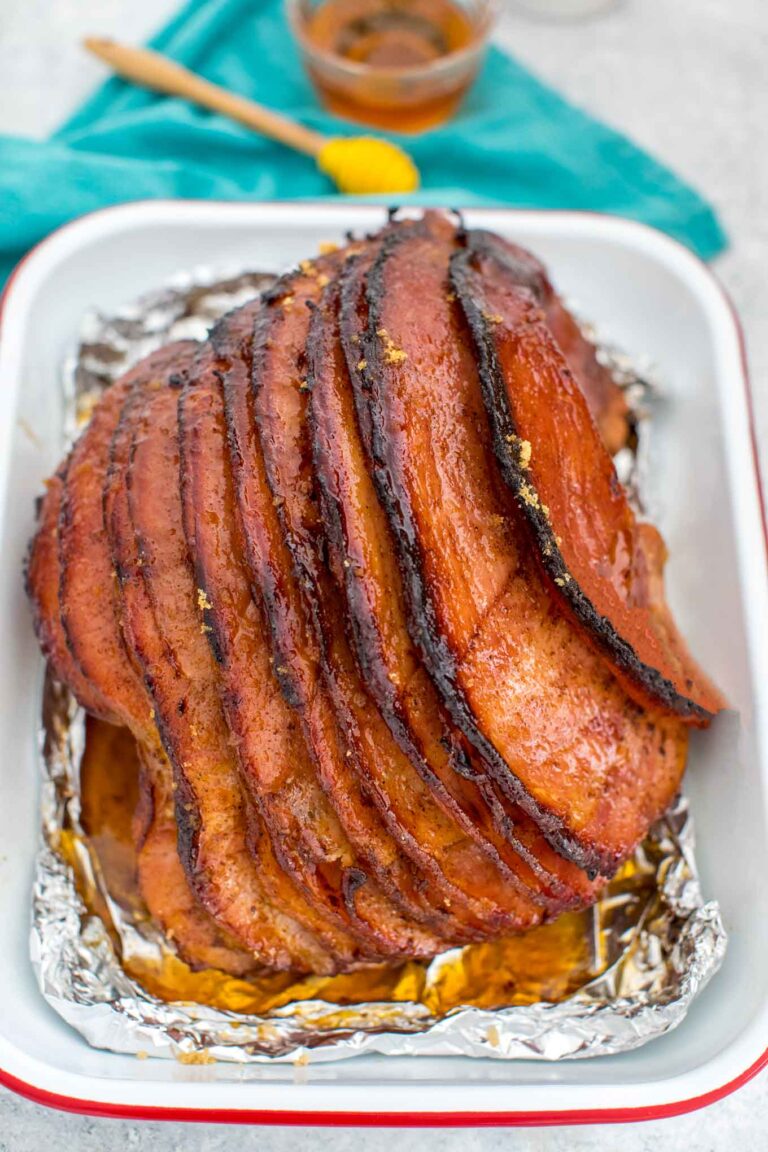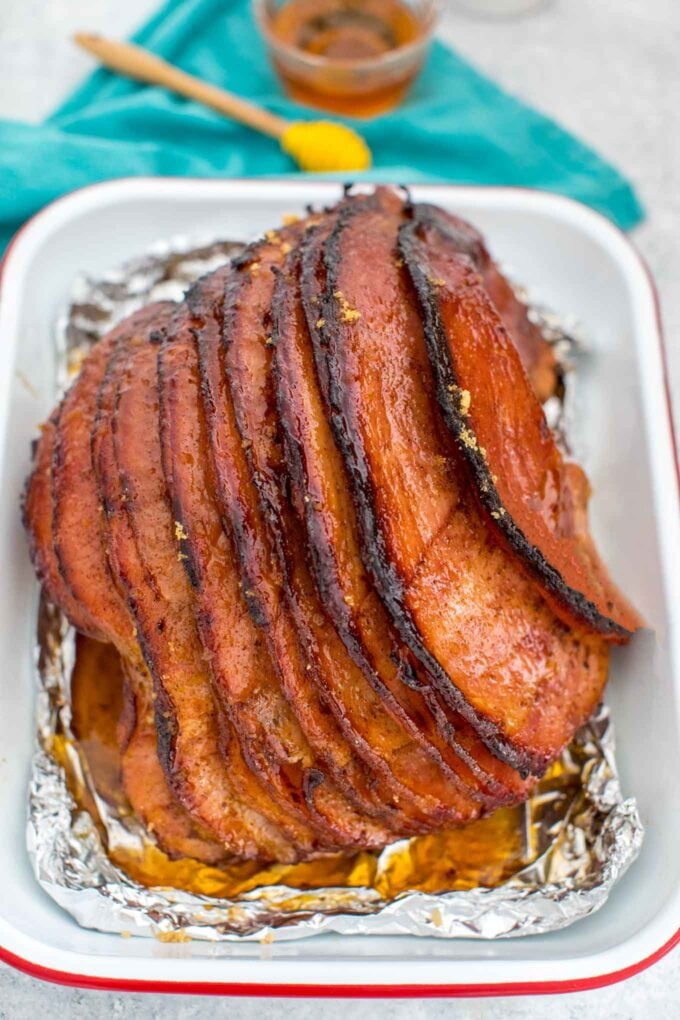 Honey Glazed Ham Recipe Tips:
When buying ham, I find that the best cut to get is the shank half because it is bigger and extremely flavorful.
When freezing it, cut it into smaller pieces so more can fit into a large gallon size ziplock bag.
If it smells sour and has a slimy flesh, that means that it has gone bad.
Leftovers are good in the refrigerator for about 3 to 5 days, meanwhile, when frozen is good in the freezer for 1 to 2 months.
Do not be afraid of freezing it! It is super easy to store and freezes very well. As long as you put it in the oven or conventional toaster oven it will taste just as good as the day you made it!
Other delicious recipes with honey: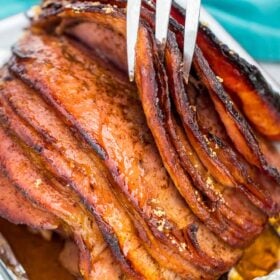 Honey Butter Ham Recipe
Honey Butter Ham is tender and delicious, covered in a sweet buttery glaze with brown sugar, honey, butter, and spices. With a prep time of five minutes.
Save
Share
Print
Pin
Rate
Ingredients
8

pound

fully cooked spiral ham
Honey Butter Glaze:
1/2

cup

unsalted butter

(melted)

1/2

cup

honey

1/2

cup

light brown sugar

(packed)

1/4

teaspoon

cinnamon

1/4

teaspoon

nutmeg

1/4

teaspoon

cloves

1/4

teaspoon

paprika

1/4

teaspoon

chili powder

1/4

teaspoon

salt

1/4

teaspoon

pepper
Instructions
Preheat the oven to 325 degrees F.

In a small bowl combine all the glaze ingredients and stir.

Spoon the glaze all over the ham, if you are using a spiral ham, make sure to get the glaze between each slice.

Roast the ham, uncovered, for 20 minutes, baste with the dripping and roast for another 20 minutes.

Then baste the ham with the pan drippings, cover and roast for another 40-60 minutes until the ham reaches 145 degrees. Continue to baste every 20 minutes. Uncover for the last 20 minutes of baking, and for a crispy top, broil for 3-5 minutes in the end.

Slice thinly to serve.
Nutrition
Calories:
660
kcal
|
Carbohydrates:
15
g
|
Protein:
49
g
|
Fat:
43
g
|
Saturated Fat:
17
g
|
Cholesterol:
155
mg
|
Sodium:
2781
mg
|
Potassium:
663
mg
|
Fiber:
0
g
|
Sugar:
15
g
|
Vitamin A:
200
IU
|
Vitamin C:
0.1
mg
|
Calcium:
24
mg
|
Iron:
2.1
mg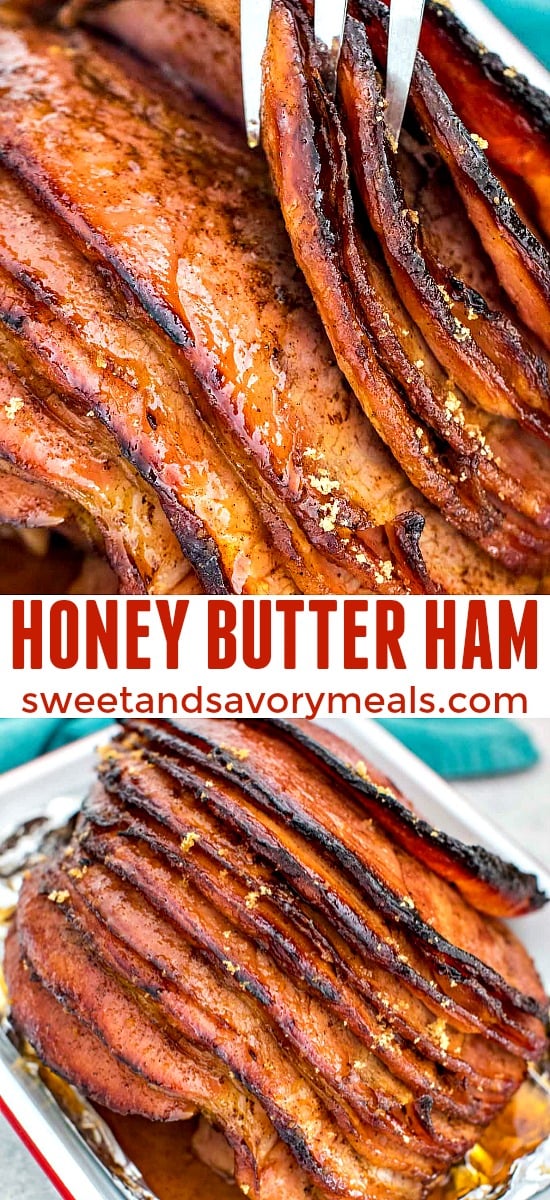 More recipes you might love