Easy Honey Garlic Pork Chops [video]
Honey Garlic Pork Chops are super juicy and tender, coated with the most delicious sticky honey garlic sauce. This is an amazing dinner recipe that is ready in less than 30 minutes.
We love a good pork chops recipe, but this one is truly one of the best. The meat is super flavorful and simply melts in your mouth. For a complete dinner, serve them with scalloped potatoes, roasted asparagus, or roasted rosemary potatoes.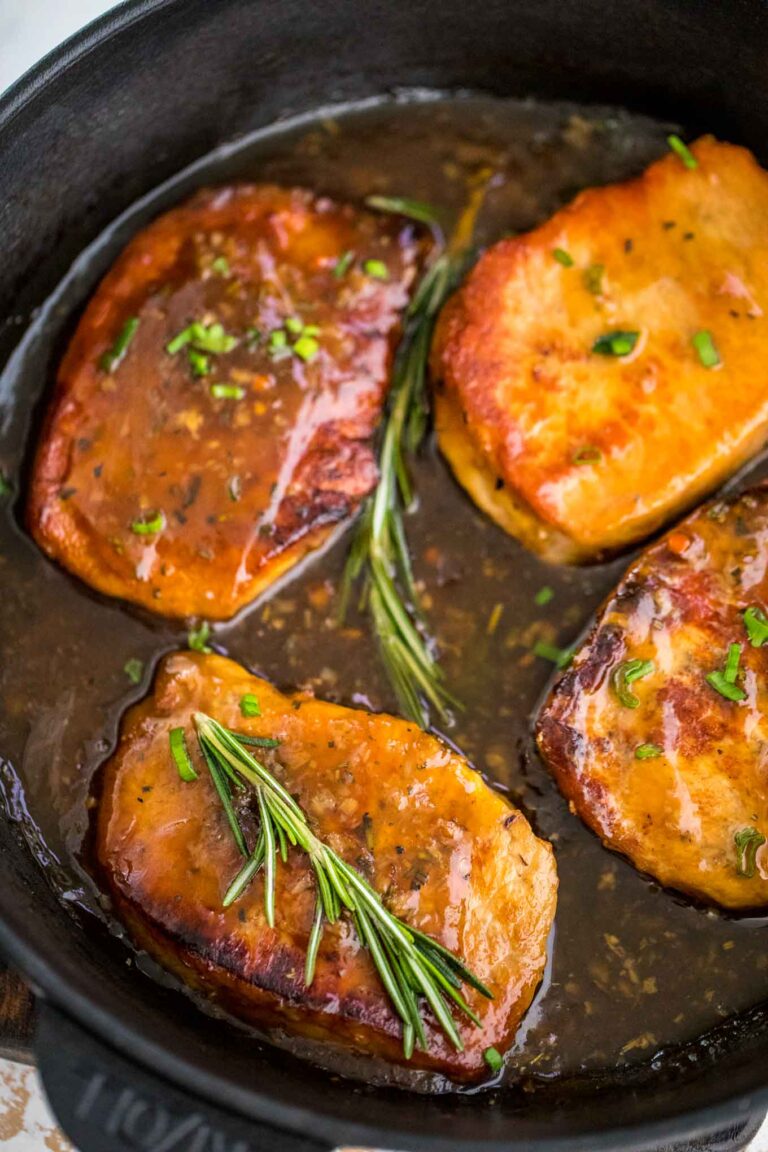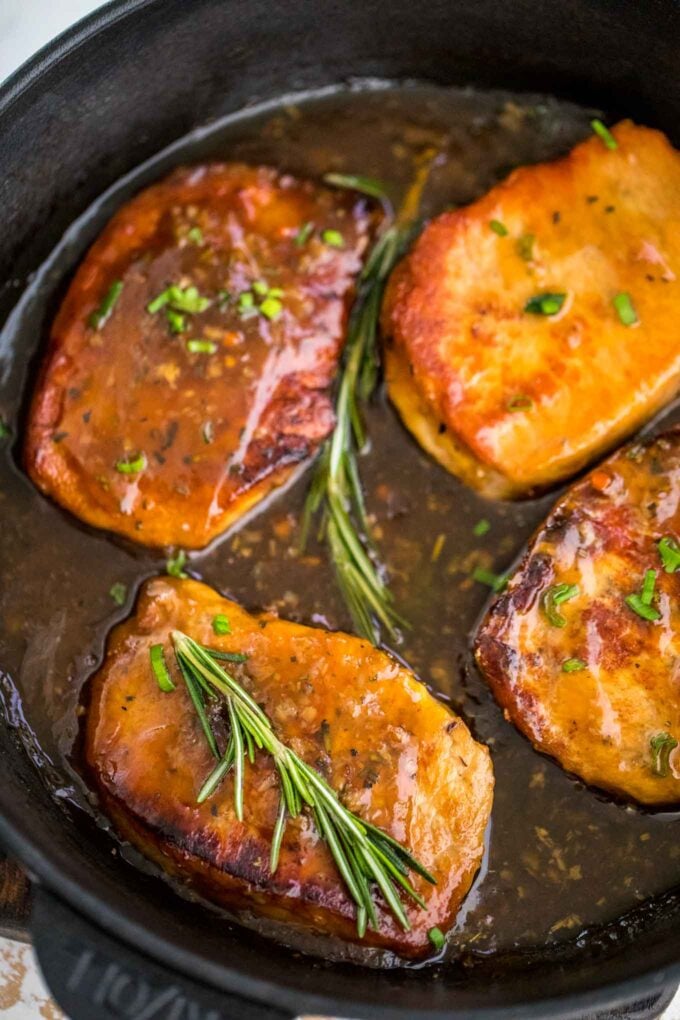 Easy Homemade Honey Garlic Pork Chops
Honey Garlic Pork Chops are an incredibly quick and delicious way to serve bone-in meat for dinner. They are quickly seared in the skillet for a few minutes till golden, then finished in the broiler. As a result, you end up with some of the best and crispy chops, with caramelized edges.
This is our go-to dinner recipe when we are short on time. It is super quick to put together, with a few ingredients, that are ready in less than 30 minutes. It does not get any better than this! If you have a large iron cast pan, we strongly recommend using it.
The heat is evenly distributed and cooks the meat perfectly while giving them that golden brown color. This is an easy and the perfect dish to serve to your family during the week, with budget-friendly ingredients!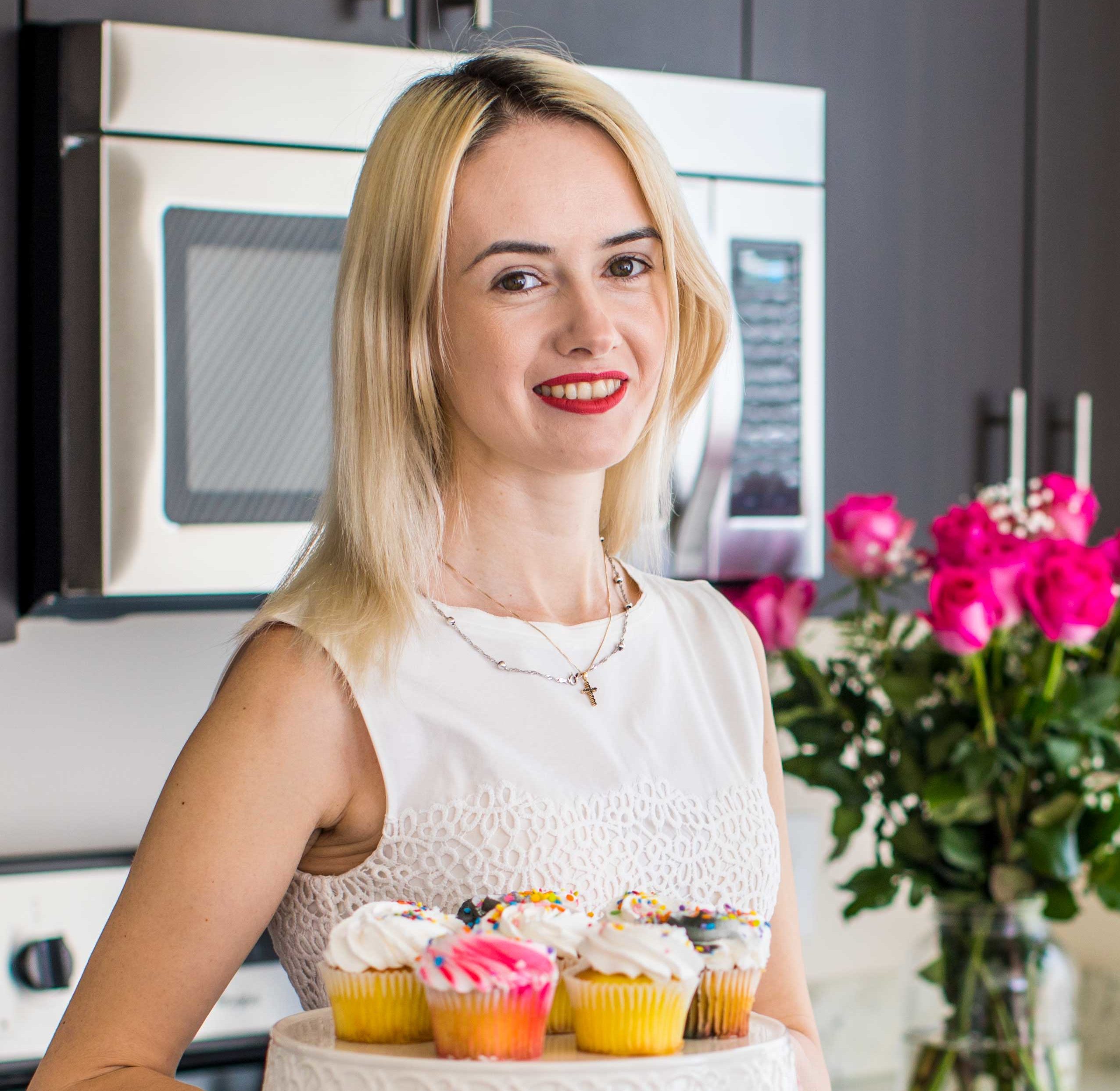 Follow us on Pinterest for more delicious recipes!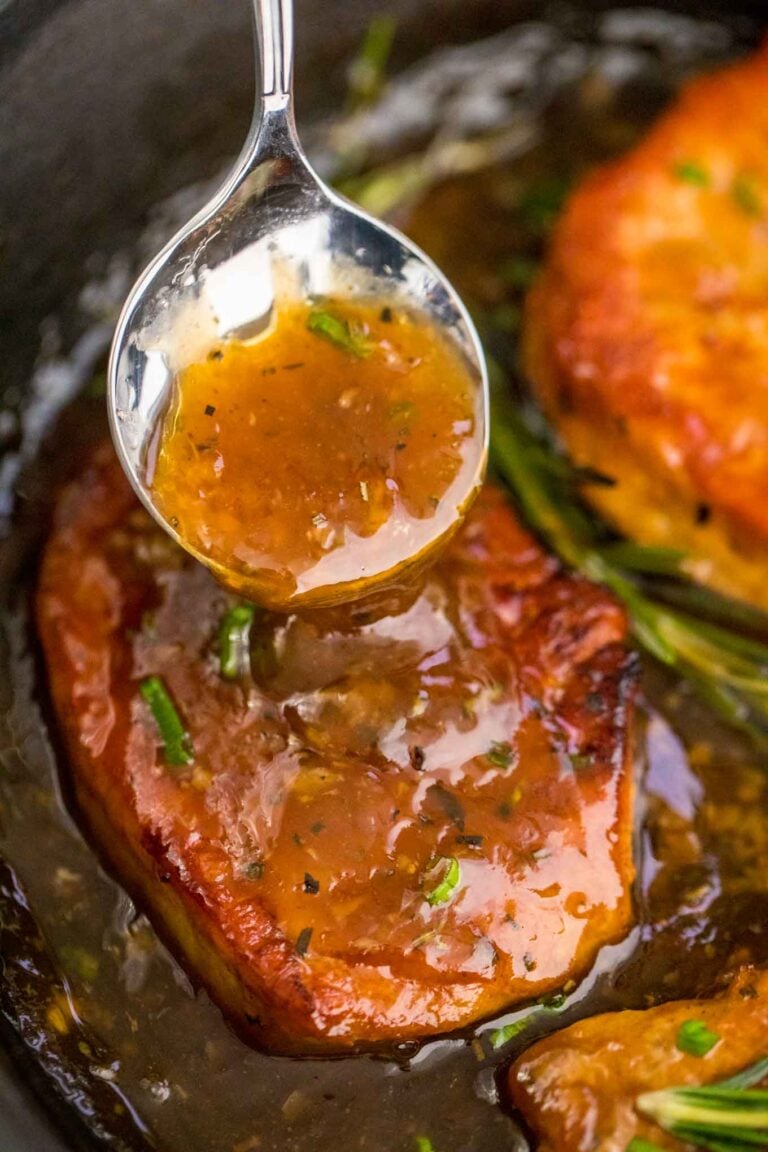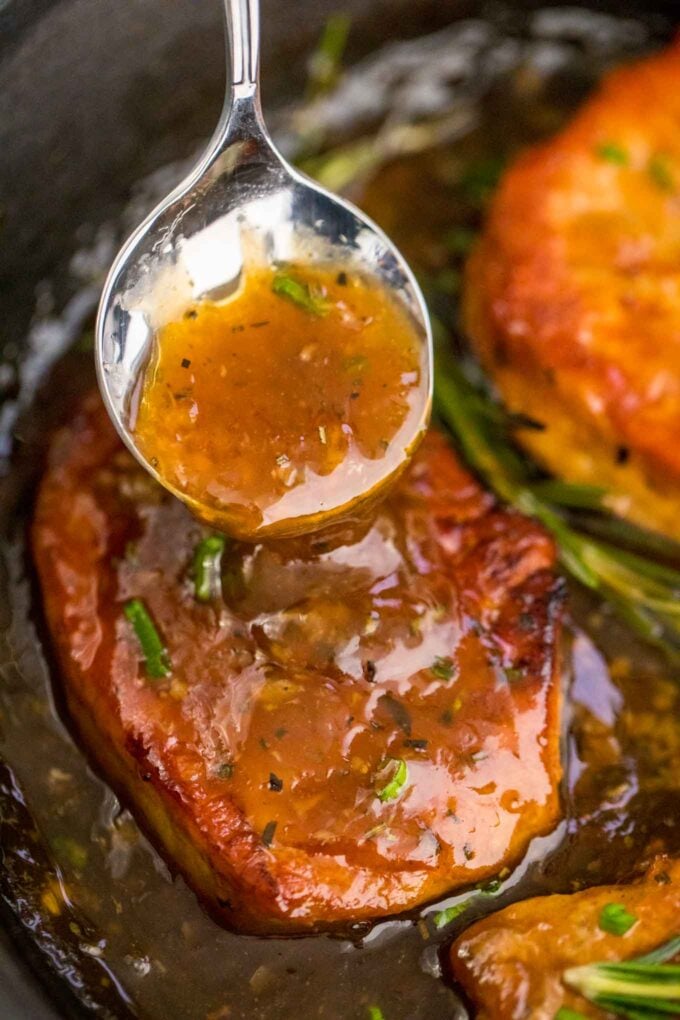 How to make Honey Garlic Pork Chops?
For exact steps please see the recipe card below. Also, watch the short recipe video attached.
You can use bone-on on boneless chops. This is totally up to you. Though, we prefer bone-in, as it has a little bit more flavor to them.
Season the meat with some salt and pepper just before cooking.
In a separate bowl, whisk minced garlic, honey, water, and vinegar and set aside.
Next, in a skillet, heat some oil, and add the chops. Brown them on both sides for about 2-3 minutes per each side. Transfer to a plate, and set aside.
In the same pan, add some butter, and pour the sauce mixture, and stir occasionally till the sauce thickens slightly (about 2-3 minutes).
Add the pork chops back into the pan, and baste generously with the sauce.
Then, transfer the pan to an oven and broil for an additional 2 minutes, or until edges are slightly charred.
HOW TO MAKE HONEY GARLIC PORK CHOPS ON THE GRILL?
Prepare the mixture as described above, and coat the meat in it.
Then, place chops on a greased grill over medium-high heat.
Close the lid and cook for about 4-5 minutes per side, basting the meat 2 times while they cook.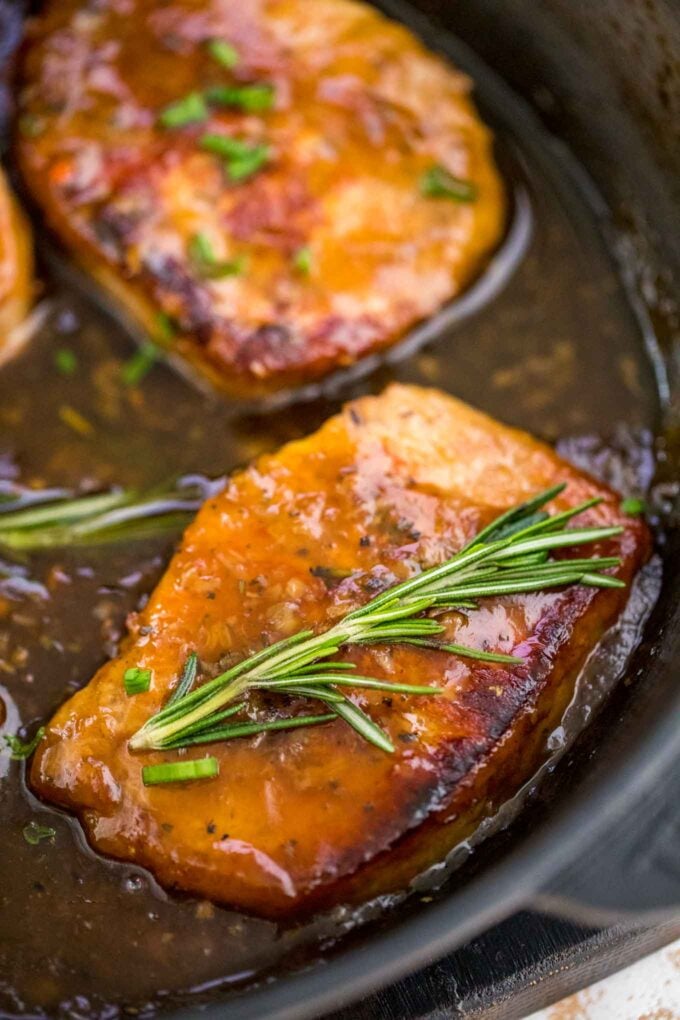 HOW LONG DO YOU COOK PORK CHOPS IN THE OVEN?
Place the meat in an oven-baked dish, and then pour the mixture over them. Then bake in the oven at 375 degrees for 25-30 minutes or until they reach an internal temperature of 145-150 degrees. Let them rest for 3-5 minutes before serving.
What goes with pork chops?
We enjoy serving them with some veggies or baked potatoes. Some other great side dishes to them are: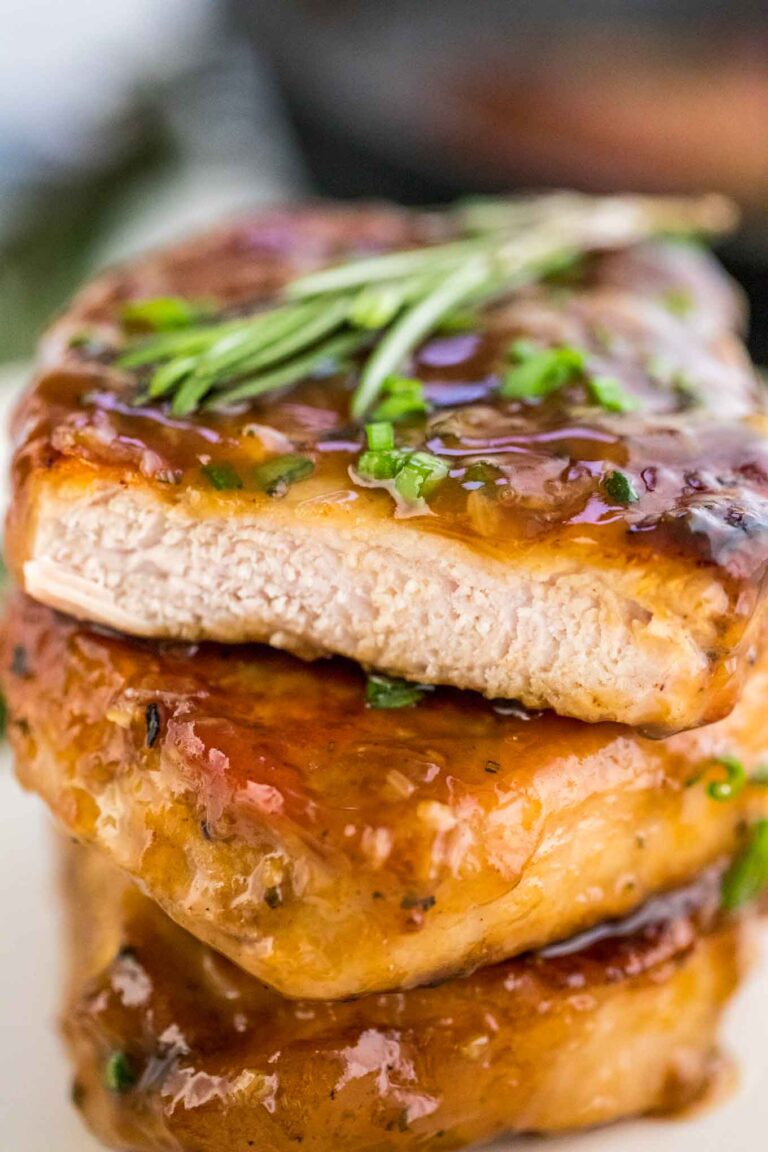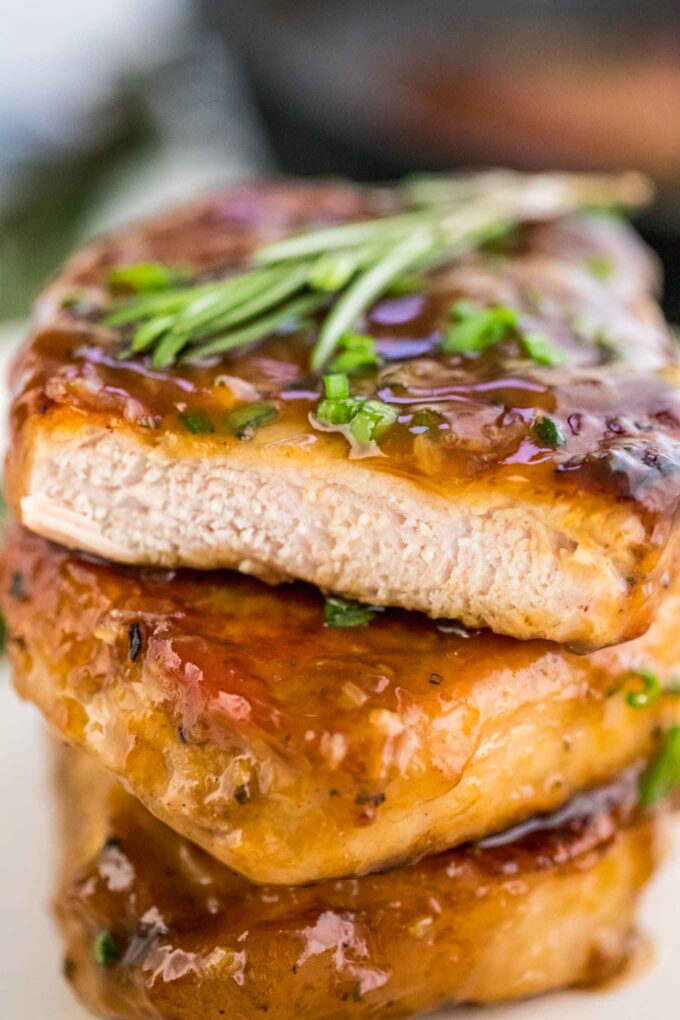 HOW TO MAKE this dish in advance?
Prepare the mixture.
Then, place the chops in a large Ziploc and pour the sauce over them.
Close the bag, rub the sauce all around, and place in the fridge for up to 24 hours.
When ready to serve, remove from the bag and cook.
Save Recipe
Best Honey Garlic Pork Chops
Author: Catalina Castravet
Serves: 4 pork chops
Prep time:

5

minutes
Cook time:

25

minutes
Total time:

30

mins
Ingredients
4 pork chops (bone-in or bone-out)
2 tablespoons olive oil
4 tablespoons butter (unsalted)
6 cloves garlic (minced)
1/3 cup chicken broth
1 teaspoon apple cider vinegar
1 tablespoon fresh rosemary (chopped)
1/3 cup honey
2 sprigs fresh rosemary
Salt and pepper (to taste)
Chopped green onions
Instructions
Preheat oven to 400 degrees F.
Place a large cast-iron skillet over medium-high heat until hot. Once hot, add the olive oil. Season pork chops with salt and pepper on both sides and add to the pan. Sear on both sides until golden-brown and cooked through, about 5 minutes per side.
Transfer to a plate and cover tightly with foil.
Reduce heat to medium and add butter to the same pan, stir to melt it. Once melted, add minced garlic and sauté it just until fragrant, for about 30 seconds.
Add broth, vinegar, honey, and fresh rosemary. Season with salt and pepper to taste. Increase heat to medium-high, stir and cook the sauce until it reduces and thickens slightly about 5 minutes.
Add pork chops back to the pan, baste with the sauce, add a few sprigs of fresh rosemary and transfer to the oven for about 7-10 minutes. Broil for 1-2 minutes before serving.
Garnish with chopped green onions before serving.
Calories: 471 Carbohydrates: 23 Protein: 29 Fat: 29 Saturated Fat: 6 Cholesterol: 89 Sodium: 269 Potassium: 530 Fiber: 0 Sugar: 23 Vitamin A: 515 Vitamin C: 1.4 Calcium: 14 Iron: 0.8
Save Recipe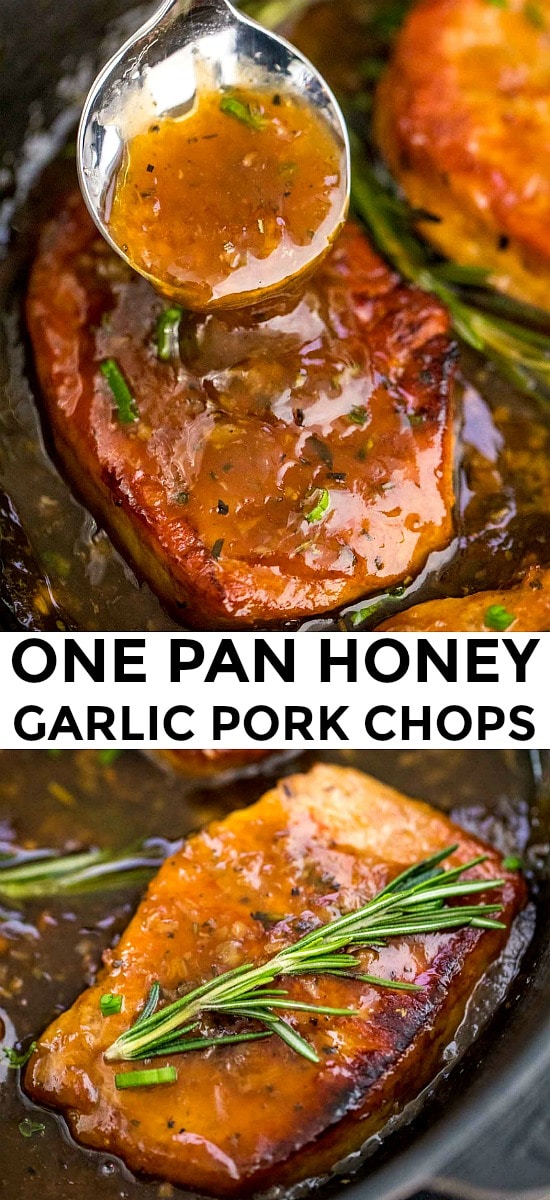 More recipes you might love