The Best Classic Chili recipe comes together in just under one hour. It is made with ground beef, beans, crushed tomatoes, and seasonings.
This classic chili is rich and flavorful and perfect for a weeknight. We also love crockpot cheesy potato soup, beef stew, and cheeseburger soup.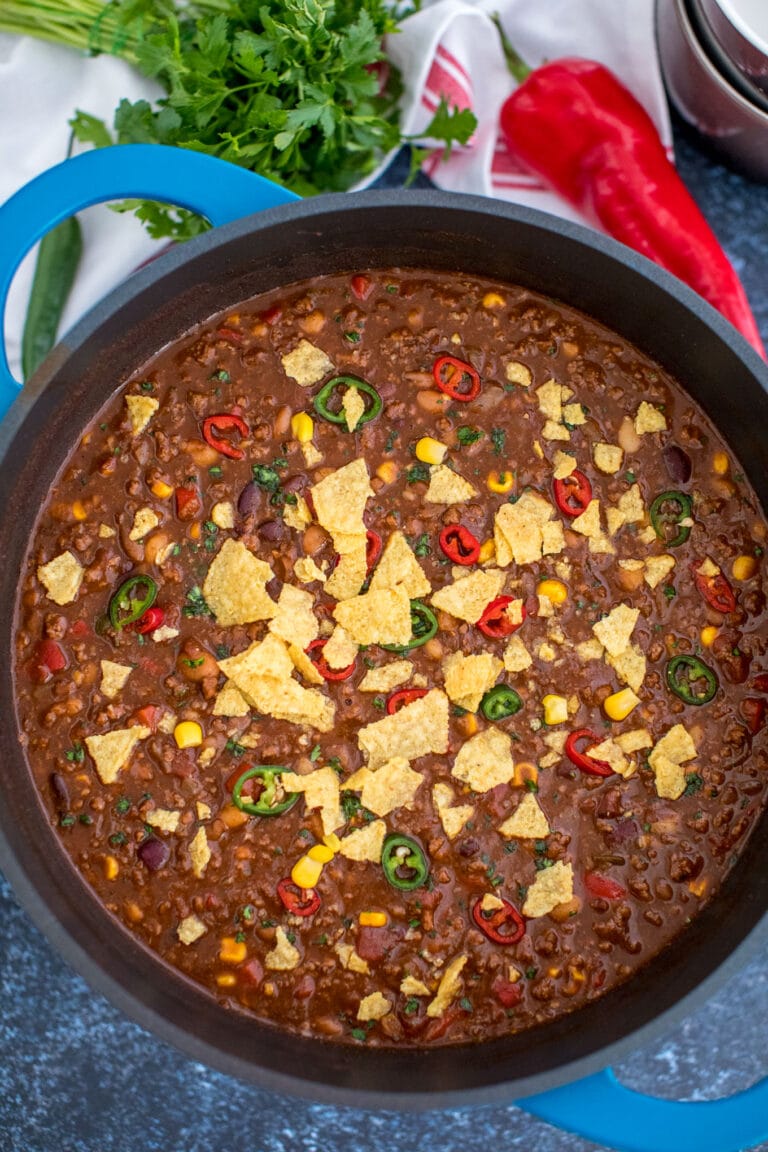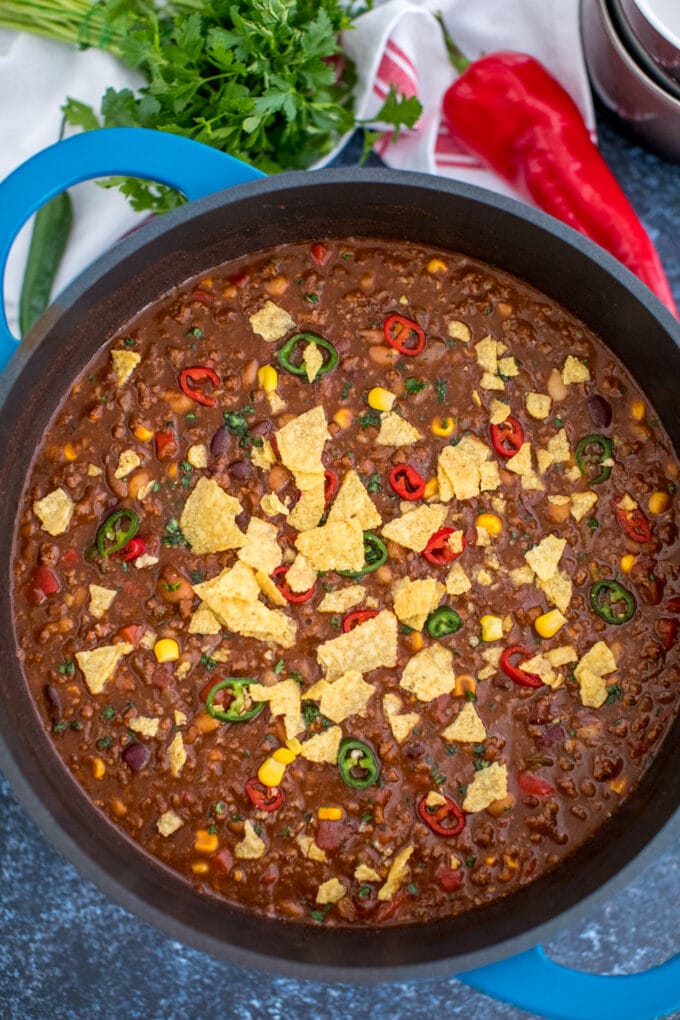 The Best Beef Classic Chili
This classic chili is made in one pot and is the perfect family-friendly dish. It is one of our favorite comfort foods to enjoy during colder times. However, because it is so delicious and flavorful, we love making it during any season of the year!
It has the right balance and flavor. The ground beef and beans combined with species make it really fabulous and irresistible. The chili itself is gluten and dairy-free, so you can enjoy it on many diets.
Also, we love topping it with some sliced avocado, and crushed corn or tortilla chips. But you can add whatever you prefer, like various cheeses, sour cream, or cilantro. No matter how you top it with, it will taste delicious and is guaranteed to win you over. It is ready in minutes and perfect for game day, party, or even pot-luck.
How to make the best beef chili recipe?
This is one of our favorite meals to make because it is so rich and flavorful, yet super easy to prepare.
In a large pot or Dutch oven, heat some olive oil over medium heat.
Then, add chopped onion saute for about 4-5 minutes.
Add ground beef and cook for another 6-8 minutes, until no longer pink.
Drain the fat and add the minced garlic, add crushed tomatoes, some chili powder, cayenne pepper, cumin, tomato paste, salt, and pepper, and still well.
Next, some sweet corn, bell pepper, beans, beef broth, stir well.
Simmer for about 25 minutes.

Enjoy!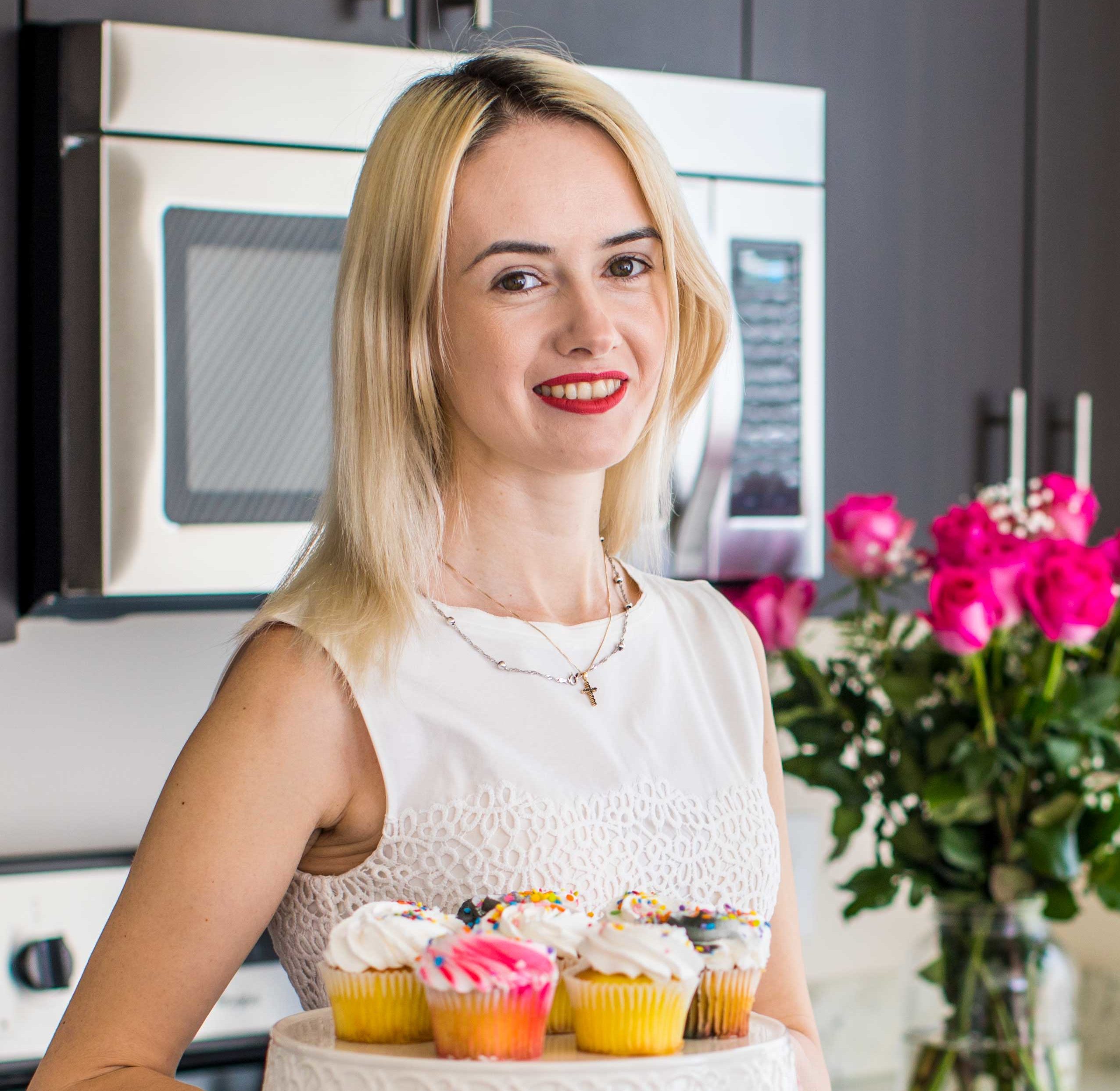 Follow us on Pinterest for more delicious recipes!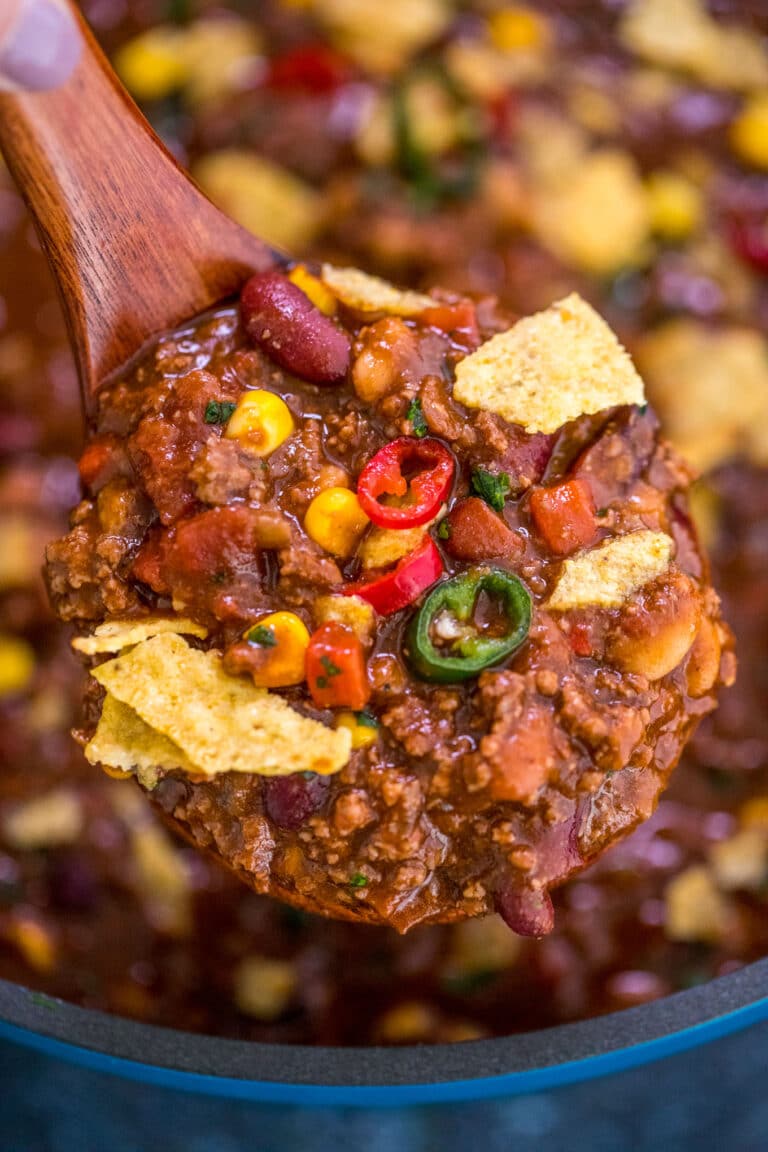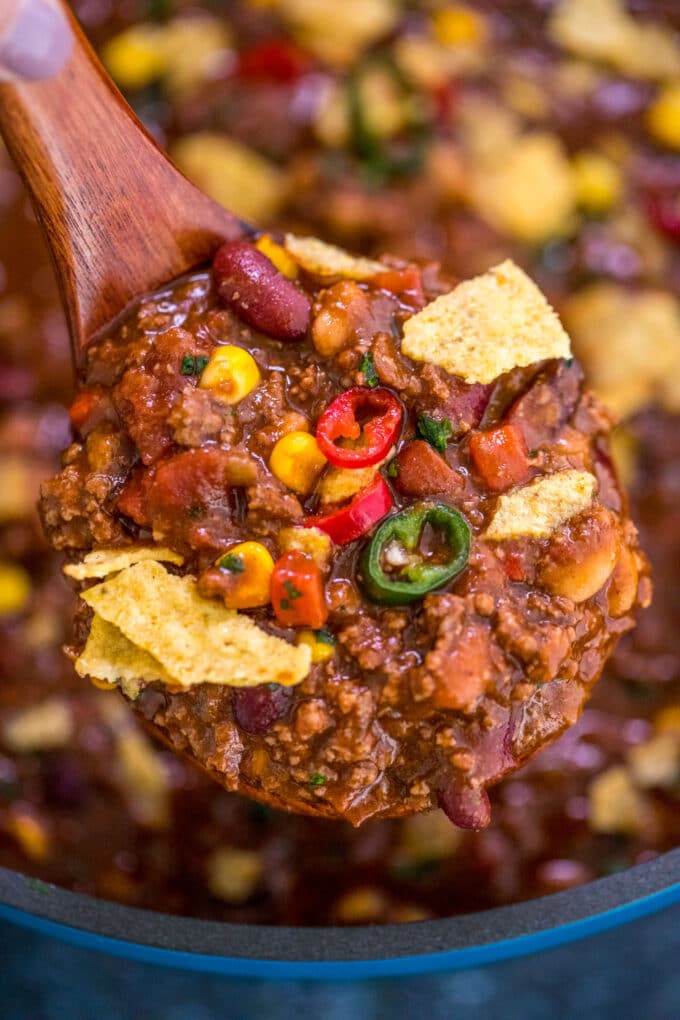 Can I make Classic Chili in the Instant Pot?
Absolutely! Making it in the Instant Pot is similarly easy and delicious. We already have the Best Instant Pot chili recipe, and you can check it out at this link.
How to make classic chili in the Slow Cooker?
You can absolutely make this recipe in the slow cooker. It will result in a rich and very flavorful meal. Also, by making in the crockpot, the flavors marinate together over a longer period of time, resulting in a super flavorful and hearty dish.
Simply, put all the uncooked ingredients in the slow cooker and set it for 7-8 hours on LOW or 3-4 hours on HIGH. Also, if time allows, you can sauté the onions and peppers first for a slightly softer texture. It's that simple!
Can I use turkey instead of beef?
Yes! We usually make it with ground beef; however ground turkey works perfectly fine. It will result in a healthier and leaner meal as well. Also, it is a great alternative if you prefer to avoid red meat. Also, ground chicken breast is an excellent option.
How do you make beef chili thicker?
The best and quickest way to thicken it is by using flour. Just don't add it directly to the pot! Instead, use a separate bowl. To the bowl, add 1-2 tablespoons of flour and a cup of hot liquid from the chili. Then, simply whisk the mixture together until combined and add it to the pot.
WHAT DO YOU TOP CHILI WITH?
Some other great toppings are:
Shredded cheddar cheese
Sour cream
Sliced green onions
Tortilla chips
Crackers or oyster crackers
Croutons
Sliced avocado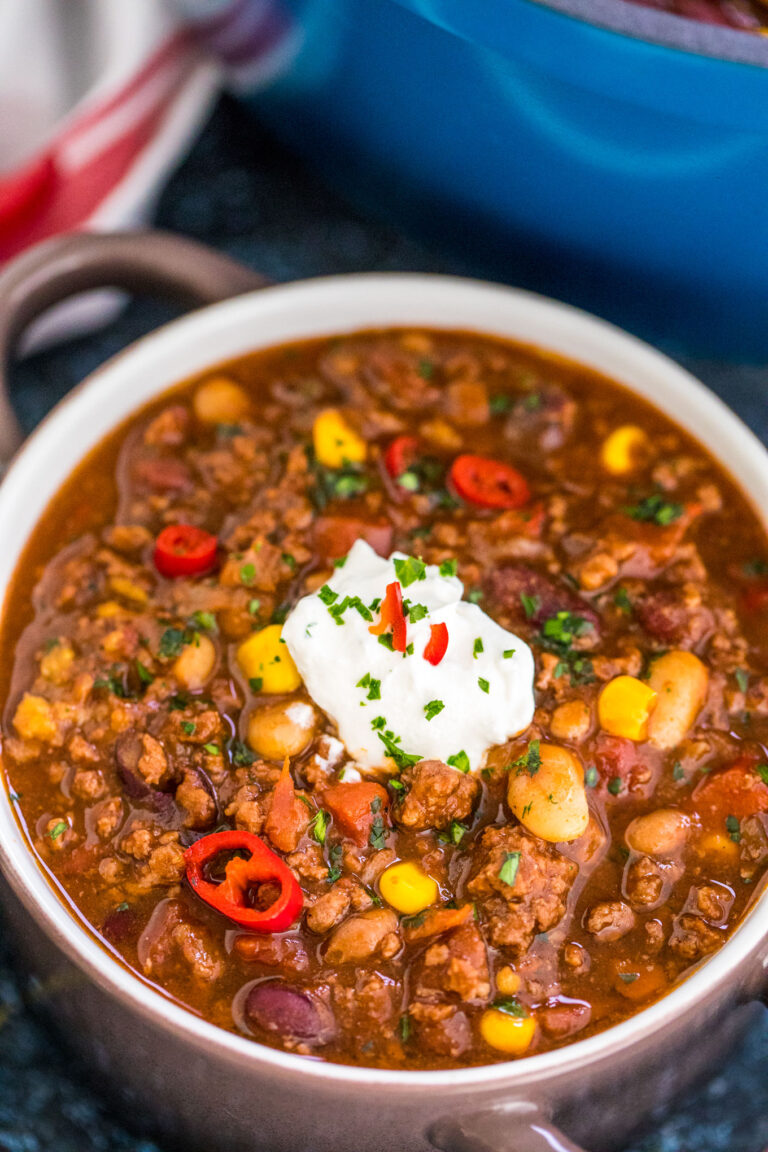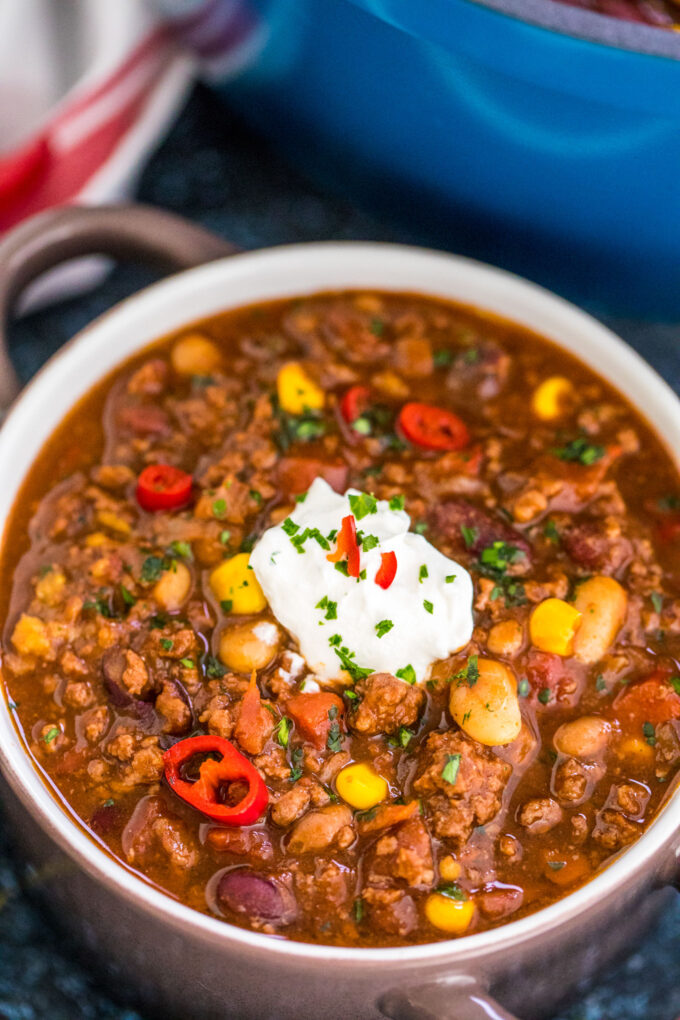 More chili recipes to try:
Classic Chili Recipe Tips
To make this vegetarian use tofu instead. Preferably to use extra firm tofu and additional beans such as black beans.
Also, feel free to add a can of your favorite beans to this recipe if your family will mutiny without beans in their chili.
This makes about 8 cups of chili, which is more than our family will eat in one sitting. We usually serve half one night, then freeze the leftovers in a zip-top bag. Leftovers will keep well-stored for about 3 months.
In addition, you can make this spicier by adding more cayenne pepper when sauteing the onion. Similarly, you could add chopped jalapenos or red chili pepper flakes.
Save Recipe
Best Classic Chili
The Best Classic Chili recipe comes together in just under one hour. It is made with ground beef, beans, crushed tomatoes, and seasonings.
Author: Catalina Castravet
Serves: 8 servings
Prep time:

15

minutes
Cook time:

30

minutes
Total time:

53

mins
Nutrition information
Calories: 327 Carbohydrates: 44 Protein: 25 Fat: 7 Saturated Fat: 2 Cholesterol: 35 Sodium: 1306 Potassium: 1280 Fiber: 12 Sugar: 11 Vitamin A: 1425 Vitamin C: 31.4 Calcium: 155 Iron: 7.8
Save Recipe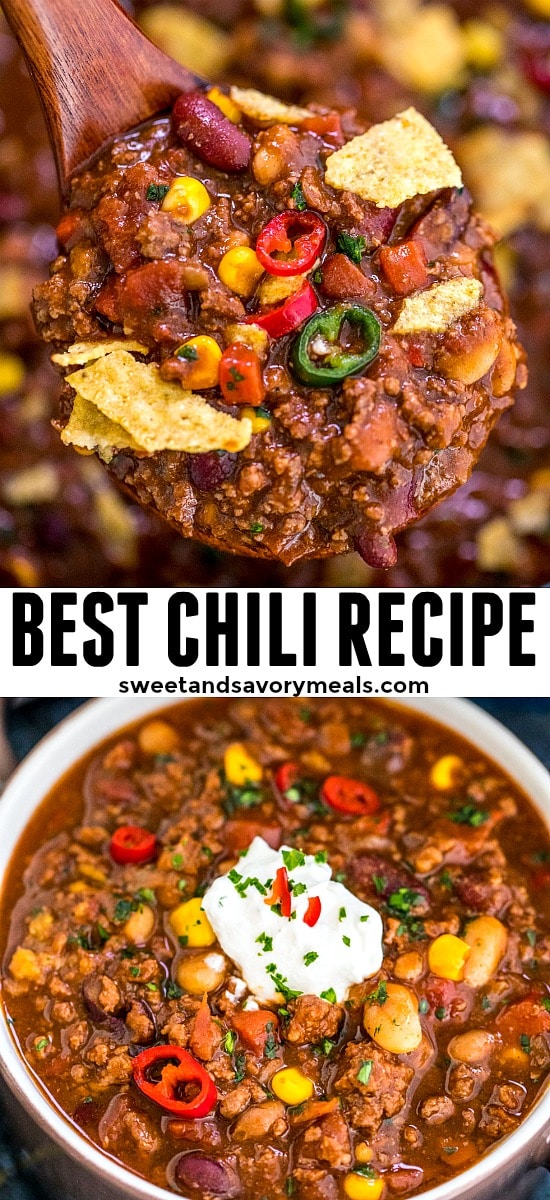 More recipes you might love
Categories: