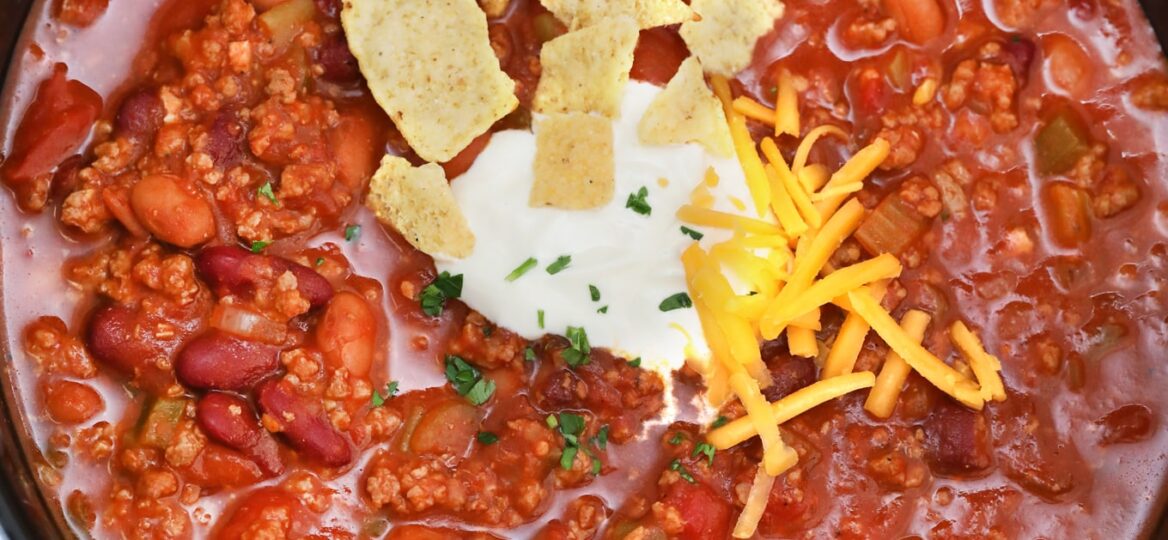 Slow Cooker Wendy's Chili Copycat
Slow Cooker Wendy's Chili has all the flavors melded together in one heartwarming dish! Get the authentic experience with this precise copycat recipe!
I always order this when I go to Wendy's. But when I have the chance, I simply make it at home. For more copycat recipes of your favorite dishes, check out the recipes for Panera Bread Broccoli Cheddar Soup, Cheesecake Factory Honey Truffle Chicken, and Chipotle Black Beans!
Crockpot Wendy's Chili Copycat Recipe
This Slow Cooker Wendy's Chili recipe tastes so much like the original if not better! So, if you are thinking of going to Wendy's for this, then, think twice.
If you are doing this on the stovetop, you will have to babysit the pot. That is why I love the crockpot for recipes like this. I can easily whip a huge batch of this chili and essentially forget about it for a while.
It is not as instant as using the pressure cooker. But slow cooking gives it a certain level of richness that is achieved by having all the flavors meld beautifully through the long hours of cooking.
This recipe simply offers you a good homemade alternative that is less expensive and more personal. It may take hours but cooking it at home is a delight.
I get to make it anytime I want, and I can add more of my favorite beans, too! It is extra delicious when served with some homemade cornbread.
How to make Slow Cooker Wendy's Chili:
Brown the beef: In a skillet, put the 85/15 ground beef and season with salt and pepper. Let it cook in its own fat until browned perfectly. Besides, Wendy's makes their chili out of unused hamburger patties. So, the goal here is to make it caramelize beautifully.
Add the veggies: The next step is to stir in the celery, onions, and the other vegetables. Add the mixture to the slow cooker.
Season: Sprinkle the cumin powder, paprika, and the rest of the spices on top and stir.
Add the beans: I use a combination of red beans and pinto beans. Wendy's uses pink beans, so, you can also use that. Feel free to omit them altogether if you do not want them.
Cook: Set it on LOW for 6 to 8 hours or on HIGH for 4 to 6 hours. Keep the lid on and refrain from opening it even when the aroma tempts you to.
Serve: When done, garnish and serve warm.
Can you make Wendy's Chili in the Instant Pot?
Yes! If you are pressed with time and just do not have all day, then, refer to this instant pot version. There are times that both my IP and crockpot are occupied that I rely on my stovetop recipe, too.
How to make Wendy's Chili more flavorful:
The key to a flavorful chili is the first part of this recipe and that is sautéing the beef with the aromatics and the vegetables. You can simply brown the beef and when no longer pink, you can continue with the rest of the recipe.
But letting it char a bit and caramelize will give a deeper flavor overall. The same goes for the onions, the celery, and everything else that is cooked before putting in the crockpot. Pre-cooking releases all those flavors.
But if you must, add more of the garlic or the chili powder. You get to change up the amount of any ingredient and that is one advantage of having this at home.
Do you add water to Crockpot Wendy's Chili?
It is optional. The real thing is quite liquidy after all, so, you can add some. But if you want it to be thicker, then, just let the canned tomatoes and beans provide the moisture.
How to Store:
Refrigerate: Allow it to cool completely then, when ready, put in an airtight container. You have up to 4 days to consume it.
Freeze: If frozen, it will keep for up to 4 months. Simply put the cooled chili in freezer bags and freeze. To reheat, allow it to thaw in the fridge first before reheating on the stovetop.
Recipe Tips:
It is highly versatile, and you can serve it with almost anything. I use it to top pasta or rice. You can eat it with bread or crackers, with corn chips, and even as a taco filling.
If you have extra unused hamburger patties, you may also use those in place of the ground beef. They result in bigger chunks of meat in your chili.
Aside from the toppings listed in the recipe card, feel free to top it with avocado slices, black olives, and white onions.
Deliciousness to your inbox
Enjoy weekly hand picked recipes and recommendations