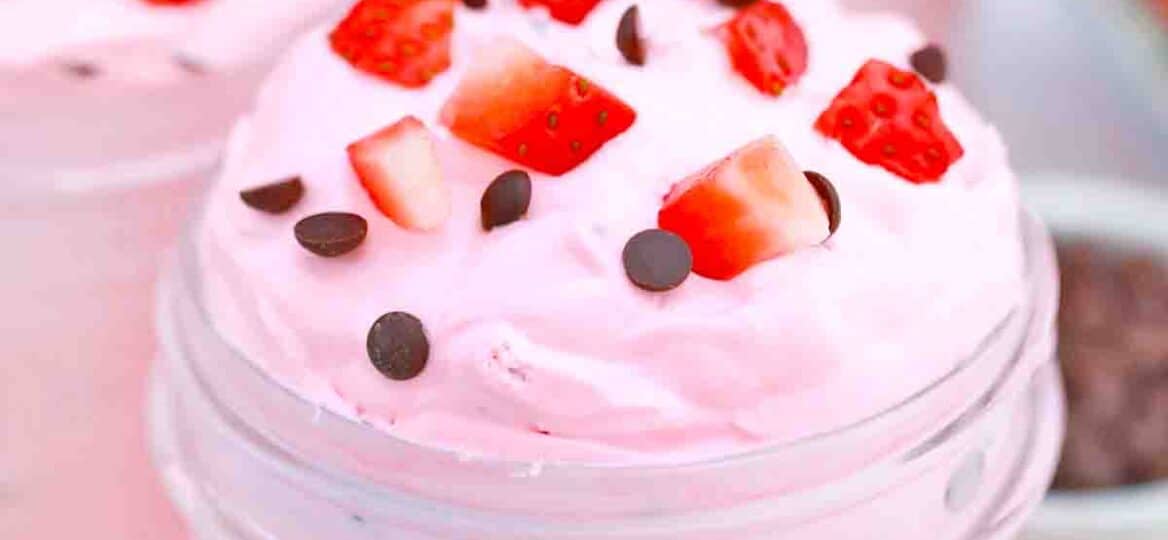 Strawberry Delight Recipe – 5 Ingredients ONLY!
Strawberry Delight is a creamy and delicious no-bake dessert made with just 5 ingredients and only takes 5 minutes to prepare. It is the perfect no-bake dessert that you can let the kids make while you supervise. You can serve this in individual cups or bowls or in one large or medium bowl so everyone can just get what they want.
If you like this strawberry delight dessert recipe, you will love our Strawberry Dream Dessert made with a filling of cream cheese, powdered sugar, whipped cream, butter, and strawberries as well as strawberry jello in a graham cracker crust. Then it is topped with our homemade strawberry shortcake crumble.
Many people in the south call this a dessert salad because all of the ingredients are sort of tossed together and it is done in minutes. It is also known as the strawberry dream dessert, strawberry lush, or layered dessert when made with a cheesecake layer. Whatever you call it, we just call it delicious.
For this yummy strawberry delight recipe, all you need are a few ingredients including cream, sweetened condensed milk, sour cream, strawberries, strawberry pudding, and drink mix. Then add the chocolate for an extra touch. It is a refreshing dessert for any occasion. In our second recipe, you make a layered dessert of pie crust and creamy topping for a more decadent dessert.
Check out some of our other great recipes you can make for dessert. This pineapple fluff recipe is simple and delicious and you only need a handful of ingredients including vanilla pudding, pineapple, marshmallows, coconut, powdered sugar, pecans, lime, cream chees, and heavy whipping cream. For something a little bit different, try our pistachio dessert recipe. This unique treat is full of creamy pistachio pudding and cream cheese with M & Ms on top for a festive look.
Ingredients needed:
To make this no-bake strawberry delight dessert recipe, gather these ingredients. Then, scroll down to our recipe card for the complete instructions and measurements.
Strawberry pudding
Sliced strawberries
Chocolate chips
Chocolate sprinkles – optional
Sour cream
Heavy whipping cream
How to make strawberry delight from scratch?
Mix the strawberry cream: First, add condensed milk, heavy whipping cream, sour cream, drink mix, and strawberry pudding to a blender and blend these ingredients on high for two minutes.
Stir in chocolate: Next, add chopped strawberries, chocolate chips, and chocolate sprinkles and stir with a wooden spoon or spatula.
Fill your glasses: Lastly, spoon the mixture into four glasses. Make sure you fill them all the way to the top.
Chill and serve: Finally, chill in the refrigerator for at least two hours before serving.
How to make strawberry delight pie from scratch?
Gather the strawberry layer ingredients: The strawberry delight ingredients are the same but add softened cream cheese to the mix instead of sweetened condensed milk for a cheesecake filling. Preheat oven to 350 degrees F. Also, you will need to add melted butter, powdered sugar, and graham cracker crumbs for the crust.
Make the crust mixture: To begin, crush graham cracker cookies in a food processor or blender and then mix with melted butter in a small bowl. You could also use a premade graham cracker crust or shortbread crust from the store.
Bake the crust: Then, press the mixture into the bottom of a pie pan or baking dish and bake for 10 minutes.
Beat the cream cheese filling: In the meantime, mix everything except the chocolate chips and sprinkles in a large bowl with a mixer until thoroughly combined.
Fold in the chocolates: After, gently fold chocolate chips and sprinkles into the cream cheese mixture with a spoon or spatula.
Spread creamy filling on the cooled crust: Once the crust is cooled completely, spread the strawberry cream cheese layer on top and chill for three to four hours before serving your delicious layered dessert.
Recipe variations:
Use instant pudding: Use strawberry instant pudding instead of heavy cream for extra strawberry flavor.
Box dry strawberry gelatin: You could also use one box of strawberry gelatin or strawberry jello instead of a drink mix.
Lemon juice: Sprinkle in a teaspoon of lemon juice for a bit of tanginess.
Add some nuts: Add a 1/2 cup of chopped pecans in the mix for some crunchiness.
Extracts: Try adding a teaspoon of vanilla extract or almond extract for a unique twist.
More fruit: Experiment by adding other fruit like crushed pineapples or maraschino cherries.
How to serve:
This is a versatile strawberry dessert that goes with anything. You can serve it after dinner or have it as an after-school snack for the kids. Try one of our great serving ideas or share some of your own ideas in the comments section.
For an extra delicious dessert, add a scoop of strawberry pie filling to each cup. Instead of canned pie filling, use our tangy strawberry pie filling recipe.
Make this into a pie instead of individual cups. Just spoon it into a prepared crust like a graham cracker crust or frozen crust and chill for two to three hours. Top with vanilla wafers, sliced strawberries, crushed graham crackers, or whatever else you like.
In fact, forget the cups and the pie crust and just mix it all up in a large mixing bowl and let guests serve themselves.
Another yummy topping is homemade whipped cream. Try our easy whipped cream recipe.
If you like layered desserts, keep the strawberries separate and layer them between the cream mixture.
Arrange sliced strawberries evenly on top of your dessert and you can add a whipped topping or Cool Whip on top of the strawberries.
A dollop of chocolate pudding on top would be perfect for a chocolate delight.
Frequently asked questions
How do I soften cream cheese quickly?
If you are getting ready to make a cream cheese recipe and forgot that you need cream cheese softened to room temperature, do not panic! You can soften it up pretty easily. To get it done in seconds, unwrap the block and put it in the microwave in 10-second bursts until it is soft enough. Or you can keep it wrapped in the foil and soften it in a bowl of hot water for 15 minutes.
Why is my strawberry delight not setting?
You may have used more liquid in your recipe than it calls for. Also, you may need to drain the strawberries well after cleaning them. To make sure they are completely dry, spread them out onto a paper towel for a few minutes with another paper towel on top of the strawberries. Add a bit of cornstarch to thicken it up and it will be fine.
Can I eat wild strawberries from my yard?
Yes, they are not poisonous if they are mock strawberries or wild berries. They are even quite tasty. While they may not be as sweet as regular strawberries, you can add some granulated sugar to them, and they will be delicious in any recipe or just to snack on.
What are the nutrition facts in this recipe?
Each serving of this delicious dessert has 244 calories, 17 grams fat, and 8 grams saturated fat as well as 34 mg cholesterol, 21 grams carbohydrates, 60 mg sodium, and 18 grams sugar. However, you also get 4 grams protein, 112 mg potassium, 8 mg vitamin C, 1,012 units vitamin A, 90 mg calcium, and 1 gram fiber.
How to store leftovers:
Store: You can store your leftover strawberry delight in an airtight container for up to a week in the fridge.
Freeze: If you cannot eat it all in a week, go ahead and freeze your strawberry delight dessert. Simply put it into a freezer-safe container and it can stay frozen for up to three months.
Thaw: Put frozen leftovers in the fridge to thaw for several hours before serving just until they are soft enough to eat. Or eat it frozen as an ice cream dessert.
More strawberry recipes:
Recipe tips:
If you are in a hurry, you can put the dessert in the freezer for 30 minutes instead of in the fridge for two hours.
Do not let this dessert sit out at room temperature for too long or it will not be as rich and thick.
Instead of fresh strawberries, you can use frozen strawberries.
If you do not have a blender or food processor, you can use a hand mixer instead.
Use jello molds to make these individual strawberry bites for the kids.
You can use Greek yogurt instead of sour cream.
Strawberry Delight
Ingredients
1

cup

sour cream

14

oz

can sweetened condensed milk

2

cups

heavy whipping cream

3.4

oz

box Jell-O Strawberry Creme Instant Pudding Mix

1

cup

chocolate chips

1 1/2

cups

strawberries

sliced

Chocolate sprinkles

for garnish - optional
Instructions
Add the sour cream, condensed milk, heavy whipping cream, and strawberry pudding to a blender and blend on high for 2-3 minutes. The mixture should be smooth and fluffy.

Next, stir in the sliced strawberries, and chocolate chips.

Finally, divide the mixture into four serving glasses. Make sure to fill them all the way to the top. Garnish with mini chocolate chips, chocolate sprinkles, and fresh strawberries.

Finally, refrigerate for at least 2-4 hours before serving.
Deliciousness to your inbox
Enjoy weekly hand picked recipes and recommendations