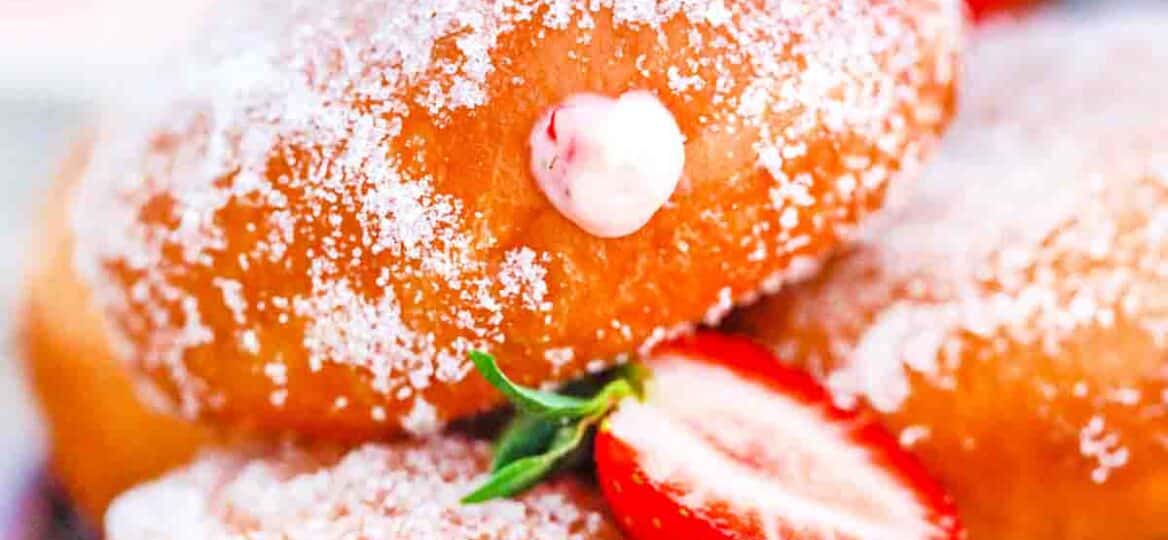 Heavenly Strawberry Custard Filled Donuts [Video]
Strawberry Custard Filled Donuts are soft and fluffy with a sweet and creamy strawberry custard filling made with fresh strawberries. They are perfect for breakfast, or a sweet afterschool treat for the kids. You can even serve these yummy strawberry donuts as a dessert with any meal.
If you like these donuts, why not try our Ricotta Doughnuts topped with homemade vanilla glaze, graham cracker crumbs, and pistachios? The ricotta cheese makes these so creamy and smooth and vanilla beans give them a rich vanilla flavor. For something different, these Donut Pumpkin Muffins are light and fluffy with warm fall spices and a coat of sweet cinnamon sugar.
Americans eat more than 10 billion donuts per year! In fact, according to surveys, 96% of the population enjoys these holey treats. It was an American mariner from Maine who invented the donut. Captain Hanson Crockett Gregory was only a teenager working in the galley on the Ivanhoe on June 22nd of 1847 when he discovered this truly tasty breakfast cuisine.
These delicious strawberry cream filled donuts are made with fresh strawberries for the cream filling and coated in powdered sugar. All you need to make these are basic ingredients you may already have including yeast, sugar, butter, eggs, milk, and flour. For the strawberry sauce, you just need heavy whipping cream, egg yolks, butter, milk, and a few other ingredients.
For donuts that you do not have to deep fry, try our air fryer donuts made with the same basic donut ingredients but cooked in the air fryer. If you love donuts as much as we do but cannot have flour, try this recipe for flourless chocolate cake baked donuts. All you need are three ingredients: eggs, butter, and chocolate.
Ingredients needed:
To make this strawberry custard filled donuts recipe, gather the ingredients listed below. Then, scroll down to our recipe card for complete instructions and exact measurements when you are ready to begin.
Dough ingredients:
Instant dry yeast
White granulated sugar
Unsalted butter: At room temperature.
Warm milk: We used whole milk.
Large egg: At room temperature.
Bread flour
Fine sea salt
Strawberry custard ingredients:
Finely diced strawberries
White granulated sugar
Heavy cream
Whole milk
Fine sea salt
Large egg yolks
Granulated sugar
Cornstarch
Warm water
Pure vanilla extract
Cold unsalted butter
How to make strawberry custard filled donuts from scratch?
To make the strawberry custard donuts:
Prep the strawberries: First, dice the strawberries finely and mix them with one teaspoon of sugar in a small bowl. Set aside for later.
Heat the milk: Then, add milk, heavy cream, and salt to a heavy-bottomed pot and bring it to a simmer on medium heat. Then turn off the heat.
Mix egg yolks and milk: Now, whisk yolks and granulated sugar in a different bowl until they turn pale. Pour the warm milk into the egg mixture a little bit at a time, stirring constantly, until all the milk is added. In another small bowl, whisk cornstarch and water until it is pasty, and then add it to the custard mixture.
Simmer the sauce: Next, pour it all back into the saucepan and cook over medium-low heat, stirring constantly, until it is thick and shiny. This should take from three to five minutes.
Let it chill: Last, remove from the heat and add vanilla extract and butter, stirring until it is smooth before mixing in the strawberries. Pour it into a bowl, cover it with plastic wrap, and refrigerate for at least three hours.
To make the donuts:
Prep the yeast: First, mix egg and warm milk together in a large bowl before adding the yeast and mixing again until it dissolves.
Knead the dough: Next, add salt, flour, and sugar to the yeast mixture and stir until it is a sticky dough. Then, knead dough until it is all combined. Add butter and fold until it is completely worked in. Knead dough again for about two or three minutes on a floured work surface.
Let it rise: After, roll it into a smooth ball and place it in a lightly oiled bowl. Cover it with plastic wrap and let dough rise in a warm place for about an hour or two or until it has doubled in size.
Let them rest: Once the dough is done rising, cut it into six pieces and roll them into balls. Place them on a baking sheet covered with parchment paper and cover them with plastic wrap. Let the dough rest for 30 to 40 minutes.
Heat oil: Then, pour oil into a frying pan and heat the frying oil to 350 degrees F (use a candy thermometer) before placing a few of the dough balls into the hot oil. Let them cook until they are golden brown on one side, then flip and continue to cook until the other side is brown as well.
Fry donuts: After frying the donuts, remove them with a slotted spoon and place them on a cooling rack to cool for a few minutes. Place a paper towel or paper towels underneath to catch any drips.
Cool, coat, and cool again: Once they are cool enough to touch, dip them in a bowl filled with powdered sugar and set them aside to cool completely.
Fill donuts: After the donuts are cool, make a hole in one end of the donuts, fill a piping bag with strawberry cream, and fill each donut with cream before serving.
Recipe variations:
Any oil: You can use any kind of oil with a high smoke point such as canola oil or olive oil.
Another flour: Similarly, feel free to use whichever flour you prefer such as all-purpose flour, almond flour, or coconut flour.

Different milk: While we prefer regular milk, you can use soy or nut milk instead.

Other fruit: Instead of strawberries, try another fruit you like such as blackberries, raspberries, or blueberries.
Baking powder: Want fluffier donuts? Add a teaspoon of baking powder to the dough.

Chocolate chips: If you have a chocolate lover in the family, try adding some mini-chocolate chips to the dough or the custard. Or both!
How to serve:
This recipe for strawberry cream filled donuts is perfect for breakfast, dessert, or a snack anytime. Just like the expensive donuts you get at the bakery only better and they are easy to make. Try one of these serving suggestions or share one of your own.
These would also be delicious topped with a dollop of whipped cream. Try our homemade whipped cream recipe to make it from scratch.
Drizzle some chocolate syrup on top for the chocolate lovers in the family.

Make your strawberry donuts festive with rainbow sprinkles.
Top with cream cheese frosting for an even yummier donut.
These go great with a cup of coffee for breakfast.

For the kids, make them hot chocolate instead of coffee.

If you want a double dose of strawberry flavor, spread a layer of our strawberry sauce on top.
Frequently asked questions
Is it donuts or doughnuts?
Both of these are correct actually. In the Oxford English Dictionary in the 1800s, it is noted to be doughnuts as it was written by Washington Irving in 1809.
However, it was the Americans who shortened it to "donut" in the late 1800s and you will find that it is only in America that it is spelled this way. It makes more sense to call it doughnuts since it is made of dough, but Dunkin' Donuts changed that for everyone in 1950.
What can I do with my leftover egg whites?
There are many ways to use your extra egg whites. You can make meringue cookies, angel food cake, or an omelet. Egg whites are also great to make different kinds of frostings and creams, mousse, and pavlova.
Or you can freeze them. Simply pour the egg whites into a freezer bag and lay it flat when you push out the air. Be sure to label and date it too!
What is the difference between instant and active yeast?
Active yeast has to be activated before use and instant yeast does not. They can sometimes be substituted in recipes, but you have to pay attention to the recipe instructions.
Some of the instructions that call for active yeast may not work with instant and vice versa. Simply put, you have to rehydrate and feed the active yeast, but instant is ready to go right out of the package.
What are the nutrition facts in this recipe?
Each donut has 400 calories, 125 mg cholesterol, and 15 grams fat with 9 grams saturated fat. It also contains 60 grams carbs, 301 mg sodium, and 26 mg sugar. On the other hand, you also get 553 units vitamin A, 2 mg iron, 80 mg calcium, 5 mg vitamin C, 177 mg potassium, and 10 grams protein.
How to store leftovers:
Store: You can refrigerate your leftover strawberry cream filled donuts in an airtight container or gallon-size zip baggie for up to four days.
Freeze: Freezing is not recommended.
More strawberry desserts to try:
Baking tips:
Depending on the humidity and altitude, you may need more flour.
The custard can be made up to two days in advance.
To shorten prep time, use strawberry jam instead of making the strawberry cream yourself. Just mix it with a bit of cream cheese, sugar, and powdered sugar.
Another way to shorten prep time and make things easier is to use a stand mixer fitted with a dough hook. Knead the dough on low speed until it comes together.
When you heat the oil, check it with a thermometer to make sure it is 350 degrees F. Continue to check it while you cook because it may drop when you put in the donuts.
If you do not have a piping bag, fill a ziplock baggie with cream and cut off the corner.
It is best to use a cooling rack with paper towels underneath rather than a plate or baking sheet with a paper towel on it. Sitting on the towels can actually make the donuts soak up the oil and make them soggy.
Strawberry Custard Filled Donuts
Ingredients
Donuts:
2 1/4

cups

bread flour

1

large egg

room temperature

1/2

cup

+ 2 tablespoons milk

warm

3

tablespoons

unsalted butter

room temperature

5

tablespoons

granulated sugar

1

teaspoon

salt

1

envelope Instant Yeast

7 grams
Strawberry custard:
1

cup

finely diced strawberries

2

teaspoons

sugar

1/2

cup

heavy cream

1/2

cup

whole milk

Pinch

of fine sea salt

3

large egg yolks

room temperature

1/4

cup

granulated sugar

1 1/2

tablespoons

cornstarch

1

teaspoon

water

1

teaspoon

pure vanilla extract

2

tablespoons

unsalted butter

cold
Instructions
Yeast mixture:
In a large bowl, whisk the warm milk with the room-temperature egg, once combined add the instant yeast. Whisk fully until dissolved.
Donut dough:
Then, add sugar, flour, and salt to the yeast mixture. Use a spatula to mix until combined and after that knead with your hands until all flour has been incorporated.

Next, add the softened butter and work it in with your hands until the dough is smooth.

Transfer the dough onto a flat, lightly floured surface and knead for two to three minutes.

After that, transfer the sticky dough ball into a large lightly oiled bowl and cover it with plastic wrap. Place it in a warm place and let it rise for a few hours until it is about two to three times its starting size.
Strawberry custard:
Finely dice strawberries and mix with 2 teaspoons of sugar, set aside.

In a small saucepan, add heavy cream, milk, and salt and cook stirring on medium heat until it just begins to simmer, turn off the heat.

In a separate large bowl, beat egg yolks and sugar until pale and combined.

Next, very slowly and stirring constantly, little by little pour the warm milk mixture into the egg yolk mixture.

In a small bowl, whisk together cornstarch and water until fully dissolved. Add the slurry to the custard mixture.

Transfer the custard to the saucepan and cook over medium-low heat, stirring constantly, until the custard is thickened and glossy about 3-5 minutes.

Remove from heat and add the butter and vanilla, stir the mixture until smooth.

After that, stir in the diced strawberries.

Transfer the strawberry custard to a bowl and cover it with plastic wrap, so it touches the surface of the custard, and refrigerate until cold and ready to use, for a few hours.
Shape the donuts:
In the meantime, punch the dough and then transfer it to a lightly floured surface. Fold it a few times and divide it into eight equal pieces.

Shape each piece into a ball and place it on a baking sheet covered in parchment paper. Repeat with the remaining pieces. Make sure they are not too close to each other on the baking sheet. Cover them with plastic wrap and let them rest for 30 to 40 minutes.
Deep frying donuts:
Place a large, deep pan with about 1 1/2 - 2 inches of oil over low-medium heat. Bring the oil to 350 degrees F. Add a few donuts at a time and fry them for 1-2 minutes on one side, or until golden brown. Flip and repeat.

Remove them from the oil with a slotted spoon and place them on a wire rack to cool.
Fill:
After the donuts have cooled completely, poke a hole, using a long rounded object, like a chopstick. Place a bowl with about one cup of sugar next to you. Then roll them in sugar until covered on both sides.

Transfer the strawberry custard into a pipping bag, cut a small hole at the end, and fill the donuts with custard until you have just a little ball of custard on the surface.
Deliciousness to your inbox
Enjoy weekly hand picked recipes and recommendations