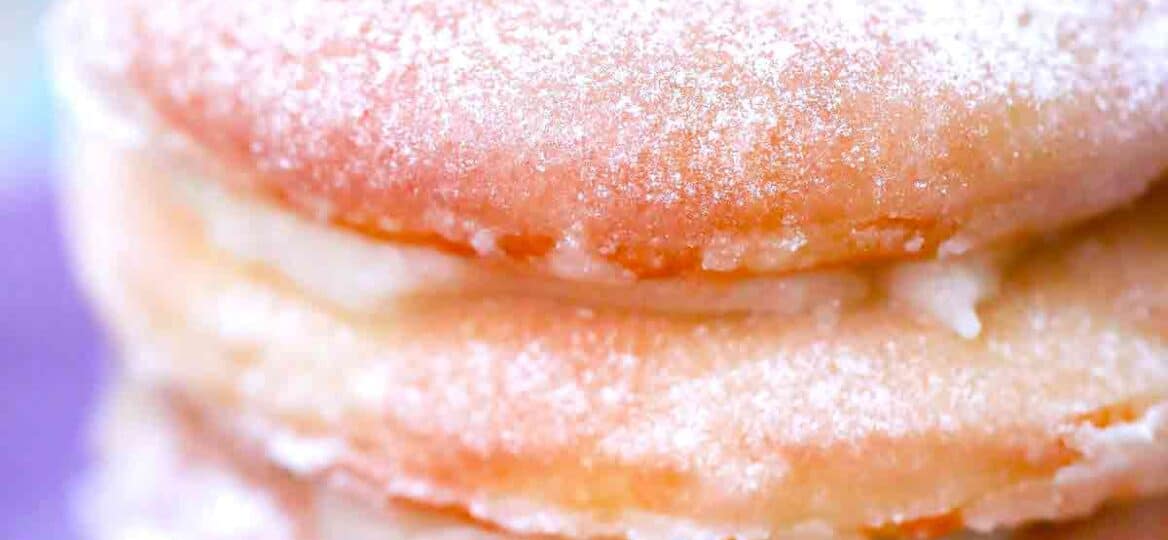 Air Fryer Donuts Recipe [Video]
Air Fryer Donuts are hearty, soft, and covered in a sweet vanilla-butter glaze! If you love deep-fried donuts but not the grease, you're going to love these homemade air-fried treats.
Once you start making doughnuts from scratch, it's hard to stop! It's extremely easy and so delicious than anything you can buy at the store. After you make these air-fried donuts, try your hand at Chocolate Cake Baked Doughnuts, our popular copycat of Dunkin Donut French Crullers, and Riccota Doughnuts!
Easy Air Fryer Donuts
Air Fryer Donuts are our go-to every time we're craving for donuts but want something homemade. This recipe uses a classic yeast dough so it's very close in both texture and flavor to the usual deep-fried version. You can make both classic donut shapes and donut holes with this recipe. The difference? No pot of hot oil to deal with, and the results are lighter and way less greasy.
Of course, we can't skip the glaze! To sweeten things up, we're covering these treats with a buttery vanilla glaze that hardens into a crispy crackly icing. These taste like the real deal!
Finally, there's no limit to the flavors and toppings you can try with these donuts. Make them extra special with chocolate, fruits, nuts, other glaze flavors, or infuse the dough with spices or cocoa.
Ingredients needed:
Dry ingredients: To regular flour, you'll be adding yeast and a bit of salt.
Wet: Melted butter plus milk (100F temp), fresh eggs, and a quarter cup of sugar bring the dough together.
Glaze: For the best glaze, combine more melted butter with vanilla, powdered sugar, plus milk if you need to loosen it up.
How to make homemade Air Fryer Donuts from scratch?
Make the dough. First, in your stand mixer (or you can also do it in a regular bowl if making this manually), activate the yeast by mixing it with sugar and milk, then leaving it for 10 mins. Then, add the rest of your dry and wet. Its Equally important, to mix until you get an elastic texture. After that, cover it in a bowl for 60mins. to rise.
Shape and rise. Flatten, then cut out rounds and holes using a 3-inch round cutter. Let these rise for a second time until doubled in size, about 30 mins.
Air-fry. Spray the basket with oil, then transfer the dough circles. Air-fry for 4 mins. until golden.
Cook all the glaze components on low until smooth. Dunk the donuts into the glaze (use a fork so it's less messy), then leave to sit for 10 mins.
Serve. Enjoy fresh and hot!
Donuts variations and substitutions:
Deep-fried version: Deep-fry in 350F oil until golden-brown on both sides and puffy.
Bake: For a healthier take, feel free to bake them. Simply, bake at 350F for about 10 to 15 mins., or until golden and puffy.
Chocolate: Add unsweetened cocoa to the dough.
Citrus: Add lemon, lime, or orange zest to the dry ingredients.
Other shapes: You can shape them any way you want! Cut them into squares, hearts, log shapes, etc.
Spiced: Add cinnamon and nutmeg to the dough.
Stuffed: Want cream- or jam-filled pastries? Skip cutting out the holes, and air-fry directly after cutting out circles and letting them rise. Then, simply fill!
Other toppings: Your options are UNLIMITED! Top with chopped nuts, jam, cinnamon sugar, caramel or chocolate glaze, cream cheese frosting, dulce de leche, curd, etc.
How do you create donut shapes if you don't have your own cutter?
Don't have a round cutter? Use a wide-mouth cup to cut circles, and a shot glass to carve out the holes.
What is the main difference between donuts that are baked or fried?
The fried version is usually made with yeast-based dough, which makes them lighter and fluffier.
On the other hand, the usual baked ones typically use baking powder instead of yeast. As a result, you get a cakier, more compact consistency. Both are delicious!
More air fryer dessert to try:
How long will homemade Air Fryer Donuts be good for?
These taste the best right after you make them, so we really suggest finishing them within the day. However, you can certainly store any leftovers. Follow these steps:
On the counter: After they're completely cool, store them in air-tight containers and store them at room temp for 1 to 2 days.
In the fridge: Cool and store in air-tight containers, and chill in the fridge for up to 3 days. However, the glaze tends to melt in the fridge, so it's better if you store them unglazed.
Frozen: Cool and freeze the unglazed donuts for up to 1 month. To reheat, air-fry at 370F (don't defrost or they'll become soggy), then glaze.
How to reheat:
You can freshen them up by air-frying at 400F for a few minutes. Keep in mind, the glaze will melt and become hot, so please be careful when handling it.
Deliciousness to your inbox
Enjoy weekly hand picked recipes and recommendations