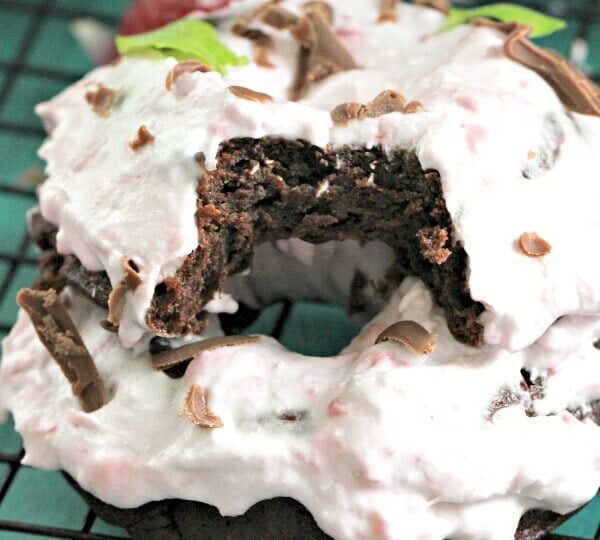 Chocolate Cake Baked Donuts
Chocolate Cake Baked Donuts are puffy and decadent, made with only 3 ingredients, and topped with raspberry coconut whipped cream.
I love making easy and delicious flourless desserts to feed a crowd, like my popular Chocolate Flourless Cake, Flourless Peanut Butter Cookies and Flourless White Chocolate Plum Pie.
Flourless Chocolate Cake Baked Donuts
These Chocolate Cake Baked Donuts are rich and healthy alternative to the traditional donuts, and make the perfect breakfast dessert. They are basically flour-less chocolate cake that requires only 3 basic ingredients: chocolate, eggs and butter. Also, they are then baked in a donuts pan and topped with a gallon of deliciously smooth coconut whipped cream, that is mixed with fresh raspberry puree. If this combo doesn't sound like pure bliss to you, I don't know what else to recommend you for a heavenly breakfast or indulgent dessert!
So, if you are bored from your regular oatmeal or breakfast smoothies, give these donuts a try! Similarly, if you love chocolate and coconut combo, then this recipe is a must try!
Pin This Flourless Chocolate Cake Baked Recipe to your Favorite Board
Why You'll Love These Chocolate Cake Baked Donuts:
First, they are rich and chocolaty and are a show stopper dessert.
Also, easy to find ingredients and minimum prep work and dishes to clean.
Perfect for brunch parties and for bigger crowds.
In addition, perfect for special occasions like Valentine's Day.
Great combo of chocolate and fruit.
What ingredients do you need to make these Chocolate Cake Baked Donuts
Eggs
Chocolate
Butter
Raspberries
Coconut milk
How long will these Chocolate Cake Baked Donuts stay fresh
They can be kept at room temperature for about 2-3 days only. To keep the fresh, you can wrap them in aluminium foil and store them in the fridge or in the freezer. They can stay fresh for about 5 days in the fridge. They can stay in the freezer for up to 6 months.
Deliciousness to your inbox
Enjoy weekly hand picked recipes and recommendations