Flourless Chocolate Cake Baked Donuts
This post may contain affiliate links. Please read my disclosure policy.
Decadent flourless chocolate cake baked donuts made with 3 ingredients only and topped with raspberry coconut cream whipped cream.
Hello, I am making it my mission to start Monday with something sweet. I think anyone may benefit from a little sugar or some eye candy type of desserts like these Flourless Chocolate Cake Baked Donuts on Monday morning. It makes the start of the week so much more bearable and also adds to anyone's extensive list of things of what to bake when the weekend is finally back.

This time I am starting Monday with breakfast, well, technically donuts – Flourless Chocolate Cake Baked Donuts – but these are secretly healthy donuts, and healthy donuts equal healthy dessert, healthy and delicious dessert for breakfast equals happy me. Now, let me introduce you to these babies, flourless chocolate cake baked donuts!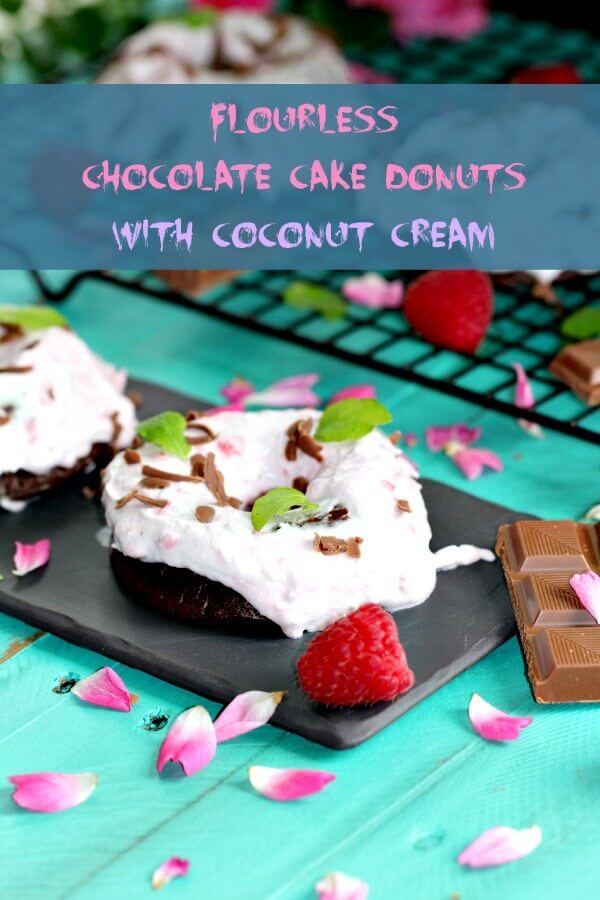 Now that you actually got aquatinted let me tell you more about their great personality. They are great, and we get along amazing, obviously, they are made of pure chocolate so that totally makes sense. They have butter too, but who cares when they are that cute. These donuts are actually a cake in disguise, a flourless chocolate cake that requires only 3 basic ingredients: chocolate, eggs and butter, is baked in a donut pan, topped with a gallon of deliciously smooth coconut cream whipped cream that was mixed with fresh raspberry puree. If this combo doesn't sound like pure bliss to you, I don't know what else to recommend you for a heavenly breakfast or indulgent dessert.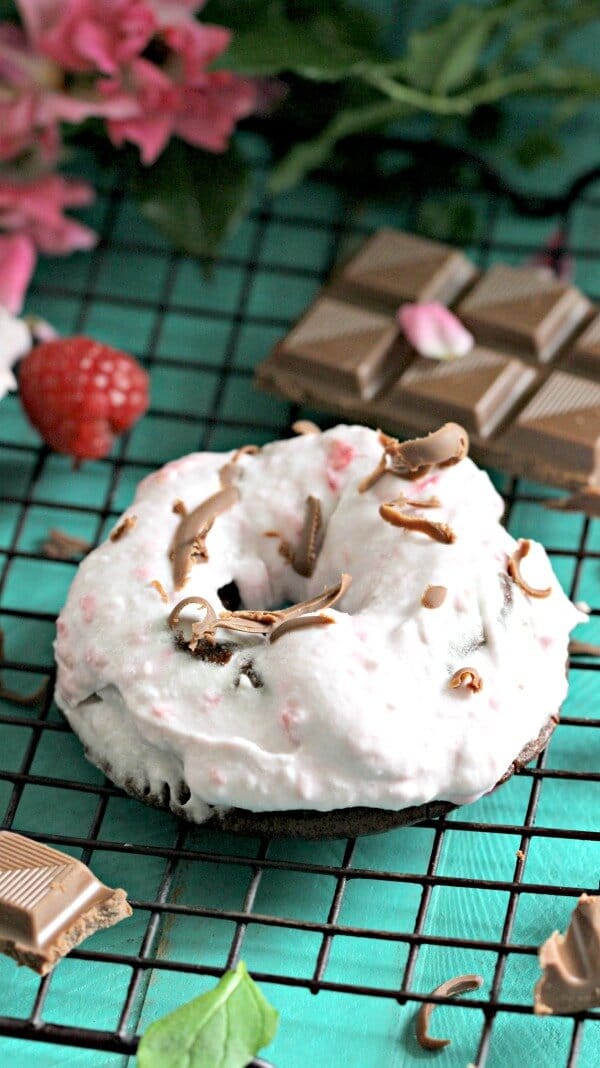 While I was taking photos of them I got the saddest news, that my grandfather has passed away, I try to be strong and keep a positive attitude in this post, since thats exactly how he was, funny, full of life, always joking, and the most adamant dessert lover I have ever met, he would've enjoyed these flourless chocolate cake baked donuts and I am sure he would've asked for seconds. May he rest in peace, he is in a better place now, and I will continue to cherish the memories we have built while he is watching from above.

MY LATEST VIDEOS
Don't let these chocolate cake baked donuts foul you, when you bake them, they don't get very fluffy or crescent, due to the lack of flour, but believe, after they cool down and you flip them upside down they look perfectly cute and should I say "pinteresty", topped with coconut cream whipped cream they look unbelievably attractive, so attractive that you would have to hide them from you. I had to hide mine, but the problem is that I knew where I hid them so that didn't really help….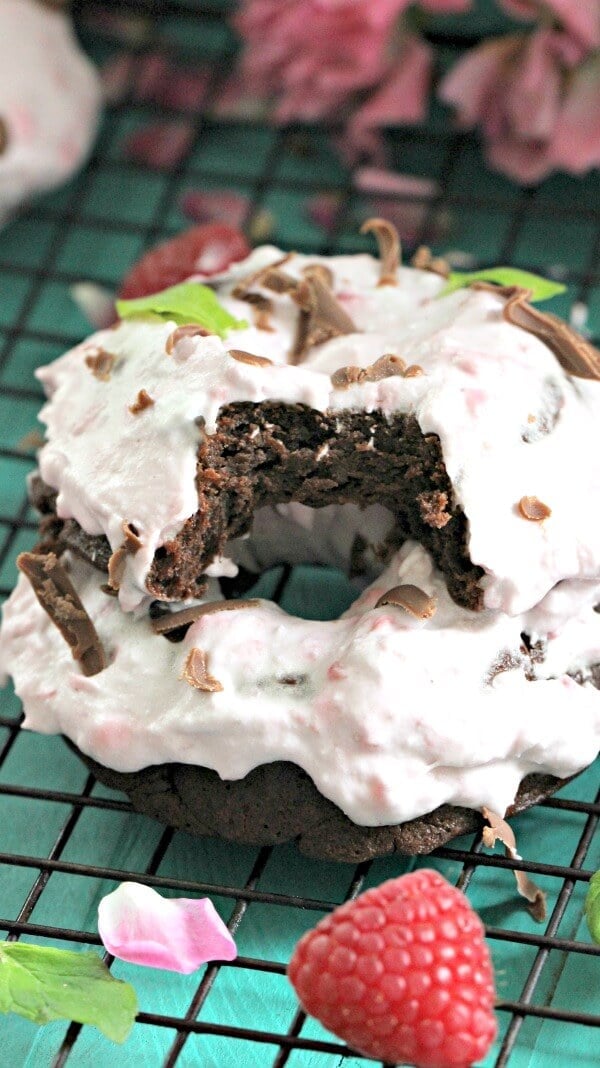 So, if you are bored from your regular oatmeal or breakfast smoothies, give these donuts a try, yes, I still recommend them for breakfast, to start the day in the most delicious way, but they make a very decadent dessert as well, if you love chocolate and coconut this recipe is a must try.

Flourless Chocolate Cake Baked Donuts with Coconut Cream Frosting
Decadent flourless chocolate cake baked donuts made with 3 ingredients only and topped with raspberry coconut cream whipped cream.
Author:
Katalina Kastravet
Ingredients
4 large eggs, cold
8 oz semisweet or bittersweet chocolate, chopped
1 stick unsalted butter (2 sticks), cut into chunks
For Raspberry Coconut Whipped Cream:
½ cup raspberries
1 can full fat coconut milk
Instructions
The day before you want to make the dessert place the coconut milk can in the fridge overnight, these is a crucial step as the coconut cream has to harden and separate from the coconut water.
Preheat oven to 325F.
Adjust oven rack to lower middle position.
Grease a donut pan with butter and set aside.
In the bowl of an electric mixer fitted with wire whip attachment, beat eggs at medium speed for about 5 minutes.
Meanwhile, melt chocolate and butter in a large heat-proof bowl set over a pan of almost simmering water, until smooth and very warm, stirring occasionally.
Fold ⅓ of egg foam into chocolate mixture using a rubber spatula until only a few streaks of egg are visible; fold in half of remaining foam, then last of remaining foam, until mixture is totally homogenous.
Transfer batter into the prepared donut pan, fill only ¾ as the donuts will rise.
Bake until donuts have risen slightly, edges are just beginning to set, a thin glazed crust has formed on surface, and an instant read thermometer inserted halfway through center of cake registers 140 degrees, 25 minutes.
Remove pan from oven and set on wire rack; cool to room temperature.
For Raspberry Coconut Whipped Cream:
Chill a mixing bowl in the fridge.
In the bowl of a food processer puree the raspberries.
Remove the chilled coconut can from fridge and FLIP upside down, open the can and discard the liquid, or you can save it in a jar for smoothies.
Scoop the coconut cream into a slightly chilled mixer bowl. Using a hand mixer or an electric one, I used the later fitted with the whisk attachment whip the coconut cream until fluffy. Using a spatula fold in the raspberry puree.
Top the donuts with raspberry coconut whipped cream and serve.
Peas and Peonies, LLC. owns the copyright on all images and text and does not allow for its original recipes and pictures to be reproduced anywhere other than at this site unless authorization is given. If you enjoyed the recipe and would like to publish it on your own site, please re-write it in your own words, and link back to my site and recipe page. Copying and/or pasting full recipes to social media or personal blogs is strictly prohibited. Sharing this recipe is very much appreciated and encouraged. Read my disclosure and privacy policy. This post may contain affiliate links.