Chocolate Cake Baked Donuts
Chocolate Cake Baked Donuts are puffy and decadent, made with only 3 ingredients, and topped with raspberry coconut whipped cream.
I love making easy and delicious flourless desserts to feed a crowd, like my popular Chocolate Flourless Cake, Flourless Peanut Butter Cookies and Flourless White Chocolate Plum Pie.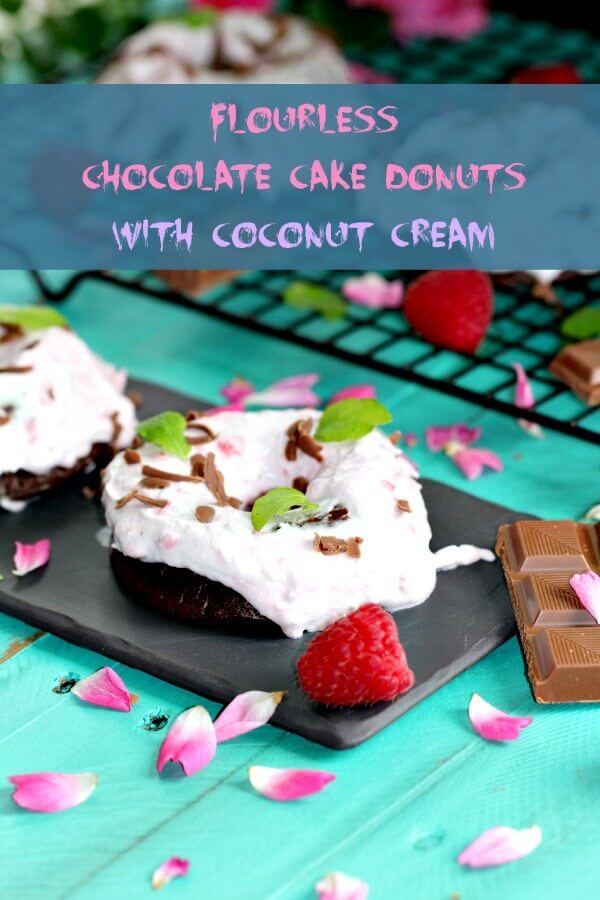 Flourless Chocolate Cake Baked Donuts
These Chocolate Cake Baked Donuts are rich and healthy alternative to the traditional donuts, and make the perfect breakfast dessert. They are basically flour-less chocolate cake that requires only 3 basic ingredients: chocolate, eggs and butter. Also, they are then baked in a donuts pan and topped with a gallon of deliciously smooth coconut whipped cream, that is mixed with fresh raspberry puree. If this combo doesn't sound like pure bliss to you, I don't know what else to recommend you for a heavenly breakfast or indulgent dessert!
So, if you are bored from your regular oatmeal or breakfast smoothies, give these donuts a try! Similarly, if you love chocolate and coconut combo, then this recipe is a must try!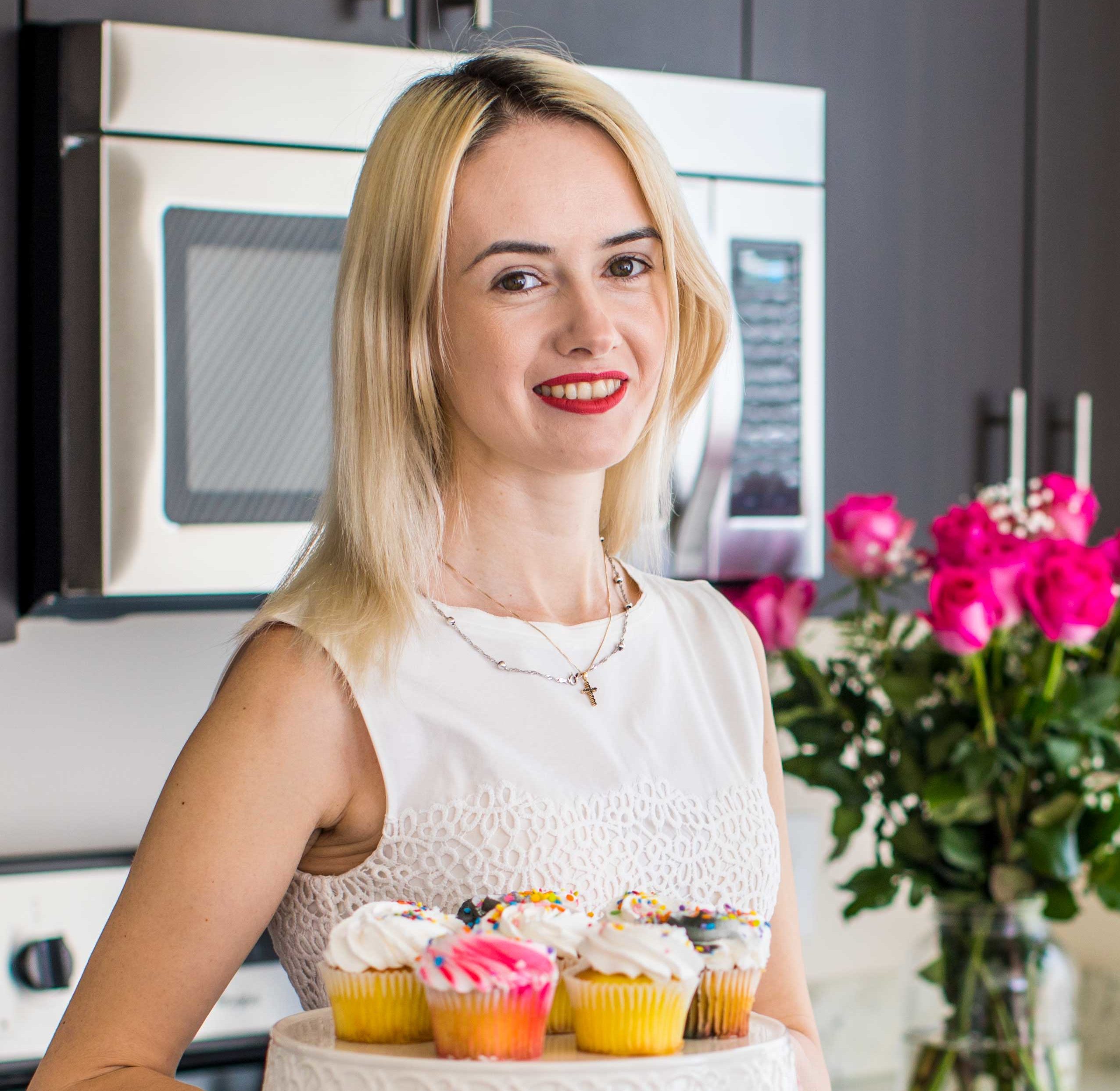 Follow us on Pinterest for more delicious recipes!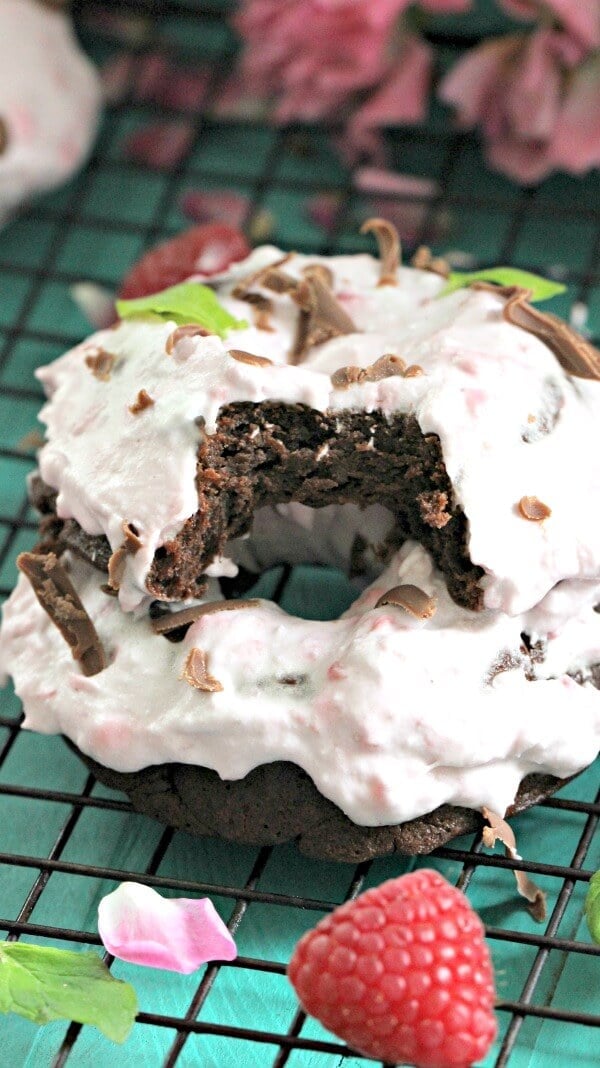 Why You'll Love These Chocolate Cake Baked Donuts:
First, they are rich and chocolaty and are a show stopper dessert.
Also, easy to find ingredients and minimum prep work and dishes to clean.
Perfect for brunch parties and for bigger crowds.
In addition, perfect for special occasions like Valentine's Day.
Great combo of chocolate and fruit.
What ingredients do you need to make these Chocolate Cake Baked Donuts
Eggs
Chocolate
Butter
Raspberries
Coconut milk
How long will these Chocolate Cake Baked Donuts stay fresh
They can be kept at room temperature for about 2-3 days only. To keep the fresh, you can wrap them in aluminium foil and store them in the fridge or in the freezer. They can stay fresh for about 5 days in the fridge. They can stay in the freezer for up to 6 months.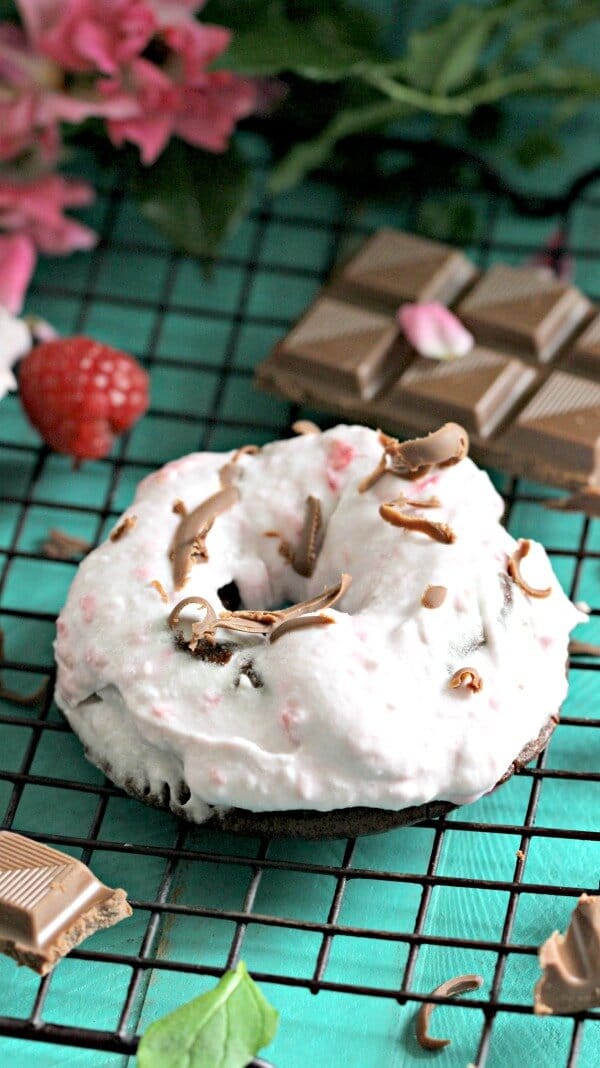 Save Recipe
Flourless Chocolate Cake Baked Donuts
Author: Catalina Castravet
Serves: 8 donuts
Prep time:

20

minutes
Cook time:

25

minutes
Total time:

45

mins
Ingredients
4 large eggs (cold)
8 oz chocolate (semisweet or bittersweet, chopped)
1 stick unsalted butter (2 sticks, cut into chunks)
For Raspberry Coconut Whipped Cream:
1/2 cup raspberries
1 can coconut milk (full fat)
Instructions
The day before you want to make the dessert place the coconut milk can in the fridge overnight, these is a crucial step as the coconut cream has to harden and separate from the coconut water.
Preheat oven to 325F.
Adjust oven rack to lower middle position.
Grease a donut pan with butter and set aside.
In the bowl of an electric mixer fitted with wire whip attachment, beat eggs at medium speed for about 5 minutes.
Meanwhile, melt chocolate and butter in a large heat-proof bowl set over a pan of almost simmering water, until smooth and very warm, stirring occasionally.
Fold 1/3 of egg foam into chocolate mixture using a rubber spatula until only a few streaks of egg are visible; fold in half of remaining foam, then last of remaining foam, until mixture is totally homogenous.
Transfer batter into the prepared donut pan; fill only 3/4 as the donuts will rise.
Bake until donuts have risen slightly, edges are just beginning to set, a thin glazed crust has formed on surface, and an instant read thermometer inserted halfway through center of cake registers 140 degrees, 25 minutes.
Remove pan from oven and set on wire rack; cool to room temperature.
For Raspberry Coconut Whipped Cream:
Chill a mixing bowl in the fridge.
In the bowl of a food processer puree the raspberries.
Remove the chilled coconut can from fridge and FLIP upside down, open the can and discard the liquid, or you can save it in a jar for smoothies.
Scoop the coconut cream into a slightly chilled mixer bowl. Using a hand mixer or an electric one, I used the later fitted with the whisk attachment whip the coconut cream until fluffy. Using a spatula fold in the raspberry puree.
Top the donuts with raspberry coconut whipped cream and serve.
Calories: 130 Carbohydrates: 2 Protein: 3 Fat: 12 Saturated Fat: 9 Cholesterol: 82 Sodium: 37 Potassium: 146 Fiber: 0 Sugar: 0 Vitamin A: 120 Vitamin C: 2.5 Calcium: 23 Iron: 2
Save Recipe
More recipes you might love