Chocolate Flourless Cake with Raspberry Sauce
Rich, velvety, chocolate flourless cake with raspberry sauce, that is a breeze to make with a dense and silky smooth texture that will please anyone.
For some time I wanted to try to make my own flourless chocolate cake, I had great results making flourless cookies, but somehow feared that a flourless cake may be a little more complicated to make. I was so wrong, this chocolate flourless cake with raspberry sauce, from America's Test Kitchen Best-Ever Dessert special collector's edition is easy to make, requires only a few ingredients and the result is a beautiful ultra chocolaty, velvety and rich cake.

I couldn't be more please with the results and how easy and stress free this was to make. The result is a luxurious chocolaty dessert.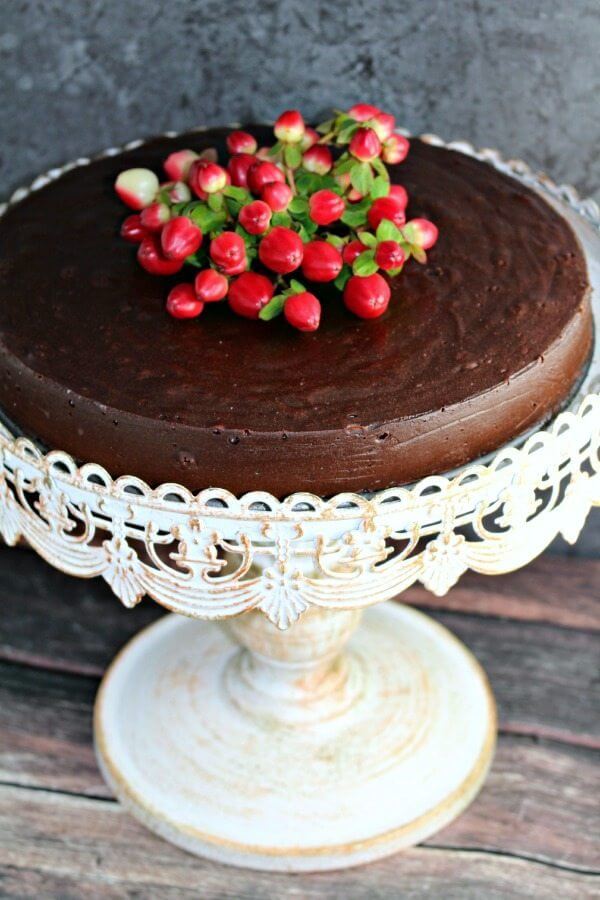 The recipe called for bittersweet chocolate, but I used semisweet, and I think it made a huge difference since the cake has no sugar added, in my opinion it needed the additional sweetness from the semisweet chocolate. The texture of the cake is amazing, incredibly smooth, dense, and with some subtle coffee notes, just to elevate the chocolate flavor.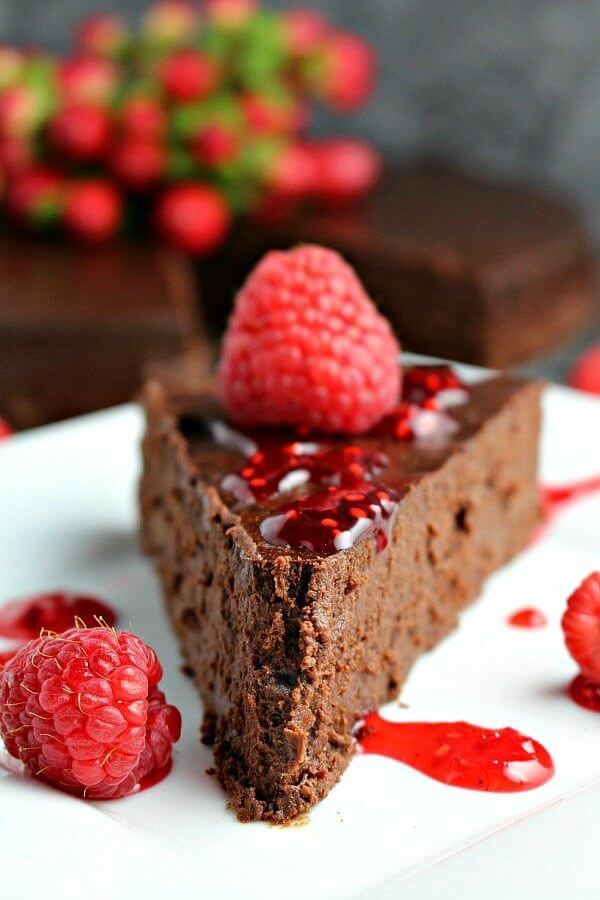 This is the type of dessert that looks so fancy, and your guest will think that you labored over it for hours and hours in the kitchen.
I liked very much serving it with ripe fresh raspberries, whipped cream and raspberry sauce. The bright and sweet raspberry sauce pairs nicely with the semisweet chocolate, and the whipped cream adds some lightness and it almost clears the palette for the next chocolaty rich bite.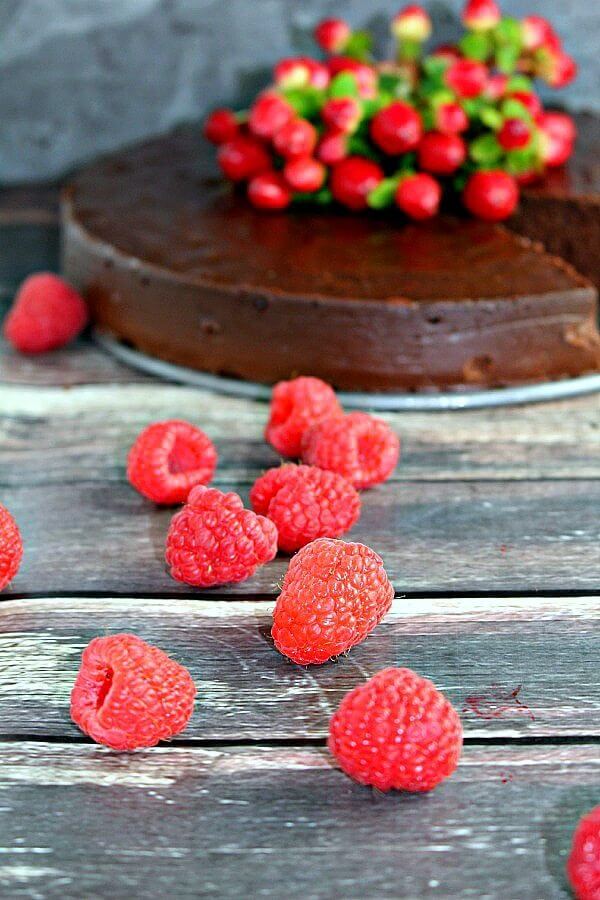 Using quality chocolate for this recipe is key, I got some fair trade, organic chocolate from whole foods, Belgian would be a great choice as well.
Next time when I make this cake, I would probably try it with some baileys instead of coffee and will cover it in some chocolate cognac ganache, as you can never have too much chocolate.
And since many people asked here is the cake stand I used (click on the image):

chocolate flourless cake with raspberry sauce
Rich, velvety, chocolate flourless cake with raspberry sauce, that is a breeze to make with a dense and silky smooth texture that will please anyone.
Author:
Adapted from America's Test Kitchen Best-Ever Dessert
Ingredients
8 large eggs, cold
1 pound semisweet chocolate, chopped
½ pound unsalted butter (2 sticks), cut into chunks
¼ cup strong coffee
For Raspberry Sauce:
1 pint raspberries
¼ cup sugar
1 teaspoon cornstarch
Instructions
Preheat oven to 325F.
Adjust oven rack to lower middle position.
Bring kettle of water to a boil.
Grease and 8 inch springform pan with butter and set aside.
In the bowl of an electric mixer fitted with the wire whip attachment, beat eggs at medium speed for about 5 minutes.
In a large heat-proof bowl set over a sauce pan of almost simmering water, melt chocolate and butter (adding coffee or liqueur, if using) until smooth and very warm, stirring once or twice.
Using a rubber spatula, fold ⅓ of the egg foam into the chocolate mixture, until only a few streaks of egg are visible; fold in half of remaining foam, then last of remaining foam, until mixture is totally homogenous.
Transfer batter into the prepared springform pan and smooth surface with a rubber spatula.
Place the cake pan into a roasting pan, transfer to the oven and pour enough boiling water to come about halfway up of springform pan.
Bake for about 25-30 minutes, until cake has risen slightly, edges are just beginning to set, an instant thermometer inserted in the center of cake must read 140 degrees.
Remove cake pan from water bath and set on wire rack; cool to room temperature.
For Raspberry Sauce:
Combine raspberries and sugar in a small saucepan set over low heat. Cook until berries release their juices and just start to break down, about 4-5 minutes.
Stir in cornstarch, and cook until mixture comes to a boil. Let cool. Store, refrigerated, in an airtight container for up to 3 days.
Slice the cake and serve with raspberry sauce.
*this post may contain affiliate links