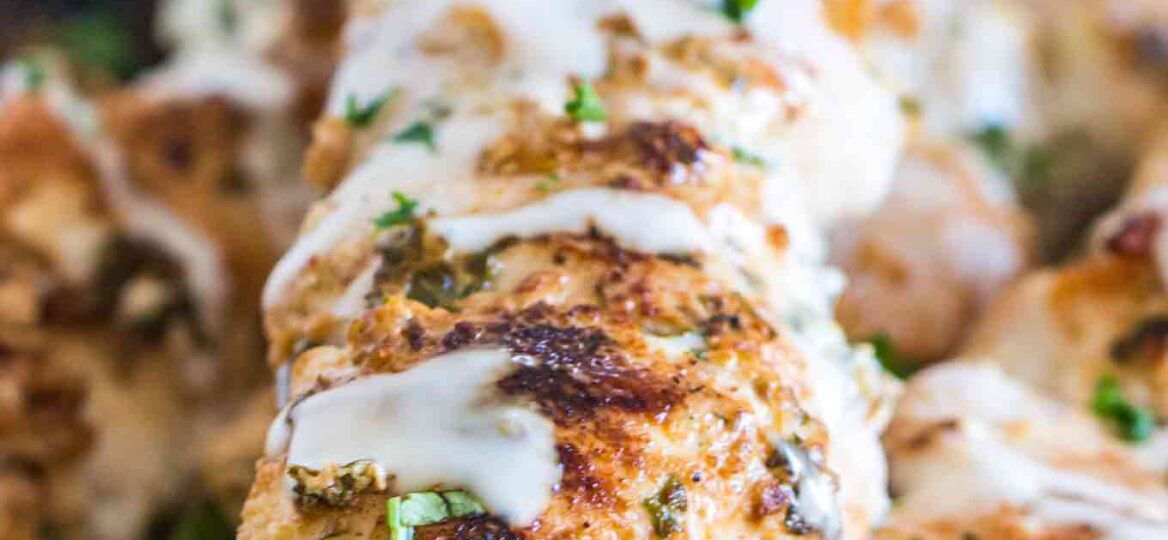 Keto Italian Chicken Skewers [Video]
Keto Italian Chicken Skewers are incredibly easy to make, require only a few ingredients, are healthy and full of flavor. Perfect for lunch, dinner and to add to lunch-boxes.
If you are looking for more Keto recipes, our Dill Pickle Dip is creamy and delicious, so is our bacon packed Buffalo Crack Chicken Dip. Speaking of crack chicken, you can make this Instant Pot Crack Chicken and serve it over zucchini noodles.
Keto Italian Chicken Skewers
Our collection of Keto recipes is growing, as we are huge fans of this eating lifestyle. This homemade, Keto-friendly recipe is a staple in our house. It's quick, it's easy and the best part is that it can be served as is or paired with so many yummy side dishes. We love serving it with Keto Mashed Cauliflower and a light salad on the side.
They are great served with salads, on their own, on top of zucchini noodles or cauliflower rice. The meat gets very tender from marinating for a few hours and soaks in all the fresh and citrusy flavors, becoming juicy and aromatic. It turns out unbelievably juicy and tender, with a delicious aroma from the Italian herbs and lemon.
Is chicken good on a Keto diet?
While protein is important in any diet, the keto lifestyle isn't so much about protein as it is about a good balance of protein and healthy fats. That's why in this recipe we use a good amount of virgin olive oil and also buttermilk.
Why do you soak the chicken in buttermilk?
Because buttermilk is only slightly acidic, it is capable of tenderizing the meat without toughening up the meat like if you would only use lemon juice. The enzymes present in buttermilk also help in breaking down the protein in the chicken, resulting in tender meat.
What can I use as a substitute for buttermilk?
For each cup of buttermilk, you can mix 1 tablespoon of lemon juice or white vinegar with 1 cup of milk. Stir, then let stand for 5 minutes. Use in recipes.
What is a good marinade for Keto Chicken Skewers?
See the recipe for measurements, but here are the ingredients that we use to create a flavorful and refreshing marinade:
Olive oil
Buttermilk

Italian seasoning herbs mix

Fresh parsley
Garlic
Lemon
Salt and pepper
How to make Keto Italian Chicken Skewers:
Prepare the chicken: first, clean and pat dry the chicken, after which cut it into 3-inch cubes.
Make the Marinade: Mix in a medium bowl all of the marinade ingredients and add the chicken pieces to it. Marinate in the fridge, preferably for a few hours for best results.
Skewers: Next, arrange the meat on wooden skewers.
Cook: Either use a grill pan or an outdoor grill to cook the chicken skewers until the meat is golden brown.
Serve: The skewers are great served with a yogurt-based sauce or just a drizzle of lemon juice over a green salad.
Can you cook Keto Italian Chicken Skewers in the oven?
You can definitely cook them in the oven.
First, preheat the oven to 425 degrees F and spray with cooking oil a cooling/baking rack, place it into a rimmed baking sheet.
Next, arrange the chicken skewers onto the baking rack.
After that, bake them for 10 minutes, baste with the marinade and turn over. Bake for another 10 minutes, baste again and bake for 5 more minutes or until done.
Can you put wooden skewers in the oven?
To use wooden skewers in the oven, first, soak them in water for at least half an hour before using. Soaking can prevent them from catching on fire, which ultimately leads to all your meat and veggies falling to the bottom of the grill.
More Keto recipes:
Recipe Tips:
Chicken meat can become tough and rubbery sometimes, taking the time to marinate it. Marinating will create a huge difference in taste and texture.
If you don't have all the marinade ingredients on hand, you can simply mix some lemon juice, olive oil and parsley to marinate the meat.
This recipe is also great to make in advance as it reheats well. The leftovers are delicious and can also be added on top of salads.
We like making these skewers and adding them to lunch-boxes. They are fun to eat, healthy, mess-free, taste great cold. Delicious when paired with fruits and veggies for a complete meal.