Low Carb Keto Cheesecake [VIDEO]
Keto Cheesecake is a gluten-free, low carb cake that is super easy to make. With ingredients like cream cheese, sour cream, and eggs, you will have a keto-friendly cheesecake that is also sugar-free. A good cheesecake does not have to be full of sugar to be enjoyed. It can be healthy, and delicious like this keto version of it.
You and your family will enjoy this easy and delicious sugar-free and homemade dessert. Also, once you get to love low carb keto recipes, you might just as well try the Keto Buffalo Shrimp Dip and the Keto Italian Chicken Skewers. Both recipes are just as delicious and perfect if you are trying to follow a low carb diet.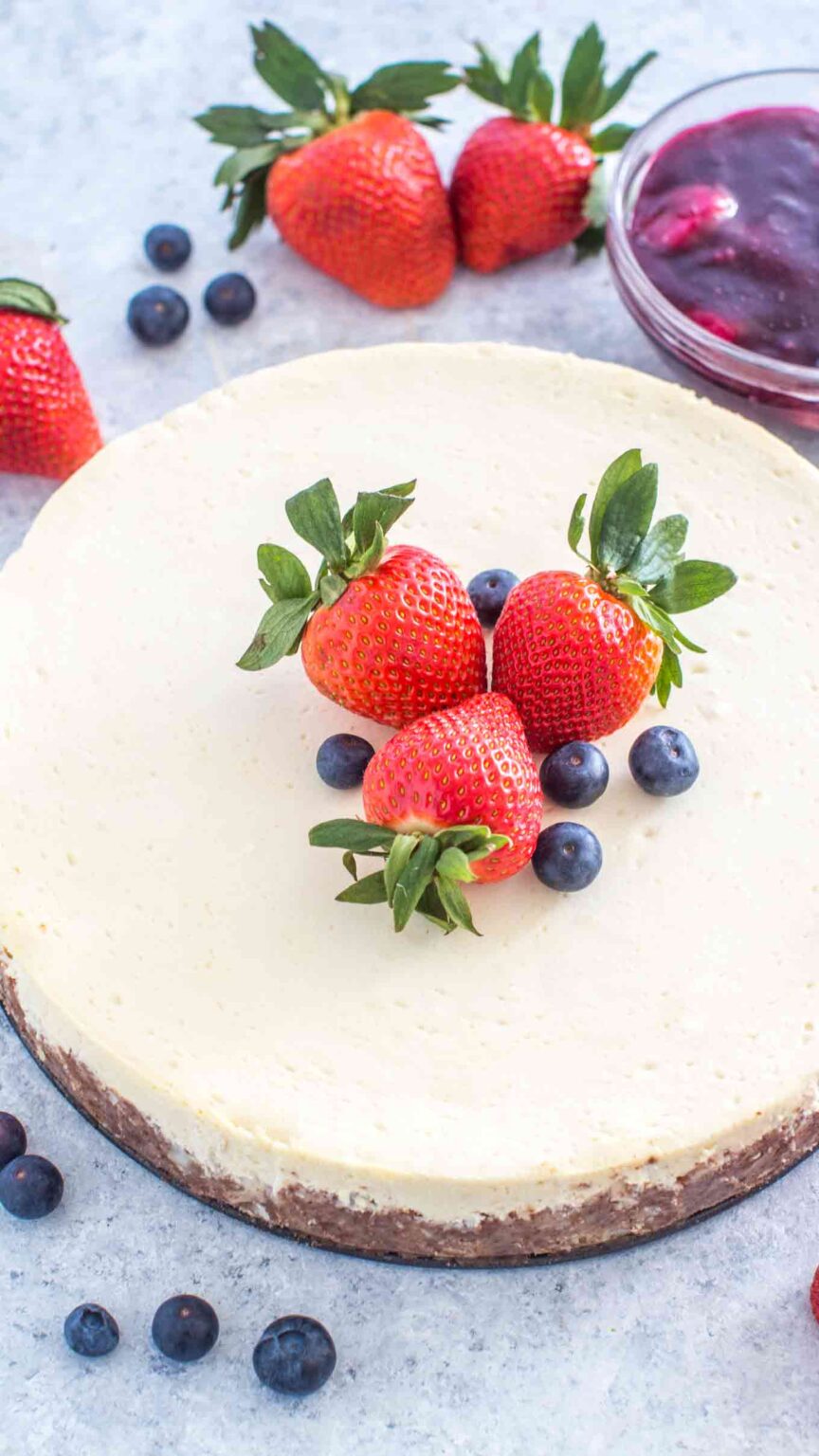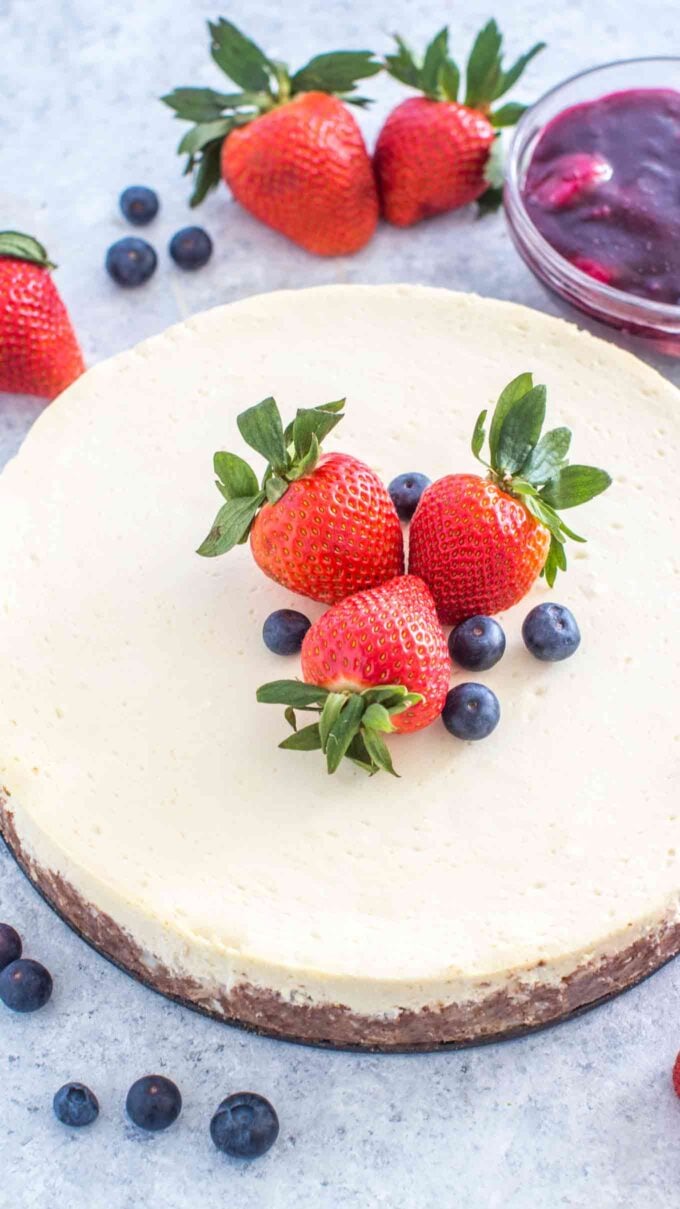 Easy Low Carb Keto Cheesecake
Keto Cheesecake is a healthier version of the original, rich cheesecake that we always eat. This dessert is really delicious and healthy. The best part is that it's sugar-free and low in carbs, something that you might not realize when you eat it for the first time. With ingredients like the cream cheese and eggs, this will still taste like a real cheesecake, but it will just be healthier.
The great thing about the keto cheesecake is that you can make one without a sugar crush, and one with a Keto crush. It depends on how you like your cake. Similarly, you can make different varieties of it, or top it with berries, which are naturally lower in carbs.
Just remember, to still use keto-friendly ingredients. For a low-fat version, you can just use the low-fat cream cheese instead of the regular one.
Can I eat cheesecake on a keto diet?
Good news! Yes, you can eat cheesecake on a keto diet. You just need to find the right recipe. One that is a keto proof like this one. The thing that you should know is that the cream cheese and low-fat cream cheese is low-carb.
This is ideal since it is the central ingredient for this recipe. There are different recipes and good ideas for cheesecake on a keto diet. However, we believe that our recipe is very simple and one of the best, and we strongly suggest you give it a try!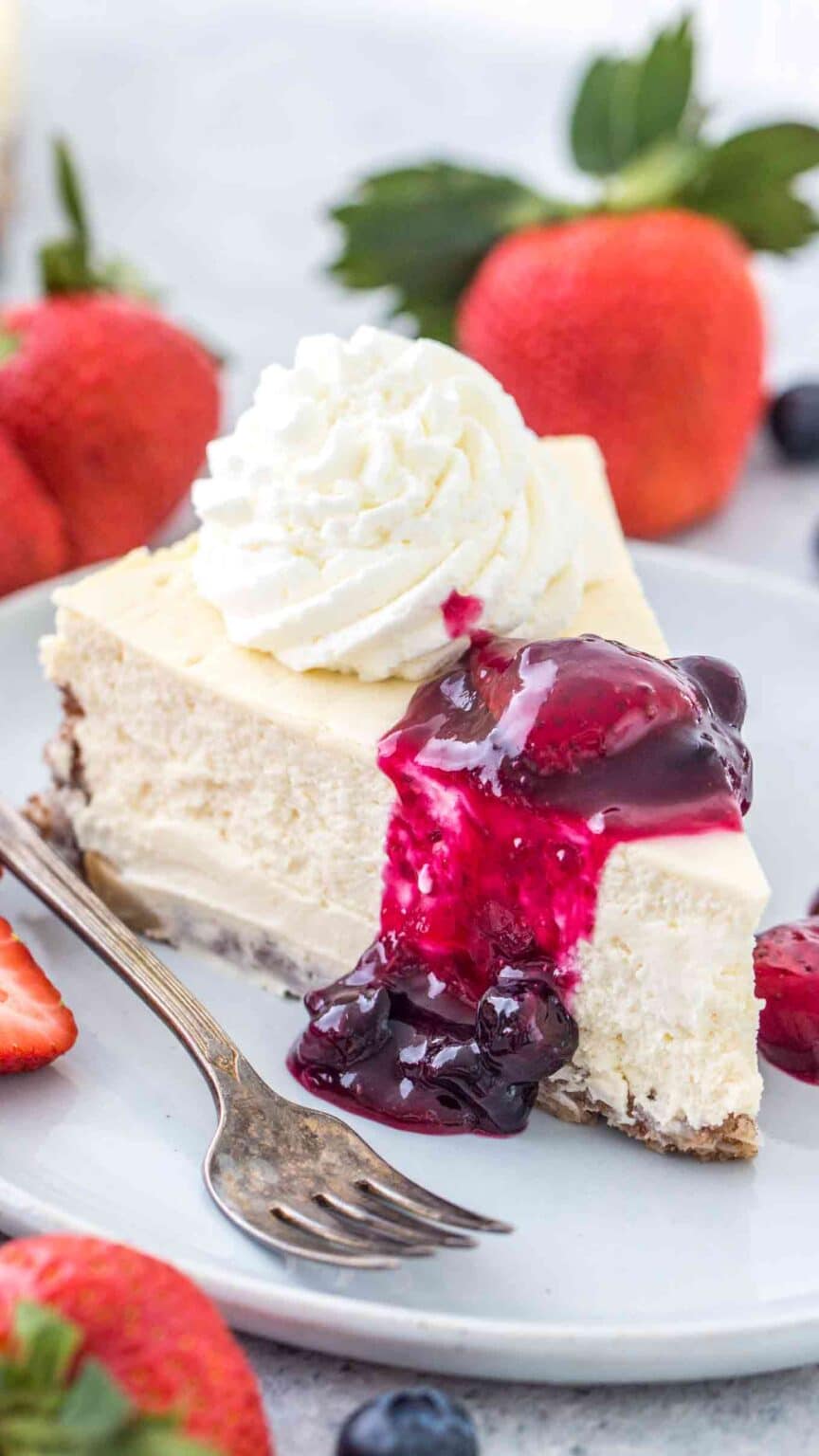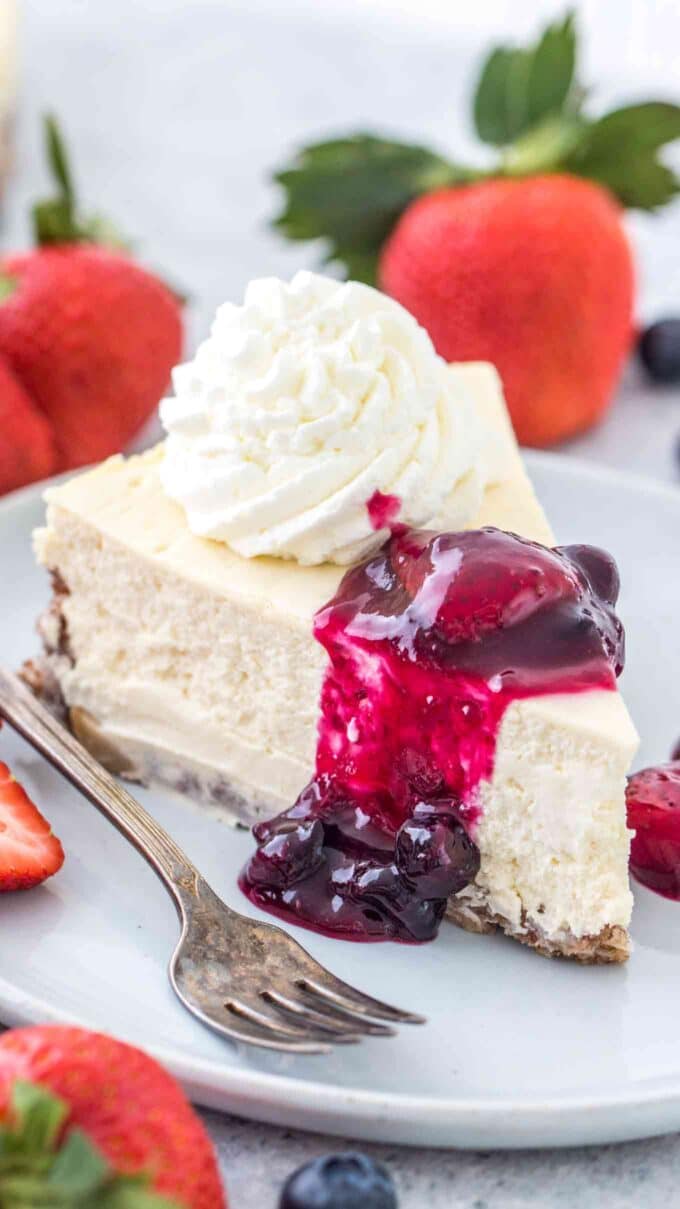 Is cream cheese ok to eat on a keto diet?
Unlike most other cheeses, the cream cheese is one of the ingredients that you can use if you follow a keto diet. You will see that there are many keto recipes that are making use of full-fat cream cheese, fat-free, or low-carb cream cheese.
This doesn't mean that you can now use any cheese and think that this is a keto recipe. There are still some of the cheeses that are not usable with the keto diet. It is best to make sure that you know exactly what cheese you can consume when you are on this diet.
Which keto sweeteners are best?
The last tip that you should know is what keto sweeteners are the best, with no calories and usually zero carbs. These are some of the keto sweeteners that you can use if you are following the keto diet:
These are the top sweeteners that you can use while on the keto diet. You should try them and find the one sweetener that will be the best and most tasty for you. Just remember that not all the sweeteners are automatically used in the keto diet.
WHAT KIND OF PAN SHOULD I USE TO MAKE THE KETO CHEESECAKE?
We love using a regular 10-inch diameter springform pan. You can use the 8-inch diameter pan as well. However, we love to use a bit larger pan as the cake is a bit bigger, which is perfect for a larger family. Also, the cheesecake looks more festive when it is bigger.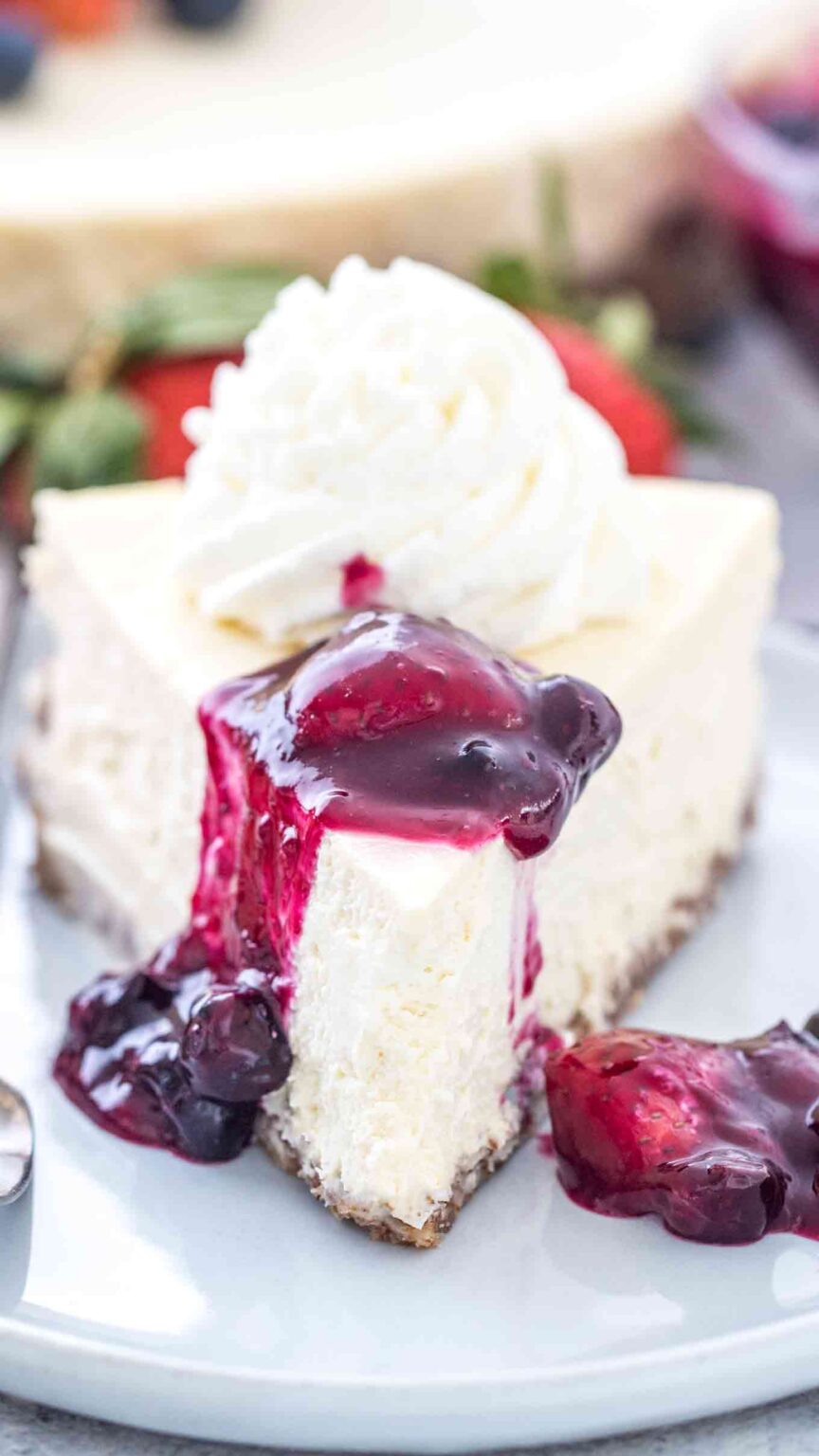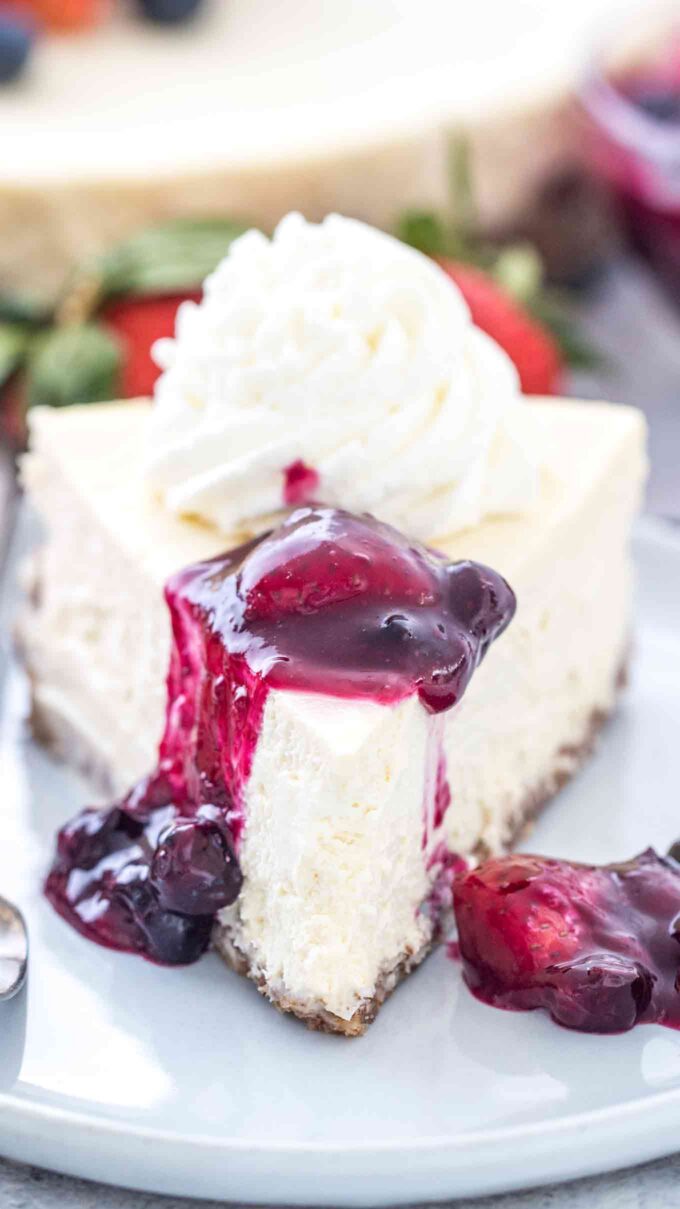 Options for the low carb cheesecake crust
There are a huge variety of low carb cheesecake crust recipes that you can use. The best flours to use on a keto diet are coconut flour and almond flour. Both are high in fiber and low in carbohydrates, so they are perfect to use in baked goods such as the keto cheesecake crust.
Similarly, you can just make it without the crust. This will ensure that you are going to consume even fewer carbs.
HOW TO FREEZE THE KETO CHEESECAKE
First, make sure it has fully cooled and also was refrigerated for at least 6 hours.
Then, wrap it tightly with aluminum foil, and after with plastic freezer wrap, or place in a heavy-duty freezer bag.
Similarly, you can also wrap and freeze individual slices.
Properly stored, it will maintain the best quality for about 2 to 3 months.
Thaw overnight in the fridge one day before serving.
More Low Carb Recipes:
Recipe Tips:
Make sure the filling ingredients are of room temperature.
Do NOT over-beat the batter, always mix just until combined.
Always use a spatula to scrape the sides and bottom of the bowl, it will help to get a smooth batter.
Also, bake the cheesecake in a PREHEATED oven.
Use a water bath when baking for the ultimate success. I describe it in detail in this post.
Do NOT open the oven door when the cake is baking, the sudden temperature drop may make it sink.
Similarly, do NOT remove it from the oven immediately after baking. Cool it with the oven door slightly open for about 1 hour.
Got cracks? No problem! Cover them with whipped cream or check this post where I describe in detail how to fix cracks on a cheesecake.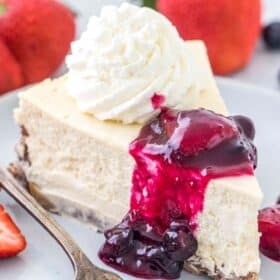 Keto Cheesecake - Low Carb and Sugar Free
Keto Cheesecake is a gluten free, low carb cheesecake that is super easy to make. With ingredients like cream cheese, sour cream and eggs, you will have a keto friendly cheesecake that is also sugar free.
Save
Share
Print
Pin
Rate
Ingredients
Keto Cheesecake Filling:
4

packages (8oz each)

cream cheese

(softened to room temperature)

16

oz

sour cream

(room temperature)

1

cup

Swerve Granular Sugar

1

tablespoon

cornstarch

(optional)

3

large eggs

2

teaspoons

Vanilla extract
Sugar Free Berry Sauce:
1

cup

sliced strawberries

1

cup

blueberries

(or raspberries)

1/4

cup

water

1/4

cup

Swerve Granular Sugar

1

teaspoon

cornstarch

(optional)
Instructions
Preheat oven to 300 degrees Fahrenheit.

Adjust the top rack to be positioned in the middle of the oven.
Keto Cheesecake Crust:
Wrap the outside of a 10 or 10 1/2 inch springform pan in a double layer of foil. Covering the bottom and sides of the pan, only from outside. This will prevent the cheesecake from water leaking in.

Spray the springform pan inside with baking spray and set aside.

Add all the ingredients to a large bowl and stir until fully combined.

Press the mixture into the prepared springform pan. Using a measuring cup or your fingers, press the crust and try to line the sides about 1 inch up.

Refrigerate for at least 20 minutes.
Keto Cheesecake Filling:
Make sure all the ingredients are of room temperature before your begin.

In the bowl of a stand mixer or in a large bowl using a hand mixer, beat the cream cheese until light and fluffy on medium-low speed, for about 1 minute. Add sour cream and beat for another minute, stopping to scrape the sides and bottom of the bowl.

Add the sugar and cornstarch and continue beating until well combined and creamy.

Add the vanilla, and eggs one at a time and beat after each addition until just combined. Careful not to over-mix. Stop to scrape the sides and bottom of the bowl when mixing.

Pour cheesecake batter into the prepared crust.
Bake:
Set the springform pan in a large roasting pan, that is deep enough to add water to it. Pour HOT water into the roasting pan, about half up the sides of the springform pan.

Transfer to the preheated oven.

Bake for 1 hour to 1 hour 20 minutes, until it only slightly jiggles in the center. I baked my cheesecake for exactly 1 hour and 20 minutes at 300 F.

Turn oven off, but leave the cake in the oven with the door slightly opened to cool slowly for an hour.

Transfer cake to a cooling rack and take off foil. Run a butter knife around the edges to prevent cheesecake sticking to the sides. Cool for another 2 hours and transfer to the fridge to chill for 5-6 hours or better overnight.
Sugar Free Berry Sauce:
Place a medium sauce pan on the stove over medium heat. Add 1 cup of sliced strawberries and 1 cup of blueberries.

Add water, lemon juice and vanilla extract. Add the sweetener.

Stir and simmer for 4-5 minutes, crushing a few berries.

If preferred to thicken the sauce more, mix 2 tablespoons of water with 1 teaspoon of cornstarch until cornstarch is fully dissolved. Add mixture to the sauce pan and stir until the sauce thickens. Remember that cornstarch has 7 carbs per 1 tablespoon, so if you want to cut on the carbs even more, you can skip this step.
Serve:
Slice cheesecake and serve with the Sugar Free Berry Sauce and Sugar Free Whipped Cream on the side.
Notes
The Cheesecake has 11 grams of carbs per serving including the berry sauce, without the berry sauce you are looking at 8 carbs per serving.
If you are looking for Net Carbs, deduct the Dietary Fiber 8 - 3 = 5 grams.
The carbs are mostly coming from the crust and the optional berry topping. If you eat only the filling, its about 1 gram of carbs per serving.
Nutrition
Calories:
307
kcal
|
Carbohydrates:
11
g
|
Protein:
6
g
|
Fat:
27
g
|
Saturated Fat:
14
g
|
Cholesterol:
74
mg
|
Sodium:
116
mg
|
Potassium:
186
mg
|
Fiber:
3
g
|
Sugar:
3
g
|
Vitamin A:
425
IU
|
Vitamin C:
8.7
mg
|
Calcium:
96
mg
|
Iron:
1.2
mg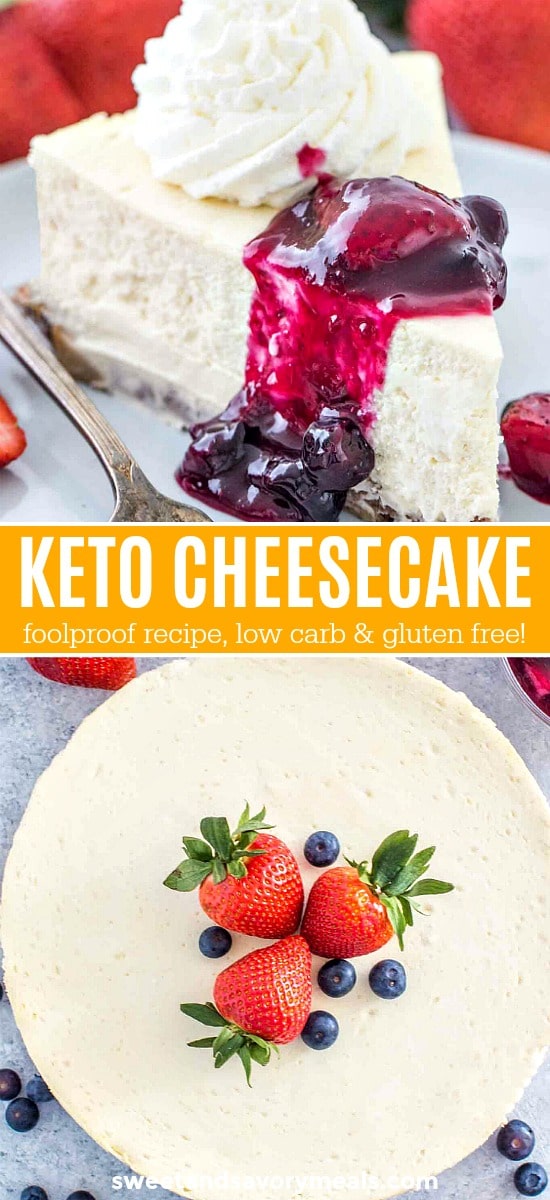 More recipes you might love