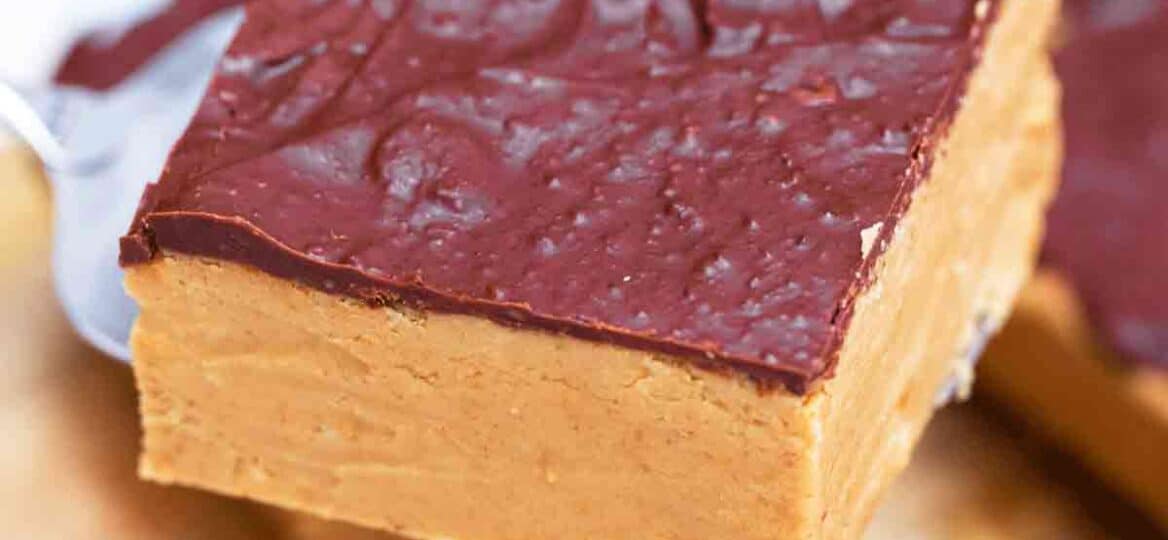 Keto Peanut Butter Chocolate Bars [Video]
Keto Peanut Butter Chocolate Bars is an easy low-carb treat that tastes just like a peanut butter cup! This dessert is chocolatey, nutty, and simply melts in your mouth!
This no-bake treat takes minutes to make! For more sweet treats that don't require heating up the oven, you can't go wrong with my No-Bake M&M's Pie, No Bake Oreo Balls, and No Bake Tiramisu Cheesecake.
Low Carb Peanut Butter Chocolate Bars
Keto Peanut Butter Chocolate Bars feature one of the yummiest combos in the world— dark chocolate and rich peanut butter! Think of it as a low-carb version of a Peanut Butter Cups like Reese's . They are just as addicting, except it fits into your macros.
Not only are these desserts low carb, and low sugar, but they also make for perfectly delicious desserts that can be enjoyed for any occasion.
The PB layer is soft and rich. It's covered with a crisp chocolate crust that wonderfully snaps when you bite into it. The hardest part about this recipe is waiting for it to chill and set. Otherwise, it comes together in no time at all. Say hello to your new favorite low-carb dessert!
What is the Keto diet?
The ketogenic diet, (aka the keto diet) requires you to eat foods high in fat and extremely low in carbs. At most, you can only eat between 20 to 50 grams of carbs each day.
It has a lot of potential health benefits, like helping to regulate blood sugar, encourage weight loss, and lower cholesterol levels.
Meat, seafood, non-starchy vegetables, cheese, and healthy fats feature heavily on a ketogenic diet. On the other hand, carb-heavy foods like rice, bread, and pasta are to be avoided.
Additionally, those on this diet cannot have a lot of sugar because it can spike blood sugar and pile on the carbs.
But don't worry— you can still satisfy your sweet tooth! Aside from these bars, I have other low-carb treats on the site like this awesome Strawberry Cheesecake you HAVE to try.
Can you eat peanut butter on keto?
Yes! It's really high in healthy fat and protein without a lot of carbs, and as an occasional treat, you can easily fit it into your macros.
What brand of peanut butter is best for Keto?
Any brand is fine, as long as they're only made of pure peanuts (and perhaps salt). Stay away from brands with added sugars or flavoring. To be safe, stick to natural pb that's also sugar-free.
How do you make Keto Peanut Butter Chocolate Bars?
Make the peanut butter layer. First, combine the almond flour with the icing sugar (I use Swerve), butter, pure vanilla, and PB. Press into a pan in an even layer.
Top with chocolate. Next, melt the chips and pour them on top of the PB layer.
Chill. Refrigerate until it sets, at least an hour. Try to chill overnight if you can.
Serve. Slice into bars and enjoy!
Recipe variations:
Use other nut butter: Macadamia and almond butter are delicious alternatives!
Make it softer: A bit of coconut oil will give these bars a softer consistency.
Add crunch: Chop your favorite nuts and sprinkle on top for extra nuttiness and texture. Toast them for a smoky flavor boost!
Add more chocolate: Fold dark chips into the PB layer, and sprinkle more on top!
What chocolate is keto-friendly?
Regardless of brand, the ketogenic diet only allows for dark chocolate. It should have at least 70% cocoa solids and make sure to eat in moderation.
What flour is best for keto?
Use nut flours like almond and hazelnut, seed flours like flaxseed flour, and coconut flour. Ready for some low-carb baking projects? Try your hand at this Keto Bread with Coconut Flour and Low Carb Chocolate Bread!
How to store leftovers?
Once the bars have set completely, cut them into slices. You may keep them in an air-tight container in the fridge for at least one week.
How to freeze Keto Peanut Butter Chocolate Bars?
Make them last longer by freezing the bars! Once you've sliced them into pieces, wrap each bar in parchment, then cover with foil. Freeze up to 7 months or longer.
When you're ready to eat them, you can thaw them slowly overnight, or defrost on the counter until it's soft enough to your liking.
More Keto Desserts to try:
Recipe Tips:
Before slicing, leave the chilled pan on the counter for about 20 minutes. This will help prevent the chocolate top from cracking, giving your cleaner slices.
Also, don't skip the chilling part! If you wait a little longer, allow it to sit overnight. The flavors get more intense and blend perfectly together!
For best taste and results, I highly recommend using creamy, all-natural PB without added sugar.
Deliciousness to your inbox
Enjoy weekly hand picked recipes and recommendations