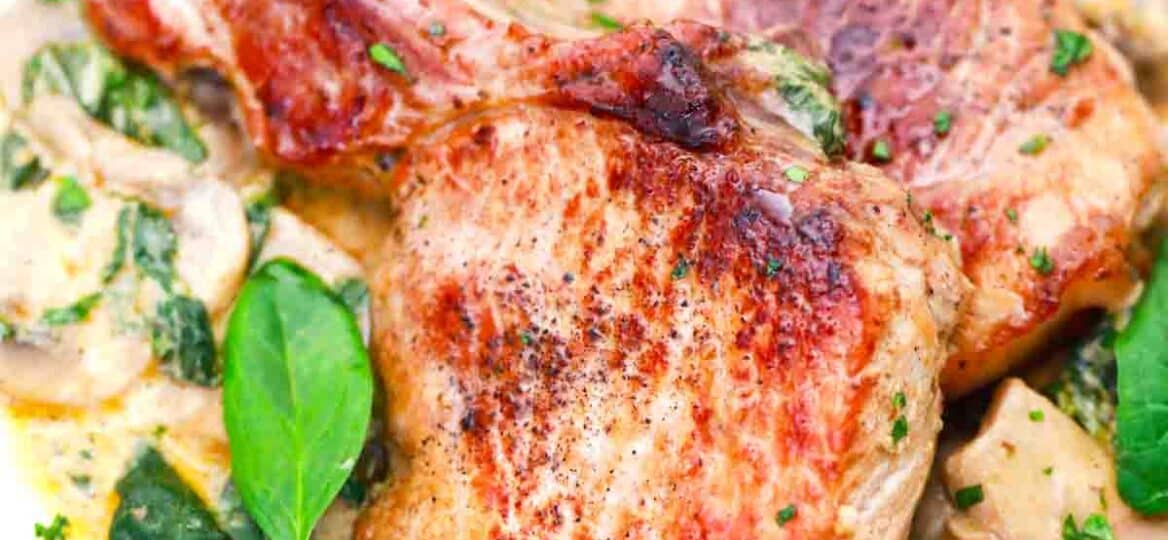 Creamy Garlic Pork Chops Recipe – Keto One Pan Meal
Creamy Garlic Pork Chops are juicy, and tender, doused in a creamy parmesan mushroom sauce with fresh baby spinach, and lots of garlic. This a low-carb, keto recipe, that is filling, hearty, and easily made in just one pan. Serve it with your favorite side dishes for a quick dinner any night of the week. My family loved it and yours will too!
Another way to enjoy delicious pork chops is with our Best Honey Garlic Pork Chops recipe. Made with chicken broth, garlic, honey, rosemary, butter, and apple cider vinegar and topped with chopped green onions, this is another perfect easy dinner. If you want to keep mushrooms in your recipe, try our juicy Mushroom Pork Chops seasoned with garlic, mustard powder, thyme, and smoked paprika.
If you think pork chops have been around forever, you are pretty close. In China, pigs were domesticated hundreds of years ago for food consumption. But they did not become popular in America until after Hernando de Soto came to this country in 1539, bringing domestic swine with him for food. It is thought that many of his pigs got loose or were left there when he traveled back to his home. So, we have him to thank for this pork chop dish!
For this yummy creamy garlic pork chops recipe, all you have to have is the basics including baby Bella mushrooms, garlic cloves, cream, parmesan cheese, and Italian seasoning. Then add some baby spinach, lemon zest, smoked paprika, and a pinch of red pepper flakes. Every bite is packed with flavor!
Are you looking for something different? Our chicken cheesesteak skillet meal is amazing with soy sauce, provolone cheese, bell peppers, garlic, and Italian seasoning. And it is cooked in one pan so cleanup is a breeze! Or you can try this garlic butter steak bites recipe made from sirloin steak and seasoned with butter, Worcestershire sauce, garlic, and fresh rosemary sprigs.
Ingredients needed:
Here are the basic ingredients for this creamy pork chops recipe. To get the full recipe, scroll down to the bottom of the page where you will find our handy recipe card.
Bone-in pork chops
Packed baby spinach
Baby bella mushrooms: Sliced.
Parmesan cheese: Freshly grated.
Heavy cream
Minced garlic cloves
Extra-virgin olive oil
Lemon zest
Dried Italian herbs
Smoked paprika
Crushed red pepper flakes
Kosher salt
Freshly ground black pepper
How to make creamy garlic pork chops from scratch?
Season your chops: First, heat olive oil in a large deep skillet on medium-high heat while you season your pork chops on all sides with kosher salt and freshly ground black pepper.
Cooking pork chops: Then, add pork chops and cook until golden and cooked through. Remove pork chops from the skillet and put them on a plate, covering them so they stay warm.
Brown mushrooms: Next, add mushrooms to the same skillet and saute until softened and golden brown. This typically takes about five minutes. Add garlic and cook for about a minute more, until it is fragrant.
Thicken the sauce: Now, add red pepper flakes, Italian seasoning, parmesan cheese, heavy cream, smoked paprika, lemon zest, salt, and pepper. Heat on medium until the sauce begins to simmer and then cook on medium-low until the sauce thickens. This should take about three minutes.
Reheat the meat: Lastly, add spinach to your sauce and cook for another two minutes until it is wilted. Move pork chops back to the skillet and cook for another five minutes, just until they are warmed all the way through.
Garnish and serve: Finally, add fresh parsley for garnish and serve with your favorite side dish.
How to make instant pot creamy garlic pork chops from scratch?
Heat up the pot: To begin, set your instant pot to saute and heat olive oil while you season the chops with salt and pepper.
Sear the chops: Next, add your chops and sear until they are golden brown on each side. Remove them and set them aside.
Cook mushrooms and garlic: Now, brown the mushrooms for several minutes before adding the garlic and letting it simmer for one minute.
Add the rest: Afterward, add the rest of the ingredients and stir. Use a wooden spoon to get the browned bits from the bottom of the pot before placing the pork chops back so you do not get a burn notice.
Cook on high: Then, cook on high pressure for seven minutes before letting it naturally release for 10 minutes. Do a quick release to get rid of any leftover pressure before opening.
Rest and serve: Remove your pork chops from the instant pot and let them rest on a plate for 10 minutes before serving.
Recipe variations:
Boneless pork chops: Alternatively, you can use boneless pork chops instead of bone-in.
Other meat: In fact, you could also use chicken, beef, or turkey instead of pork.
Onion powder: Add 1/4 teaspoon of onion powder for more onion flavor.
Different oil: Feel free to use another oil like vegetable or avocado oil or whatever you like cooking with.
Butter: You could also use butter instead of oil for an extra creamy garlic sauce.
Cajun seasoning: Make spicier pork chops with some cajun seasoning.
White wine: Add 1/4 cup white wine to give your pork chop sauce extra tanginess.
Chicken broth: For more flavor, add 1/2 cup of chicken broth and 1/4 cup of lemon juice to your garlic sauce.
Other mushrooms: You can substitute the baby bella mushrooms with any kind including crimini, portobello, shiitake, or white mushrooms.
How to serve:
This absolutely delicious recipe is ready in minutes and goes with any kind of side dish. It is a family favorite in my household and I enjoy making it often because it is so easy and delicious. Try one of these serving ideas or one of your own:
These tasty chops go great on top of a bed of pasta or rice.
Add a handful of your favorite shredded cheese on top while they are still hot for ooey gooey cheesy chops.
Steamed broccoli is an excellent side dish for these pork chops. You can make this crispy and tender steamed broccoli with just broccoli and some seasonings.
Shred leftover pork chops to make shredded pork sliders or sandwiches for lunch the next day.
Another vegetable that pairs well with this dish is green beans. Try our cheesy baked green beans recipe that the whole family will love.
Serve some super soft bread rolls on the side to soak up some of the delicious creamy garlic sauce.
Frequently asked questions
What is the difference between pork chop cuts?
There are five main types of pork chops sold at butcher shops today. The rib chop is the most common and the best cut you can get for the lowest price. You can cook it any way you would cook a steak. Center-cut pork loin chops, also known as bone-in ribeye chops, are the best cut according to butchers. They are large and can be cooked any way you like. Others include the loin chop, sirloin chop, and shoulder chop.
Why are my pork chops dry and tough?
If you used boneless pork chops, that could be the reason. Boneless pork chops tend to cook faster and may dry out if you do not adjust the cooking time. It could also be that you overcooked your chops. Remember to check them often and take them out when the meat thermometer read 145 degrees F.
How can I make my sauce thicker?
If your sauce is not as thick as you would like it, you can fix that by adding corn starch slurry. Simply add one part corn starch with two parts cold water in a small bowl and whisk until the powder is dissolved and slightly thickened. Then, add it to your sauce and whisk constantly while on low heat until it is the desired consistency.
What are the nutrition facts in this recipe?
Each serving has 445 calories, 500 mg sodium, and 8 grams carbohydrates with 4 grams net carbs. It also has 2 grams sugar, 33 grams fat, 14 grams saturated fat, and 88 mg cholesterol. On the good side, you also get 28 grams protein, 2 grams fiber, 522 units vitamin A, 5 mg vitamin C, 33 mg calcium, and 602 mg potassium.
How to store leftovers:
Store: Once your leftover creamy garlic pork chops cool to room temperature, place them in an airtight container and refrigerate for three to four days.
Freeze: You can also freeze whatever you have left after a few days. Just make sure they are in a freezer-safe container, and you can freeze them for three months.
Thaw: It is best to thaw your leftovers overnight in the refrigerator before serving.
Reheat: Place your pork chops in a microwave-safe dish and reheat in the microwave for 60 to 90 seconds.
More pork chops recipes to try:
Cooking tips:
If you do not have any fresh garlic, feel free to use garlic powder.
The internal temperature of your pork chops should be 145 degrees F on a meat thermometer when finished. Remember, they will continue to heat up for a few minutes after you finish cooking them.
Overcooking is easy to do and will turn your chops into shoe leather so keep an eye on them.
Also, do not skip browning your pork chops on both sides before cooking. This keeps all the juices inside where they belong.
You could also use one cup of half and half instead of heavy cream.
Similarly, cream cheese instead of cream would make a deliciously thick and creamy sauce.
Be sure to deglaze your pan with a wooden spoon so you get all the yummy flavor in your sauce.
Creamy Garlic Pork Chops
Ingredients
4

bone-in pork chops

or boneless pork chops

Kosher salt

to taste

Freshly ground black pepper

to taste

2

tablespoons

extra-virgin olive oil

8

oz

baby Bella mushrooms

sliced

4

cloves

garlic

minced

1

cup

heavy cream

1/2

cup

freshly grated Parmesan

1/2

teaspoon

dried oregano

1/2

teaspoon

smoked paprika

1

teaspoon

lemon zest

1/4

teaspoon

crushed red pepper flakes

optional

3

cups

fresh baby spinach

packed
Instructions
Place the pork chops on a cutting board, pat dry them with paper towels, and season with salt and pepper on both sides.

Place a large skillet over medium heat, and heat the oil. Add pork chops and cook until golden brown and cooked through. Remove them to a plate, and cover them with foil to keep them warm.

Next, add the sliced mushrooms to the skillet and cook stirring until softened about 5 minutes. Then add the minced garlic and cook until fragrant, about 1 minute.

After that, add the heavy cream, Parmesan cheese, oregano, paprika, lemon zest, and a pinch of red pepper flakes, if using. Season with salt and pepper, to taste. Stir and bring the sauce to a simmer and cook until thickened, about 2-3 minutes.

Finally, add the spinach and cook until wilted, stirring it into the sauce, about 2 minutes more.

Return the pork chops to the skillet and cook until warmed through 5-7 minutes.
Deliciousness to your inbox
Enjoy weekly hand picked recipes and recommendations