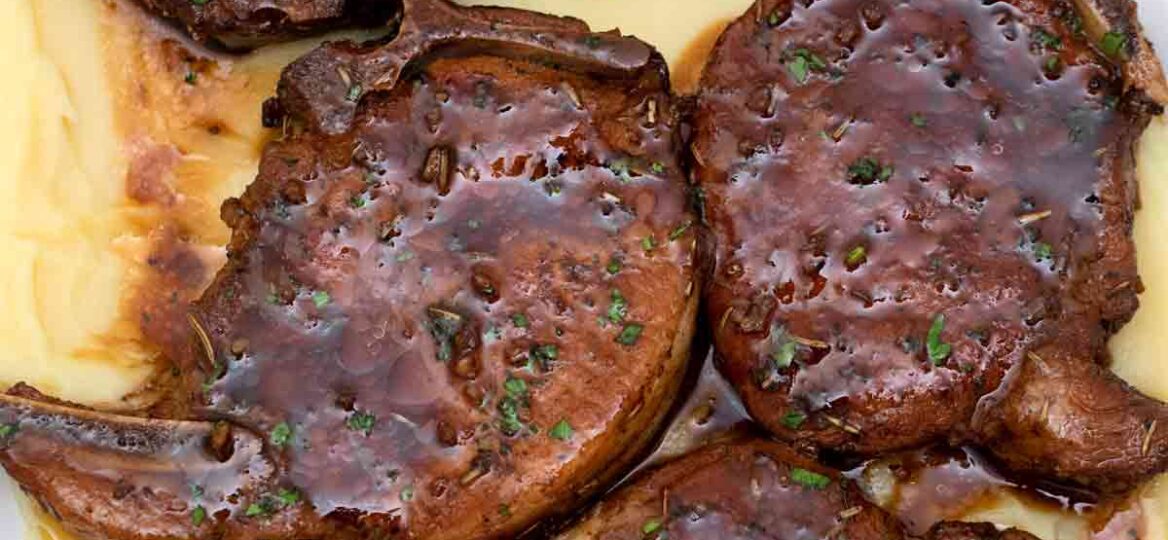 Brown Sugar Baked Pork Chops [Video]
Brown Sugar Baked Pork Chops are seared in a spice rub, then baked to perfect tenderness in garlic, brown sugar, and balsamic sauce. Always a winner on the dinner table!
Want to achieve a crunchy or crispy texture without deep-frying in oil? Use your trusty oven! Try my Crispy Oven Baked Chicken Tenders, Crispy Baked Tilapia, and Oven Baked Fish Sticks. These are all kid-friendly meals, too!
Baked Brown Sugar Pork Chops recipe
Brown Sugar Baked Pork Chops made me a fan of this cut again. You see, I've eaten my fair share that were so overcooked, it felt like I was chewing on shoe leather. Not this recipe!
Every step – from searing to baking at the correct temperature – is designed to give you the juiciest results. The sauce also protects the dish from drying out.
What you get is moist, fork-tender meat coated in a garlicky brown sugar glaze you'd want to spoon over everything! So easy too, because the oven does most of the work. Say hello to your new favorite meal!
How to make Brown Sugar Baked Pork Chops?
Prepare the oven. Set to 350F and preheat.
Cover the meat with the spice rub. Combine your rub ingredients. Pat the meat dry. Press the rub all over the surface.
Sear the meat. Heat oil in a skillet. Brown the meat in small batches, until a golden-brown crust develops.

Make the brown sugar sauce. Whisk the ingredients together.
Bake. Place the meat at the bottom of the baking pan. Cover with the prepared brown sugar sauce. Sprinkle rosemary on top. Bake for around 30 minutes until 145F internal temp is reached.
Serve. Sprinkle with chopped parsley. Plate individually with sides or serve family-style.
How long to cook in the oven?
It depends on two factors: meat thickness and how hot your oven runs. In my oven at 350F, it takes 25-30 minutes.
Feel free to adjust according to these general guidelines:
For 1-inch thick cuts:
350F – 20 to 22 minutes
375F – 18 to 20 minutes
400F – 15 to 18 minutes
425F – 12 to 15 minutes
For 1/2-inch thick cuts:
350F – 10 to 12 minutes
375F – 8 to 10 minutes
400F – 7 to 8 minutes
425F – 6 to 7 minutes
Remember that these are just general guidelines, because every oven works differently. The most effective method to avoid under or overcooking your meat is to check the internal temperature.
What temperature should the pork chops be cooked to?
For the maximum amount of flavor and juiciness, cook the meat to an internal temp of 145F. Use a digital meat thermometer. You get an instant and accurate reading without having to open the oven too long.
What is the best way to cook pork chops?
This is a versatile cut, and you can prepare it in many ways. I especially like crisping them up in the air fryer.
These Grilled Chops are a mainstay for the summer grilling season, and it won't even take you an hour. An easy recipe for when you have guests over!
Want to use your crockpot or slow cooker instead? The teriyaki sauce in my Easy Slow Cooker Pork Chops is absolutely amazing. Equally easy are my Instant Pot Pork Chops. The creamy mushroom sauce in this one is restaurant-quality!
Bone-in or boneless pork chops?
Either one will work. However, the bone protects the juiciness by preventing the cut from shrinking. But feel free to use boneless. As long as you don't overcook it, you'll end up with fantastic results every time.
What to serve with brown sugar baked chops?
For a classic pairing, serve this with Perfectly Creamy Mashed Potatoes or hot white rice. Add veggies to the meal with Steamed Broccoli, Rainbow Roasted Vegetables, and Roasted Asparagus. Serve it over pasta if desired.
How to store Brown Sugar Baked Pork Chops?
Cool completely before transferring to a storage container with leftover sauce. Keep in the fridge up to two days, or freeze for up to three months.
More delicious recipes:
Recipe Tips and Notes:
Don't overcrowd the pan when searing. To get that delicious crust, sear one or two pieces at a time.
If using thin cuts, reduce bake time accordingly.
Deliciousness to your inbox
Enjoy weekly hand picked recipes and recommendations