Lemon Mousse Recipe [Video]
Last updated on December 11th, 2021 at 05:02 pm
Lemon Mousse from scratch is made with fresh lemon juice, zest, whipped cream, cream cheese, and lemon curd for the ultimate citrus flavor. This no-bake recipe has the perfect creamy texture and makes the perfect summertime dessert.
We are huge fans of no-bake desserts like this gorgeous and show-stopping Strawberry Mousse or try the boozy Baileys Jell-O shots. This Strawberry Pretzel Salad is another great no-bake dessert that is sweet and refreshing.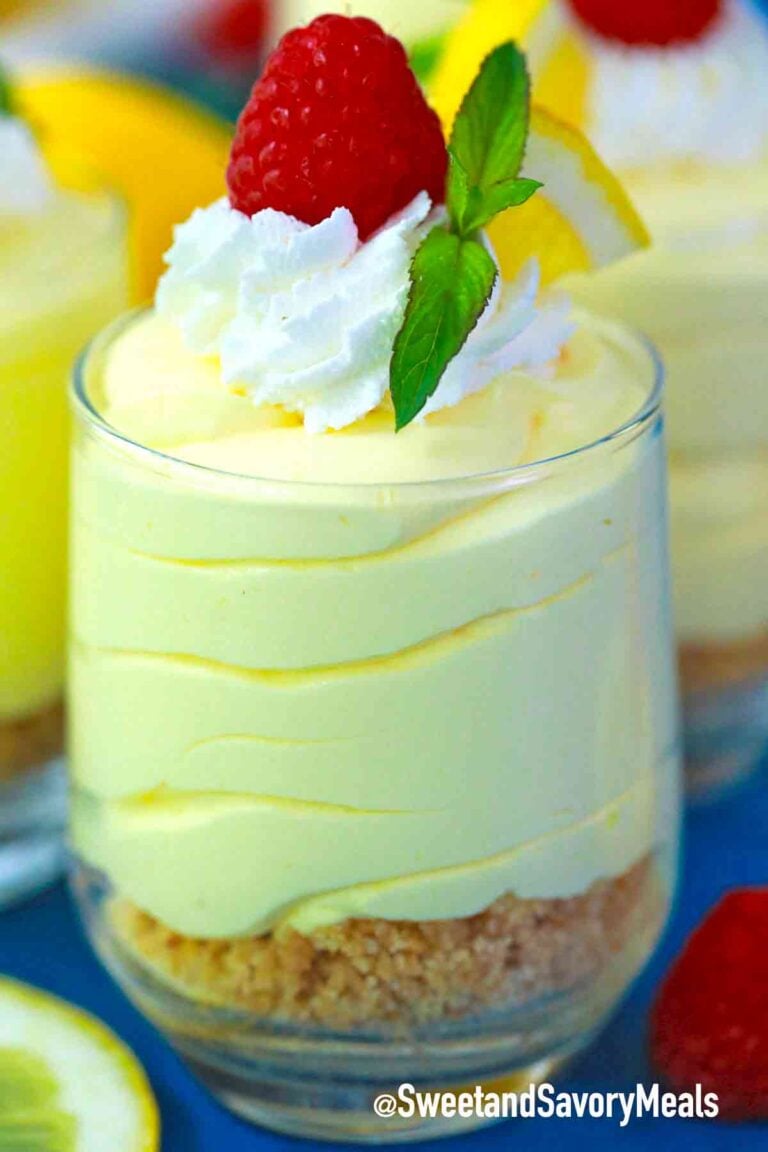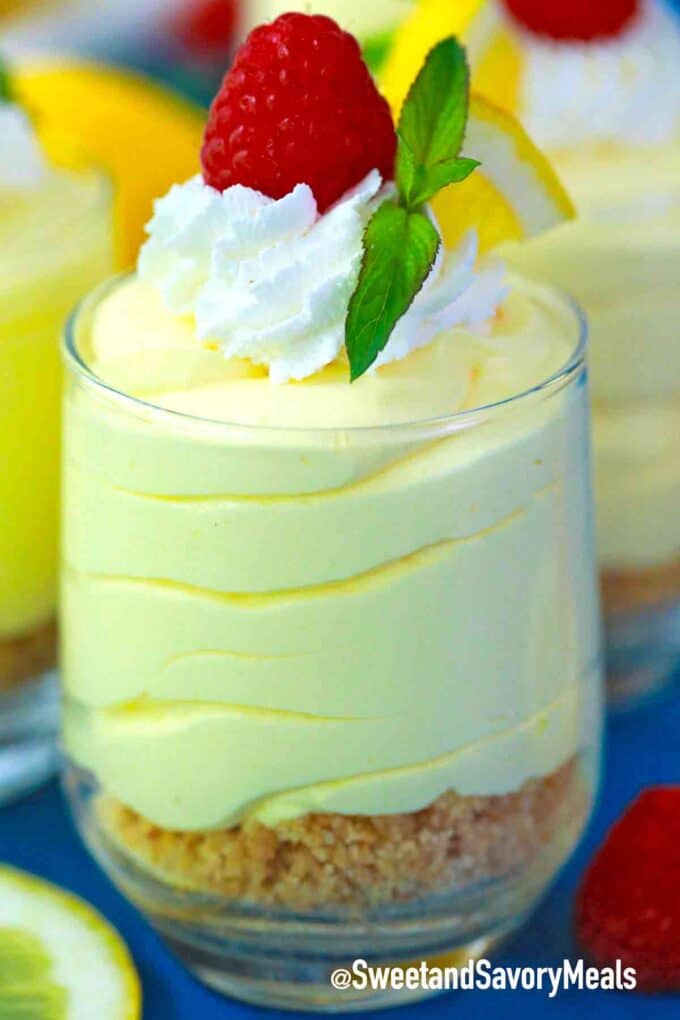 No Bake Lemon Mousse Recipe
No-Bake Lemon Mousse is an easy recipe that is perfect for any occasion. We use a bit of gelatin in this recipe which will give the mousse the perfect airy, creamy, and fluffy texture. Many recipes skip this ingredient, making the filling taste more like whipped topping or cheesecake filling.
Do not worry, working with gelatin is fairly easy, and this way your mousse will have the perfect texture.
To make it very lemony, we use a combination of lemon juice, lemon zest, and lemon curd. To save some time you can use store-bought lemon curd or if you feel like make your own, here is our favorite foolproof recipe.
This recipe is easy to make into individual portions, for summer parties we like to prepare it in paper cups so everyone can grab one. This way you don't have extra glasses to wash after the party is done.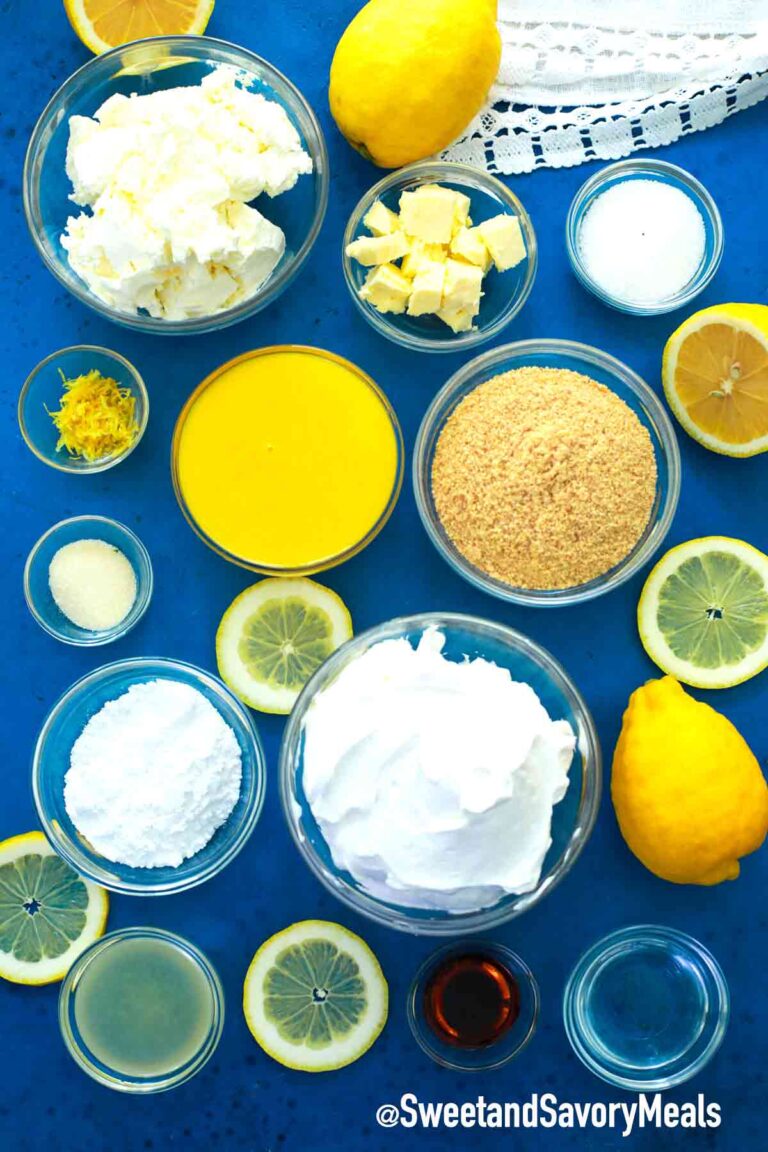 Homemade Lemon Mousse Ingredients:
For the crust layer you will need some simple ingredients, that will remind you of a cheesecake crust or graham cracker pie crust.
crushed graham crackers
sugar
butter
For the mousse:
Lemon juice – we recommend using freshly squeezed for the most refreshing citrus flavor.
Lemon Zest – it adds another layer of lemon flavor, making the dessert irresistible.
Gelatin – the key ingredient to getting the right mousse texture.
Heavy cream – make sure it's cold, this way it will be fluffier when whipped.
Cream cheese – it needs to be at room temperature, this will help avoid over mixing when combined with the whipped cream.
Powdered sugar – it is used to add sweetness, I recommend you adjust the quantity based on how sweet you prefer your desserts.
Lemon Curd – it adds sweetness, color, texture, and extra lemon flavor.
Yellow food coloring – it's optional, but if you want a more yellow mousse, add a few drops.
Vanilla – just a little to balance the lemon flavor.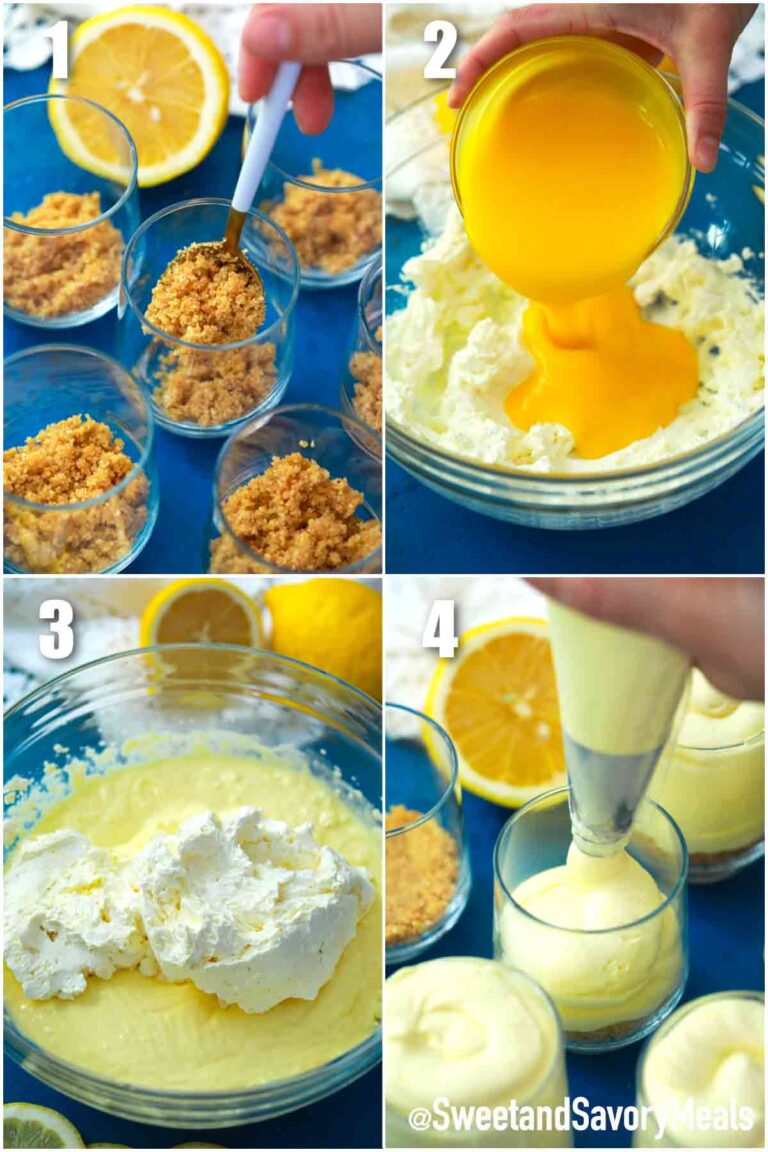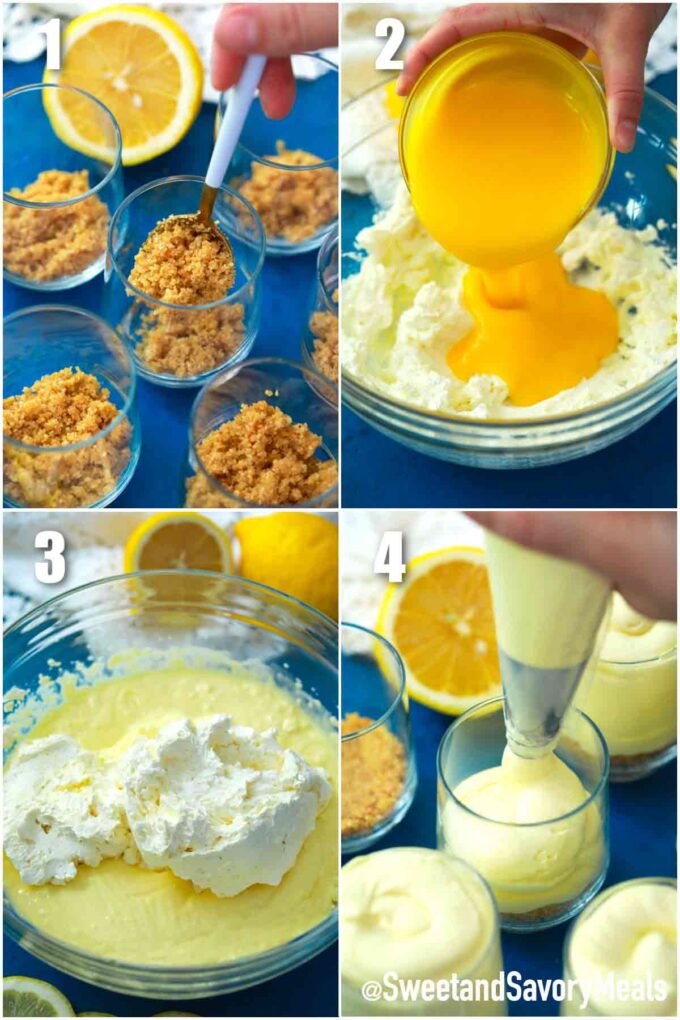 How to make Lemon Mousse from scratch
Prepare the crust: First, Strat by mixing all the crust ingredients and after that diving the mixture equally into serving glasses.
Gelatin Mixture: After that, combine lemon juice and water and sprinkle the gelatin on top, let it bloom.
Whipped Cream Mixture: In the meantime, whip the heavy cream with 1/3 of the sugar, the vanilla, lemon zest. Also, add the food coloring if you want to use some.
Beat the cream cheese: After that, beat the cream cheese in another bowl and combine it with the lemon curd and remaining sugar.
Dissolve the gelatin: Next, microwave the gelatin mixture to dissolve the gelatin and let it cool for 3 minutes. Once cooled, blend it into the cream cheese mixture.
Combine whipped cream with cream cheese: Finally, little by little combine the whipped cream mixture with the cream cheese one.
Add to glasses: Once blended, divide the mousse mixture into the prepared serving glasses and chill for 2 hours before serving.
Recipe Variations:
Use another citrus: This recipe works well with oranges, blood oranges, Pamela, and limes. If you would like to use limes, we recommend you make our lime curd recipe as well.
Skip the crust: To save time and calories you can skip preparing the crust altogether and just make the mousse.
Layer it: Make the mousse prettier by combining it with chocolate mousse, or strawberry mousse. Make those separately and after that layer them all into the serving glasses.
Add fruits: Another way to make this recipe is by chopping some berries, I like to add raspberries and strawberries. One option is to stir them into the mousse or layer them in the serving glasses.
Skip the cream cheese: While the cream cheese adds great texture and creaminess, you can skip it to save some calories and double the cream in that case.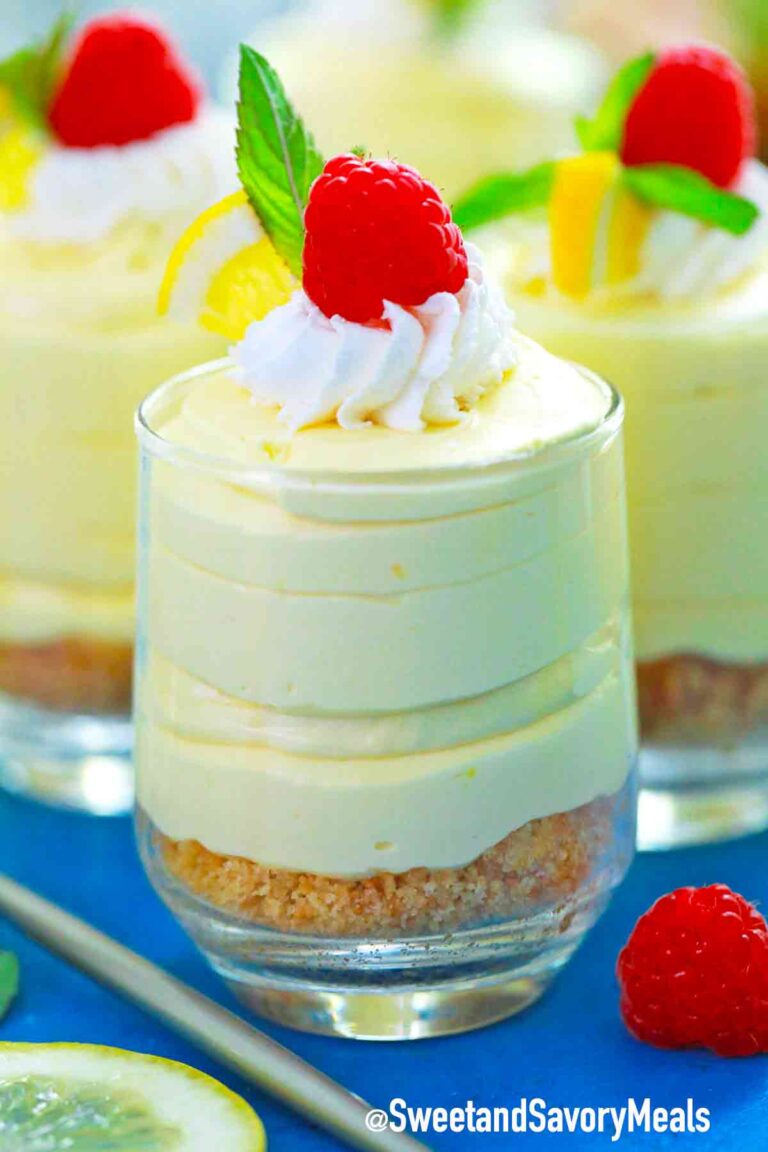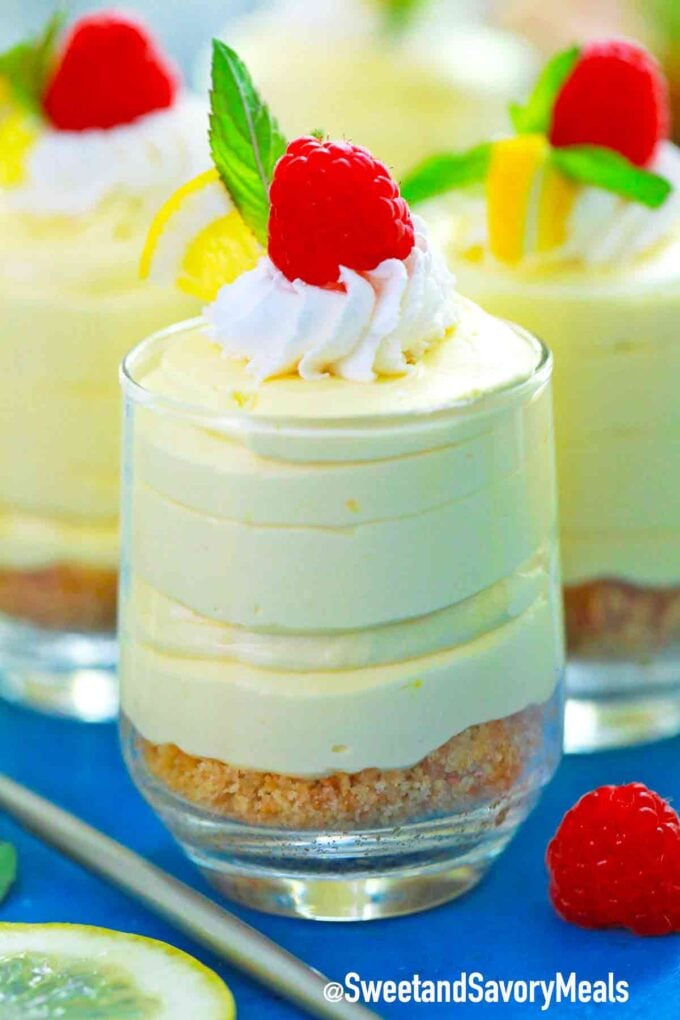 Frequently Asked Questions
What are the four basic components of a mousse?
There are many mousse recipes, but usually, you have to focus on 4 things when making one:
flavor – in our case, it's the lemon and to be more specific the lemon curd.
binder – we use gelatin as a binder here, agar agar is another option.
aerator – whipped cream is our aerator.
seasonings – we use lemon juice, zest, and also vanilla extract.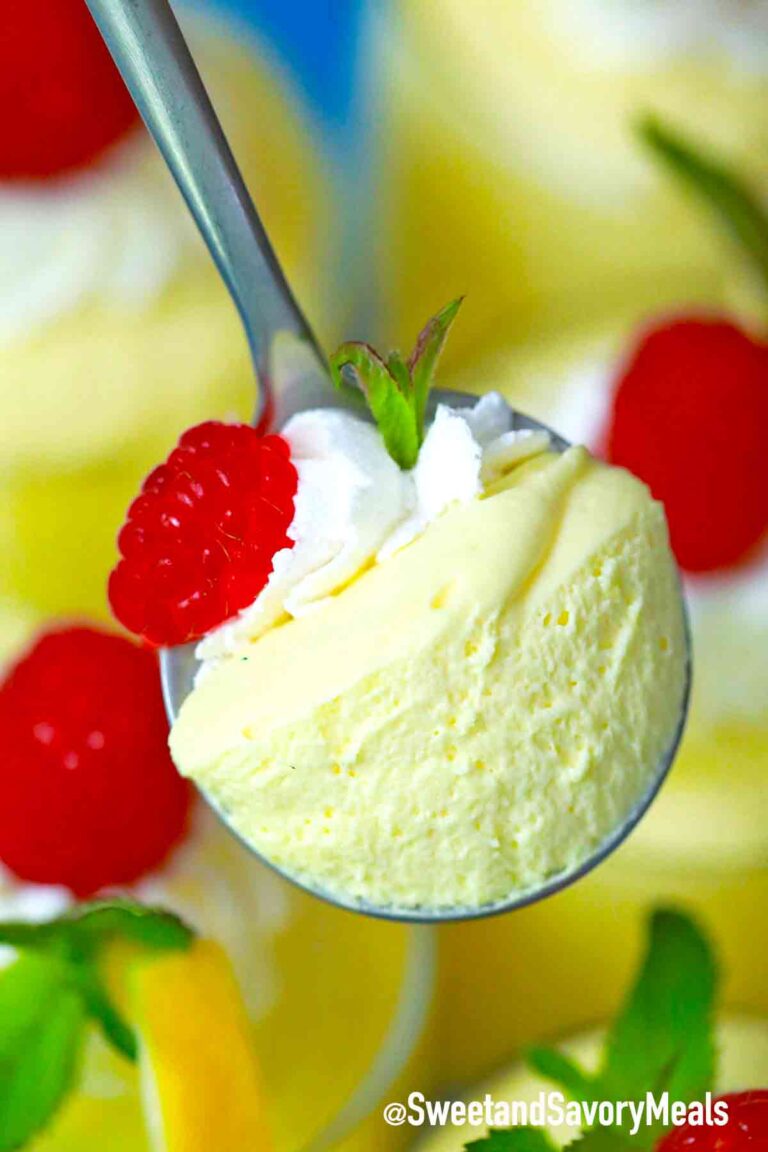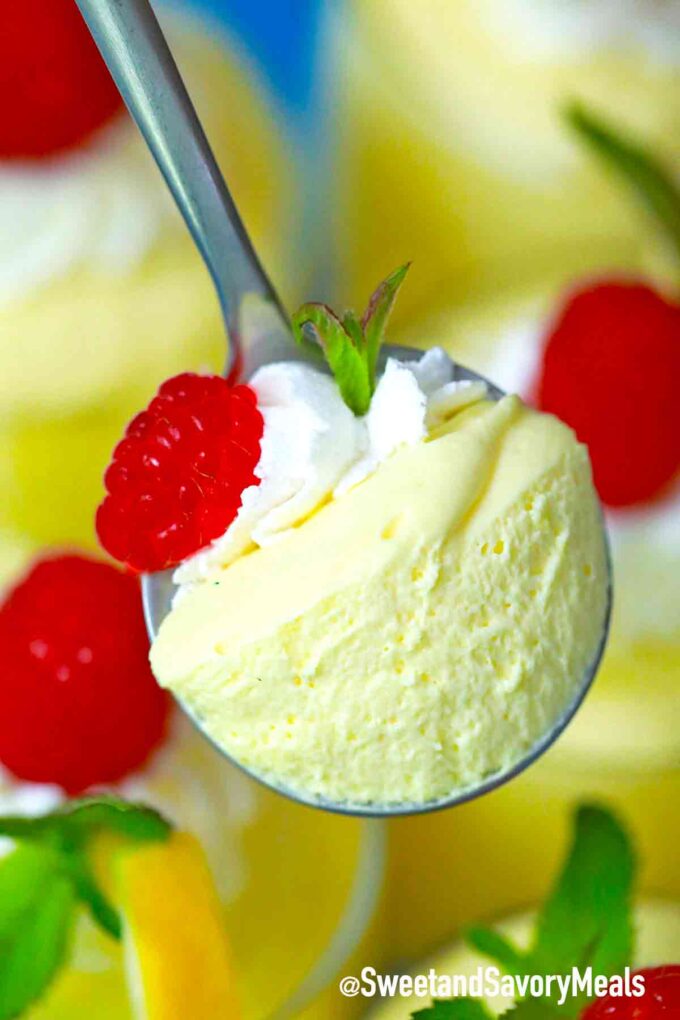 How do you make mousse firmer?
To make it firmer you have to use a binder like agar agar or gelatin. Therefore, for a moderately stiff mousse, which is more on the creamier side like a cheesecake, you have to use 1 teaspoon of gelatin to 3 tablespoons of water. For a firmer texture, the one that I actually prefer, use 2 teaspoons of gelatin to 5 tablespoons of liquid.
Can you substitute agar agar for gelatin?
Yes, but it's not a 1:1 substitution. With that said, the recommendation is to use 1/2 the amount of agar as a recipe with gelatin would call for or about 1 teaspoon agar per 3 cups of liquid.
Why is my mousse grainy?
The main culprit, in this case, is usually over mixing the heavy cream or the cream cheese.
How do you fix runny mousse?
In that case, you can make another gelatin mixture and after that slowly whisk it into the mousse mixture.
More No Bake Recipes: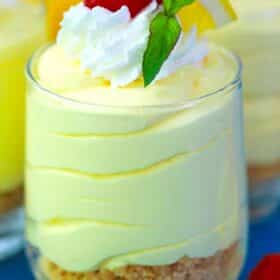 Lemon Mousse Recipe
Lemon Mousse from scratch is made with fresh lemon juice, zest, whipped cream, cream cheese, and lemon curd for the ultimate citrus flavor.
Save
Share
Print
Pin
Rate
Ingredients
Crust:
1

cup

graham cracker crumbs

2

tablespoons

granulated sugar

4

tablespoons

unsalted butter

(melted)
Mousse:
3

tablespoons

fresh lemon juice

2

tablespoons

water

2

teaspoons

unflavored gelatin

2

cups

heavy cream

1

cup

powdered sugar

(divided)

Yellow food coloring

(optional)

12

oz

cream cheese

(softened)

1

tablespoon

lemon zest

1

teaspoon

vanilla

10

oz

jar lemon curd
Topping:
Sweetened whipped cream

lemon wedges

raspberries

fresh mint leaves
Instructions
Crust:
In a mixing bowl combine the ingredients and divide the mixture evenly between 8 - 10 dessert cups, lightly press down, set aside.
Mousse:
Add lemon juice and water into a small bowl and sprinkle gelatin on top, set it aside for a few minutes to bloom.

Meanwhile, in a cold medium bowl whip the heavy cream until soft peaks form.

Add in 1/3 cup of the powdered sugar, vanilla, lemon zest, and yellow food coloring if using, whip until stiff peaks form.

In a different large mixing bowl whip the cream cheese until smooth and fluffy. Mix in the lemon curd and remaining 2/3 cup powdered sugar. Scrape the sides and bottom of the bowl.

Microwave the bloomed gelatin mixture at high power for 30 seconds and whisk for about one minute until gelatin dissolves. Should be smooth with no lumps.

Slowly pour in gelatin mixture into the cream cheese mixture, and blend with the mixer on low until thoroughly combined.
Notes
Use fresh lemon juice and zest for the most amazing citrus flavor.
Make sure the heavy cream is cold, and its best to whisk it in a cold bowl as well.
Another important thing, make sure the gelatin blossomed, if it didn't, discard and mix again.
Do not over mix, this will cause the mousse to be runny and also it may give it a grainy texture.
Equally important is to refrigerate it before serving, this way the binder will have time to act and the dessert will have the perfect texture.
Nutrition
Calories:
412
kcal
|
Carbohydrates:
54
g
|
Protein:
8
g
|
Fat:
18
g
|
Saturated Fat:
11
g
|
Polyunsaturated Fat:
1
g
|
Monounsaturated Fat:
4
g
|
Trans Fat:
1
g
|
Cholesterol:
44
mg
|
Sodium:
454
mg
|
Potassium:
214
mg
|
Fiber:
1
g
|
Sugar:
47
g
|
Vitamin A:
509
IU
|
Vitamin C:
3
mg
|
Calcium:
144
mg
|
Iron:
1
mg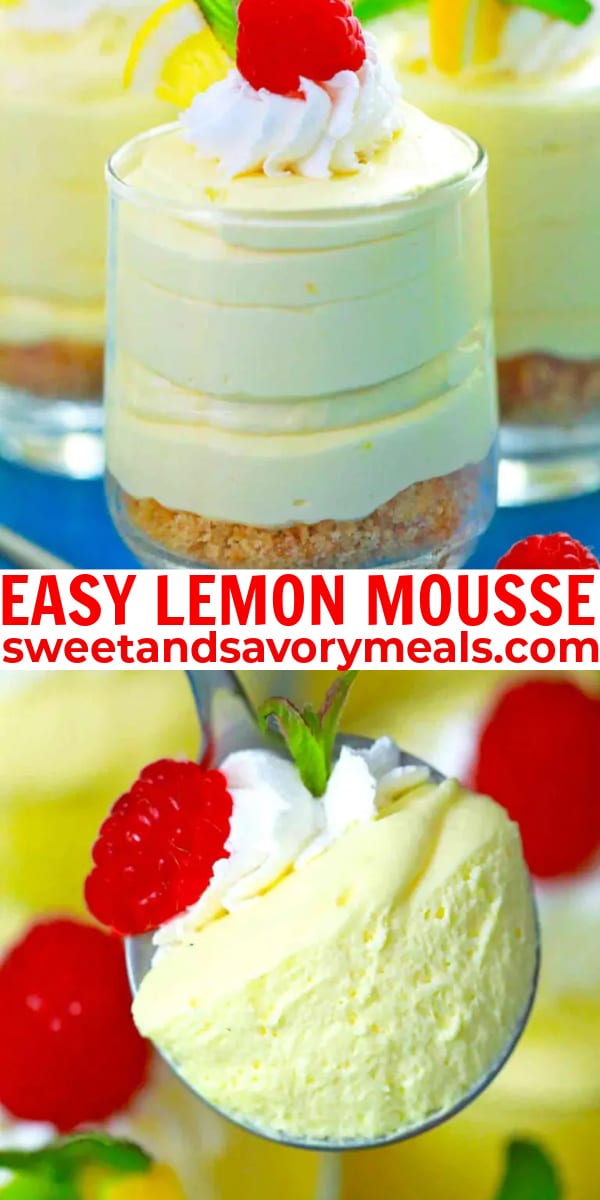 More recipes you might love