No-Bake Pineapple Dream Dessert Recipe [Video]
Last updated on August 2nd, 2022 at 03:27 pm
No-Bake Pineapple Dream Dessert is creamy, smooth, and sweet with a graham cracker pecan crust and a delicious cream cheese pineapple filling. This will be a family favorite in your household just like mine. Sweet and cool treats are always a huge hit at any holiday gathering or dinner.
If your family loves chocolate as much as I do, you will love this easy dessert recipe. Our No-Bake Chocolate Cheesecake is delicious with cocoa powder, dark chocolate, and cream cheese. Those who enjoy pineapple desserts will love this Cinnamon Fried Pineapple with brown sugar and whipped topping.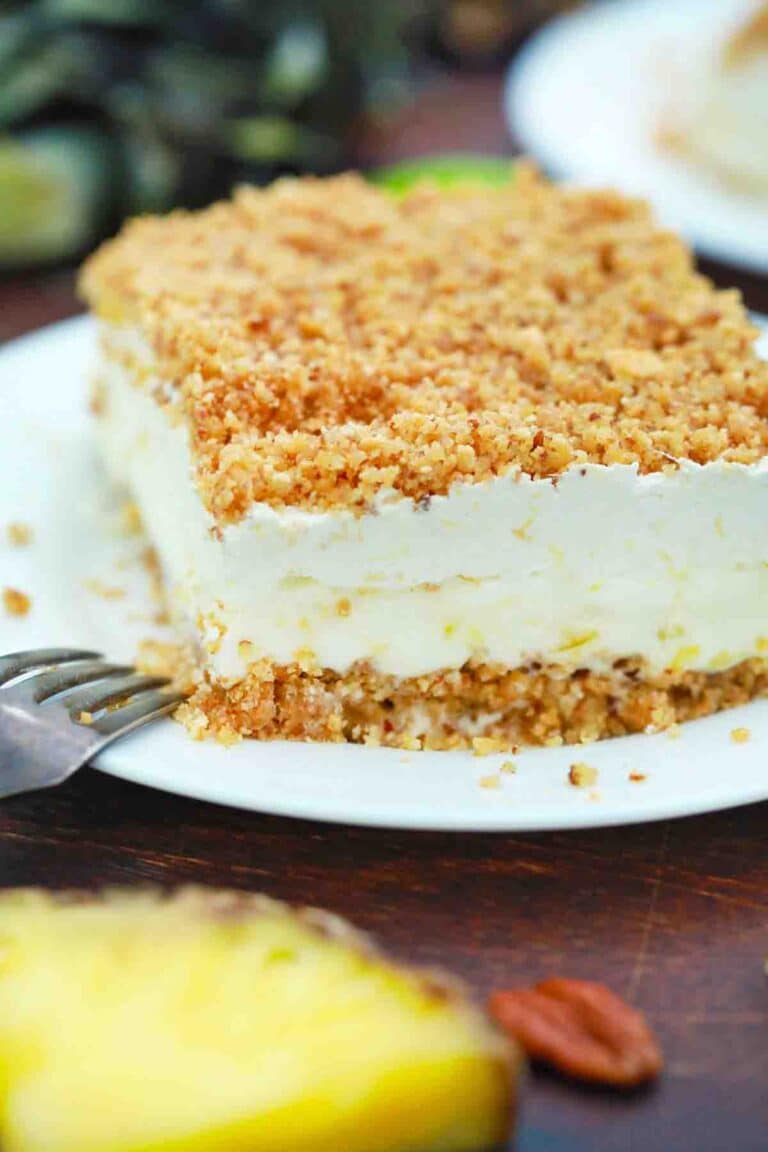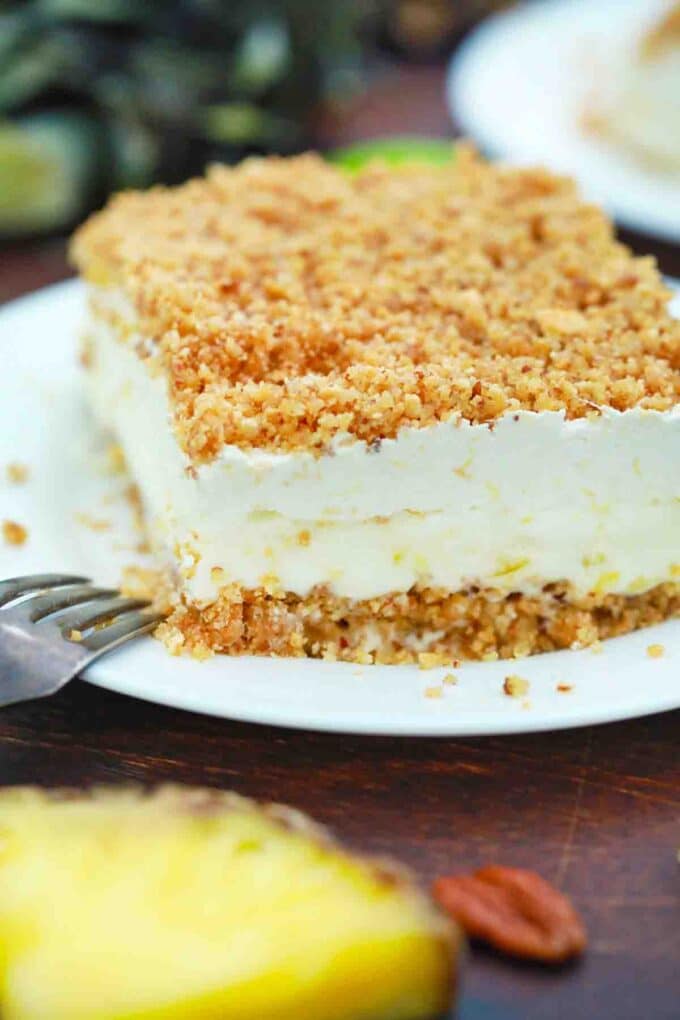 For a holiday treat, try these Candy Cane Raspberry Dessert Shots with mini candy canes, jello, and cool whip. Really, you do not have to wait until the holiday season to enjoy these sweet shots. And you only need four ingredients.
You may have also heard this recipe called pineapple delight or pineapple bars but whatever you call it, everyone agrees it is scrumptious. Without having to turn your oven on or spend hours on prep time, this no-bake dessert is going to be a favorite. This is a great recipe for summer or anytime of the year.
Are you looking for other pineapple desserts or just some easy desserts to whip up quickly? Our pineapple bread made with crushed pineapple, brown sugar, and cream is delightfully light and delicious.
These pineapple crumb bars are equally yummy made with unsweetened coconut and crushed pineapple. This pistachio dessert is also easy and made with pistachio pudding and cream cheese.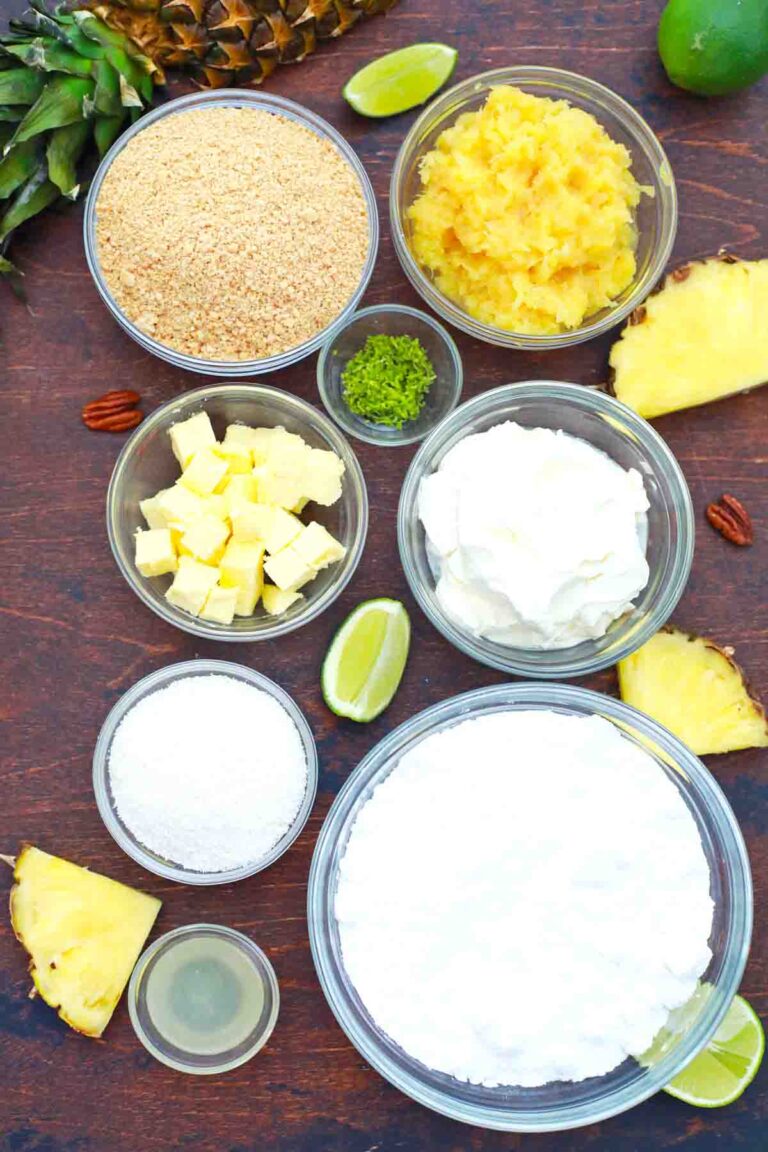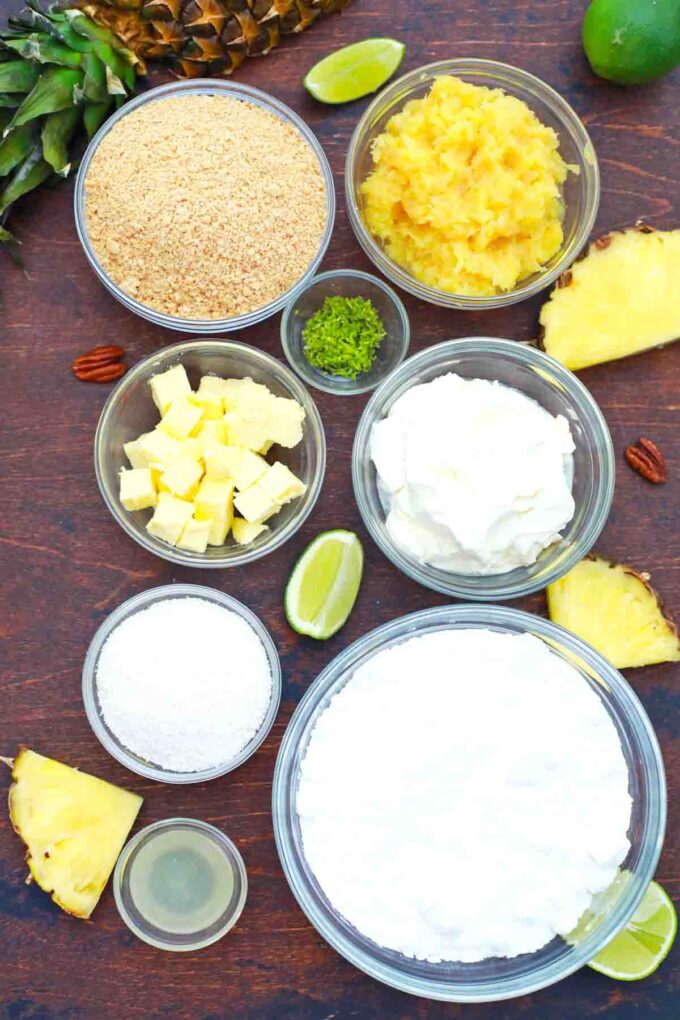 Ingredients needed:
These are the main ingredients for this Cool Whip whipped pineapple dessert recipe. For precise measurements and directions, scroll down to our handy printable recipe card.
To make the graham cracker crust:
Crushed graham crackers: Divided.
Pecans: Processed to crumbs.

Unsalted butter: Softened to room temperature.
For the filling:
Softened cream cheese
Butter: At room temperature.
Powdered sugar: Confectioners' sugar.

Whipped topping (Cool Whip): Thawed.
Crushed pineapple: Drained well.
Zest of 1 line
Juice of 1 lime
Coconut extract
Shredded coconut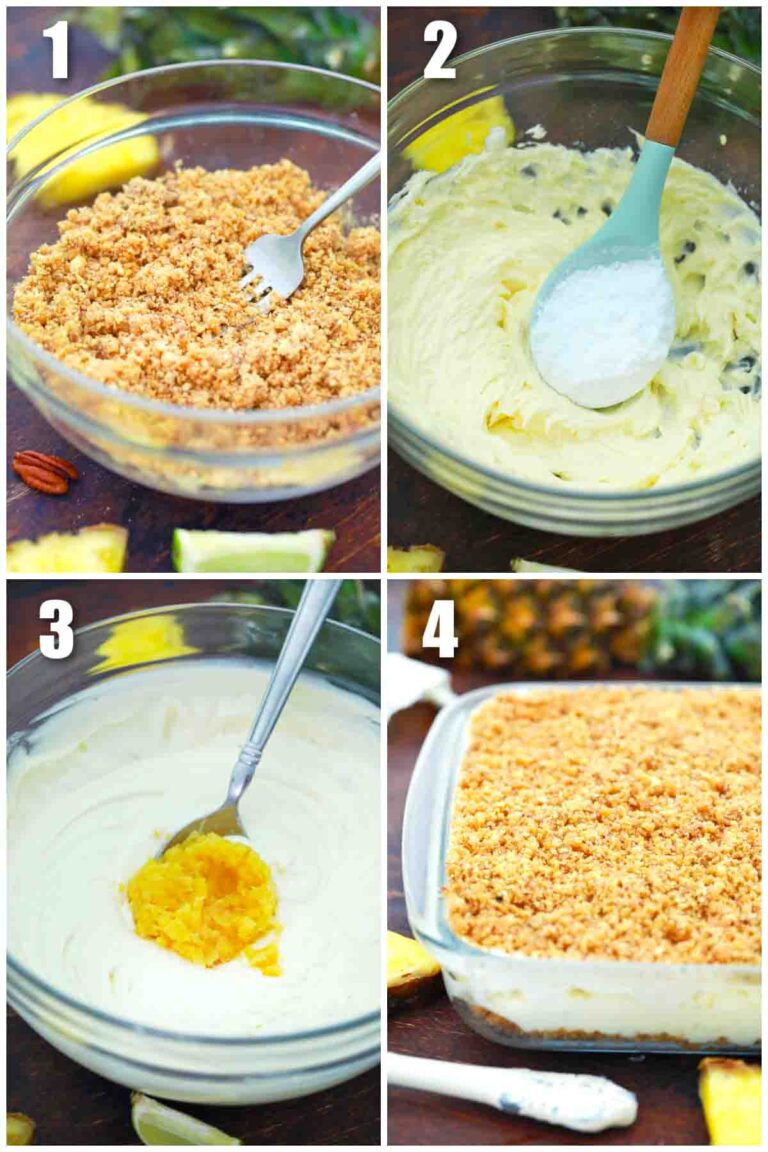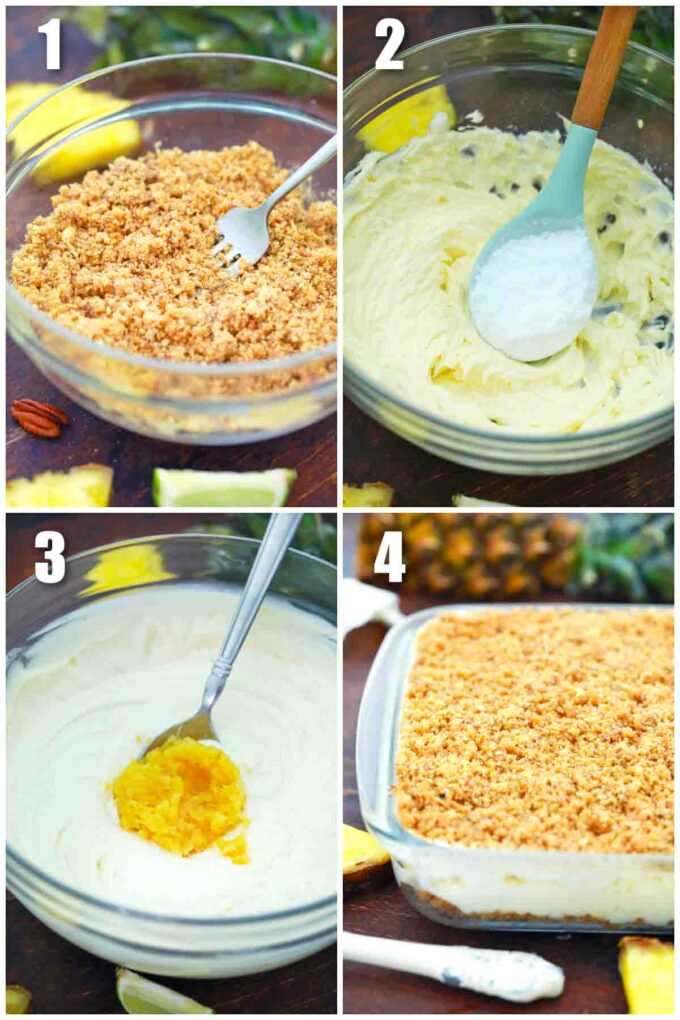 How to make no bake pineapple dream dessert from scratch?
For the crust:
Crush and drain: First, crush graham crackers and drain the crushed pineapple.
Melt the butter: Then, melt one stick (1/2 cup) of butter in the microwave in a medium bowl.

Mix in the crumbs: After, add 2 1/2 cups of crushed graham crackers and pecans and mix into the melted butter.

Make the crust: Next, measure out two cups of the crumbs and press mixture firmly into an 8×8-inch or 9×9-inch pan and chill for 15 minutes. Save the rest of the crumb mixture for the topping.
For the filling:
Beat the butter: To begin the filling, beat the butter and cream cheese in a large bowl with an electric mixer (the bowl of a standing mixer) until it is creamy.

Add the sugar: Then, turn the mixer to low and gradually mix the powdered sugar slowly until it is all mixed.

Combine the rest: Next, mix in the coconut extract, lime zest, juice, and one heaping tablespoon of pineapple.

Fill the crust: Immediately, spread the well-combined mix of cream cheese mixture over the graham cracker crust and smooth it out.

Mix the topping: After, mix the pineapple, coconut, and whipped cream in a medium mixing bowl.

Make the top layer: Next, stir the pineapple filling well before spreading it over the cream cheese layer. Just drop it on and lightly spread evenly using the back of a spoon.

Add the crumbs: Lastly, sprinkle the graham cracker crumb mixture on top.

Cover and serve: Finally, use plastic wrap or aluminum foil to cover the whole pan. Chill in the fridge for at least four hours before serving.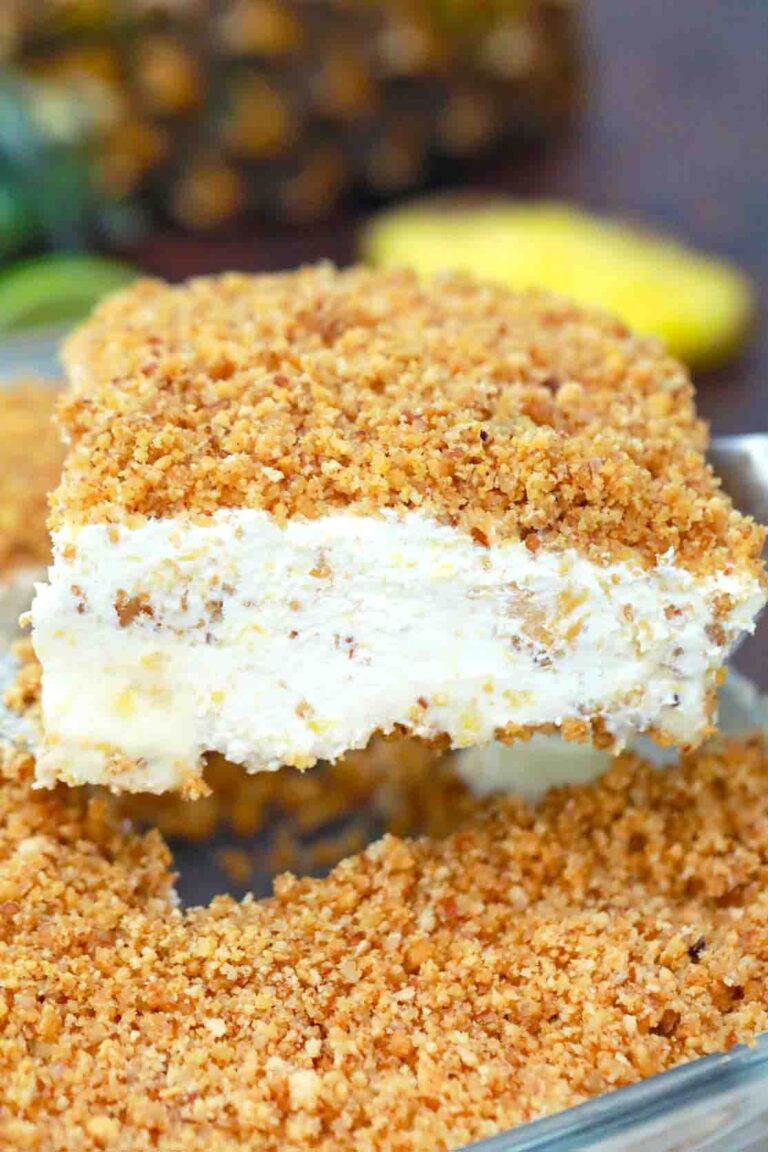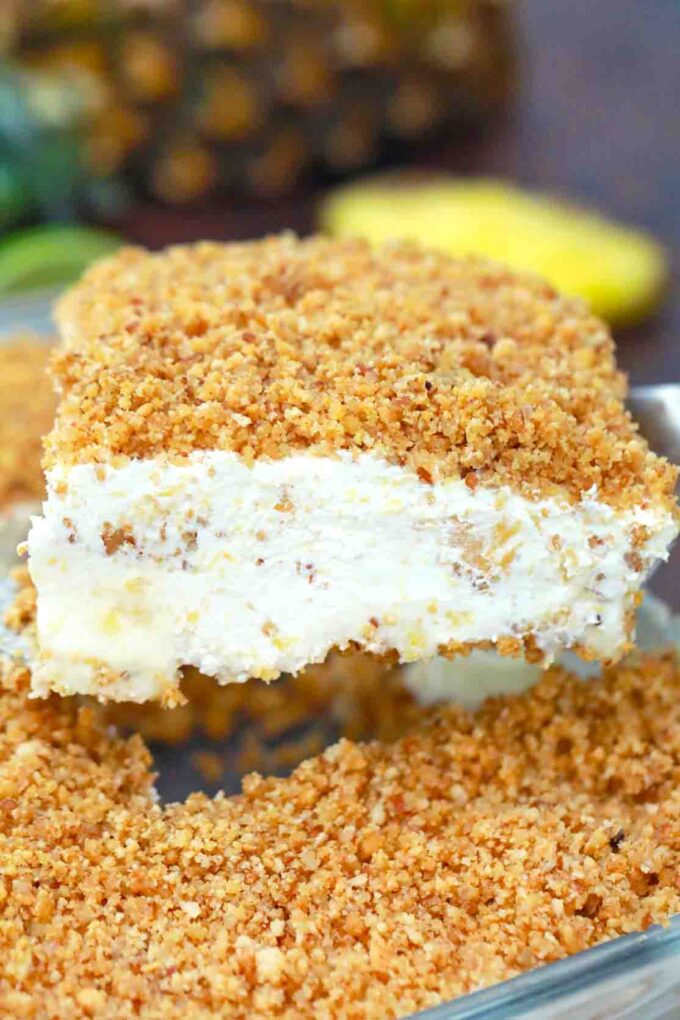 Recipe variations:
Homemade whipped cream: For fresh whipping cream on your pineapple dream dessert, use our recipe for homemade whipped cream.

Pineapple tidbits: Instead of crushed pineapple, you can use drained pineapple tidbits.

Fresh pineapple: On the other hand, fresh instead of canned pineapple would make this dish even more delicious. Make sure you crush it up in a food processor or blender first.

Make it chunky: Alternatively, leave some pineapple chunks in the cool whip mix.
Other fruit: Try adding another fruit like crushed mandarin oranges, cherries, or peaches.

Other cookies: Instead of graham cracker crumbs, you could also use another crushed cookie-like vanilla wafers or Oreos.

Granulated sugar: Add a tablespoon of granulated sugar to the graham cracker crumbs for a sweeter crust.
Pineapple extract: For more pineapple flavor, add one tablespoon of pineapple extract to the filling.

Tropical pie: Use lime extract instead for a more tropical dessert.
How to serve:
This pineapple dream dessert is a delicious treat on hot summer days when you do not want to use the oven. Actually, this dream whip pineapple dessert is perfect for any occasion. Try one of these awesome serving ideas:
Add extra pineapple topping and shredded coconut to make an extra tropical dessert.
You can add your leftovers to another pineapple recipe like our pineapple dump cake.

If your family has a chocolate fan, add some chocolate chips and syrup to the top of the pie before serving.
Pineapple dream dessert goes great with pineapple teriyaki chicken with chicken breast, chunks of juicy fresh pineapples, and snap pea pods.

You can also add chopped fresh strawberries on top.

Use leftovers to make a creamy pineapple casserole.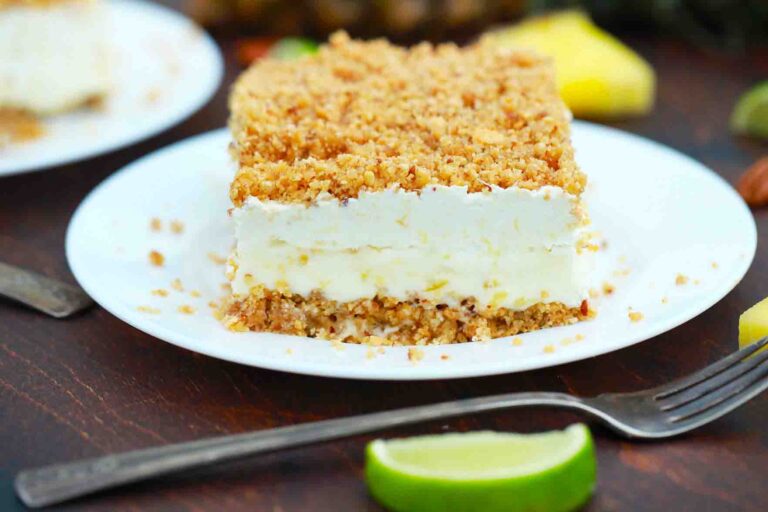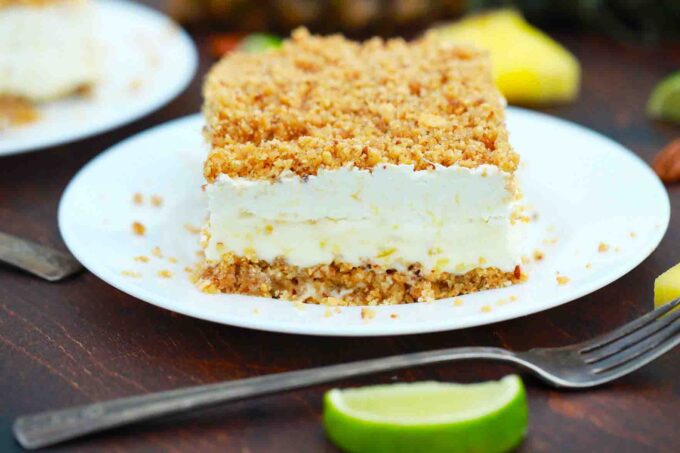 Frequently asked questions
What is the best way to drain crushed pineapple?
If you have a fine-mesh strainer, set it over a bowl and just let it sit while you prepare the crust. Then, before using, press down with a spatula to squeeze out all the excess juice. Do not waste the juice though, add it to a smoothie or another drink.
What is the fastest way to crush graham crackers?
While many people use a food processor or super-strength blender, it can be done just as quickly by putting them in a baggie and smashing them. This way, you have one less thing to wash and it is actually fun. There is something so satisfying about smashing things.
How long should the cream cheese need to be out of the fridge to reach room temperature?
Using cold cream cheese makes mixing difficult and it may not incorporate properly. It is best to leave it out for less than an hour because the food experts say you should not leave it out for longer than two hours. If you are in a hurry, try chopping it into little cubes before letting it sit for 15 minutes.
What are the nutrition facts for this dessert?
Whenever you make a dessert, you tend to feel guilty, especially when feeding it to the kids. But this pineapple dream dessert has pineapple, which has a lot of vitamins and minerals, and you can use low-fat and sugar-free options of cool whip and cream cheese.
With each serving of this absolutely delicious pineapple dream dessert, you get 260 calories, 35 grams of carbs, 15 grams of fat, 9 grams of saturated fat, and 35 milligrams of cholesterol. But you also get calcium, vitamin A, vitamin C, potassium, and fiber.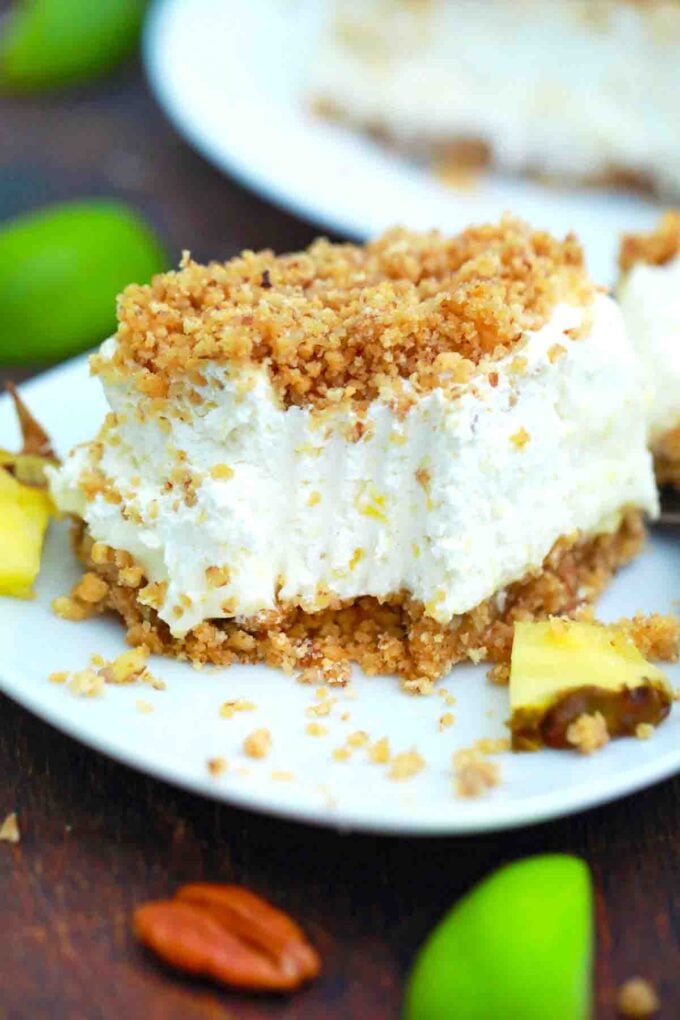 How to store leftovers:
Store: Put leftover pineapple dream dessert in an airtight container and refrigerate for up to three days.

Freeze: We do not recommend freezing because the texture will not be the same. However, you can wrap the pineapple dream dessert by wrapping slices in plastic wrap and foil before putting them in a freezer bag. Eat them within 90 days for the best results.

Thaw: Defrost in the refrigerator overnight before serving.
More no-bake recipes:
Recipe tips:
For the best consistency, refrigerate overnight.

Use toasted coconut for a richer flavor.
Add a 1/2 teaspoon of yellow food coloring to give your pineapple dream dessert a more vibrant color.
Make sure you spread the topping evenly, so you do not have a lopsided dessert.
For a firmer crust, bake it in an oven preheated to 350 degrees for eight minutes. Just be sure to let it cool completely before adding the pineapple filling.
Shorten prep time by using a pre-made graham cracker crust.

Check out our dessert section for other delicious recipes.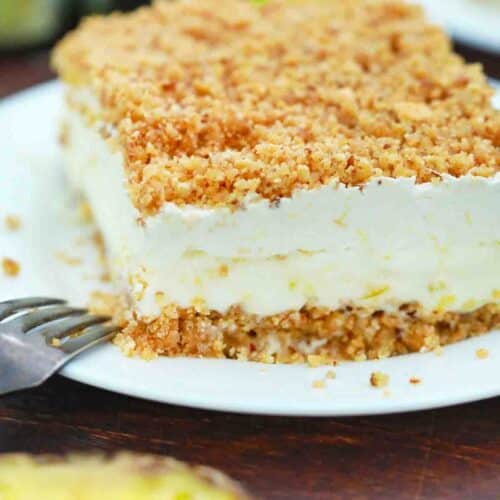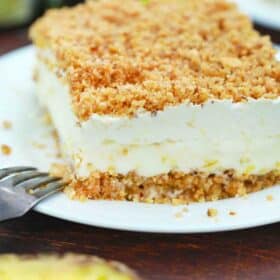 No Bake Pineapple Dream Dessert
No-Bake Pineapple Dream Dessert is creamy, smooth, and sweet with a graham cracker pecan crust and a delicious cream cheese pineapple filling.
Save
Share
Print
Pin
Rate
Ingredients
Crust:
2 1/2

cups

graham cracker crumbs

(divided)

1/2

cup

pecans

(finely processed in a food processor)

1/2

cup

unsalted butter

(melted)
Filling:
8

ounces

cream cheese

(softened to room temperature)

1/2

cup

butter

(softened to room temperature)

2 1/3

cups

powdered sugar

8

ounce

container frozen whipped topping

(thawed)

20

ounce

can crushed pineapple

(drained very well)

1

lime

(zested and juiced)

1/2

cup

shredded unsweetened coconut

1

teaspoon

coconut extract
Instructions
Make the crust:
In a large bowl mix all the crust ingredients and stir until combined.

Transfer 2 cups of the crumb mixture to a 9 x 9 square baking dish and press it firmly into the bottom of the pan.

Chill in the fridge for 15 mins.

Set aside the remaining crumb mixture. You will use it for the topping.
Make the filling:
In the bowl of a stand mixer or using an electric mixer, beat the cream cheese and butter together until creamy.

Add the powdered sugar and beat on low-medium speed until smooth. Stop to scrape the sides and bottom of the bowl.

Next, add a heaping tablespoon of the well-drained crushed pineapple, lime juice, zest, and coconut extract. Stir to combine.

After that, spread the cream cheese mixture over the chilled graham cracker crust.

In a separate bowl, combine the whipped topping with the remaining pineapple, and add the coconut. Stir well until fully combined.

Spread the whipped topping mixture over the cream cheese layer evenly and gently using the back of a spoon.

Finally, sprinkle the remaining graham cracker crumb mixture on the top.

Cover the baking dish with plastic wrap and refrigerate it for at least 4 hours or overnight.
Nutrition
Calories:
622
kcal
|
Carbohydrates:
70
g
|
Protein:
6
g
|
Fat:
37
g
|
Saturated Fat:
17
g
|
Polyunsaturated Fat:
5
g
|
Monounsaturated Fat:
12
g
|
Trans Fat:
0.4
g
|
Cholesterol:
41
mg
|
Sodium:
466
mg
|
Potassium:
275
mg
|
Fiber:
3
g
|
Sugar:
53
g
|
Vitamin A:
962
IU
|
Vitamin C:
8
mg
|
Calcium:
99
mg
|
Iron:
2
mg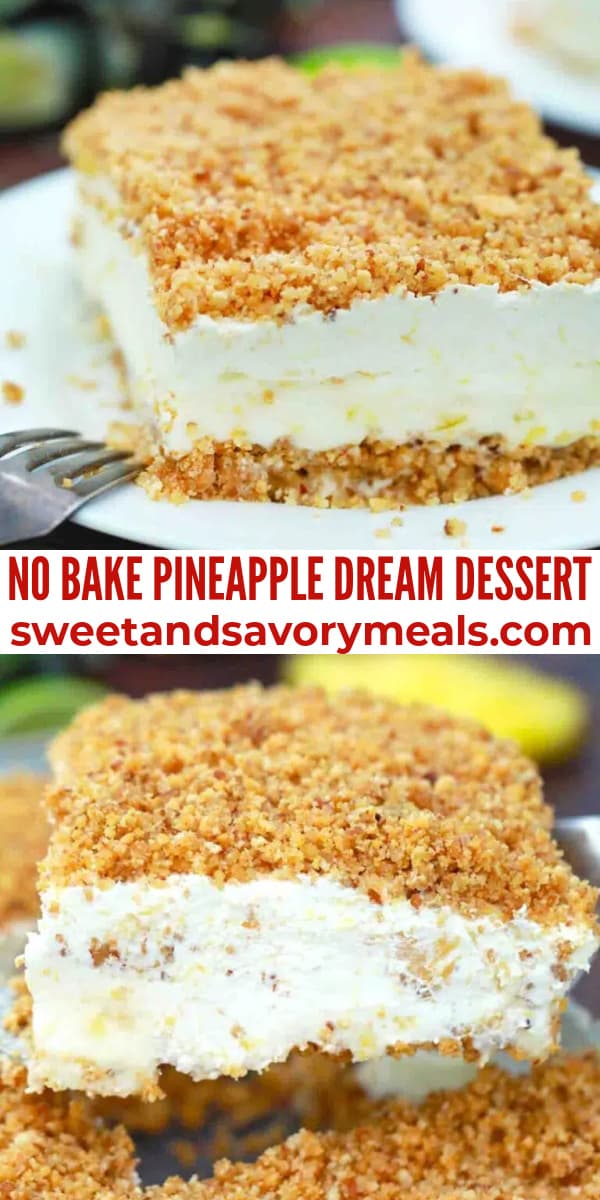 More recipes you might love