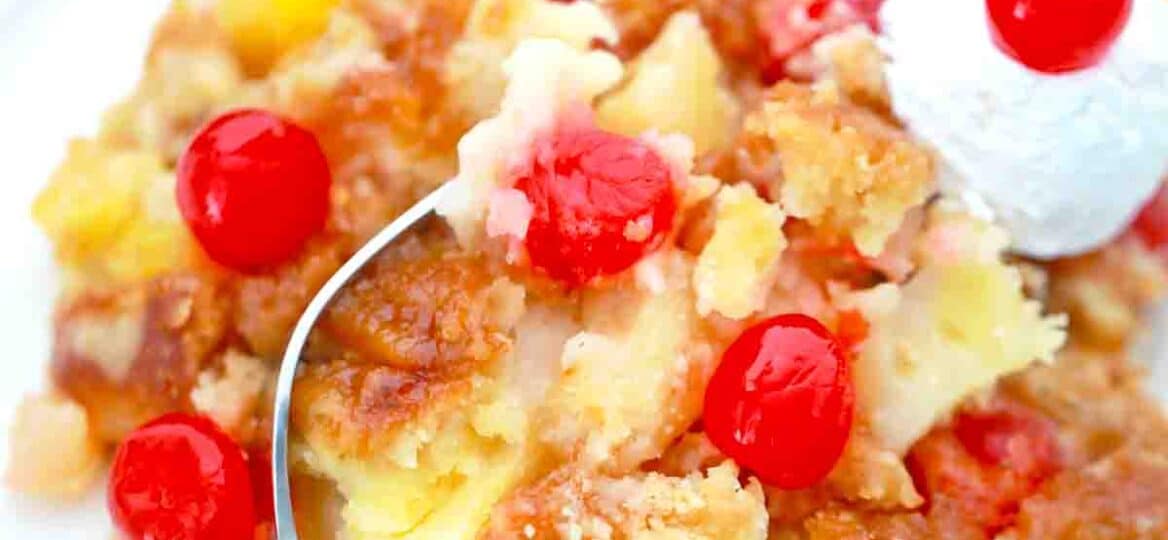 Pineapple Dump Cake Recipe [Video]
Pineapple Dump Cake is made with just 5 ingredients and little to no prep time, loaded with little chunks of sweet pineapple in each bite. You only need a few ingredients besides the pineapple and cake mix, making this one of the easiest cake recipes you have ever tried. It is a simple dessert recipe that works for any occasion.
If you enjoyed this cake, we have more delicious recipes for you. Our Carrot Cake Bars are made with coconut oil, crushed pineapple, and cream cheese, and this sweet and savory Carrot Cake Cheese Ball recipe is made with carrot greens, maple syrup, and cinnamon.
Our delightful pineapple dump cake recipe is perfect for birthdays, holidays, or any day you just need a sweet treat. The light tropical flavor goes great with vanilla ice cream or whipped cream for a summer dessert by the pool.
This is the perfect dessert to make when you are in a hurry, but still want something delicious. It is great for potluck get-togethers and for bbq parties. The minimal prep work will save you lots of time.
Also, you can serve it hot or cold, switch some delicious vanilla or coconut ice cream, fresh whipped cream, and a few maraschino cherries. I absolutely love adding maraschino cherries to this dessert, they add such a nice texture and a light almond flavor.
Also known as cherry pineapple dump cake, the pineapples and cherries go on the bottom when baking and when you serve it. If you think this sounds delicious try out some other dessert recipes like our strawberry crisp with oats and brown sugar.
In addition, try this smooth and creamy peach cobbler made from fresh peaches, brown sugar, and cinnamon. For dinner to go with your cake, try this Instant Pot Mexican Chicken.
Ingredients needed:
Here are the main ingredients you will need for this easy dessert recipe. You can also scroll down to the bottom of the page for our recipe card with complete instructions and measurements.
Pineapple tidbits: Reserve the juice from one can for the topping.

Maraschino cherries: With stems removed.
Yellow cake mix: White cake mix is fine too.
Melted butter: Salted butter or unsalted butter will both work for this recipe.
Light brown sugar: Packed.
How to make pineapple dump cake from scratch?
Preheat: To begin, set your oven to 350 degrees F to preheat and coat a 9×13-inch baking pan or cake pan with olive oil or non-stick cooking spray.

Prepare the bottom: In the meantime, pour the two cans of drained pineapple tidbits and spread them evenly in the baking dish with an offset spatula or wooden spoon.

Prep the cake: Next, In the bottom of your prepared pan, add the two cans of drained pineapple tidbits and add cherries.
Add cake mix layer: Then, sprinkle dry cake mix all over the pineapple, making it as even as possible. Pour the reserved pineapple juice on top of the cake mix carefully. Try not to pour too much in one spot.
Add sugar and butter: After, add the brown sugar over the cake mix layer before you drizzle butter all over the top of the cake mixture.
Bake: Finally, bake for 45 minutes or until the pineapple is bubbly and golden brown around the edges.

Cool and serve: Last, let the cake cool for 20 minutes before you flip it over onto a serving dish. Serve warm with whipped cream or vanilla ice cream.
How to make slow cooker pineapple dump cake:
Prep the pot: First, grease the inside of your crock pot or slow cooker with non-stick cooking spray.
Add fruit: Then, add the pineapple tidbits to the bottom of the pot in one even layer before adding the cherries on top of that.

Add the rest of the ingredients: After, sprinkle the dry cake mix on top of the fruit. Pour the butter and pineapple juice on top of the dry cake mix before sprinkling with brown sugar.

Cook your pineapple dump cake: Last, put a thick layer of paper towels between the lid and the cooker to absorb excess moisture, and cook your pineapple dump cake for two or three hours on high.

Serve your pineapple dump cake: Finally serve warm with vanilla ice cream or whipped topping.
Recipe variations:
More pineapple: For more pineapple flavor, try using pineapple cake mix.
Different cake mixes: Actually, you can use any flavor you like. Strawberry or lemon cake mix would also make a delicious dump cake.
Crushed pineapple: Switch one of the cans of pineapple tidbits for crushed pineapple for an intense flavor boost.

Add chopped pecans: For more crunch, add chopped pecans or some other nut to the top of the cake mix.
Upside down dump cake: Make pineapple upside down dump cake by layering the bottom with pineapple rings instead of tidbits and flipping the cake over after it cools. An upside-down cake is another easy way to make a delicious dessert in a hurry.
Other fruits: Try using apple pie filling instead of pineapple for apple dump cake. You can also use sliced peaches, pears, or whatever you like.
Extracts: Extracts add intense flavor boosts to any dish. Try pineapple, lemon, or vanilla extract mixed in with the melted butter.
How to serve:
This delicious dessert recipe is ready in less than an hour and can be served for a celebration like a birthday or an anniversary or a holiday. Actually, this easy pineapple dump cake is so easy and fast, that you can have it any time. Try one of these unique serving suggestions:
Add cherry pie filling or blueberry pie filling on top of this pineapple cake for an absolutely delicious, sweet, and tangy flavor.
In fact, you can use any fruit filling including strawberry, peach, or apple.
Instead, top the pineapple dump cake with pineapple chunks or rings.
Make your pineapple dump cake even more tropical by adding shredded coconut to the top of the entire cake.
A tasty entrée to serve with this pineapple dump cake is our slow cooker pineapple ham flavored with crushed pineapple, brown sugar, and maple syrup.
This impressive dessert will look even more impressive served with vanilla wafers and a handful of fresh blueberries on top.
Another dinner dish that goes well with this easy dessert is this instant pot pineapple chicken made from chicken thighs, hoisin sauce, and pineapple juice.
Frequently asked questions
Why do they call it dump cake?
This simple dessert cuisine was named for its easy preparation of just dumping everything into a baking dish or pan. It is typically served warm with vanilla ice cream or whipped cream and the texture is similar to a cobbler.
Who started the dump cake cuisine?
Some claim that it started with a recipe that Duncan Hines published in 1980 although others say it has been around since the 1960s or even the 50s when boxed cake mix was introduced. In fact, there was a similar recipe in 1964 by Velma Harris in the Sapulpa Daily Herald.
What are the most popular cake mixes?
According to reviews, the top five are chocolate, red velvet, funfetti, vanilla, and lemon. The least favorites are angel food, bundt, marble, coconut, and spice. Your favorites may differ from these, of course. These are just the most popular according to how much they are purchased.
What are the nutrition facts for this recipe?
The nutrition information is an approximation from this recipe and a serving size of 1/12th of the cake. You get 400 calories, 21 grams of fat, 11 grams of saturated fat, 41 milligrams of cholesterol, and 50 grams of carbs.
On the positive side, the delicious pineapple dump cake contains 280 units of vitamin A, 9 milligrams of vitamin C, 100 milligrams of calcium, 2 grams of fiber, and 1 milligram of iron.
How to store leftovers:
Store: You can store your leftover pineapple dump cake in an airtight container in the fridge for about four or five days.

Freeze: If you cannot eat all your pineapple dump cake within a few days, freeze it in a freezer-safe container or wrap it in plastic wrap and put it in a large freezer bag. You can freeze it for about three months.
Thaw: Don't forget to put your frozen cake in the fridge to thaw overnight before serving for best results.
Reheat: This delicious dessert can be served chilled, at room temperature, or heated in the microwave for 30 to 45 seconds.
More pineapple recipes:
Dump cake cooking tips:
Do not worry about the instructions on the back of the cake mix box. You will not be following those.
One of the best things about dump cakes is that you do not have to cut clean slices. Just scoop out a portion and top it with vanilla ice cream.
What makes this easy pineapple dump cake recipe so simple is that you use a box cake mix and canned pineapple. However, if you want to use fresh pineapple and make your own cake batter, that is fine too.

If you cannot find crushed pineapple at your grocery store, just make your own. Pour pineapple chunks or tidbits into a blender or food processor and purée until it is smooth.
Pineapple Dump Cake
Ingredients
40

oz

pineapple tidbits

or use a combo tidbits and crushed pineapple - reserve the juice from one can

1

cup

maraschino cherries

without tail

15.25

oz

yellow cake mix

or white

1/2

cup

butter

melted

1/4

cup

light brown sugar
Instructions
Preheat the oven to 350°F. Position a rack in the center of the oven.

Butter or spray with baking spray a 9x13 baking pan.

Add the 2 cans of drained pineapple tidbits to the bottom of the pan and spread it evenly.

Add the cherries, and also spread them evenly.

Sprinkle the cake mix evenly over the top of the pineapple and cherries.

Drizzle the reserved pineapple juice from one can, over the top of the cake mix.

Then drizzle the melted butter. Try to cover as much as you can the cake mix layer with liquid.

Sprinkle the light brown sugar over the top of the cake mix.

Cover the baking dish with a sheet of aluminum foil and bake for 45 minutes, then remove the aluminum foil and bake for an additional 15 minutes. The top of the cake should be golden browned and slightly crunchy.

Remove from the oven, and serve warm or cold.
Deliciousness to your inbox
Enjoy weekly hand picked recipes and recommendations