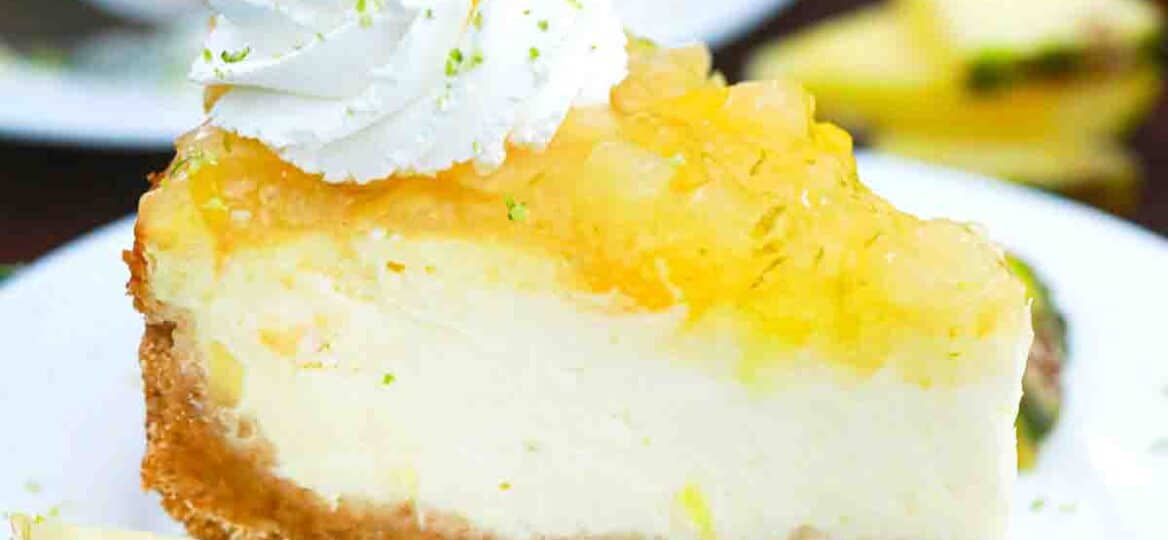 Pineapple Cheesecake with Pineapple Topping
Pineapple Cheesecake is a decadent and delightful tropical treat with tangy flavors from pineapple, lime zest, and cream cheese with a lime and pineapple topping. This delicious dessert has a sweet macadamia nut graham cracker crust as a base for the creamy pineapple and cream cheese mixture. You will be surprised at how easy this recipe is considering the decadent results.
For more pineapple desserts, try our No-Churn Pineapple Sorbet made from lime, frozen pineapple, coconut milk, and maple syrup. Our Pineapple Bread recipe is also easy and delicious with pineapple syrup, crushed pineapple, and heavy cream. For something different, this Pineapple Casserole will make your entire family want seconds. It is made with pineapple chunks, buttery crackers, and cheddar cheese and seasoned with brown sugar, nutmeg, and butter.
We have the Ancient Greeks to thank for this delicious dessert. It was the 5th century BC when the Greeks on Samos Island created the first cheesecake. It was made with two patties of fresh cheese pounded to be smooth and mixed with honey and flour, then baked in an earthenware griddle.
How do we know? Scientists were able to determine what they ate by the minerals in their bones and the items and remains left from cooking and preparing foods. Pineapple cheesecake is the perfect dessert any time of the year whether it is a holiday, celebration, or just another day of the week when you want something sweet.
If your family loves cheesecakes and pineapple, this is a recipe you are going to want to save. Better yet, print it out and share it with friends and family members so they can make it for you.
Looking for more cheesecake recipes? This no-bake chocolate cheesecake is made with melted chocolate, whipped topping, cocoa powder, and cream cheese for an easy no-bake cheesecake dish for chocolate lovers.
Or try our Bailey's cheesecake recipe with Bailey's Irish cream chocolate ganache. If you prefer a fruitier dessert, try our strawberry cheesecake recipe made with fresh strawberries.
Ingredients needed:
To make this creamy pineapple cheesecake recipe, gather these simple ingredients. Then, when you are ready, scroll down to our handy printable recipe card at the bottom of the page where you will find the exact measurements and directions.
Crust ingredients:
Finely ground macadamia nuts
Graham cracker crumbs: Made from about eight sheets of graham crackers.
Granulated sugar
Melted butter: Unsalted butter is best.
Cheesecake ingredients:
Full-fat cream cheese: Softened to room temperature.
Granulated sugar
Corn starch
Full-fat sour cream
Finely grated lime zest
Vanilla extract
Salt
Large eggs
Topping ingredients:
Granulated sugar
Cold water divided
Juice and zest of 1 lime
Canned pineapple: Crushed pineapple, drained.
Corn starch
Whipped topping: Try our homemade whipped cream recipe.
How to make pineapple cheesecake from scratch?
Preheat: First, you need to preheat the oven to 350 degrees F and prep a nine-inch springform pan with cooking spray.

Make the graham cracker mixture: In the meantime, in a small bowl, mix the crust ingredients together until the crumbs are coated evenly. Then, firmly press the crust mixture into the prepared pan.

Bake the crust: Next, put the pan on a large baking sheet and bake for 7 to 10 minutes. Then, remove it and let it cool completely on a wire rack.

Make the cheesecake filling: While you wait for the crust to cool, use a large mixing bowl to beat the sugar, cream cheese, and cornstarch with an electric mixer until it is smooth.

Beat the rest: Then, add salt, vanilla extract, lime zest, and sour cream and beat a little more on low speed, adding the eggs one at a time. Scrape the bottom and sides of the bowl and beat for another 30 seconds.

Bake the cheesecake: After, pour the filling into the crust and bake until the center just barely jiggles when you tap the pan. This typically takes about 55 to 65 minutes.

Cover and chill: After, cool the cheesecake on a wire rack for 10 minutes before running a knife around the edges of the pan to loosen it. Once it cools to room temperature, cover it with plastic wrap and refrigerate for eight hours or overnight.
Make pineapple topping:
Topping: In a small saucepan, mix the sugar with two tablespoons of water and bring it to a boil over medium heat while stirring occasionally. Cook for another two minutes, stirring frequently. Remove the pot from the heat and stir in the lime zest, juice, and pineapple.

Let it thicken: Lastly, mix the rest of the water with corn starch in a small bowl and add it to the pineapple mixture. Put the pot back on the stove and cook on medium heat, stirring constantly for three to six minutes, until it is thick.

Serve: Finally, remove the topping and let it cool to room temperature before spreading it on top of the chilled cheesecake. Top with whipped topping and serve.
How to make no-bake pineapple cheesecake from scratch?
Gather ingredients: For a no-bake pineapple cheesecake, you will need a graham cracker crust, cream cheese, butter, powdered sugar, frozen whipped topping, and crushed pineapple.

Make the filling: First, beat the cream cheese and butter with a hand mixer in a large bowl. Add the sugar and keep beating on low-medium speed.

Add pineapples: Then, add the drained crushed pineapple and mix thoroughly before folding in the whipped cream.

Chill and serve: Spread it over the crust and cover it with plastic wrap. Chill for at least two hours before serving.
Recipe variations:
Fresh pineapple: You can use fresh pineapple if you have the time. Make sure you mince it in a food processor or blender.

Make it thicker: Double the crust ingredients for a thicker crust.

Tangier: For a truly tangy taste, add an extra teaspoon of lime zest to the filling.
More fruit: Add some pureed mango or peaches to your topping for more fruit flavors.

Tropical cheesecake: Make your pineapple cheesecake tropical by adding coconut extract, toasted coconut, and a few lime wedges to the topping.
Other extracts: Make it unique by experimenting with other kinds of extracts like almond, lemon, or mint.

Lemon flavor: Stir in some lemon zest and juice instead of lime juice for a milder flavor.
How to serve:
Serve this delicious and creamy pineapple cheesecake instead of a cake for your next birthday celebration or holiday. It is totally scrumptious and will not weigh you down as some desserts do. Try one of our great serving ideas or share one of your own below in the comments section.
This pineapple cheesecake goes great with our pineapple mango daiquiri recipe.

Sprinkle chocolate chips on top with a drizzle of chocolate syrup for your chocolate lovers in the family.
Serve this with a scoop of vanilla or peaches and cream ice cream.

Make your pineapple cheesecake more festive with a handful of rainbow sprinkles on top.

This is a great dessert to go with chicken. Try our tender and sweet grilled pineapple chicken or pineapple barbecue chicken recipe.

Cheesecake goes great with anything from pizza to burgers. Be creative and combine your dessert with your favorite meal.

Another great dish that is perfect with pineapple cheesecake is this Hawaiian pineapple pork loin.
Frequently asked questions
What is the difference between Cool Whip and whipped cream?
The main difference between whipped cream and Cool Whip is that whipped cream is made with heavy whipping cream while Cool Whip is made with light cream, vegetable oil, high fructose corn syrup, and skim milk. Whipped cream is lighter and fluffier but Cool Whip will last longer.
What is the easiest way to crush graham crackers?
You can crush your graham crackers using a food processor or blender. Or, just put full graham cracker sheets in gallon zipper baggies and crush them with a rolling pin. If you do not have a rolling pin, use a can of veggies or soup or something else heavy.
How do I prevent cracks in my cheesecake?
Using a water bath is the most foolproof way to prevent cracks. Wrap the pan in aluminum foil on the bottom and sides. Then, put the cheesecake in a large roasting pan and fill it with water about 1/2 inch below the top of the cheesecake pan. It is also important to not open the oven door until the cake is done and not overbake.
What are the nutrition facts in this recipe?
One serving of this delicious pineapple cheesecake has 395 calories and 19 grams of fat with 10 grams of saturated fat. It also has 30 milligrams of cholesterol, 40 grams of sugar, 50 grams of carbs, and 234 milligrams of sodium. You also get 4 grams of protein, 2 grams of fiber, 630 units of vitamin A, 10 milligrams of vitamin C, and 44 milligrams of calcium.
More cheesecake recipes:
How to store leftovers:
Store: If you have leftovers, put them in an airtight container and refrigerate for up to three days.

Freeze: You can store your pineapple cheesecake in the freezer for up to three months.

Thaw: Don't forget to put your frozen leftovers in the fridge to thaw overnight before serving.
Baking tips:
Be sure your cream cheese is softened to room temperature.

To save prep time, use a prepared graham cracker crust from the store.

Use low-fat cream cheese and sugar substitutes for less fat and fewer calories.

Make sure you drain the pineapple well. Use a strainer and press it down with a spatula.

Save the pineapple juice for another pineapple recipe like pineapple lemonade.

Our nutrition information is just an estimate. This can vary depending on the ingredients you use and the size of the serving.
If you are crushing your graham crackers by hand, do a few at a time and double the bags so they do not tear and make a big mess.
Pineapple Cheesecake
Ingredients
Crust:
1

cups

graham cracker crumbs

about 8 graham cracker sheets

1/4

cup

finely processed macadamia nuts

optional

3

tablespoons

granulated sugar

6

tablespoons

unsalted butter

melted
Cheesecake:
4

packages

(8oz each) full-fat cream cheese, at room temperature

1 1/4

cup

granulated sugar

1

tablespoon

cornstarch

1

cup

full-fat sour cream

1

tablespoon

finely grated lime zest

1

teaspoon

vanilla extract

1/8

teaspoon

salt

4

large eggs

at room temperature
Pineapple topping:
1/4

cup

granulated sugar

4

tablespoons

cold water

divided

1

lime

juiced and zested

20

oz

can crushed pineapple, drained

1

tablespoon

cornstarch

Whipped cream and lime zest

for serving
Instructions
Crust:
Preheat the oven to 350 degrees F.

Spray a 9-inch springform pan with cooking spray and set it aside.

In a large bowl, combine the graham cracker crumbs, nuts, sugar, and butter and stir until fully combined.

Press the mixture into the bottom and 1 inch up the sides of the prepared pan.

Place the pan on a large baking sheet and bake for about 10 minutes.

Remove from the oven and cool on a wire rack while you make the cheesecake.
Cheesecake:
In the bowl of a stand mixer or using a large bowl and a hand mixer, beat the cream cheese, and sugar, until smooth.

Beat in the sour cream, lime zest, vanilla, and salt. Add the eggs 1 at a time and beat on low speed until just combined. Scrape down the sides and bottom of the bowl and beat for about 30 seconds more.

Pour the mixture into the crust and bake for 55 to 65 minutes, until the center barely jiggles when you tap the pan.

Cool on a wire rack for 10-15 minutes, then run a knife around the edge of the pan to loosen the cake.

Cool to room temperature, then cover with plastic wrap and refrigerate overnight.
Pineapple topping:
In a small saucepan, over medium heat, combine the sugar and 2 tablespoons of water and bring to a boil, stirring occasionally.

Cook for 2 minutes, stirring, then remove from the heat and stir in the pineapple, lime juice, and zest.

Whisk the cornstarch and remaining water together in a small bowl, then stir into the pineapple mixture.

Cook over medium heat for about 6 minutes, stirring constantly until thickened.

Remove from the heat and cool to room temperature.

Spread the mixture over the cheesecake. Top with whipped cream and serve.
Deliciousness to your inbox
Enjoy weekly hand picked recipes and recommendations