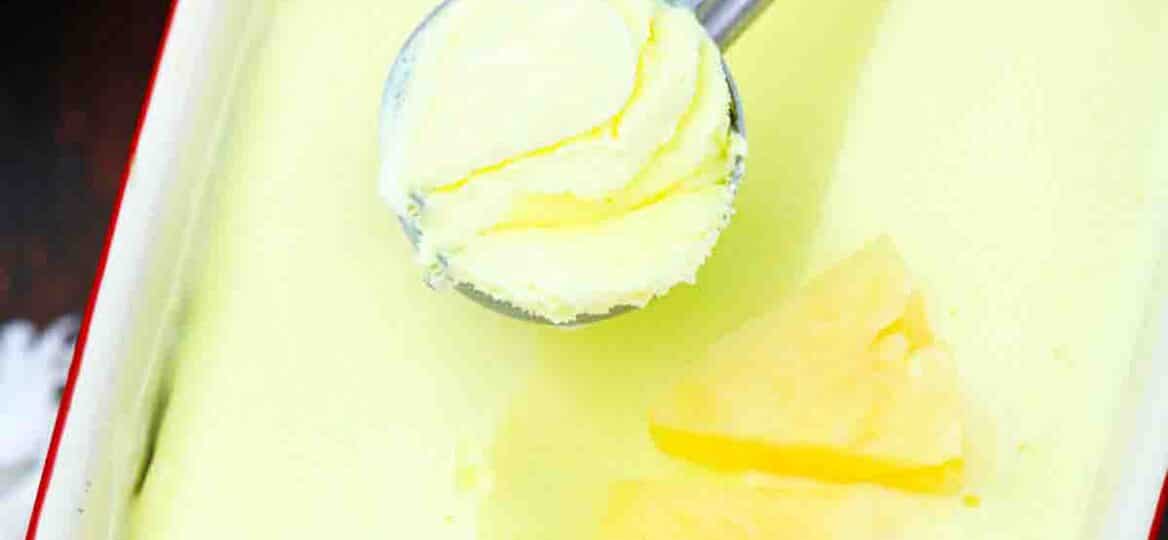 No-Churn Pineapple Sorbet Recipe
No-Churn Pineapple Sorbet is a light and fruity summer dessert with tropical flavors, and you don't need an ice cream machine to make it. This five-ingredient pineapple sorbet is so easy to make with pineapple, lime, maple syrup, coconut cream, and coconut flakes.
Looking for other recipes? This sorbet goes great with No-Bake Pineapple Dream Dessert made from crushed pineapple, graham cracker crumbs, and cream cheese, or our Pineapple Dump Cake you can fix with yellow cake mix and brown sugar.
With this recipe, you get four pineapple sorbet servings that the whole family will enjoy. Although American servings are larger than others so the serving amount can change.
Pineapples have their own health benefits by themselves because of the ingredient bromelain. It improves gut health, helps wounds heal, and reduces the risk of cancer. Bromelain is also good for getting rid of phlegm or mucus from your respiratory tract as well, so it is good for those who have asthma or a respiratory infection.
Ice cream and other cold desserts are popular during the summer, but this pineapple sorbet is a delicious treat all year long. If you love pineapple, then this super easy pineapple sorbet is a scrumptious way to beat the heat.
It tastes similar to the Dole whip they have at carnivals but much fresher. It is naturally gluten-free, dairy-free, and fat-free as well. Want ice cream instead of sorbet, make this No-Churn Pineapple Ice Cream with sweetened condensed milk, heavy whipping cream, and canned crushed pineapple.
Are you looking for more homemade ice cream recipes? Try our no-churn cherry ice cream with cherry juice and sweetened condensed milk or this unique avocado ice cream made from fresh avocados, coconut milk, and vegan chocolate chips.
Another delicious fruit ice cream is this blackberry ice cream made with fresh blackberries and vanilla beans.
Ingredients needed:
These are the simple ingredients for this pineapple sorbet recipe. Scroll down to our recipe card for complete instructions and exact measurements.
Frozen pineapple chunks: They must be frozen solid for this recipe, but you can use ripe pineapple and freeze it overnight instead of pre-frozen pineapple.
Maple syrup
Zest of one lime
Fresh lime juice
Coconut cream: If you use canned coconut milk, only use the white part.
Coconut extract
Shredded unsweetened coconut flakes
How to make pineapple sorbet without an ice cream maker?
Mix the pineapple: First, put the frozen pineapple in the food processor or a high-speed blender. Run it on high until it is a crumb-like mixture, scraping the sides several times during the process.
Add the syrup: Immediately, add the maple syrup and continue to blend at high speed until it is completely smooth. This typically takes about five minutes.
Mix with the rest of the ingredients: Next, pour the pineapple sorbet into a bowl and add the rest of the pineapple sorbet ingredients.
Freeze sorbet: After, put the pineapple sorbet into a freezer-safe dish, cover with plastic wrap, and put the lid on before freezing for several hours.
Serve homemade ice cream: Finally, serve when it is completely set. It is best when you serve it immediately but it will keep for up to 14 days in the freezer. However, it will get harder and icier the longer you keep it.
How to make pineapple sorbet with an ice cream maker?
Make the pineapple mixture: To begin, mix the pineapple in a blender or a food processor until it is crumbly. Then add the syrup and blend on high until it is smooth.
Combine the rest: Then, combine the pineapple mixture with the rest of the ingredients and spoon it into your ice cream maker. Add salt and ice to the outside of the tub and turn on the mixer to let it work its magic.
Churn the ice cream: Lastly, let the ice cream maker continue to churn for at least 20 minutes before checking. If you freeze the bowl beforehand, it should be done in less than 30 minutes. Otherwise, it can take up to 45 minutes to an hour.
Serve: Finally, serve sorbet immediately or within 24 hours for the best consistency.
Recipe variations:
Other juice: Feel free to add or substitute other juices like lemon or orange juice.
Canned pineapples: If pineapples are not in season where you live, you can use canned pineapples but freeze them overnight.
Mexican sorbet: Add one teaspoon of chipotle chili powder for Mexican pineapple sorbet.
More fruit: Add other frozen fruits such as banana, mango, or kiwi for a different flavor.
Other extracts: In fact, you can also use other extracts to add flavors like orange, almond, or peppermint.
Honey: You can also use honey or agave instead of maple syrup.
Add nuts: Toss in a cup of ground pecans or walnuts for a crunchy and nutty sorbet recipe.
Boozy sorbet: Add your favorite alcohol like vodka or rum for a boozy dessert. The alcohol will also prevent freezer burn.
How to serve:
If you have ever had sorbet, you know it is creamy, fruity, and delicious, perfect to be served anytime. But store-bought sorbet can be less than flavorful so why not make your own? It is so easy, and you do not even need an ice cream maker. Try one of these fun ideas or share one of your own in the comments below.
Add a sprig of fresh mint for garnish.
Add a scoop of this sorbet to a piece of cake or pie like this easy pineapple pie or luscious pineapple cake.
Another way to garnish this dessert is with a slice of lime or lemon.
Try this sorbet on top of a slice of our banana pudding poke cake.
Having a party? Toss some rainbow sprinkles on top of this delicious five-ingredient pineapple sorbet.
Top with our delicious homemade whipped cream and a cherry for a sundae-style dessert.
Another delicious way to serve this is churned into a pineapple fruit smoothie.
The sweet pineapple sorbet tastes heavenly with our tangy pineapple lemonade.
Frequently asked questions
How can I prevent freezer burn or ice crystals on my pineapple sorbet?
The easiest way to prevent freezer burn is with plastic wrap. It is the air exposure that causes the ice crystals to form and makes your sorbet have a weird texture. Just put a piece of plastic wrap right onto the top of the ice cream before sealing it. The plastic should be touching the surface of the sorbet.
Does my fruit have to be frozen for this homemade pineapple sorbet?
You can either use prepared frozen pineapple chunks in a bag or make your own fresh pineapple chunks and freeze them overnight. Although bagged frozen fruit from the grocery store is easier, you will get more fresh pineapple flavor if you freeze your own.
What if I do not have a food processor?
You can use a heavy-duty blender like the Ninja to grind up the fruit but add a bit of warm water or fruit juice first. Let the pineapple cubes soften a bit before you mix.
You can also use a hand mixer or stand mixer for this, but you will need to let the pineapple chunks thaw a bit to do it that way as well. Add pineapple juice for a bit of softening before you begin.
What is the nutritional information for this recipe?
Homemade pineapple sorbet is a refreshing and healthy treat. Each serving of this healthy sorbet contains 145 calories, 35 grams of carbs, 1 gram of saturated fat, 30 grams of sugar, and 3 milligrams of sodium. But you also get 3 grams of fiber, 27 milligrams of calcium, 103 milligrams of vitamin C, and 125 units of vitamin A.
How to store leftovers:
Store: The only way to store pineapple sorbet is in an airtight container in the freezer, of course. It will stay fresh for up to one month. Keep in mind that the longer you keep it in your freezer, the harder and icier it will get. However, it will still be delicious so you can enjoy it all summer long.
More No-Bake recipes:
No-churn sorbet tips:
Be sure to plan in advance if you are going to use fresh fruit because it has to be completely frozen before you use it.
Try to cut a fresh pineapple into similar-sized chunks of about one inch to make it easier to freeze and blend. Use a sharp knife and cutting board to make it easier and less messy.
To freeze your pineapple chunks, you can put them in a freezer-safe container and freeze them overnight or place them on a piece of parchment paper on a baking sheet in the freezer for four hours.
To shorten prep time, you can use pre-cut pineapple already frozen from the store.
Scooping your pineapple sorbet is easier if you dip your ice cream scoop or spoon in hot water before you scoop it.
No-Churn Pineapple Sorbet
Ingredients
4

cups

frozen pineapple

1/4

cup

maple syrup

honey or agave

1

lime

juiced and zested

1

cup

of coconut cream

not coconut milk*

1

teaspoon

coconut extract

1/2

cup

shredded unsweetened coconut flakes
Instructions
Add the frozen pineapple pieces to a food processor or high-powered blender.

Blend on high until the pineapple has a crumb-like texture, stop to scrape the sides with a spatula a few times.

Then add the maple syrup and continue to blend until the mixture becomes smooth and creamy about 5 minutes.

Scoop the mixture into a bowl and stir in the rest of the ingredients.

Transfer to a freezer-safe dish, cover with plastic wrap, and freeze for a few hours or overnight.

Consume within a few days as it will get icier and harder the longer it is kept in the freezer.
Deliciousness to your inbox
Enjoy weekly hand picked recipes and recommendations