Watermelon Truffles – No Bake [VIDEO]
Last updated on June 18th, 2021 at 05:51 pm
Watermelon Truffles are a fun, tasty and colorful summer treat. Easy to make, with just a few ingredients, these are also no-bake.
I love making festive and delicious truffles. These Watermelon Truffles are a perfect treat for the upcoming fall and winter season. I love their natural green and reddish color. My other favorite truffle recipes are Raspberry Truffles, Cashew Chocolate Truffles, and Batter Truffles.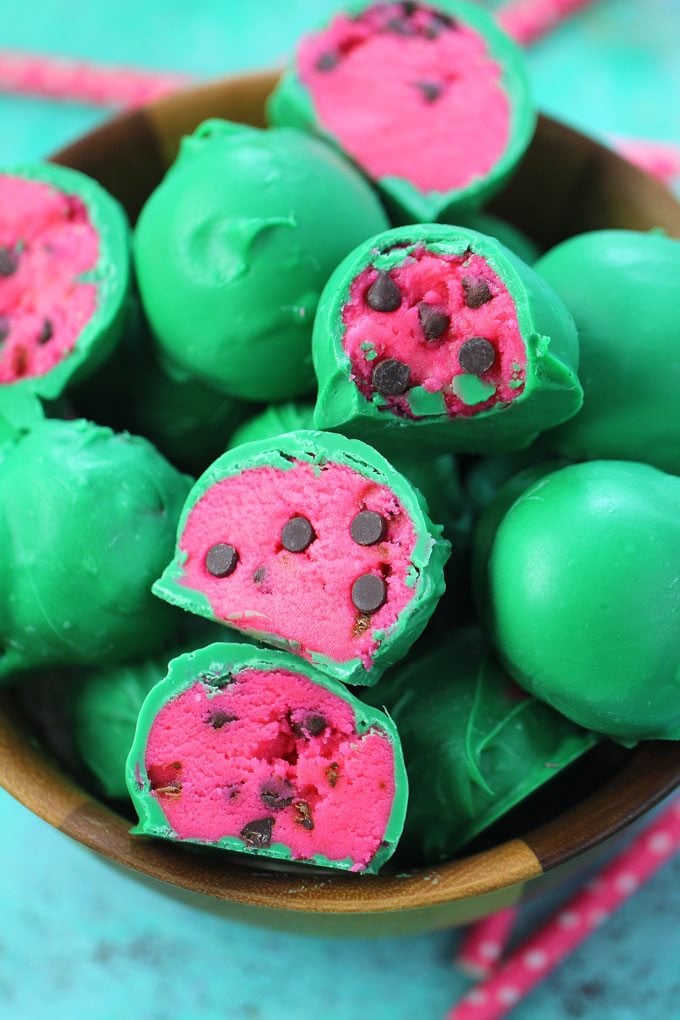 Watermelon Truffles
Watermelon Truffles are here to brighten your day! Fun to make, these are no-bake and a great kitchen project with kids. With just a few ingredients, these Watermelon Truffles taste great and look cute. They are super cool to make, and are one of our most favorite desserts!
Perfect for summer parties, birthday parties or just those days when you need a pink treat. If you love cookie dough, you will be a huge fan of these truffles, as the texture is very similar. Also, you could make them in various colors, so they can be enjoyed for various occasions, such as Thanksgiving, Christmas, or St. Patricks Day! They are just super yummy!
Can I eat raw flour or cake-mix?
Yes, you can, BUT it is NOT recommended and you do it at your own risk, as some of the flour it involves the risk of E.Coli contamination. To kill the bacteria, you can heat-treat the flour prior to adding it to no-bake desserts.
How to Heat-Treat raw flour or cake-mix?
Preheat oven to 350F degrees. Line a cookie sheet with parchment paper and spread flour or cake mix in an even layer.
Bake for 5-7 minutes, use a thermometer to check that the flour reached 160F (72C) immediately after removing from oven. Make sure the thermometer is inserted in the flour and isn't touching/reading the temperature of the hot pan.
Once the flour has reached 160F (72C) allow it to cool and run it through a sifter to break up any clumps that may have formed while baking. Set aside.
Make sure you don't burn the flour. Remember, we are heating it, not baking, don't expect much color change, it should NOT turn golden-brown.
Make sure you sift it after the heat treatment and let it fully cool before adding it to no-bake desserts.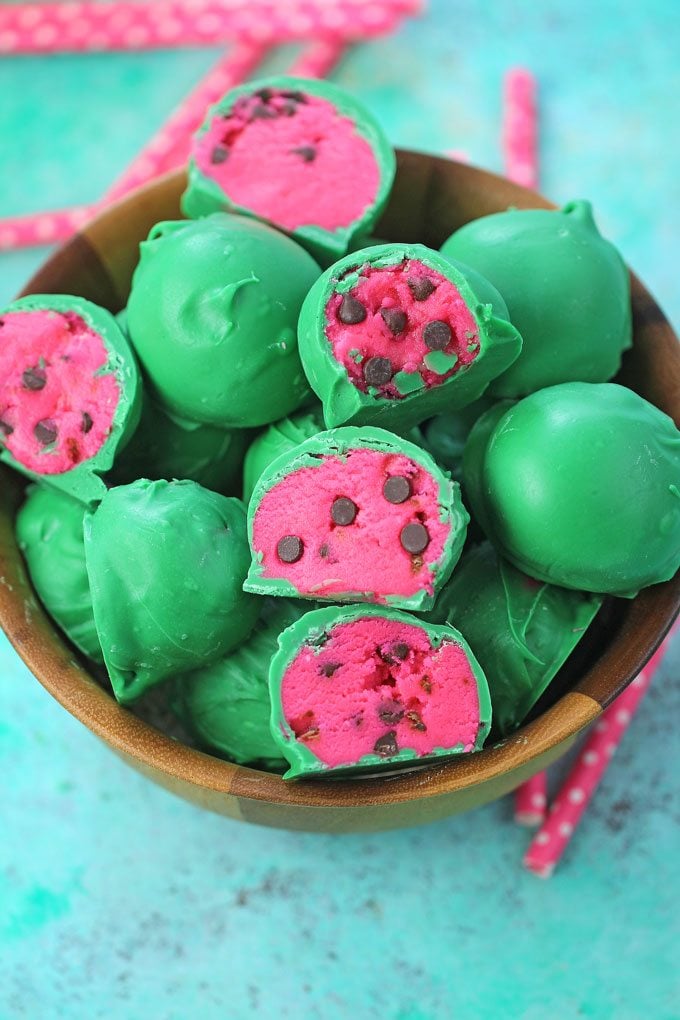 Watermelon Truffles Recipe Tips:
Using Cake Mix is a great shortcut as you don't have to measure and mix many ingredients. Also, the cake mix will add a delicious flavor, White Cake mix is best to use, as it is easier to the color pink. You can also use Strawberry Cake Mix. If you will be using a yellow cake mix, you may need to add more gel color.
Also, the unsalted butter must be room temperature. Not greasy and oily, at that point, the butter is way too melted.
In this recipe, mini chocolate chips work best because the truffles are bite-size.
In addition, using candy melts for the chocolate coating is key. You can try to use white chocolate, melt it and after that when it cools down to mix it green gel food color. However, white chocolate is very pretentious and can easily separate, becoming unusable. Using the Green Candy Melts is best, as those are designed to melt (link below).
Be careful when melting the chocolate as it tends to separate, start by melting for 30-40 secs and stir well, and after that melt in 15 secs increments and stir well as the residual heat will melt the remaining chocolate chunks.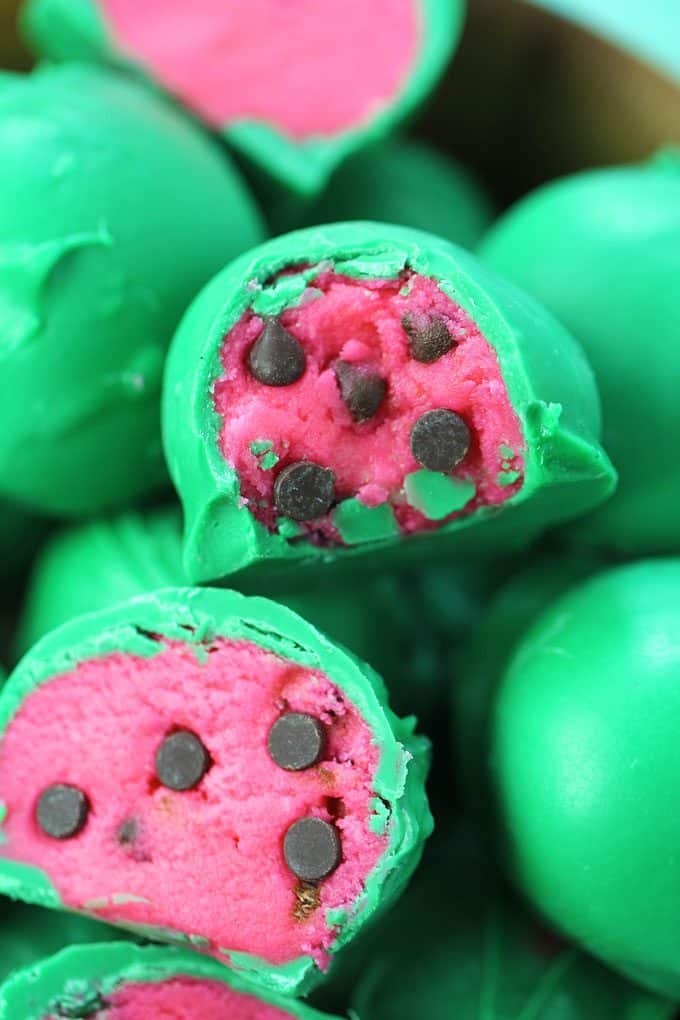 Will the truffles have a watermelon taste?
If you want your truffles to truly taste like watermelon, you can add 1 teaspoon of watermelon extract to the batter (link below).
HOW LONG WILL Watermelon Truffles STAY FRESH?
The Truffles can be stored wrapped in plastic wrap at room temperature for about 5-7 days.
CAN YOU STORE AND FREEZE Watermelon Truffles?
Absolutely! Cool the bites completely and fully wrap it in plastic wrap, tightly. After that, wrap in aluminum foil. Freeze for up to 2-3 months. Defrost before serving.
Tools/Ingredients I used to make this recipe:
Watermelon Truffles
Watermelon Truffles are a fun, tasty and colorful summer treat. Easy to make, with just a few ingredients, these are also no bake.
Save
Share
Print
Pin
Rate
Ingredients
1

package

White Cake Mix

(15.25 ounces)

1/2

cup

all purpose flour

2

sticks

unsalted butter

(room temperature)

1/2

cup

mini chocolate chips

8

drops

pink gel food color

1

teaspoon

watermelon extract

(optional)

2

packages

Wilton Green Candy Melts

(12 ounces each)
Instructions
Cover a baking sheet or cutting board with waxed paper and set aside.

Slice butter into 8-10 pieces and add it to a large bowl, add cake mix and flour.

Using a fork, work the butter into the flour and cake mix until fully combined and it resembles smooth cookie dough. To make the process easier, mix with the fork and after that use your hands or a spatula to combine all the ingredients.

Add watermelon extract and pink gel food color, fold in with a spatula.

Add mini chocolate chips and fold in with a spatula.

Measuring 1.5-2 tablespoons of truffle batter, using a cookie scoop, scoop dough and using your palms roll it into a ball. Place truffle balls onto the prepared baking sheet. Place in freezer for 10 minutes (or refrigerate for 30 minutes) before coating with green chocolate.

The amount of truffles you will get depends on how large or small you make them.
Green White Chocolate Coating:
Add candy melts to a large microwave safe bowl and melt for 30-40 seconds. Stir well and microwave for another 20 or 30 seconds, stir well with a spatula and if there is still chocolate that did not melt, microwave for another 15 seconds and stir well.

Using a fork, dip each dough ball into the melted white chocolate and place on a prepared plate covered with wax or parchment paper.

Place truffles in the fridge for at least 20 - 30 minutes or until the chocolate coating hardens.

Store truffles in the fridge for up to 7-10 days.

Serve and enjoy!
Nutrition
Calories:
107
kcal
|
Carbohydrates:
21
g
|
Protein:
1
g
|
Fat:
1
g
|
Saturated Fat:
0
g
|
Cholesterol:
0
mg
|
Sodium:
152
mg
|
Potassium:
19
mg
|
Fiber:
0
g
|
Sugar:
11
g
|
Vitamin A:
15
IU
|
Calcium:
55
mg
|
Iron:
0.6
mg
More recipes you might love