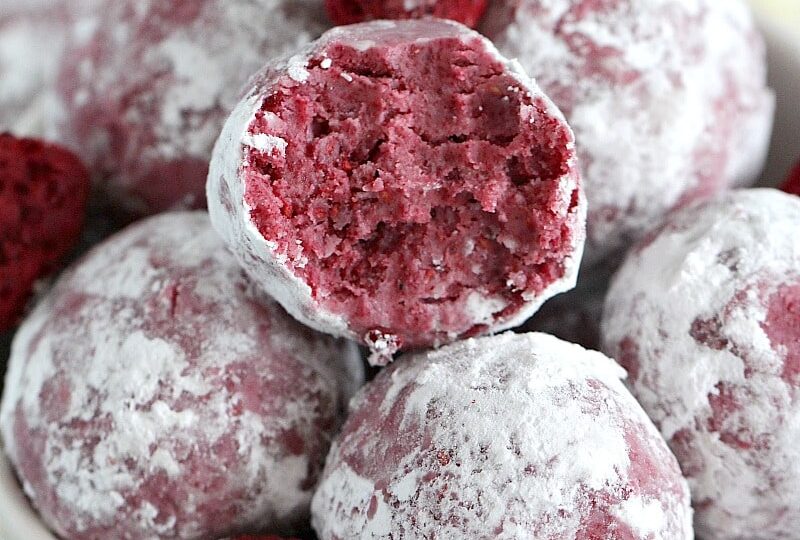 White Chocolate Raspberry Truffles [VIDEO]
White Chocolate Raspberry Truffles are sweet, creamy, full of flavor and made with only 5 ingredients. Watch the recipe video below and see how simple and easy this recipe is!
These Raspberry Truffles are a perfect treat for the upcoming fall and winter season. I love their natural pink color from raspberries. Like Raspberry Jam Cakes, Raspberry Angel Cake and Chocolate Lemon Raspberry Cookies, they are a huge hit on our blog.
No-Bake Homemade Raspberry Truffles
These White Chocolate Raspberry Truffles would be perfect to share with your Valentine, but you don't have to wait for any holiday or excuse to make them! These Raspberry Truffles are so creamy, delicious and full of flavor that you need some in your fridge at all times.
The gorgeous pink color is all-natural from the raspberries. They burst with raspberry flavor, and we all know that raspberry and white chocolate were meant to be together! Rich, creamy and incredibly tasty, should be the perfect dessert to make for any occasion.
Why you'll love these White Chocolate Raspberry Truffles:
They are the rich and chocolaty perfect dessert.
Incredibly fresh and aromatic.
Tender and buttery, they melt in your mouth.
Perfect cookies for the holiday season or special occasion.
It can be made 1 or 2 days in advance so you don't have to worry about the last-minute dessert.
Recipe Tips:
Use high-quality white chocolate. Also, do not use chocolate chips in this recipe, they are not that creamy. I either like to use high quality chopped chocolate or good chocolate melts.
Also, make sure you chop the chocolate in small pieces. This will help with the melting process, in case you are not using chocolate melts.
Be very careful when melting the white chocolate, it tends to separate when overheated. I highly recommend microwaving it in 20 seconds intervals and string very well after each one. It is better to use the residual heat to melt any remaining chocolate pieces, by stirring well. Make sure the bowl you put the chocolate doesn't have any drops of water, the same applies to the spatula you will use for stirring. If water comes in contact with hot white chocolate it will ruin it.
In addition, it is very important for the butter to be soft, room temperature. When you press your finger into it, your finger should sink easily.
Heat the heavy cream in the microwave well, it should be hot.
Another very important step, when you add the melted white chocolate to the butter and cream mixture. Both should be of room temperature. If the chocolate is hot, it will further melt the butter and the recipe won't work.
When chilling the mixture in the fridge, watch it very closely for at least the first 30 minutes. I tend to check on it every 5-7 minutes and stir, to make sure the butter does not separate.
Should I use fresh or frozen raspberries to make the truffles?
We recommend using freeze-dried raspberries. They work best in this recipe, and you will end up getting that beautiful and natural pink color. Also, they will add a delicious raspberry flavor without adding any artificial flavors to the truffles.
How long will White Chocolate Raspberry Truffles stay fresh?
The truffles can be stored wrapped in plastic wrap at room temperature for about 5-7 days.
Can you store and freeze them?
Absolutely! Cool the Raspberry Truffles completely and fully wrap it in plastic wrap, tightly. After that wrap in aluminum foil. Freeze for up to 2-3 months. The truffles will thaw very quickly at room temperature.
Tools/Ingredients I used to make this Recipe:
Food Processor – I have a small one and it's so handy in so many recipes, from chopping veggies to pulverizing freezer dried fruits.
Freeze Dried Raspberries – these are perfect to snack on and absolutely amazing in truffles, I also love adding them to Raspberry Buttercream without making it runny.
White Chocolate – I love using these chocolate wafers in this recipe, they are designed to melt quickly with no issues, which makes using them so much easier.
Watch Recipe Video:
Deliciousness to your inbox
Enjoy weekly hand picked recipes and recommendations