White Chocolate Raspberry Truffles
5 ingredients only, these White Chocolate Raspberry Truffles are very easy to make, full of flavor, gluten free and have a natural pink color!
This post contains affiliate links at NO extra cost to you, I just like sharing the things I love and work for me.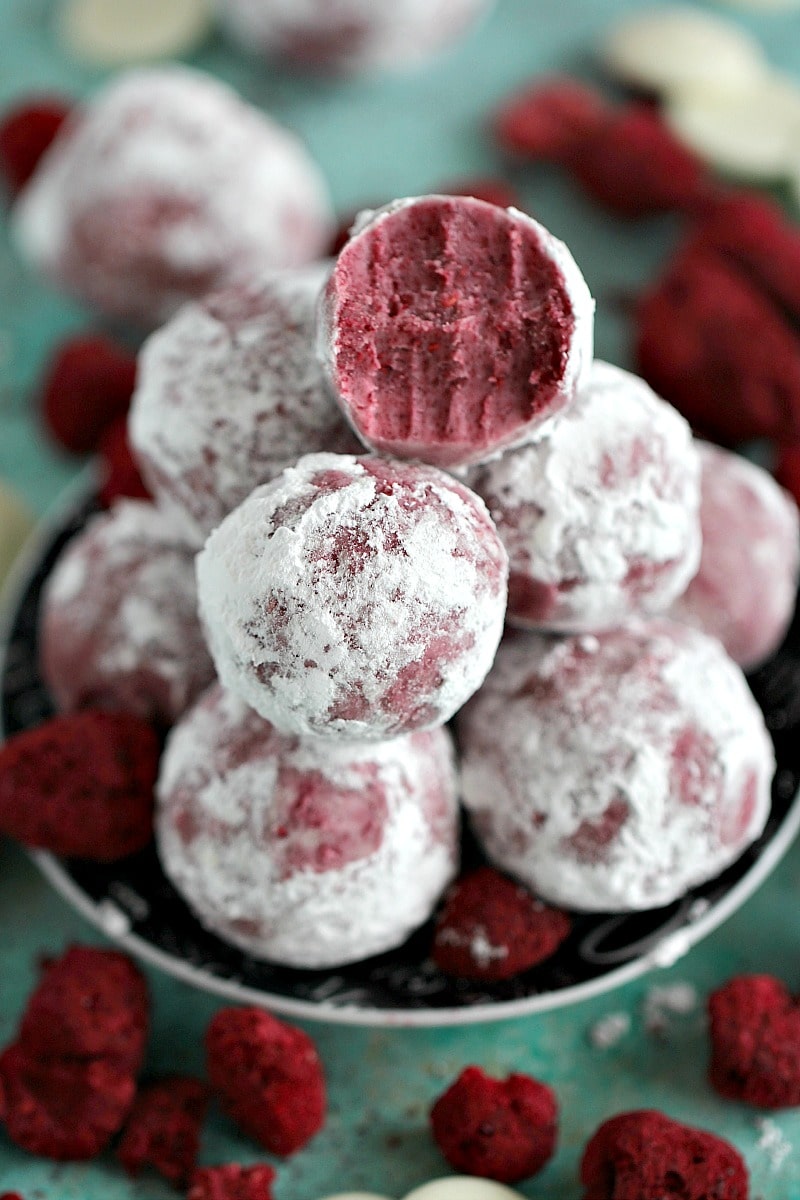 White Chocolate Raspberry Truffles for everyone! These would be perfect to share with your Valentine, but you don't have to wait for any holiday or excuse to make these! These White Chocolate Raspberry Truffles are so creamy, delicious and full of flavor that you need some in your fridge all the time. Just check that gorgeous pink color, all natural from the raspberries.

Tips and tricks to make perfect White Chocolate Raspberry Truffles:
Use high quality white chocolate – this should go without saying, but when you make truffles you should use the best chocolate on hand, do not use chocolate chips in this recipe, they are not that creamy
Make sure you chop the chocolate in small pieces, this will help with the melting process
Be very careful when meting the white chocolate, it tends to separate when overheated. I highly recommend microwaving it in 20 seconds intervals, and string very well after each one. It is better to use the residual heat to melt any remaining chocolate pieces, by stirring well. Make sure the bowl you put the chocolate in doesn't have any drops of water, same applies to the spatula you will use for stirring. If water comes in contact with hot white chocolate it will ruin it.
Use freezer dried raspberries – to get that beautiful and natural pink color, also they will add a delicious raspberry flavor without adding any artificial flavors to the truffles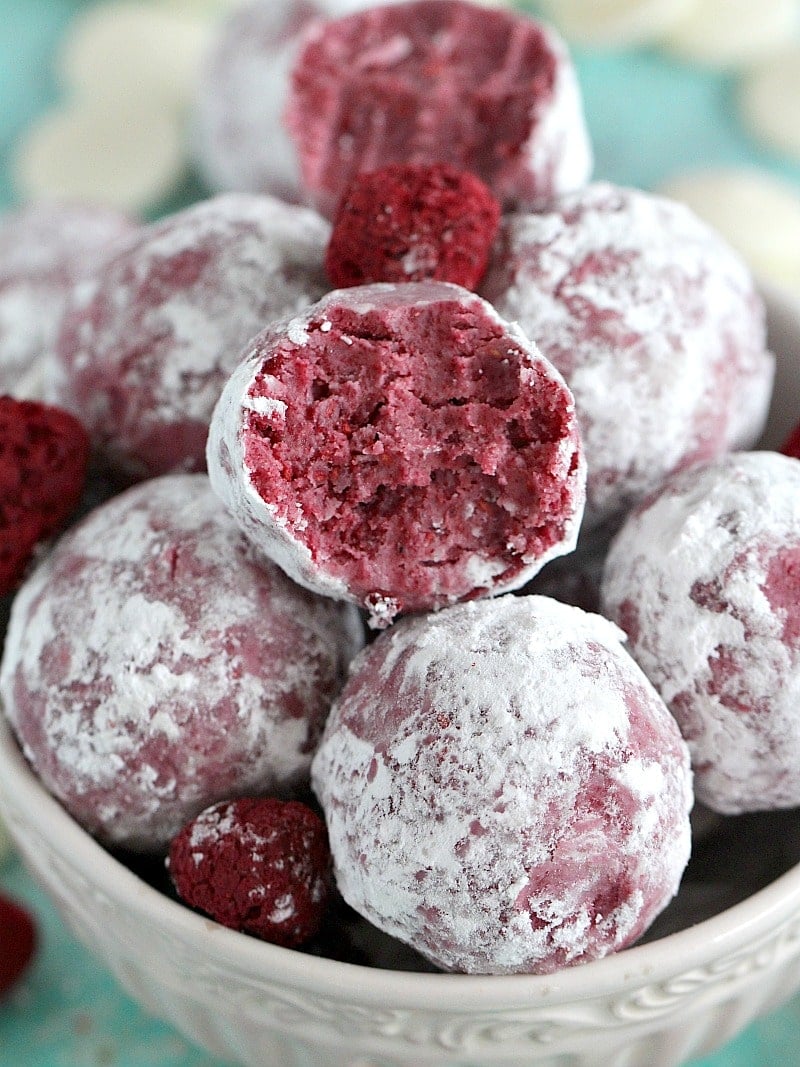 These White Chocolate Raspberry Truffles BURST with raspberry flavor, and we all know that raspberry and white chocolate where meant to be combined! Rich, creamy and so incredibly tasty, I love these beauties straight from the fridge, they are so refreshing and sweet!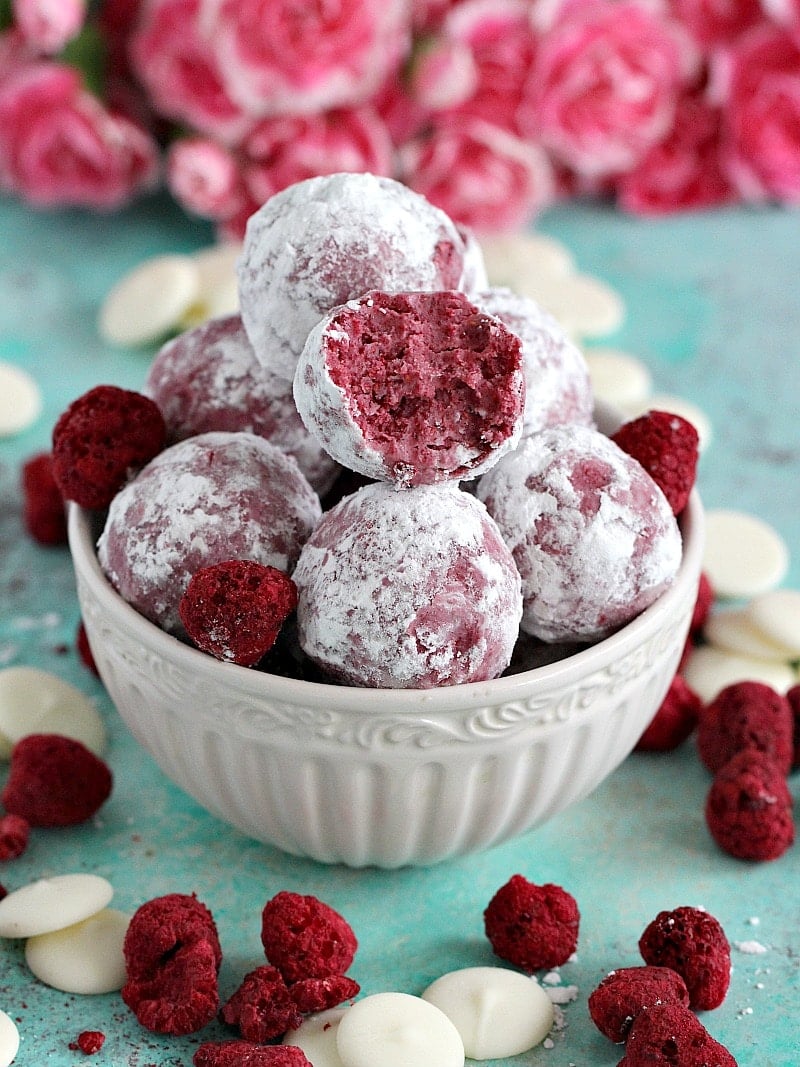 Tools/Ingredients I used to make these White Chocolate Raspberry Truffles:
Food Processor – I have a small one and it's so handy in so many recipes, from chopping veggies to pulverizing freezer dried fruits
Freezer Dried Raspberries – these are perfect to snack on and absolutely amazing in truffles, I also love adding them to Raspberry Buttercream without making it runny
White Chocolate – these bars are buttery and delicious, perfect to use in truffles
White Chocolate Raspberry Truffles
5 ingredients only, these White Chocolate Raspberry Truffles are very easy to make, full of flavor, gluten free and have a natural pink color!
Author:
Katalina Kastravet
Ingredients
12 ounces white chocolate, chopped
1 stick/113grams butter, unsalted and at room temperature
5 tablespoons heavy cream
3 cups freezer dried raspberries
½ cup powdered sugar
Instructions
Add freezer dried raspberries to the food processor and pulse to make a powder. Set aside.
Add heavy cream to a small sauce pan on medium heat and simmer. When heavy cream just starts to boil, remove it from heat and stir in butter until melted, followed by the raspberry powder. Set aside to come to room temperature.
Add chopped white chocolate to a microwave safe bowl, and microwave on high in 20 seconds intervals until chocolate is melted. Stir very well after each interval to make sure the chocolate doesn't overheat and become unusable. You may need 2-3 intervals of 20 seconds for the chocolate to fully melt. Use the residual heat from chocolate to melt any remaining small pieces of chocolate by stirring well. Set aside for the chocolate to cool off a bit.
Add melted white chocolate to the butter mixture and stir well to combine. Let the mixture cool to room temperature, cover with plastic wrap and place in the fridge for 2-3 hours. While the mixture is cooling in the fridge stir it a few times so the fat from the butter doesn't separate on top.
Using a small ice cream scoop or a measuring spoon, scoop the mixture and roll into 1 inch balls, roll into powdered sugar and place on waxed paper. Repeat the process.
If the truffles stick to your hand, dust your hands with powdered sugar.
Truffles can be stored in an airtight container in the fridge for 7-10 days. Or they can be frozen for longer storage 2-3 months.
Don't store truffles at room temperature as they will lose their shape, or melt due to the high butter content.
Enjoy!
Notes
*Preparation time does not reflect the cooling time of 2-3 hours
If you like truffles, check these No Bake Oreo Devil's Food Cake Truffles: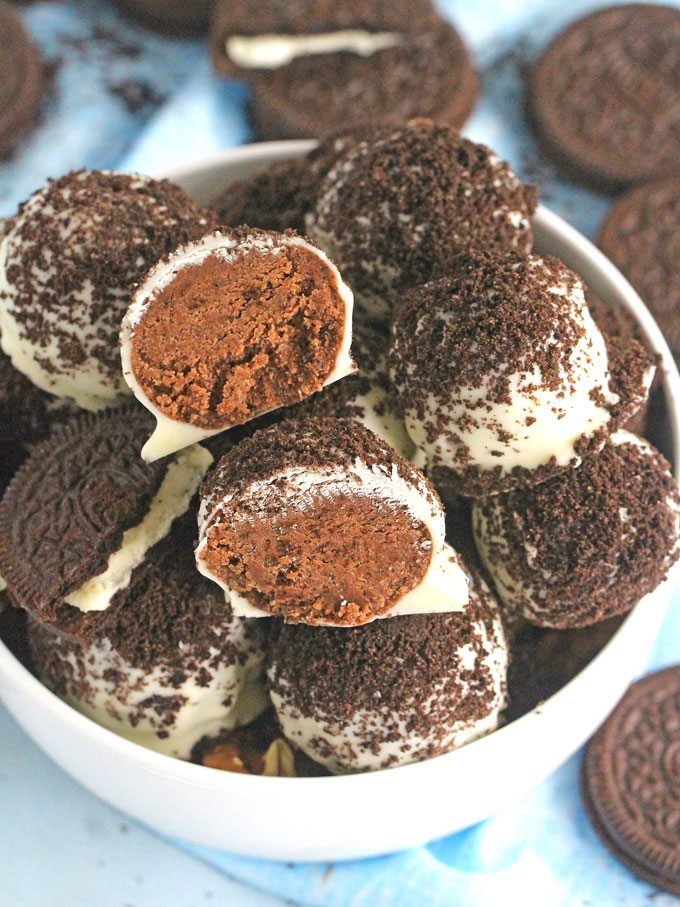 and these No Bake Cake Batter Truffles: